Last update: February 3rd, 2021 at 10:10 am
The Best Tablet for Kids 2019
Looking for the best tablet for a toddler or young child can be quite overwhelming. In this post we have tried to narrow the options down to the top 5 learning tablets for kids that get great reviews and also include the most important features to parents. Check out these top models for their durability, learning apps, wifi connectivity (with parental controls) and so much more.
See Also : The Best Noise Cancelling Headphones for Kids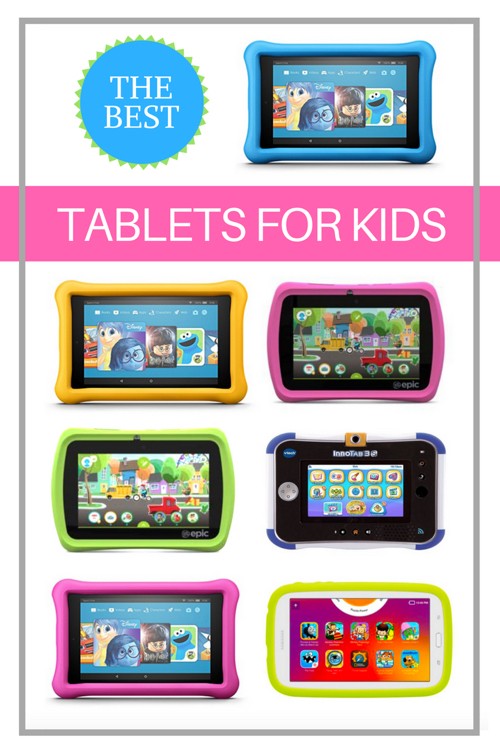 Important Disclosure: This post contains Amazon Affiliate links which means that should you decide to make a purchase via one of the following links, Amazon will pay me a small commission which I use to help run this site. No extra cost will be incurred by you. For more information, please see our Terms of Use and Privacy Policy. Thank you very much for your understanding and support of Pint Size Pilot.
Before breaking down the pros/cons of each kids tablet, feel free to take a look at this handy comparison chart.
Kids Tablet 2019 Comparison Chart
$ = $50-$100      $$ = $101-$150      $$$ = $151-$400
Model
Storage
Parental
Controls
Age
Range


Battery
Life

Price
Range
Our
Rating
Check
Price

Amazon Fire
Kids Ed. HD8 - 8"
32G
Yes
3-13+
12 hrs
$$
4.4 / 5


iPad Mini 4 7.9"
128G
Can Enable
6+
10 hrs
$$$
4 / 5
Leapfrog Epic 7"

16G
Yes
3-9
6 hrs
$
3.8 / 5
Samsung Tab E Lite 7"
8G
Can Enable
3 - 13+
8 hrs
$
4.1 / 5
vTech Innotab 3S Plus 5"
4G
Yes
3-9
9 hrs
$$
3.5 / 5
1. AMAZON FIRE KIDS EDITION 8″ TABLET – From $130
Better Deal !: Find additional savings with Kindle Kids 2 for Bundle
.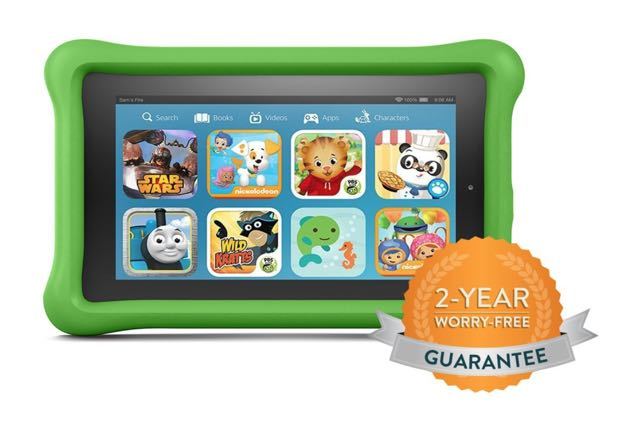 FEATURE AND PROS OF THE AMAZON FIRE KIDS EDITION TABLET:
Suitable tablet for children 3 years and up.
Includes 1 year of Amazon FreeTime Unlimited  (access to 10,000 kid-friendly books, movies, TV shows, educational apps, and games). Learn more about the capabilities and restrictions of Amazon FreeTime Kids Web Browser.

Includes a durable Kid-Proof Case (pink, blue and yellow available).

12 hours of battery life.

Is much more than just a toy with a 8″ IPS display and front and rear cameras.

32GB of internal storage available. Add a microSD card for up to 200 GB of additional storage.

2-year worry-free guarantee (from date of ship): if they break it, return it and Amazon will replace it for free. (Best out there!).

Extensive parental controls allow you to manage usage limits, content access, and educational goals.

If you are looking for a cheap kids tablet, this one provides great value for your money.
CONS OF THE AMAZON FIRE KIDS EDITION TABLET:
Amazon FreeTime Unlimited videos cannot be watched without wifi as they are "streamed". Only downloaded movies (ex. Amazon Prime) can be watched offline (and you must have enough internal space or space on your SD card). See tips on using the Amazon Fire Kids Edition for Travel.
Movie and music purchases from Amazon.com are not available for download outside of the USA (due to licensing restrictions) and need to be downloaded before travel.
It takes a little time and patience to set up the device and get your child's profile set up and and customized (but well worth the effort).
Device can be confusing for kids because links show up to content that has not yet been downloaded (kids may click on a game thinking they can use it – but it must be downloaded first).
Read reviews on the Amazon Fire HD8 Kids Tablet here.
Buy it here: 
.
.
2. TAB E LITE 7″ –  SAMSUNG KIDS TABLET – From $130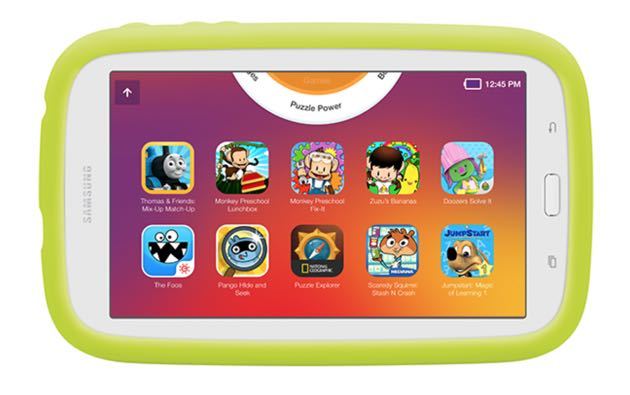 FEATURES AND PROS OF THE SAMSUNG TAB E LITE KIDS EDITION :
Android with 8G built-in memory.

7″ display, 1024 x 600 resolution.
No ads and no in-app purchases while in Kids' mode.
Includes 3 months free subscription to Samsung Kids service for ($4.99/month thereafter), with access to educational content you trust from Dreamworks Animation, Sesame Street, National Geographic and more.
Comes pre-loaded with children's applications including games, camera, paint tools and more. Download more  apps, games, movies, music and eBooks from Google Play.
Excellent parental control features (that can also be disabled so an adult can use the tablet).
Battery lasts up to 9 hours – great kids tablet for travel.
CONS OF THE SAMSUNG KIDS TABLET :
Internal storage of 8GB may not be enough for some users. You can expand storage up to 32GB with a microSD card (sold separately).
Limited availability of protective cases.
Does not have a forward facing camera (for Skype etc.).
Read reviews on the Samsung Kids Android Tablet here.
Buy it here:  .
3. LEAPFROG EPIC 7″ LEARNING TABLET – From $110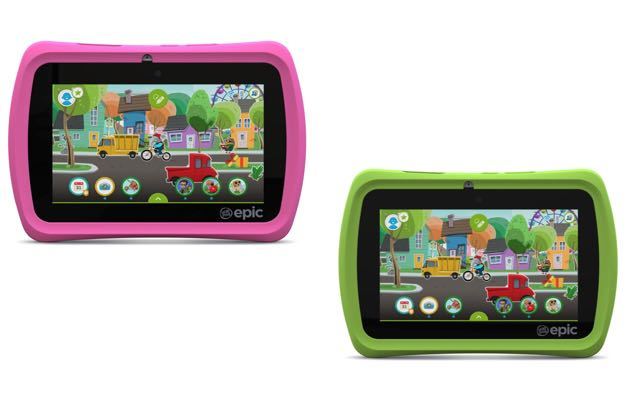 FEATURES AND PROS OF THE LEAPFROG LEARNING TABLET:
Suitable learning tablet for older toddlers and young school aged kids (3-9 years)

Manage what, when and how long each child plays with best-in-class parents controls for up to 3 profiles.

Just for Me Learning technology that personalizes select games to challenge kids as they grow.

20 kid-favorite android apps and the world-class kid-safe web with the LeapSearch browser. 

Durable design including a shatter-safe LCD screen and protective bumper for everyday drops and bumps.

Includes a powerful quad-core processor, robust 16GB memory, vivid 2MP cameras and more!
CONS OF THE LEAPFROG LEARNING TABLET:
Apps specifically from Leapfrog are quite pricey in comparison to traditional apps.
There have been some complaints that the stylus is a little flimsy.
Learn more and read reviews on the LeapFrog Kids Learning Tablet here.
But it here: 
.
4. IPAD MINI 4 TABLET FOR KIDS – From $359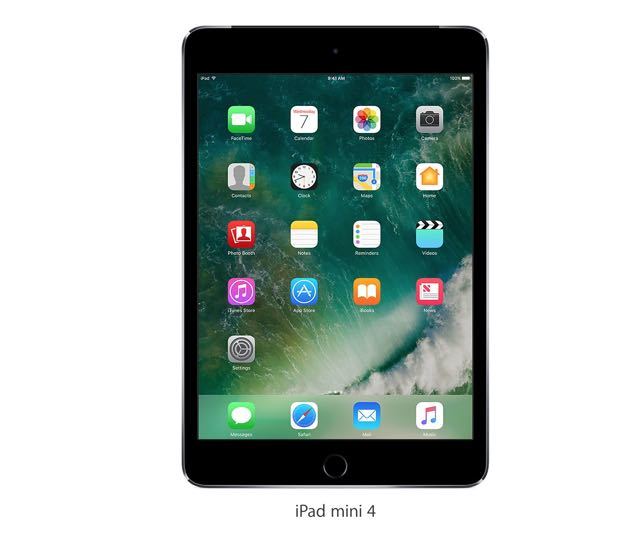 FEATURES AND PROS OF THE IPAD MINI 4 FOR KIDS: 
As this not a cheap kids tablet, I would recommend for kids 6+ who are less likely to drop it.

7.9″ Retina Display,

Fantastic 2048 x 1536 Resolution

Apple iOS 9, Dual-Core A8 Chip with Quad-Core Graphics

Comes in 16G, 64G and 128G capacity models.

8 MP iSight Camera, 1080p HD Video Recording

Wi-Fi (802.11a/b/g/n/ac) + MIMO + Bluetooth 4.2

Up to 10 Hours of Battery Life, 0.65 lbs
CONS OF THE IPAD MINI 4:
Protective iPad Mini 4 cases are sold separately.
Has fixed storage (you cannot add an SD card ).
Rather expensive for a kids tablet.
Parental controls must be activated – as this is a full functioning iPad Mini.
Learn more and read reviews for the iPad Mini here.
Buy it here: 


Price Disclaimer
.
5.VTECH INNOTAB 3S PLUS KIDS LEARNING TABLET – From $108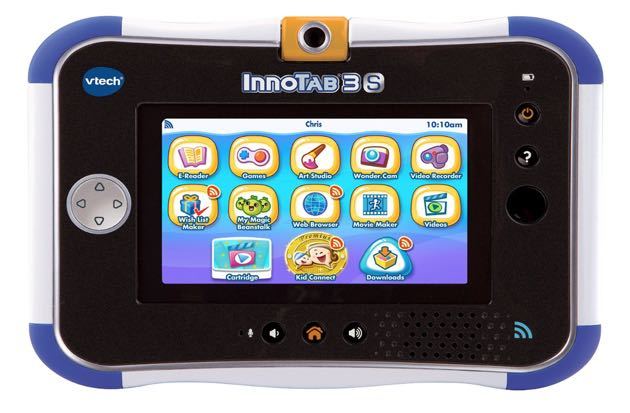 FEATURES AND PROS OF THE INNOTAB 3S PLUS:
Suitable learning tablet for older toddlers and young school aged kids (3-9 years).

Premium VTech Kid Connect lets you send text and voice messages, photos, drawings and fun stickers between InnoTab 3S Tablets and smartphones.

Kid safe web browser (although parents can add other sites by using their password).

Rechargeable Power Pack (includes rechargeable batteries and AC adapter).

180 Degree rotating camera with over 55 special effects and using the video recorder to make movies.

Plays videos and MP3 songs.

Expandable memory.

12 included apps and access to more than 650 additional cartridges, software and apps you can download from VTech's Learning Lodge.
CONS OF THE INNOTAB 3S PLUS:
Smaller screen (5″) than many other tablets for children.
Least amount of built in memory (4G). May need to add more (via the SD slot).
Additional apps are a little pricey ($5 and up).
Learn more and read reviews for the Innotab Learning Tablet for Kids here.
Buy it here:  .
You May Also Enjoy the Following Posts:
5 Best Noise Canceling Headphones for Kids
Best Lightweight Stroller for Travel
The Best Travel Car Seats for Airplanes 2019
Top 5 Portable Travel Crib 2019
Top 5 Portable High Chairs for Travel 2019