With recent reports of the mosquito borne illness Dengue having surfaced on the Big Island of Hawaii, I thought it time to update this post. Also referred to as Dengue Fever or Breakbone Fever, it has been a troublesome issue in a number of the tropical locations I have visited with my family over the past decade. From a trip to St. Barths a few years back where we arrived on day seven of a yet unreported outbreak, to our upcoming plans to Mexico, it just always seems to be lurking about. It is an unfortunate fact that we both thrive in tropical climates.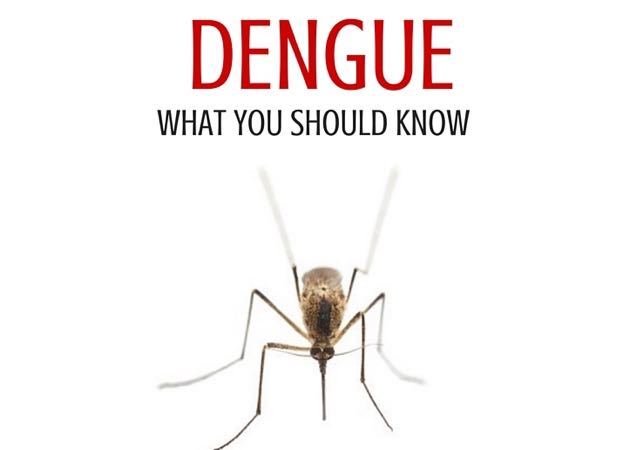 The fact is, however, that the number of worldwide cases of this severe flu-like illness is on the rise. Did you know, for instance, that there have been recent outbreaks in the following popular travel destinations: Hawaii, Florida, Mexico, Costa Rica. St. Martin, Thailand, Fiji, French Polynesia, and Singapore?
To be honest, until a friend contracted dengue (while pregnant with twins), I hadn't paid much attention. Thankfully, after a nasty bout of it, she recovered and the twins were fine. The ramifications for her, however, have been huge. Once you have had one strain of dengue you develop an immunity to it, but it is thought that you may be at a much greater risk of the more dangerous 'severe' or 'hemorrhagic' dengue should you contract one of the other 3 strains. Despite the fact that my friend is an avid traveler, she now carefully avoids many destinations that could put her at risk of another infection. As you can see from the map below, that rules out a lot of places.
Here is a visual of the tropical and subtropical regions at risk of dengue – shown in green          (W.H.O. Feb. 2014)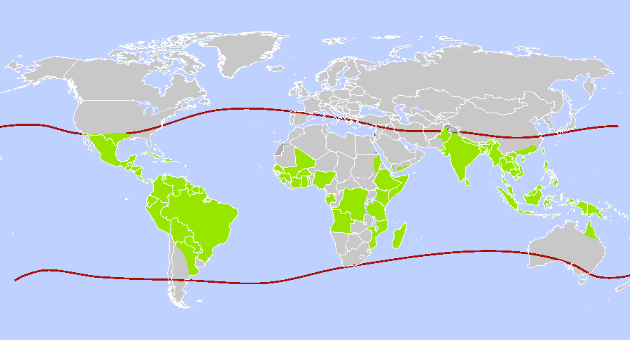 I also want to share the following information from the World's Health Organization's Dengue fact sheet (last updated in 2013).
The infection causes a flu-like illness, and occasionally develops into a potentially lethal complication called severe dengue.
The Aedes aegypti mosquito is the primary vector of dengue. The virus is transmitted to humans through the bites of an infected female.
Severe dengue is a leading cause of serious illness and death among children in some Asian and Latin American countries.
The global incidence of dengue has grown dramatically in recent decades. Over 2.5 billion people – over 40% of the world's population – are now at risk from dengue.
About half of the world's population is now at risk.
Dengue is found in tropical and sub-tropical climates worldwide, mostly in urban and semi-urban areas.
There is no specific treatment for dengue/ severe dengue, but early detection and access to proper medical care lowers fatality rates below 1%.
Dengue prevention and control solely depends on effective vector control measures.
There are four distinct, but closely related, serotypes of the virus that cause dengue. Recovery from infection by one provides lifelong immunity against that particular serotype. However, cross-immunity to the other serotypes after recovery is only partial and temporary. Subsequent infections by other serotypes increase the risk of developing severe dengue.
Prevention is the key with dengue as there is no specific treatment.
In our family, my husband is the sacrificial lamb in terms of who is typically the bait for mosquitos. They simply love him.  His routine when we arrive in a tropical destination involves spot checking our accommodation for holes in screens and duct taping up the offenders. He also hangs mosquito nets over each bed (or a crib net when it was applicable) that he has brought from home.  While I like to think that the nets make our room look a bit romantic, an Australian friend commented on our setup in Fiji by saying 'It looks like a bloody TB quarantine ward in here!'.
As far as mosquito repellent goes, although I much prefer to use something natural (and trust me I have tried many), when facing dengue, I use something with DEET or Picaridin in it.  I have yet to find anything natural that works as well (although please comment if you know of something). According to the American Academy of Pediatrics (AAP), DEET can be used on children but not in concentrations greater than 30% (see article). That number seems awfully high, as most kids repellents do not exceed 10% DEET. The AAP also says that you shouldn't use DEET on a baby 2 months or younger (Quite frankly, I don't think you should be going to an area where there may be Dengue with a newborn anyway.).
What a downer this post is !  My apologies for that, but I want to make sure my readers are well informed and prepared.
One final tip. When planning a trip, always check for travelers warnings through the Center for Disease Control website (cdc.org). Although it would not have helped us this time, having booked our trip to Panama many months ago, it recently helped us avoid a trip to the Caribbean island of Anguilla, which is currently dealing with Chikungunya (another mosquito-borne illness to be discussed in another downer post at a later date).
I will close with some words from my family doctor who said to me recently 'You need to be a smart traveler'.
SaveSave