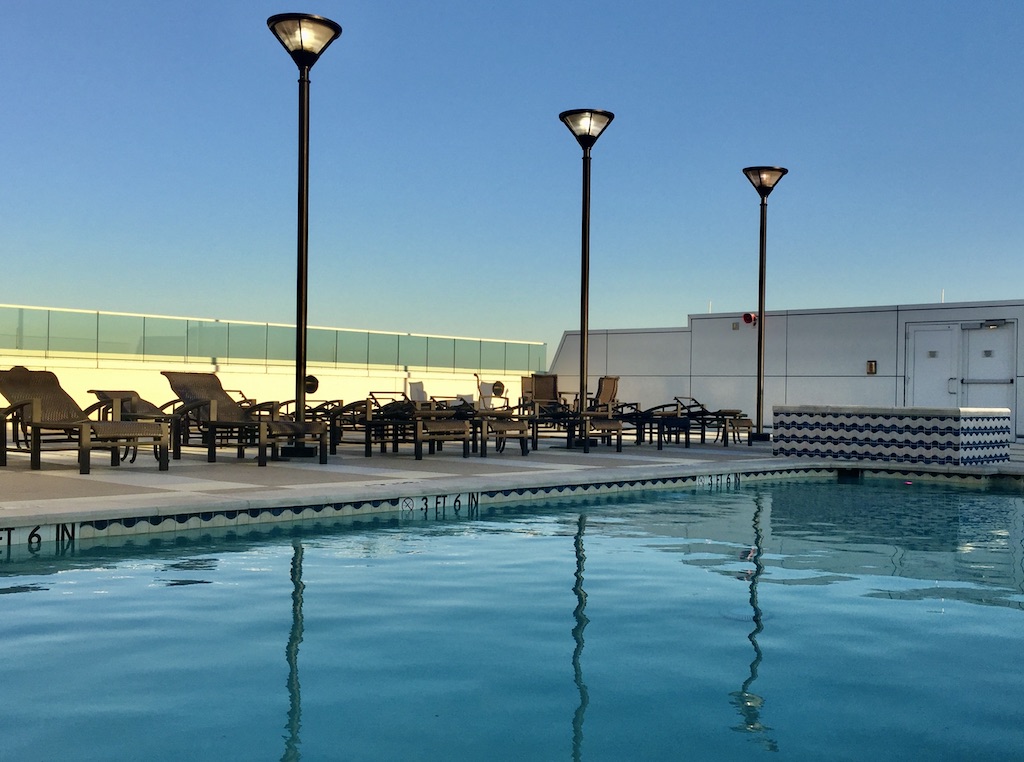 Disclosure: We were offered a complimentary stay at the Grand Hyatt DFW, but I also want to share that we have chosen to stay with this hotel on numerous occasions in the past uncompensated. I really love this hotel property as a family friendly luxury hotel at DFW airport. All opinions are entirely my own. This post contains affiliate links.
As a family of frequent flyers, we have often found ourselves with an overnight layover in Dallas at the DFW International Airport. While I typically loath a layover (especially with kids), I am actually quite fond of DFW, and look forward to our time there (see our guide to DFW Airport with kids).
What makes a DFW overnight layover even better, however, is staying at the luxurious Grand Hyatt DFW right in Terminal D. It is hard for me to put into words how wonderful it feels to just grab our luggage and ride the escalator into their serene and welcoming lobby, rather than queuing up for an airport hotel shuttle.
Take a quick peek at our one minute video fo the Hyatt Grand DFW or just read on.
Grand Hyatt DFW – A Luxury Hotel at DFW
Over the years, we have experienced many of the family friendly aspects of the Grand Hyatt DFW Airport Hotel. We have enjoyed going from the stress free feeling of entering a room totally prepared for an infant (including crib, welcome gift, baby toiletries etc.), to now having school aged children who stay absolutely glued to the window of a runway view room.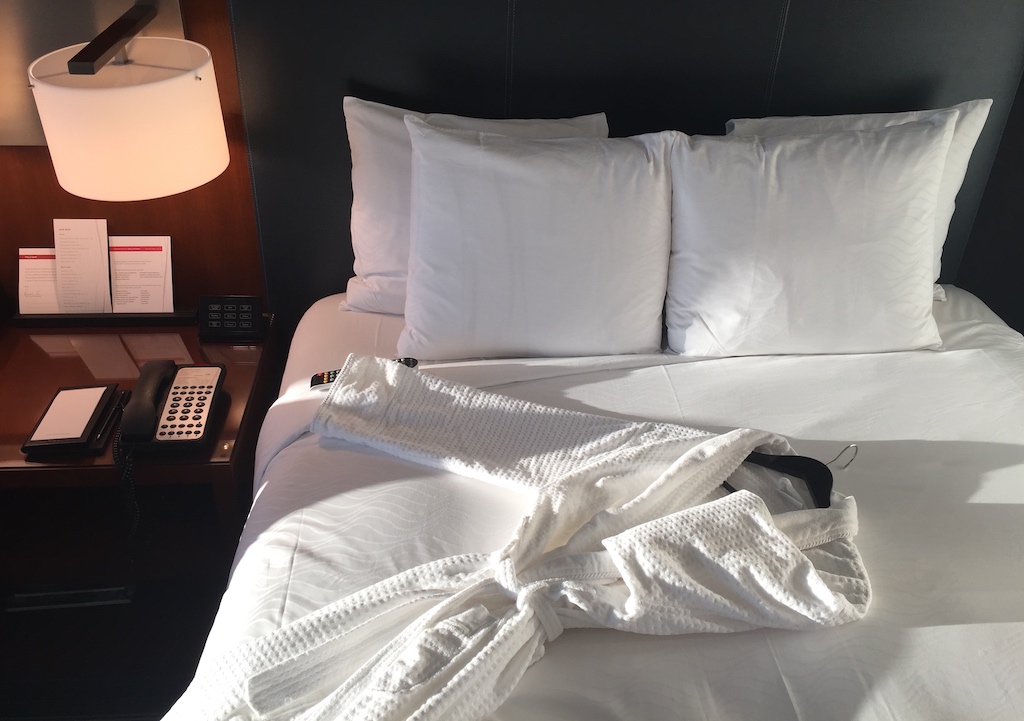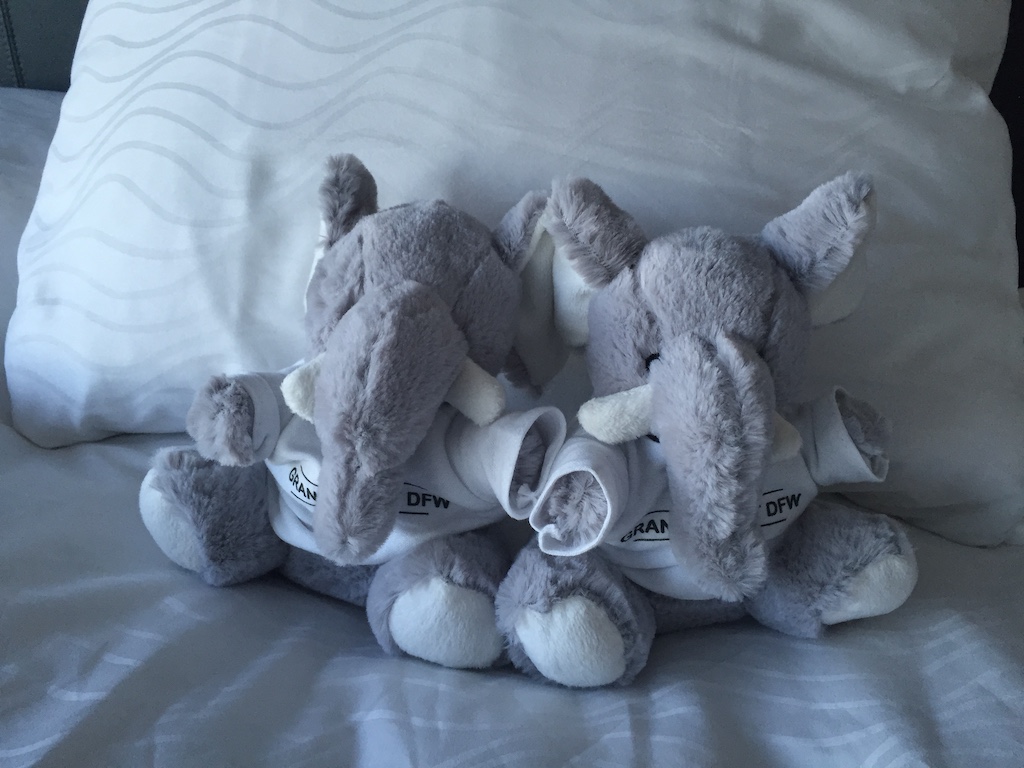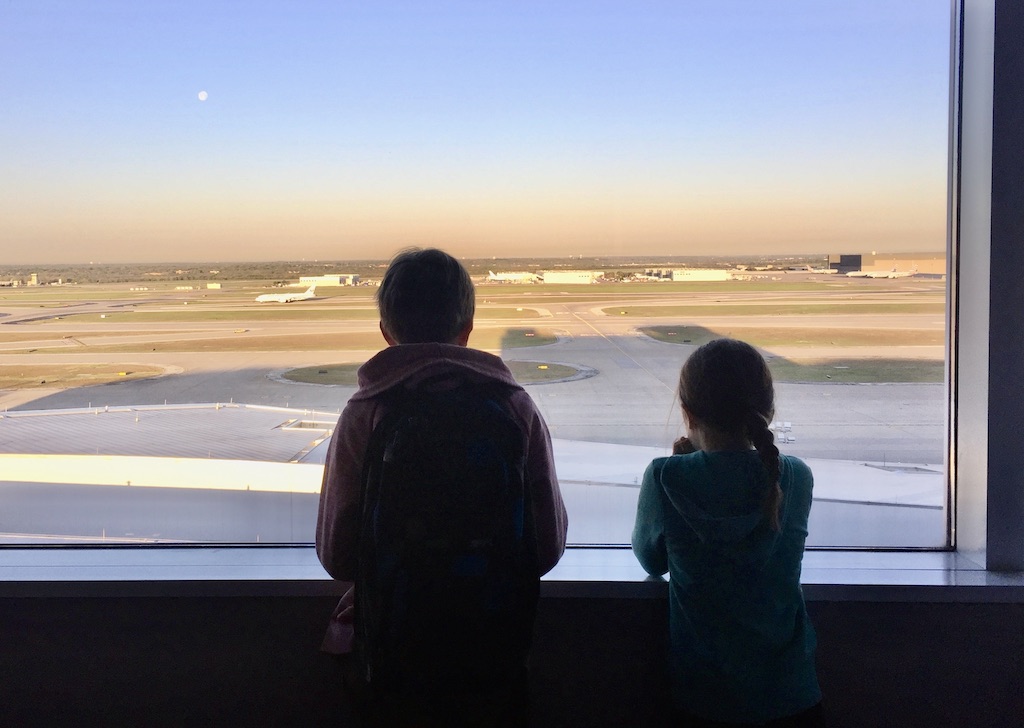 The Grand Hyatt DFW also has a lot for big kids to enjoy too. The hotel has a lovely roof top pool, a well equipped gym overlooking the runway, and a spa.
Lucky enough to enjoy the Grand Hyatt DFW Spa on our most recent trip (while my husband took the kids to the pool), I must say that I was in absolute heaven. We had just come off a trip where my skin had probably seen a bit too much sun, and the calming facial felt amazing (Thank you therapist Tre for your great tips on how to keep me looking forever young ! )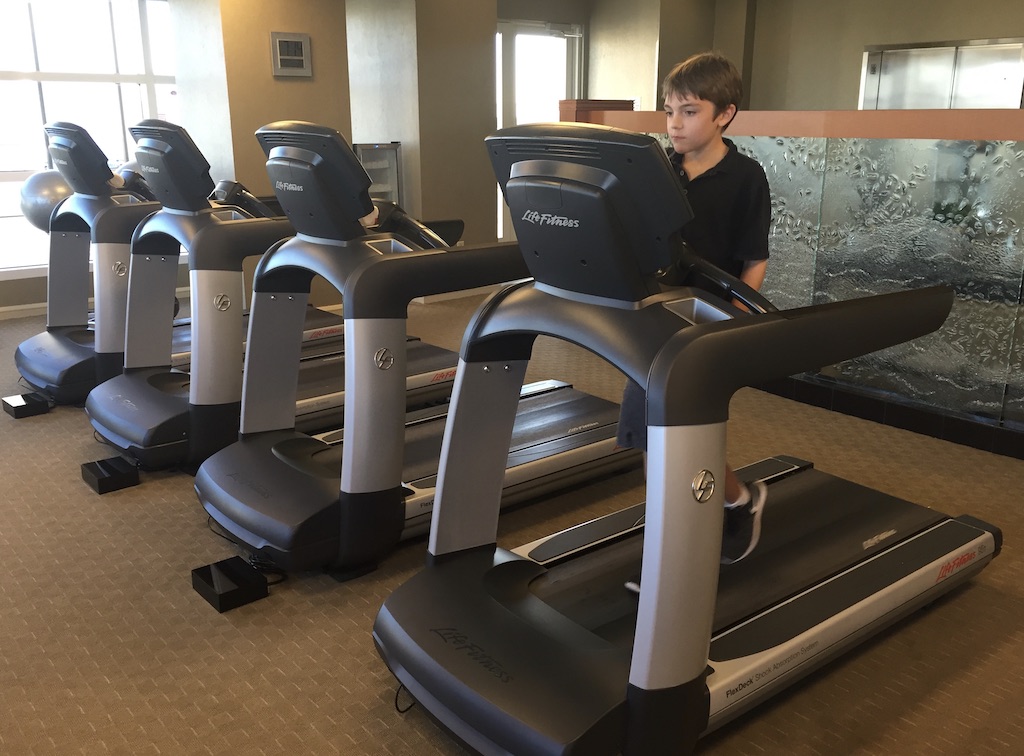 DFW Family Friendly Dining – The Grand Met
Dining at the Grand Hyatt DFW is a pleasure. One of my criterion for a good restaurant with kids is not having to compromise on style or quality. The Grand Met restaurant is just one of those places. My kids ordered off of the Hyatt For Kids By Kids menu (a dining program designed to offer tasty but healthy options for children), while my husband and I made our choices from a selection of delicious sounding entrees.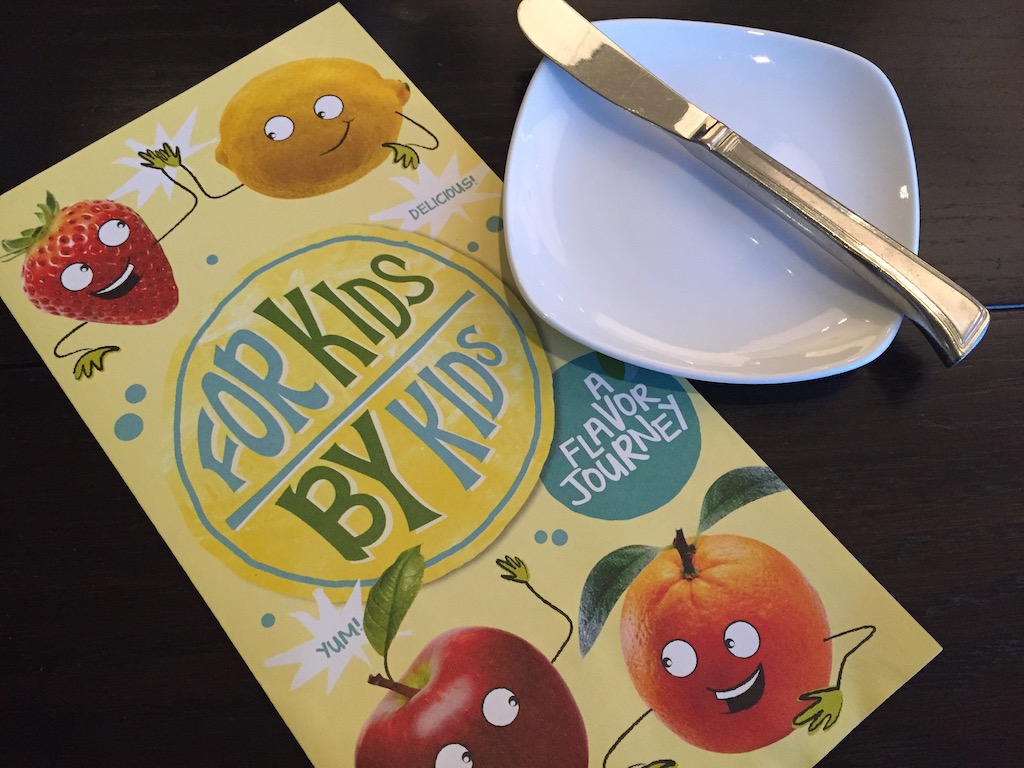 In addition to offering many healthy options on their menu, the Grand Met also carefully sources their ingredients (think pasture raised pork and chicken, natural beef filet, sustainably harvested seafood and more.)
My kids were so busy with the activities on their kids' menu that I actually had time to study the wine list (present on an iPad) and to fully appreciate my amuse bouche.
Having chosen the natural filet for my entree, I loved that I was presented with a choice of steak knife (I chose the traditional wood handle). We so enjoyed our meal and our excellent service, that it was easy to forget that we were in fact still inside the DFW airport !
For more information, see the Grand Met Menus. See also reviews for the Grand Met on Tripadvisor.
Note: On an earlier stay at this property, when we had a baby and toddler in tow, we ordered room service and had the table set up in front of the window so we could enjoy our runway view.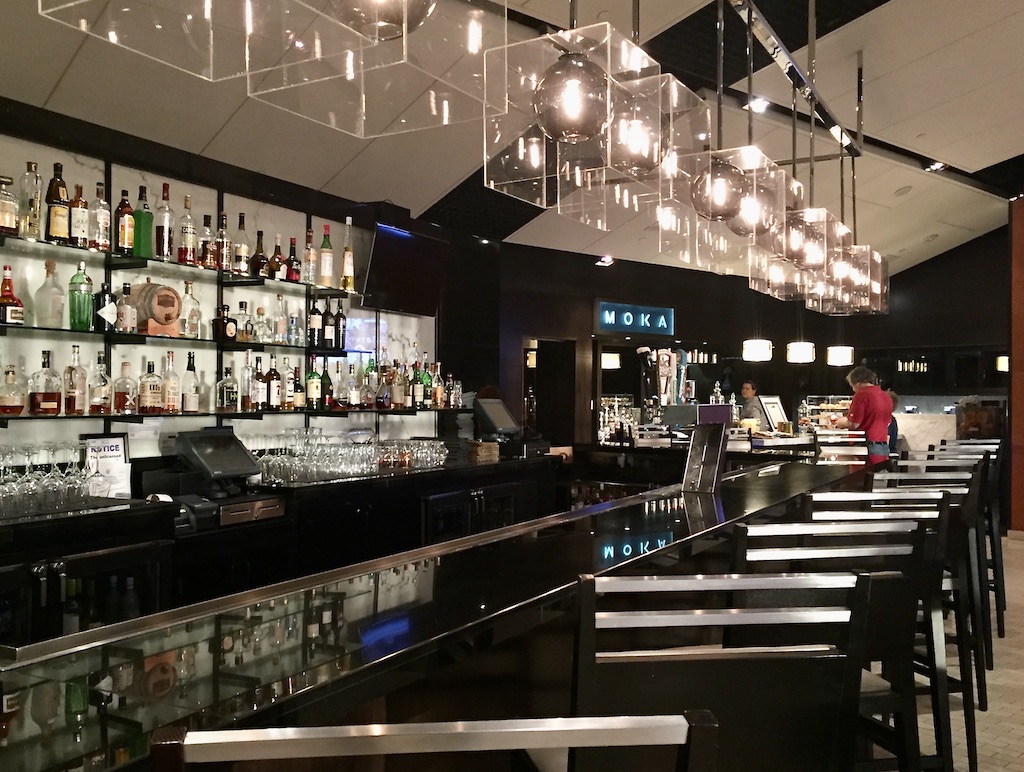 The Grand Hyatt DFW is definitely pricier than most of the other DFW airport hotels (and is the only hotel actually in the airport), but I have come to see our stay an extension of our holiday, rather than just a layover. The staff is exemplary, making us truly feel like valued guests. While the stay is a bit of a splurge, we find it to be a worthy one, making our layover a stress free and enjoyable experience.
More on The Grand Hyatt DFW Airport Hotel
The Grand Hyatt DFW Airport Hotel
Price Range: $$$$
Hotel Class: 4 star
Family Friendly Room Options: King and Double Queen Rooms (a crib or a cot can also be added).
Reviews: 95% of reviewers rate as Very Good or Excellent on Tripadvisor.
Best Rooms: High floors facing the runway.

Related Posts