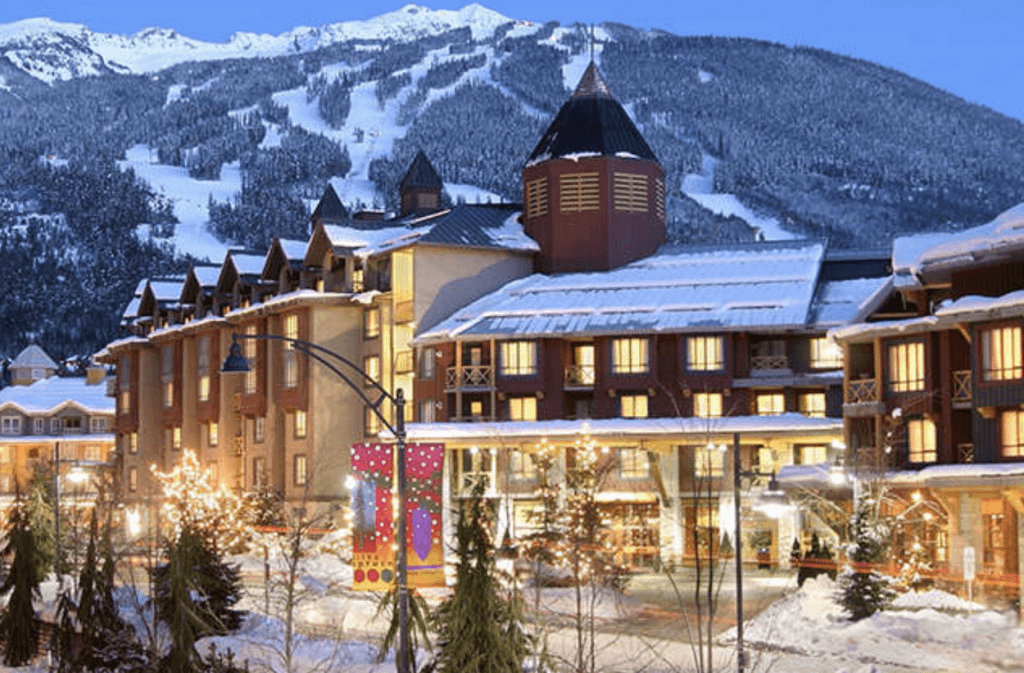 Over the years, our family has stayed at many hotel properties around Whistler. Our most important criteria since having kids has been space, space and more space, with kitchen and laundry a close second and third. Naturally, we also love a hotel close to the hill, with a room rate that doesn't break the bank. It's a tall order in an international ski Mecca such as Whistler. We were fortunate enough, however, to find just that combination in the Delta Whistler Village Suites, and have spent many nights there since having children.
Over the years, however, the Delta was showing its age, and being the fickle travelers we are, we had moved on. That is, of course, until we read about the extensive renovation the hotel had undergone in 2014. Rooms had been overhauled with a sleek modern look, and had been updated to today's technology with Delta's new wired SmartDesk (no more looking under tables for outlets).  It was time for us to check it out anew.
During a recent stay, we enjoyed a one bedroom suite with a sofa bed in the living room (shared by our two children). As a blogger, I loved being able to set up all my technology on the new SmartDesk. My kids were in heaven with their own TV in the living room for morning cartoons, while my husband sealed himself off in the bedroom to watch early morning soccer. We enjoyed swimming in the heated outdoor pool and watching people work out in the gym facilities (I don't even bother bringing my workout gear on ski trips anymore).
What I really noticed about the Delta, however, was their exemplary customer service. There was not a single employee who passed by us without inquiring about how we were enjoying our stay. I also overhead other guests commenting on the great service. On that note, I would like to share a story from our stay. One night, in the wee hours, our neighbours returned to their room in a rather jubilant state (it is Whistler after all). One call down to the front desk, and their festivities came to an end. The following morning we noticed an envelope under our door with a note of apology from the Guest Services Manager, 2 Starbucks gift certificates and an option for late checkout. That, in my opinion, is great service ! Based on that alone, we would most certainly return.
Things to know about the Delta Whistler Village Suites:
The hotel is in the middle of the main village with a shuttle to the lifts/gondolas (although we often choose to walk back at the end of our ski day).
The hotel location is great for kids because it is very close to the outdoor ice arena and playground.
For a treat, book a 2 bedroom suite (about the same cost as a regular room at many other Whistler hotel properties).
To cater to their younger guests, the Delta offers baby proofing room kits, a 'Kids' Essentials' activity pack (for children 7 and under), games and activities for loan, and they can also arrange babysitting.
The property is very dog friendly (we will be bringing our Lab Lucy next time).
Become a Delta Privilege member (free) for benefits such as early check-in, late check-out, free wifi and special rates.
One more thing…as a rule, I always make sure to specify that I want a room away from Garfinkel's (a bar that is below one section of the hotel).  While the noise only affects a few rooms, you do not want it to be yours.
more information about The Delta Whistler Village Suites:
price range: $$$
hotel class: 3.5 star
reviews: 100% of family reviewers rate as 'Very Good' or 'Excellent' on Tripadvisor
for availability: see the Delta Whistler Village Suites website
disclaimer:  During our stay in Whistler, we were offered a discounted media rate at the Village Suites courtesy of Tourism Whistler and Delta Hotels. All opinions about the hotel are entirely my own.  As always on my website, I encourage you to read current reviews and room tips from other family travelers on Tripadvisor before booking.
a complete guide to whistler with kids 
escape to the scandinave nordic spa whistler
tips for a first ski trip with kids