Last update: September 8th, 2022 at 09:22 am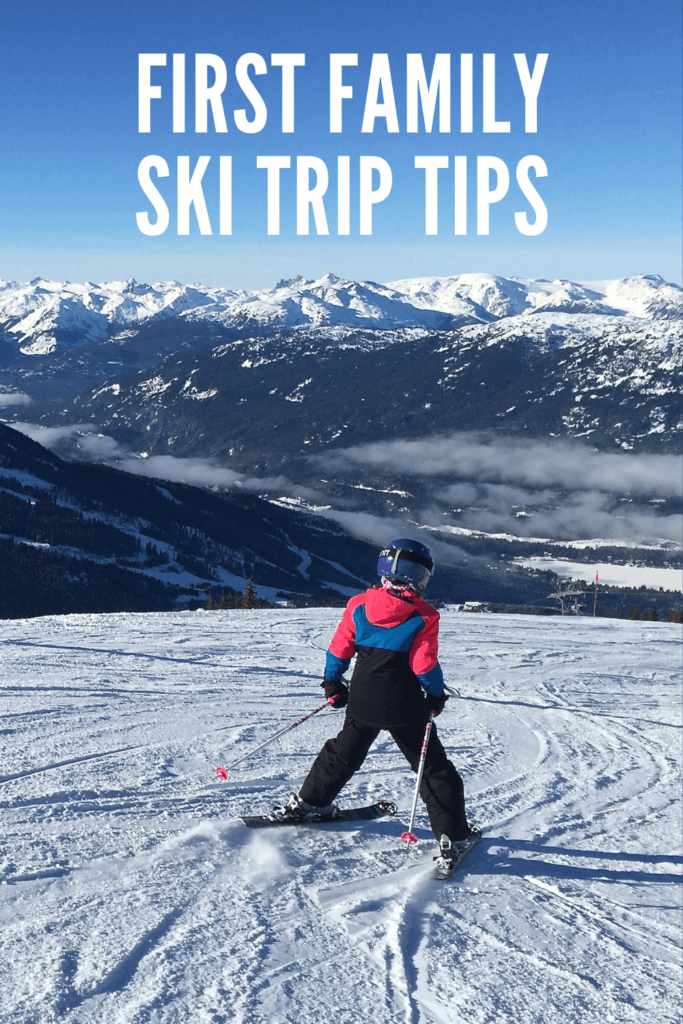 Affiliate Disclosure: As an Amazon Associate I earn from qualifying purchases. This post also contains additional affiliate links from which I may earn a small commission (although there is no additional cost to you).
Tips for Ski Holidays with Kids
Planning a first family ski trip? I know it may seem a little daunting at first. By the time your child has put all those layers of clothes on, walked a while in ski boots (stopping to eat some snow and to make an angel or two), they may be ready to pack it in, along with their exhausted parent(s).
Through discussions with many skiing families, and having survived many family ski trips of our own, I have come up with some tips on how to make your family ski holiday run as smoothly as possible.
Whether you are looking for family ski accommodation tips, or helpful advice on how to teach kids to ski – we've got you covered here. Please use the following menu to find what you need quickly.
Finding Family Ski Accommodation
When on ski holidays with kids, you may find that renting a suite, condo or house with a kitchen and laundry facilities provides a more comfortable and economical option over a standard hotel room. VRBO and Airbnb all list hundreds of family vacation rentals at most major ski resorts. It helps if you use the advanced search option to find kid-friendly properties.
While kids ski free deals are attractive, be aware that very young ones (5 or 6 and under) generally ski for free anyway at most mountains. The real value in kids ski free offers comes if your child is 6-12 years.
For shorter lift lines and better deals, book ski holidays with kids outside of school breaks such as Christmas, New Year's and President's Day Week which are considered peak times and can see rates double or triple.
When choosing your accommodation, keep in mind proximity to the bunny hill, ski school and other fun apres-ski activities for kids such as a tube or toboggan park (yes, they will still have energy for this even when you don't).
The Best Kids Ski Clothing
Nothing will end your day quicker than cold or wet kids. Many inexpensive snow clothes and accessories are only meant for a half hour frolic in 1 inch of snow (think Gap snowsuits), rather than a whole day on the mountain. Some tips for finding the good stuff include:
Look for key words on clothing items such as insulated, waterproof, breathable and taped seams.
Look for features such as grow cuffs (you can let out the hem as your child grows), powder guards, velcro adjustable straps, removable hood, and clips to keep gloves/accessories attached.
Keep little noggins safe and warm with a good quality kids ski helmet with a clip or snap to keep their ski goggles in place. Trusted ski helmet brands include Smith, Giro, Anon and POC. This is the one thing you don't want to scrimp on in my opinion (please don't buy a generic brand or a used helmet). See CDC guidelines for ski helmets.
Save money by checking out ski swaps and consignment stores for clothing (many suits are only worn a handful of times).
If you want to buy the latest and greatest gear, even the top brands usually offer at least 20% off for Black Friday and Cyber Monday. Alternatively, buy end of the season deals (a size up), in anticipation of the following year. Sign up for email updates from stores such as The House, Skis.com and Snowboards.com (you usually get 10% off for signing up too).
Know which brands represent good value. Although pricier than some other brands, I am partial to North Face, Obermeyer and Spyder for their great quality and clever design features.
The Best Kids Ski Gear
Renting equipment when you are on ski holidays with kids can be a time consuming and somewhat exhausting process. Unless you are only planning on going out once or twice in a season, you may want to consider the following suggestions.
If you have multiple children, it may make financial sense to buy equipment outright since it can just be passed down the line.
Purchase equipment from a store that has a buy back program, whereby they will pay you a guaranteed sum of money for the gear when your child has grown out of it.
Rent equipment for the whole season from your local second hand sports equipment store (the cost is about the same as 5 days worth of daily rentals).
Ski swaps are a very popular place to buy used equipment, just be sure that the equipment is still in good (safe) condition. Also be sure to get binding set properly for your child's height, weight and ability. A beginner falls a lot and their boots should pop out of their bindings fairly easily (see cautionary tale below).
Why Equipment Matters
The following photo shows what can happen when bindings do not release when they should. During a ski lesson, our daughter ended up with another child's identical skis (rented from the same place) – but with tighter bindings. Her leg broke over her boot when her bindings did not release. Please do not let this scare you out of skiing altogether. She is still very passionate about skiing.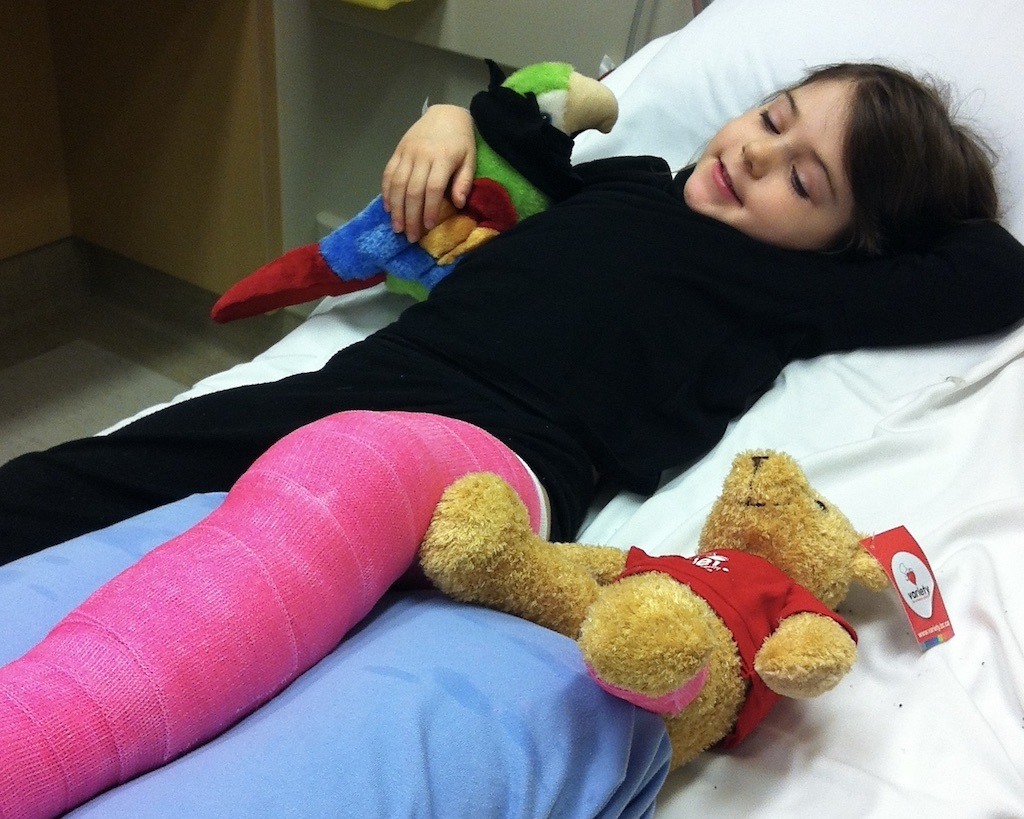 Ski Trip Packing Tips
I used to dread packing for ski holidays with kids as there are so many critical items to remember. The following things help me stay organized.
Color coded packing cubes can be a huge help. Each person in our family gets their own color and their ski gear is kept in these breathable bags, which are then packed into a larger sports bag. At the end of each ski day, after everything is dry, I pop the clothes back in the mesh bags so everything can be easily located the following morning.
After years of dropping boots and skis as we walked from our accommodation to the car, we finally invested in proper ski and boot bags for each family member. The boot bags also fit our helmet and goggles and can be carried as a backpack.
I always have a bag full of miscellaneous extras (gloves, long underwear, goggles etc.). Although these rejected items are usually a little on the ugly or uncomfortable side, they are most appreciated when something inevitably gets lost or damaged.
At the beginning of the season I buy a box of hand warmers and a box of those mini tissue packs from Costco to keep handy in our ski bag.
As soon as we get home from a trip and the laundry is done, everything is packed back into the bags, ready for the next trip (although despite this routine, I still need to double check the bag every time for my own peace of mind).
How to Teach Kids to Ski
How I admire and respect the parent who teaches their child to ski! Many people find, however, that their kids do better (and perhaps whine less), when taught by a professional.
These instructors are usually young and without the temperamental back and knee problems that tend to go along with age and parenthood. Have you tried to snowplow for three hours lately? Surely lessons are a better place to spend your money than with a physiotherapist.
That said, if you still insist on being a super parent, here are a few suggestions on how to teach a toddler to ski (or board).
Use language that your child can understand (pizza=snowplow, french fries= parallel).
From a wise Aussie instructor – "No pee….no ski". Get this out of the way before getting your child into their gear.
Having the right gear can also help such as a ski harness (for skiing or boarding) or an Edgie Wedgie (skiing).
Do not forget to keep it fun for your child. Things going sideways? How about a hot chocolate or snack break? My father-in-law keeps a bag of gummy bears in his pocket and distributes them to the kids as emotionally necessary.
Carry with you an abundance of patience, good humor, fun or a flask (kidding).
Mine YouTube for tips on teaching toddlers to ski or teaching toddlers to snowboard.
Further Reading