Last update: August 23rd, 2020 at 06:59 pm
Finding the Best Kids Headphones
Finding toddler headphones and kids headphones that have great sound quality, are safe (to protect from hearing loss) and fit well can bit a tricky business. Through a LOT of trial and error with my own kids, I share with you in this post our favourite models.
Looking for something else? See also our post on our favourite wireless headphones for kids and the best noise cancelling headphones for kids. You may also be interested in the Top 5 Tablets for Kids.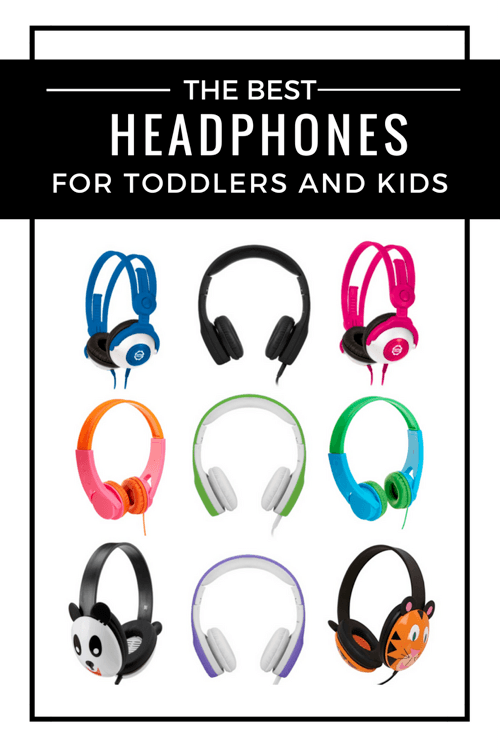 Affiliate Disclosure: As an Amazon Associate I earn from qualifying purchases. This post also contains additional affiliate links.
Childrens Headphones – Important Features
Before we start, here are a few things to be aware of when selecting headphones for toddlers and kids.
Volume Limiting: The general consensus among medical professionals is that children's head sets should not be set above 85 decibles (dB). While some of the options listed below do exceed this threshold, all of them have some kind of volume control via either a control on the device or through an additional volume limiting cable. There are some environments with greater ambient noise in which you may wish to be able to temporarily increase the volume above 85db (airplanes, for example).
Size of Headband: Generally, despite the fact that most adult-sized headphones have an adjustable headband, it often does not go small enough for a toddler's head. You want to find a set of headphones that fit securely on your child's head.
Compatible Audio Jack: All of the kids headphones below have a standard 3.5mm audio jack that will fit iPads, iPods, iPhones (except the new Bluetooth enabled iPhones), most tablets and smartphones.
Ear Cup Size: Those little earbuds that come with many devices and are sometimes offered on airplanes, do not fit well in young children's ears, becoming a huge source of frustration for parents and kids alike. Headphones specifically designed for toddlers and kids have ear cups that are much smaller than the adult ones. They come in two types:
On the Ear Kids Headphones: These head phones go on the outside of a toddler or child's ear and are quite comfortable, but also tend to let in more background noise (meaning a child may need to increase the volume to hear through them).
Over the Ear Kids Headphones: These kind of kids headphones cup the whole ear, providing a better sound experience by blocking out background noise and allowing for a lower volume setting. The one caveat being that without much air circulation little ears can get warm.
Noise Canceling Kids Headphones: True noise cancelling kids headphones are difficult to find. (outside of the ones designed strictly to protect little ears from sound). Over the ear kids headphones, like some of the ones featured in this article, can do a better job of blocking out ambient noise such as airplane engines.
Without further ado, here are our top picks for kids headphones:
Best Headphones for Kids and Headphones for Toddlers
Each style is described in detail below, but here is a quick comparison chart for your reference.
Kids Headphones Comparison Chart
$ = $10-$15 $$ = $16 - $25
| Model | Max. Volume | Share Port | Foldable | Price Range | Our Rating | Check Prices |
| --- | --- | --- | --- | --- | --- | --- |
| Amazon Basics | 94db | No | No | $ | 4 /5 | Out of Stock |
| Onanoff Kids | 85db | Yes | No | $$ | 4.4 / 5 | |
| Califone Kids | 98db | No | No | $ | 4.0 / 5 | |
| Kidz Gear | 80db / 108db | No | No | $$ | 4.1 / 5 | |
| Lil' Gadgets | 93db | Yes | Yes | $$ | 4.2 / 5 | |
| iClever Cat / Bat | 85db | No | No | $ | 4.3 /5 | |
| Cozyphones Headband Headphones | 90db | No | Yes | $$ | 4.3 / 5 | |
1. Lilgadgets Connect+ Wired Kids Headphones – From $21.95
Features: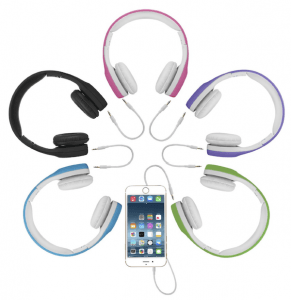 Buy LilGadgets Kids Headphones :
*NEW* LilGadgets have recently added a new version of their volume limited kids headphones. The Connect+ Pro are very similar to the above headphones but they are slightly larger and have a stainless steel enforced adjustment mechanism to increase durability.They are also an over the ear model instead of the on the ear model, meaning that the cup is meant to encompass most of the ear and not just sit on top of it. The LilGadgets Connect+ Pro Kids Headphones are designed for children 6 years and up.
Learn more about the Connect+ Pro headphones here.
Buy LilGadgets Kids Headphones :
2. Onanoff BuddyPhones Headphones for Kids – From $19.99

Features:
Buy Kidz Gear Toddler Headphones:
4. Cozyphones Kids Headphones with Soft Fleece Headband – From $15.99

Features:
Buy Cozyphones Child Headphones:
5. iClever BoostCare Volume Limited Kids Headphones (Cat/Bat) – From $14.99

Features:
Buy iClever Kids Headphones :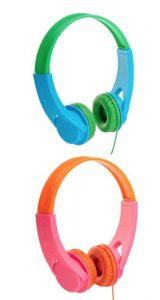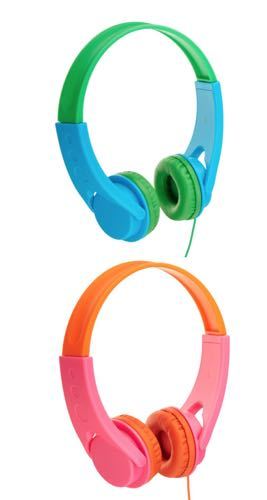 6. AmazonBasics On Ear Kids Headphones – From $14.99
Features:
Suitable for toddlers and kids 3 years and up.
4 / 5 stars by reviewers on Amazon.com

Volume-limiting system to ensure safe listen for kids; Sound output is limited to 94 dB max (similar to the volume of a noisy restaurant)

Adjustable to ensure a perfect fit; lightweight, colorful design

Universal plug for compatibility with laptops, tablets, smartphones, DVD players, and more

Compact design offers portable, take-along convenience

Read reviews and learn more about Amazon Basics kids headphones here.
Buy Amazon Kids Headphones :

7. Califone Over the Ear Kids Headphones – From $14.99
Features:
Suitable for toddlers and kids 3 years and up.
4 / 5 stars by reviewers on Amazon.com
Adjustable child-sized ear cups.
Convenient volume control on cord.
Extra long 6 foot cord with angled 3.5mm plug to reduces accidental pull-out.
Around-ear ambient noise-reducing ear cups protecting against exterior sounds, reducing the need to increase the volume — passive noise canceling headphones.
Please note: these kids headphones can go as high as 98db (you would want to make sure you child does not regularly have it set at the top setting).
Read reviews and learn more about these Califone kids headphones here.
Buy Califone Toddler Headphones:
Popular Kids Headphone Accessories
If you are shopping for tablets, see our post on the best kids tablets.
LilGadgets CarBuddy Universal Tablet Mount – From $19.99
4/5 stars by reviewers on Amazon.com.

High quality, universal car headrest tablet mount.

Compatible with all devices 7″-11″ (all generations of iPads and iPad minis, Samsung Galaxy Tabs, Kindle Fires, etc.).

Can be used in either portrait or orientation, with or without a case.

Installs and removes in seconds and with no tools required.

Soft, rubber coated, and spring loaded arms will securely and safely hold your tablet.

Built and designed to last and backed by our LilGadgets 100% Satisfaction Guarantee and 1-year warranty

Read reviews and learn more about the Lil'Gadgets Car Buddy tablet mount here.
Buy LilGadgets Car Buddy Table Mount from $14.99 :