Last update: June 26th, 2017 at 07:36 am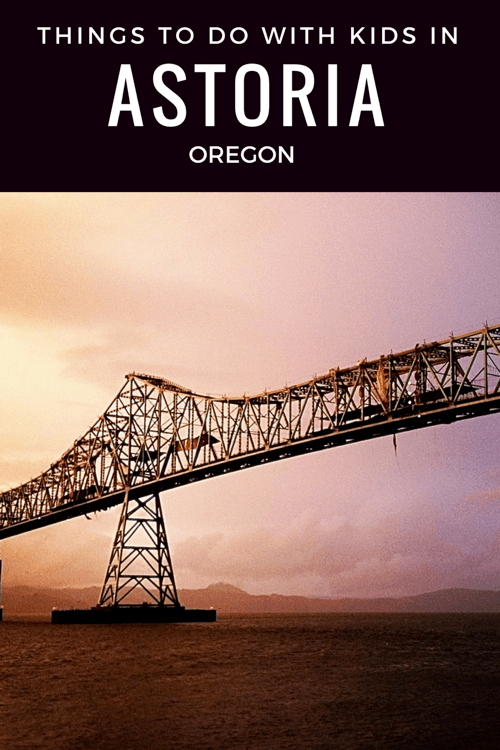 I suspect that if you work in tourism in Astoria, Oregon, you probably get tired of hearing references to the movie The Goonies.  While this quaint town at the mouth of the Columbia River is also very popular for it's turn of the century homes,  museums highlighting it's varied history as a fur trading outpost and fishing port, and more recently it's developing cafe and arts scene, the Goonies was all my children wanted to talk about.  "STOP THE CAR !  STOP THE CAR !  IT'S THE GOONIES HOUSE MOM ! ".  As if we stumbled upon it by accident. One of the great things about having children is that you can pretend you are doing things like this for them. As it turns out, there have been more than a dozen movies filmed in Astoria, and after enjoying some time in this picturesque little town, we could certainly understand why.
First a little video….or just skip ahead:
Astoria, Oregon Attractions
1. The Columbia River Maritime Museum
Discover the stories of the legendary Columbia River Bar, one of the most dangerous passages in the world, at the nationally renowned Columbia River Maritime Museum. This museum is best suited for older children, but there is a very good interactive ship's bridge that even a toddler would enjoy.
Reviews: 96% rate as Very Good or Excellent on TripAdvisor.
More information: http://www.crmm.org/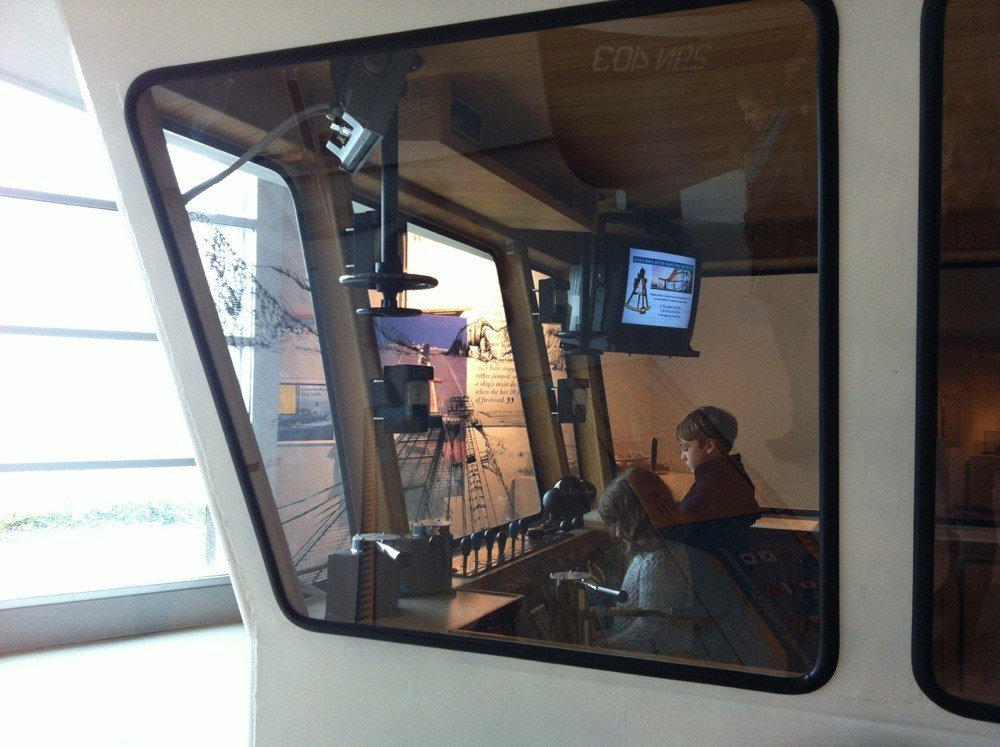 2. The Astoria Aquatic Center
Great for the early riser, this aquatic center has a kiddie pool, lazy river and water slide the old 300 riverfront trolley.
Reviews: 72% rate as Very Good or Excellent on Tripadvisor.
Learn more at: http://www.astoriaparks.com/
3. The Astoria Riverfront Trolley
This classic trolley, originally made for the San Antonio Traction Company in 1913, runs all along Astoria's historic waterfront, passing the city's restaurants, docks and piers.
Reviews: 81% rate as Very Good or Excellent on Tripadvisor.
Learn more at: http://old300.org/
4. The Goonies House, Astoria
Still a popular attraction, the current owners are kind enough to let you walk up their private drive to take photos (but please be kind and make a donation).
Address: 368 38th Street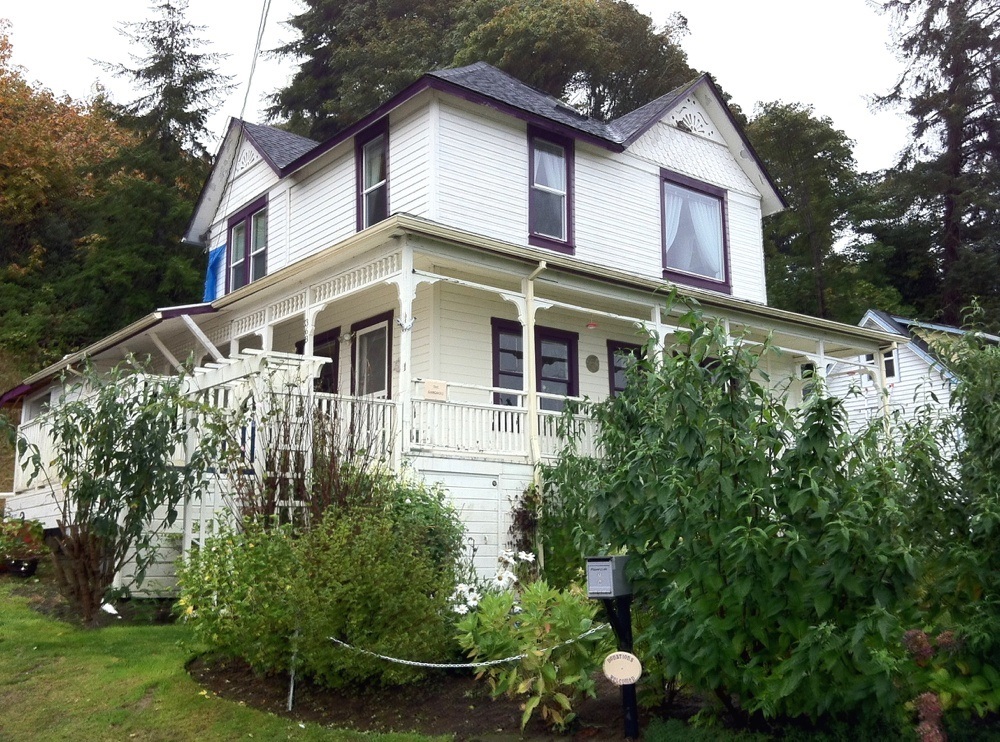 5. Astoria Parks and Monuments
The Astoria Column  (website) –  Climb the 125 foot column for fantastic views.  Kids will enjoy sending balsa wood planes off the top (from the gift shop).
For Stevens State Park (website) – Show kids a real shipwreck on the beach (The Peter Iredale – 1906).  Also a great place to fly a kite.
Fort Clatstop (website).  Visit this famed part of the Lewis and Clark expedition where they set up camp for the winter of 1805/06.  Although the original camp is no longer there, it has been reconstructed and provides an interesting look at life from that time period.  Kids can participate in the Junior Rangers program, earning passport stamps and badges for completing activities.
Top Hotels in Astoria, Oregon
The Cannery Pier boutique hotel, as it's name implies, was rebuilt on the site of an old cannery, right over top of the Columbia River, with the Astoria-Megler bridge providing a interesting backdrop. From our room we enjoyed watching large boats go by, sea lions popping their heads up, and a fantastic lightening storm.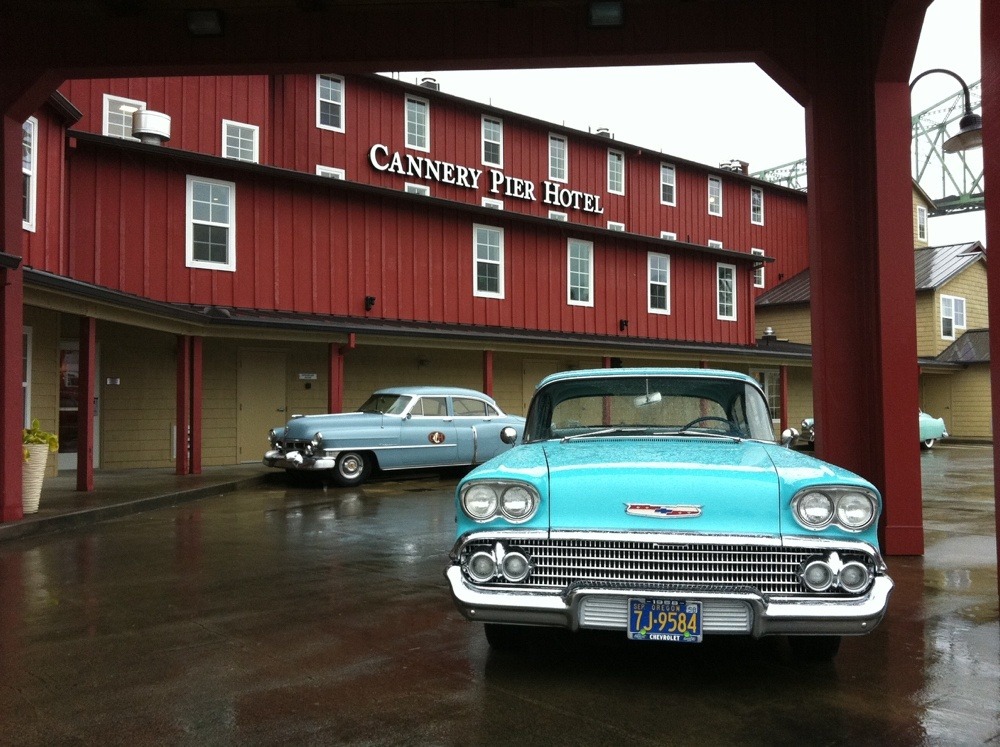 Rate Class: $$$
Hotel Class: 5 star
Room Options: Studios, 1 bedroom, and the extra special top floor Pilot House.
Reviews: 99% rate as Very Good or Excellent on Tripadvisor.
For current rates and availability: Click here.
What I Loved:  The clawfoot bathtub, the wonderful view,  the complimentary evening wine and cheese reception, the on-site coin laundry facilities, the in-room ship identification guide (so I could look really smart to my children)
What My Kids Loved: using the binoculars in the room to get a closer look at the river and bridge, making their own waffles at breakfast, the wine and cheese reception (or rather, sparkling apple juice for them),  and the option to take a ride in one of the vintage cars.
Top Astoria, Oregon Restaurants
There are a number of nice family-friendly restaurant options in Astoria.  We very much enjoyed the Bridgewater Bistro and The Wet Dog Cafe and Brewery. Other top rated Astoria restaurants include T Paul's Supper Club and Bowpickers Fish and Chips.
Other Useful Information for Astoria, Oregon
Calendar of Events – See current events from Travel Astoria.
Getting to Astoria – See getting here from Travel Astoria.