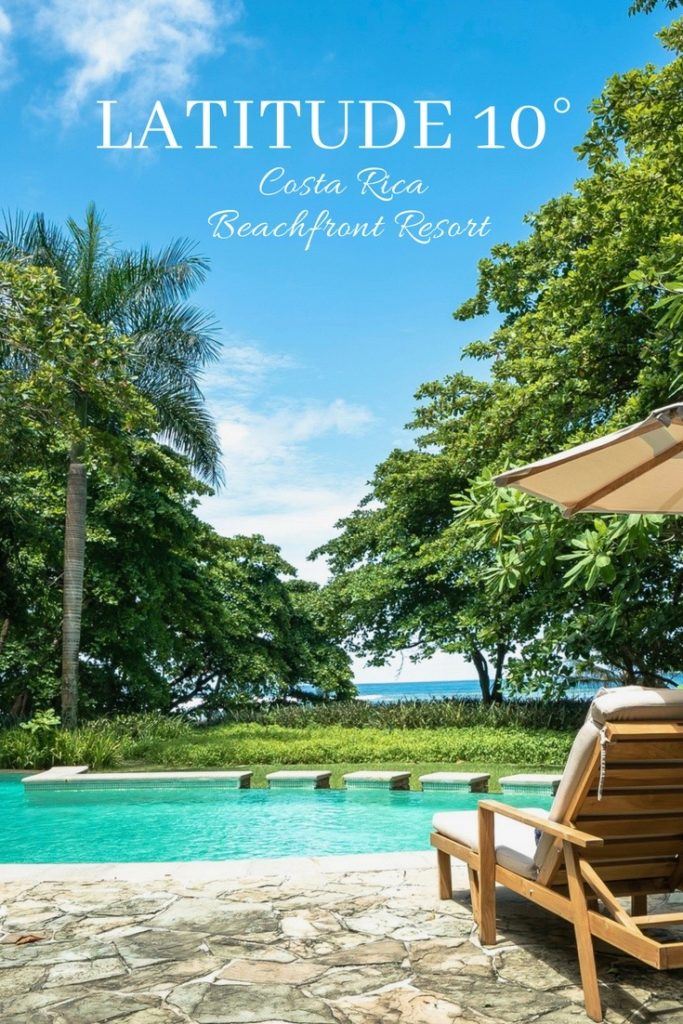 Latitude 10° Resort, Costa Rica
For many years, we had floated the idea of a family trip to Costa Rica. We were finally able to make it happen during our children's summer break, which happened to coincide perfectly with the lush and beautiful Green Season in Costa Green. We knew that this beautiful Latin American country had no shortage of things to see and do, so the challenge for us became how to best allocate our time over two weeks. Experiencing the sights and sounds of the rainforest was at the forefront of our plans, but we also wanted to squeeze in some more relaxed beach time on the Pacific side of the country. With 5 beautiful open-air beachfront bungalows, the boutique-sized Latitude 10 Resort in Santa Teresa seemed to be a perfect fit for our Costa Rica family itinerary. Read on to learn more about this gorgeous property or, if you want a sneak peek, check out our 2 minute video.
Latitude 10 Costa Rica – First Impressions
I could literally feel myself starting to decompress while sipping on some freshly-pressed juice presented to us upon check-in at Latitude 10. We had been loving our Costa Rica family adventure thus far but had been on-the-go pretty much non-stop for a week. While the kids explored the plentiful gardens looking for lizards, I kicked back in a lounger to take in the sounds of the waves, the wind in the trees and the distant calls of the howler moneys. I could literally feel my shoulders dropping and any travel stress melting away. I knew this would be the perfect place for us to reenergize with a few days of reading, beachcombing, swimming, and generally chilling out.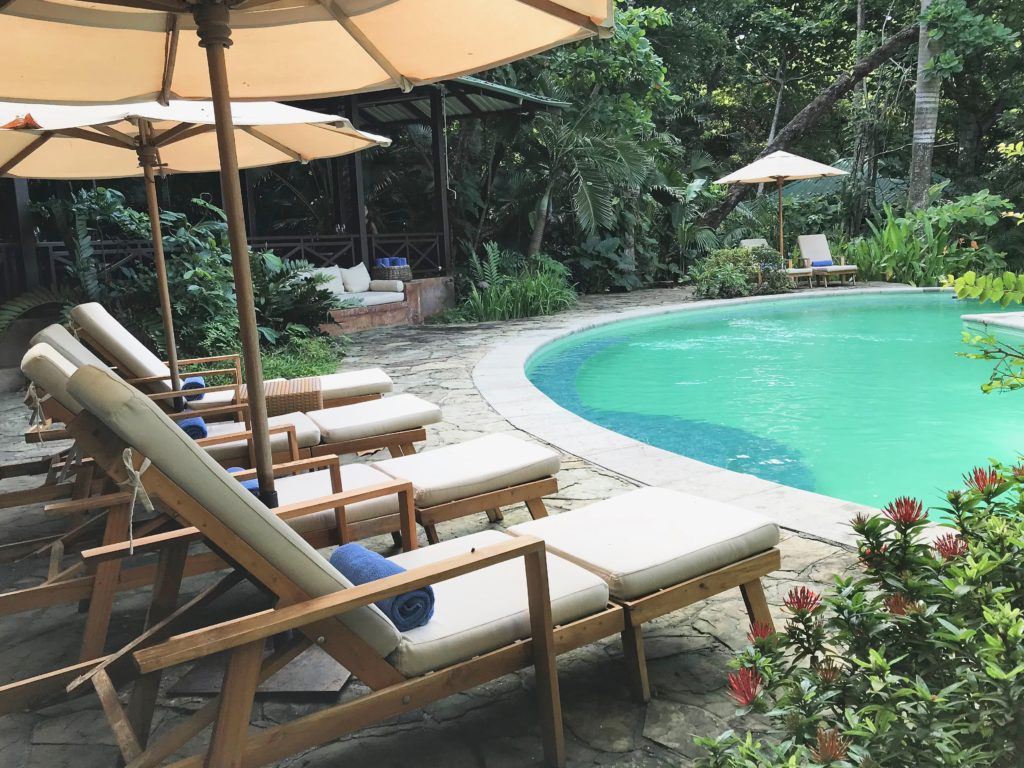 Latitude 10 Resort – The Casitas
I am always super excited to see our room at a new hotel property (and I'm often having to hold the kids back who are equally excited). Latitude 10's beautiful open air casitas are just steps from the beach and each one is nestled into the trees in such a way that they offer tons of privacy. For our family of four, we chose a Master Suite with close to 500 square feet of living space (bigger than my first apartment). What I found especially nice was that each of my 2 kids was set up in their own single bed on opposite sides of the casita. My children have reached an age (11 and 13 at the time of this trip) where there is a lot of kicking and squabbling that goes on in a shared sofabed, so this arrangement was very much appreciated. In fact, my kids enjoyed having their own space so much, that during our stay they had to sometimes be coaxed out from under the tents of their beds where they enjoyed reading and playing cards.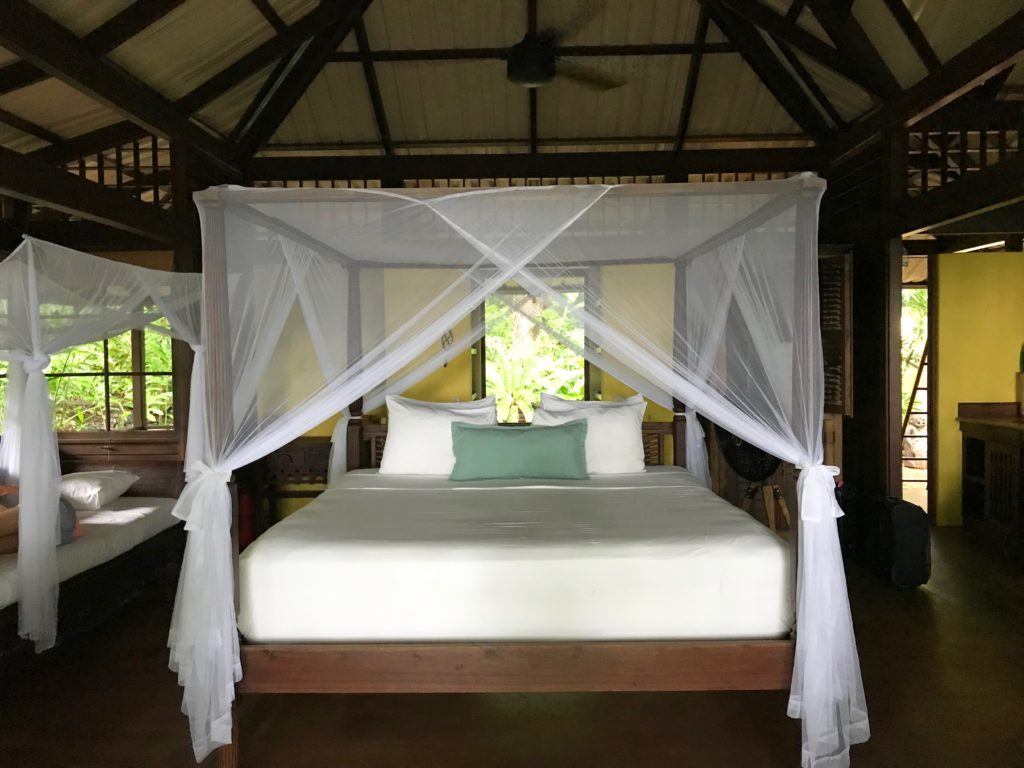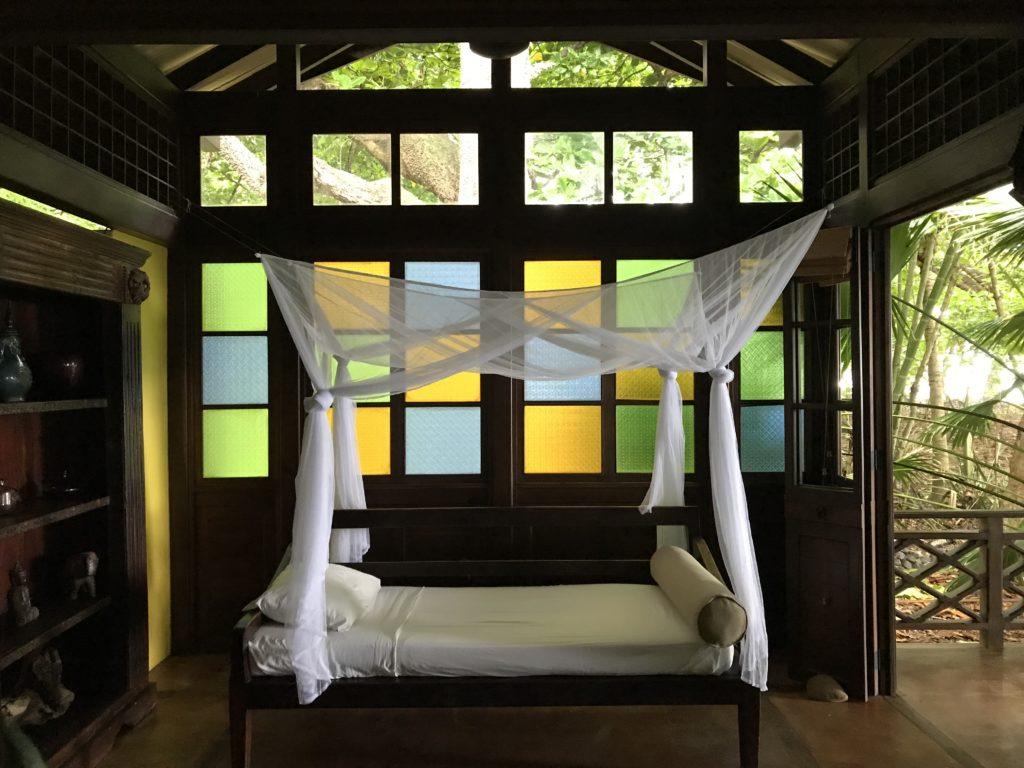 I can't mention the rooms without talking about the gorgeous open air bathroom. The picture speaks for itself, but the space is simply serene and of course includes a selection of organic, biodegradable toiletries. During turndown service, the whole casita and bathroom were lit romantically by candlelight. Even the monkeys loved it (we heard them having a little play out there early one morning).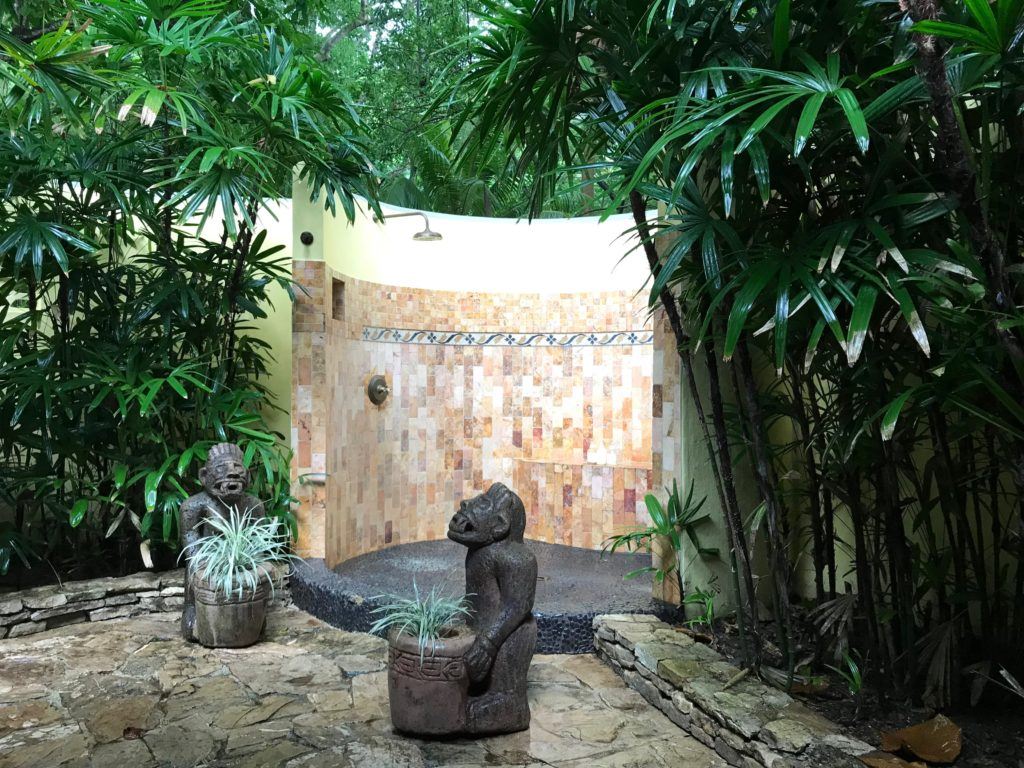 Latitude 10 – The Food
From early morning coffee in the lounge (prepared in the traditional Costa Rican way if you wish), through dinner, you are presented with beautiful, fresh, sustainably harvested food at Latitude 10. For such a boutique-sized property, I was very surprised by how extensive the menu was. There is a nice kids' menu too. Guest are very much welcome in the open-air kitchen (the "mi casa es tu casa" philosophy) and can even take a ceviche making class.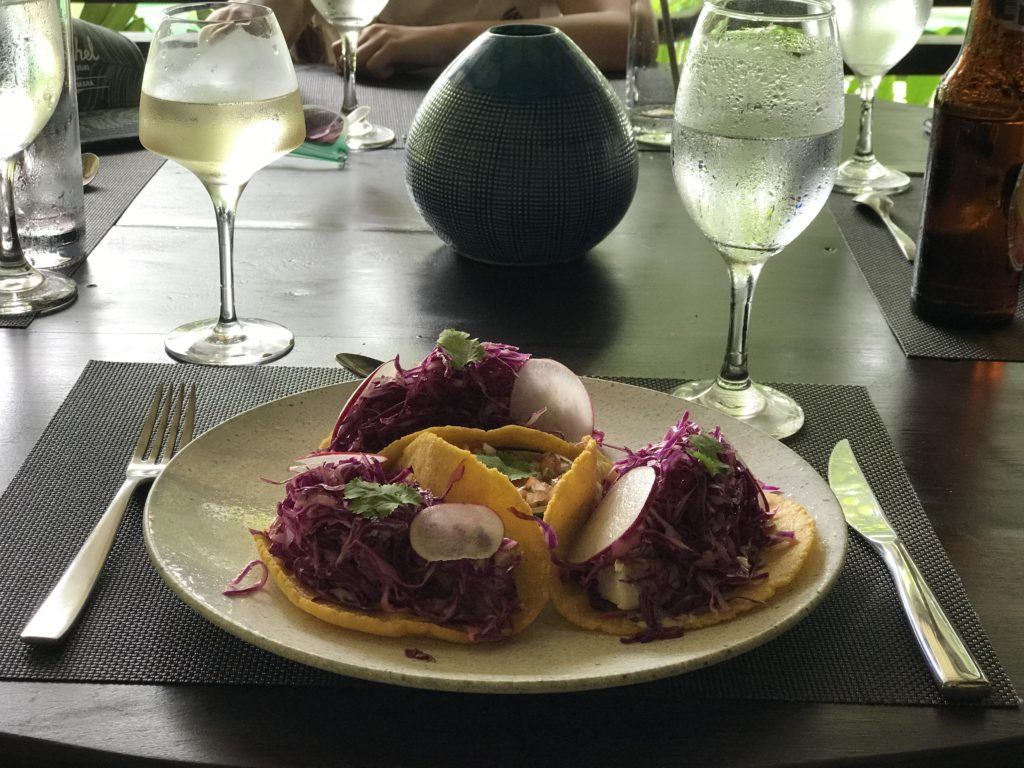 Activities at Latitude 10
For our stay, we were looking for some downtime in Santa Teresa, but there is actually a ton to do if you so choose. We did eventually venture off the property to do some boogie boarding on Playa Santa Teresa. The hotel also arranged a family surf lesson for us at the gorgeous Playa Hermosa. This incredible stretch of sand is a perfect place for beginners. While my husband and I struggled to find our balance, I may have had my proudest moment as a parent yet watching my kids pick it up so quickly. My daughter literally could not wipe the smile off her face even when she was occasionally tossed off into a wave.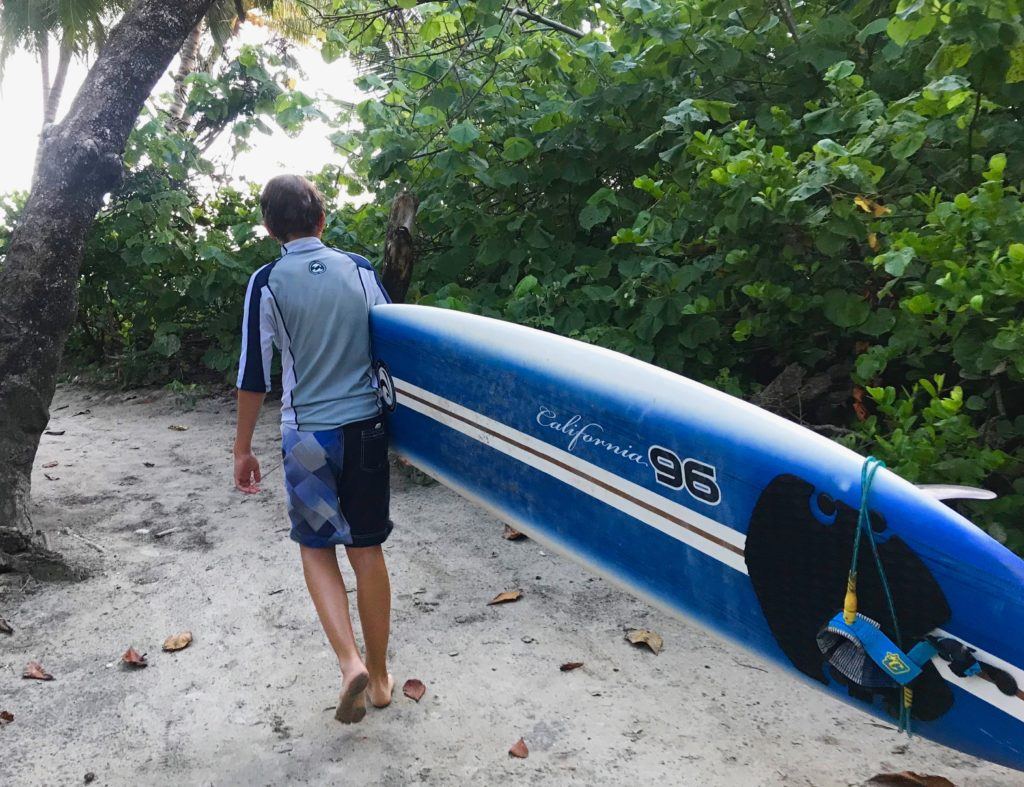 For those looking for a little more adventure, the helpful staff at Latitude 10 can arrange a number of fun excursions including horseback riding on the beach, a snorkeling adventure to nearby Tortuga Island, a Montezuma waterfall canopy tour, and several nature tours (Cabo Blanco Nature Reserve and the Carú Wildlife Reserve).  See a full list of tours and activities here.
As would be expected in a place like Santa Teresa,  you can also book a yoga lesson, or a heavenly massage.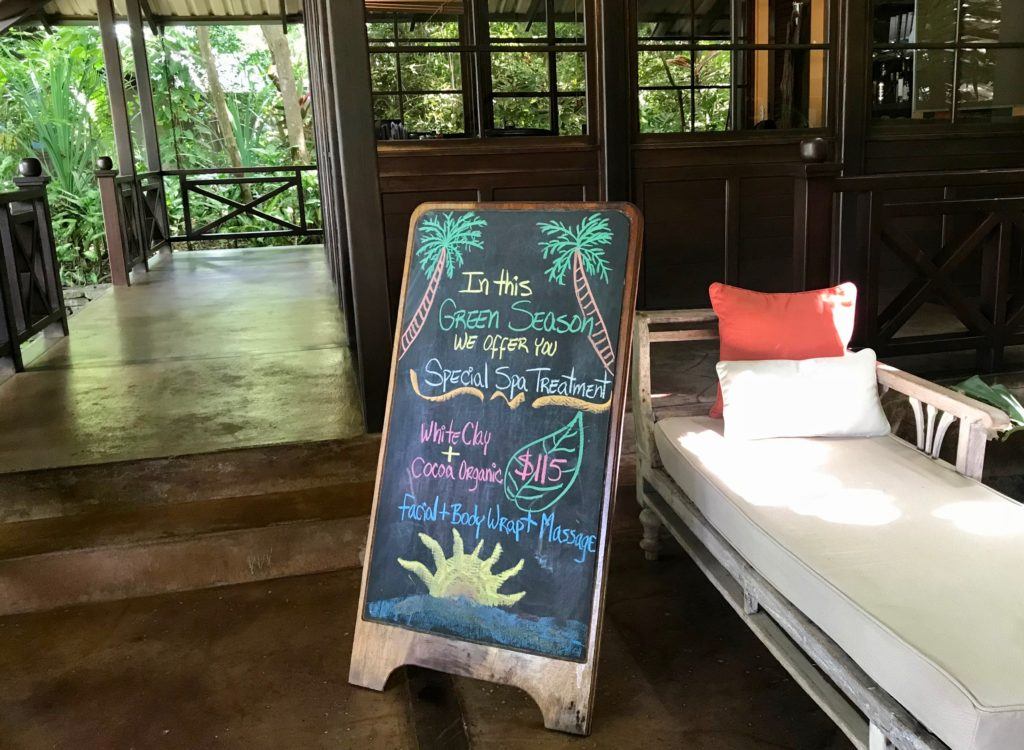 Latitude 10 – The Philosophy
I will admit that I spend a lot of time worrying about the planet and our impact on it as travelers. One of the things that I really fell in love with at Latitude 10 was their commitment to the community of Santa Teresa and the sustainability of its resources. There are really too many initiatives to name here, but some things that I especially appreciated were the lack of single use plastics on the property (straws are made from bamboo, steel water bottles are provided, etc.), the organic, biodegradable toiletries and the locally sourced provisions.
Guest can also actively participate in leaving Santa Teresa even better than they found it. For example, along with the kids, my husband and I collected garbage from the beach while walking back from boogie boarding (for which we were rewarded a free drink). While I found Costa Rica in general to have way less litter strew around than any other Latin America country we have traveled to (thanks to over 30 years of ecotourism), I was still surprised by the amount of plastic water bottle caps and plastic straws that filled up our bag. Since the trip, I can't help but think about this anytime someone hands me a drink with a plastic straw in it (although they have also thankfully been banned in our home city of Vancouver too).
Latitude 10 is part of the Cayuga Collection – an award-winning company that is dedicated to managing and developing small, sustainable luxury hotels, resorts and lodges in Latin America. Their portfolio includes 9 different hotel properties in Costa Rica, Panama and Nicaragua. We were lucky enough to also stay at their Lapa Rios Eco-Lodge on the Osa Peninsula and it was equally wonderful.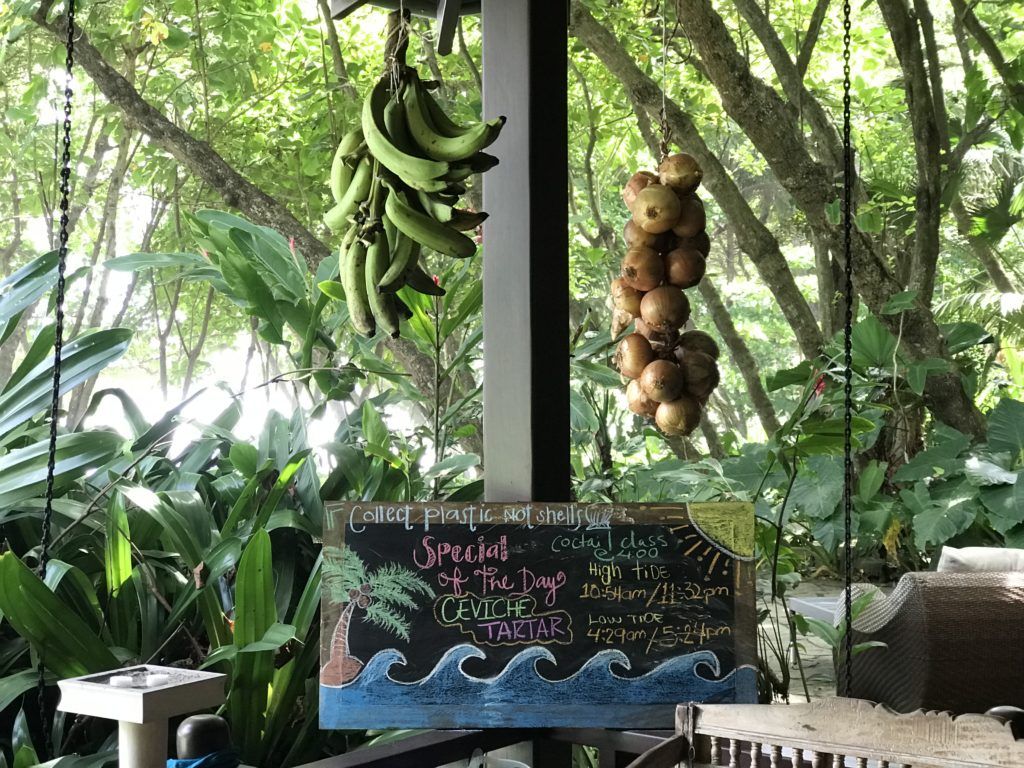 Our Favorite Thing at Latitude 10
There was something at Latitude 10 that we didn't expect to find and it turned out to be our favorite thing. While the resort is nestled between two beautiful beaches, Playa Teresa and Playa Hermosa, right in front of the hotel are the most incredible tidal pools. Some of them are so large that you can even swim and snorkel in them at high tide. In one particularly large pool about 500m north of Latitude 10 and El Peñon (the huge rock shown here), we enjoyed a lovely sunset snorkel where we saw several baby moray eels and even a little octopus!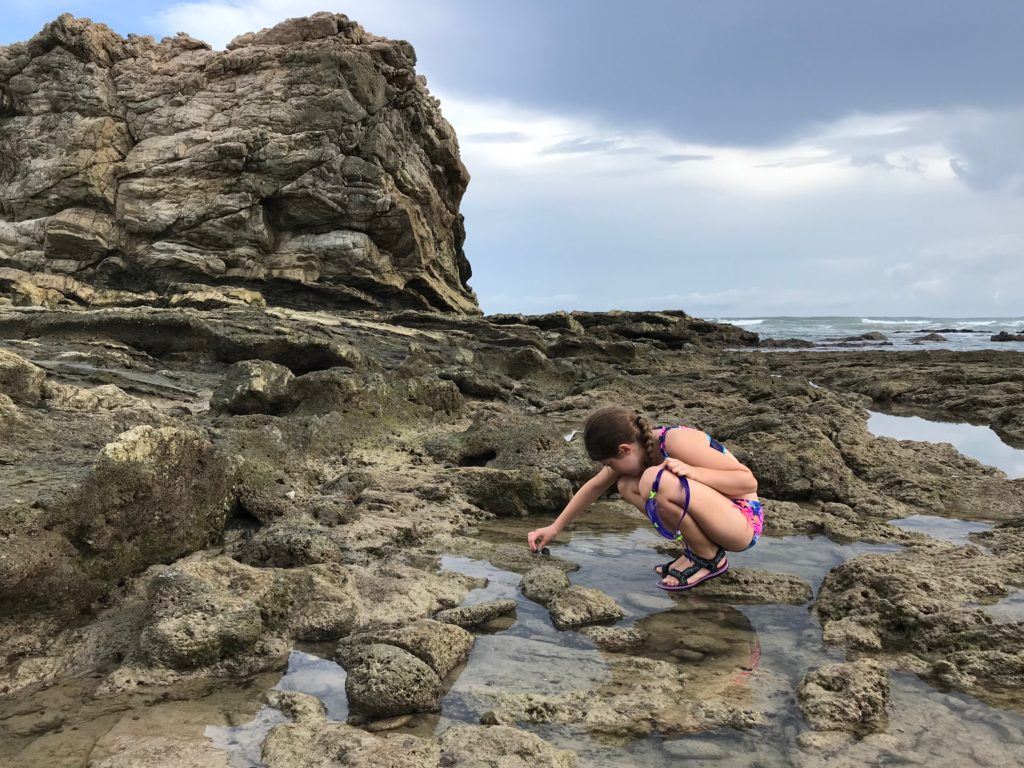 Getting to Latitude 10
When coming from San José, you can either drive to Santa Teresa (about 5 hours including a ferry), or fly (30 minute flight + 45min taxi). We chose the latter because we were visiting in Costa Rica's rainy season, where roads can sometimes get a little muddy. We found domestic flights on Sansa Airlines (owned by Aviana) to be quite reasonable.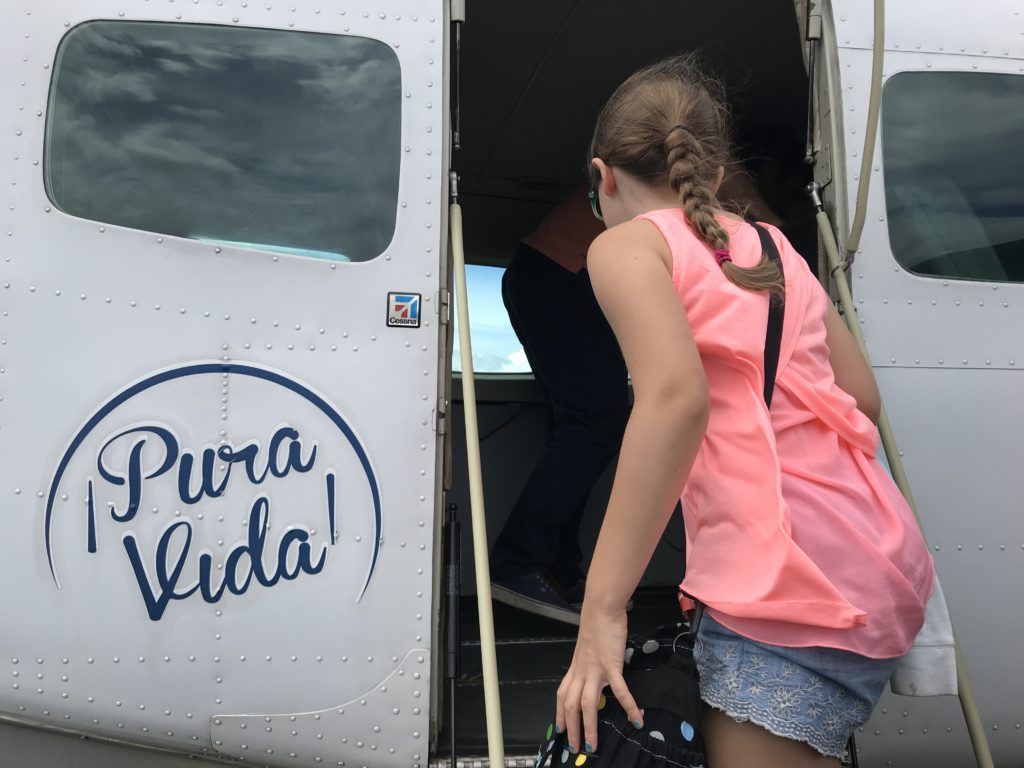 Learn More about Latitude 10 Resort
For more information, please see the Latitude 10 website and read current reviews on TripAdvisor. This property welcomes children of any age, with special discounts for those under 12. If you are able to visit during Green Season (April through November), you may luck into an extra special deal at this beautiful Costa Rica luxury beach resort. For example, during our July visit, Latitude 10 was offering every 4th night free. Contrary to what one might expect, you can get plenty of sunshine-filled hours during this season. For further reading, please see my post on Costa Rica in Green Season.
Note: While the mosquitos were not bad while we were there, and all the beds are covered with mosquito nets, please remember that the casitas are open air (not completely screened). While the resort does provide a natural mosquito repellent in the rooms, if you are particularly bothered by these annoying pests, you may want to bring along some backup.
Disclosure: During our stay, we were offered a discounted stay at Latitude 10. All other expenses including flights, meals and activities were covered by us. As always on this site, however, I strongly encourage you to also thoroughly read recent reviews from other travelers on TripAdvisor prior to making a booking.
You May Also Enjoy the Following Posts: