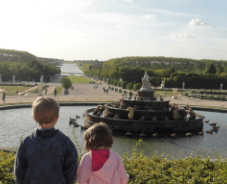 updated 2015
While in Paris recently with my two kids (5 and 8), I put great thought into the best ways to get around the city as a family. This included a topic that comes up on many travel with children forums. What is the best way to get to and from Paris airports (CDG and ORY) with an infant, baby, or toddler in tow.   This seems to especially concern people since Paris has quite a reputation for crazy drivers.  Following are what I think are the best bets for getting around Paris with kids. If you are looking for additional information, please also see our post on best attractions for toddlers and kids in Paris.
getting to and from Paris airports with babies and kids (CDG/ORY)
1. take the RER train
This is the commuter train that runs into Paris and connects with the metro system.  If the train goes directly to where you need to go, this may be an option for you.
pros:  You do not need to worry about car or booster seats and the cost is reasonable.
cons:  If the RER does not go directly to your hotel or vacation rental apartment, and you need to make several train changes, you may finds yourself in metro hell with many staircases, too much luggage,  and a cranky family.
2. take a taxi
A friend of mine from Paris gave me this advice upon recommending taking a cab from the airport to my rental apartment.  Get into the cab and say (ideally in french)  "Hello!  My child has been throwing up on the plane.  Could you please take me the most direct route possible?"  This was her solution so I didn't get taken on a wild goose chase to run up the fare.  Ironically for the first time one of my children did throw up on the plane and thus the line became rather imperative.  The driver gave me time to strap in my travel booster seats (I use the inflatable travel booster by Bubble Bum – amazon $39.99), although I think the meter may have been running.  This ride, and in fact all of the taxi rides we took in Paris were quite good, with very pleasant drivers (they seemed to just love the kids).
pros:  The taxi stand was easy to find in the airport.
cons: There was a 20 minute line up for the taxi which required me to continue my song and dance routine to keep my kids entertained after already doing so for 9 hours on an airplane.
note:  As in any city, avoid ghost cabs (where someone approaches you in the airport, not at the taxi stand, and directs you to their unauthorized vehicle without a meter).
3. use a car service
To do it all over again I would splurge and use a car service.  Collect your luggage and look for the sign with your name on it….follow.  It doesn't get easier than that. One of the best is Paris Private Car.  It is recommended by the travel guru Rick Steves and can provide car seats.
pros: A car service is very convenient and you can feel like you are living large.
cons: It can be a little pricey.
4. rent a car
Just don't.  You do not want to drive in Paris.  Parisiennes don't want to drive in Paris.  If you are touring around Europe after Paris, rent a car at the end of your city stay.
options for getting around Paris with infants, babies, toddlers and kids
1. walking
Paris is a beautiful city for walking.  If your accommodations are close to the Seine, this may work for you.  The challenge is that Paris isn't entirely stroller friendly.  The parks are, but many of the streets are cobble stones or have very narrow sidewalks crowded with people.  If you have a baby or infant, a soft shell carrier is probably your best bet.  Along with this a very light travel stroller that can be easily packed up and carried at a moments notice when you reach the huge set of stairs or the sidewalk simply disappears on you.  If you are interested in renting a stroller or any other travel gear, please see the links at the end of this post.
Older children should be better able to walk around Paris, although distances can be great.  Make sure everybody has good (and stylish – it's Paris after all)  walking shoes and when things go sideways, be ready to grab a cab or other transit.  With my children (5 and 8), we either walked or took the metro during most of our stay, but there were times when my 5 year old was pretty tired.
2. the bus
Although the metro is very convenient in Paris, it is not at all stroller friendly due to the sheer volume of people and the endless concrete staircases .  Most Paris buses, on the other hand, have a ramp near the back of the bus that can take a stroller.  Bus routes can also be much more direct than taking the metro.  As an added bonus you can see some sights while you get around rather than being underground.  See the rapt website for more information on routes and rates.
3. the metro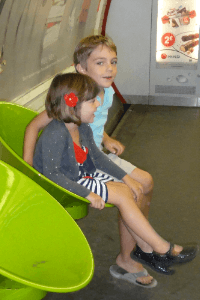 While it can be very convenient, I would still only recommend the Paris metro for parents traveling with a new baby in a carrier, or for older children who can easily follow instructions and have no problems climbing stairs. I stongly advise against using a stroller in the Paris metro due to the volumes of people and the number of staircases (we never saw an elevator and escalators were rare).
I personally found the ticket options for the metro a little confusing (especially when you have a large line of anxious commuters waiting their turn behind you). For us, the 5 day Paris Visite 1-6 zone pass made the most sense, working out to 10 euros a day for me, and 5 euros a day for each of my children (kids 3 and under are free).  Although the financial benefits were negligible over buying individual tickets,  the fact that we did not have to stand in line for tickets every day and had one pass that could be used to get everywhere on either a city bus, the metro or the RER train (including getting to Versailles and Disneyland Paris), made it entirely worth it.  Oh yes, and the pass also gave us 20% off admission to Disneyland Paris. Please see the following link for more information on the Paris Visite Pass and this article called how to use the paris metro subway, which does a great job at explaining all your metro ticket options.
4. taxi
A mother of a two year old living in Paris told me that she only gets around by cab with her little one. At this age they are too heavy to carry, but walking any distance can be difficult. It isn't necessarily expensive either.  After arriving at a park that took me 30 minutes to get to on the metro , a mother who traveled from the same area as I did, said her cab ride was only ten minutes.
The taxi system in Paris is not quite as straight forward as in other cities.  There are two important differences.  One is that if you call a taxi, they start charging you from the moment they get the call. The other is that a taxi is not allowed to stop within 50 meters of an official taxi stand.  Finding a taxi stand can be a little complicated for a visitor although there is usually one close to most metro stations and major tourist sights. I think this post on taxis in Paris is essential reading if this is how you plan to get around in the city.  Print off the map provided on this site as the map given out at all tourist offices in Paris does not included taxi stands on it.  You can also call ahead and reserve a taxi.  There is one main taxi phone number in Paris : 01 45 30 30 30
Karen from the wonderful Paris baby equipment rental company 2kids1bag.com, was kind enough to add this comment:
"It can be difficult to find a taxi during the rush hours (between 8 and 10 am, 6 and 8 pm and on saturday). For the others periods of time, it is quite easy to find one (directly in the street)."
update August 2013:  This is a great article on Paris cabs from David Lebovitz (see link).
boats, bikes and bus tours in Paris with infants, babies and toddlers
1. boat tours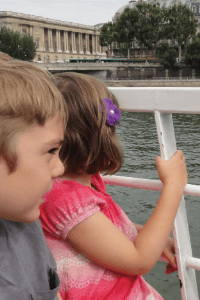 The Batobus is a basic hop on, hop off,  boat transit system on the Seine.  It has eight stops along the river connecting some of the major sites including the Louvre and the Eiffel Tower.  If you are staying along the river this could be a very convenient and scenic way to get around.  If you would prefer more of a sightseeing river cruise, try  Vedettes du Pont Neuf (4/5 stars on tripadvisor), Bateaux Mouches (4/5 stars on tripadvisor) or Bateaux Parisiens (4/5 stars on tripadvisor).  Regardless of which one you choose, a boat ride is sure to keep both a child and parents amused (if nothing other than lulling a baby to sleep).
2. bike tours
Something I was not able to do with my kids, since I was on my own with them and they are not yet accomplished riders, was the highly rated bike tours of Paris (day or night).  Two companies that provide all kinds of options for babies and kids including children's bikes, tandem bikes, baby seats and  trailers are  Blue Bike Tours  (5/5 stars on tripadvisor – rated the#1 tour in Paris) and  Fat Tire Bikes Tours (4.5/5 stars on tripadvisor).
Prefer to rent family bikes on your own?  The Paris baby gear rental company 2 Kids 1 Bag  also rents bikes, baby seats and scooters.
3. hop on – hop off bus tours
There are several companies that offer sightseeing bus tours providing commentary and connecting some of the major sites of Paris.   The two major companies are Les Cars Rouges (3.5/5 stars on tripadvisor) and  L'Open Tour (3.5/5 stars on tripadvisor).
most useful support tools for getting around as a family in Paris:
The four things I found most useful in getting me and my family around Paris were:
Eyewitness Family Guide Paris 2014 (amazon $18.92) – great suggestions for what to do with kids

Rick Steve's Paris 2014 (amazon $12 – paperback or kindle) -very detailed instructions on how to get the most out of Paris.  I actually purchased it as an iBook and downloaded it onto my phone (therefore does not require wifi).
A Paris City Map – even the best laid out plans can go sidesways and a map of the city was imperitive)
McDonald's – not for the food, but for the free wifi  (see map for locations)
you may also be interested in the following:
best family friendly hotels and vacation rental accommodations in paris
best attractions for toddlers and kids in paris
things to do on a rainy day in paris with kids
flying with babies and infants – best travel strollers
additional resources:
baby equipment rentals in Paris:   2 kids 1 bag, kidelio, and baby'tems
babysitter in Paris: mababysitter and unpetitmonde