Last update: April 5th, 2021 at 08:05 pm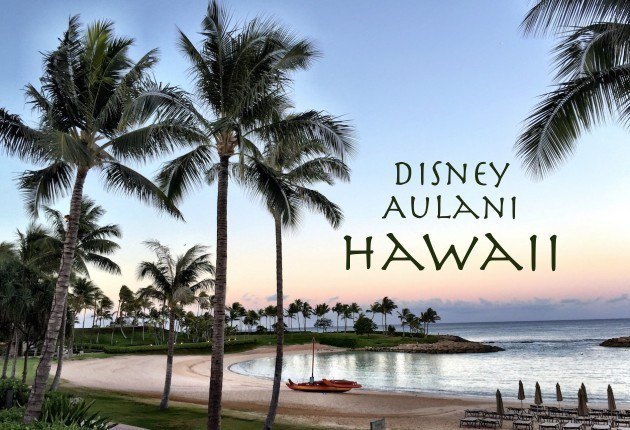 The excitement I felt when I first walked the immaculate grounds of Disney Aulani Hawaii (at 5am due to jet lag) was the same one I get every time I arrive in Vegas. Is this for real?  Is this actually real (I like to tap on things to check)? Were the birds that I heard chirping in the trees real birds, or were they piped-in birds (I think it was actually both). Either way, everything seemed perfect. I grabbed a latte and began my self guided tour of the grounds in order to plan out our day.
Take a quick 1 minute video tour of Aulani, or just read on.
Why, you might ask, would I need to plan out our day before the sun was even fully up? Well, because I had done my research, and from everything I had read, in a few short hours this place was going to be a zoo. Here was my first clue that I needed to be on my game. People were putting towels on chairs at 5:30 in the morning ! Notice how in the photo there is still a lantern on? This is what I was up against.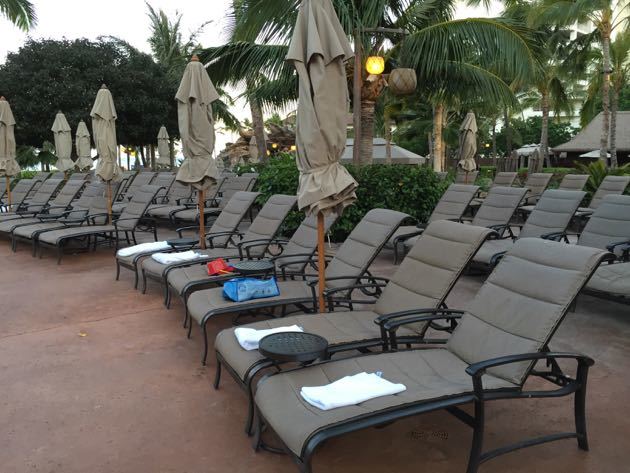 How did a family like ours end up at Disney Aulani when we generally shun large properties in favour of boutique hotels? We had planned this trip as a reunion of friends who had met on a 37 day Contiki tour of Europe many, many years ago. We are spread out across the globe and only manage to get together about once every 5 years. We decided that it simply made sense to meet at a place where our children would not want to be glued to our sides (they ranged from 5-10 years) and we could maximize the time we had to catch up with one another.
From our experience, I have come to the conclusion that this resort makes a lot of sense for large groups, multi-generational trips and exhausted parents who are looking for a holiday where they can actually sit down for a few minutes. It goes without saying that it also holds great appeal for Disney nuts sporting multiple Mickey Mouse tattoos (although the character aspect is rather played down at Aulani in comparison to other Disney properties).
The Property and Rooms
The hotel is very well designed and has attractive Polynesian themed rooms. We booked the most basic room with an island garden view (one step up from the parking lot view) and I was pleasantly surprised by the nice decor and the large spa-styled bathroom (with plush robes and slippers). Conveniently for families, all rooms come with, at minimum, a mini fridge, high chair and playpen.The pool side rooms have a great view of the property but can be a little noisy. A friend of ours had this view and joked about the Groundhog Day effect of waking up to the Aloha song from the character breakfast every morning. Beach view and island garden view rooms are much quieter.
For a little (or a lot) more money you can choose a larger suite with separate bedroom(s), living room, full kitchen, and even laundry facilities. I strongly encourage you to time your visit to coincide with friends who step up and book a large suite or villa (I am kidding, but thank you C&M). Our friends were kind enough to let us all enjoy fine wine and company around their dining room table in the evenings.
The hotel property size is not as overwhelming as it appears in the photos. Prior to our trip I imagined that it would take me 15 minutes to walk from my room to the pool area. In actuality, however, in only took me about 3 minutes since the hotel is built in a U-shape configuration around the waterpark and the elevators are incredibly fast.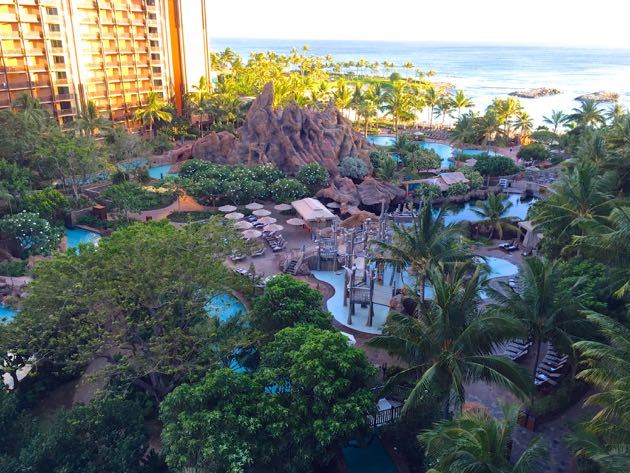 The Waterpark
The waterpark has something for every age including the Keiki Cove splash zone, the large gradual entry pool where the afternoon "pool party" is held, the lazy river, two waterslides, the Menehune Bridge water adventure park, and even a quieter, adults-only pool. Although all the children in our group could swim, I appreciated the fact that there were attentive lifeguards everywhere. My son quickly figured out that the time to go on the waterslides was at 9am when the slides opened and before the lineups began.
My only disappointment with the park was the fact that at one point during our stay, both the Menehune Bridge (shown below) and one of the water slides were under repair. I think it makes sense to inquire if there will be any scheduled maintenance going on during your stay to avoid disappointment.
As the waterpark is one of the main features of the resort, it is naturally where everyone likes set up camp for the day. As mentioned earlier in this post, people start claiming chairs in the early morning hours. By 9am, it is difficult to find a free lounge chair near the pools.There is an employee in charge of each seating section, so if you cannot find somewhere to sit, find one of them and they will try to accommodate you by finding unattended or abandoned loungers.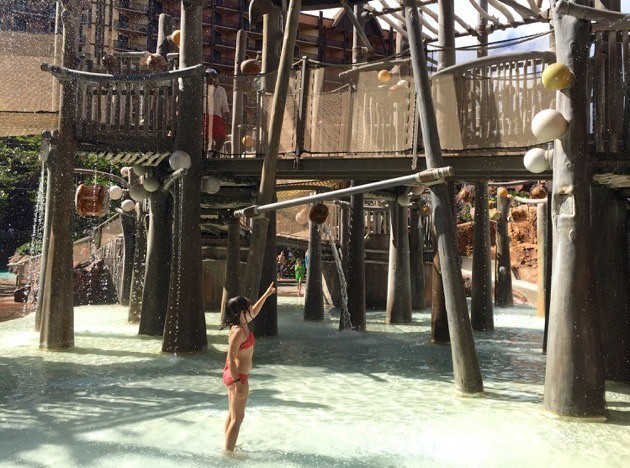 Other Activities
My kids couldn't wait to go snorkeling at the Rainbow Reef. This little salt water lagoon is populated by schools of such perfect fish that I couldn't help but wonder if they were considered cast members too. Several times a day the fish are fed, offering up a great viewing opportunity. You can either buy a day pass (adults $15, kids $10) or purchase a pass for your whole stay (only $5 more per person). Mask, snorkel, life jacket and towels are provided with entry.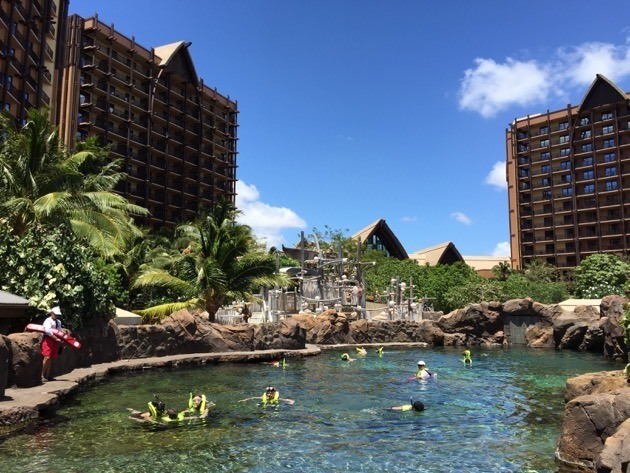 Aulani offers tablets for loan at the Pau Hana community centre for children to take on the interactive Menehune Adventure Trail around the property. Solve a riddle, or find a clue and something fun will happen – like a waterfall will start to pour down into the pool. A deposit is required to sign out a tablet that is refunded upon its safe return. The Pau Hana room is also the place to enjoy complimentary crafts, board games or borrow a Disney movie for the evening.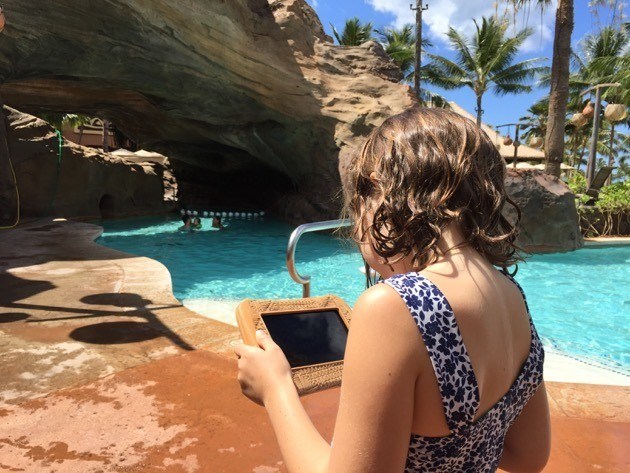 Aunty's Beach House
This beautiful facility is the saving grace for parents and is run by a top-notch staff. Getting your child signed up for Aunty's house is a little laborious (involving filling out forms, getting tracking bracelets etc.), but once you are in the system, it is easy (pre-registration also available online).  Every day there is a selection of complimentary activities that you can sign your child up for (Stitches Space Goo, Eruption Disruption Volcanos etc.), as well as other fee based activities. As these activities are quite popular, you will likely need to stand in line outside Aunty's house first thing in the morning to ensure a spot (during our visit, 8am was about when the lineup started).
Alternatively, your child can just go and hang out at Aunty's house at any point during the day, as was the activity of choice for my children. Aunty's House has many different themed rooms to choose from including a dress-up room, stage, craft area, movie theater, video games room and a very pretty outdoor playground under a huge shade tree. The facility accepts children from 3-12 years, but the resort also offers fee based babysitting for little ones, and daily programming for teens (including their own Painted Sky spa).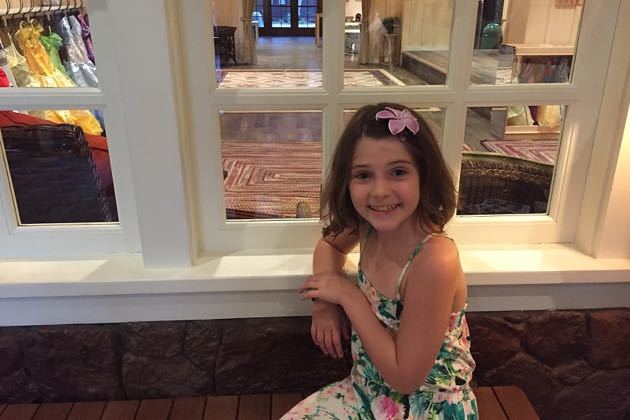 * Important note:  At one point during the stay I saw two dads yelling at each other in front of Aunty's Beach House. I imagined that it was likely their first day at the resort and they had probably meandered down to the pool area with children in tow, failed to find anywhere to sit and then realized that all the kids activities were filled for the day. Had one of them tried to bribe their way into an activity and that was why the other was yelling "What kind of example are you setting for your children?"  It could have been something else entirely, but I could see how one could become terribly frustrated if you didn't know what to expect. By doing some research (like you are now), you will be much better prepared and hopefully avoid such a situation.
The Beach
It is a perfect beach, in a perfect crescent shape with perfect sand, perfect palm trees and perfect sunsets. It is a beach that only Disney could create. Disney even provided a turtle for my husband to snorkel with (I'm kidding – but he was lucky enough to see a turtle in the bay). The water is calm, there is raft that confident young swimmers can easily swim out to, and a selection of beach toys are available for rental from Makiki Joe's. One important thing to be aware of is that the beach does not have a lifeguard on duty but the bay is very protected.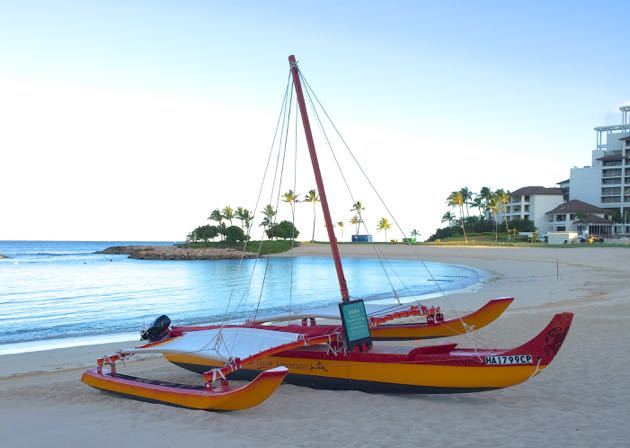 The Food
The food at the resort is just average and on the pricier side as one can expect from most resorts. We ate poolside, at the Ulu Cafe and the Off the Hook lounge daily, paying $7 for a kids meal (including drink) and $10 and up for adult meals. We also purchased for the kids the refillable Disney souvenir cup for $19.99, which can be a good value – although my kids were bouncing off the walls from the unlimited soft drinks by about 2pm each day.
We did not attend a character breakfast (my kids have decided that they are too old for this now). Friends of ours who did take their children noted that although it was pricey for a buffet breakfast, it was a convenient way to get character photos with the kids out of the way. This popular event involves standing in line several times (for photos, to be seated etc.) so you may benefit from attending on a slower weekday rather than over a weekend. As an alternative way to get photos with the characters, we noticed that they seemed to make their rounds of the pool at the end of they day (probably to encourage people to leave the pool area in a Pide Piper fashion). Although my own daughter swore that she was over the character thing, in the end, she could not resist a photo op with Minnie Mouse.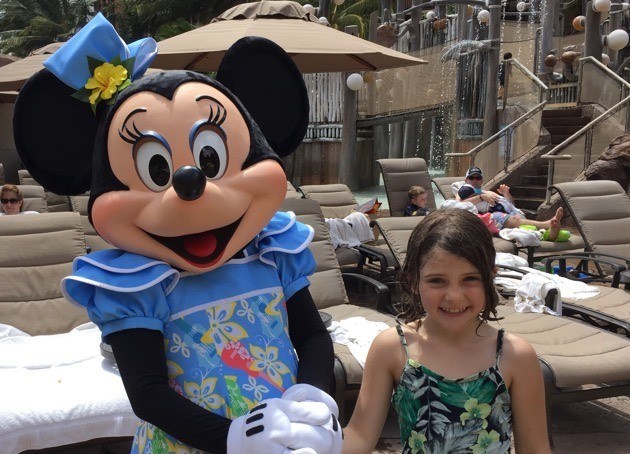 The 'AMA'AMA fine dining restaurant is the one that is not to be missed, with good food in a fabulous setting. This restaurant books up solid months in advance (30 days out I could only get a 5pm reservation). If you cannot get in for dinner, drop the kids at Aunty's Beach House and enjoy a late lunch. There are also a number of restaurants across the street from Aulani (MonkeyPod being the most popular), as well as an ABC store where you can buy a few provisions and nice wine. People in the know, staying for extended periods of time, like to hit the Costco on the way to the resort to stock up.
A note on the cocktails at Aulani. They are expensive and not particularly awesome (although that didn't stop us from consuming more than our fair share of afternoon Mai-Tais). You will notice quite a number of adults carrying "coffee" mugs around at about 5pm – which I am quite sure were not full of coffee.
The Laniwai Spa
I will be writing a separate post on the Laniwai Spa, but I want to say that it is truly lovely. I visited it on 3 separate occasions: for a pedicure, for a massage and I also took my daughter to the kids spa on her birthday (a bit over-the-top, I know).  Although pricey, it was a worthy splurge and a nice refuge from the hustle and bustle of the rest of the resort.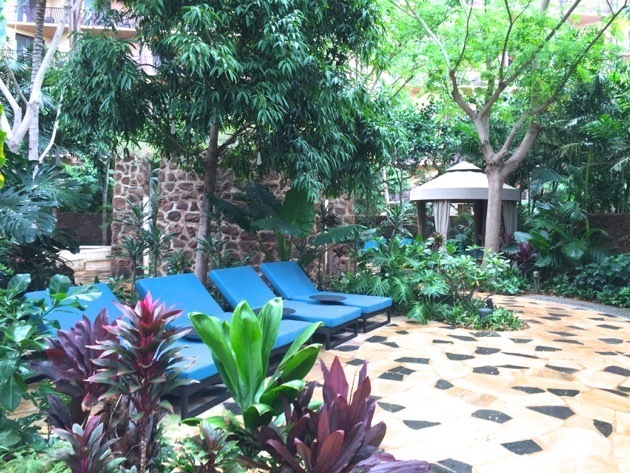 Getting a Deal
We visited outside of high season (May) and booked one of the least expensive rooms (Island View Standard with 2 queen beds) which was $303/night and included a $50/day food credit (which pretty much covered breakfast). Specials usually come out about 3 months in advance of your stay, so if you book earlier, just confirm that you can cancel and rebook at the new rate should something better come up.
An alternative way to book, with the potential of saving a bit of money, is by renting from Disney Vacation Club members (DVC) who have unused timeshare days available What is important to realize with this is that although the rooms and experience are almost the same, you lose daily maid service (housecleaning will come every 4th day). The most popular and secure way to book DVC rooms is through David's Vacation Club Rentals. When I looked into this option for us, I would have only saved about $150 which to me, was not worth me giving up daily maid service over. One other alternative is to rent directly from a DVC member via the Mousesavers DVC rental discussion boards. In theory, this can save you even more money, but there is slightly more risk involved.
a final word on aulani
Is it worth it? Yes. It was fine for me and my kids loved it. I also thought that for what it offered and what we paid, it was fairly decent value. I would recommend booking long in advance, getting the best deal you can and then checking back frequently to see if a better deal comes up to switch into. Booking last minute is the real killer. In the month before our trip, our room that was $303/night with a $50 daily food credit, increased to over $400/night without the food credit.
In a perfect world I would recommend staying 4 days and 3 nights, during the week and outside of school holidays. We stayed for 5 nights / 4 days but on one of those days we rented a car and took a day trip to the North Shore.
Mahalo !