Last update: December 29th, 2022 at 06:44 am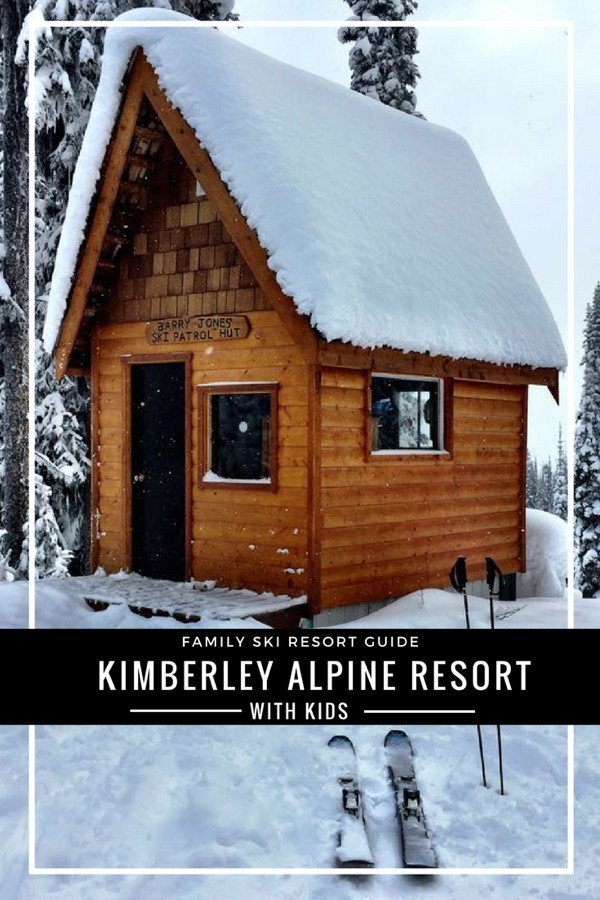 Kimberley Alpine Resort made me wish that my kids had a ski mountain in their backyard. In fact, the little town, 10 minutes away from the hill, made me want to plop a for sale sign in front of our Vancouver home, and move, fulfilling the ideal of a simpler life.
We were visiting Kimberley's ski hill as part of our Powder Highway British Columbia skiing road trip. Northstar (a.k.a Kimberley Alpine Resort) was one of seven mountains we had set out to experience over 2 ski seasons. Each mountain offered something unique and special – but all were renowned for the abundance of white fluffy powder that falls upon them every season. Read on to learn about everything we enjoy at Kimberley Alpine Resort, or take a quick peek at our 1 minute Youtube video.
Exploring Kimberley Ski Resort with Kids
Kimberley Alpine Resort – The Experience
Kimberley Alpine Resort has 68 runs plus another 12 in the glades (20% beginner, 42% intermediate, 38% advanced). There are 5 lifts including the Northstar Highspeed Quad, the Owl T-Bar and the Owlette Magic Carpet. My kids particularly liked the newly added Minute Made Kids Trails and skiing through the glades
Something a city slicker like me noticed right away was the sense of community there seemed to be at this mountain. I liked the fact that the mountain staff seemed to be populated by locals of all ages. As with my experience at many interior British Columbia mountains, I felt that this place was as welcoming to you at 7 years of age as it would be at 70.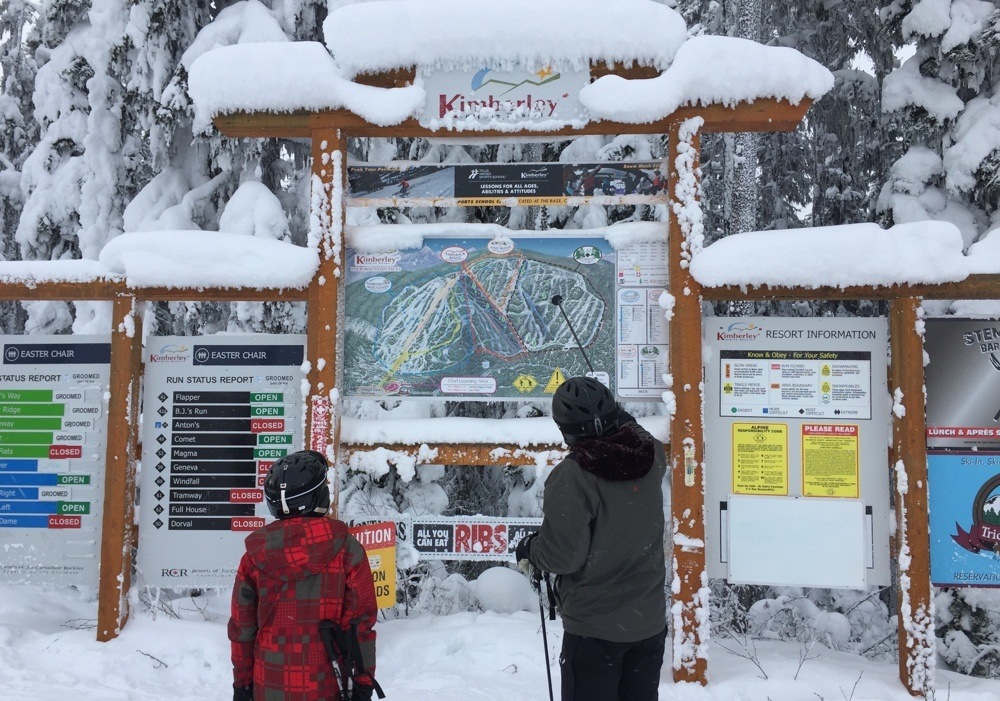 Kimberley Ski and Boarding Lessons, Child Care and Babysitting
The resort offers the full range of ski and snowboarding lessons through their snow school, including half day, full day and 3 day groups lessons for people 5 years and up (private lessons too). For toddlers and pre-school aged children, the resort offers their Tigers program, which involves a 45min – 1 hour lesson for 3-5 year olds (can also be added to the day care program). Learn more at Telus Winter Snow School.
The Telus Wildhorse Daycare is conveniently located very close to the Owl Learning Area in the Trickle Creek Lodge. Learn more here about childcare at Kimberley Alpine Resort.
On select nights throughout the season, the resort offers a Kids' Night Out for children 6-13 years. The evening runs from 5:30-8:30pm, includes dinner and fun activities such as snowshoeing, skating, s'mores and more. This can be booked by calling the Telus Winter Snow School (+1 250 432 0315).
Other Activities at Kimberley Alpine Resort
If you have had your fill of downhill, the mountain has many other family-friendly activities to enjoy including fat bike tours, snowshoeing tours, ice skating, and cross country skiing. For more information and equipment rentals, see http://skikimberley.com .
Kimberley Ski Resort Hotels
We couldn't have loved the location of the Trickle Creek Lodge more. It is so close to the lifts that when the skies cleared after I had packed it in one day, I jumped back into my boots and did a few more turns. This is an all-suites, chalet style hotel with options ranging from studios to 2 bedroom suites. All the rooms have fireplaces, flat screen TVs, a balcony, a kitchen and free wifi. The resort's other amenities include the mountain childcare facility, a restaurant (Montana's Cookhouse), 2 hot tubs, a heated outdoor pool, and a fitness room.
Reviews: 82% of reviewers rate as very good or excellent on TripAdvisor.
Star Rating: 3 stars
Learn more at: http://tricklecreeklodge.com
Specials: You may be interested in the extras included in the Family Package. Kids will love having their own check-in desk at reception and receiving a whole bunch of fun stuff (such as a duffel bag, stuffed animal, child-sized robe and slippers, a goodie bag, a helium balloon and a cookie). Parents will love that kids eat free at Montana's Cookhouse on Tuesday nights.
Restaurants in Kimberley, BC
The resort has a few dining options including the Slopeside Coffee and Deli, Montana's Cookhouse, and the Stemwinder Bar and Grill As we visited in early season, only the deli was open full time, but we did get to enjoy a lively après ski under the patio heaters at the Stemwinder (kids welcome until 8pm). As many of the on mountain accommodations have kitchens, self catering is also a good money-saving option.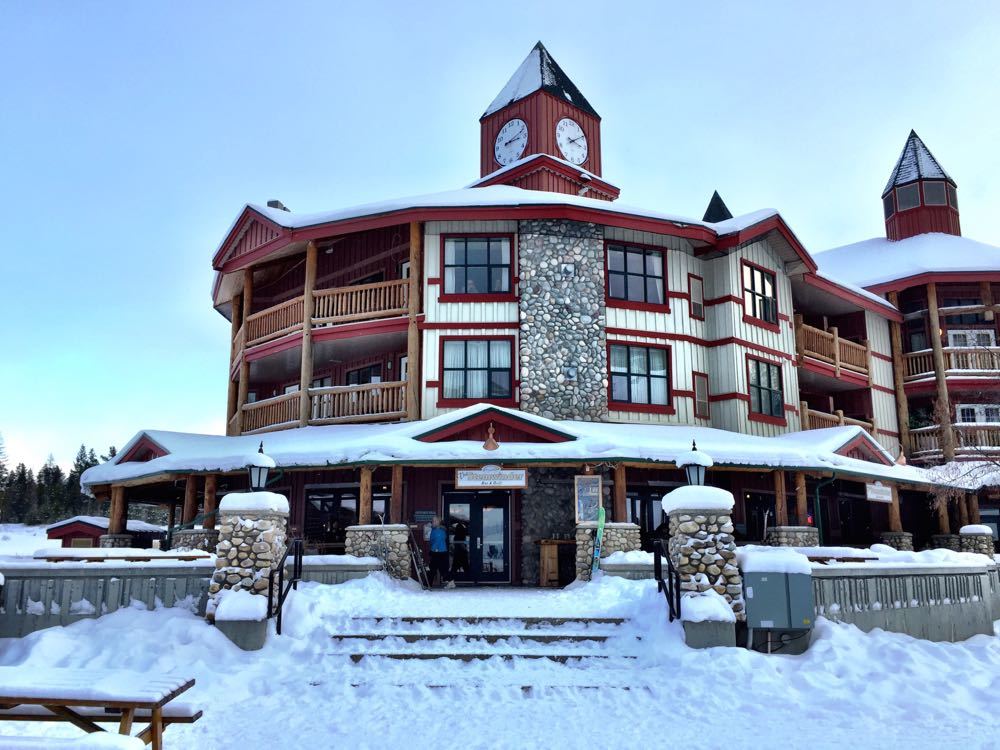 Just a short drive away in the town of Kimberley, there are some really good restaurants. We dined at the Pedal & Tap (Canadian), Stonefire Pizzeria (Italian), and for breakfast one morning we enjoyed the small town hospitality of Our Place (a traditional diner).
We were curious to try the highly rated Old Bauernhaus (clearly, German), but not having planned ahead, we could not get a reservation during our stay (note: book ahead).
Getting to Kimberley Alpine Resort
By Air

The closest international airport to Kimberley's ski hill is Calgary International (YYC) from which Kimberley is then a 4 hour drive. Regional airport options include Spokane, WA (+ 4 hour drive), Cranbrook, BC (+ 30 minute drive) and Kaspell, MO (+2 hour drive).
By Car
During the winter, you should expect full winter driving conditions (black ice, blowing snow, wandering wildlife etc.). Despite the significant premium, I was so glad that we had rented a big winter ready SUV. As part of our trip we traveled to Banff, Lake Louise, Panorama Mountain Resort, Kimberley Alpine Resort and then Fernie. Throughout the drive we experienced the full range of winter driving conditions and saw many vehicles that had slid off the road.
Note: We found the best rates with Alamo. They were the least expensive of all the major brands of car rental companies that had a YYC airport pickup, and they also kindly gave us a free upgrade. With kids, I try at all costs to avoid having to take a shuttle to a rental car lot after a flight.
Learn More
Find out everything you need to know about Kimberley Alpine Resort at: http://skikimberley.com
Disclaimer: During our stay at Kimberley Alpine Resort, we were kindly hosted in part by Resorts of the Canadian Rockies Inc. All opinions in this post are entirely my own. As always on this site, however, I strongly encourage you to also thoroughly read recent reviews from other travelers prior to making a property booking.
You May Also be Interested in the Following Posts: