Hurricane Maria Puerto Rico Update
Update October 2017: In September 2017, Hurricane Maria struck Puerto Rico causing a large amount of structural damage to the island. At the time of this update, I know that many of the attractions and properties listed here have been heavily damaged. Puerto Rico will rebuild, and I plan to follow this process closely. At this time, however, the full extent of the damage and the timeframe for restoration is unknown. As the properties and attractions reopen, I will update this guide accordingly (this guide is currently inaccurate).
While I have never enjoyed a full vacation in Puerto Rico, I  was very excited to have a 24 hour layover with my husband and kids on our way to the British Virgin Islands.  I couldn't wait to torture someone with my Rosetta Stone Spanish and was curious to discover what Puerto Rican pride is all about. I quickly got to work researching the most family friendly hotels, activities and restaurants to occupy our short stay in San Juan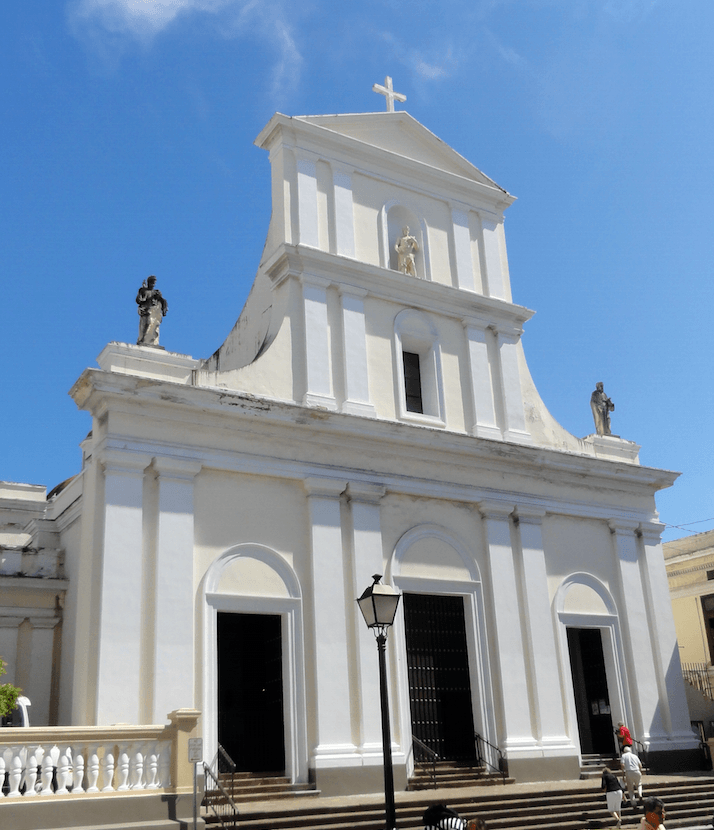 things to do:
where to stay:
where to eat:
Things to do with Kids in San Juan, Puerto Rico
1. el morro (castillo san felipe del Morro) – (map)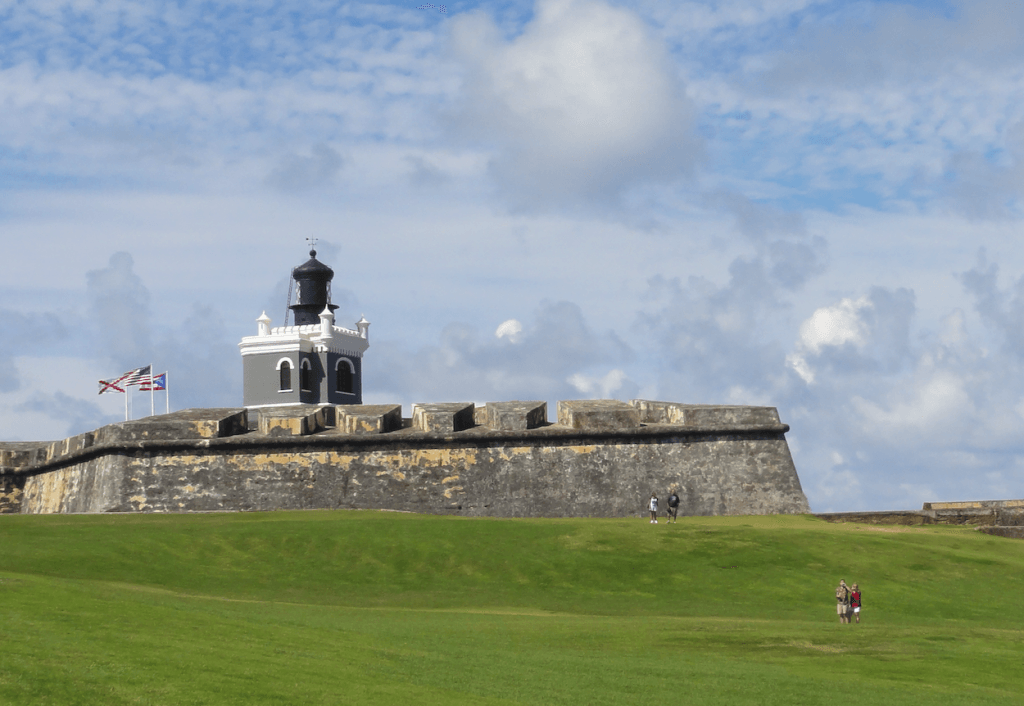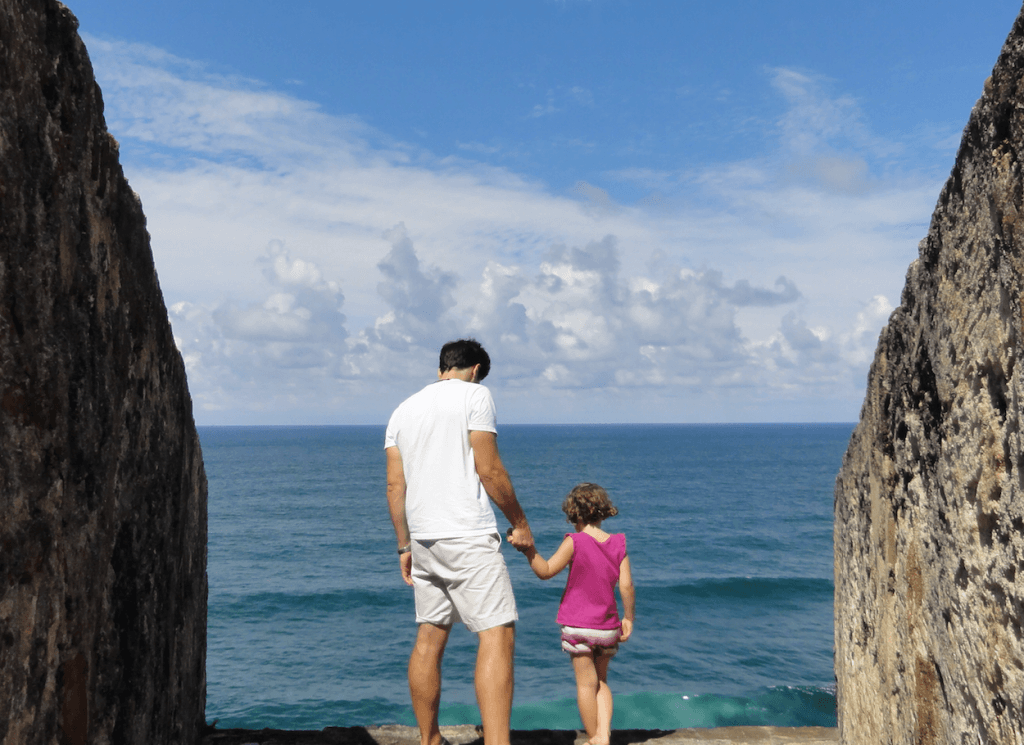 Kids love exploring  the World Heritage Site of El Morro, built in the mid 1500's to defend Spain's port of San Juan. While well worth the visit, keep in mind that for little ones, it is a fairly long walk out to the castle so good shoes (or a stroller) and sun screen are a necessity. When they are done imagining what it must have been like to shoot off a cannon, have a picnic and chill out by flying a kite on the great lawn outside.  Kites can be purchased from street vendors in El Parque del Quinto Centanario across the street for around $4-$5 (or bring your own).
reviews: 94% of visitors rate as very good or excellent on tripadvisor
cost: adults $3, children 15 and under are free
hours:daily from 9am to 6pm (except Thanksgiving, Christmas and New Year's Day)
phone number: 787-729-6960
2. el parque de del quinto centanario
Almost directly across from el morro is this great fountain for kids to cool off in.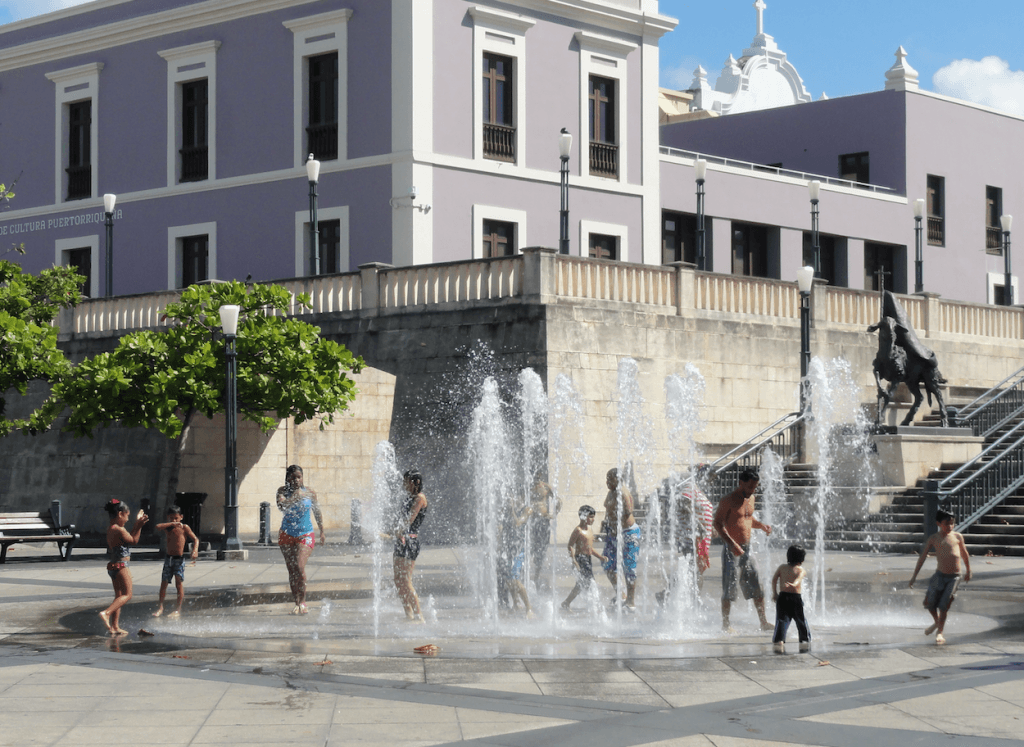 3. museo del nino in Carolina – the *new* children's museum (map)
With our limited time on a stop-over we were not able to get to this fantastic museum, but two Puerto Rican families told me that this place is a must. It is about a 15 minute drive from San Juan.  The interactive exhibits include an erupting volcano, actual plane that you can board, go carts, science experiments, playground and more. There is also a little cafe on site.
reviews: 97% of visitors rate as very good or excellent on trip advisor
hours: mon-tues (closed), wed-fri; 9am-5pm, sat-sun 10am-6pm
cost: children 1-14 years $6,  adults $10, seniors $5
phone number: 787-257-0261 or 787-641-2000
note: adults must be with a child to enter museum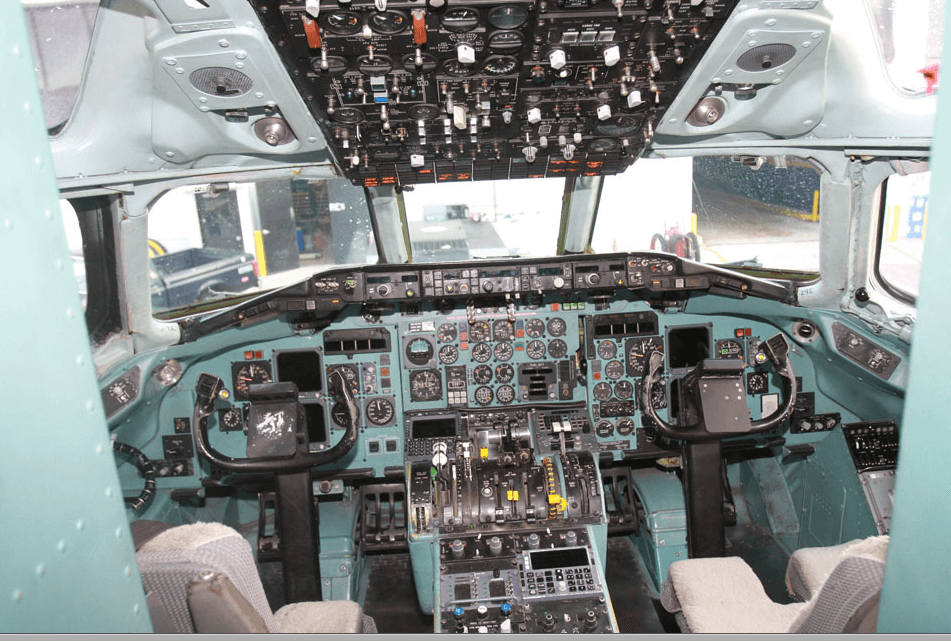 4. el yunque rainforest national park (map)
Who can resist a visit to the only tropical forest within the U.S. National Forestry system?  Take a day trip to view the giant tree ferns and the beautiful tropical birds such as the Puerto Rican Parrot (read more about the PR Parrot recovery program) while stumbling across waterfalls and views of both the Atlantic Ocean and Caribbean Sea.  Be sure to visit El Portal Rain Forest Visitor's Center as you enter the park  Don't forget, this is a rain forest so dress appropriately.  Good footwear is a must because rocks get slippery and bring a bathing suit.  Visit the Palo Colorado visitor's center in the heart of the recreational area for a guided walk.
reviews: 94% of visitors rate as very good or excellent on tripadvisor
hours: open daily, but you may not enter the forest after 6pm unless camping
cost: forest entry free – El Portal Visitor's Center $3pp,
tours: guided walking tours leave from Palo Colorado Visitor Center ($5 general, $3 seniors & children 12 & under )
note: The El Yunque website has an interactive section just for kids
5.  the bioluminescent bays of puerto rico
Puerto Rico is blessed with 3 bioluminescent bays that glow with an eerie light when the tiny dinoflagellates in the water are agitated, be it by paddle or fish.   The three bioluminescent bays are La Parguera in Lajas (south-west of Puerto Rico), Mosquito Bay on Vieques and, the most visited one (due to it's proximity to San Juan) La Laguna Grande in Fajardo ( a 45-60 minute drive from San Juan). You can visit La Laguna Grande in Fajardo by electric boat or by kayak.
reviews: 90% of visitors rated La Laguna Grande as good or excellent on tripadvisor
hours: generally mon.-sat. at around 6pm, 9pm and 11pm (company dependent)
cost: around $35-$50 per person
by electric boat:
With young children the easiest way to see the bay in Fajardo is by electric boat which is available to children 2 years and up.  Electric boats are used because they do the least amount of damage to the fragile ecosystem.  There are two companies that offer this service to small groups (4-6 people).  Bioisland Puerto Rico, with captains Charlie and Ron gets the best reviews, but Baby Bay Cruising with Captain Suarez also has a boat tour into the bay (see details below).
bioislandpr.com
tour times: monday-friday at 6pm , 7:30pm and 9pm
price: $49 per person
phone: 787-422-7857
baby bay cruising lagoon company (no website)
tour times: daily at 6pm, 8pm and 10pm in winter and 7pm, 9pm and 11pm in summer
price: $45/adults, $35 children
phone: 787-655-2739 or 787-472-3128.
email: captainsuarezbiobaypr@gmail.com
by kayak: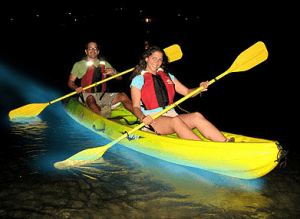 To visit the bay by kayak, visitors must be 6 years and older. Comments from tripadvisor reviews mention that the kayak tour is fairly easy but that some children may be frightened by the dark mangrove tunnel with which you pass through to get to and from the bay.  One of the most highly recommended tour operators for families with children is:
kayaking puerto rico
tour times: mon-sat 6:00pm and 8:30pm
price: $45 (adults) $40 (kids 6-12 years) $20 pp for optional transport from San Juan
phone: 787-435-1665 or 787-245-4545
email: info@kayakingpuertorico.com
7. ice cream and frozen yogurt in san juan puerto rico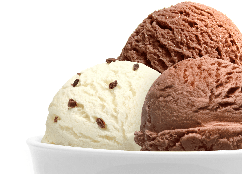 Ben and Jerry's Old San Juan (reviews/map)
Yogen Fruz Old San Juan  (reviews/map)
MoYo Frozen Yogurt (reviews/map)
Joybee Ice Cream/yogurt (reviews/map)
Family Hotels San Juan Puerto Rico
1. la terraza de san juan boutique hotel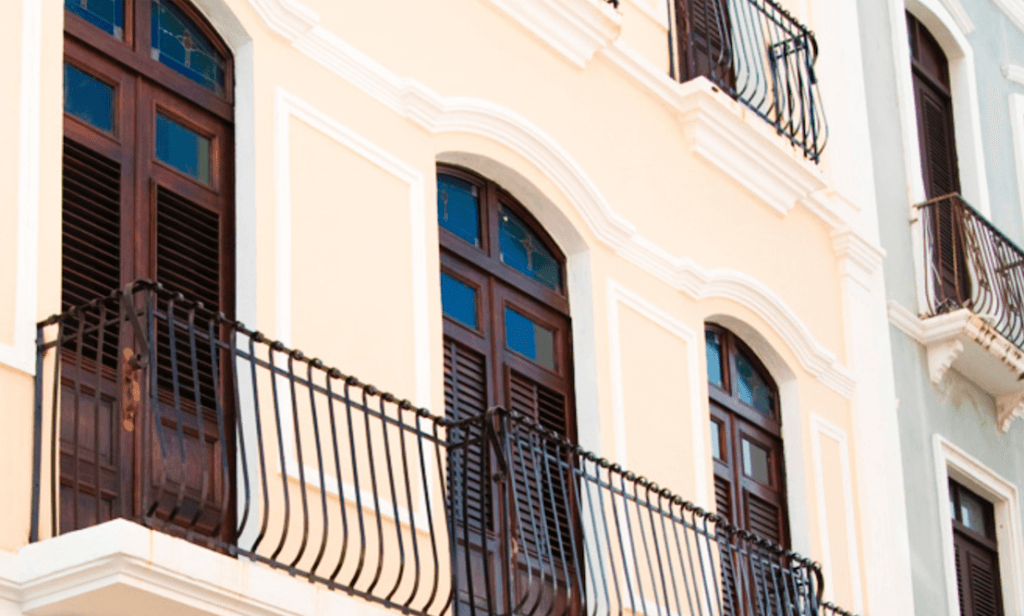 price range: $$
hotel class: 4 star
reviews: 97% of family reviewers rate as 'very good' or 'excellent' 
for availability: see website
room tip: many families enjoy the extra space of the 2 bedroom suites
2. el convento boutique hotel (map)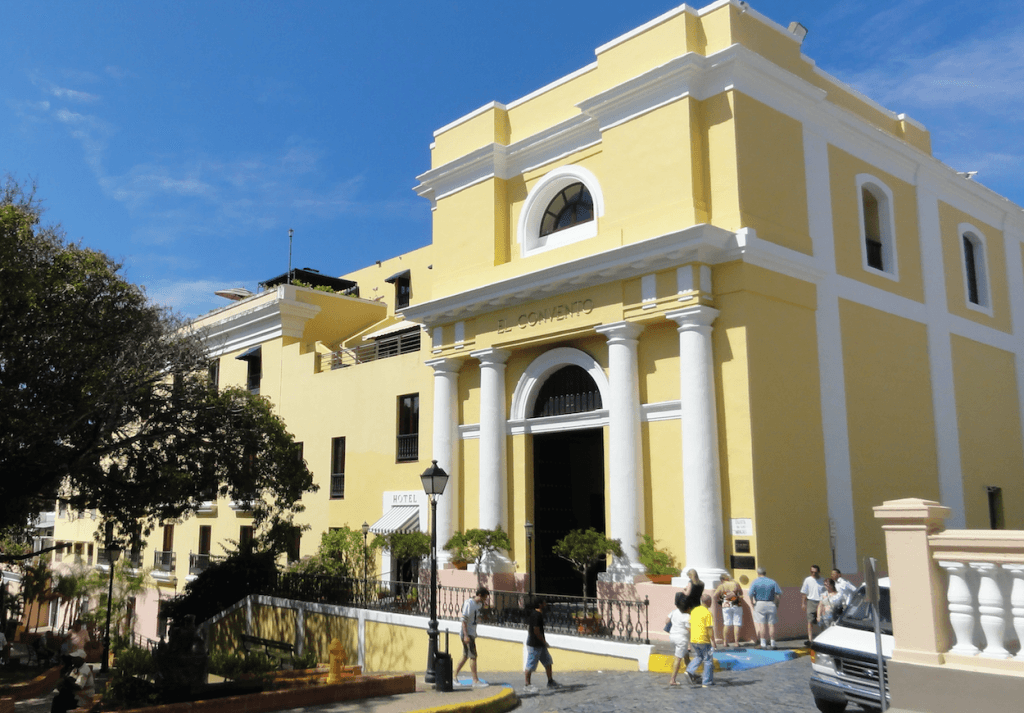 The El Convento hotel is a beautiful converted convent in the heart of Old San Juan. It is located directly beside the Children's Museum (more on this later), houses several family friendly restaurants and is only a few minutes walk to El Morro castle, which is a fabulous place to explore and fly kites.  There is a small plunge pool on the rooftop deck and although the hotel is not beachfront, they have an arrangement with several beach clubs in the area.
price range: $$
hotel class: 4 star
reviews: 88% of family reviewers rate as 'very good' or 'excellent' 
for availability: see website
3.ciqala suites luxury boutique hotel (map)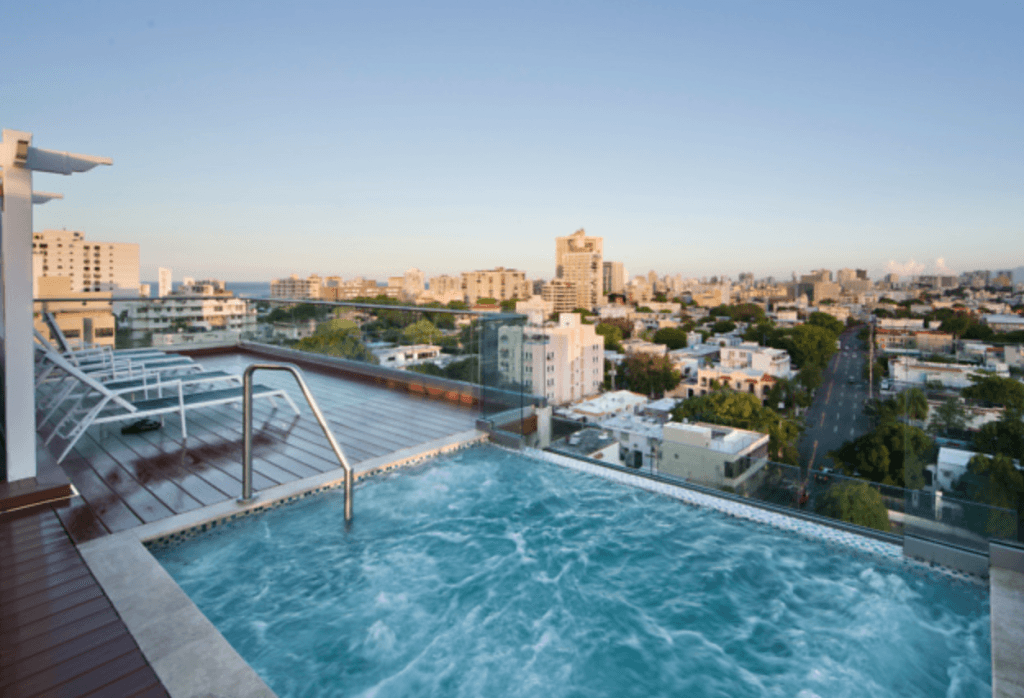 The Ciqala Suites is a small hotel that has been converted from a condo complex. The 1 to 3 bedroom suites are very spacious, include a fridge, microwave, free wifi and breakfast. The hotel is specifically trying to cater to families traveling with kids by providing certain amenities such as cribs, roll away beds and playpens.
price range: $$
rating: 4 star
reviews:  95% of families review the property as very good  or excellent on trip advisor
for availability: see website

Family Friendly Restaurants San Juan Puerto Rico
Here are ten family friendly restaurants in San Juan, Puerto Rico:
casita miramar – new american – $$ – 4.5/5 stars on yelp
pizzeria de pirilo-  italian/pizza – $$ – 4.5/5 stars on yelp
punto de vista –  puerto rican – $$ – 4.5/5 stars on yelp
la casita blanca – latin american –  $$ – 4.5/5 stars on yelp
ceviche house – peruvian- $$ – 4/5 stars on yelp
marisqueria atlantica – seafood  –  $$ – 4/5 stars on yelp
la madre –  bar –  $$ –  4/5 stars on yelp
cafe puerto rico – caribbean –  $$ – 4/5 stars on yelp
el jibarito  – latin american  –  $$  –  4/5 stars on yelp
bar gitan – tapas  –  $$ – 4/5 stars on yelp
You May Also Enjoy the Following Posts:
A Guide to Bequia, St. Vincent and The Grenadines