Last update: February 3rd, 2021 at 09:27 am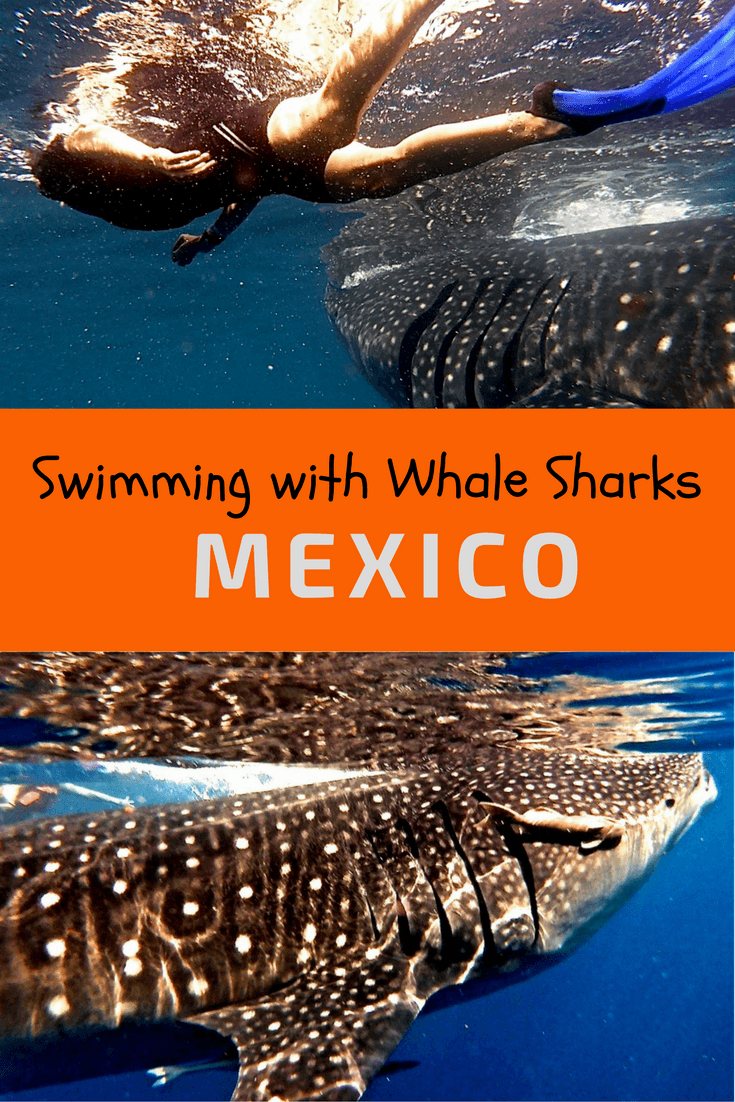 Swim With Whale Sharks – Cancun, Mexico
"Swimming". Maybe that's a bit of a stretch. If I had more room, the title would read:
"How to avoid a semi-submerged panic attack while a 30 foot long shark swims towards you at an alarming pace with a smart car-sized gaping hole of a mouth wide open"
Quite the run-on sentence, I know, but that is really how it feels. And yes, the whale shark is technically a shark (gills), not a whale (lungs).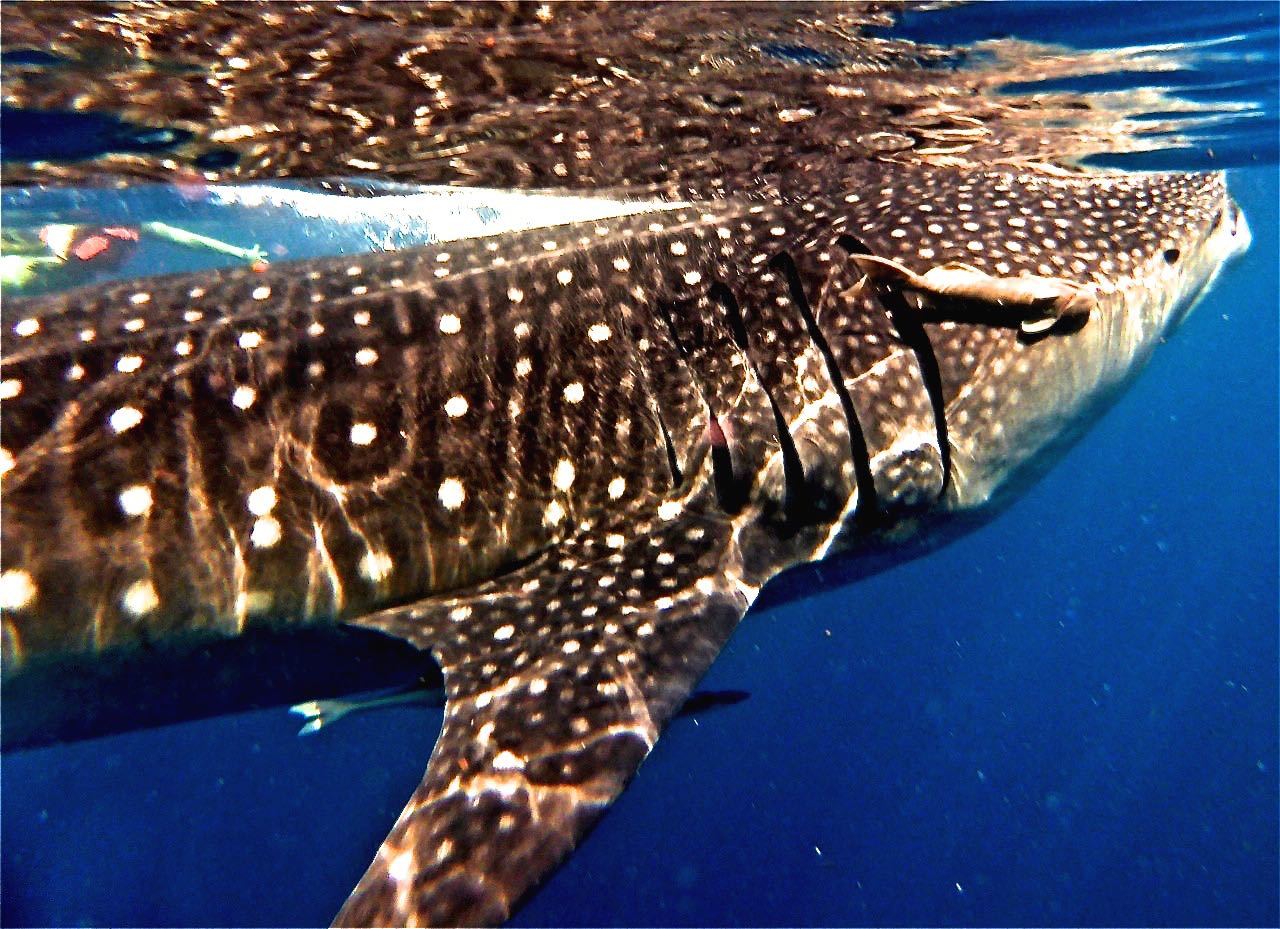 Although I had wanted to swim with whale sharks in Mexico for a long time, I struggled with booking a trip to the Yucatan Peninsula during their migratory season of June through September, because it coincides with rainy season. However, as luck would have it, a travel media convention, that I attend annually (TBEX*), picked Cancun as their September destination. The stars were aligned. Read on or watch this 90 second video:
Swimming with whale sharks is the perfect activity for the adventure junkie who enjoys percieved, but not actual risk. Despite the fact that they have been recorded to be up to 40 feet long, they pose no danger to humans (except the odd snorkeler that has been bruised by the wack of a tail after swimming too close). In truth, any trepidation I had about this adventure actually had nothing to do with physical fear. As a big fan of the Netflix Documentary category, I have sobbed my way through a number of emotional docs, including The Cove and Black Fish. Although this particular excursion involved swimming with whale sharks in the open ocean (not in a pool or pen), I was still concerned about where this fell in the realm of responsible travel. Through much research, including educating myself on what the World Wildlife Fund (WWF) recommends as "best practices" for swimming with whale sharks, I decided to approach Cancun Whale Shark Tours. While reading through their website information and enthusiastic reviews on Tripadvisor, I came to the conclusion that they were the best fit for me. Notably, they are also a founding member of the Whale Shark Conservation Society; donating 5% of their reservation fees to whale shark research and conservation.
My trip to Cancun landed me there just at the very tail end of the whale shark season. In fact, because we were dealing with mother nature here, I was warned by Cancun Whale Shark proprietor Roddrigo, a.k.a. "The Whale Shark Daddy", that they could possibly be gone by the time of my arrival. Between June and September each year, large numbers of whale sharks congregate near Isla Holbox, Isla Mujeres and Cancun, roughly where the waters of the Gulf of Mexico and the Caribbean Sea meet. Whale sharks are filter feeders and migrate to this area to enjoy the abundance of krill, plankton and algae.
On the day of my tour, I was picked up at my hotel at promptly 7:10am and shuttled to the dock where I met up with a number of nervous and excited participants. I was pleased with the thorough briefing we received on the rules and regulations that we were expected to follow. Any violation of those rules (such as trying to touch the whale sharks), would result in being sent back to the boat. Needless to say, attempting to ride one would be considered a violation of the first degree (we all know that some drunken fool has tried this before). We had been pre-warned in an email that only bio-degradable sun screen would be acceptable, and it was conveniently offered for $15 a bottle (several of us split one). We were also given the option to either wear a life jacket or rent a shortie wetsuit for $25; I highly recommend the latter as it allows for much greater freedom of movement in the water.
I was thankful that we were blessed with such a gorgeous day and relatively calm seas. As we gently bounced along the waves we were even joined by a playful pod of dolphins frolicking in our wake. Knowing that there was a chance that we might not find the whale sharks at all (they are mysterious creatures and this occasionally happens), we felt extremely fortunate to come across a large congregation of them quite quickly. What an odd site they were; large fins sticking out of the water and enormous mouths combing the surface.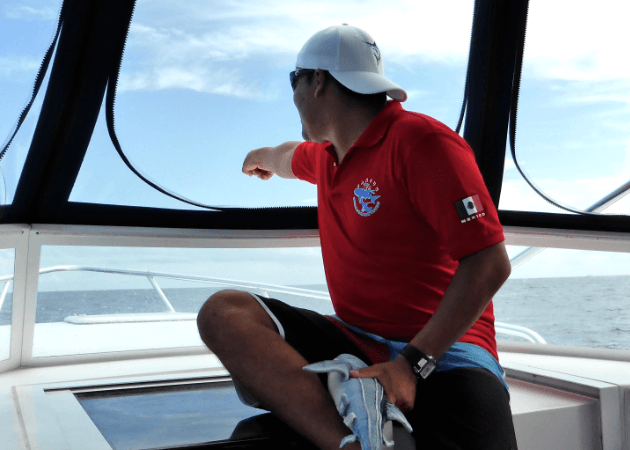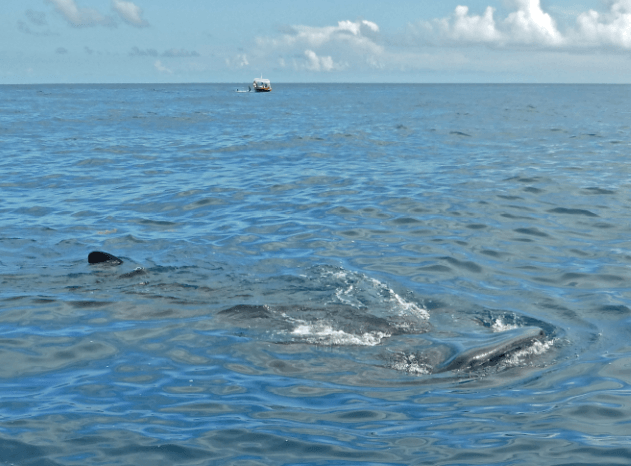 While I was more excited than scared to snorkel with sharks, my heart was still racing as my turn came to jump in the water. We were told that we would need to swim very quickly to keep up with them, but the moment I stopped swimming, another would appear coming towards me from the deep blue. This is where, for me, excitement shifted to a certain degree of fear. Our very competent guide Junior had coached us to stay put if one swam in our direction, assuring us that they would adjust their course and pass by. I am happy to report that this fact is true, but it certainly provided for quite a moment of tension.
I can't imagine trying to do this and take underwater photos or video. My husband will attest to the fact that I am a little frantic in the water so I was thankful that Junior (who also has a keen interest in photography) offered to take my camera for me. Almost all of the photos and video in this post can be credited to him.
As if this experience wasn't enough, our whale shark swim was followed up by a visit to the crystal clear waters of Playa Norte just off Isla Mujeres. While Junior handed out the cervezas, our boat captain Elmer (who also happens to be Junior's father) set to work chopping up fresh tomatoes, cilantro and onions for a delicious snack of ceviche and guacamole. It made for a perfect finish to a perfect day.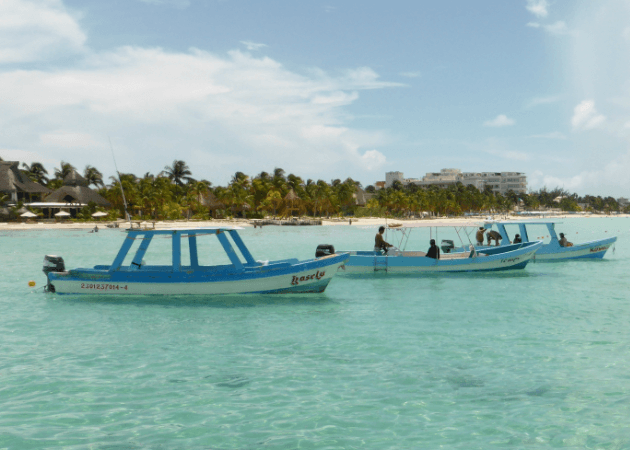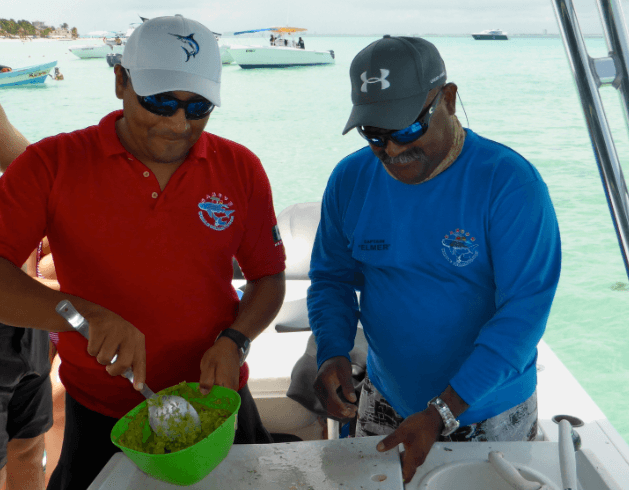 I was very happy with my experience with Cancun Whale Shark Tours and pleased with the care and concern they had for not only the whale sharks, but also for their role in the industry. I learned that they schedule their visits to the whale sharks earlier than most of the other operators and try to be gone by the time the masses start to arrive. And I do mean masses. By the time we had finished up our final swim, there were at least thirty boats in the vicinity. I was also nearly mowed down by a group of 6 snorkelers swimming with a single guide; in clear violation of a regulation stating that only 2 swimmer and one guide can be in the water at a time from a single boat. While there is a patrol boat (a number of boats lost their permits to operate this year), it was evidently not on the scene on this particular day. Clearly more has to been to deter the cheaters.
If you would like to swim and snorkel with whale sharks in Cancun, Mexico, I strongly encourage you to do your research and go with a reputable tour operator. Be aware that their permit to operate states, among other conditions, that they cannot take out more than 10 people at a time, that only two swimmers and one guide can be in the water at a time, and that swimmers cannot touch or otherwise act in a ridiculous manner with the whale sharks (I am paraphrasing a little, but I think you get it).
Where to Swim or Snorkel with Whale Sharks in Cancun, Mexico
Website: cancunwhalesharktours.com
When: June through September
Price: From $150 pp
Reviews: 94% of reviews rate as very good or excellent on trip advisor
To Book: call Roddrigo ('The Whale Shark Daddy') at 985-856-1831 (cancun) or 305-433-7523 (usa)
Important to Note: Some people did experience a certain degree of sea sickness while waiting for their turn to swim with the sharks. Participants may want to consider using an anti-nausea medication beforehand.
Gear: I used and loved the Dicapac WP-One Waterproof Camera Case ($14.99 usd $33.99 cdn)
Additional Information: If your visit to Cancun does not coincide with whale shark season, you may be interested in a new tour that will be offered by Roddrigo in the area starting January 1, 2015 (running until Mar. 31st). On this adventure you will snorkel with the ocean's fastest fish, the sailfish marlin as they attack local sardine balls for food. For more information see: cancunsailfishtours.com.
Further Reading: know before you go – swimming with whale sharks (World Wildlife Fund)
*TBEX is the world's largest gathering of travel bloggers, writers, new media content creators and social media savvy travel industry professionals.
Disclosure: I was offered a complimentary day tour with Cancun Whale Shark Tours. All opinions about the experience are entirely my own. As always on my website, I encourage you to read current reviews from other participants on Tripadvisor before booking.
You May Also Be Interested in the Following: