"Make sure you tell them about the hotel ! It was great ! " This was the enthusiastic response I received from my children when I asked them which places I should recommend in my Guide to Barbados for Families. Rarely have they felt so passionate about a boutique hotel, which has always been my preferred choice of accommodation. I had to agree with them. My husband and I really enjoyed The Tamarind Barbados too.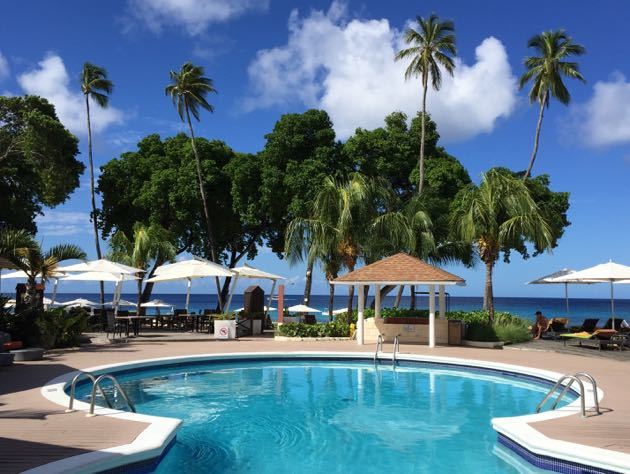 Prior to our trip, I had done a lot of research on Barbados hotels. I wanted something that wasn't too big, was on the west coast (where the nicest beaches are), catered to families, and was not an all inclusive. On the latter point, I will borrow a line from Lorde and say "I'm kinda over getting told to throw my hands up in the air."  I just can't do them. The thing about boutique hotels, however, is that they are often so small that it is difficult for them to have a lot of amenities specifically for children. The Tamarind is an exception. Take a peek at our short youtube video, or just read on.
.
The Location
: Located in a lovely spot midway up the west coast (just south of Holetown), the Tamarind is conveniently close to the most popular west coast beaches and some of the top restaurants on the island. The waves are so gentle out front that my kids were finally able to master snorkeling (we live in Canada where snorkeling is a bit of a chilly endeavour). The only thing better than watching them fall in love with the ocean, was stargazing with them on the beach before bedtime.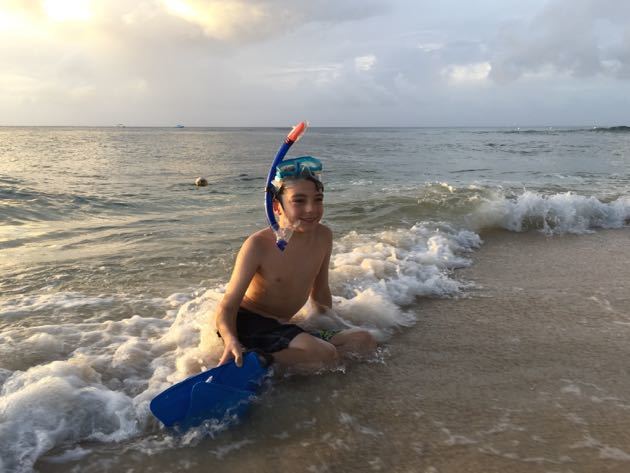 The Facilities:  The Tamarind has 3 pools (2 for families and one that is adults only), a Flying Fish Kids' Club for children 3-12 years (complimentary), a Club Tamarind teens lounge, a full service spa (with treatment options for kids and teens), a family friendly bar and restaurant (with kids' menu), complimentary motorized and non-motorized water sports, an ocean raft and a water trampoline.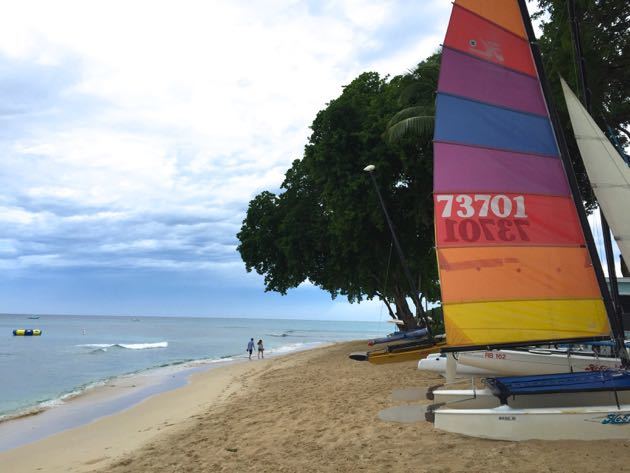 The rooms: The spacious and tastefully furnished rooms at the Tamarind can accommodate 2 adults and 3 children. Although we are only a family of four, housekeeping thoughtfully brought in an extra twin bed so my kids did not need to share the sofa bed.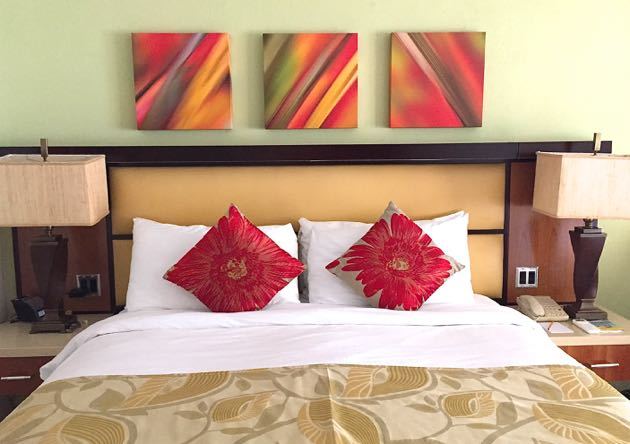 Also included in your stay:  We very much appreciated the complimentary breakfast with plenty of choices, including an omelette bar. I noticed many guests getting impromptu "omelette lessons" and posing for photos with the cheery morning chef while they waited.
What could be improved: The water temperature in our room shower was rather erratic, making for a lively experience (I was certainly awake by the end of it).
What you should bring: There are a few rocks near the ocean's edge. If you swim out just a few feet, you are back to sand, but you may still want to bring along some water shoes for little ones.
Would we go back? In a heart beat.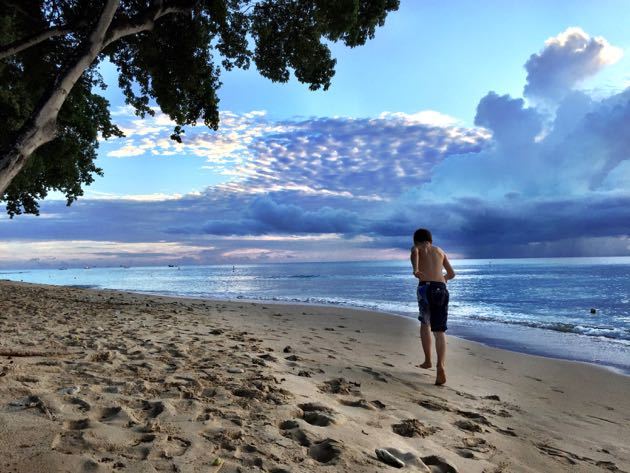 More About the Tamarind Beach Resort (by Elegant Hotels)
Price: $$$ – $$$$
Class: 4 star
Reviews: 90% of reviewers rate as very good or excellent on Tripadvisor.
For availability: See website.
Getting a deal: See Tamarind Specials for early booking discounts of up to 35% off.
Important to know: Barbados is expensive. The Tamarind is a 4 star hotel, but due to the pricing I think some people (depending on where else they have traveled to) might expect 5 star service (such as having someone standing beside them misting them with Evian water). This pricing is consistent across Barbados (a 5 star will run you over $1000 USD/night ! ) so I think it is important to have your expectations in check. This comment goes for restaurants, attractions and anything else on Barbados. Be prepared for a little sticker shock.
Further reading: See our complete guide to Barbados with Kids.
Disclaimer:
We received a media discount from the Tamarind for 3 nights of our one week stay on Barbados. All other expenses were entirely paid for by us. All opinions in this post are my own and I only work with brands that I would use myself. As always on this site, I encourage you to also read current reviews from other family travelers before making a booking (Tripadvisor, Google etc.).
You may also enjoy the following posts:
A Guide to Barbados – with Kids
The Swimming Race Horses of Barbados
A Guide to Zihuatanejo, Mexico – with Kids
Sailing the San Blas Islands, Panama – with Kids
A Guide to Disney Aulani, Hawaii
Virgin Gorda, British Virgin Islands – with Kids
Tortola, British Virgin Islands – with Kids
San Juan, Puerto Rico – with Kids
.