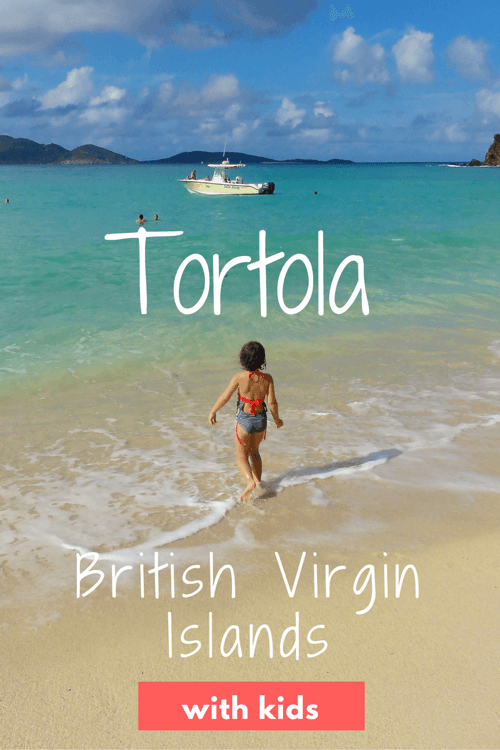 Hurricane Irma Tortola Update
Update Dec. 2019: In early September 2017, Hurricane Irma struck Tortola causing a large amount of structural damage to not only this island, but many other islands that make up the BVIs. Tortola has been rebuilding and as it does so, I try to keep this post up-to-date. Tortola is a beautiful island and I will be visiting again, helping to contribute to their all important tourism economy.
Why Tortola?
A trip that was originally inspired by a photo of the Baths on Virgin Gorda, ended up taking us in the end to Puerto Rico, Tortola, Jost Van Dyke, Guana Island, and finally. Virgin Gorda. Here is our installment on Tortola in the British Virgin Islands (BVI), for families traveling with babies, toddlers or kids of any age.
(And to the snobby concierge from another island who said "Skip Tortola.", boy, were you wrong. We loved it! It was the perfect mix of beach shacks and fine dining, tourists and locals, remote beaches and lively hangouts, to keep even the most fickle traveler entertained.)
Things to Do in Tortola
1. Cane Garden Bay – Family Friendly Beach Tortola (map)
Tortola has lovely beaches, but some of them have a significant amount of surf. A local mother (thank you Lucilla) directed me to the best child-friendly beach on the island. Not only did it have very gentle waves but it also had quite a number of restaurants and even a homemade ice cream stand. See TripAdvisor reviews for Cane Garden Bay.
Note: Keep an eye on the cruise ship schedule as apparently this beach gets packed when a ship is in town.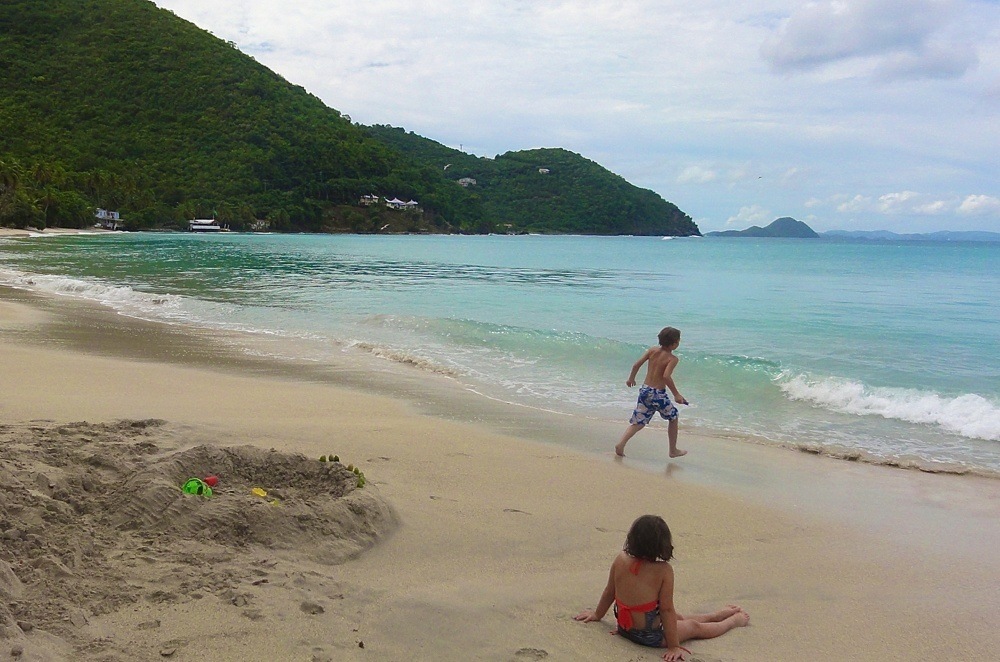 2. Ferry to Jost Van Dyke (map)
Hop on the ferry, and spend a day on beautiful Jost Van Dyke Island. New Horizon Ferry service runs 5 times a day from the West End (see schedule). The fare is $30 round trip per adult with reduced fares for children. Once on the island, grab a group cab to the stunning White Bay for $2.50 per person (or if you are a glutton for punishment, climb the hill for free).
You will probably want to stop by the famed Soggy Dollar Bar, for an equally famed "painkiller" cocktail, but really, the local's favorite restaurant One Love, down the opposite end of the beach, is way cooler (see TripAdvisor reviews
). There are lots of beach chairs available, a wonderful shade tree and the best lobster quesadilla you will ever have. Also directly beside One Love is a trampoline in the water for kids.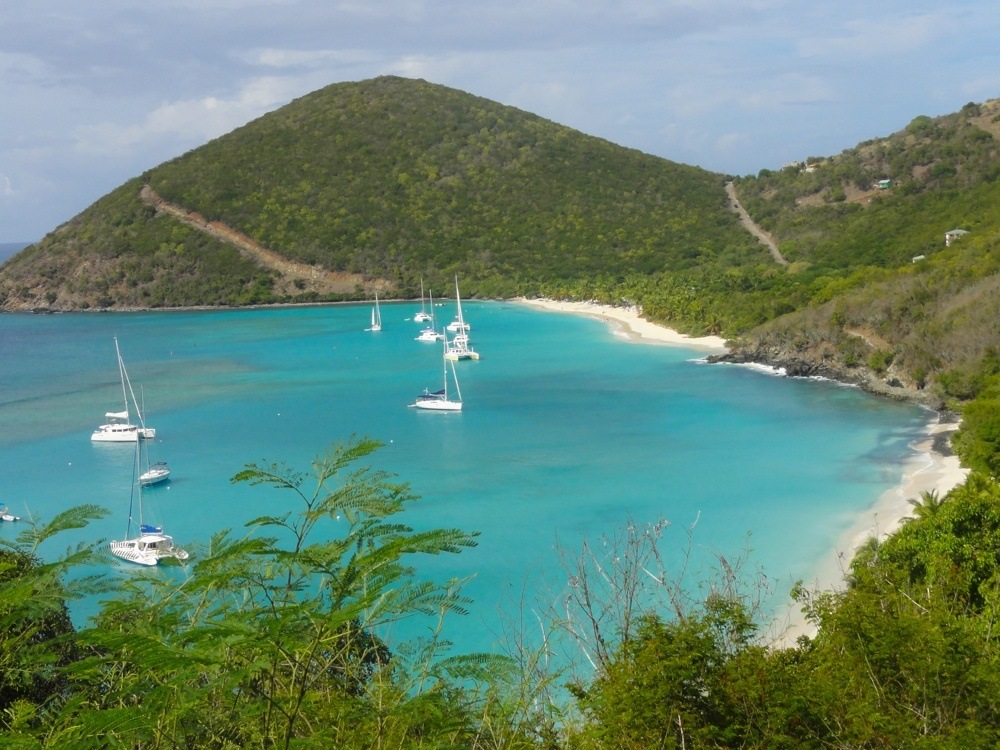 3. Tortola Playgrounds
For a Caribbean island, I was surprised by the number of brand new playground facilities. There is one on the main island road between Zion Hill and the West End (Benjamin Romney Park), right on the water, as well as another near Red Hook. We also spent some time at a restaurant at the entrance of Nanny Cay called Captain Mulligan's (map). The food was just okay, but the kids had a ball playing in the playground by the ocean, jumping on the trampoline and even hitting a few balls into the ocean.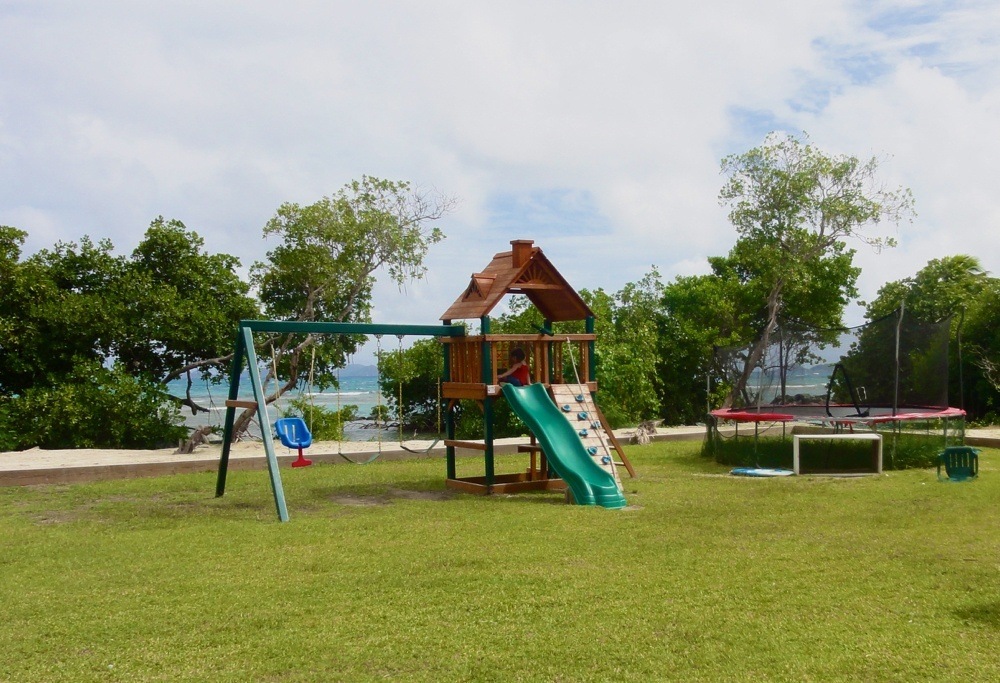 4. The North Shore Shell Museum and Restaurant (map)
The North Shore Shell Museum falls under the category of weird and wacky things to see on Tortola and can be found just opposite Carrot Bay. The owner Egbert has spent a lifetime collecting shells and adding to his house of several stories.
My children rated this a 4 out of 10, but I found it much more amusing. It was recommended to us by a fellow guest at our hotel who had this to say about it "Once we realized that the owner wasn't a psycho, but simply a hoarder, we had a pretty good time." Upon visiting you will notice several places where you can leave a tip, although Egbert apparently likes to use the line "Don't be lean with the green.".
See TripAdvisor reviews for the North Shore Shell museum.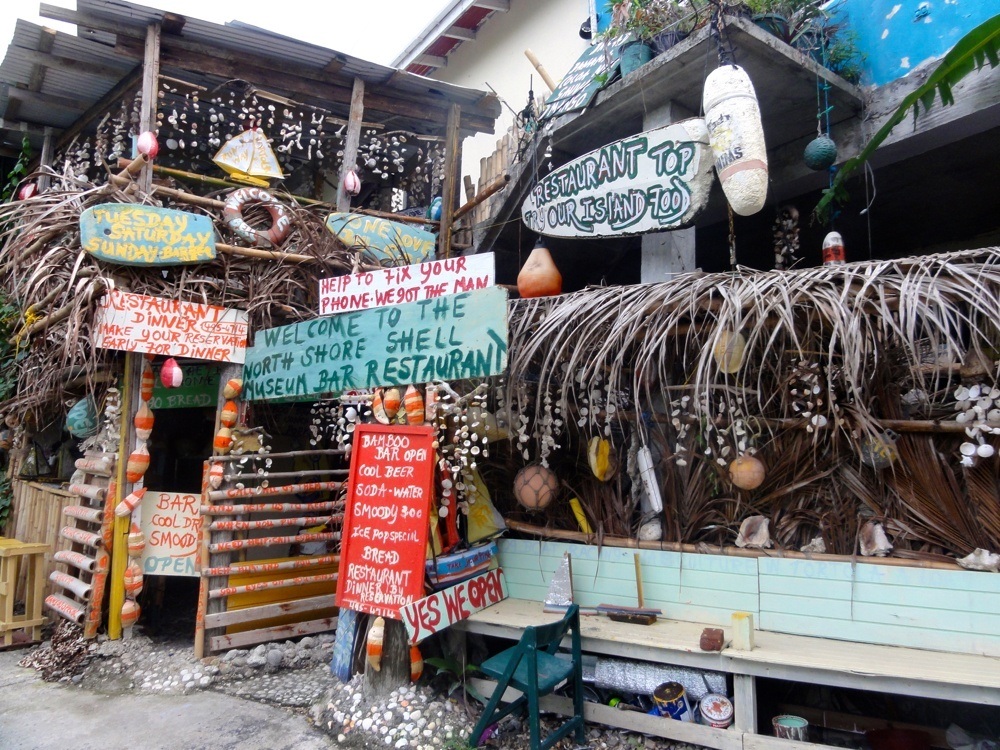 5. Trellis Bay Family Full Moon Party (map)
In the little artsy enclave of Trellis Bay on Beef Island, is the Trellis Bay Cyber Cafe. While worth stopping by at anytime (they make a nice sandwich and have lots of stuff for the kids to play on including hammocks and swings), they also host a fantastic family friendly full moon party. It involves a delicious West Indian buffet, nice cocktails, artist demonstrations, stilt walkers, local musicians, dancers, and fire balls (honestly….what more does one need?).
See next: full moon party dates.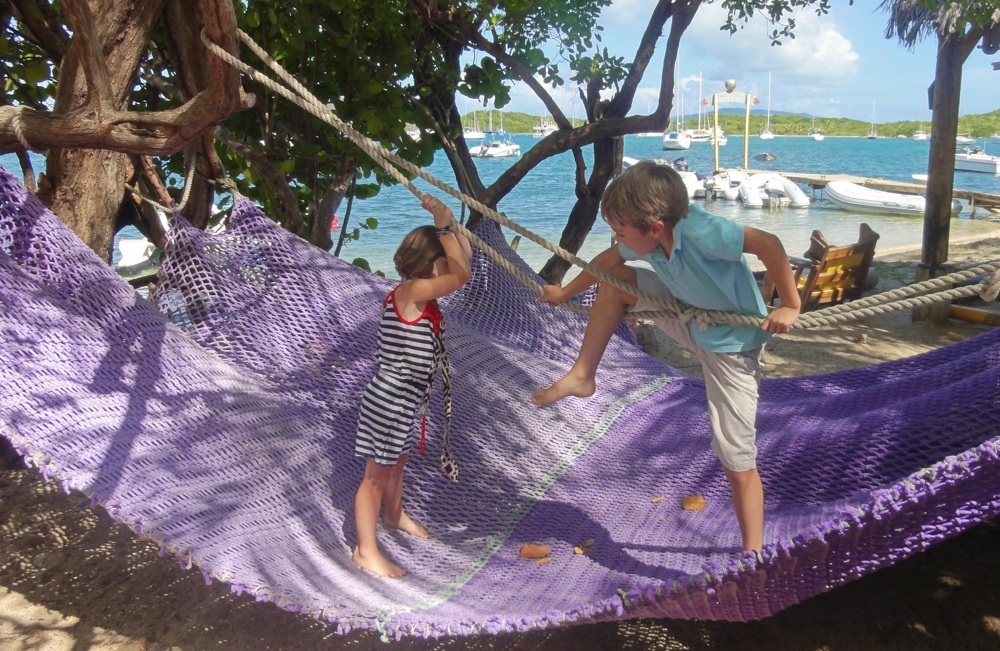 6. Sailing Day Trips from Tortola
There are numerous companies that do day sailing trips from Tortola, frequently to Norman Island and the Indians for snorkeling, or to Jost Van Dyke to visit the stunning White Bay Beach and the famed Soggy Bottom Bar. Most leave out of Soper's Hole in the West End. We chose to go with Aristocat Charters as they seemed the most welcoming to children.
Although the owner mentioned that they had entertained guests as young as 4 months, I think this trip is best suited for children that are old enough to swim and at least attempt to put their face in the water to see some of the beautiful fish. Snorkel gear, life jackets and floatation noodles are provided. Full day all inclusive tours (snorkel, great lunch and drinks) are $135 USD for adults and $70 for kids (4-12). Kids 3 years and under are free.
See TripAdvisor
reviews of Aristocrat Charters.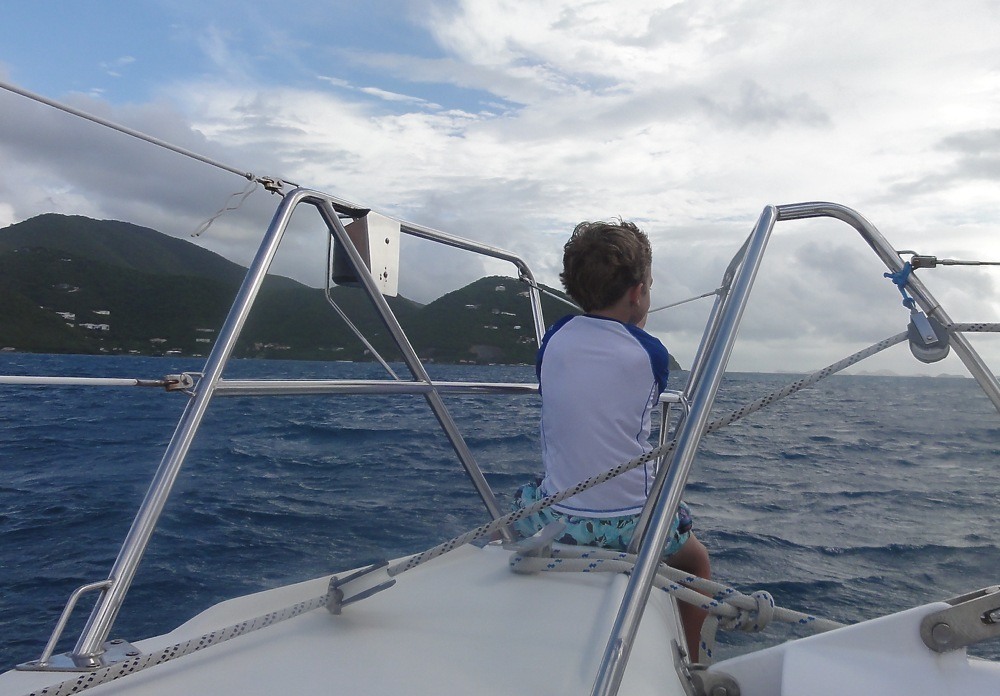 Tortola Hotels, Resorts and Vacation Rentals
The Heritage Inn 3★
Heritage Inn Tortola Hotel is nestled on 2 plus acres 400 feet directly above the sea on top of Windy Hill on Tortola's scenic North Coast of the British Virgin Islands. The view from the private balconies is unequaled in the BVI. Heritage Inn is ideal for couples and families with 3 two-bedroom suites and 6 one bedroom suites all Tortola Accommodation with air-conditioned bedrooms, complete kitchen, living room and private balcony. The Heritage Inn also has a wonderful restaurant on site.
Read TripAdvisor reviews
or check rates at heritageinn.vg.
Fort Recovery Villas and Suites 3.5★
The Fort Recovery Villa and Suites hotel is renowned for it's excellent customer service and family atmosphere. All the units are on the beach (not on the hillside which is common on Tortola), with cribs and high chairs available. Units include a kitchen or kitchenette, patio, living room, bedroom, bathroom, air conditioning, cable TV, free wifi, daily maid service, continental breakfast and 24 hour concierge service.
Read TripAdvisor reviews
or check rates on Booking.com.
Tortola Villa Rentals and Other Vacation Rentals
If you are traveling with a baby or toddler to Tortola, you may prefer to rent a house or apartment. Check out such sites as VRBO
, Airbnb.com, and TripAdvisor for hundreds of options. Just make sure you use the advanced search to find kid-friendly properties and carefully read reviews by people who have stayed there recently. Many vacation rentals also optionally offer the services of a cook and/or maid. I would urge you to consider this carefully, so as not to spend a good part of your vacation cooking and cleaning.
Note: If you are in need of any specific items to make travel with children easier, please check out our carefully curated online family travel store. These products have been selected based on what we used and loved for traveling the world with our kids.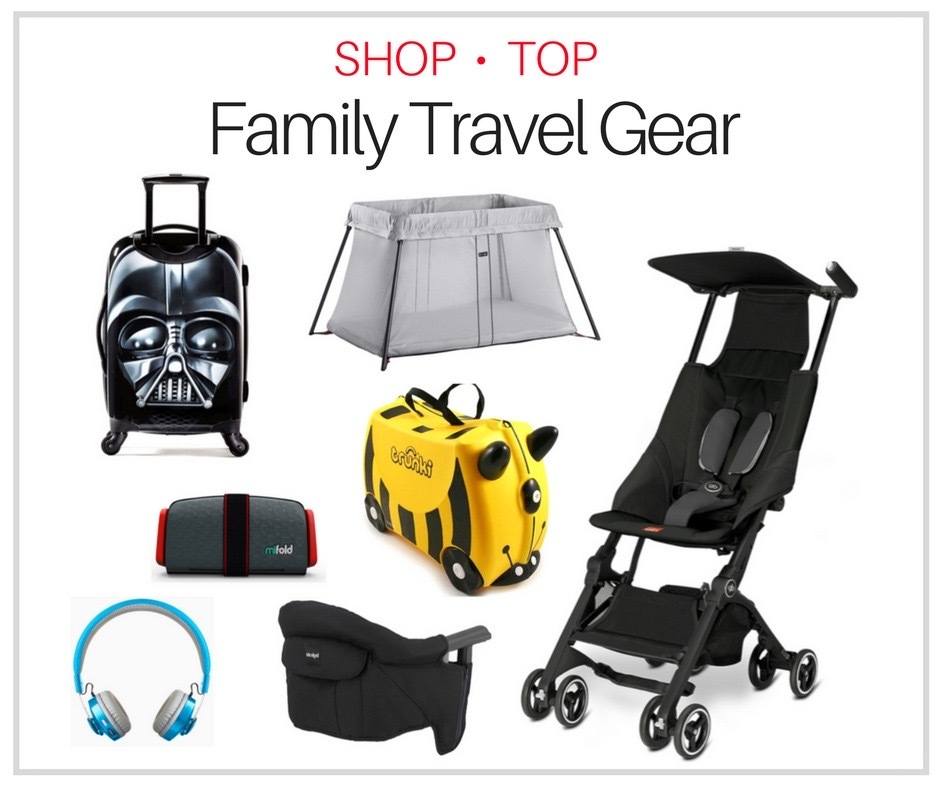 Family Restaurants Tortola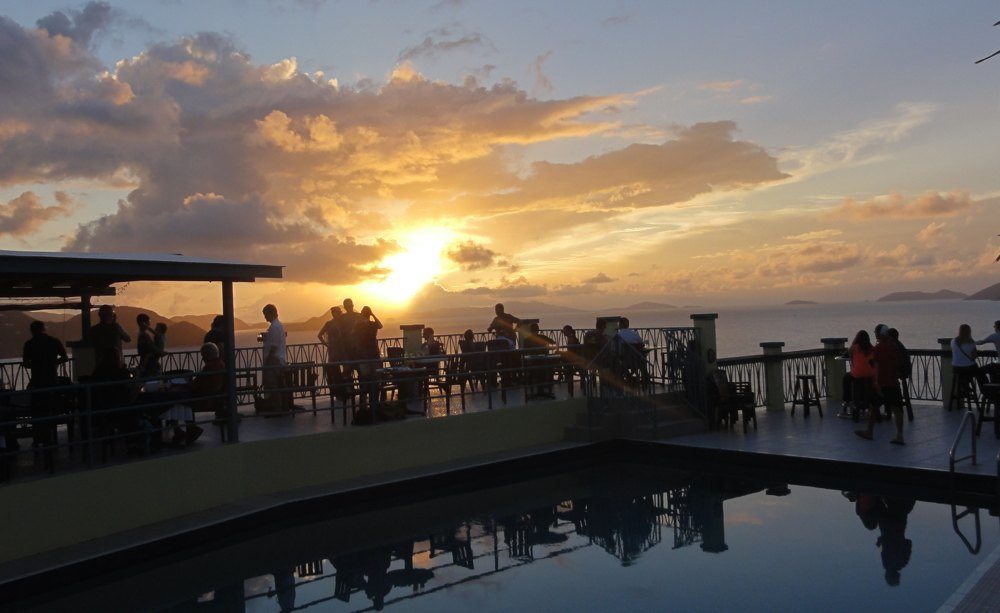 As Tortola is used to catering to families with children, even the nicer restaurants are not surprised by the presence of a baby or young child.
Note: If you need a little encouragement or a few tips on eating out with children, please see this post on eating out with kids.
Bananakeet Cafe – Eclectic Island Fare – See TripAdvisor Reviews
We enjoyed visiting this restaurant several times with our children, going early for happy hour and to watch the gorgeous sunset. The atmosphere is lively and the deck is fenced, but one would still need to keep an eye on an active toddler here due to the pool.
D'Coalpot – Caribbean – See TripAdvisor Reviews.
Quito's Gazebo – Caribbean – See TripAdvisor Reviews
.
This casual waterfront restaurant has average food but what you should go for is to hear the owner and singer/musician Quito Rymer perform. Quito's music is addictive and you may find yourself dreaming of Tortola a week later and downloading the song papa and me from iTunes.
The Sugar Mill – Continental – See TripAdvisor Reviews.
This is one of the top fine dining restaurants on the island. While they do not have a kids' menu, if your child is used to fine dining, you will still feel welcome here.
D' Best Cup – Breakfast/Lunch – TripAdvisor Reviews.
For a decent cup off coffee (rather elusive in the B.V.I.'s), a tasty breakfast or a BLT, this casual spot at Soper's Hole marina in a real gem. It is very family friendly, with indoor and outdoor patio seating.
Getting to Tortola
The Tortola airport is called Terrance B. Lettsome International Airport (code EIS), formerly known as Beef Island Airport. You must connect to it via flights from one of the following hubs: San Juan (Puerto Rico), St. Thomas (USVI), Antiqua, St. Maarten, Barbados or St. Croix. In our case, we flew in via San Juan (so we could visit P.R.) and flew out via St. Thomas (also to visit a new place). We traveled between the islands of Guana, Virgin Gorda, Tortola and St.Thomas using various inter-island ferries and private boat services.
Car Rental Tortola
We found that renting a car was the easiest way to get around Tortola and gave us the most freedom to explore. We did a weekly rental from Dede's (with an additional car seat rental for our youngest) and it worked out well for us. We have found that we have had mixed experiences with car rentals in the Caribbean, but we chose Dede's after some recommendations on online traveler forums.
Further Reading
San Juan, Puerto Rico – with Kids
Puerto Escondido, Mexico – with Kids
Bocas del Toro, Panama – with Kids