Last update: September 24th, 2021 at 08:27 am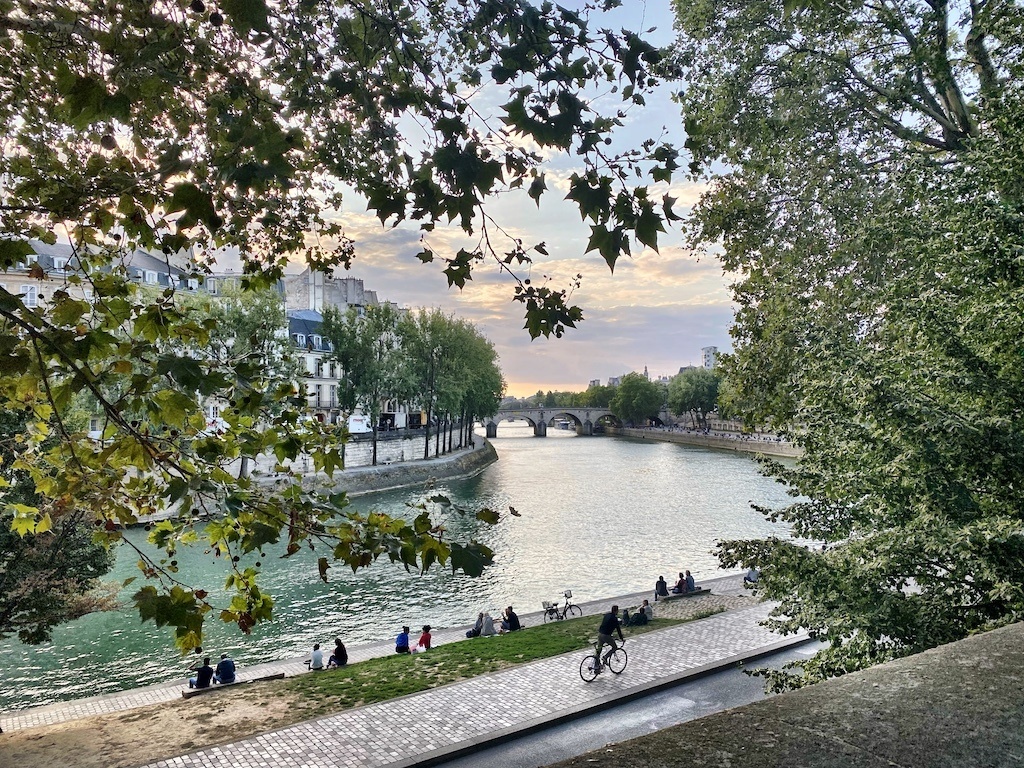 Wondering what it is like to visit France these days? In late August 2021, my husband and I decided to take our first trip abroad with our teens since international travel came to a screeching halt in 2020.
Quite honestly, France was not even our first attempt at a trip overseas. Largely due to the ease of flexible bookings, we had booked and had to cancel 2 earlier trips in 2021 before finally having one that looked like it could go ahead as planned (mostly). After the false starts, I don't think we really believed we were going anywhere until the wheels of our plane lifted off the tarmac.
Disclaimer: As the requirements to visit France are constantly changing, I cannot guarantee that this information will be 100% accurate for your upcoming trip. This is based on our experience in August & September 2021. Please be sure to check current requirements on the French Government website.
Why Travel to France?
While France is always a worthy destination, this isn't the main reason we chose to go there. France has green-listed a number of countries for travel including Canada. This makes it a much easier destination to visit than many others. This is especially true for qualifying fully vaccinated travelers for whom there are no quarantine or pre-trip COVID-19 testing entry requirements.
The U.S. was recently moved from France's Travel Green List to its Amber List. That said, there have been no changes for fully vaccinated travelers for whom travel is still relatively easy. Unvaccinated travelers however, now face much more rigorous requirements including a compelling reason to visit (a vacation does not qualify).
Is it Worth it to Travel to France Right Now?
As I write this, we have been home for one week. I can definitely say that yes, it was worth it for us. Many times on the trip, however, I thought about other travelers I know (like my parents who are in their 70s) and how the experience would be for them. I came to the conclusion that what was enjoyable for us (albeit occassionally a little challenging), might be less ideal for others. Here are the reasons why:
As a family, we are used to trips with a lot of moving parts and sometimes time-consuming entry requirements (think lengthy forms in triplicate x 4). With this trip, there was more involved than simply booking flights, a couple hotels and a vacation rental. I have outlined everything in the sections below, but the extra steps were a little onerous – from making sure our teens were fully vaccinated in time, to considering what kind of masks to use for 20+ hours in transit, to applying for a French "Health Pass" in order to get into restaurants and cultural venues. These extra steps added some uncertainly (more on this later) as well as a lot of additional pre-trip stress.
Having visited France on several occasions before, we were okay with our experience being different this time. (The bonus being that with masks, I couldn't see the full-face frown when I would speak in French.) If, however, we had never been to France before and it was a dream destination that needed to meet or exceed expectations, I think I would wait. It is too special a place for it not to be exactly as you imagined – especially on a first visit.
As mentioned, our kids were fully vaccinated. At 14 & 17 years respectively, they were also old enough to deal with the COVID-19 testing requirements to return home. The dreaded nasal swab is required to return to both the U.S. (rapid antigenic test) and Canada (PCR test), except for in very young children (details further on). If my kids were younger, and unvaccinated (which depending on age can require more testing), I don't think we would have done the trip. Can you see in the photo below how nervous my daughter looked in line for our test 2 days before returning home?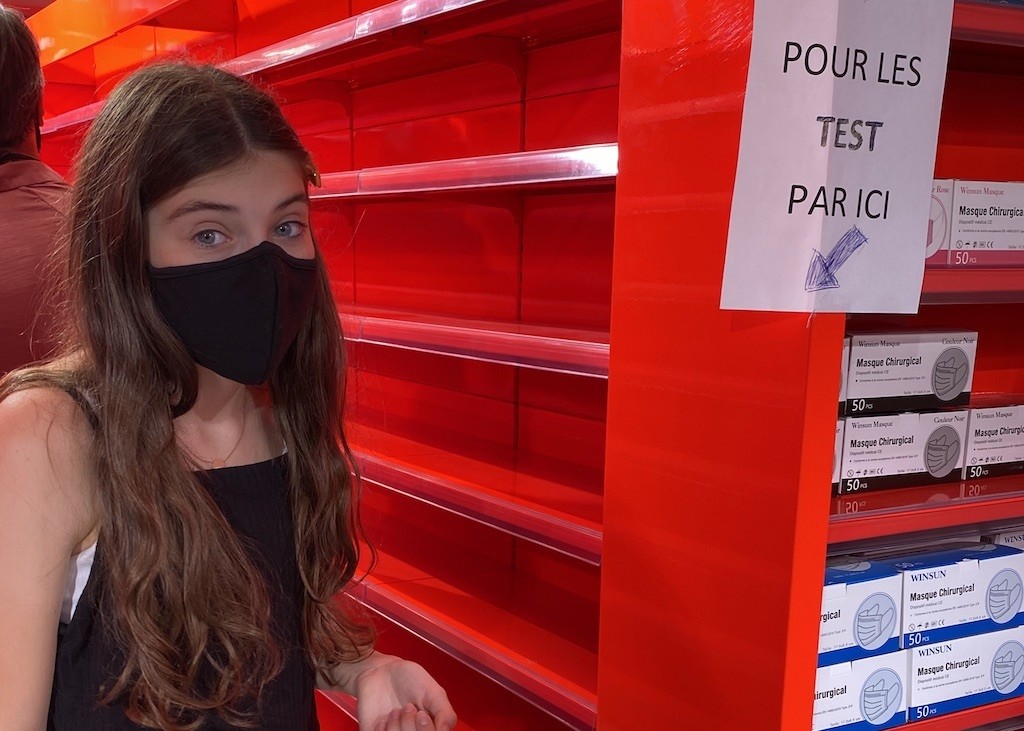 The Biggest Challenges
There were really 3 things that were the most challenging.
With less people flying to international destinations, there are less direct flights. We ended up having one stopover because, booking quite late, the one direct flight to Paris was prohibitively expensive. That turned a 14 hour door-to-door trip into 20 hours. Normally, this would not be a big deal, but let me be clear…this is not the Golden Age of Travel. There is nothing fun about the getting there part these days. Airports have reduced services and staying masked for so long is rather uncomfortable. Basically, the least amount of time you can spend in transit, the better. (Lesson – Book early and go direct if you can.)
France requires something called the Pass Sanitaire/Health Pass (also known as the COVID Pass) in order to get into restaurants and cultural venues as well as to take domestic flights and long distance train rides. It is issued as a QR code to be kept on your smart phone (or printed) and it proves that you are either fully vaccinated or have recently tested negative for COVID-19. At the time of our visit, it proved very difficult to get due to a backlog of tourist applications. (Please see section on this below – there are workarounds.)
Preparing to come home required a visit to a COVID-19 testing center and a 24 hours wait for our PCR test results. (Americans have it a little easier as they are only required to have the rapid test with 15 minute results). While I am absolutely in support of this kind of testing, it is a real trip buzz-kill. Personally, I found it nerve-racking as my mind filled with what-if, breakthrough infection scenarios. I could see that my 14-year old daughter was also quite stressed. I realized that we were on the same page when she said to me "Mom…I'm not worried about missing school, I'm worried about the social scorn if we test positive. Can you imagine?"
Travel Requirements (U.S. and Canada)
There are 3 things that are needed for visiting France right now.
1. Vaccination(s) or Negative Test
From a Green List Country (Canada)
You must fall into one of the following categories.
(Unvaccinated) – Have a negative COVID-19 PCR or antigenic test within 72 hours of boarding a flight to France.
(Unvaccinated) – Have a certificate proving recovery from COVID-19 dated from 6 months – 11 days before travel.
From an Amber List Country (U.S.)
(Unvaccinated) – With France moving the U.S. to an Amber List nation, unvaccinated Americans are no longer able to visit for vacations. They must have a compelling reason to visit (registered for school, a conference etc.) See details and list of compelling reasons under Travel From Amber List Country.
2. The Health Pass / Pass Sanitaire
The second thing travelers need for visiting France right now is the French Health Pass (Pass Sanitaire). This is basically a QR code to prove that you are vaccinated or have tested COVID-19 negative. The pass is essential for visiting restaurants, museums, and many other venues. It is also required for long distance train travel (TGV etc.) and domestic flights. The pass is currently hard to get due to an influx of applications but please see section below for options.
3. Sworn Statement
The third requirement for visitors only is to have completed a one-page Sworn Statement (see link from the French government website) essentially stating that you are in good health and not experiencing any COVID-19 symptoms.
What About the Kids?
Accompanied minors from Canada and the U.S. can travel to France regardless of vaccination status but if unvaccinated and 12 years or above, they must have a negative COVID-19 PCR or antigenic test result or have proof of recovery from COVID-19. Accompanying minors under 12 are exempt from requiring vaccinations or having to show a negative COVID-19 test.
The Health Pass QR Code
Essential for visiting restaurants, cultural venues and more, visitors can apply for a French Health Pass QR code by uploading their vaccination information, flight details, passport and a few other details to an online portal. The current issue (Sept. 2021) with getting the France Health Pass as a tourist however, is that the French government has been inundated with applications and is not processing them quickly enough. This has meant that many travelers are arriving in France without a QR code or are canceling their trips because they have not received the code in time.
The QR Code Workaround
The official workaround for those not able to get a QR code is to visit a COVID-19 testing site when in France. They provide rapid antigenic tests (15 min results) for about 30 euros. Testing sites are plentiful, including most pharmacies and many street locations. With a negative result, you are issued a temporary QR code that is valid for 72 hours.
The Unofficial QR Code Workaround
We chose the unofficial workaround instead which was to show our Canadian vaccination cards in lieu of a QR code. They were readily accepted everywhere we went. The only thing the door person checking them wanted to see was the date of our most recent vaccination. Most of these gate-keepers had not seen a Canadian vaccination cards before but they were used to seeing the American CDC cards. If anything, they were apologetic that their system for issuing QR codes to tourists was not working well.
While we were prepared to show our vaccination cards to ride the TGV train from Paris to Provence, we were never asked to show ours so we were not able to test this. The one place that I think could be sticky about having a QR code (not just a vaccination card) would be boarding a domestic flight. If we were flying within France, we would have opted to get the rapid COVID-19 antigenic test to get a 72 hr QR code.
Note: I finally received my QR code on day 4 of our trip. My husband received his 4 days after returning home. I do believe, however, that our trip coincided with the worst bottleneck in this system (it was new). I think come the end of 2021, the French government will have this more streamlined.
Update Sept.24th, 2021 – If you have been waiting for your QR code for a long time and your departure date is near, try this hack from a Tripadvisor thread (see post #1160). I recommended it to a friend, and within 30 hours she had her pass.
Do Kids Need the Health Pass QR Code?
At the time of our visit, only people 18 and above were required to have the QR code. As of Sept. 30th, 2021, everyone 12 and above will be required to have the QR code.
Getting a French Health Pass QR Code From a Pharmacy
When the QR code system for tourists was initially rolled out, some French pharmacies were able to convert Canadian and American vaccination cards to the QR code. This is largely unavailable now. I tried 3 pharmacies in Paris when we first arrived and was told that it is now "forbidden". That said, there are still murmurs of the odd pharmacy continuing to do it. Travelers have been sharing their experiences with trying to get their vaccination cards converted on this Paris Tripadvisor forum thread.
The Best Part about the Pass Sanitaire
As controversial as these health passes are, I loved being on the other side of a QR code check-point. To be inside a venue, mask-free and with a bunch of people who were either vaccinated or had just tested negative, felt like life as we knew it before the pandemic. The party was on.
Requirements for Returning Home
The requirement for returning home to the U.S. and Canada vary depending on your vaccination status and age (minors). As these things can change, please check current requirements before you travel for France.
Canadians
At the time of our return home (Sept. 2021), Canadians 5 years and above were required to show a negative PCR test result (not antigenic) within 72 hours of boarding a flight home with the results loaded into the ArriveCan App. Unvaccinated Canadians returning home are subject to additional testing and must quarantine for 14 days.
Unvaccinated accompanying minors under 12 must do an additional PCR test on day 8 after returning home. Children under 5 are exempt from all PCR testing requirements. Please note, unvaccinated returning Canadian travelers 12 years and above have additional requirements returning home including day 8 testing and a 14-day quarantine. (See details here.)
Americans
Currently all Americans 2 years and above need a negative viral COVID-19 test result no more than 3 days before their departure flight home. There are additional requirements for unvaccinated travelers. See details on the CDC website.
Travel to France – The Best Things
I really have gone on about all the challenges involved in visiting France right now, but despite the extra rigamarole, we did love our trip. Here are several nice things about visiting at this time.
Crowd-Free – There were no giant tour groups. Typically in the summer in Europe you can be overwhelmed by a giant busloads of tourists. We saw a few small groups but that was it.
The Warm WeIcome – I have never felt so welcome in France, especially in Paris where service can sometimes be a bit abrupt. We found people to be curious about where we were from and genuinely appreciative that we had made the effort to visit.
Travel to France – The Worst Things
Train Travel – Riding the TGV from Paris to Provence and back (3 hrs) was one of our least favourite parts of the trip. Despite the fact that you need the Health Pass QR code, nobody checked for it. We seemed to have a lot of chronic coughers who liked to take theirs masks off on our trains. Quite frankly, we found it a little uncomfortable.
Taxis – In Paris, it is recommended for taxis to not take more than 3 passengers (in the back). As a family of 4, some taxis would not pick us up. Others that would pick us up charged us an extra fee. When possible, we found it more enjoyable to walk.
Masks – I am pro mask-wearing but for long travel days (especially in the heat), it's uncomfortable to wear a mask all day. I found that having a variety of masks, N95 for the plane, surgical style masks for shopping etc. was helpful.
Flying – Flying in general was the worst part of going to France right now. As mentioned before, there is very little that is enjoyable in the process from many services being shut down at airports, to having to wear masks for a lengthy period of time. Any ability to reduce travel time at a reasonable cost should be considered. *
*Note: Due to a missed connection and a new flight plan on our return home, I ended up sitting next to an unvaccinated and barely masked young man for 5 hours who was just returning home from partying with his friends in Orlando. Before takeoff, he suddenly realized that he was actually going to have to quarantine for 2 weeks upon arrival. He proceeded to have a complete meltdown beside me involving a lot of aggressive Angry Birds playing and swearing. The poor person in front of him had to sit in a forward-tilt position due to the hammering on the back of her seat. As I said – there is nothing fun about flying these days.
Where to Find Help
Travel Professionals – Although I haven't used a travel agent in 20 years, I am seriously considering it in the near-term for bigger trips. It is so nice to have someone with some pull when you have to make changes or cancel.
Tripadvisor Travel Forums – I found the Paris travel forum threads to be, by far, the most useful source of real-time information prior to our trip. People shared what it was like in France at the moment, what was happening with QR codes and more.
Ask for Help – Do you have a question for me? Ask in the comment section below and I will do my best to help.
Related Posts