Last update: February 3rd, 2021 at 09:24 am
Pint Size Pilot generates income via partnerships with carefully-curated travel and lifestyle brands when you make a purchase through one of our links. No extra cost will be incurred by you. For more information, please see our Terms of Use and Privacy Policy.
I write this post upon my return from a weekend at the Quebec Winter Carnival, where the temperature hovered around -26°C (-15°F) with a howling wind that made it feel like -39°C (-38°F). My lips are burning from exposure and my hands look like something belonging to the reptilian class. It's not that I didn't bring winter clothes. I brought what I normally wear for skiing on the balmy west coast of Canada near my home of Vancouver. These clothes have served me well up to about -10°C. This experience in Quebec City, however, was something entirely different.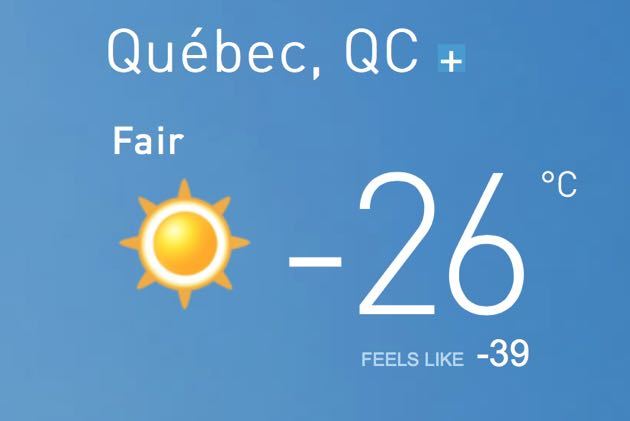 It was the kind of cold that took my breath away when I took one step outside of the airport. It was the kind of cold that rendered my iPhone useless (Lithium-Ion batteries do not perform well below -18°C) . It was the kind of cold that caused my wind-induced tears to freeze on my eyelashes, making it hard to blink and see. I feel it important to share with anyone else who might planning a winter trip to Canada (west of Vancouver), some essential items to protect you from the chill. Here are my suggestions:
What to Wear for a Winter Trip to Canada
The Hooded Down Filled Parka
You know the one. It looks like a sleeping bag with a hood that can almost seal off your whole face. I would like to confess that I have never owned one of these jackets.They have always seemed like overkill to me, and frankly, they look a little uncomfortable. After experiencing the great Canadian winter of the East, I have discovered that freezing is also quite uncomfortable. Many major brands offer their version of this, but if you want to go authentically Canadian, try Canada Goose or Mackage. I will warn you that down parkas are not inexpensive. Either buy one that you will love for a lifetime and consider it an investment piece, or see if you can borrow one from a friend.
Mitts not Gloves
Your fingers stay a lot warmer if you keep them together. I like wearing a pair of knit stretch gloves inside my mitts so I can pull my hands out now and again to do up a zipper, or take a photo without the risk of my fingers falling off. My favorite mitts are made by Hestra and I especially like the elastic straps for your wrists so that you don't lose them when you take them off. Those straps make me feel a little bit like an irresponsible 5 year old, but I've never lost a mitt.
Long Underwear
Some people prefer merino wool long underwear, and some prefer synthetic fabrics; just don't wear a base layer made of cotton, as this fabric retains perspiration. Also make sure your long underwear has a nice comfy fit. My set are a size small and I am actually a size medium. The snug fit around my waist can make me quite angry, but I endure them because I am convinced that I will one day return to a size small. Outdoor stores such as R.E.I, Backcountry and M.E.C (Canada) carry the most popular brands including SmartWool, Patagonia and Icebreaker. If you need help, take a peek at this handy guide to buying long underwear from R.E.I.
Snow Pants
"Are you going to wear your snow pants out?", my friend asked me at breakfast before heading out for a day in Quebec City. Of course I wasn't. I wanted to look at least partially stylish. This suffering lasted only 1/2 a day before I ran back to the hotel and changed into my snow pants to join the rest of the locals. The long and short of it is, they keep you warm and keep the wind out.
Note: I did not wear snow pants out to nice restaurants, but would layer my long underwear under my chosen outfit.
Winter Boots
What you are looking for here is a proper winter lace-up boot that is warm, easy to get on and off and has good traction on slushy streets. Sorel makes good ones and many of the designer brands also make their own version. Make sure you have enough room to put toe warmers in them because when it is really cold, you will need them too.
Neck Warmer / Face Warmer / Scarf
Until this trip, I considered the scarf a fashion accessory and makeshift airplane blanket, but not part of my great Canadian winter survival kit. With the first gust of arctic wind, I was quick to wrap up everything from my neck to my eyes. It doesn't matter what you use, just find something that will keep the wind out.
Toque
I realized recently that "toque" is not a universal word. In case you are wondering, a toque is a knit cap without a brim. A study from the 1970's concluded that 40-45% of body heat is lost via the head. Ruin the hair, but save your body heat (or just keep the toque on indoors as many Canadians do).
Goggles
Would you seriously wear goggles around the city? When you have rendered yourself otherwise unrecognizable by all your other gear, you might. When your tears freeze to your eyelashes and it is hard to blink, you also might. I found myself looking quite enviously at my friend Katja who had thought to bring hers along on our outings.
Moisturizer
Think about trying to create a barrier to protect your skin. I put three layers of my regular moisturizer on, letting each one soak in before reapplying (I like Kiels Ultra Moisturizer). The same goes for your lips and any other exposed skin. Lip Rescue or any other lip balm will do.
Hand Warmers and Toe Warmers
Put hand and toe warmers everywhere ! I had them in my mitts, in my boots and sandwiching my iPhone in my pocket to keep it from freezing. If you are later wondering why your fingernails are black, it is because hand and toe warmers contain charcoal and little bits of it tend to leak out of the pouches.
Experiencing the real northern winter (if only for several days) has left me feeling rather reflective. How dare I call myself a Canadian having lived my whole life in the balmy temperatures of Vancouver? I feel like a bit of a fraud. The real Canadians, in my opinion, are those people (and their forefathers) who endure the long months of subzero temperatures with an occasional blizzard and ice storm thrown in. Having now experienced what I feel is the real Canada, I am committed to being better prepared next time. I hope you can learn from my missteps.
You may also be interested in the following:
The Quebec Winter Carnival – with Kids
Saint John, New Brunswick – with kids
St. Andrews by-the-Sea, New Brunswick – with kids
10 Epic Canadian Adventures with Kids
Victoria, British Columbia with Kids
5 Family Friendly Dude Ranches in British Columbia
Tofino, British Columbia with Kids