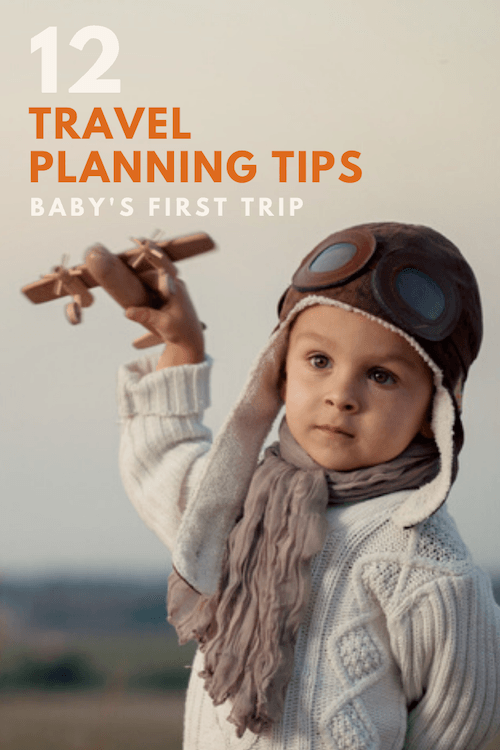 Affiliate Disclosure: As an Amazon Associate I earn from qualifying purchases. This post also contains additional affiliate links.
Planning Tips – Baby and Toddler Travels
Are you looking for information on baby travel or vacations with toddlers? As someone who spent many a sleepless night agonizing over this very topic, I want you to know that you have come to the right place!
On this page, you will find our top baby travel and toddler vacation planning tips. If this is not what you are looking for, see also our tips for:
Note: Please use the following menu to find what you need quickly.
Baby Travel – Managing Expectations
While traveling with a baby or toddler is wonderful, it is a drastically different experience than pre-child trips.
Once you accept that you will be digging in the sand, not resting on it; playing in the pool, not floating on it; and mentally rebrand happy hour as any time your baby or toddler is napping – you are ready to start planning.
Setting up for Success
While vacations with toddlers and wee ones can be rather busy, you can still find time to do the things you love.
Consider which activities are absolutely necessary for you to have a quality vacation. For one person, it might be a trip to the spa, while for another it might be an afternoon of uninterrupted reading. May I suggest:
If you are traveling with a partner, plan to take turns watching your child so that each of you can have some time to pursue something you enjoy.
Consider bringing grandma, aunty or another caregiver along to do a little babysitting.
Find out if your preferred hotel or resort offers certified babysitters, at what cost, and if they need to be arranged in advance. Hotel babysitting services can sometimes be very expensive so you could also research outside agencies. Please see the following directory for finding a babysitter on vacation (please note this is a directory, not a recommendation service).
A baby or kids' club can be a great option, but be sure to find out the cost, what the age requirements are, if they are fully supervised, if you need to pre-register, and if it will be in operation during your travel dates (some are only offered during high season).
Where to Go
Planning toddler vacations or baby travel may require you to put extra thought into your destination. The type of accommodation you choose can also be important, especially if you are traveling with a newborn.
Thing to consider include:
Access to clean drinking water.
Childcare options.
Vacation home rental versus a hotel or resort.
Proximity to good medical care.
This is not to say that you can't go anywhere you want. Travel blogs are full of stories about amazing people who circumnavigate the globe with a baby in a sling. It is advisable, however, to either choose a destination relatively close to home or in a country with a very high standard of medical care until your baby is at least six months old.
Note: The last point was made very clear to me when our son was evacuated by helicopter from an island when he was 7 weeks old. Thankfully, we were not far from home in Canada, but it did make me consider our access to solid medical care more carefully on our future travels.
Safety First
If you do make the decision to travel to a less developed or tropical region, we recommend looking up your destination on the website of the Center for Disease Control in case there are any medical advisories you should be aware of (Malaria, Dengue, Zika etc.) On the website, you will find advice on how to minimize your risk, suggested vaccinations, and recommendations on types of medications to bring with you.
If necessary, plan to visit a travel health clinic at least 6 weeks prior to your trip. Bring with you the immunization records for each family member. See the following links for travel clinics in the U.S. and travel clinics in Canada.
Should you be interested in other information, such as the current political climate, or any serious weather advisories in the region you plan to travel to, you can research your destination through the U.S. State Department or Foreign Affairs and International Trade Canada.
Can You Drink the Water?
In many fantastic vacations spots, the tap water contains microbes that can cause diarrhea, vomiting and dehydration if ingested (think Mexico). You can still travel to these places with your baby or small child, but you need to give some thought as to how you will deal with this inconvenience.
Carefully chosen accommodation (ideally with a water filtration system), or a well-tipped housekeeping staff that will bringing you copious amounts of bottled water if needed, can make your travels much easier.
The following steps will reduce your risk:
Use only bottled or purified water, a brush and dish soap to clean any of your child's bottles, cups, bowls, and utensils. After washing, sterilize all of these items. For information on how to do so, please consult the babycenter.com website. (A microwave bottle sterilizer can help a lot with this task.)
Use only sterilized water for teeth brushing and wiping sticky hands and faces.
Do not let your child have anything with ice in it unless you can be sure the ice has been made from sterilized water.
Make sure your child does not swallow any water when in the bath or shower. A portable baby bath can make this task much easier.
Are Children Welcome?
Does the accommodation you are considering welcome children by providing rooms and services that will make your trip easier? A family friendly hotel or resort will offer some, if not all, of the following features and amenities (ideally without an additional charge).
High chairs and booster seats
Cribs and playpens
Child proofed rooms
Baby monitors for loan
Gradual entry pool
Life jackets
Toys
Babysitting service
Baby or kids' club
Large rooms with a private sleeping area for your child
Adjoining rooms
Kitchenette or fridge and microwave
Complimentary laundry service for kids or in-room washer and dryer
Room service
Baby menu, kids' menu or buffet
In room entertainment system
Coffee maker for bleary eyed, sleep deprived parents
When researching a hotel or resort, it is also helpful to spend some time reading reviews specifically from families. TripAdvisor.com, for instance, allows you to filter reviews by Families. I also like to then type Baby, Kids or Family into the search box to further narrow down the review results.


Love Your Room
With a baby or toddler now sharing your space, you need to think about the location, layout and size of your room within the hotel or resort.
The most important consideration is where you will be when your child is sleeping. Having accommodation with a separate bedroom, walk in closet where you could fit a crib, or a living room, allows you to still enjoy this time.
Even a nice patio where you can retreat to can make all the difference between being on vacation, and feeling like you are a prisoner of your room.
Many parents I have spoken to (and myself included) have spent evenings holed up in the bathroom with a bottle of wine watching a movie so as not to disturb a sleeping baby; but generally this is not ideal.
The long and short of it is that if at all possible spend the extra dollars and get the suite, the one bedroom, or the adjoining rooms rather than a standard room.
Depending on your personal style and the temperament of your child you may also want to:
Request a room away from the noise of the elevator/bar/restaurant.
Request a room away from other guests so you do not need to worry about a fussy baby or toddler disturbing anyone.
Vacation Home Rentals
For travel with a baby and vacations with toddlers, many parents find a home rental to be a much more convenient option than a hotel.
The benefits of a home rental can include: more privacy, more space, a lower per night cost, laundry facilities, a kitchen, and the ability to have meals and naps on your own schedule.
There are hundreds of vacation home rental companies to be found online including such biggies as VRBO.com and Airbnb.com. There are also several companies listing homes that have been specifically curated for baby travel, vacations with toddlers and large family groups including  Kid and Coe and Mr & Mrs Smith.
There are several potential drawbacks to vacation rentals, of course. Booking it may require a little more time and work than a hotel as you are often dealing with an individual owner. Another consideration is that since you now have the ability to do more for yourself, you may find that you spend a lot of your trip cooking and cleaning. For a price, however, anything is possible.
If needed, you can arrange maid service and plan to eat some of your meals in restaurants. You could also hire a babysitting or nanny service to give yourself a break once in a while.
Some home and villa rental companies offer a concierge service that can help to arrange things for you such as pre-stocking the kitchen with groceries. For a list of reputable villa rental agencies around the world, please see this Travel and Leisure article.
If your vacation rental is in the U.S., another option is to pre-order groceries through services like AmazonFresh, FreshDirect and Instacart
.
If the property you have selected does not have certain things that you need such as a crib, almost every city has a baby equipment rental company. The following link will provide you with a directory of baby equipment rental companies in North America (please note this is a directory, not a recommendation service).
Passports for International Air Travel
If you are traveling internationally by air, you will need a passport for everyone in your family no matter how old they are (this includes newborns). Approximate processing time for a passport in the U.S. is typically about 4-6 weeks, and in Canada it is about 10-20 days (although in both countries it can be done in a much shorter period of time for a higher cost).
Give yourself ample time since the application is lengthy and there is nothing worse than being a week away from travel and not having your documents in order.
For more information on getting a passport, consult the website of the US Department of State or Passport Canada. If you already have a passport, make sure it is not close to expiring, as many countries will not allow you entry if your passport has less than six months to expiration.
Single parents planning to obtain a passport for baby travel will be expected to present a copy of the court order establishing custody and guardianship.
Also important to note is that regardless of custody or guardianship, if only one parent is traveling internationally with a child, they may be asked to provide to customs and immigration a notarized letter of consent signed by the other parent.
Visas for International Travel
In addition to presenting your passport, some countries require that you have a tourist visa for entry. To find out if you need one for your travel destination, check on the following government website links for the USA and Canada.
Get Through the Airport Faster
While baby travel and vacations with toddlers can provide some interesting challenges, one of the most dreaded obstacles is airport security screening process. While there have been small improvements over recent years (such as the fact that children no longer need to remove their shoes), the new TSA Pre expedited screening lane is making things much easier for qualified passengers and their children 12 years and under.
These pre-screened travelers are allowed to leave their shoes, light outerwear and belt on, keep their laptop in its case, and their 3-1-1 compliant liquids/gels bag in a carry-on, when traveling domestically through one of over 200 designated airports across the U.S.A.
U.S. citizens, nationals and LPRs can apply to the program by submitting an online application and scheduling an in person appointment at any of 380+ enrollment centers. A background check and fingerprinting will also be done. See more information here: TSA Pre website.
If you are a member of the Trusted Travler Programs (NEXUS, SENTRI & Global Entry, you do not need to enroll into the TSA-Pre program. You can use the TSA Pre lanes by using the PASSID on your membership card. This number must be entered in the field titled Known Traveler Number (KTN) when booking your plane ticket. For more information, see the TSA Pre Check for Trusted Traveler Page.
Travel Insurance
We all know that buying travel insurance is important when traveling out of country, but it may feel like an even higher priority when traveling with family.
A serious medical problem out of country can easily cost you more than $50,000 especially if you require an ambulance or an air evacuation.
Get a Quote Now at TravelexInsurance.com!
For some more information, please see this article titled Do I Need Travel Insurance by Rick Steves.
Up next, Choosing a Flight or return to the Tips main menu.