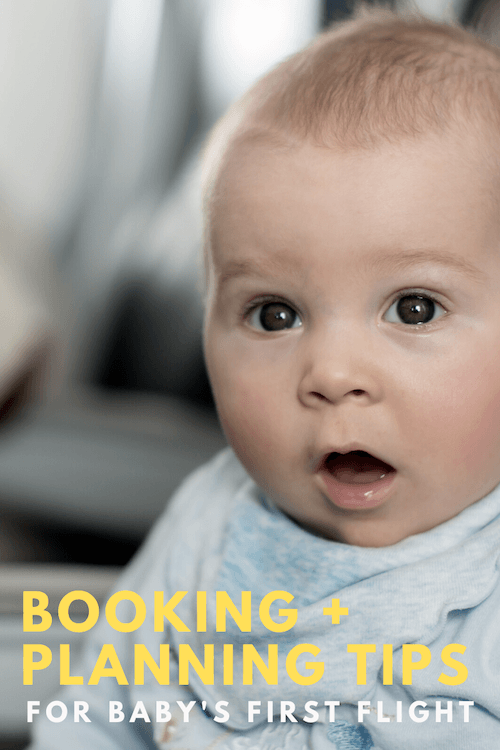 Affiliate Disclosure: As an Amazon Associate I earn from qualifying purchases. This post also contains additional affiliate links.
Family Travel – Booking Flights
Wondering when you can fly with a baby, or where the best place is to sit on the plane with a baby or toddler? Find answers to these questions and more with these booking tips for flying with a toddler, baby or young child.
Please use the following menu to find what you need quickly. Not in the right place? Just need tips for the actual flight?  See also: Top Tips for Flying with a Baby or Toddler.
Want our top tips as an eBook instead? Just fill out the following form and we will get them to you as a PDF promptly.
How Old Does a Baby Have to be to Fly?
When can babies fly? Most airlines require that a baby be at least 7-14 days old before flying (please check with specific airline before booking).
As newborn babies have developing immune systems and airplanes aren't considered to be the cleanest places in the world (recycled air etc.), you may wish to delay a first flight until a few months after birth.
Another consideration is the fact that most infants do not complete their vaccinations until they are 18 months old. Depending on where you are traveling to, you may want to take this into account before you plan a trip. If there is an advisory for a country or region (measles outbreak etc.), it can typically be found on the Center for Disease Control (CDC) website.
If you are flying internationally, your baby will need a passport. While passport processing generally takes a matter of weeks, you can get an expedited passport for an extra fee.
What are the Best Flights for Flying with a Baby?
Often the best price wins when it comes to booking flights, but if choices are available, the following tips may prove useful.
Non-stop flights are preferable, since even the shortest stopover will add at least one hour to your transit time. A stopover also increases your chance of not making a connection if your first flight is delayed (= so much unnecessary stress). Please note: non-stop means exactly that, that it doesn't stop. Direct means it takes a direct route but may stop to pick up passengers or refuel along the way.
Discount and charter airlines can be less desirable for families. They often have very small seats, limited services (such as no in-seat entertainment), and are less likely than commercial flights to leave at their scheduled time.
If your travels do require a stopover, be aware that not all hub airports are created equal. If given a choice, choose a stopover at one of these family friendly airports.
Not all airlines are created equal. As the airline industry has put the squeeze on travelers by charging extra fees for things like seat selection, flying with an airlines that values traveling families becomes more important. (See next section.)
What are the Most Family Friendly Airlines?
According to a 2019 report from The Points Guy, these are the most family friendly airlines. The benefits can included priority boarding, discounted fares for infants (in their own seat), kids' activity packs, special snacks for little ones, kids fly free specials, and more. See the full article on the best airlines for families.
JetBlue Airways
Southwest Airlines
Hawaiian Airlines
Alaska Airlines
Delta Air Lines
United Airlines
American Airlines
Frontier
Spirit
Allegiant Air
When is the Best Time to Fly with a Baby?
There is great debate over when the best time is to fly with a baby or toddler. A lot depends on the temperament of your little one. Generally, however, if you are on a short flight (5 hours or less), flying in the morning is preferable since kids seem to be happiest after a good night's sleep.
For long haul flights, most find that a flight leaving a few hours before bedtime is best. This allows your child to be well settled on the plane before they fall asleep.
What you want to avoid is a flight that leaves right at your child's nap or bed time. All the commotion of getting on the plane (check-in, security, takeoff) can be very disruptive, and inhibit their ability to get settled, leading to midair meltdown disaster.
Note: We once flew on a red eye to NYC that left at midnight. My daughter (18 months) was long past the idea of sleeping and had her own little play party on my lap for the whole flight. Needless to say, we were both a total disaster for our first day in The Big Apple.
Do Babies Fly Free? (USA & Canada)
A baby under two years of age can fly for free in the U.S. and Canada when they sit on the lap of a parent.
If your child is 2 years and older, you are required to buy a seat for them.
If your child turns two during a trip, they can fly on your lap on the way there, but must return home in a paid seat.
If your child is traveling as a lap baby, and the flight is not full, you may be allowed to use an empty seat for your child (airlines have differing policies in this area). Ask about this at the check in counter as they can sometimes block a seat for you so no one else can take it.
Note: Although our children traveled as lap babies until they were 2, we always gate checked our car seat so that if there was an extra seat available, we could secure them properly.
If you want the guarantee that your child can be secured in a FAA approved car seat, you will need to purchase a separate seat for them. Most airlines charge full fare for this, but there is the odd one (Southwest Airlines, for example) that offers a discounted seat for infants.
Do Babies Fly Free Internationally?
Do babies fly free on international flights while sitting on a parent's lap? Typically, no. Most airlines charge a minimum of 10% of the adult fare plus taxes and fees. Some others require that you purchase a seat for your baby when traveling internationally.
How to Book an Airplane Bassinet for a Baby
Baby bassinets attach to the wall in front of the bulkhead seats and are offered on long haul flights (international and sometimes cross-country).
Flight bassinets are appropriate for babies up to 6 months, weighing 20lbs or less, that can not yet sit up on their own.
With most airlines, an airplane bassinet needs to be requested in advance over the phone and cannot be guaranteed until you get to the airport on the day of your travels.
It should be noted that the safest way for a baby to travel on an airplane is in their own airplane seat, secured in an approved Child Restraint System (FAA certified car seat or Cares Air Safety Harness). That said, for parents that plan on having their infant on their lap during the flight, having access to an airplane bassinet can be a great convenience.
Should You Buy an Airplane Seat for Your Baby?
Some things to consider when deciding whether or not to buy a seat for your toddler or infant include:
Safety – Are you comfortable with the idea of holding your baby in your lap for the duration of the flight? While serious flight incidents (involving turbulence etc.) are very rare, a baby or toddler is still safest when secured in an age appropriate child restraint system in their own seat.
Cost – Although very few domestic airlines offer you a discount when buying a seat for an infant, some international flights offer a discount of 25% off regular fare. As mentioned earlier, on international flights, there is typically a fee for a lap baby (usually 10% of adult fare plus taxes).
Length of Flight – It is easy to hold an infant in your lap for an hour, but how about six hours?
Age – It is also fairly easy to hold a six month old in your arms. How about a squirmy eighteen month old who really wants to walk around?
What is an FAA Approved Car Seat?
FAA approved car seats have the words This Restraint is Certified for Use in Motor Vehicles and Aircraft printed somewhere on them (typically a sticker). They have been rigorously tested to make sure that they are safe for use throughout a whole flight.
You do not necessarily have to purchase a new car seat for use on an aircraft, as many regular car seats are aircraft certified. In addition to looking for the sticker on the seat, the instruction manual will show you how to install it on an aircraft. That said, some frequent family travelers choose to purchase a separate travel car seat that is lighter and more portable than their regular car seat for home.
Flight attendants are trained to look for the appropriate safety labelling when someone is boarding the plane with an infant or toddler car seat. While they may not check yours (they are often way too busy), if they do, and the seat is not labelled properly, you will not be allowed to use it.
Booster Seat on Airplane? Not Okay.
Booster seats cannot be used on airplanes. Among other criteria, to be considered safe for use on aircraft, a car seat must be able to be secured with a lap belt only. Booster seats are typically designed to be used with a 3 point seatbelt with the shoulder strap.
Can I Use a Cares Harness with my Baby or Toddler?
The only child restraint system (CRS) other than an FAA certified car seat that can be used throughout a whole flight is the Cares Air Safety Harness.
The Cares Air Harness is suitable for a baby or toddler in their own airplane seat, with a weight of 22-44 lbs. (10-20kg) and a height of no more than 40 inches.
Note: There are other air harness products on the market (such as the Baby B'Air), but these are designed for use in-flight only, not during takeoff and landing.
Can Cares Harness Be Used in a Car?
No. The Cares Air Safety Harness is designed for use on aircraft only and is NOT a car seat.
Where Should You Sit on the Plane with a Baby?
Traveling parents will debate the pros and cons of the bulkhead seats. They are nice because you do not have to worry about your child kicking the back of someone's seat, they have extra space in front of them, and are typically the only seats on the plane that give you access to the baby bassinet*.
The negatives are that they do not have storage beneath the seats, the armrests are immobile and they are can only be allocated at the airport, not pre-booked.
Another common preference when reserving seats is to leave an empty middle seat between you and another family member in the hope that it will remain empty and you will have the luxury of some extra space. For instance, as a traveling family of four you might select row 32 seats A and C, and row 33 seats A and C.
The other benefit to this is that you can put the child most likely to kick the seat in front of them in the second row, so they only bother another family member. In my experience, I have found that we have had more success with the strategy when we book seats closer to the back of the plane, since those seats tend to be less desirable.
Where Can You Install a Car Seat on a Plane?
When using an FAA approved car seat, your child must not be blocking another passenger from accessing the aisle. Essentially what this means is that your child will be expected to sit beside the window, not the aisle. The exception to this is if you are sitting in the center block of seats, since a passenger could always exit on the opposite aisle.
If you are used to sitting in the exit row, alas, these days are over. People in the exit rows are expected to assist in the event of an evacuation and, well, you and your child will not be able to do that.
If you are fortunate enough to travel in executive or first class, call the airline to discuss what the best seating arrangement might be. Sometimes, although seats appear to be in a row, they actually have significant separating dividers, making it difficult to move between them. Also the new cubicle and pod designs often do not allow for the use of car seats.
Consider carefully whether or not you want to sit in privileged class with a little one.The benefits include the fact that the ratio of flight attendants to passengers is much lower so you are likely to receive more assistance. One of the major negatives is that with a child it will be hard for you to truly enjoy all the perks of this class and may wish to save your money/upgrade/points for a special trip without a child.
One final note. Check out Tripadvisor's seatguru.com. This website gives you insider information on airplane seats based on the type of plane and traveler reviews. For example, which rows have seats that don't recline all the way, which row is missing a window and which seats have extra legroom.
How to Get A Car Seat Through an Airport
Lugging a car seat through an airport can be a bit of a pain. One of the following options could make your life easier:
Car Seat Travel Bags – There are a large variety of car seat travel bags available for sale, depending on your travel needs. Some have a lot of padding (good if you are checking a car seat with luggage), and some even have wheels 
– making getting through the airport and to the plane much easier.
Car Seat Travel Cart
 – A good car seat travel cart can also make getting through the airport a breeze. Just be sure to read the fine print with these as they sometimes only work with certain car seat brands/models.
Car Seat Travel Strap
– This one is always a top seller for me on Amazon, and it is one of the simplest solutions. You simply attach your baby car seat to your carry on luggage with the travel strap and roll the seat through the airport.
Are Airlines Required to Seat Families Together (U.S.)?
Although not required by law, most U.S. airlines will seat families traveling with children under the age of 13 years together. Consider the following to reduce the chances of being split up.
Try to avoid booking the most discounted class of ticket. The reason for this is that these seats are often the last to be assigned. This can make it difficult to seat a family together with the remaining seats.
Make sure the whole family is traveling on one itinerary/confirmation number. This way it is easy for the airline to see that you are traveling as a family.
Get proactive and call the airlines to make sure your seats are together.
Are Canadian Airlines Required to Seat Families Together?
As of Dec.15th, 2019, Canadian airlines are required to help seat children under the age of 14 near to their parent, guardian or tutor. This must be done at the earliest opportunity and for no extra cost (no need to book a better class of seats for this guarantee).
The proximity depends on the age of the child:
Under the age of 5: in a seat adjacent to their parent, guardian or tutor.
Aged 5 to 11:  in the same row and separated by no more than one seat from their parent, guardian or tutor.
Aged 12 or 13:  separated by no more than a row from the parent, guardian or tutor.
To learn more, see Canada's Air Passenger Protection Regulations Highlights.
Next up Baggage and Packing or, return to Tips.