Last update: December 28th, 2022 at 07:46 am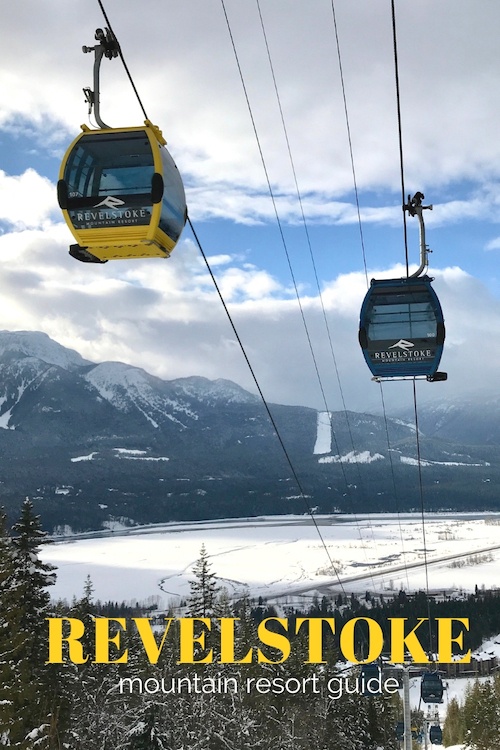 Affiliate Disclosure: This post on Revelstoke contains affiliate links. For more information, please see our Terms of Use and Privacy Policy.
Skiing in Revelstoke
A few years back, we made it our goal as a family to ski British Columbia's Powder Highway mountains. Of all the mountains we planned to visit on this epic B.C. road trip, skiing in Revelstoke was our main event. Why? Because Revelstoke Mountain Resort is home to the longest vertical in North America (but I bet you already knew that).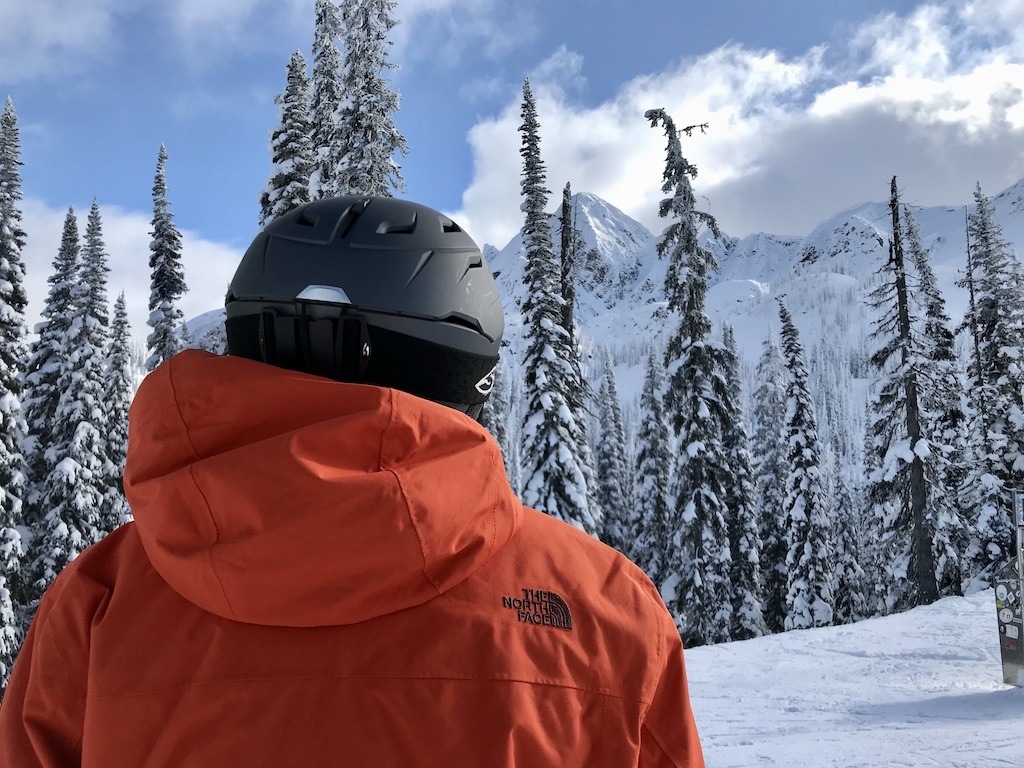 About Revelstoke Mountain Resort
While the 1713m (5620′) of vertical is what many people come to Revelstoke for, the abundance of powder is also a huge draw. An average of 10.5m (34′) of that white fluffy stuff falls upon its slopes each winter.
Revelstoke Mountain Resort is ideal for advanced skiers with 88% of their runs and hike-in bowls rated intermediate or advanced.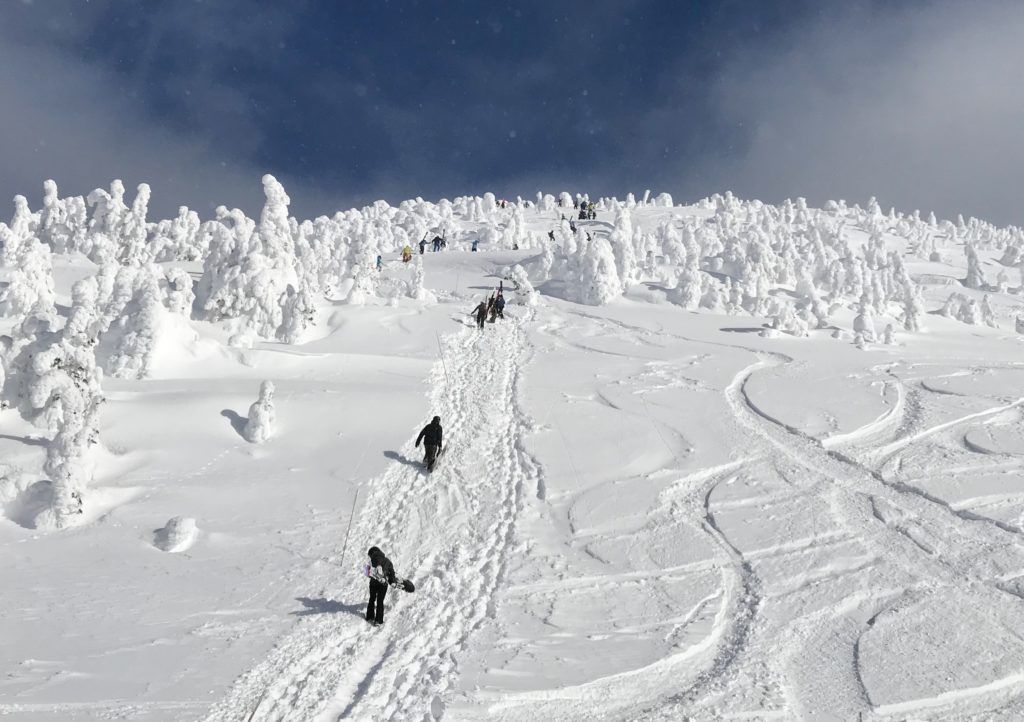 We first visited Revelstoke Ski Resort when our youngest was a beginner, putting her in a small group kids lesson so we parents could make the most of the more challenging terrain. Fast forward a few years, and we can now ski a good part of the mountain terrain as a family (including some really fun tree runs).
Another really attractive thing about Revelstoke Mountain is that it isn't crowded. We have visited on the busiest weekend of the year (Family Day) and have waited no more than 5 minutes in any lift or gondola lineup. Without the masses, the runs don't get skied out quickly. If you are used to skiing at some of the mega-resorts like Whistler, these crowd-feel days feel like heaven!
Revelstoke is considered one of the top heli-skiing destinations in the world. You can also go cat skiing, backcountry skiing, snowshoeing, dog sledding and even paragliding!
Learn more on the Revelstoke Mountain Resort website.
Revelstoke Mountain Resort Video
More than Just Skiing
It's fair to say that it wasn't just the ski resort that we fell in love with in Revelstoke – it was the town itself. Revelstoke is a historic B.C. railway outpost with that turn of the century architectural charm.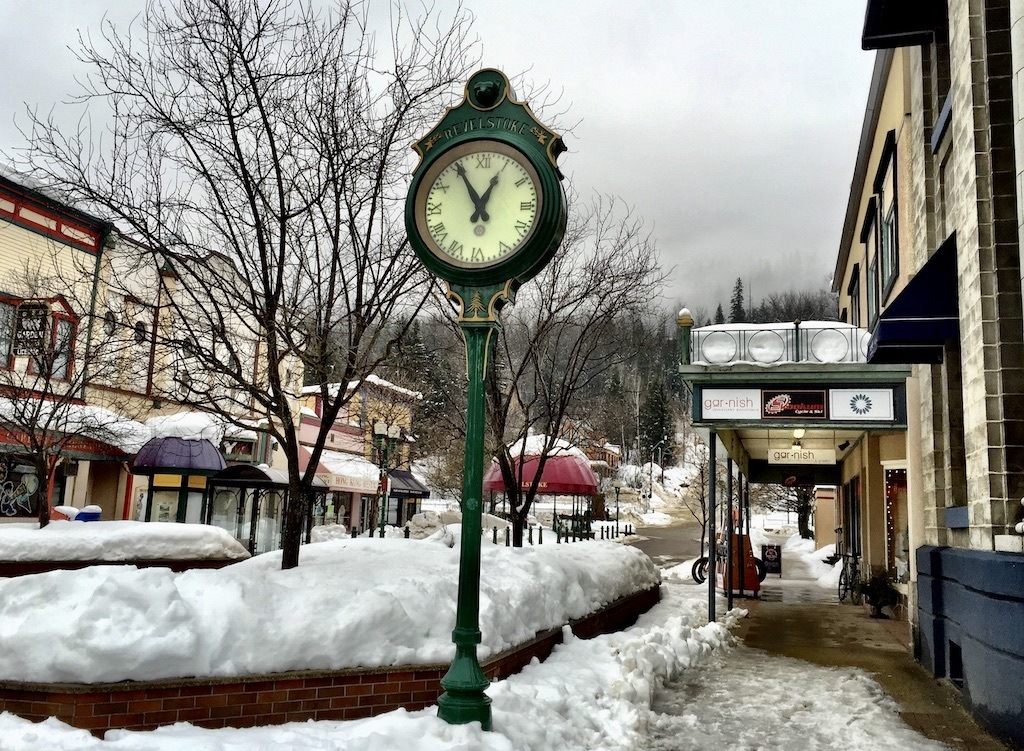 It has nice coffee houses, classic ski pubs and good selection of restaurants. In fact, every once in a while, when my husband and I discuss decamping from Vancouver for a simpler life – moving to Revelstoke always comes up.
Off the ski hill, visitors can amuse themselves at The Cabin (bowling), Peak Axe Throwing, or by taking in a first-run movie at The Roxy Theatre.
Revelstoke also has several breweries and distilleries including Mt. Begbie Brewing Co. and Jones Distilling.
Where to Stay in Revelstoke
Tip: Book early! All the good Revelstoke hotels book out very early in peak season.
I typically like to book something right away that I can cancel if my plans change. Websites like Booking.com often let you do his without penalty (and sometime without a deposit).
1. Revelstoke Sutton Place Hotel
If you are at Mount Revelstoke Resort just to ski (or ride) the longest vertical in North America, the Sutton Place Hotel Revelstoke Mountain Resort is ideal. This all-suites luxury hotel is at the base of the mountain and has everything you need right there (restaurants, snow school, child care, pools, hot tubs etc.)
The Sutton Place Revelstoke is also just a short (complimentary) shuttle ride away from the town of Revelstoke.
Check rates for the Sutton Place Revelstoke on Booking.com or read reviews on TripAdvisor.
Note: We especially liked staying at The Sutton when our kids were little, as the close proximity to the gondola and ski school seemed well worth the premium price.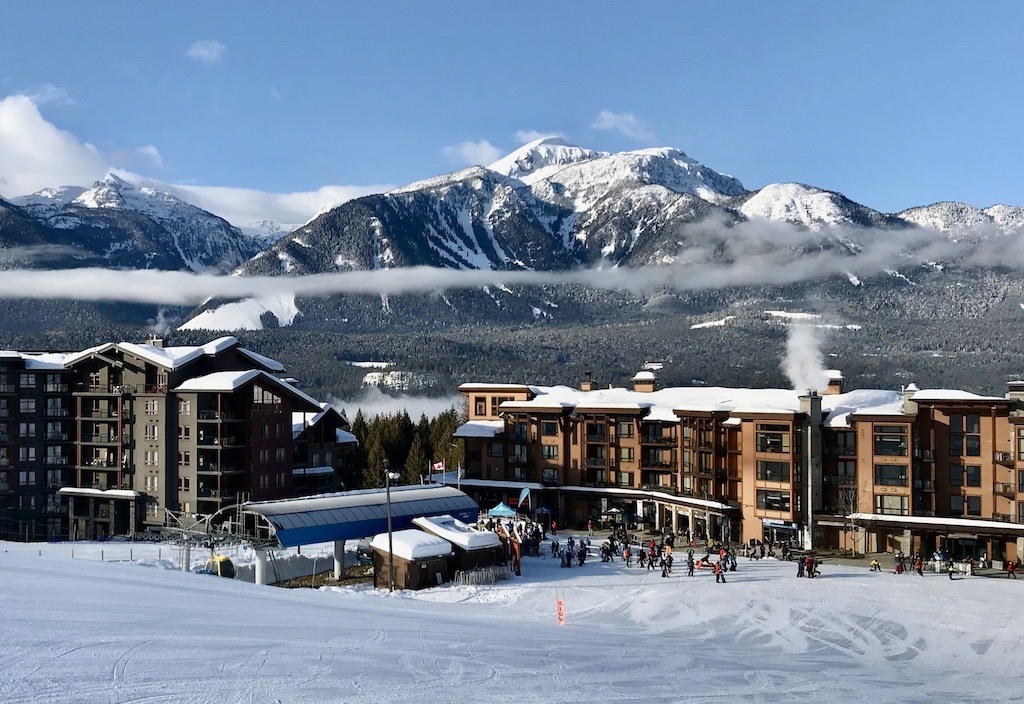 2. The Explorers Society Hotel
This luxury boutique hotel has been a welcome addition to the town of Revelstoke. The rooms are thoughtfully designed – blending a modern esthetic with a classic Revelstoke heritage style.
The Explorers Society has a gorgeous private rooftop lounge. It also has one of the best restaurants in town on its main floor – The Quartermaster Eatery.
Most rooms sleep 2, with one larger room that is suitable for a family.
Note: I have tried to stay twice at this hotel but it has been fully booked. Make your reservation way ahead so as not to be disappointed (like me).
Check rates on Booking.com or read reviews on TripAdvisor.
The are some more affordable chain hotel options that are just on the outskirts of town (as much as I love the 2 others…they are pricey). We have stayed at both the Best Western Plus and the Coast Hillcrest Revelstoke. We prefer the latter because it is in a pretty wooded setting with partial mountain views (but the BW includes breakfast in a stay).
3. The Coast Hillcrest Hotel
This hotel features cozy rooms, a gym, hot tubs with a view, as well as a nice dining room and lounge. While located outside of town (there is a shuttle), it is conveniently next door to the Selkirk Tangiers heli skiing base and the Mt.Begbie Brewery tasting room.
Check rates on Booking.com or read reviews on TripAdvisor.
Revelstoke Hotel Map
I wanted to share the little map of the hotels I recommend so that you can have an idea of their proximity to town and Revelstoke Mountain Resort. Hotel are shown with pins.
Where to Eat in Revelstoke
Breakfast: Grab a coffee, breakfast sandwich or delicious fresh baked goods from The Modern Bakeshop and Cafe or La Baguette (both in town). La Baguette also has a cafe at the mountain base.
Apres Ski: On a nice day, enjoy the gorgeous view from The Rockford Grill patio. If the weather isn't as good, cozy up inside the Mackenzie Tavern (both are at the mountain base). Also worth popping into is The Village Idiot
, a classic ski pub in town.
Dinner: The Old School Eatery
(aptly named as it is in the old town schoolhouse) has tasty fare (and a kids' menu) and The Quartermaster Eatery
in the Explorers Society hotel is also excellent.
Getting to Revelstoke, Canada
Most people reach Revelstoke by flying first to Kelowna (+2.5 hour drive) or Calgary (+4.5 hour drive). You can rent a car from either airport or arrange a shuttle/private transfer.
We drive to Revelstoke from Vancouver, which generally takes 6-8 hours (depending on the weather). If you plan on driving in, be sure to have winter tires and check road conditions before setting out.
Learn more about getting to Revelstoke on the RMR website.
Further Ski Posts