Affiliate Disclosure: As an Amazon Associate I earn from qualifying purchases.

As a family, we have been fortunate to travel quiet extensively. On occasion, people have asked us, "What is your favourite place in the whole wide world?" Now, that is a complicated question because we have fallen in love with a number of beautiful spots around the world – each appealing to us for a different reason. If that question were a little narrower in focus, however, such as "What is your favorite island in the world?" – without question it would be St. Barts.
In this post, I will share with you all of our favorite things on St.Barts including the top family activities, kid-friendly dining options, and the best St. Barts family friendly resorts.
I would be remiss if I didn't thank the SBHOnline forum community (part of the Insiders' Vacation Guide to St. Barts Island website), for answering my many questions before and during our most recent trip – helping to make it our best St. Barts family vacation yet ! I strongly recommend reading their informative island guides and reaching out to them with any questions you may have when planning your own trip.
Please use the following menu to find what information you need quickly.
St. Barts Video
Want a quick peek at Saint Barts Island? Check out our 2 minute St. Barts vacation video.
About St. Barts
Saint Barthélemy (also known as St. Barts or St. Barths) is a small french island in the Caribbean that is renowned for its gorgeous beaches, lovely french fare, designer boutiques and exclusive hotel properties.
It's rather expensive and a little difficult to get to (no direct international flights) making it a favorite getaway spot for the world's rich and famous – who occasionally come down from their private hilltop villas or off their yachts to attend one of St. Barths famous beach parties.
For those preferring a quiet getaway, it can also be ideal. In fact, the Saint Barts that our family loves best is quite a serene affair, involving morning hikes and nature walks, visits to secluded beaches, afternoon charcuterie on our villa patio and sunset swims while watching the planes takeoff and land over St. Jean Beach (one of the shortest commercial runways in the world).
Why St. Barts?
Once we disclose to friends our "favorite island in the world", the next questions is inevitably, "What makes St. Barts so special?". I have pondered this question at great length, but it really come down to the following.
What's to Love
St. Barths beaches are stunningly beautiful and pristinely clean. Even the smokers on St. Barths do their part by using the portable ashtrays provided at beach entrances.
The French-Caribbean inspired food is wonderful and something I dream about when I am back at home. Your day can start with a delicious french pastry from one of a number of beautiful patisseries around the island and finish with a perfectly prepared chocolate souflée (with all kinds of deliciousness in between).
It's safe. The crime rate on St. Barths is negligible which helps to make a vacation more relaxing. (See this guide to the safest and most dangerous Caribbean islands). While we have never shied away from visiting places with higher crime rates (We love Mexico !) there is something to be said about not feeling like you have to be constantly vigilant with regards to your safety.
You can be as introverted or extroverted as you like (great when traveling with a group of people). You can attend a lively beach party or find a secluded beach for a quiet picnic. The choice is yours.
They speak French ! My French is rusty at best but I like making an effort (and encouraging my children to do the same), even if at least half the time the person on the other side of the conversation responds back to me in English.
What's to Love Less
How expensive it is. I try not to do the conversion from euros to dollars (and Canadian dollars at that) when I hand over our credit card. I prefer to endure this shock when the credit card statement arrives about a month later, in the privacy of my own home, where no one can hear me scream.
Mosquitos. A nuisance throughout the Caribbean, these pesky insects can be annoying, but worse, they can also transmit diseases such as Dengue and Zika. I always check the CDC Travelers' Health pages for updates on the island before a trip. I also don't mess around in the Caribbean, using repellents that contain Picaridin or DEET (I prefer the former). I feel like as a family, we have tried just about every repellent on the market, but our favorites are the Natrapel individually wrapped Picaradin Wipes.
15 Things to do on St. Barts with Kids
St. Barts Beaches
With 14 beaches to choose from, there is one for sunrise, one for sunset, one for the perfect picnic, one for jumping waves, one for sensational sandcastles…you get the picture. That said, here are our picks for the best beaches on St. Barts for families.
St. Jean Beach
Beautiful turquoise waters, gentle waves and a great view of planes taking off and landing over the water. It also has some fun beach clubs to hang out at while you enjoy all of the above (The Pearl Beach, Lil'Rock and Sand Bar on the west side and Nikki Beach on the the east side). The beach is divided by the Eden Rock Hotel, with the quieter side being the Nikki Beach side, (except on Sundays when the restaurant throws a rather wild beach party).
Note: Although the island has had a remarkably quick recovery from the devastating damage inflicted by Hurricane Irma in 2017, there are still a number of properties under construction along St. Jean Beach – most notable the Eden Rock Hotel which is slated to reopen in November 2019. Obviously, this reconstruction can be very noisy, but it is largely limited to the early morning and late afternoon hours.
Lorient Beach
Although a little rocky, Lorient is very popular with families. There are some nice protected reef pools near the shore that are perfect for toddlers to wade in, as well as some decent snorkeling for older children. Lorient is also a popular surf beach and lessons can be booked through the AJOE Reefer Surf Club. While there are no beach clubs or restaurants on Lorient, you can grab a bite from either Jojo Burger or La Petite Colombe bakery across the street.
Grand Cul de Sac
This beach is nice for families because the waters are very gentle and quite shallow due to the fact that it is a lagoon. It is a perfect place for water sports and for snorkeling with turtles (look for them in the grassy areas). Ouanalao Dive is located on the beach and offers diving trips (8 years +), snorkeling trips, and water equipment rentals (snorkels, masks, paddle boards, paddle boats, jet skis and clear bottom kayaks). You may also want to combine a beach visit to Grand Cul de Sac with a lovely lunch at either Hotel Christopher (Mango Beach Club) or Le Serano (Plage).
Grand Saline
This beach is a little wilder but it is almost never busy. It is great for sandcastle building and jumping in the waves, although you need to be careful as the waves can get rough. Please be advised that you may encounter nude sunbathers on Grand Saline. Not your thing? Head to the right, rather than the left when you reach the beach from the path.
Colombier Beach
Reached by boat or by hiking in, this beach is perfect for a late afternoon picnic or for sunset. The waters are very gentle for swimming and there is some decent snorkeling at either end of the bay. My kids were particularly interested in the feral goats that roam around on the rocks above the beach. If hiking in, the lower path is your best option with little ones as the upper trail is very steep in places (although it offers great views). For more information, see this excellent post on St. Barths Hiking and Walks from the SBHonline forums.
Shell Beach
It is exactly as it sounds – a beach made from shells. The waves can get a little rough in this bay so keep wee ones close. We enjoy tying in a visit to Shell Beach with a late lunch at Shellona restaurant (there is also a more casual beach bar below the restaurant).
St. Barts Beach Tips
When our kids were young, we would bring a portable beach tent
for them to play under as there is very little shade to be found on St. Barths beaches. On some beaches, such as St. Jean Beach and Shell Beach, you can rent beach chairs and umbrellas ranging from 20 euros (basic beach rental place) to 50 euros each (with the ultimate service, food and beach amenities of the Sand Bar run by the Eden Rock Hotel).
If you are looking to have a picnic instead, french bakeries such as La Petite Colombe and La Boulangerie Choisy are excellent places to pick up provisions such a sandwiches, salads, pastries and drinks (including wine, bien sûr).
While the snorkeling on St. Barths isn't as colorful or diverse as what you might find on some other Caribbean islands, my kids still really enjoy it, finding something interesting at almost every beach we visit. Even in the perfectly clear waters of St. Jean Bay, they have discovered some pretty schools of Palometa fish hanging around right near the shore (with some even better snorkeling around the rocks at the base of the Eden Rock Hotel).
While some of the beach clubs (Sand Bar, for example) have snorkel gear for loan, we have always preferred to bring our own kids snorkel gear along on our Caribbean trips so that we can ensure a good fit beforehand.
Going topless is welcome on St. Barths and you may even encounter sunbathers fully in the buff on Grand Saline or Gouveneur.
True Story: I can recall a rather awkward encounter with my son when he was five. We were building a sandcastle on St. Jean Beach as two beautiful women walked towards us – topless. He dropped his shovel and stared them down. As they grew closer, I started to cringe as I was sure he was going to blurt out something slightly embarrassing. Well he blurted something out alright, but it was not at all what I expected. "Mom ! They're smokers !" (both smoking and going topless being rather rare where we're from).
Fast forward to this same son at the age of 14 on our most recent trip. You can only imagine the look on this poor kid's face when his normally conservative mother decided to go topless. (After 10 days on St. Barths, and two glasses of rosé, I was feeling rather emboldened.)
The Hikes
St. Barths has a number of beautiful trails and hikes for all fitness levels. We prefer to go out in the morning or in the late afternoon, as it is simply too hot midday. How do we know? Because we once had to turn back on the lower Colombier Beach trail because we thought we might cook our baby (we were new to parenting and had started out way too late in the morning).
Hiking Tips for St. Barths: Be sure to wear a hat, sunscreen and bring along a water bottle and mosquito repellent. The trail heads are sometimes hard to find. Consult this helpful post from the SBHOnline forum on St. Barths Hiking and Walks.
The Wildlife
We have spotted a surprising amount of wildlife on St. Barths. Often to be found in gardens and on hiking trails are geckos, lizards, iguanas, tortoises and even feral goats. While the snorkeling around St. Barths may not be as varied as what you will find around some other Caribbean islands, we have seen some lovely fish off Lorient Beach, Colombier Beach and Shell Beach, as well as a number of sea turtles in the waters of Grand Cul de Sac.
Beside the ferry dock in Gustavia, there is a fish market. Large fish, many over a meter long (tarpon, I believe) congregate around there waiting to be tossed scraps from the fishermen.
Lunching and Beach Clubs
From toddler stage to teens, we have always found beachside dining to be our best option with kids on St. Barts. When our kids were really little, we would take turns walking them around, or letting them play in the sand in front of us while we waited for our food.
On our most recent trip, now with a tween and a teen in tow, we just sent them off for a dip in the ocean or a snorkel if lunch ran on too long. Really, they are there to eat, while my husband and I want to linger over a glass of wine and enjoy an amazing view.
As mentioned earlier in this post, St. Jean Beach has some great options for beachfront dining including Nikki Beach, Sand Bar, Lil' Rock and The Pearl Beach. Each of these has the option of table dining or lounge chair rental, which come at an additional cost (30-50 euros each – more for a beach bed).
To ensure a spot during busy times on the island, be sure to make a reservation ahead of time. It should also be noted that Nikki Beach has a Sunday beach party that is rather wild (people dancing on tables etc). We have taken the kids to the early sitting (12:30), but be aware that things really heat up for the second seating (3pm). Although we will probably pass on the beach party on our next trip, we find the food at Nikki Beach to be excellent and will absolutely visit again on a quieter day of the week.
Other places we enjoy for decadent long lunches include the Le Toiny Beach Club (which has a beautiful toes-in-the-sand setting and a lovely pool that you can make use of), Shellona (restaurant and beach bar), and our personal favorite Cheval Blanc's La Case de l'Ilse. While the latter is above, rather than on the beach, the view is spectacular and it is also one of the few places we have found a kids' menu (an adorable floating menu, actually).
Watersports
On our most recent trip to St. Barts, the Seabob (basically, an underwater scooter) seemed to be all the rage. Seabob St. Barths will deliver to most beaches on the island and provide a short safety briefing (suitable for children 10 years+ with parental permission).
You can also rent surf boards, boogie boards, paddle boards, windsurfers, and beach toys at the sports rental place on St. Jean Beach (beside The Pearl Beach Hotel) and on Grand Cul de Sac from Ouanalao Dive.
Watching Planes Land
One of the things we enjoy most on St. Barths is watching the planes takeoff and land over St. Jean Beach. As one person said to me "I could see the colour of the pilot's eyes as he flew over !" It is truly quite a sight to behold.
We like to go at about 4pm, when it is starting to cool off (the planes only fly during daylight hours and stop at around 6pm). The Pearl Beach Bar is the perfect place to enjoy them from, or you can just pop a beach towel down on the sand and watch the show !
Surf Lessons
St. Barths has a number of good beaches for surfing (including St. Jean and Lorient). There is also a wonderful surf school on Lorient called the AJOE Reefer Surf Club run by retired pro surfer David Blanchard. My daughter (11 at the time of our visit ) took a private one hour lesson (70 euros) and my husband rented a board (10 euros).
What I especially liked about this surf club is that it seemed to be where all the cool local kids hung out. Call ahead to book a lesson at (0690768470) or message them through Facebook. They also offer swim lessons.
Scuba Diving
Do you have a child who can't wait to try scuba diving? Both Serial Divers St. Barths and Ouanalao Dive offer a variety of dive classes for kids as young as 8 years old, and certification courses for children from 10 years and up. See reviews for scuba diving companies on St. Barts from TripAdvisor.
The Yellow Submarine
I have only been on one of these things once in Barbados. My son was 2 and I was dying to show him what beauty lay beneath the surface of the water. It turned out to be a very murky day and we didn't really see anything. I also discovered that I am mildly claustrophobic (Aren't we always learning things about ourselves?) To be fair though, perhaps this is something you may enjoy. In fact, in this photo I took, the St. Barths Yellow Submarine seems to be rather popular.
As always on this website, I would like to encourage you to read reviews before booking so that you can make sure those expectations are in check. See reviews for the St. Barths Yellow Submarine on TripAdvisor
.
St. Barts Sailing Day Trips
Our most recent St. Barths family vacation happened to coincide with the Bucket Regatta – an impressive 3 day boat race and island celebration. Knowing very little about sailing, but still wanting to join in the festivities, we ended up booking a day trip to chase the Bucket with Top Loc Rentals on their 45′ Wayayaï catamaran.
This was a group day trip (kids welcome but paid adult price) and I needed to email Top Loc directly as the outing was not listed on their website (an island insider tipped me off). While making a booking for a family of four cost almost as much a private 1/2 day catamaran trip, it turned out that spending a day on the water with some other island regulars was one of the most enjoyable parts of our trip.
Jicky Marine also offers private and small group boating day trips to popular spots such as Colombier Beach and Fourchue Island.
Princess for a Day – Cheval Blanc Spa
While I enjoy a lovely spa very much, I am not what you would call a frequent visitor. Perhaps this is why I find my daughter's keen interest in spas so unusual (Kids these days!) I caved on a special visit for her, however, because it meant that my husband and I could enjoy a much longer lunch at the gorgeous Cheval Blanc Hotel (with their beautiful spa being just down a lovely garden path).
Well, I must say that they are certainly doing things right there. My daughter was greeted by their doting staff members (all gorgeous and with glowing skin) where she began her 25 minute Mademoiselle Guerlain massage. From start to finish, it seemed top tier. If this had not been near the very end of our trip, I would most definitely have made my once-a-year facial appointment at this beautiful little oasis. Learn more here.
Note: My daughter wanted me to add to this section that she "really loved it".
Pottery Painting
Sometimes you just need to get out of the sun (or on very rare occasions on St. Barths…the rain). Blue Gecko Pottery is located in St. Jean on the road just above the Nikki Beach Club. Kids choose from a selection of individually priced unglazed pottery pieces and create their masterpiece.
Be sure to inquire when they will be firing the pieces since this is not done every day. For hours and availability, you can reach out to owner Anne on Facebook (she responded to me very promptly).
St. Barts Playground
There is a lovely children's playground near the airport and beside the stadium. While it has some small shade trees, it would be best visited in the morning or early evening. Don't forget mosquito repellent (it's the tropics after all).
Shopping
While shopping isn't something that most kids enjoy, if you are looking for some french fashion for your little one, you will find several kids clothing boutiques in Gustavia including Petit Bateau, Junior (designer brands such as Chloe and Givenchy) as well as a number of stores that carry kids swim or resort clothing (Poupette and Kiwi).
Personally, we prefer poking around the shops in St. Jean's Villa Creole Centre where you will find a very decent toy store and a number of boutiques selling clothing, jewelry and crafts. Parents may be interested in popping into the nearby Island Pharmacie as it has an excellent selection of french skincare products.
Ice Cream and Gelato
Our family vacations generally involve a daily does of sorbet, ice cream or frozen yogurt. We find that a quick stop at a shop that offers takeout is easier (and faster) with kids than dragging out a meal with dessert (unless there is a must-have like profiteroles on the menu).
In Gustavia, we have enjoyed crepes and ice cream at The Creperie and gelato from Les Deauvilles. On our most recent trip, we discovered Fostok frozen yogurt at the far end of St. Jean (on the way up the hill towards Lorient) which we proceeded to visit for an embarrassing 5 days in a row. My daughter now even owns a hat baring its logo (this kind of thing happens when I leave my husband alone in a store for too long).
Note: My great regret is that we have yet to visit Natural Delights in Gustavia which some people swear has the best gelato on St. Barts. Next trip…
Best St. Barts Family Accommodation
St. Barts Family Resorts
It can be a little challenging to find St. Barts hotels for families as many properties cater first and foremost to the romantic getaway. That said, having researched this topic extensively over the years, I share with you here my my top 3 St. Barths family resorts. As you probably already know, St. Barts is enormously expensive, so please understand that when I used a term like "the budget pick", it is a relative term.

The Budget Pick: Hotel Le Village St. Barths
We stayed at Le Village with our son when he was a baby. Nestled in the heart of a 10-acre tropical garden with fantastic views of St. Jean Bay, the hotel is an easy walk to many shops, great restaurants and St Jean Beach (our favorite beach on the island). Their Junior Family Suites and Family Villa are a great choice for people traveling to St. Barts with children. Read reviews on TripAdvisor
or learn more at levillagestbarth.com.
The Value Pick: Hotel Christopher St Barths
This 42 room, luxury property is located at the secluded tip of Pointe Milou and is often cited by guests as one of the best values on the island. The accommodation options at Hotel Christopher include a number of suites that are suitable for families (up to 4 in a room).
This property also gets top marks for its gorgeous pool. While it is located at the ocean's edge, the Christopher does not have its own beach. That said, there are many nice beaches nearby and a car can be rented right from the hotel property. Read reviews on TripAdvisor
or check rates on Booking.com.
Note: Early bookings often includes a complimentary buffet breakfast that guests rave about.
The Crème de la Crème: Cheval Blanc St-Barths Isle de France
This is the hotel of my dreams and is, in my opinion, the best St. Barts luxury family resort. Not only is it stunningly beautiful, but it also offers absolutely wonderful programming for kids.
Accommodation choices for those with children in tow include a variety of one and two bedroom suite options – either tucked into the gorgeous gardens or directly on the beach. For those traveling with a baby or toddler, rooms come kitted out with a Baudou crib and linens (designed exclusively for Cheval Blanc, of course), a baby change table (with nappies and wipes), a Bugaboo Cameleon stroller, a lovely wicker high chair and a selection of toys for the perfect baby beach holiday.
Older children will also love Chevel Blanc's activity-filled days with signature experiences that include family yoga, treasure hunts, art classes, snorkeling trips, surfing lessons and more. The spa even offers several special Mademoiselle Guerlain treatments.
Whether you prefer to dine in-suite, on the beach, or while enjoying the view of the Caribbean Sea from the lovely La Case de L'Ilse restaurant – dining is at the forefront of the Cheval Blanc experience thanks to Chef Yann Vinsot's beautiful culinary creations. Special attention has also gone into their extensive children's menus (they even make their own baby food).
It should be noted that Cheval Blanc books out very early. We had hoped to spend our last few days on the island being pampered there during our most recent trip, but alas, the property was fully booked. The good news is that as of Fall 2019, Cheval Blanc St. Barths will be adding 20 additional units including a spectacular 5-bedroom villa with direct access to the beach.
Read reviews from previous guests on TripAdvisor
or learn more at chevalblanc.com.
Note: If you are not staying at this property, I highly recommend visiting anyway because it is so lovely. Make a reservation for lunch, dinner, their weekly fashion show (Tuesday evenings), or for a special treatment at the spa.
Family Friendly Villa Rentals St. Barts
For a family, and especially if you are on a multi-generational St. Barts family holiday, a vacation rental home can make both economical and logistical sense. The offerings on St. Barths run the full range from simple Caribbean self-catering cottages to fully-staffed properties that may have recently been featured by Wallpaper or Architectural Digest.
Location is important with a St. Barths villa rental. My preference with a child (or children) is something on or near a nice beach and within walking distance of restaurants and stores. Personally, I hate having to get into a car to go everywhere. For me, that means renting a villa on or near one of the best beaches on the island (St. Jean Beach or the quieter Lorient Beach are my favorites).
Both Wimco and Sibarth have a wide selection of family friendly St. Barths villa rentals in their collections and can make your vacation go very smoothly with their 24/7 concierge services, villa provisioning, airport meet-and-greet and more. I have booked through Wimco on two occasions and have found their service to be excellent.
Naturally, there are many other St. Barts villa rental companies as well as a large selection of homes available for rent on sites such as VRBO
and Airbnb. I actually found our last St. Barts vacation rental home on Airbnb. It was in the perfect location for us and wasn't listed on any other sites.
Family Friendly Restaurants St. Barts
Dining Tips
We have always felt comfortable eating out on St. Barths with kids. That said, there are a few things that have helped.
We favor beachside dining because we find it the easiest.
When one (or both) of the kids are cranky, we opt for a casual (fast) option.
Many of the nicer restaurants on Saint Barths have two sittings. We always choose the early and more family-friendly sitting (roughly 12pm for lunch and 7pm for dinner).
Unless the restaurant is very casual, we make reservations (as is expected on St. Barts).
Meals can run long on St. Barts. When our kids were little, we would always bring along a backup bag of tricks (coloring, books etc.) to keep them amused and allow others to continue to enjoy their dining experience in peace.
St. Barts Family Restaurants – Casual
Le Bouchon (Lorient)- pizza, burgers
Jojo Burger (Lorient) – burgers, salads, paninis
Black Ginger (Gustavia) – Thai food
Le Select (Gustavia) – burgers
La Cantina (Gustavia) – tapas
Eddy's (Gustavia) – Caribbean fare, seafood
Les Bananiers (Gustavia) – French fare and pizza (also delivers)
Le Crêperie (Gustavia) – crêpes, salads, ice cream
Le Repaire (Gustavia) – French fare, salads, pasta, sandwiches
Family Friendly Beachfront Dining
La Plage (St. Jean)
Nikki Beach Club (St. Jean )
Sand Bar (St. Jean Beach)
Shellona (Shell Beach)
Le Toiny Beach Club (Le Toiny)
Family Friendly Higher End Dining
Le Tamarin (Grand Saline) – Garden setting with kids playhouse, foosball table and pingpong.
Santa Fe (Lurin) – Interesting lobster tank, iced tea digestif for kids (rum vanille for adults).
Isola (Gustavia) – No kids' menu, but has pasta and pizza options.
Hotel Restaurants
Hotels that welcome children often have special menus for children. This list should get longer as more hotel properties reopen after Hurricane Irma repairs.
La Case De L'Ilse – Cheval Blanc St. Barth (Flamands)
Mango – The Christopher Hotel (Pointe Milou) – Has a kids burger and dessert option.
Take Out Options
Sometimes a restaurant just isn't going to work. Here are some St. Barts takeout options.
Mayas to Go (St. Jean) – French and Mediterranean gourmet mains and sides
Kiki et Moi (St. Jean) – sandwiches, salads
La Petitie Colombe (Lorient and Colombier) – sandwiches, salads, pastries, ice cream
Jojo Burger (Lorient) – burgers, salads, sandwiches
Les Bananiers (Gustavia) – pizza
Frequently Asked Questions
Is St. Barts a good place to visit with kids?
We find that there is quite a lot to do on St. Barths with kids, but the holiday is very self-directed (we set the pace). It is definitely not like a family holiday at Aulani or Atlantis (no water parks, no interactive character breakfast etc.) Without the distraction of kids' clubs and lounges, however, we find that the island really gives us time to connect with our kids.
Where is St. Barts located in the Caribbean?
Saint Barts Island is part of the French West Indies in the northeastern part of the Caribbean. Click on the image below to go to an interactive Google map.
When is the best time to visit St. Barts?
The most popular times on the island are New Year's, Carnaval (February/March) and the Bucket Regatta (Mar/Apr). My favorite time to visit St. Barths, however, is the beginning of December – without crowds, when the weather is typically nice (hurricane season is over) and hotel and villa rates are more reasonable.
How do you get to St. Barts?
Travelers can reach Gustaf lll airport on St. Barts (SBH) by taking a small propeller plane from St. Maarten (SXM), San Juan (SJU) and Antigua (ANU) – unless of course, you are lucky enough to fly in on your own private plane. A small plane of maximum 20 passengers is all that is allowed to land on St. Barts. Service is provided by Winair, St. Barths Commuter, and Tradewind Aviation.
There are also ferries that run between St. Barts and St. Maarten (Dutch side) or St. Martin (French side). As we have both flown and taken the ferry, I would recommend the former, as the ferry ride can be a little bumpy. It does, however, make for a viable option if planes are full or if you are not a fan of small planes.
Should you rent a car on St. Barts?
Personally, I think that one of the best things to do on St. Barths is to explore the beautfiul beaches, making a car very helpful. Often a car rental is offered as part of your villa or home rental package. Alternatively, you can rent a car for Saint Barthélemy at the airport or through your hotel property.
Want to look around?
I don't know about you, but sometimes I need to get my geography straight before I visit a new place. Clicking on the image below will take you to an interactive St. Barts map (Google Maps).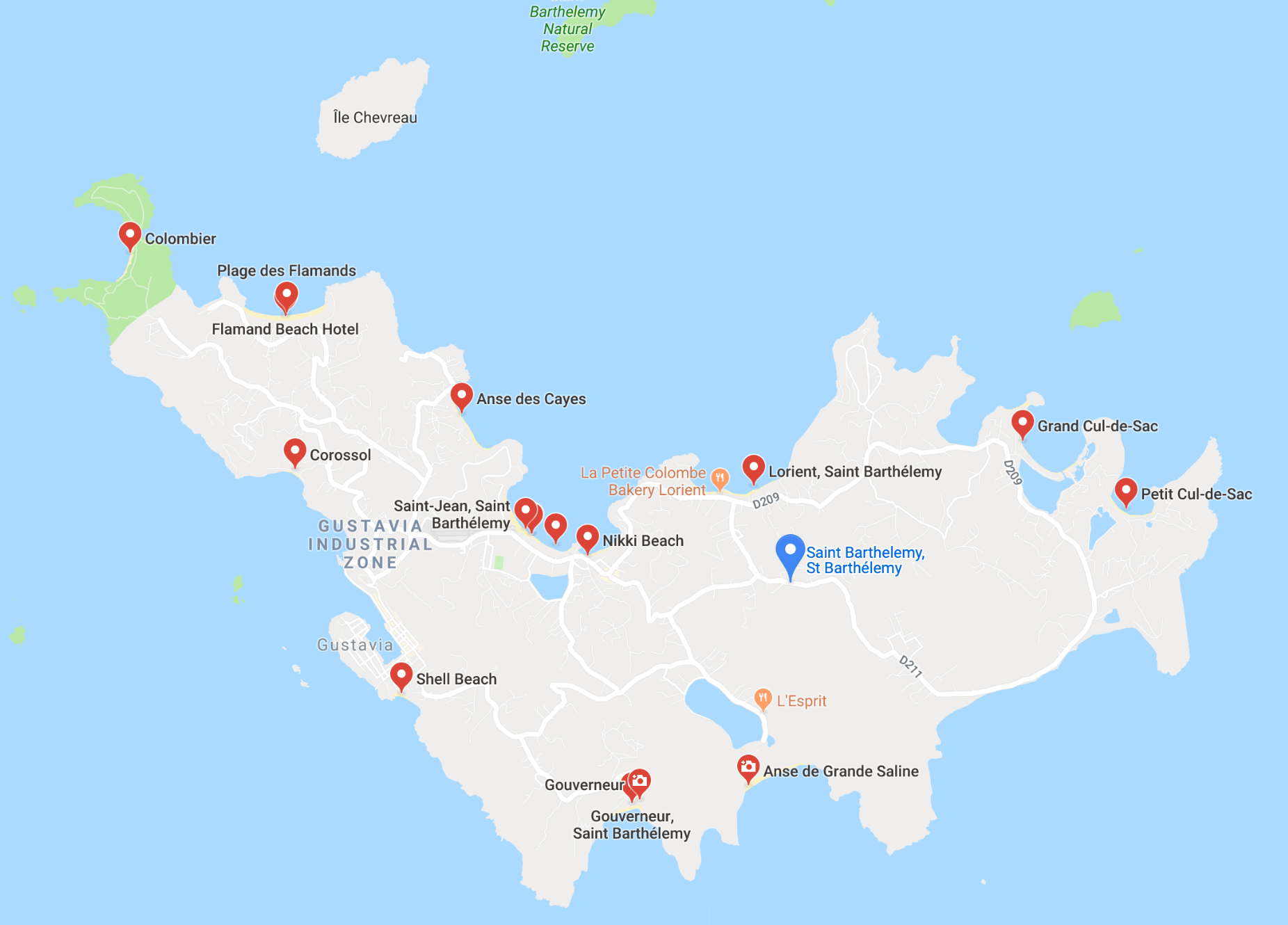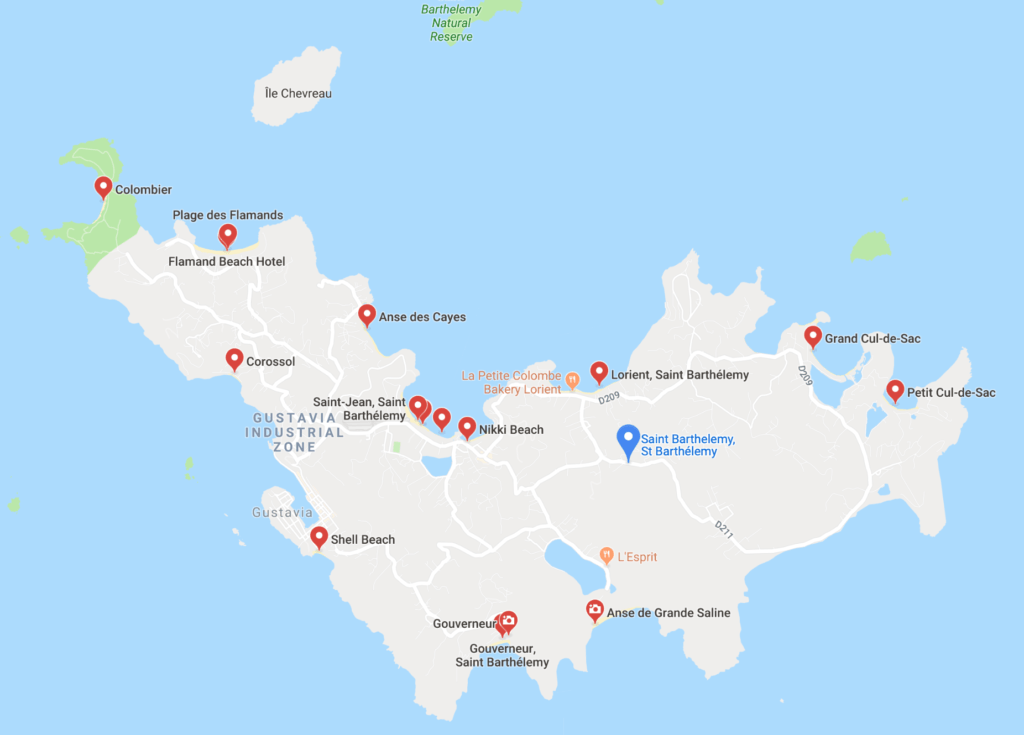 Share Your Thoughts !
Do you have a question, comment or suggestion? Please share it in the comment section below.
Further Reading
Bequia, Grenadines with Kids – The Guide
Barbados with Kids – The Guide
10 Best Suite Hotels in NYC for Families
Top Villas on the Beach Barbados
A Galapagos Family Vacation
Machu Picchu with Kids
The Atacama Desert, Chile with Kids
Best Travel Stroller
Best Kids Wireless Headphones