Last update: October 10th, 2022 at 09:32 am
Affiliate Disclosure: As an Amazon Associate I earn from qualifying purchases. This post also contains additional affiliate links.
Tofino with Kids – A Guide
Looking for things to do in Tofino with kids? Fear not, there is plenty to keep little ones (and big ones) busy. This post features the best Tofino activities for families as well as the best Tofino family resorts and restaurants. Please use the following menu to find what you need quickly.
Why Visit Tofino with Kids?
Tofino is the perfect place to experience the wild and rugged Pacific Coast of Canada. Visit for the endless sand beaches, great surf, thousand year old trees, fantastic hiking trails, wildlife sightings (whales, black bears, eagles and more) and world class dining.
My kids give Tofino, British Columbia a ten out of ten. In all of our travels, there have been precious few perfect tens, and it delights me that one of them happens to be from a place so close to our home of Vancouver, Canada.
They love the sandy beaches, the giant tidal pools, the wind swept waves and the tranquil forests. I love all of those things too, but for me, what makes this West Coast town even more special, is the added presence of some beautiful accommodation options and award-winning west coast restaurants. Long days exploring the beach followed by a freshly foraged feast in front of a cozy fireplace — what could possibly be better?
Tofino with Kids Video
Want a quick peak before you dig into the best Tofino attractions for families? Check out our 90 second video of what to do in Tofino with kids.
10 Things to do in Tofino with Kids
1. Tofino Beaches and Tidal Pools
There are many great beaches to explore in Tofino, but family favourites include Chesterman, Mackenzie and Cox Bay for their miles of sand and super-sized tidal pools.
Mackenzie is a little more sheltered for little ones wishing to do a little wading, although remember that the water is very cold in Tofino (temperature peaks at about 17°C or 63°F). Do like the locals and warm up by a bonfire after braving the chilly waters.
Beach fires are allowed in Tofino on Chesterman and Mackenzie beaches (although there can occasionally be a ban in the peak of summer). Firewood can be purchased at most gas stations and grocery stores (please do no burn the driftwood).
2. Playgrounds and Skate Parks
In downtown Tofino (next to the Tuff City skate park), there is a wonderful little playground for toddlers and school-aged children. There is also an adventure playground located within the Crystal Cove Beach Resort near MacKenzie Beach.
3. The Saturday Market
One of the top things to do in Tofino, BC is to visit the Saturday Market. From mid-May to mid-October, you can pop by to experience something truly local (their motto is Make it, bake it, grow it and gather it.) It is fun for the whole family with its festive atmosphere, live music, great food, and unique local products.
4. Surfing Lessons Tofino
With a consistent year round break, Tofino is very popular with surfers. Summer is the perfect time to learn, with warmer (but by no means warm) water and smaller waves. Local shops such as Pacific Surf Co. and Surf Sister offer surf lessons for kids as young as six as well as family and group lessons. Be aware that a wetsuit is essential in these rather chilly waters.
5. Bike Rentals
Tofino has a 7km long paved bike path that runs from Cox Bay, almost into downtown Tofino, passing by several other beaches along the way. Technically, it is considered a multi use path (MUP), so expect to share the route with skateboarders, wee ones on tricycles, and the occasional surfer riding along with a board tucked under their arm. It's not a race. Relax and enjoy the mostly flat ride.
In the spring of 2022, a new 28km bike path linking Pacific Rim National Park and Tofino will be completed. It will run alongside the highway, but will be separated from the traffic by a green buffer – winding in and out of the forest. I have never biked 28 consecutive kilometers in my life, but it makes me want too. Certainly for families with older kids, a day of biking in Tofino could be a fantastic activity.
While many local hotels have bikes for loan, Tofino bike rentals and add-ons (baby seats, trail-a-bikes, etc.) can be found at Tons of Fun Bicycles (TOF). They even offer free delivery. You may want to call to reserve ahead of time since these units can be very popular.
6. Hiking in Tofino
With its stunning scenery, one of the best things to do in Tofino is to go for a hike. Whether you want a beachfront hike or want to explore an ancient forest, Tofino has many beautiful options.
The website tofinohiking.com lists all the major routes including the very popular Rainforest Trail. This trail has two options (A + B) – each about 1km long. The trails are along a boardwalk (your feet will not get muddy in inclement weather), but there are quite a number of stairs (not stroller friendly). We chose trail B on our last trip because we were told that it had more giant trees. It did not disappoint !
7. Tofino Whale Watching
One of the most amazing experiences to have in Tofino is to go out on a Tofino whale watching safari. Ocean Outfitters offers fully enclosed boat and Zodiac tours with potential bonus sightings of sea lions, harbor seals, sea otters, bald eagles and more. Discounts are offered for youth and children (and kids 3 and under are free – 1 per departure). Personally, I like Ocean Outfitters because in addition to excellent tours, they are also carbon-neutral and a certified green business.
For a full list of tour operators please see TourismTofino.com.
8. Bear Watching Tofino
Many of the whale watching companies also offer Tofino bear watching excursions. This can be a really cool experience because at low tide, the bears sometimes come down to the beach to feast on crabs and other marine life.
Seeing Bears on the Cheap: If you visit Ucluelet's Thornton Creek Hatchery (40 minute drive from Tofino) in September or early October, you may get to see some black bears fishing in the creek. This is a working hatchery, not a tourist attraction, but for a small donation (around $5 pp) you can stroll along their little creekside boardwalk for a look.
On our most recent visit, we saw a mother fishing while her cubs looked down from their perch in a tree above. It was really, very special. This activity can be paired with a visit to the Ucluelet Aquarium (see below), allowing for a rather budget-friendly family outing. Please take a peak at the Thornton Creek Hatchery website before visiting (for current hours and restrictions).
Note: While certainly not my best photos below, I wanted to show you what to expect. You can see the bear fishing under the bridge and the cubs up the tree (the little black blobs).
9. The Ucluelet Aquarium
Just a 40 minute drive from Tofino is the quaint, coastal town of Ucluelet. This town has a small, but very progressive aquarium where the focus is clearly on education. Species are collected, kept only for a short time, and then released back to their natural habitat by the community as the tourist season comes to and end in early November.
Learn more on the Ucluelet Aquarium website, or read TripAdvisor reviews
. Please also see our full post on things to do in Ucluelet with kids.
10. Tofino Events
I very much encourage you to take a peak at the Tofino events schedule while planning your Tofino family vacation. On our most recent visit, we lucked out and were able to attend a free storytelling session with renowned Canadian First Nations artist Roy Henry Vickers.
Best Tofino Family Restaurants
Tofino has amazing restaurants, and being a resort town, many offer a kids' menu or some more basic dishes. While there are really too many Tofino family friendly restaurants to list here, here are our favorites.
Wolf in the Fog (West Coast) – I describe this to friends as a restaurant worth traveling for (even if you never set foot on a Tofino beach). It is fully deserving of all of its stellar reviews and accolades. It also has a kids' menu. See Wolf in the Fog TripAdvisor
reviews.
Others worth visiting:
Sobo – Wood fired pizza, homemade soups and the most amazing key lime pie. See TripAdvisor reviews.
This restaurant also has a little food-truck style playhouse where little ones can hang out while they wait for their meal.
Shelter – A huge favorite with visitors and residents alike, Shelter offers locally sourced seafood, burgers, salads and pasta. The restaurant has a lively atmosphere and a very nice patio. See TripAdvisor
reviews.
Tacofino Cantina Food Truck – It's a Tofino food institution, and it is just as good today as it was when I first tried it almost 10 years ago. Just don't go there too hungry as you will likely have to line up. See TripAdvisor
reviews.
Chocolate Tofino – We can't ever get out of Tofino without stopping by at least once for their delicious homemade gelato. They are also very close to Tacofino so they can be enjoyed on the same visit. See TripAdvisor
reviews.
Need something on-the-go in the morning? Pop by Tofino Coffee Roasting Co. in the little industrial park just on the outskirts of town. It's a wonderful way to get your day started.
For family-friendly sunset cocktails you can't beat The Great Room at the Long Beach Lodge Resort. If the kids are too antsy to be contained inside, try their beach front SandBar Bistro instead.
Best Tofino Family Hotels
Being a beachside resort town, there are plenty Tofino family hotels to choose from. Just be sure to book early as the best resorts often sell out way in advance. High season for Tofino is July-August and it can get very pricey. For better rates, try May, June or September when prices are lower but the weather is still nice.
The following are our top 5 favorite family hotels in Tofino. All of them are on the beach and offer great facilities for families. They also all offer pet-friendly rooms or cabins.
Pacific Sands Beach Resort – Check rates or read TripAdvisor
reviews.
Long Beach Lodge Resort – Check rates or read TripAdvisor
reviews.
Ocean Village Beach Resort – Check rates or read TripAdvisor
reviews.
Wickaninnish Inn – Check rates or read TripAdvisor
reviews.
Crystal Cove Beach Resort – Check rates or read TripAdvisor
reviews.
Note: It is no secret that family accommodation in Tofino can get a little pricey. In the fall of 2020, the town welcomed a new fun and funky property – The Zed. With sister properties in both Kelowna and Victoria, The Zed is well-known for packing a lot of fun into a hotel stay experience at a really great price.
Guests love the retro lobby (complete with drive-through bike path!), the Psychic's Den (tarot card readers), the 1980's style arcade and much more! Oh yes, and the world-famous Chesterman Beach is only a 10 minute walk away!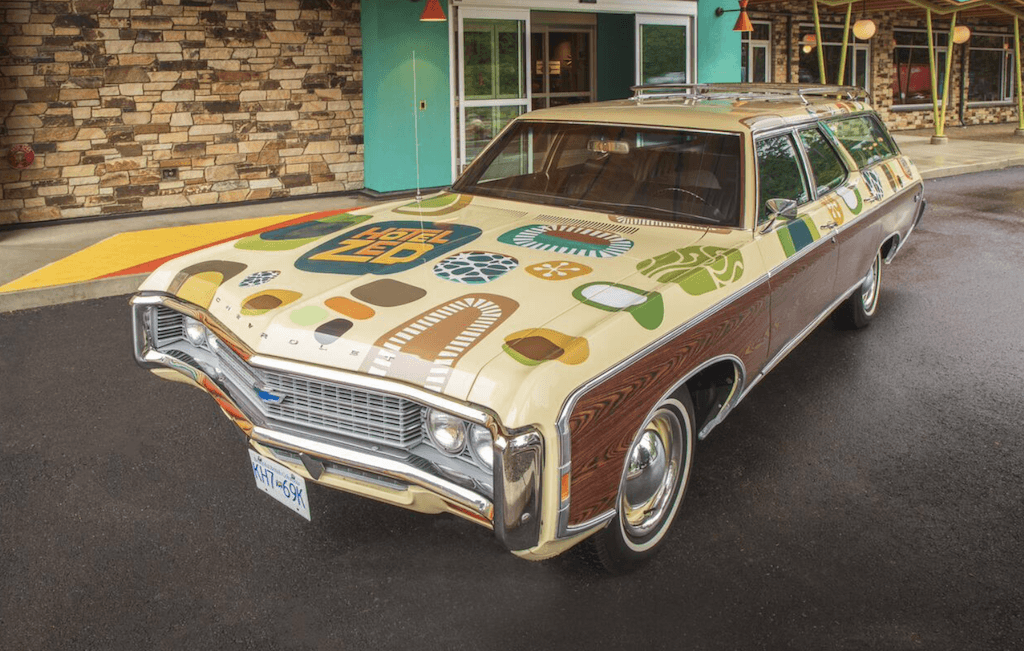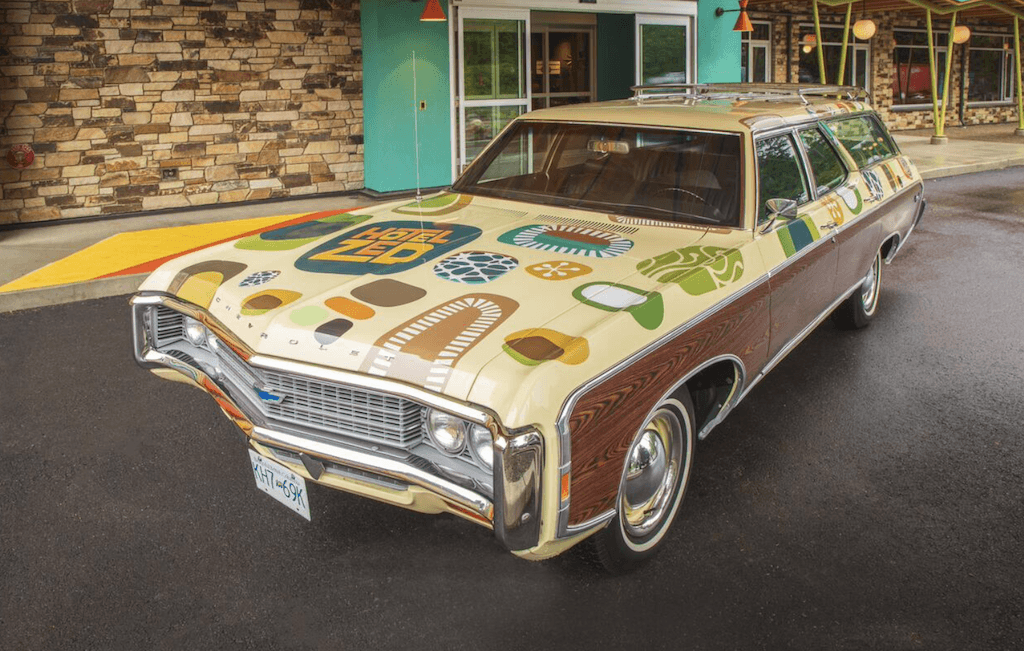 Tofino Family Vacation Rentals
If you are looking for other types of Tofino family accommodation, perhaps for longer (or more budget-friendly) stays, you may wish to consider a Tofino vacation rental. Sites like VRBO
and Airbnb offer hundreds of properties in the area.
Although I don't typically recommend individual properties, I am really partial to vacation rentals that are within easy walking distance of Chesterman Beach (ideally to the west of Pacific Rim Highway on Lynn Rd).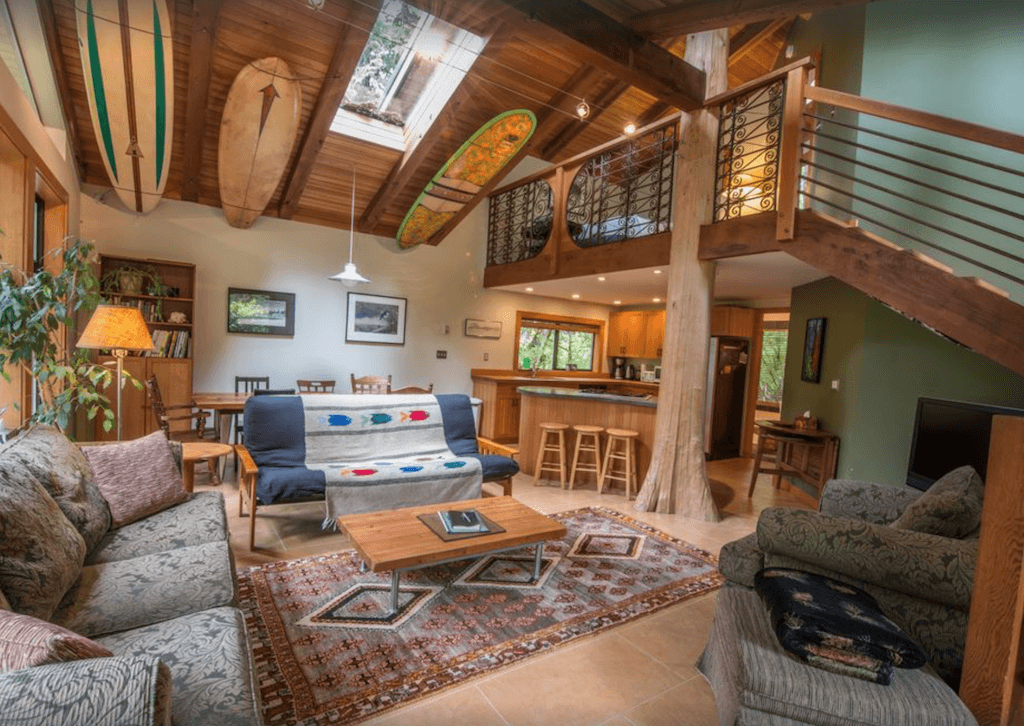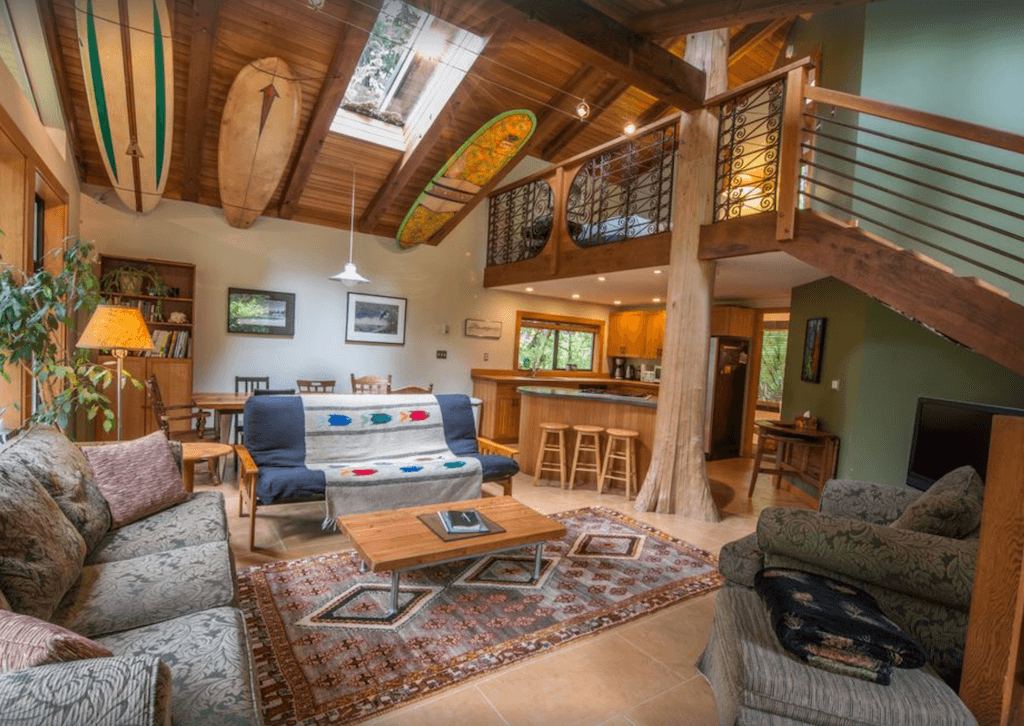 Getting to Tofino
Like many incredible places, getting to Tofino takes a little time (but is well worth the wait). This coastal gem is located about half way up the west side of Vancouver Island. Fly in from the mainland via seaplane or conventional airplane.
If you are coming by car from Vancouver (5 hrs) or Seattle (8 hrs), you must first take a ferry from the mainland to Vancouver Island, followed by a drive of several hours. From Victoria, you simply take a 4.5 hour drive up island. There is a major road upgrade in progress at Kennedy Hill. Please see this link for possible delays.
Please see Tourism Tofino getting to Tofino page for driving instructions and for current flight options.
Note: If you are driving in, be sure to make a short stop at MacMillan Provincial Park's Cathedral Grove where you can stretch your legs on a trail amongst towering Douglas Fir trees up to 800 years old.
Further Reading