Last update: May 1st, 2023 at 07:13 am
"You are going to the wrong island." the wild-haired woman sitting beside us at a tiny Caribbean airport announced. Our flight to Barbados had been delayed and we were chit-chatting while I madly bounced a two year old on my lap – desperately trying to avoid the dreaded meltdown.
This vibrant free spirit went on to extoll the virtues of Bequia – one of the lesser known islands making up part of St. Vincent and the Grenadines (you may be more familiar with Mustique, the private island favored by the very well-heeled). Bequia truly sounded special – so special, that this conversation stuck with me for many years. Over a decade in fact, as it took us that long to finally make our way there.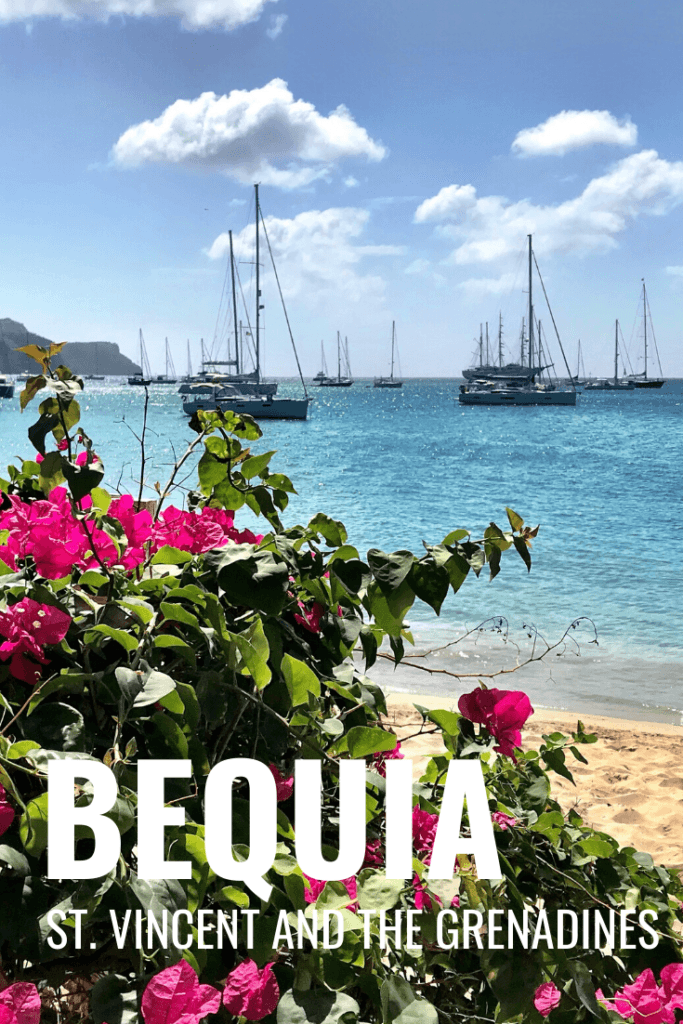 About The Island of Bequia
They call it the Big Little Island. Bequia is the second largest of the Caribbean island chain that makes up St. Vincent and the Grenadines and has over 6000 inhabitants. This makes it just big enough to support some nice restaurants and boutique hotels, but to never feel crowded.
The island has several beautiful beaches, good snorkeling, diving and some very pretty hikes. With a long seafaring history, Bequia also has a number of attractive fishing and sailing excursion options.
There are no large-scale all-inclusives, no jet skis roaring around and (thankfully) no party boats in the harbor full of drunken revelers doing the Macarena (I love you Mexico but…..). Bequia is the perfect place for those who want to escape it all and have a quiet, laid-back Caribbean vacation.
Island of Bequia Video (2 min.)
Want to take a quick peek before reading more? Check out this short 2 minute video.
Why Choose Bequia?
We visited Bequia on a multi-generational trip – 6 of us in total including my husband, kids (10&13) and my parents (both 65+). The impetus for the trip was to disconnect from our devices and reconnect with each other.
With busy lives, so many of our family gatherings tended to be rushed holiday dinners (arguing over when to take the turkey out) and I just wanted us all to relax and hang out – while at the same time experiencing a new place together. With kids in tow, I also wanted to make sure there were a few activities to enjoy as a family along with beach time and snorkeling.
How to Get to Bequia
"We are not seriously flying on this are we?" my son demanded as we squeezed onto a tiny twin engine plane with a dozen or so other passengers in transit from Barbados to Bequia. Although I don't really have a fear of flying, I will admit that sitting in the front of this tiny tin can did give me a moment of pause. Who really wants to see all the dials and buttons, including the ones in plain view that say Engine Fire Instructions.
Thankfully, the plane was so loud that my kids' protests were soon drowned out by the drone of the engines. After they finally got over it, they actually fell asleep. Once I recovered from my jitters, I became quite mesmerized by the view.
The thing about Bequia, and what helps to keep it so special and less vulnerable to the rampant negative aspects of tourism, is that it is not the easiest to get to. You can fly to Barbados or St. Lucia and connect onto another short flight.
Alternatively, you can fly to St. Vincent and then take the 40 minute Bequia ferry. For us, coming from Vancouver, Canada, our journey took a full 24 hours before we were comfortably installed in paradise (with a few hours of sleep at a Toronto airport hotel).
The additional time and effort required to get to Bequia tends to add up to some extra expenses, whether it is for an overnight hotel while in transit, or for the additional flights ($420 USD per person round trip Barbados – Bequia ). The cost to rent a Bequia villa or stay at a Bequia hotel, however, is quite a bit more reasonable than what you might find on many better known Caribbean islands. As an example, our Bequia villa rental was less than half the price of a similar Barbados villa rental (where we spent the second week of our Caribbean family vacation).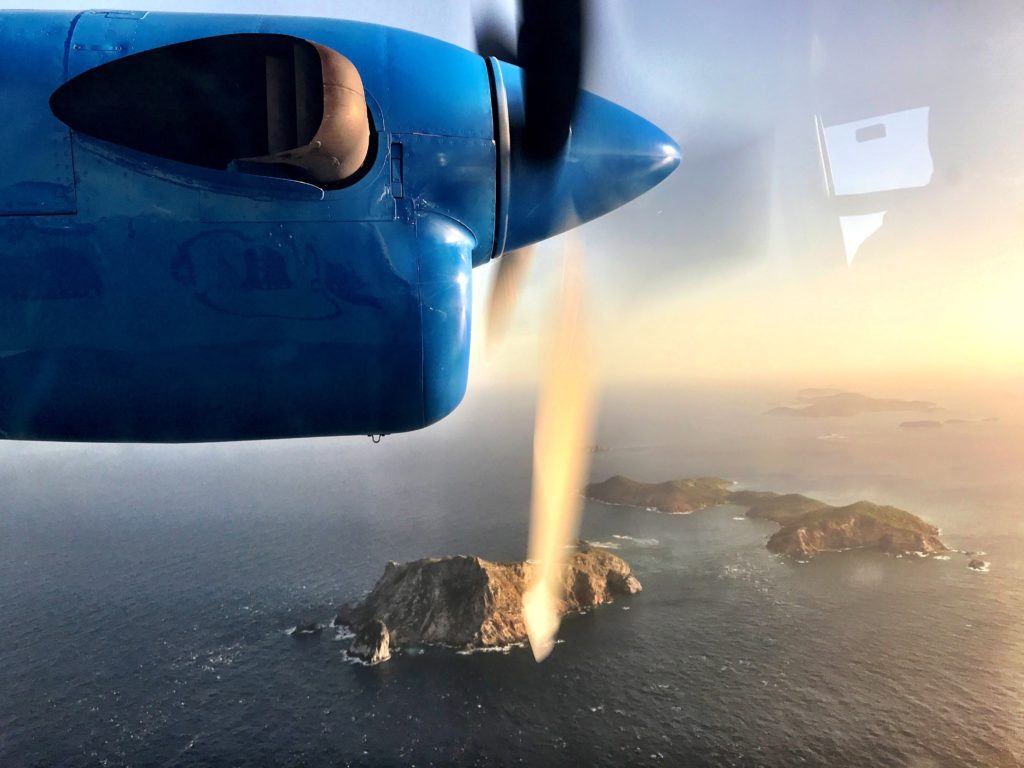 Getting Around
Upon arrival in Bequia, we all hopped into one of the local taxis (which basically amounts to some benches in the back of a pickup truck). We had a rental jeep waiting for us at our villa (from Noel's Taxi) but I must admit that there was something very refreshing (and rebelliously unsafe) about just hopping in the back of a truck and enjoying the island breeze in your hair.
Note: For the record, we are the parents that have dragged every possible type of travel car seat and booster seat around the world. Sometimes however, you just need to let these things go and do as the islanders do.
We loved having a rental vehicle on Bequia, but you could certainly get around the whole time by taxi (see photo below). There are also Dollar Vans which is basically the equivalent of a local bus system. From Port Elizabeth you can opt to take a water taxi to some of the most popular beaches.
For more information, see Getting Around on the Bequia Tourism website.
Things to do in Bequia
For us, Bequia had the perfect amount of things to do during our one week stay. Here are our top picks for a Bequia vacation.
1. Best Bequia Beaches
We were fortunate in that our Bequia villa happened to be located just above Lower Bay – considered the nicest beach on the island. This beach is perfect for families in that it is quiet, has the most gentle waves, has some decent snorkeling and several small restaurant options. In fact, we spent most afternoons right in front of De Reef restaurant which gave us great access to their fresh fish lunches, yummy rum punch and use of their washroom facilities.
There is also a guy who rents chairs along the beach for the very fair rate of $5 USD/day (often seen sporting a pirate hat). Another restaurant on the beach, Keegan's, even hosts a Wednesday movie night (free with food/drink purchase).
Between Lower Bay and the main town of Port Elizabeth is Princess Margaret Beach. Also lovely, this beach is a little livelier than Lower Bay as it has a dock where dinghies and water taxis can drop passengers. It is also linked by Princess Margaret Trail to the Belmont Walkway, which eventually leads to the town of Port Elizabeth (a 15 minute walk in total).
Along with some beach vendors, Princess Margaret Beach is home to the very popular beach bar Jack's, which serves up delicious fresh seafood, nice cocktails and often has live music during happy hour.
2. Day Sail on a Schooner
We took the advice of almost everyone who has enjoyed a Bequia holiday and booked a day sail on The Friendship Rose schooner. This beautiful old ship is steeped in Bequian history and absolutely should not be missed.
There are two options for day trip itineraries that run either to Mustique or the Tobago Cays. We opted for the slightly shorter trip to Mustique as the sail time to/from the Tobago Cays is several hours (and gets you back to Bequia a little later). The trips include all your food and drink and one child under 12 is free with each paying adult (additional children welcome at a discounted price).
When sailing on the Friendship Rose be sure to ask current captain Paul Bowring about the history of the ship. See also TripAdvisor reviews or visit the website: www.friendshiprose.com.
3. Moonhole Bequia
A day sail on the Friendship Rose will also give you a peek at Moonhole – a unique island community established in the 60s by former New Yorkers Thomas and Gladys Johnston. The New York Times has described Moonhole as "a quirky 19-home ecologically oriented development built of native stone, with whalebone accents, on the steep hills of the island's southern tip.
The name comes from a soaring natural arch on the shore through which the moon can be seen at times. It's one of those places that you simply must see to believe, and the Friendship Rose gives you the perfect opportunity.
Want to get a little closer? Not surprisingly, you can find a couple of these unique homes listed on vacation rental sites such as VRBO.com.
4. Dive Bequia
You will find some of the nicest diving and healthiest marine life in the Caribbean in the waters around Bequia. From the island, you can visit over 30 excellent dives sites that include wrecks, caverns, walls, overhangs, and much more.
The PADI 5 Certified Dive Bequia has been in operation for over 25 years and is located right along the Belmont Walkway in Port Elizabeth. Offering 3 dives a day, they have dives and instruction for all levels (including classes for kids as young as 8). Not a diver? You are also welcome to go along for a boat ride or a little snorkeling instead.
Read TripAdvisor reviews for Dive Bequia or see their website: http://divebequia.com.
5. Shopping
People don't visit Bequia for the shopping, but if you like to poke around for a few souvenirs, there are a number of stands along the watefront in Port Elizabeth selling inexpensive trinkets and t-shirts.
If you have a bigger budget, I would recommend stopping by Sargeant Brothers Model Boat Shop. Bequia has a long history of wood boat building including beautifully hand-crafted replica sailboats. These model boats run into the hundred and sometimes thousands of dollars, but the level of workmanship that goes into each one is clearly apparent. In fact, even Queen Elizabeth owns a perfect replica of her beloved HMY Brittania made by Lawson Sargeant, presented to her on a visit to the Grenadines.
While on Bequia, I had a chance encounter with a lovely woman who was just on the cusp of starting up a non-profit sewing enterprise. The goal was to empower and train the women of Bequia as artisan seamstresses – creating economic opportunities as a result.
I have loved following the progress of what eventually became a fashion and lifestyle brand called Bequia Threadworks. If you have the opportunity while on the island, please pop by their boutique in Port Elizabeth to show these hard working ladies some support!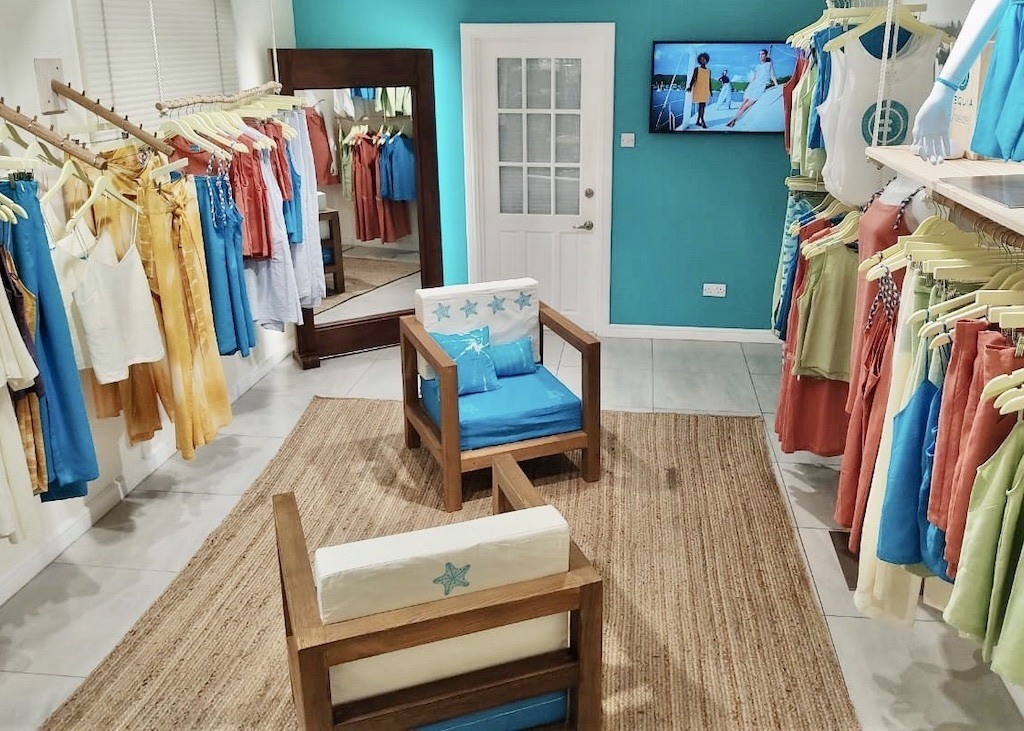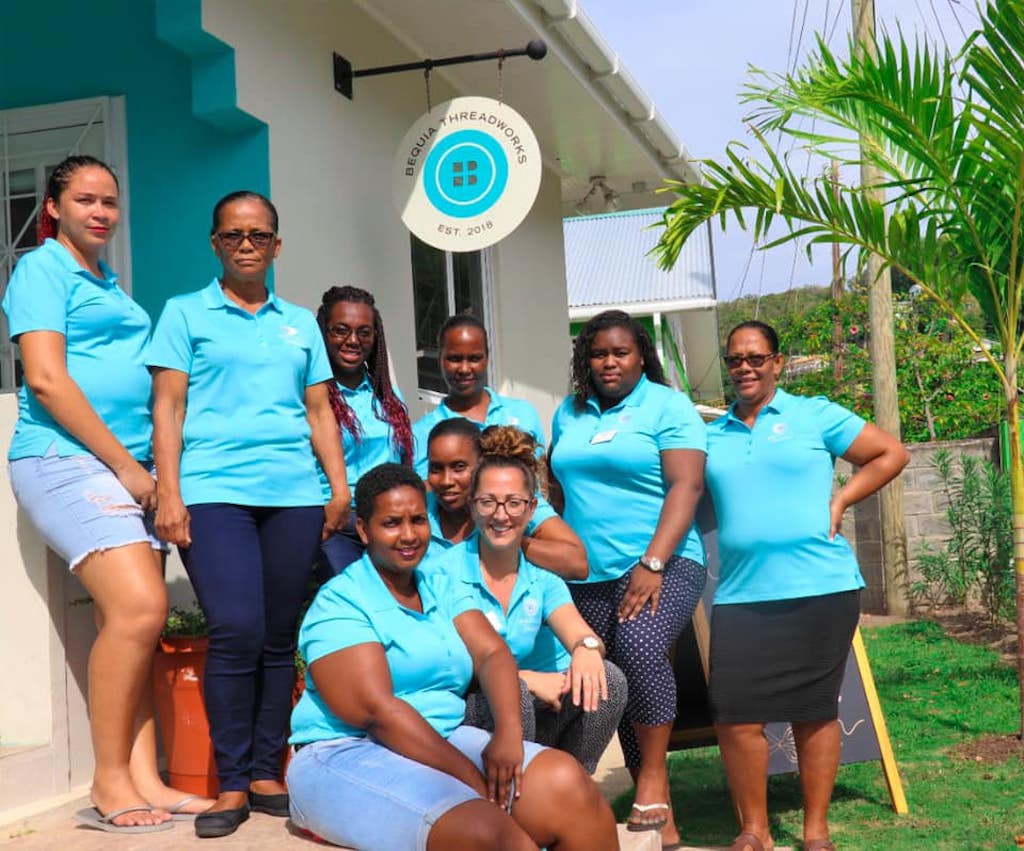 You can also find some lovely locally made artwork at Mike Goddard Pottery and the Oasis Art Gallery.
Bequia Restaurants
For such a small island, Bequia has a surprising number of good restaurants. After much research we enjoyed all of the following:
De Reef – Lower Bay – Casual beachfront lunches of fresh fish and lobster. Read reviews.
Fernando's Hideaway – Tucked into the jungle above Lower Bay – Read reviews.
Jack's – Princess Margaret Beach – Beachfront dining (a little fancier than De Reef) and live music during happy hour. Read reviews.
Mac's Pizzeria – Port Elizabeth – Lively atmosphere, good pizza and great sunset views. Read reviews.
Sugar Reef Cafe – Stylish boutique hotel ambiance, finer fare (was inspired to visit twice). Read reviews.
The Fig Tree – Port Elizabeth – Good local fare and live music. Read reviews.
Gingerbread Cafe – Port Elizabeth – A great place for coffee and homemade cakes. Read reviews.
Maranne's Homemade Ice Cream – Port Elizabeth – Delicious homemade ice cream. Read reviews.
Bequia Hotels and Other Accommodations
As mentioned earlier in this post, there are quite a number of lovely Bequia resorts, B&Bs and other accommodations to choose from depending on your holiday needs.
If you are looking for something close to the main town of Port Elizabeth, the Bequia Plantation Hotel along the Belmont Walkway is a great choice. The rooms and villas have been recently renovated and rates include daily breakfast. (See reviews and check rates).
If you would like something a little more secluded, the Bequia Beach Hotel on Friendship Bay is an excellent choice. They have a number of room options including their lovely Estate Villa (See reviews and check rates). Both of the aforementioned properties have accommodations suitable for families.
Bequia Villa Rentals
If you are looking to truly settle into island life, you may prefer to rent a house on Bequia. There are not a ton of truly beachfront villas on the island, but rather, many are built up into the hillside (often with incredible views).
My preference leans towards the ones close to Lower Bay or Princess Margaret Beach as you get access to beautiful beaches, a few restaurants and sensational sunsets. Although there are some absolutely beautiful homes on the eastern side of the island, it is a little windier over there and the seas a little rougher (it is the windward side, after all).
There is also the issue of seaweed. At times, the Caribbean can fall victim to large blooms of something called sargassum seaweed. Sargassum seaweed can be problematic as it piles up on beaches and smells terrible as it breaks down.
My last two visits to the Caribbean have been timed perfectly for massive blooms. These are thought to be increasing in scope due to the warming of the Atlantic. This seaweed tends to pile up on the eastern side of islands, while the western beaches stay relatively seaweed-free. That said, most properties and hotels have become quite good at removing the seaweed quickly.
Cassava House Bequia
We found our perfect Bequia villa in the Cassava House – a 3 bedroom architectural beauty perched right above Lower Bay. Ironically, just prior to our trip, I read an article about Bequia in Condé Nast Traveler, only to discover that author Emma O'Kelly (Editor-at-Large – Wallpaper*) had also stayed at Cassava.
Cassava is very thoughtfully appointed and we were made to feel as if we were staying at a gorgeous boutique hotel rather than a vacation rental. The home also offered plenty of room for our family of four in the lower rooms while my parents (who were most generously footing the bill) had some peace and quiet in the upstairs master suite.
As with many Bequia home rentals, this one came with staff including a house manager, a housekeeper and a gardener. A chef can be added by request. For more beautiful Bequia vacation rentals, take a peek at VRBO.com and Airbnb.
Important note: Although it is a pretty walk down the shaded and landscaped stairs from Cassava House to Lower Bay beach, there are still 160 steps, which might be challenging for those with mobility issues. The house is not appropriate for toddlers and young children, as there are a few dropoff balconies.
Provisioning Up on Bequia
Villas can often be pre-stocked with groceries. If you are doing your own grocery shopping, I would recommend Doris's Fresh Food and Yacht Provisioning in Port Elizabeth. Doris has an exceptional assortment, much of which I was surprised to find on such a remote island.
More basic provisions can be found at Knight's Trading along the front in Port Elizabeth. The Upper Crust Bakery will deliver, but you must place your order at least a day ahead. Be sure to ask about their daily specials.
Note: Be wary of the Rasta Market that sells fresh fruit and vegetables. If you love a little bartering and banter, this might be the place for you. Otherwise, there are plenty of other stands along the front to choose from. In my own experience, I passed quickly by some of the more aggressive sellers and shopped from a nice lady towards the back.
When to Visit Bequia
December to April brings the nicest Bequia weather. This of course also means the island is at its busiest and the accommodations the most expensive. In shoulder season (May and November) you can generally still enjoy nice weather, but with deep discounts. Hurricane season in the Caribbean runs from June to October.
If you want to visit the island at its most festive, plan your trip to coincide with the Mount Gay Music Fest or the Easter Regatta. Find the full Bequia special events schedule here.
For other island events including nightly entertainment at local restaurants and bars, be sure to check out Bequia This Week. You can find it here.
Personally, I also found the TripAdvisor Bequia forum quite useful when I had specific questions about the island. You can find it here.
Bequia – The Need to Know
Bequia is pronounced BECK-WAY. A fellow travel blogger once jumped up and hugged me for pronouncing it correctly (she had spent some time there). Little did she know that prior to this I had been mispronouncing it for years.
If you are looking for how you can help while visiting Bequia, check out Action Bequia. This organization is responsible for many island improvement projects including recycling initiatives, infrastructure projects, literacy groups, sports programs and more. Obviously, a cash donation is the most helpful towards their various projects, but it can also be as simple as dropping of some kids books at The Fig Tree restaurant for Cheryl Johnson who hosts a youth reading club there every second Saturday.
Bequia hunts whales. Okay, I know…..this came as a bit of a shock to me too. The island has been hunting whales since the late 1800s. The International Whaling Commission grants Bequia the right to catch up to 4 humpback whales a year. This can only be done using only traditional wood boats and hand-held harpoons under the umbrella of Aboriginal Subsistence Whaling. On average, the island fisherman catch one whale every 2 years. When this happens it is a very celebratory time on the island. I am not a proponent of hunting whales ever, but after going down the rabbit hole researching this topic for this post, it does not seem that the humpback whale population is endangered in this region. For further reading please see Bequia: A Whaler's Legacy by Lesley Anne Rose.
I have recently (2021) removed a section of this post on Old Hegg Turtle Sanctuary. I just can't say with confidence whether the sanctuary is actually helping the turtle population or if it is a profit centre. Next time I visit the island, I will dig a little deeper into this one.
When leaving Bequia, in addition to having to pay the 100 EC/$40 USD exit tax (kids 12 and under are free), you will also be subjected to a very thorough bag inspection in a separate room. Open alcohol (despite being well sealed) and overproof Sunset Very Strong Rum (made in St. Vincent) will be confiscated even from your checked baggage. A local told me that what the agents are really looking hard for is illegal drugs. The fine for possession is 200,000 EC (a percentage of which is offered to the agent as a finder's fee).
Further Reading