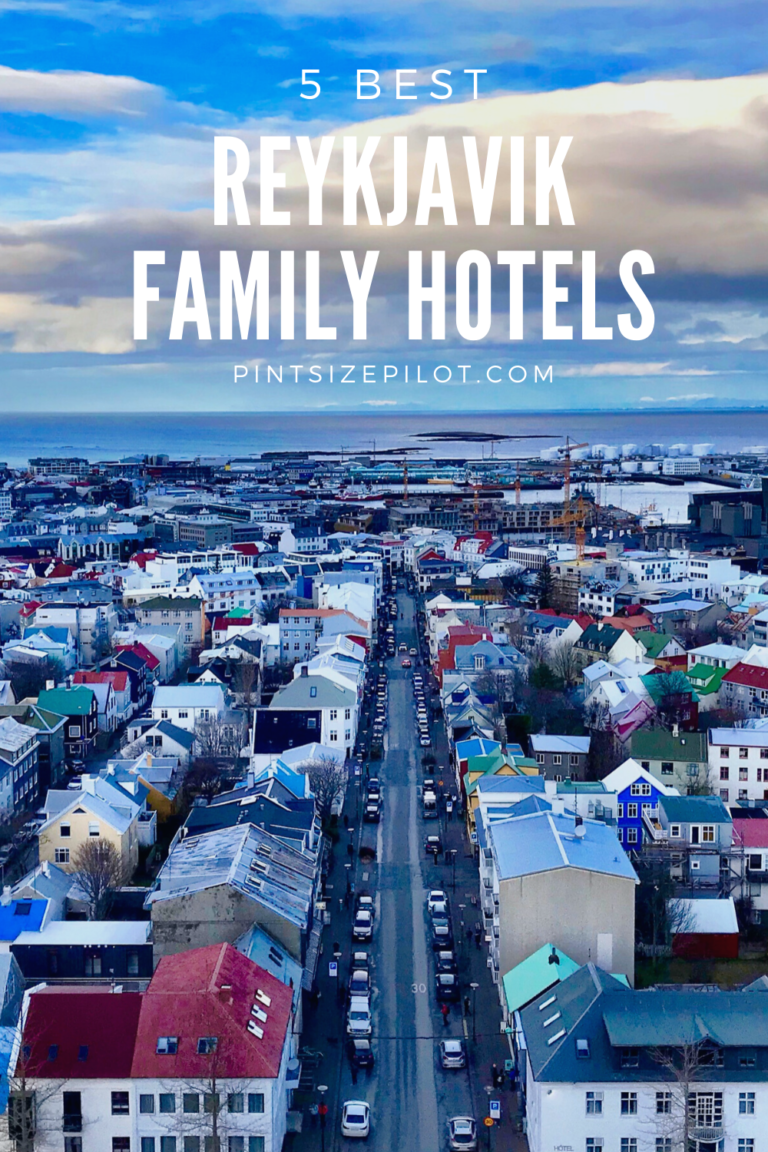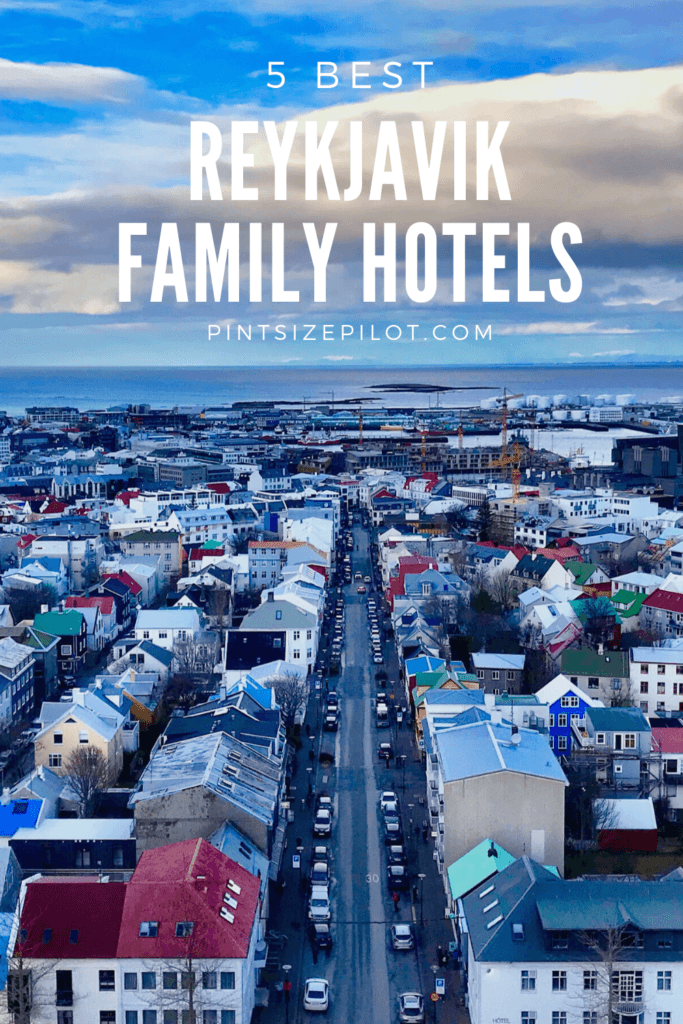 Affiliate Disclosure: As an Amazon Associate I earn from qualifying purchases. This post also contains additional affiliate links. For more information, please see our Terms of Use and Privacy Policy.
Best Family Hotels in Reykjavik
Heading to Iceland with kids? Wonderful! It is an amazing place for a family vacation. In fact, as I write this, I am trying to figure out how we can get back there yet again. We just can't get enough of that beautiful country.
Whether you have 3 days in Iceland or 10 days, you will definitely want to spend a few days exploring the charming and colourful city of Reykjavik. Having had my own challenges finding family accommodation in Reykjavik on our first trip to Iceland, I wanted to share with you my top 5 family hotel Reykjavik recommendations as well as other Reykjavik family accommodation options.
Please use the following menu to get to the list quickly or start with the following tips to finding family hotels in Reykjavik.
Family Hotels Reykjavik – Need to Know Tips
Reykjavik is a compact and very walkable city so you can't go too wrong with your location as long as you don't stray too far from the core.
Reykjavik is very stroller friendly even in the winter, as the sidewalks are geothermally-heated and thus are kept free of ice and snow.
Iceland is a very expensive country in general, so finding well-priced family friendly hotels in Reykjavik can be a little challenging (fear not – help is here). Don't be afraid to look further than typical hotels as Reykjavik vacation rentals and apartment-style hotels can be a great option for a family.
Likewise, there are not a ton of hotel properties offering family sized rooms in Reykjavik, so the most suitable family hotels tend to book up very early. Most hotel booking sites, such as Booking.com, offer a Pay Later flexible booking option. I recommend making a reservation as early as possible and then just changing or cancelling it if something better comes along.
Like hotels, restaurants are also very expensive in Iceland (think almost double that of North America). Finding properties that include breakfast in a stay can save you big dollars. Alternatively, a place with a small kitchen that allows you to do some self-catering can also be a more budget-friendly option.
Best Area to Stay in Reykjavik
Reykjavik is quite a small city that is easy to navigate on foot. As long as you are somewhere around the center, you cannot go too wrong with your chosen accommodation.
Most Reykjavik hotels are located in 101 Reykjavik, which is the postal code that makes up the downtown core. I use the term "downtown" lightly as Reykjavik is not a major metropolis. It looks like this.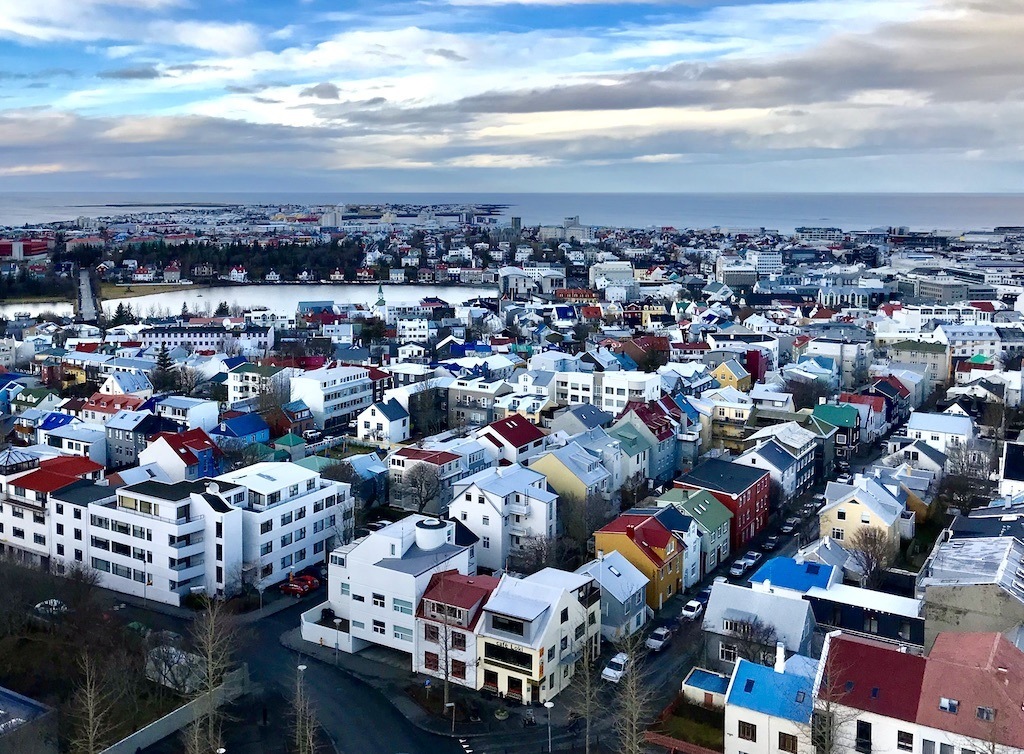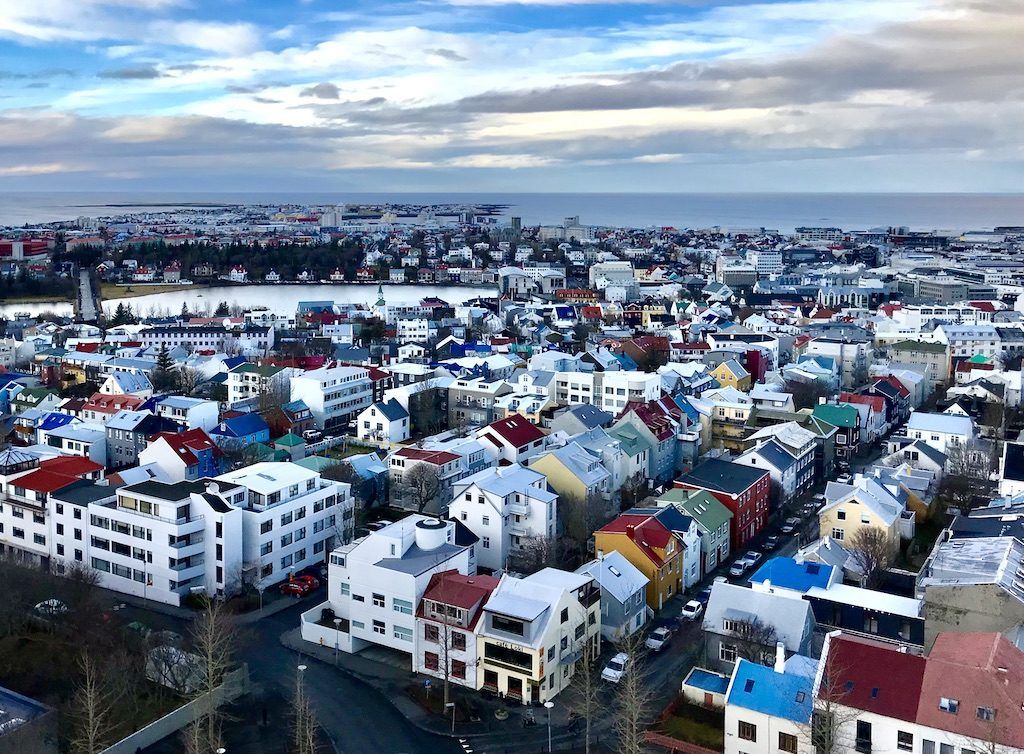 During your Reykjavik family stay, you will likely spend quite a bit of time around the harbour as that is where you will find the Harpa Concert Hall, the boat tours, several museums and a lot of excellent restaurants.
Most of our favourite Reykjavik family hotels are concentrated either on, or just off the main shopping street of Laugavegur. This is convenient because you are only a short walk to the harbour, but at the same time, away from some of the nightlife noise (Icelanders love to party.)
Note: An easy way to get a feel for where all the action (noise) is in Reykjavik, is to Google Reykjavik Nightclubs. They are generally all clustered in two areas, so as long as you have a bit of a buffer between the nearest party spot and your chosen accommodation, you should be fine.
Family Hotels in Reykjavik Map
I have plotted our favourite Reykjavik family hotel picks on the following Google map. The one on the far left (The Black Pearl), is conveniently located in the center of the action but could potentially be the noisiest.
The two on the far right (The Alda Hotel and Tyr Apartments) are further down the shopping street of Laugavegur and would be quieter (this is the area we prefer to stay). The walk to the center of town is pleasant and takes about 15 minutes.
5 Best Family Hotels Reykjavik
With no further ado, here are our favourite family friendly hotels in Reykjavik, Iceland!
1. Reykjavik Residence Hotel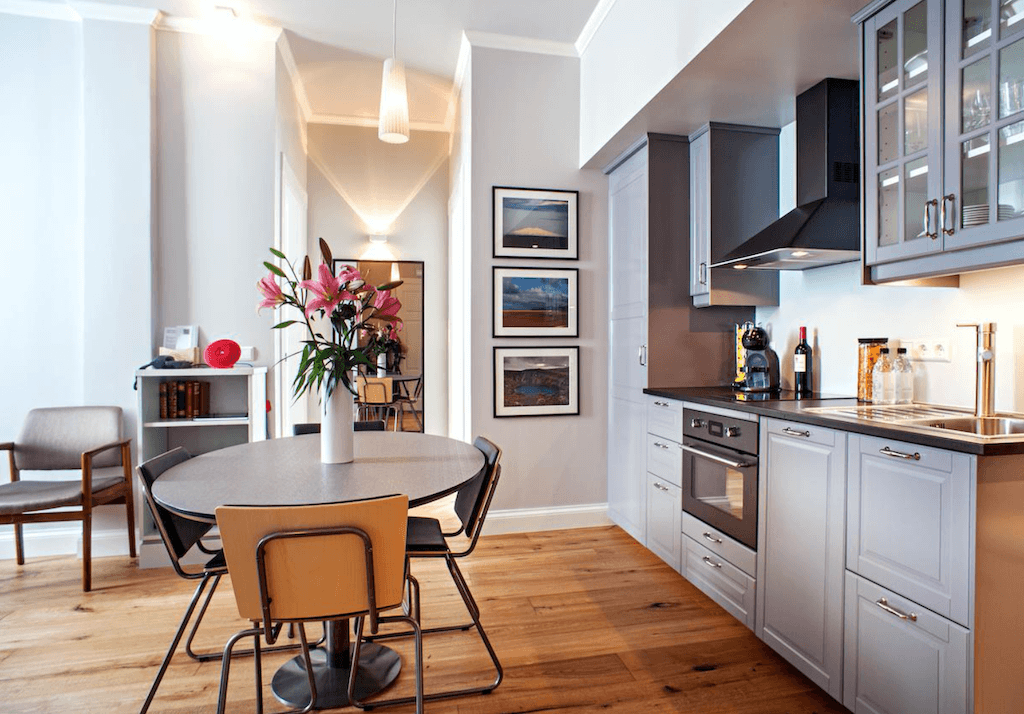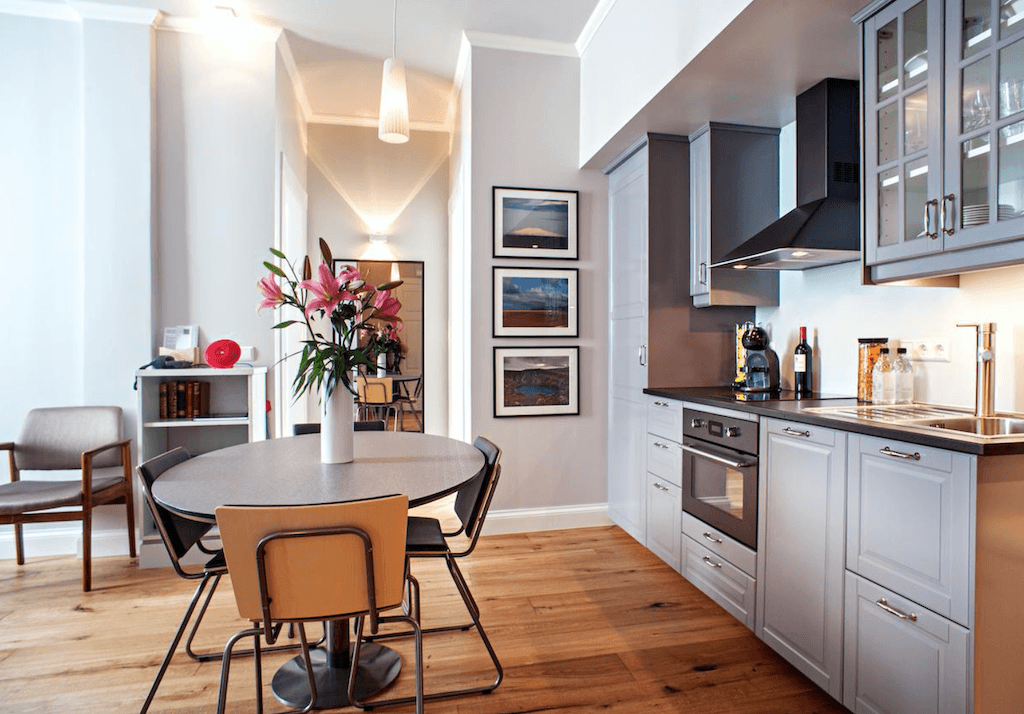 This luxury apartment-style hotel has fully furnished 1,2 and 3 bedroom suites that are perfect for families both large and small! Guests love the breakfast basket delivered to their room each morning.
Read TripAdvisor reviews
or check rates on Booking.com.
2. The Sand Hotel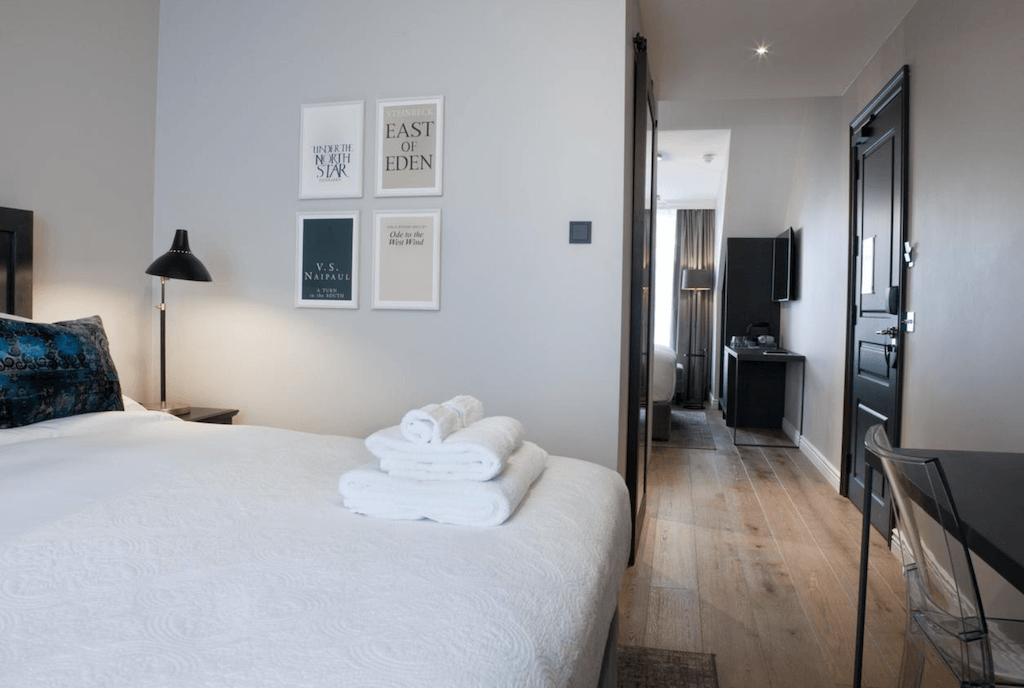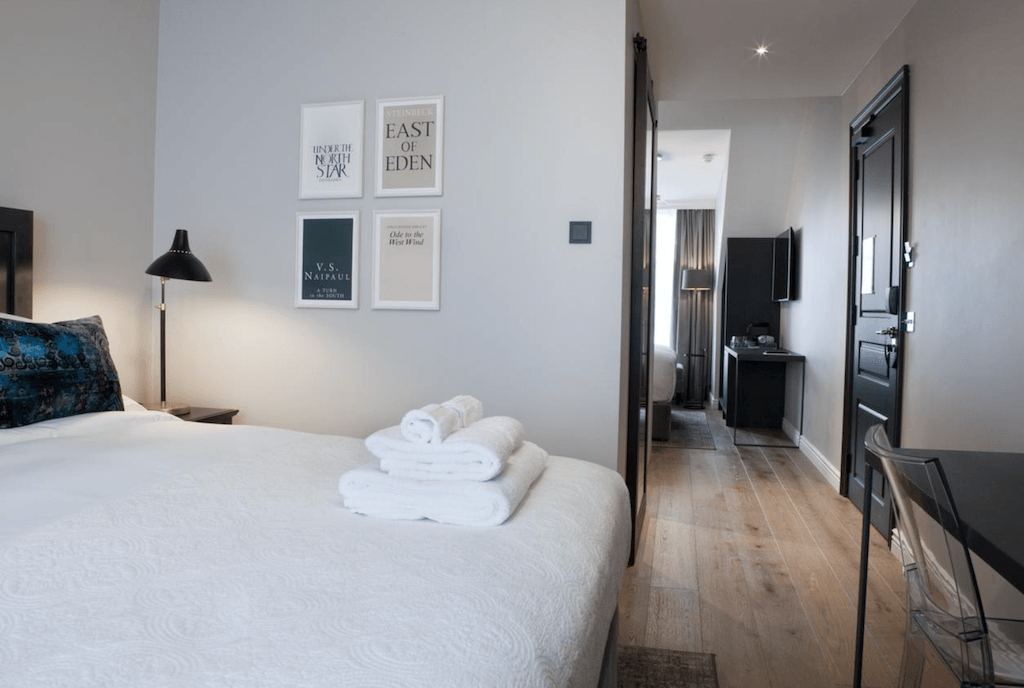 This fashionable boutique hotel is in a great location on the best shopping street in Reykjavik, and only a 10 minute walk to the center of town. Rooms feature muted tones, flat-screen TVs and hardwood floors, complimentary Wi-Fi, Nespresso machines, and designer toiletries.
The hotel has a beautiful two queen room that is perfect for families. All stays at the Sand Hotel include a continental breakfast featuring pastries from their award-winning Sandholt bakery.
Read TripAdvisor reviews
or check rates on Booking.com.
3. Alda Hotel Reykjavik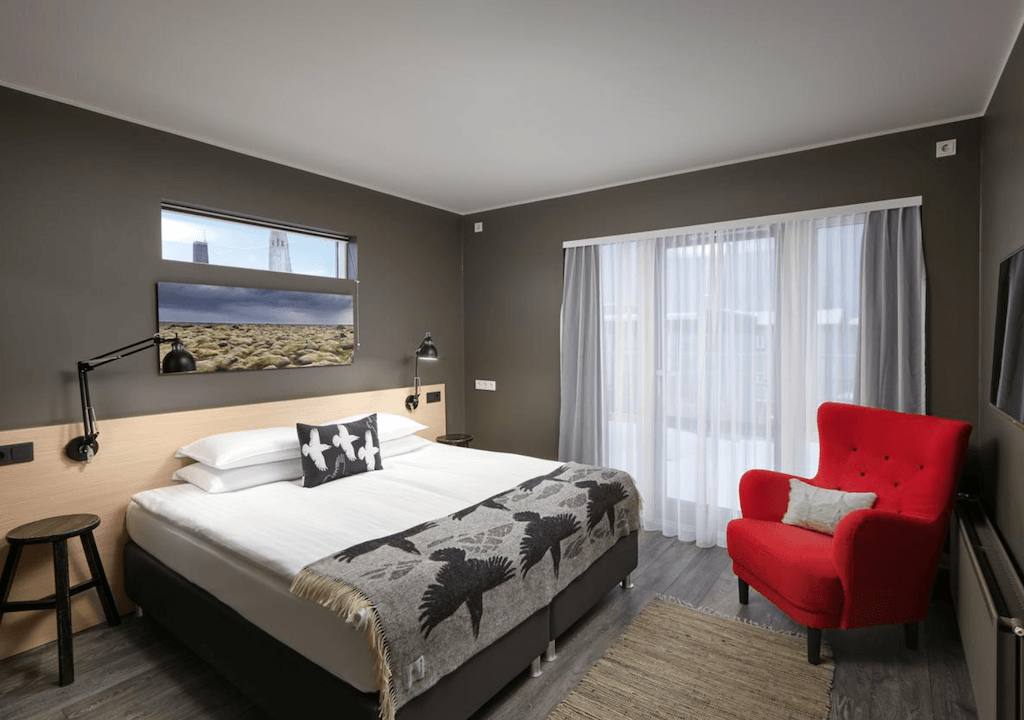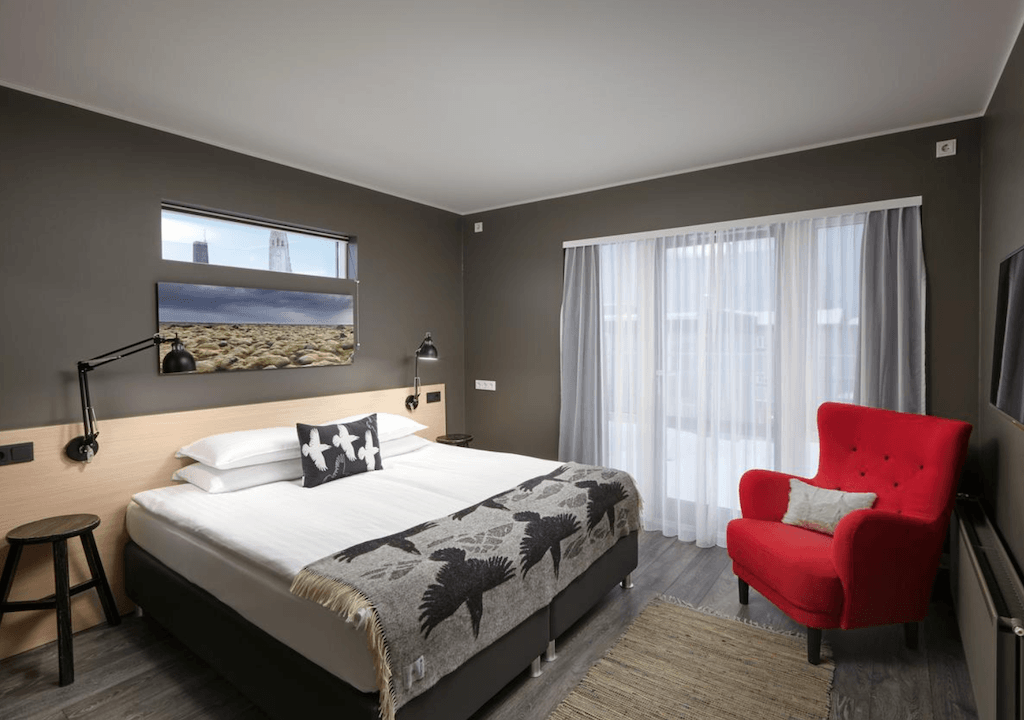 The Alda Hotel is located on Laugavegur shopping street in central Reykjavik. The hotel offers modern rooms with a flat-screen TV and free WiFi access. Hallgrimskirkja Church is a 5-minute walk away.
All guest rooms at Alda Hotel Reykjavík have a private bathroom with a bath or shower, hairdryer and free toiletries. Some rooms feature a private balcony with sea or city views. The Alda has family rooms and junior suites that can sleep a family of four.
Read TripAdvisor reviews
or check rates on Booking.com.
4. Tyr Apartments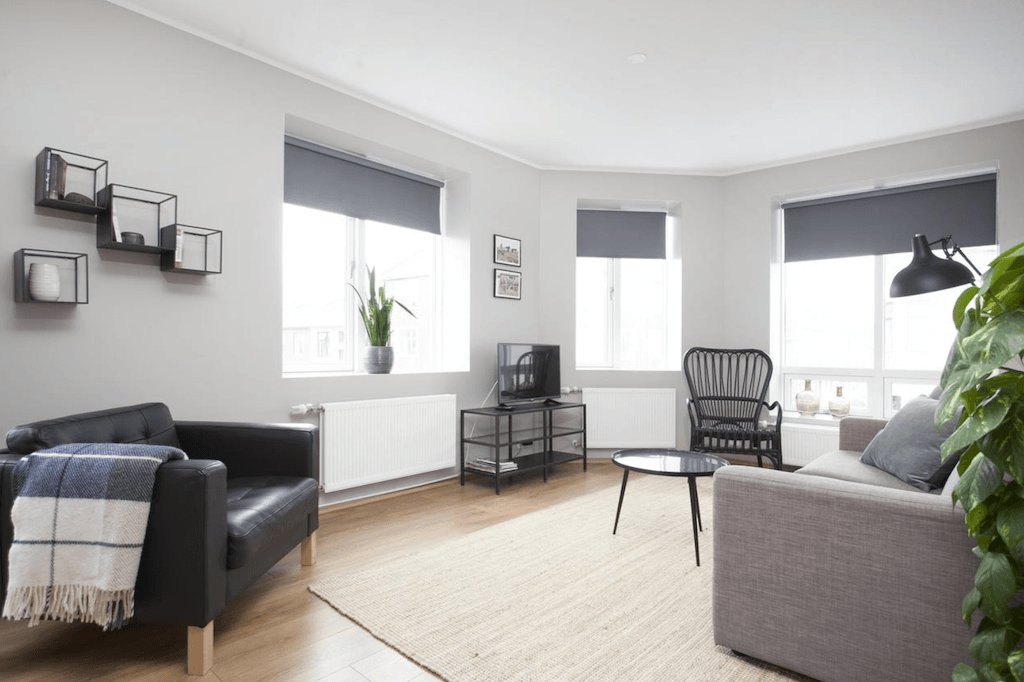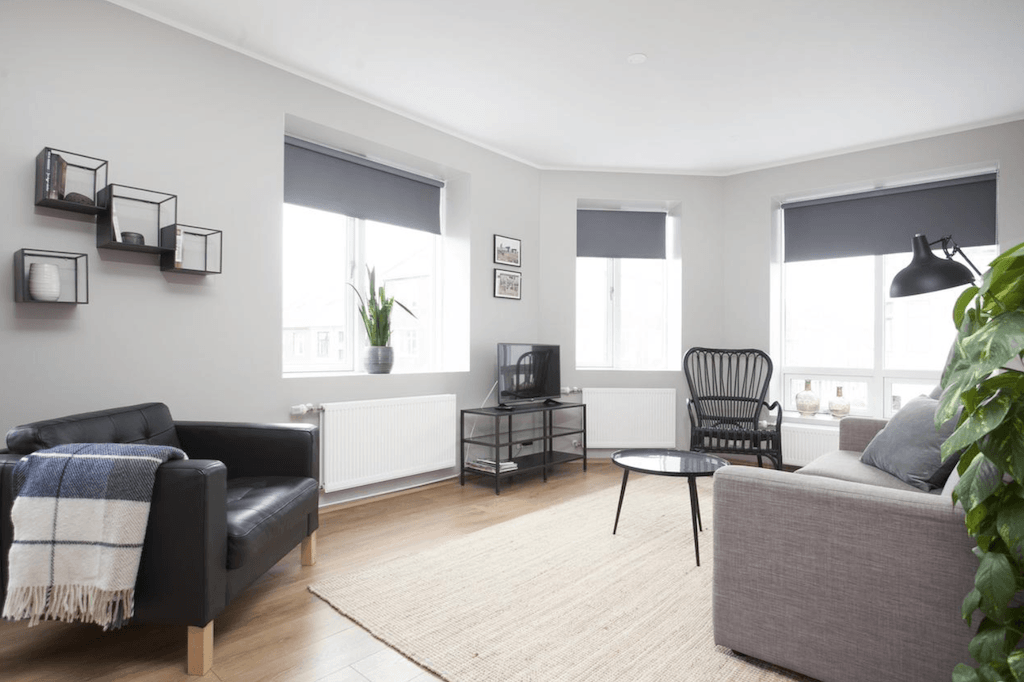 These modern one and two bedroom apartments are centrally located, offering city views, free wifi, well equipped kitchens, flat screen TVs and more. The one bedroom can sleep up to four people, the two bedroom can sleep up to 6.
Check rates on Booking.com.
5. The Black Pearl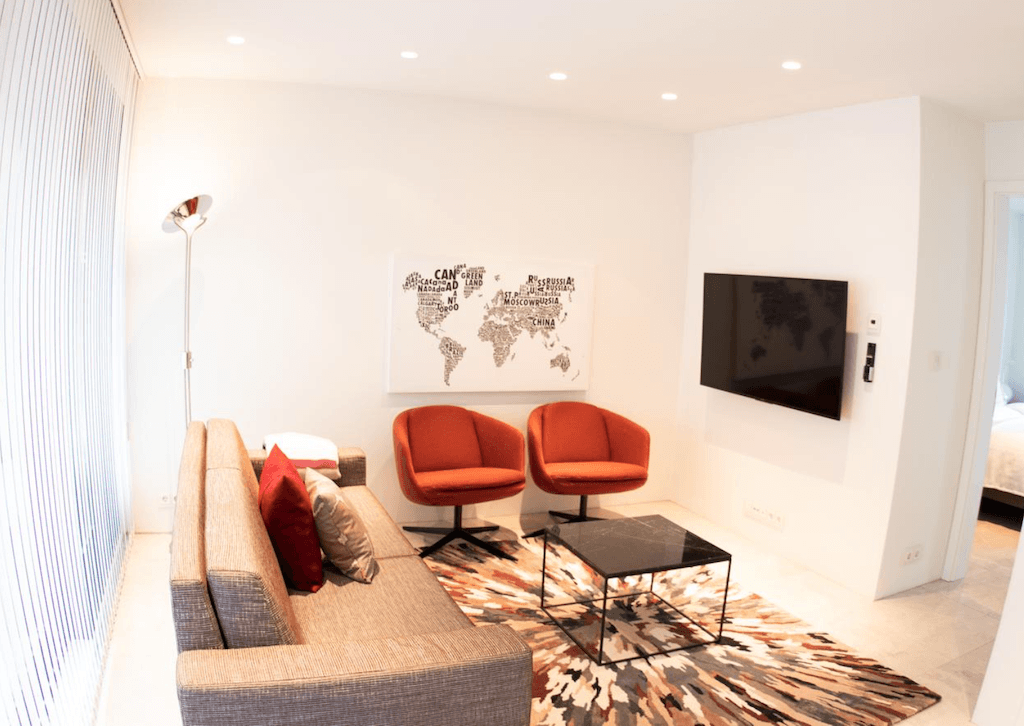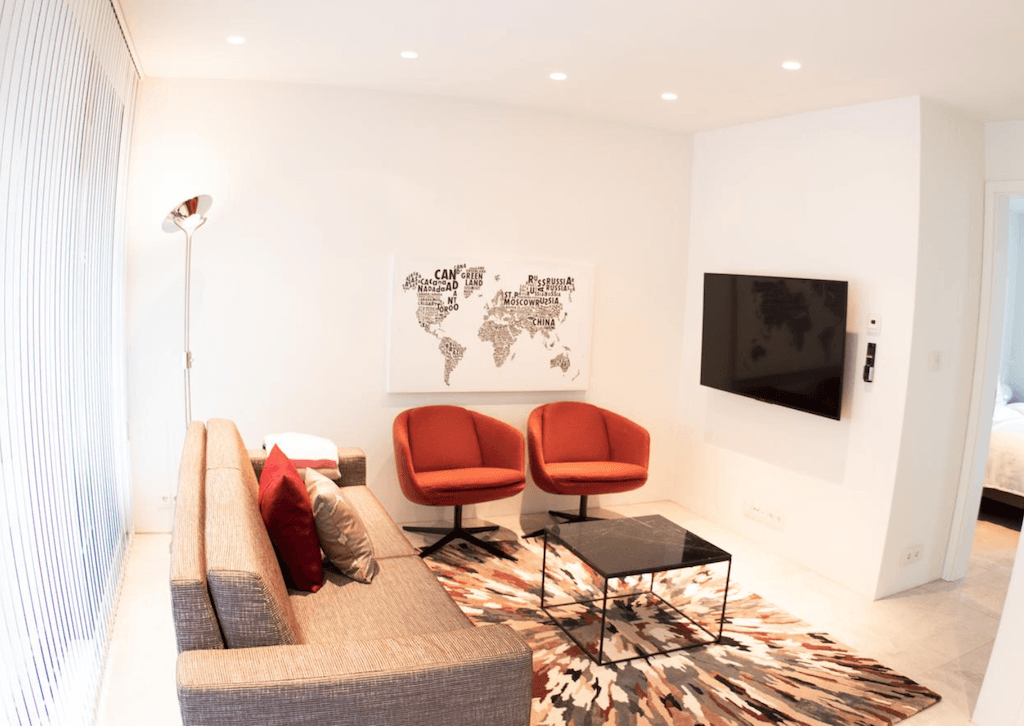 The Black Pearl luxury apartments are conveniently located right near Reykjavik harbour and city center. These modern, well-equipped suites have full kitchens and can sleep from 2-6 people. The deluxe suites have an in-suite washer and dryer. Cribs are available upon request.
Read TripAdvisor reviews
or check rates on Booking.com.
Other Family Accommodation Reykjavik
As Reykjavik hotels can be very expensive, a vacation rental can be a much more economical option for families. The cost of a lovely 2 bedroom apartment can be the same as a basic hotel room.
Please note: Vacation rentals make the most sense when you are booking for more than a couple of nights. Otherwise, the additional service fees and cleaning fee can drive the cost up close to that of a hotel room.
VRBO
and Airbnb have quite a nice selection in Reykjavik.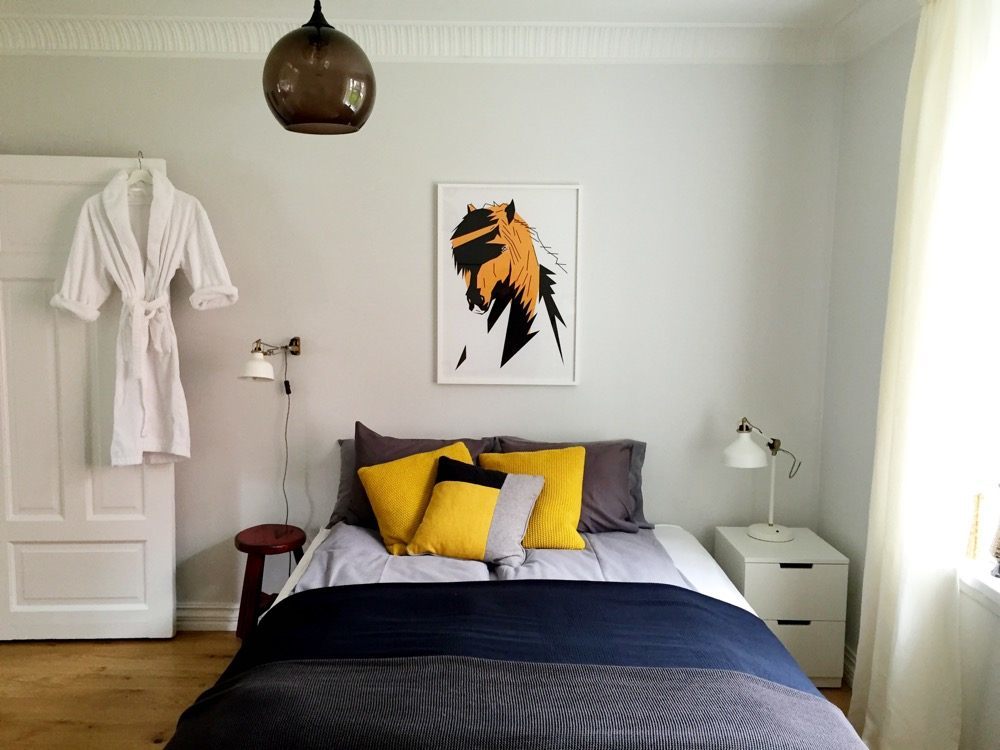 More Iceland Posts