Last update: December 31st, 2022 at 07:21 am
Kicking Horse Ski Resort with Kids
It may just have been our best family ski day ever. We were visiting Kicking Horse Mountain Resort as part of a series on skiing BC's Powder Highway with kids. Over two ski seasons, our family road trip adventure had taken us to Revelstoke Mountain Resort, Fernie, Kimberley, Panorama, Whitewater, and Red.
At long last, we had finally managed to make it to a mountain spoken about in almost mythical proportions by our expert skier friends (those with various metal pins and screws in their joints). Read on to learn about our family adventure.
Kicking Horse with Kids Video (1 min.)
Want a quick peek at Kicking Horse ski resort first? Check out this one minute video.
Kicking Horse Ski Resort Terrain
Kicking Horse Mountain Resort has the 5th biggest vertical in North America at 1314m (Revelstoke is #1).
Here it is in numbers:
4314 feet (1314 meters) of vertical
3486 acres of skiable terrain
8218 feet (2504 meters) at top elevation
5 alpine bowls
The new Ozone South Face*
Endless Champagne Powder
*To access Ozone, skiers and riders hike up to Whitewall, ski/ride down to the saddle and hike up to the top of the face.
Kicking Horse for Families: Families visiting Kicking Horse will appreciate the convenience of a daycare, snow school, kids' learning area, tube park and a small skating rink – all right in the central village near the gondola base.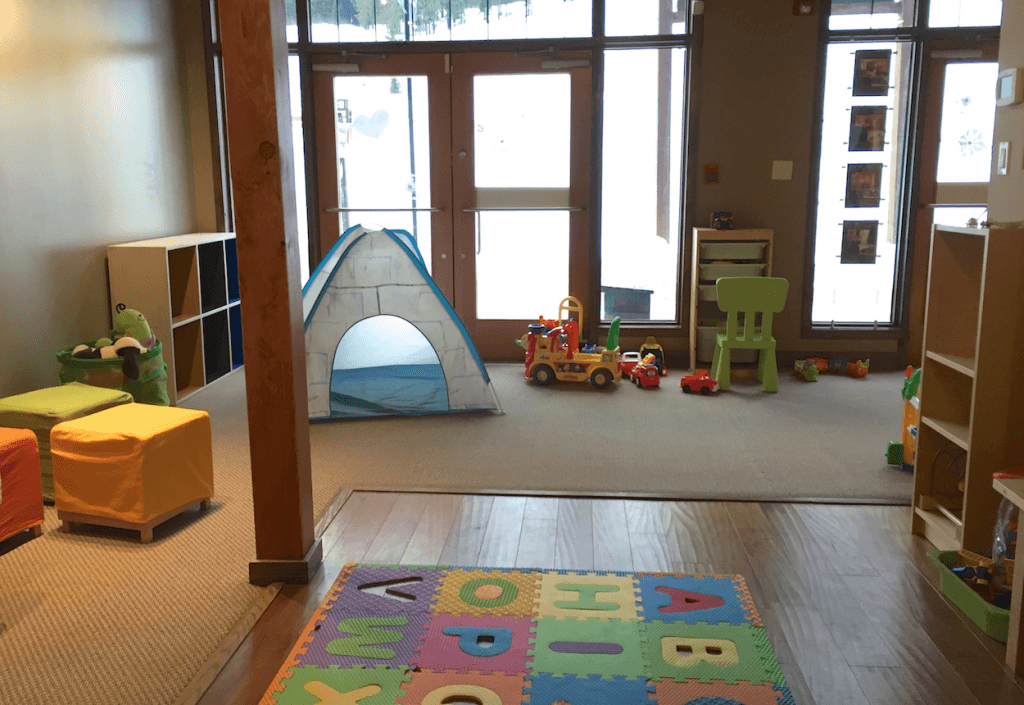 Exploring Kicking Horse Mountain
On our first Kicking Horse Resort visit my husband was all about exploring the epic powder bowls and chutes – but I'll admit that those were neither here nor there for me (a high intermediate skier at best). What interested me was the fact that in recent years the resort had become much more family-friendly, with increased beginner and intermediate terrain and the addition of family-friendly amenities and facilities.
The added bonus at Kicking Horse Ski Resort was the cozy ski in/ski out lodging at the base of the gondola, some solid dining options, and the stunning view from the top.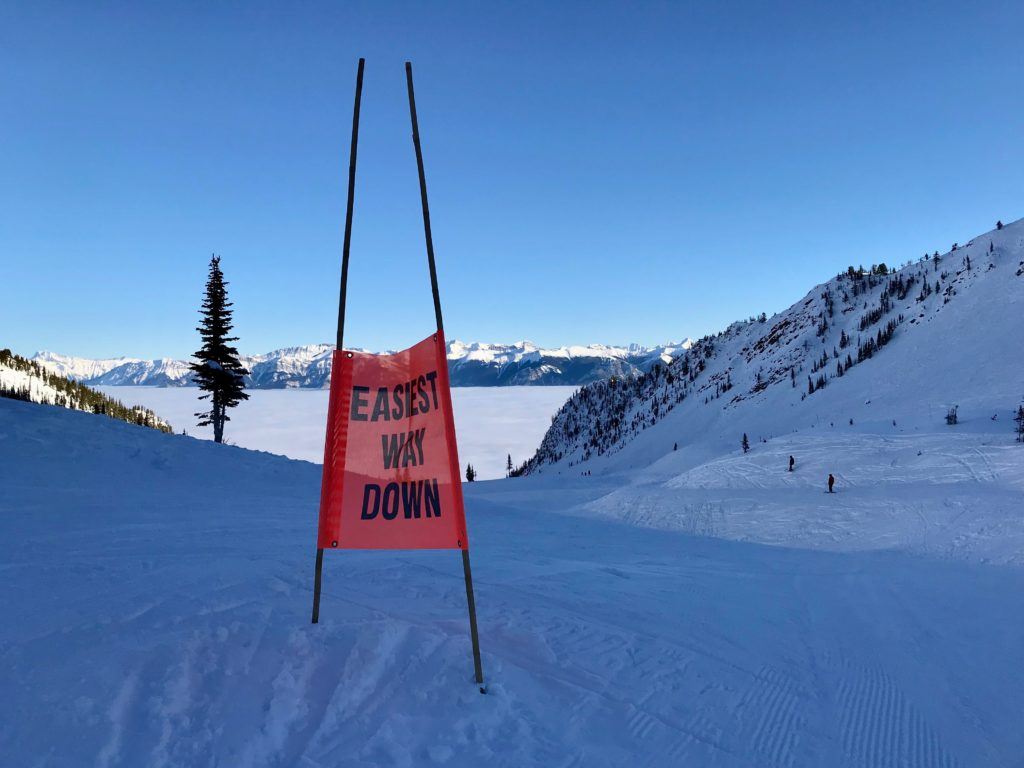 2020 Update: Since our first trip, we have returned to Kicking Horse Ski Resort 3 times (despite it being a 7 hour drive from our Vancouver home). It has been amazing to watch our kids go from basically working their way down on a cat track to now dropping into steep bowls on their own. We have even visited Kicking Horse in the summer as part of a Kootenays road trip.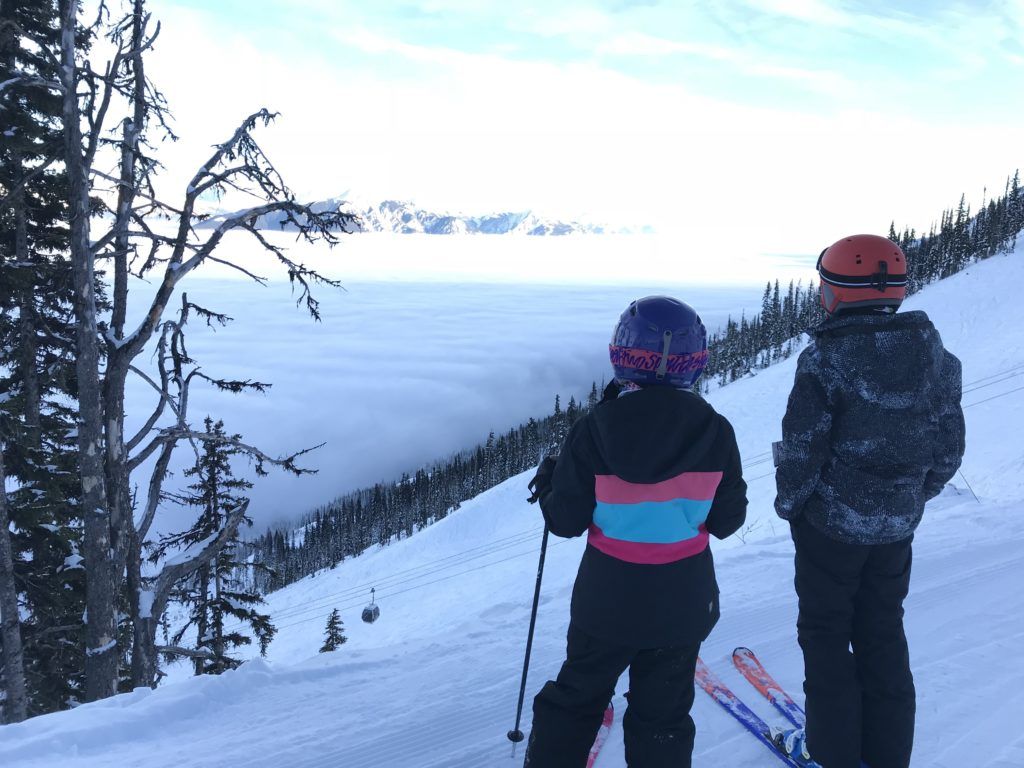 At Kicking Horse, we really loved the freedom of dropping our kids off at the Snow School for morning lessons and then being on the slopes 15 minutes later. In our experience, the rigamarole of getting kids sorted into lessons in the morning can often take much longer (sometimes as much an 1 hour). We found the process at KHMR to be quite relaxed and easy.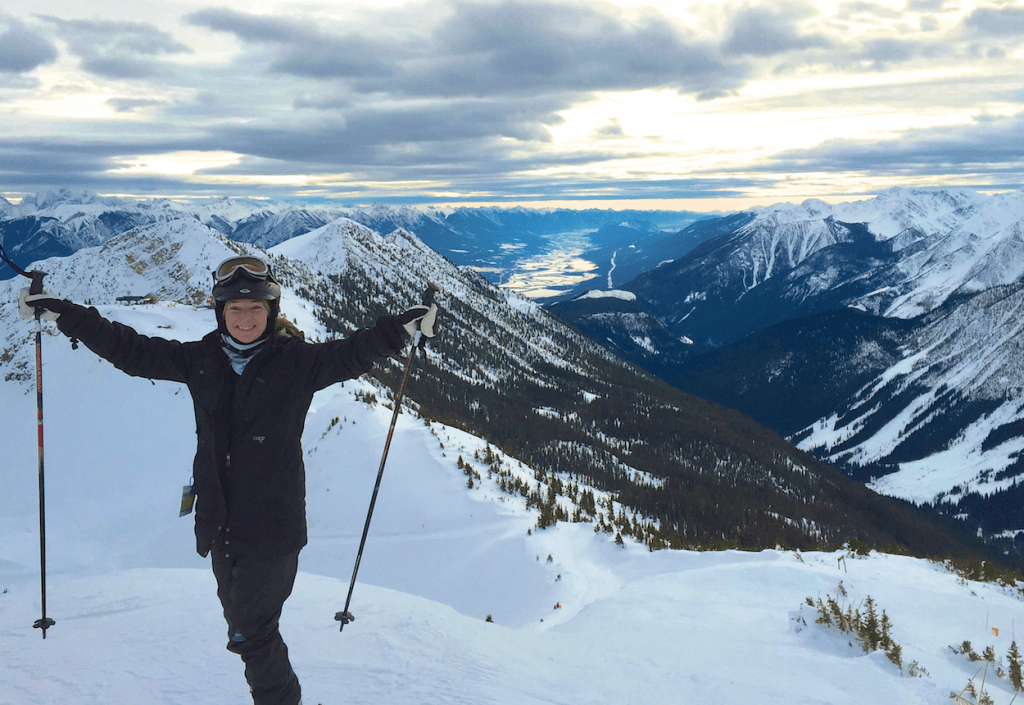 We would get in our morning ski, pick up the kids and then ride the gondola back up to enjoy lunch on top of the world at the Eagle's Eye restaurant. The Eagle's Eye is a worthy splurge with excellent food as well as a kids' menu (see TripAdvisor reviews).
We also loved the fact that once the kids had devoured their meals they could play outside on the deck building a snowman or snow fort while we rested our legs for a few more minutes. It is truly a very special dining experience.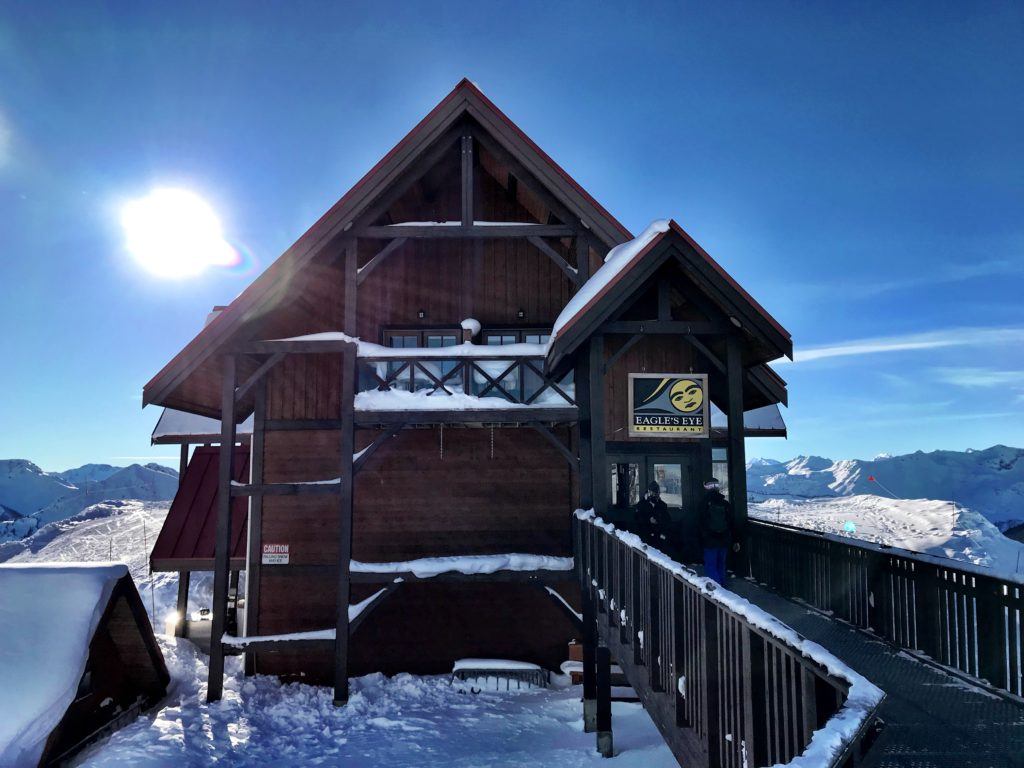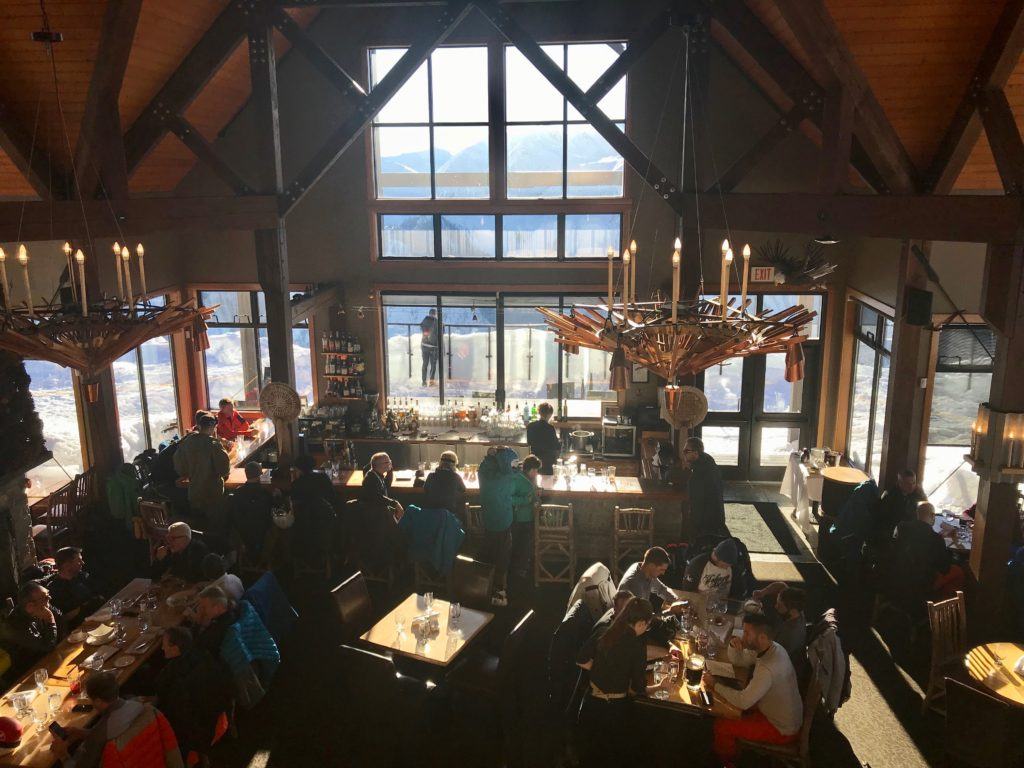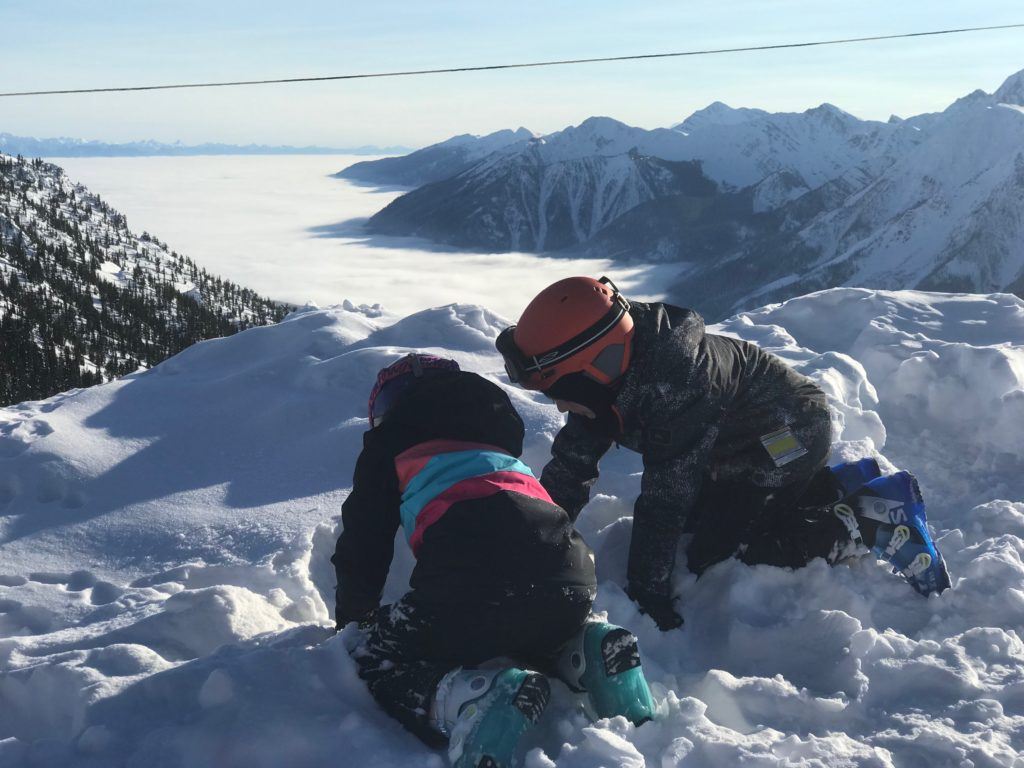 The Grizzly Bear Refuge
At some point during our Kicking Horse visits we like to pop by the Bear Refuge – home to Boo the orphaned grizzly bear. For more than a dozen years, Boo has lived in a 20 acre forested enclosure within the Kicking Horse Resort ski area (the largest grizzly bear refuge in the world).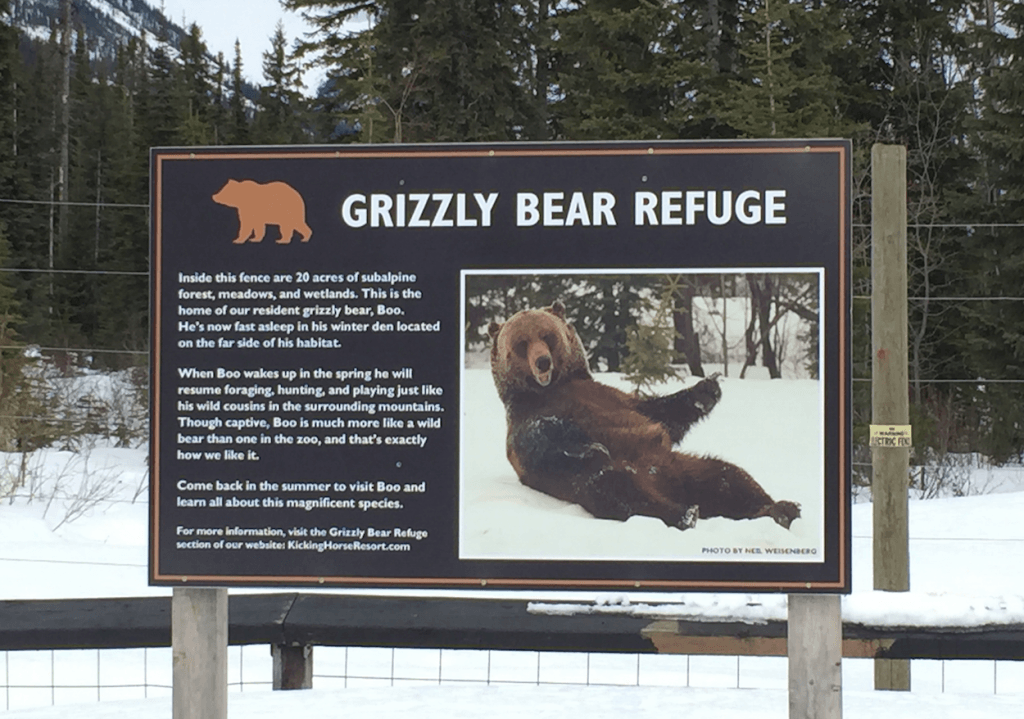 Boo hibernates for most of the winter (occasionally sleepily popping his head out for a breath of fresh air) and skiers are sometimes lucky enough to catch a glimpse of him in the spring. For more of Boo, see his Facebook page (grizzlybearboo) and this little video of him coming out of hibernation.
Kicking Horse Restaurants
Outside of our decadent lunches at the Eagle's Eye, we also enjoy the casual family friendly pub food at the Kicking Horse Saloon (within the Winston Lodge).
When venturing into the town of Golden (a 15 minute drive from the resort) we like eating at Eleven22 (tapas) and The Wolf's Den (burgers). Both restaurants have kids' menus.
Kicking Horse Accommodation
There are two main Kicking Horse lodges close to the gondola – the Glacier Mountaineer Lodge and Palliser Lodge.
If a boutique hotel is more your style, the Winston Lodge gets good reviews and kids 12 and under stay free. The Vagabond Lodge comes highly rated but only welcomes families with children 13 years and older.
If you don't mind staying just outside of Golden, we absolutely love The Moberly Lodge. The Moberly has both a lodge and self-catering cabins. The property is a great place to unwind after an action-packed day. The homemade breakfasts provided by owner Lucille (at an additional cost) are also very memorable.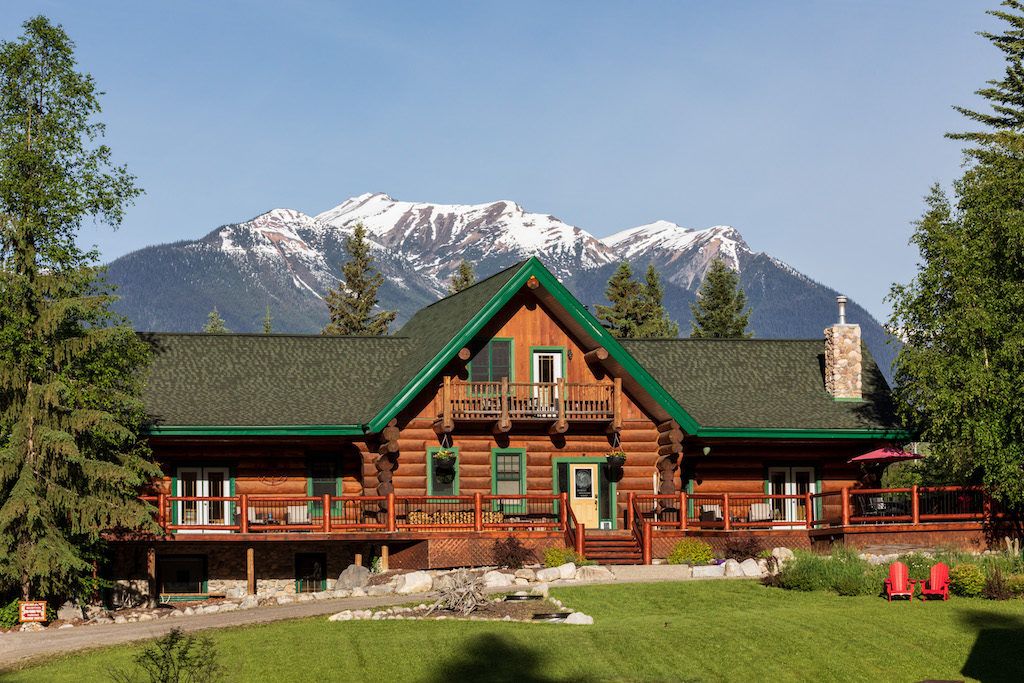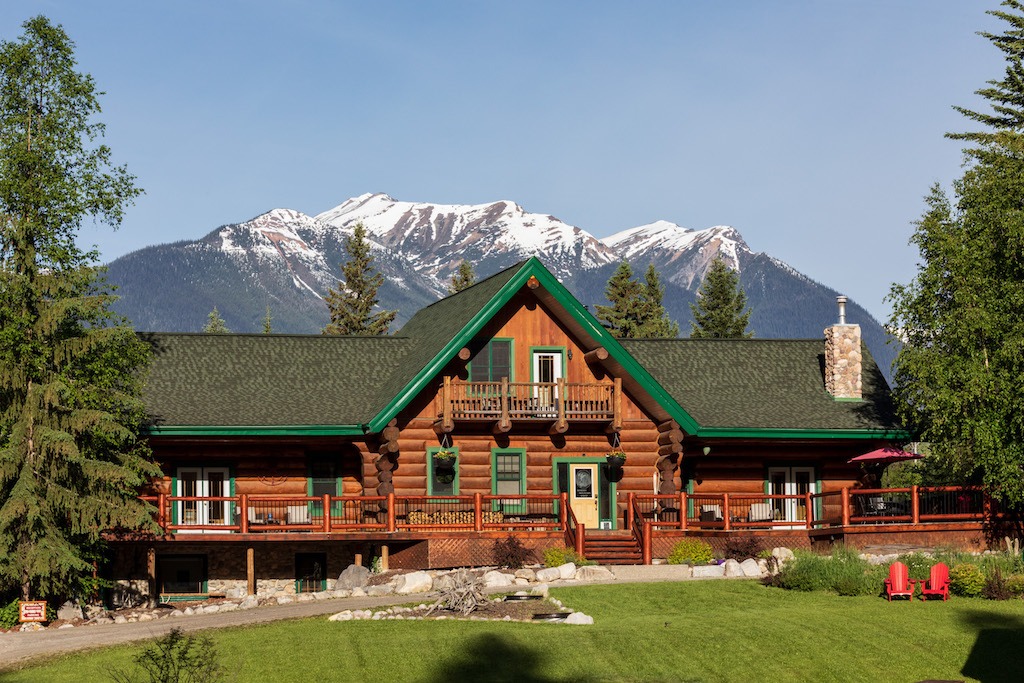 How to Get to Kicking Horse
The resort is a 1.5 hour drive west of Banff (145 kilometers), 2.5 hours west of Calgary (270 kilometers) and 7 hours east of Vancouver (700km) on the Trans-Canada highway (I mention the latter because we drove those 700km from our home in Vancouver – it can be done). For more transportation options, see getting here on the Kicking Horse website.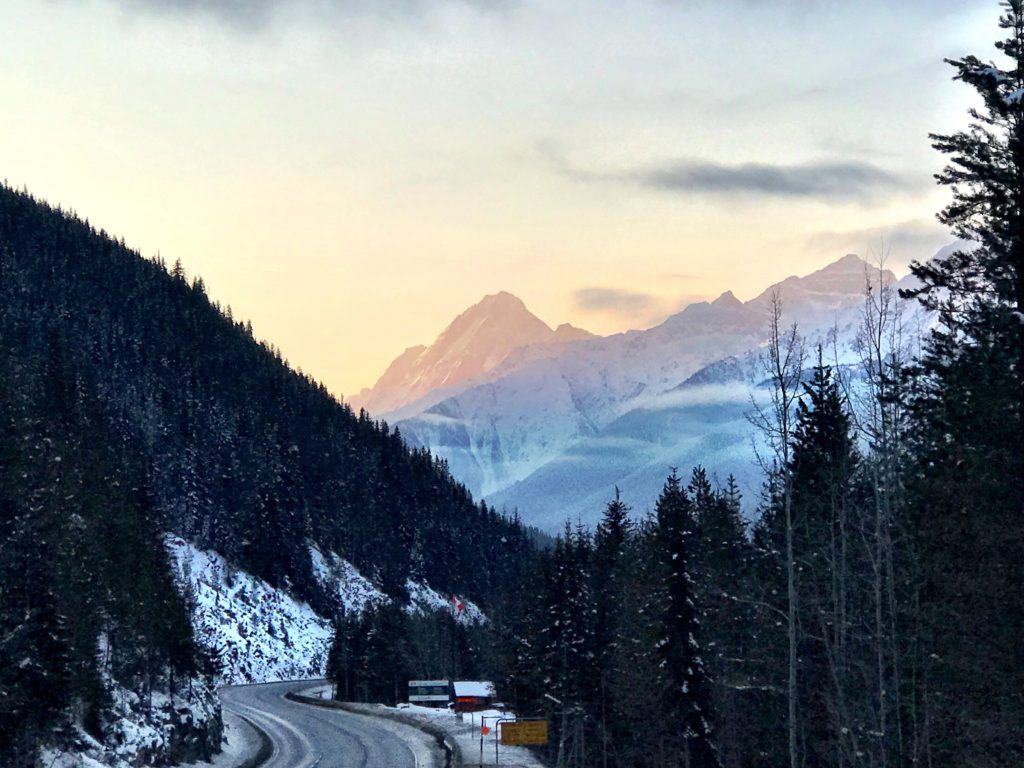 More Ski Resort Guides