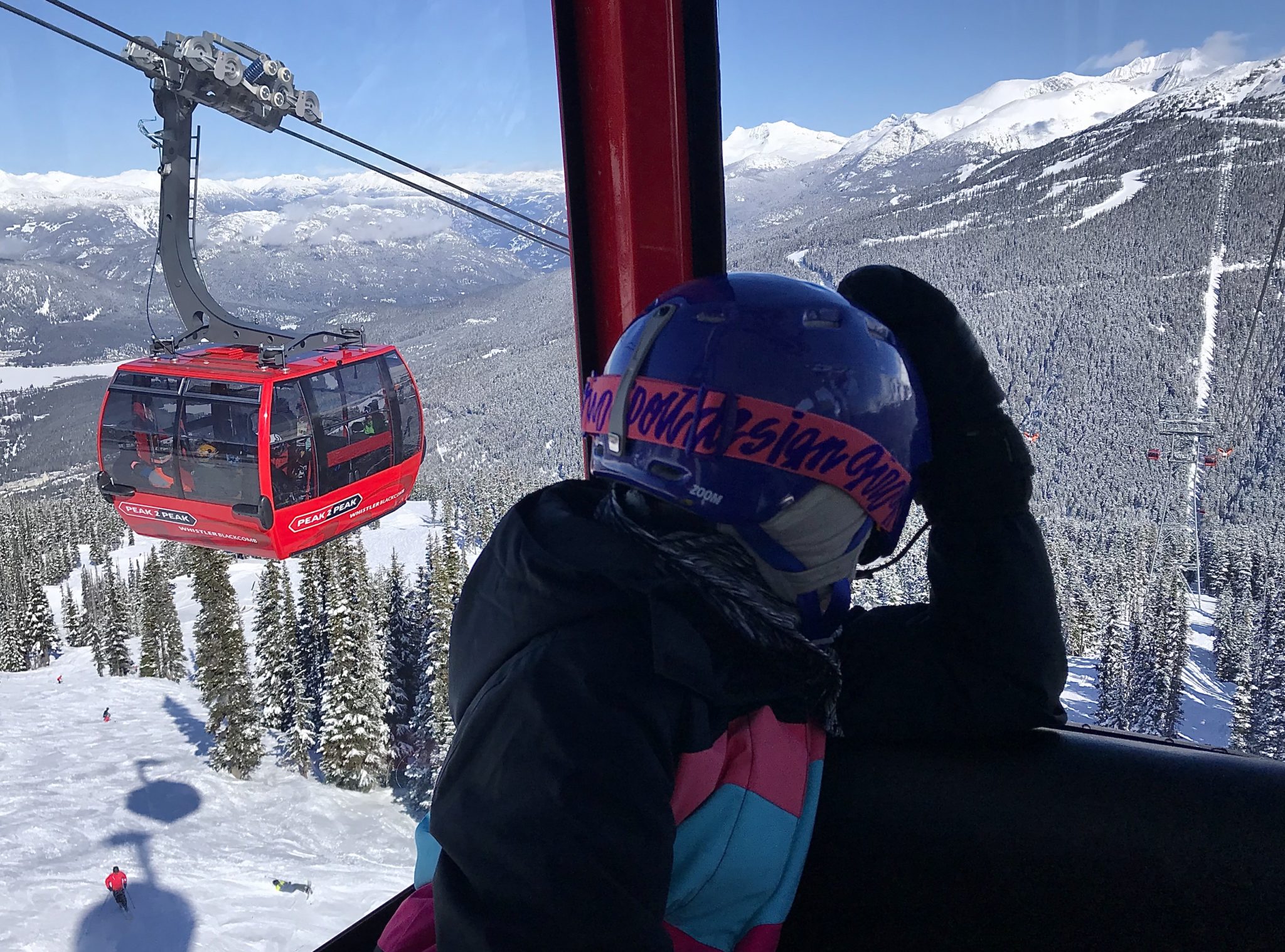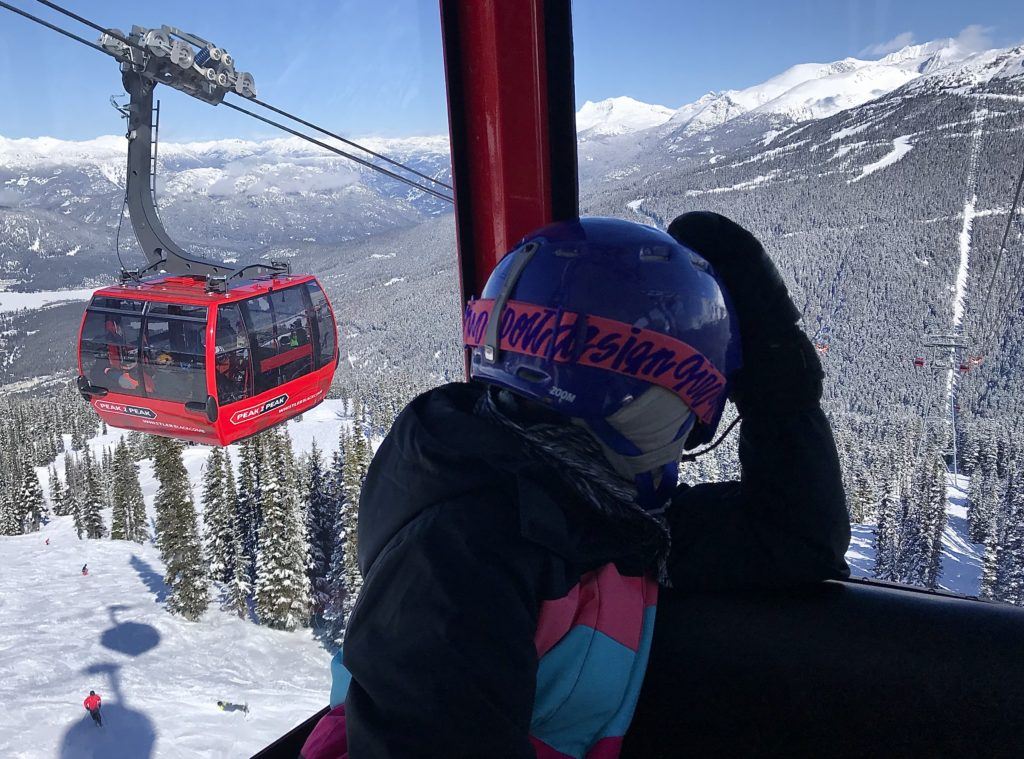 Affiliate Disclosure: As an Amazon Associate I earn from qualifying purchases. This post may also contain additional affiliate links.

Whistler with Kids – Intro
Planning a winter Whistler family vacation? Whether you are looking for the top Whistler kids activities, the best hotels in Whistler for families, or tried-and-true kid friendly dining options — we've got you covered here.
Here's the thing though. We all know that the 2020-2021 season is going to look a little different (no international visitors, for one). In fact, even as as I write this, our first Whistler family ski trip in December is not a given due to potential travel restrictions. That said, I'm going to do my best to keep things up-to-date throughout the season in this guide.
Please note: As things are evolving week-to-week in BC, I encourage you to check the Tourism Whistler website for health and safety updates prior to traveling to Whistler.
Whistler – The Need to Know
In such unusual times, there are a number of changes to be aware of in Whistler that have been put into place to keep everyone healthy and safe.
On the Mountain:
Face coverings will be required to access the mountain, in all indoor spaces, in any line, on chairlifts and gondolas, and whenever you are unable to maintain physical distance.
Reservations will be required for mountain lift passes with pass holders having priority booking access (Ex. Epic Pass). Regular online lift tickets will go on sale Dec. 8th after pass holders have reserved their priority days. Same day tickets will not be available for purchase at the mountain this season (all tickets sales will be online).
All Vail Resorts transactions will be cashless including retail outlets, restaurants and the Snow School. For the best experience, book and pay online in advance where possible.
In the Village:
Face coverings are mandatory in public indoor spaces and retail establishments. Masks should also be worn whenever physical distancing cannot be maintained, including busy outdoor spaces and when walking along the Village Stroll.
Retail stores have capacity limits (you may need to line up outside).
Temperature screening is required when entering some hotel properties and restaurants.
Capacity limits on restaurant seating means reservations are more important than ever.
Some activities and adventures may not be available this season (although many others have been able to make adjustments to continue operating). For quick reference, see this Whistler Doors Open guide.
Whistler Ski Lessons for Kids
My kids learned to ski at the Whistler Snow School. I remember how shocked I was to see my son actually cutting some decent turns down a run on day 3 (as I spied on him from afar). They have excellent programs and instructors for both skiing and boarding.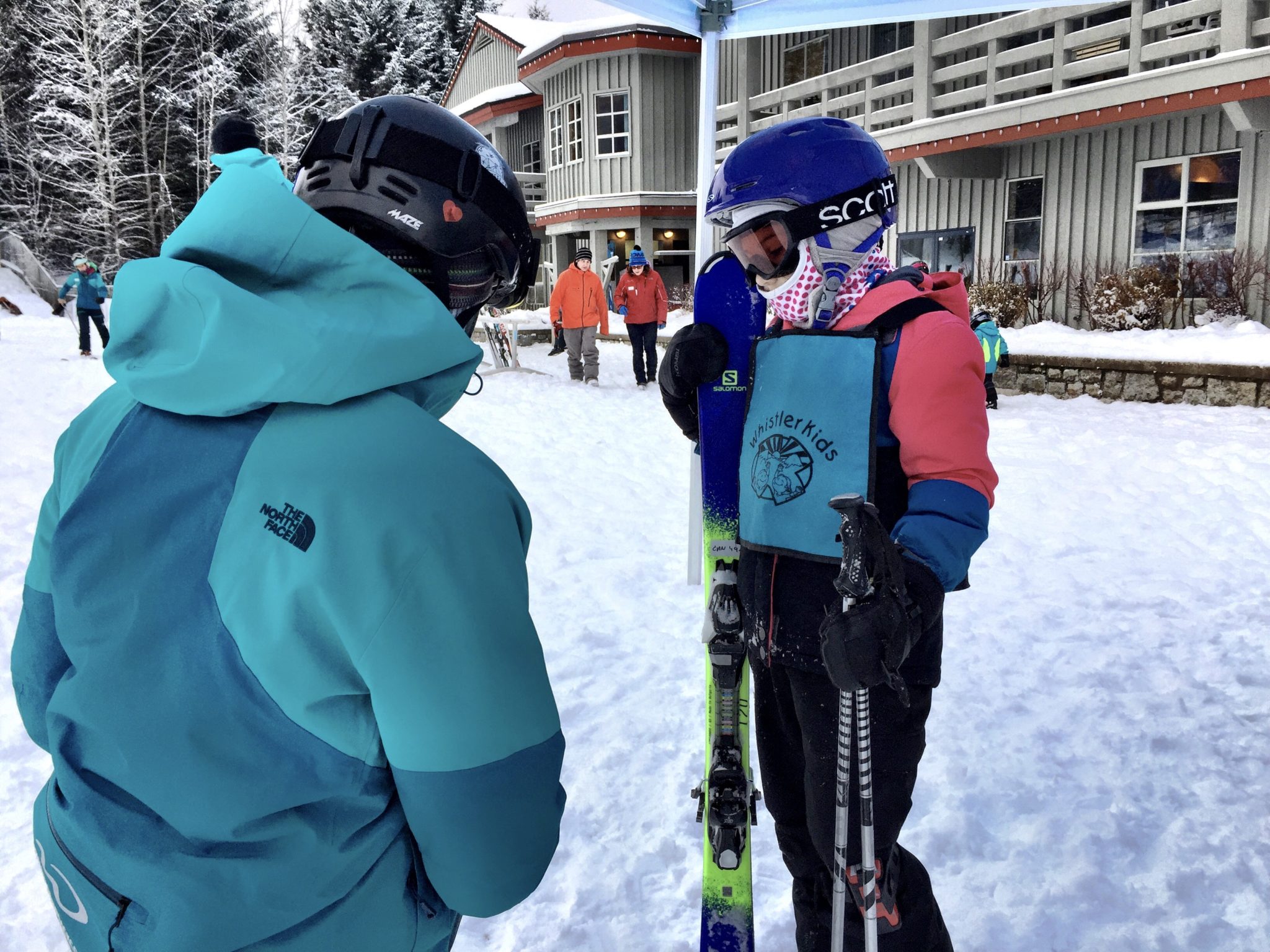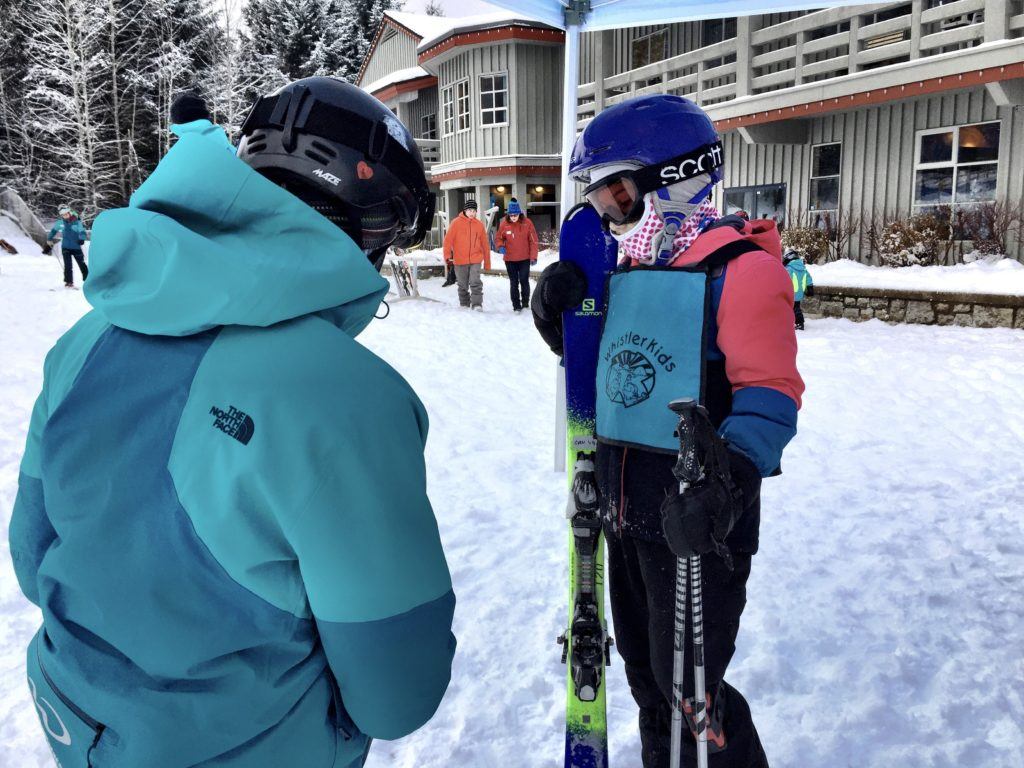 There are plans for Whistler kids ski lessons to operate this season, but there will be a few changes such as much smaller group sizes. Face covering will be required and lessons will always meet outside (not indoors). Private lessons and small family group lessons will also be available. Learn more at Whistler Snow School.
Alternatively, perhaps this could be your opportunity to teach your toddler to ski! (Full disclosure: we tried years ago and gave up quickly.) It certainly is possible though. A good friend of mine simultaneously taught her three kids under 5 to ski on a Blackcomb beginner run.
YouTube is a great place to get tips for teaching toddlers to ski. Having the right gear can also help such as a ski harness and an Edgie Wedgie (to keep ski tips from crossing).
Whistler Childcare
Unfortunately, the Whistler Daycare with its multiple on-mountain facilities is not able to open this season. If you would consider a Whistler babysitter instead, Babysitting Whistler is still open and serving the Whistler community.
12 Things to do in Whistler with Kids
Wondering what to do in Whistler with kids after the ski day is done? While there may be a few less Whistler family activities currently available than during a typical ski season, I still believe that you can have a lot of fun!
Even as I write this, I know that there are numerous people working in tourism for Whistler coming up with creative solutions to provide enjoyable Whistler activities for kids this winter, while still keeping everyone safe.
Note: As health and safety guideline are likely to change throughout the winter season, I encourage you to thoroughly read updated health and safety protocols for individual attractions prior to visiting (websites linked below).
1. Whistler Outdoor Skating Rink
Enjoy family fun at this fantastic outdoor covered skating rink. Admission is $2, skate rentals are $8, helmets and skating aids are loaned for free.
The rink is open daily, mid-December to end-March and for this season, admission will be limited to 30 people at a time.
The Whistler outdoor skating rink is located at Whistler Olympic Plaza (map). See website for hours and further details.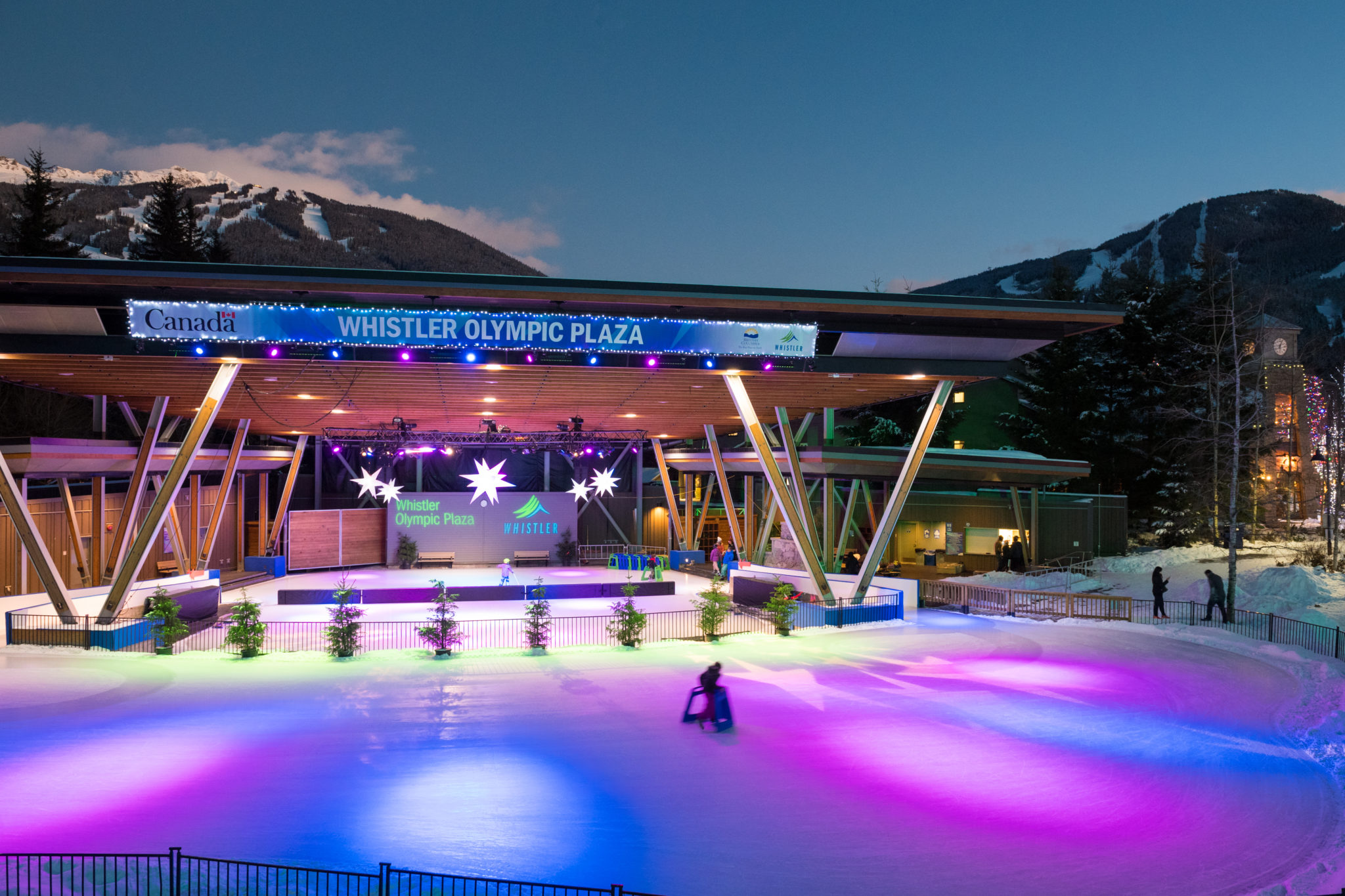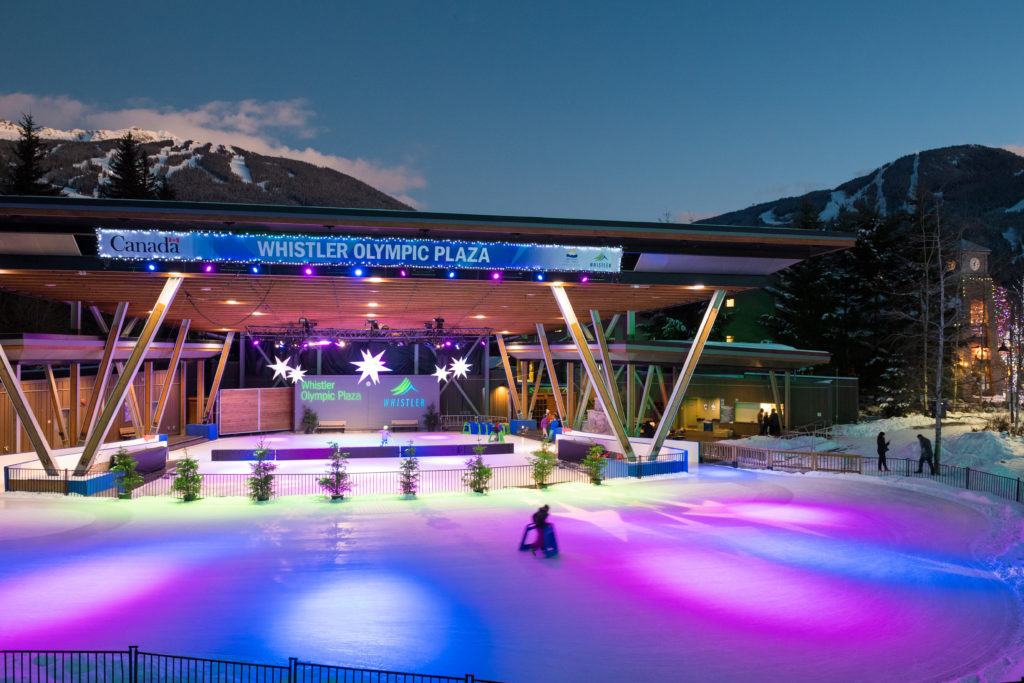 2. The Treehouse Playground
This picturesque Whistler Village playground is located right by Olympic Plaza. Conveniently, it is also surrounded numerous cafes (Starbucks, Blenz, Purebread etc.) and other kid friendly attractions (skating rink, library, toy store, and the candy store).
Note: In the deep of winter, this playground officially closes due to safety issues (ice). In my observations over the years, however, I have noticed that the signs are often ignored. It's a really nice playground and rather hard to resist for families visiting Whistler with toddlers and bigger kids alike.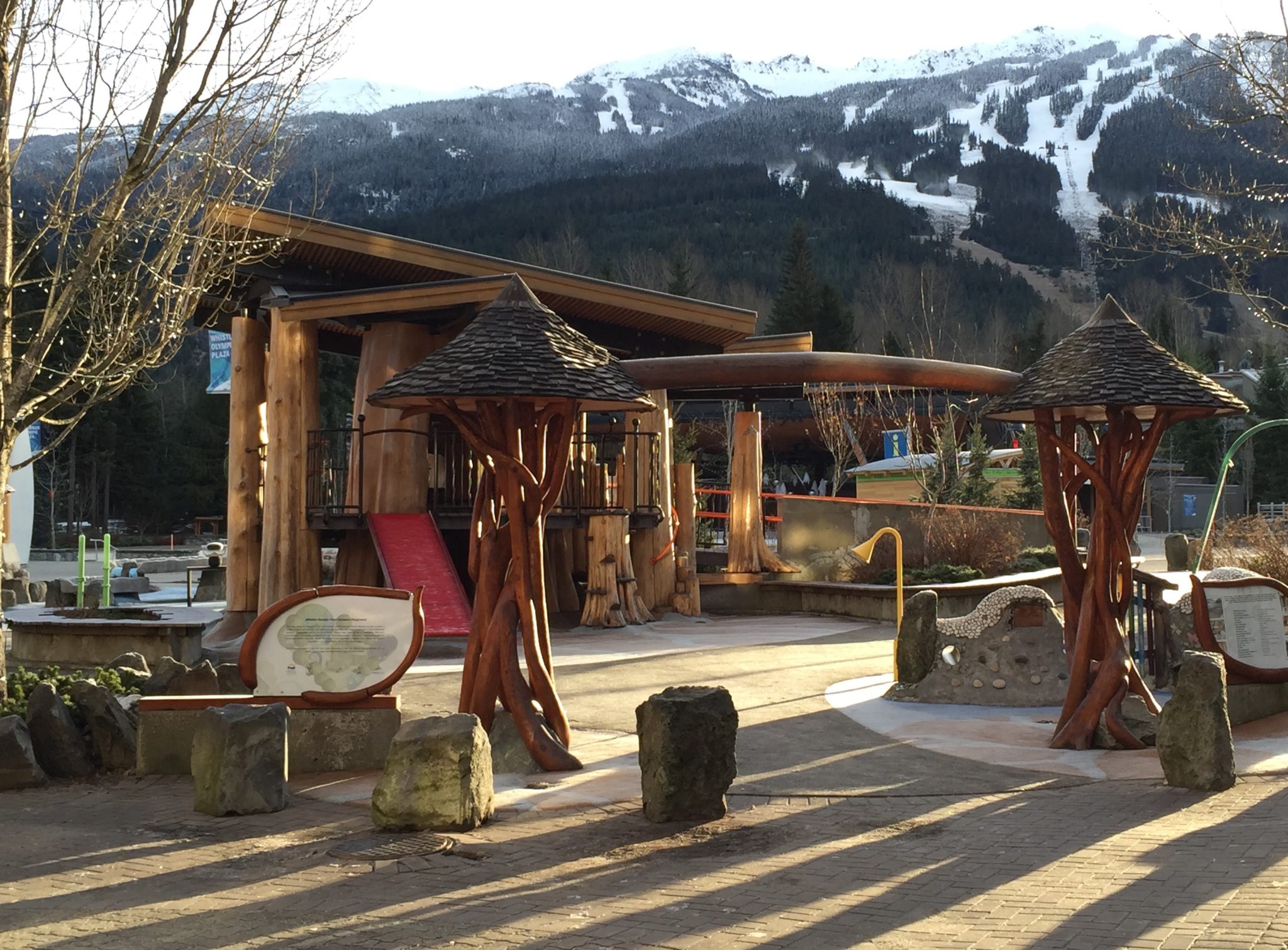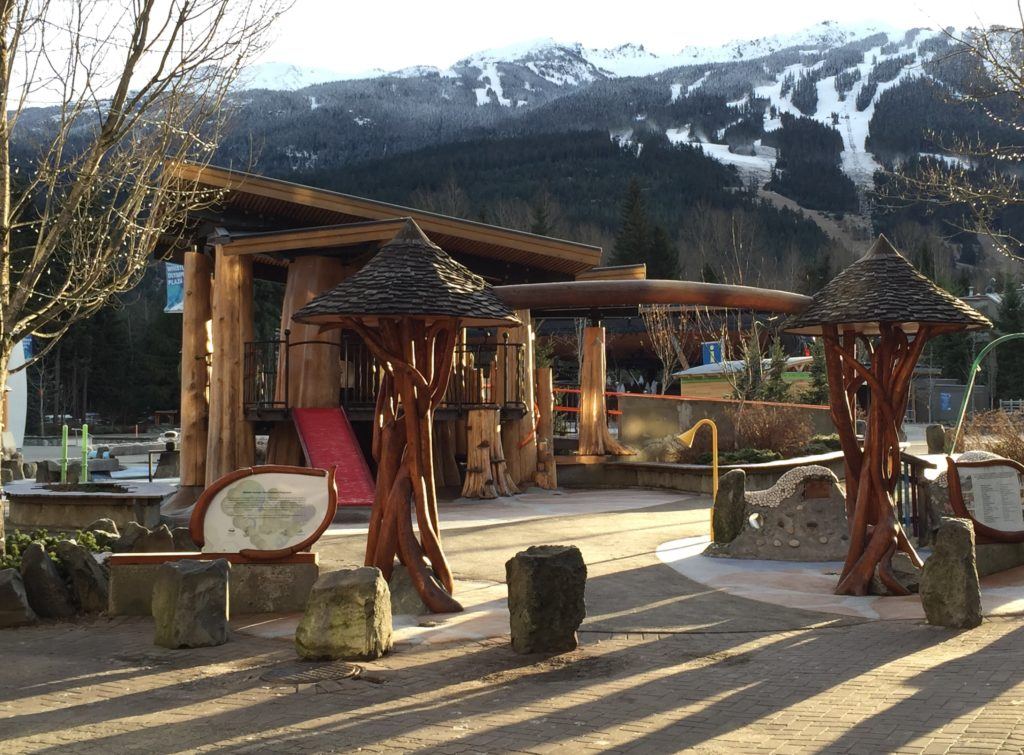 3. The Whistler Snow Zone
As they say, sometimes the best things in life are free. If there is a snow pile in Whistler Village, there are kids climbing and sliding on it. The best snow piles for kids in Whistler can be found within the Snow Zone at Olympic Plaza, between the playground and the outdoor skating rink.
What do you do if you don't have a sled? Naturally, someone has thought of this. At The Circle, a store not far from the Snow Zone, you can purchase a sled for $24.99 and when you return it, you will receive a $10 store credit (sleds are sanitized between each usage).
You can also purchase sleds at Whistler Hardware & Gifts. While this store is a little further away from the Snow Park than The Circle, if there is snow on the ground, towing your wee one to the park might be faster than walking.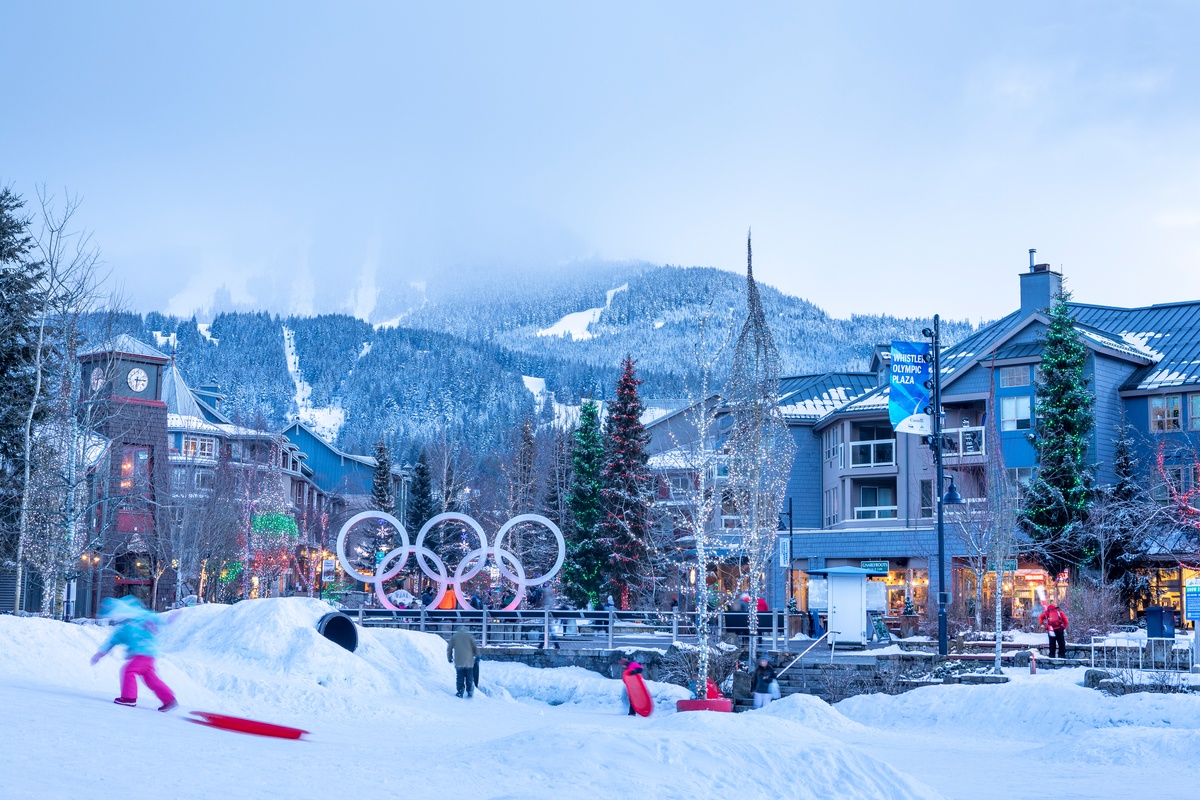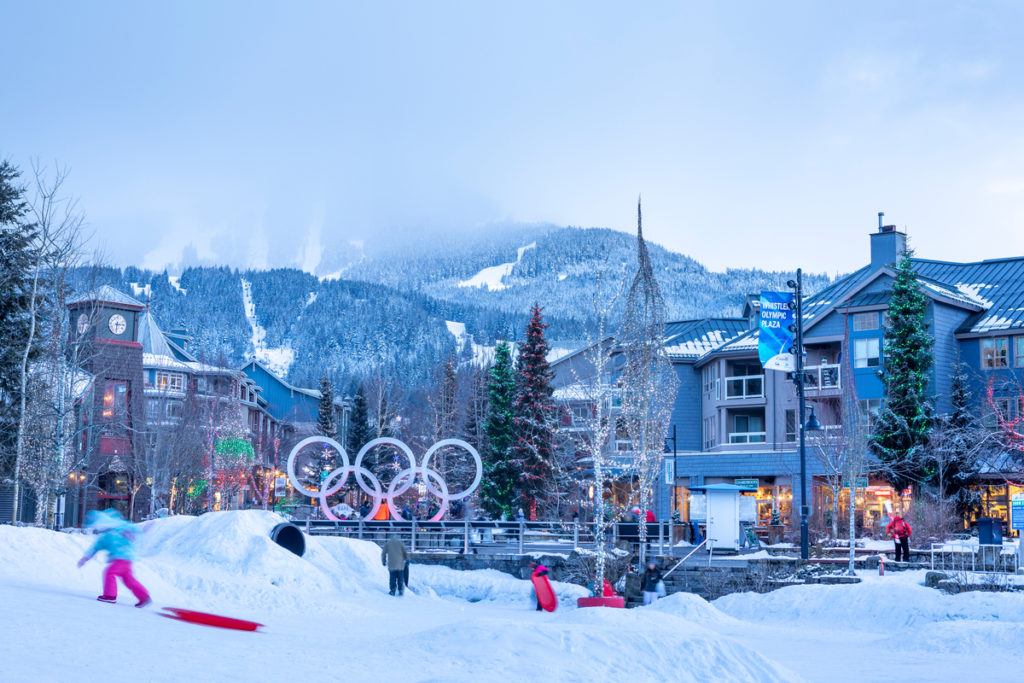 4. Explore & Experience Whistler
This season, Explore & Experience Whistler will replace Family Après – a popular twice-weekly afternoon event that included family friendly activities and entertainment around Olympic Plaza.
The Explore & Experience Whistler was safely tested during the summer and included live & local music, a fundraising art project and wellness activities. The programming is set to begin after Jan. 8th 2021 with details to be confirmed here.
5. Toys and Treats
Whoola Toys is a great stop if you need to pick up a Lego set, puzzle or game for your little one. Whoola Toys also happens to be located very close to The Great Glass Elevator Candy Shop and Olympic Plaza.
6. Vallea Lumina
Vallea Lumina is a unique attraction that involves a beautiful light show in a serene forested setting. The Vallea Lumina Winter Story begins on Nov. 27th.
While in past years a shuttle to Vallea Lumina has been available from the village, guests currently need to make their own way to the venue (a 10 minute drive from Whistler Village).
Tickets can be booked online at vallealumina.com (children 5 and under are free). See also reviews for Vallea Lumina on TripAdvisor.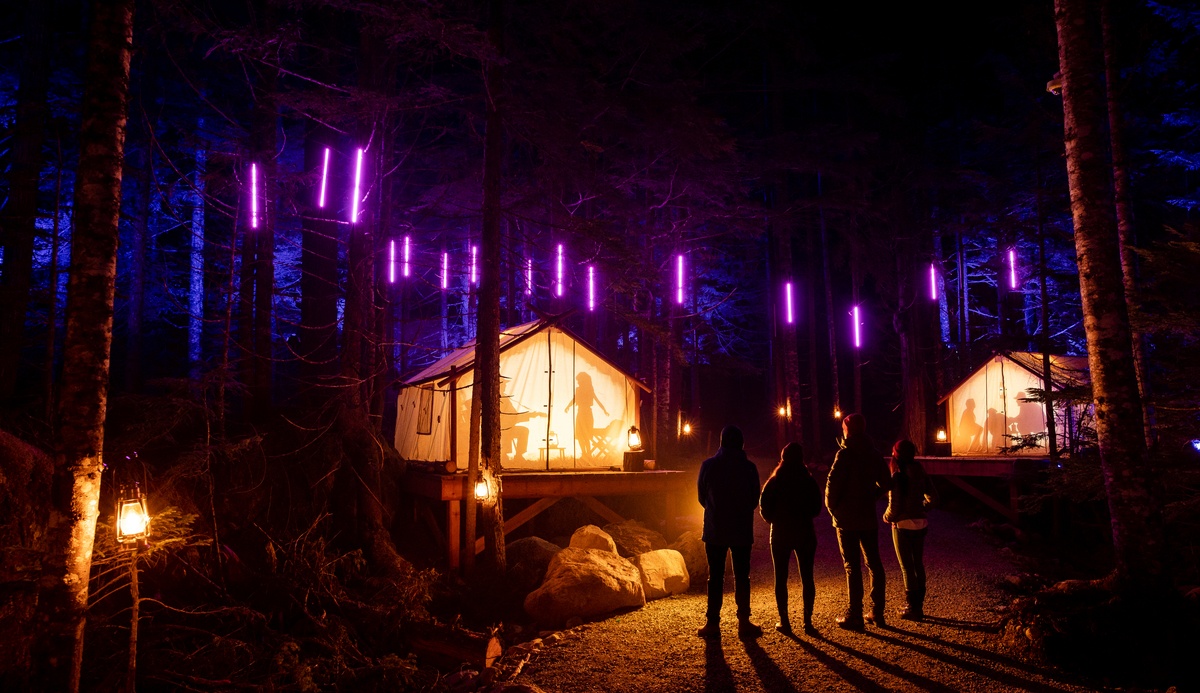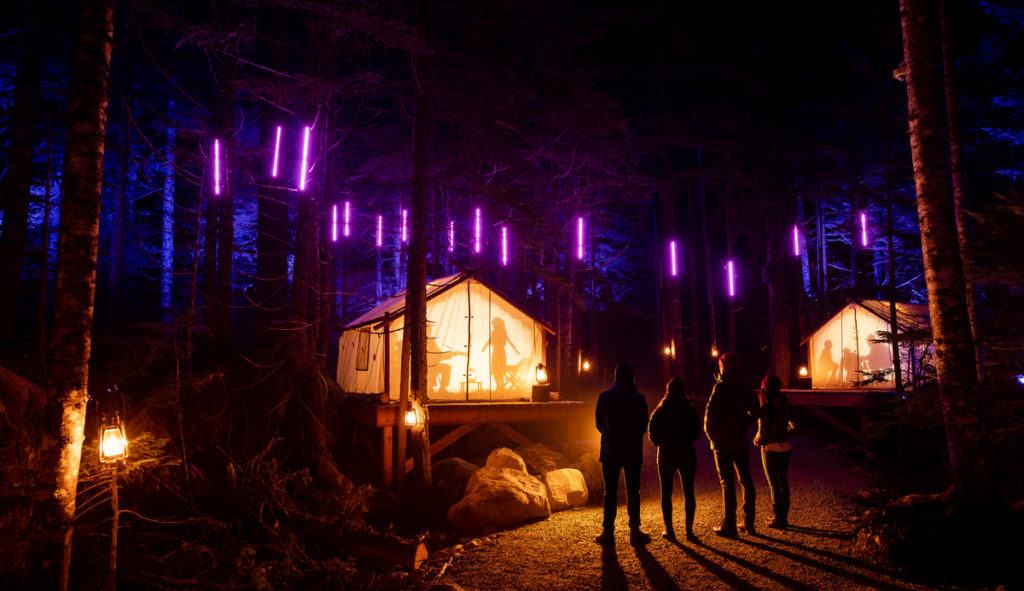 7. Winter Zip Lining in Whistler
There are two companies offering winter Ziplining in Whistler (with additional health and safety protocols).
ZipTrek Whistler offers the year-round exhilarating experience of flying through the treetops and over a canyon. Several different tour options are offered for kids 6 years and up, although to ride the super long Sasquatch line, guests must be at least 10 years old. Learn more on their website or read reviews for Ziptrek Ecotours on TripAdvisor.
Alternatively, just a 10 minute drive ride north of Whistler you will find Superfly Ziplines. This adventure center offers an exciting winter zip line tour taking guests through a winter wonderland of old growth forests. Kids must be 7 years and at least 60 lbs (27.3kg) to ride. Learn more on their website or read reviews for Superfly on TripAdvisor.
8. Whistler Snowmobiling
There are several companies running snowmobiling adventures in Whistler. Whether you are a family trying it for the first time, or more experienced riders looking for a full day backcountry adventure, you should be able to find the perfect adventure.
Please see the Tourism Whistler website for a list of snowmobiling providers.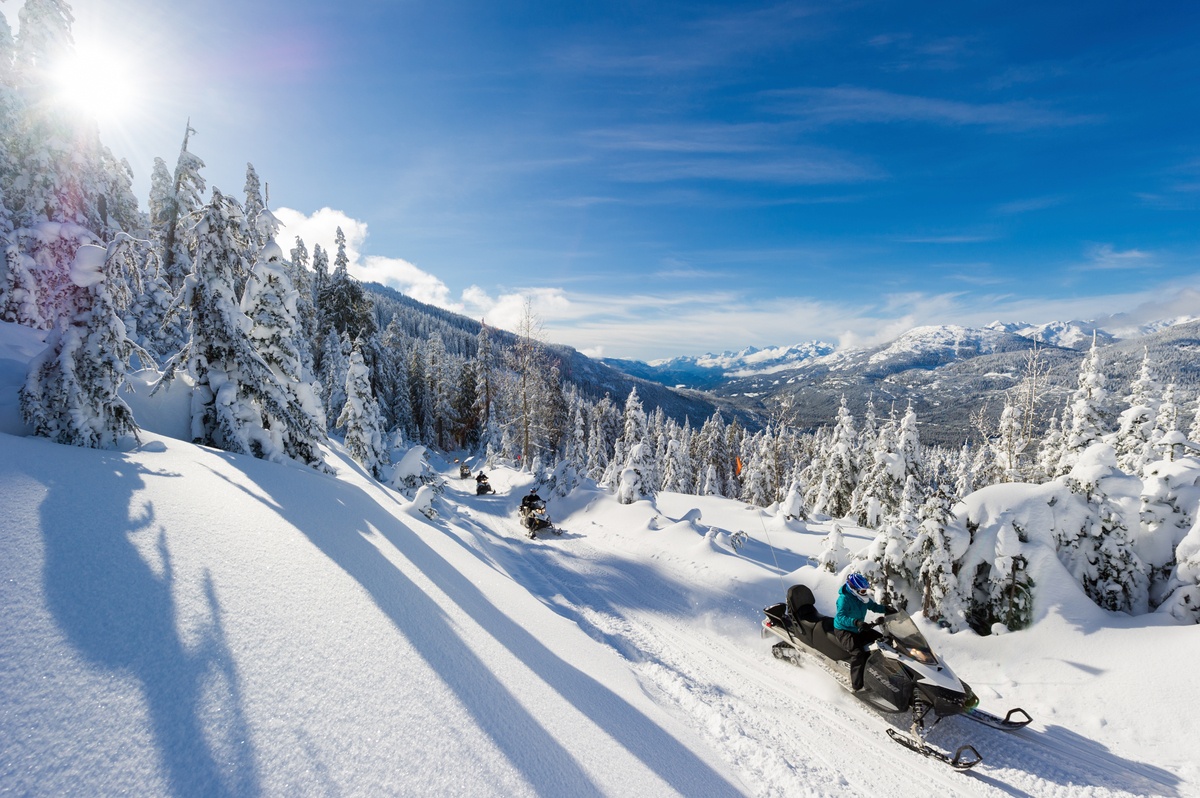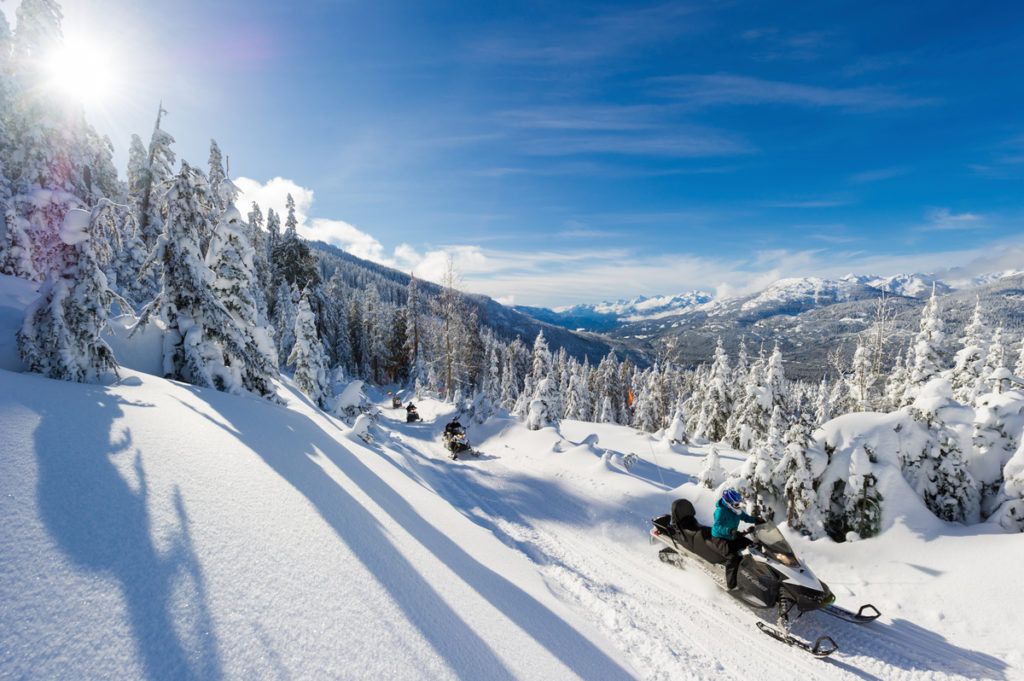 9. Nordic Skiing and Snowshoeing
In Whistler
Cross Country Connection is just a short walk from Whistler Village in Lost Lake Park and offers both private and family group lessons for classic cross country and skate skiing. They rent both ski equipment and snowshoes.
Lost Lake Park has 13km of snowshoe trails and 30km of groomed ski trails. Night skiing is available until 8pm. Trail passes are required for both snowshoeing and nordic skiing. They can be purchased from Passivhaus within Lost Lake Park (home of the Austrian team during the 2010 Olympics).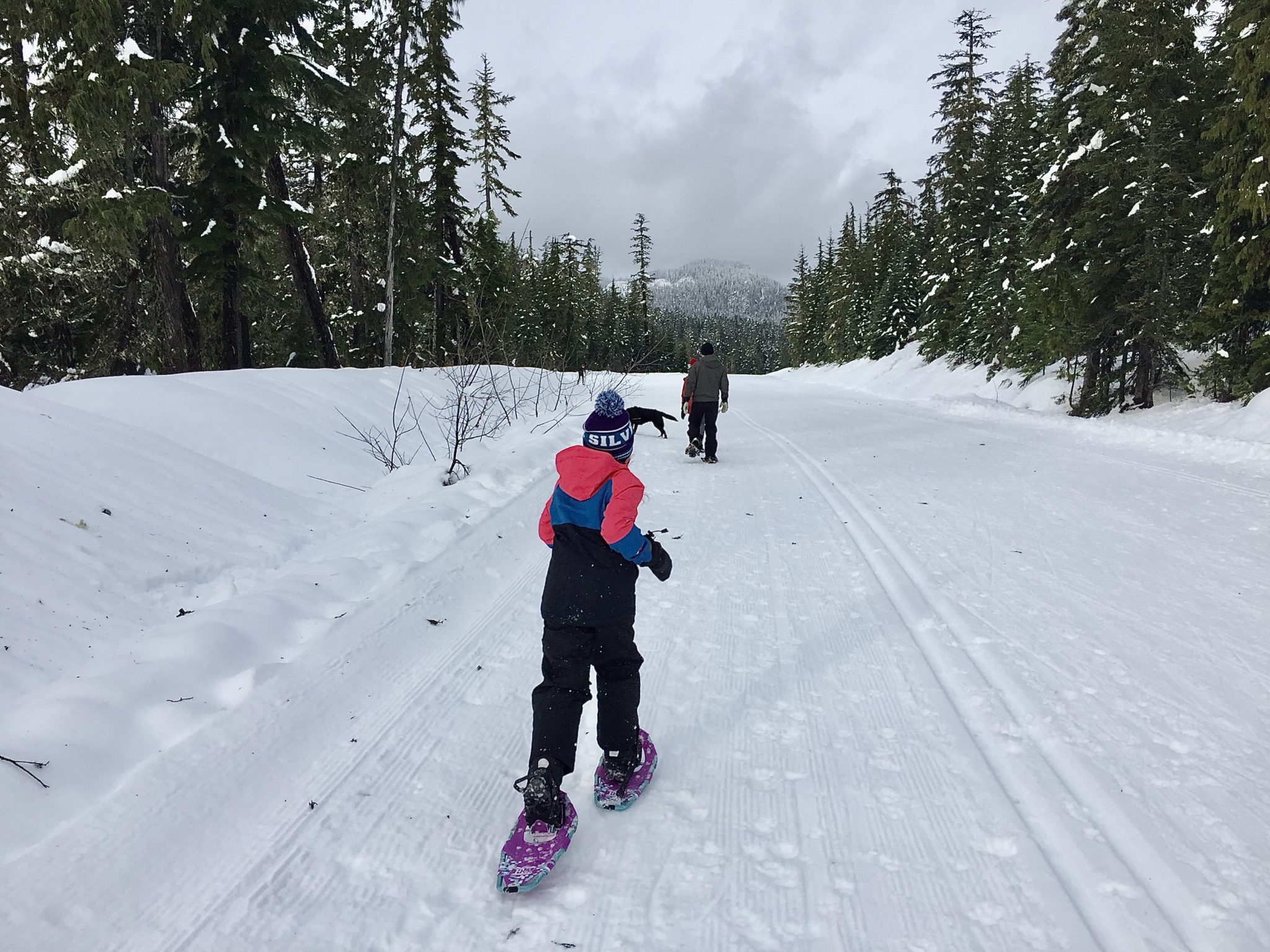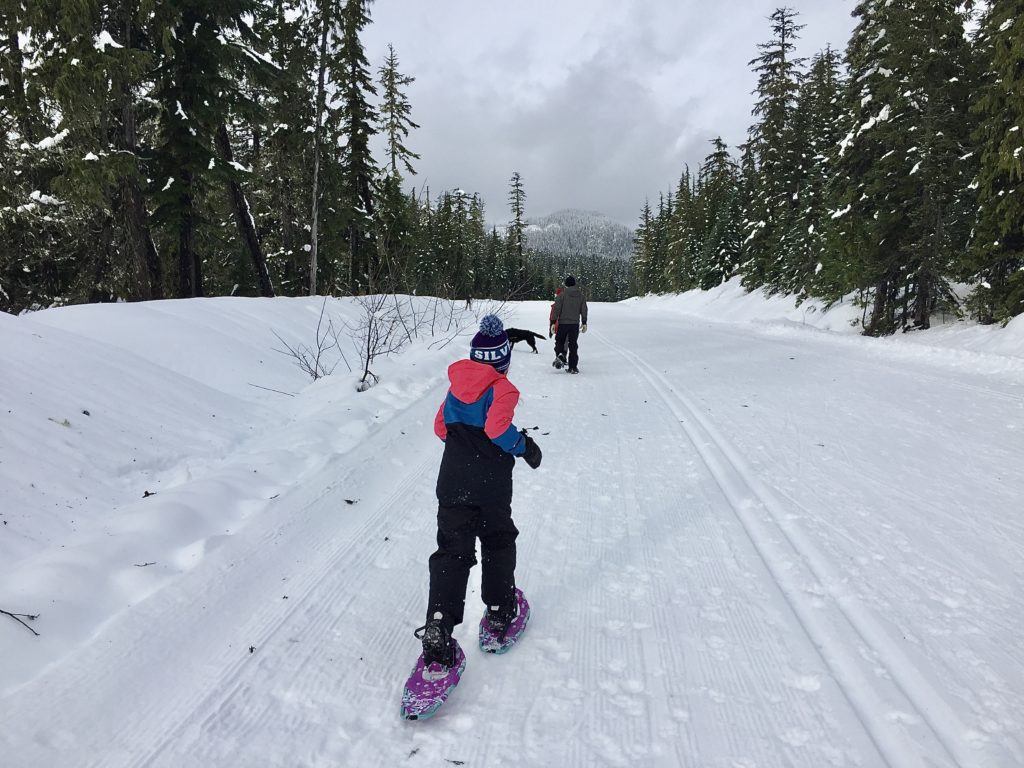 South of Whistler
Whistler Olympic Park (a 30 minute drive south of Whistler Village) offers hours on end of all-ages family fun with one convenient pass (cross country skiing, skate skiing, snowshoeing and more).
You can even bring the family hound along on certain dog-friendly trails! The Whistler Olympic Nordic Centre has all your equipment rental needs taken care of (including baby Chariot rentals). See website for more information or read reviews on TripAdvisor.
Please note: In the past, tobogganing and sled rentals have been available at Whistler Olympic Park. Unfortunately, that has been suspended for this season.
10. Escape Whistler
Escape Whistler is a real-life gaming experience where groups of 2 to 6 people are placed inside a themed room. Groups are presented with puzzles, riddles, and clues – working together to solve them within 45 minutes in order to "Escape" from the situation.
Themes include The Pirate Ship, The Pinball Machine, The Buried Cabin and The Rabbit Hole. Escape Whistler is conveniently located right in the heart of Whistler Village, near the Whistler Village Gondola (see map). Children 12 and under must be accompanied by an adult. See website for more details or read reviews on TripAdvisor.
11. Village Cinemas
Enjoy a movie with your family when you are not on the mountain. With eight theaters, there is usually at least one "G" movie playing. See website for showtimes.
Mask are required within the theatre, tickets must be purchased online and seating capacity is limited for adequate guest distancing.
12. Tubing in Whistler
The Bubly Tube Park is great fun for the whole family and wonderful for kids who still have energy to burn after a day on the mountain. Kids must be at least 3 years, 36″ tall and accompanied by an adult if under 12 years.
The tube park is located at Blackcomb Mountain (Base2) with access from the Excalibur Gondola. For this season, the tube park is set to open on December 12th, 2020 with more details to come about ticketing. See website for more details or read reviews for the tube park on TripAdvisor.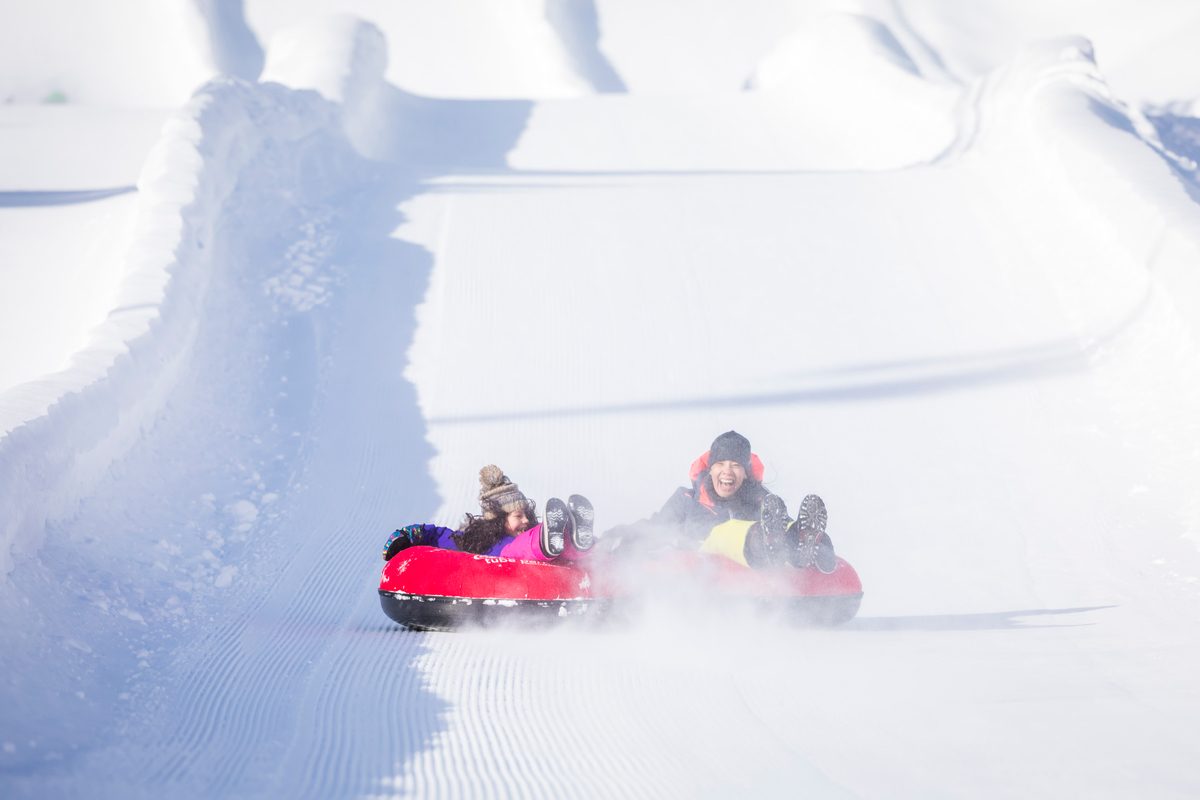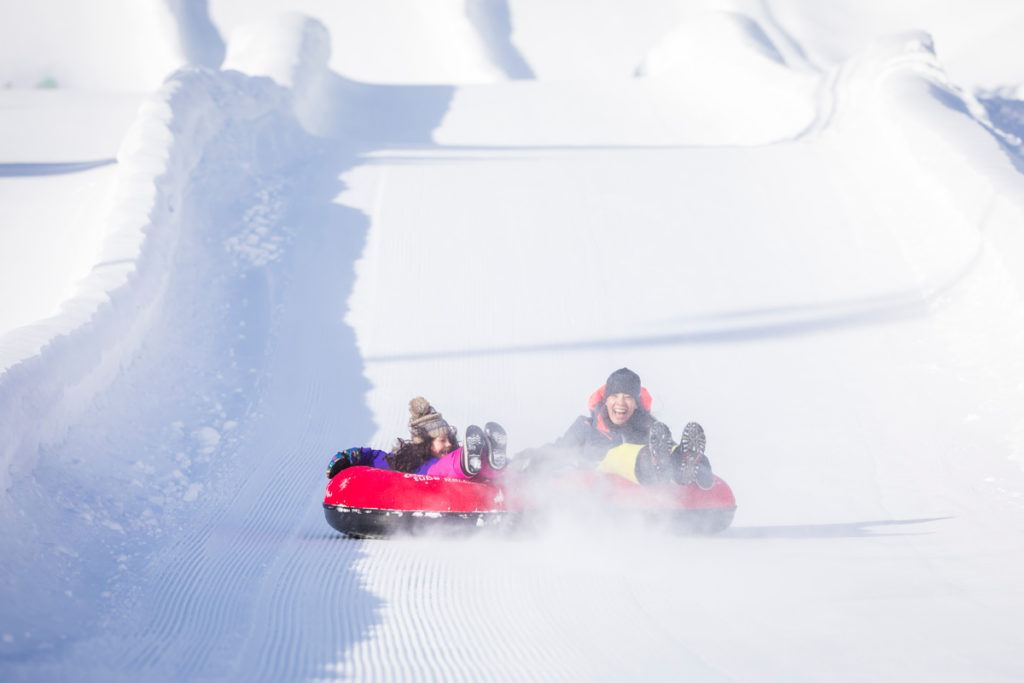 Whistler Family Accommodation
Most Whistler hotels are very family friendly and there are huge number to choose from. The majority of the hotel properties are centered around the lively epicenter of Whistler Village. While this location is handy, some families (including ours) prefer to stay in the quieter Upper Village, just a short 10 minute walk through the forest.
I actually have quite a lot to say about where to stay in Whistler with kids (see post on Best Whistler Family Accommodation) but I have listed my top 5 hotel picks below (and yes, they all have the all-important pool amenity that is so critical to the success of a family trip).
Whistler Family Hotels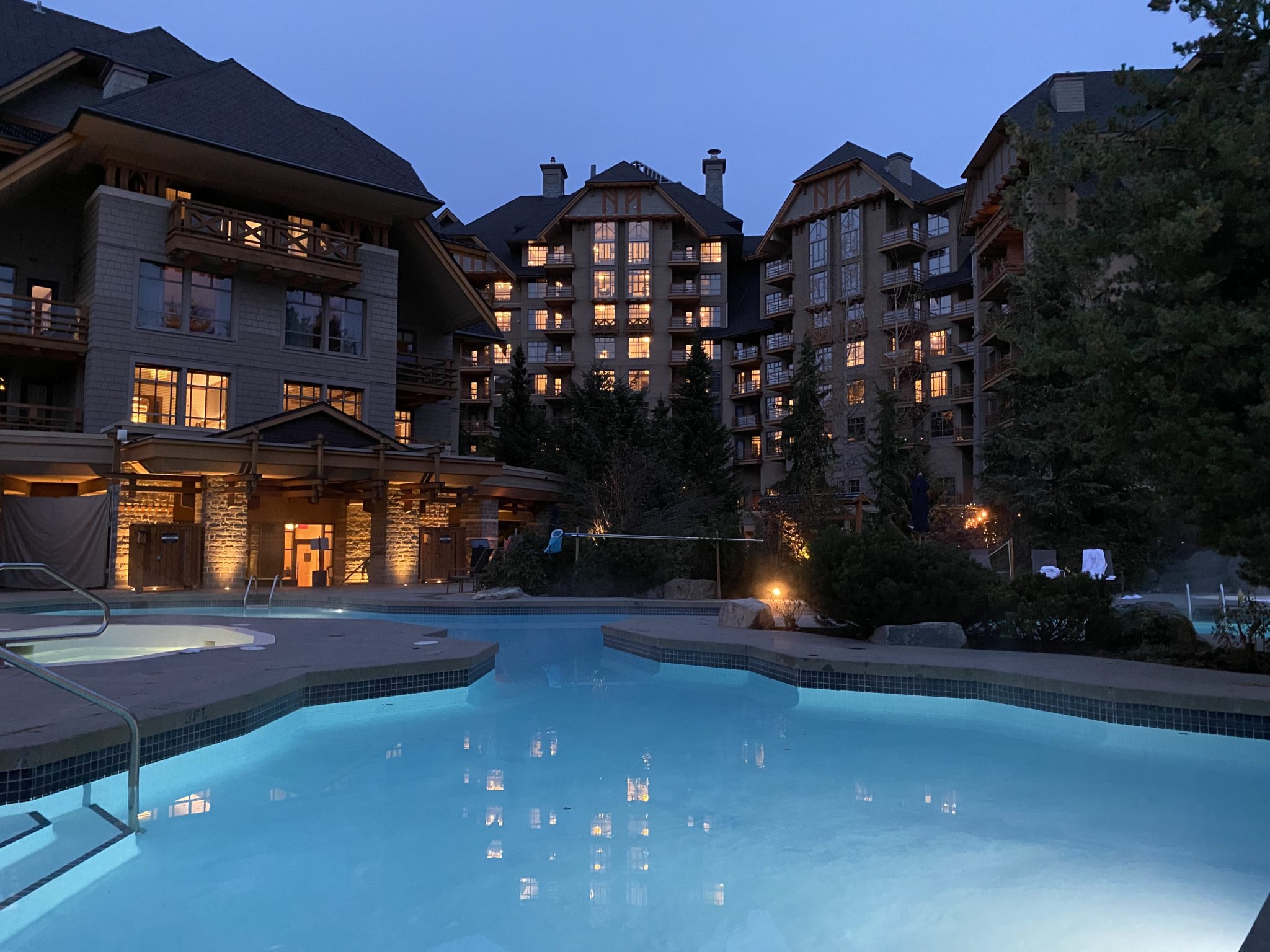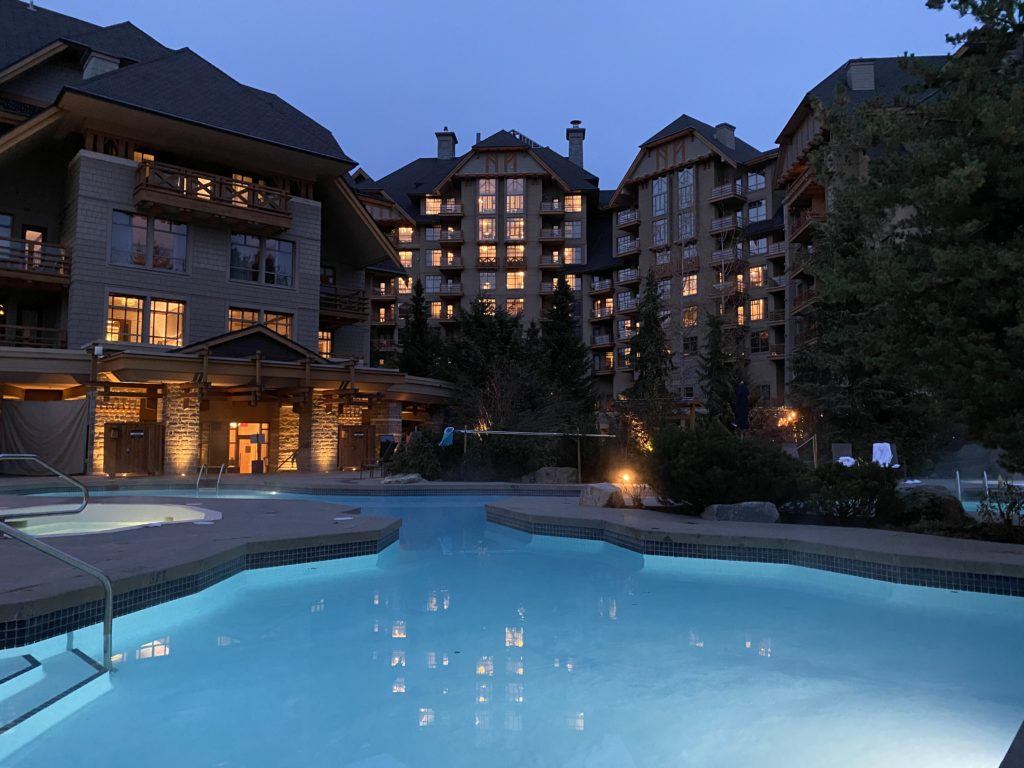 The Fairmont Chateau Whistler (Upper Village) – See TripAdvisor reviews or check rates on Booking.com.
The Four Seasons Whistler (Upper Village) – See TripAdvisor reviews or check rates on Booking.com.
Pan Pacific Whistler Village Centre (Main Village) – See TripAdvisor reviews or check rates on Booking.com.
The Summit Lodge (Main Village) – See TripAdvisor reviews or check rates on Booking.com.
First Tracks Lodge (Creekside) – See TripAdvisor reviews or check rates on
Booking.com.
Whistler Vacation Rentals
VRBO and Airbnb all list hundreds of family vacation rentals in Whistler. If you have never rented from Airbnb before, the following link will give you a credit of up to $72 USD ($95 CAD) when you book your first Airbnb vacation rental.
If you need to rent baby gear in Whistler, Baby's on the Go has a good selection and has been serving Whistler visitors for over 25 years.
Whistler Family Friendly Dining
Looking for the best family friendly restaurants in Whistler? The great thing about eating out with kids in Whistler is that it is a resort town so almost every restaurant is prepared to pull out a high chair or some colouring pages if needed.
Please see the following list of my favourite kid-friendly Whistler restaurants. My preference leans towards restaurants that have good-to-great food (a major priority for me), that take reservations, and ideally have a kids' menu.
Note: Due to the current health situation and capacity limitations, some restaurants are only offering take out at this time. For dining in, I strongly recommend advance reservations.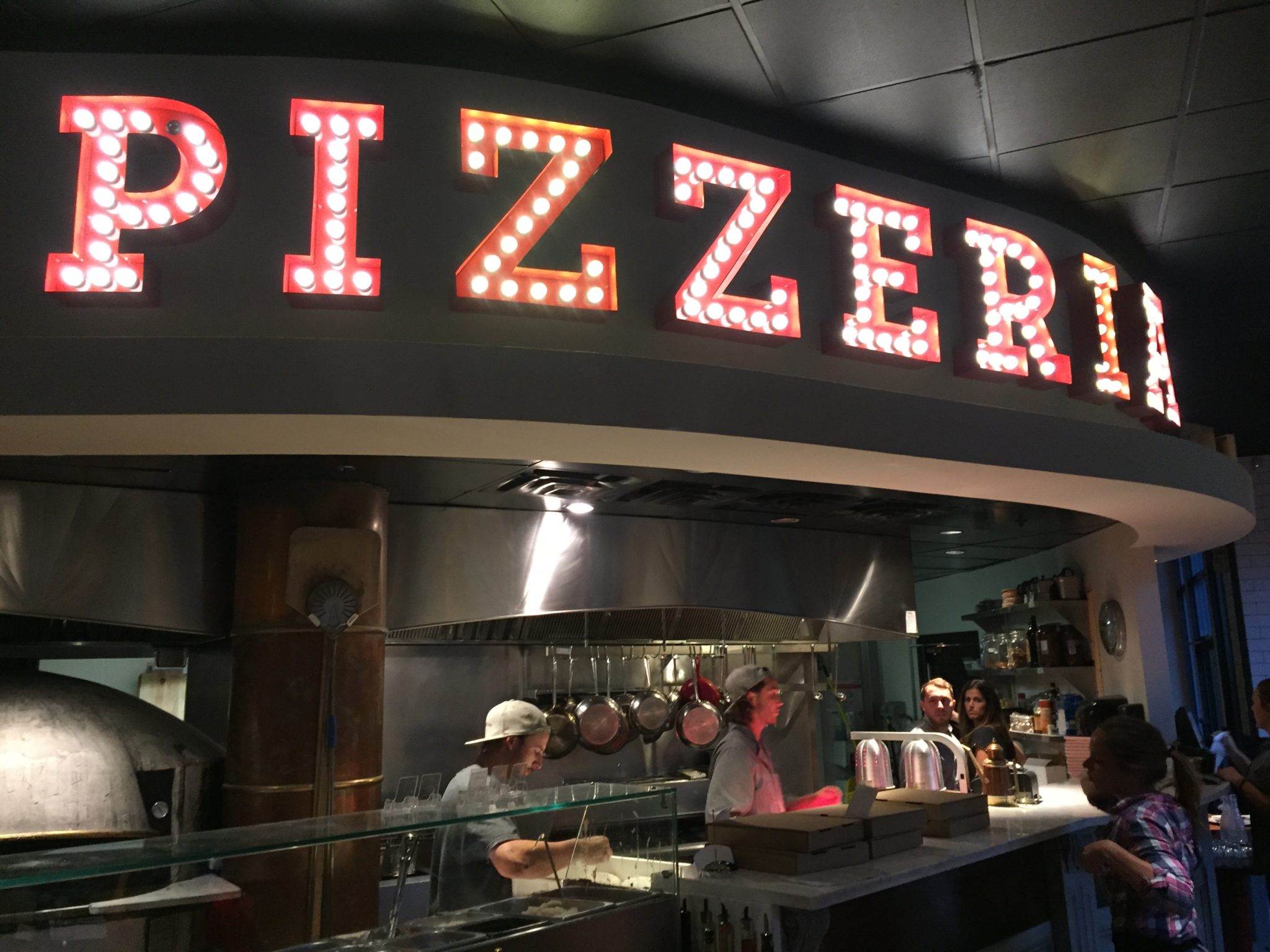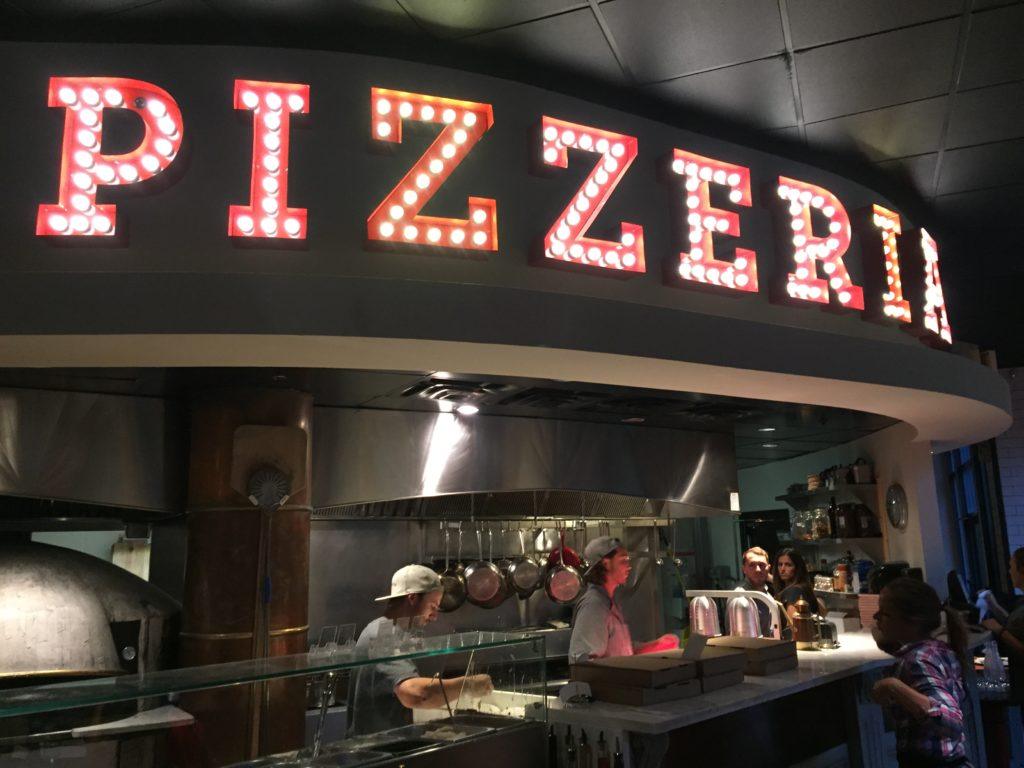 Family Restaurants – Whistler Village Base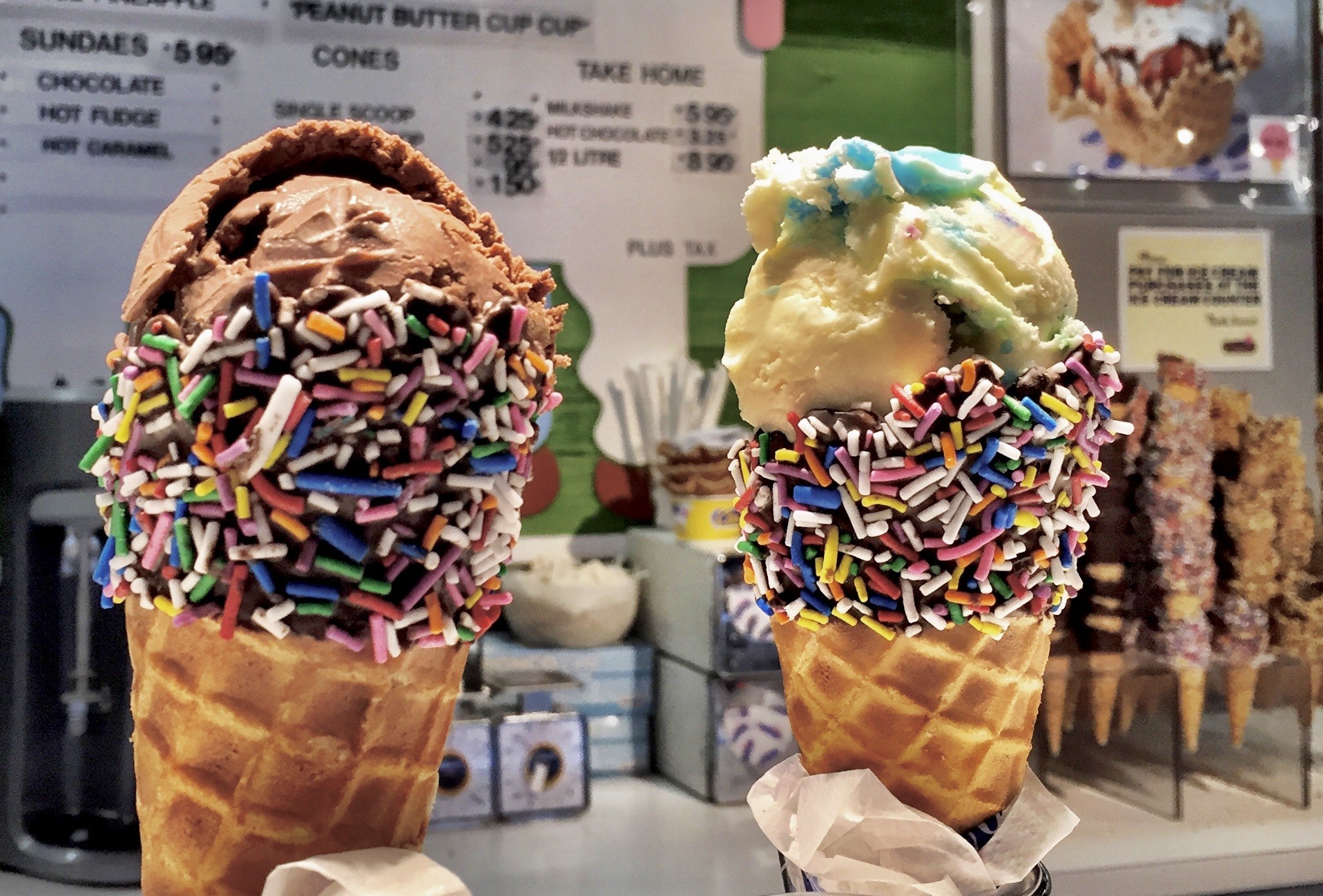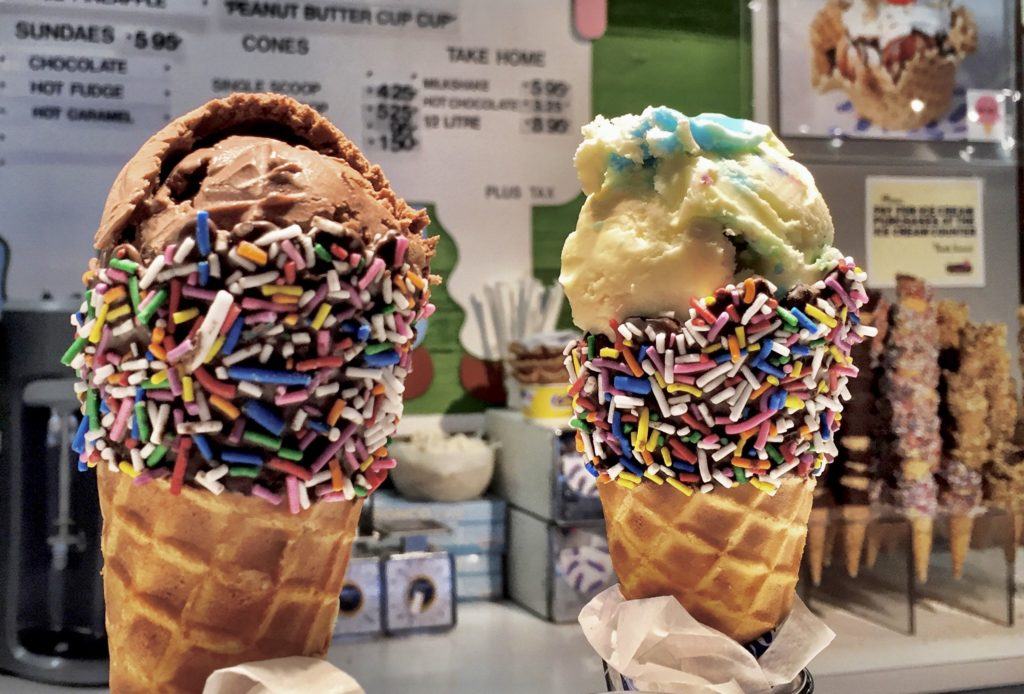 Whistler Family Restaurants – Creekside
Whistler Family Restaurants – Upper Village
Food Delivery Whistler
Companies like UberEats and Skip the Dishes do not currently operate in Whistler. For a full list of restaurants offering food delivery service in Whistler, however, please see the Whistler.com website.
Grocery Delivery Whistler
If you want to stock up with a few provisions but would prefer to skip the grocery store, Fridge Full from Whistler Cooks will delivery everything from basic groceries to full meal kits (including a Christmas dinner to-go).
Further Reading