Last update: October 27th, 2022 at 08:44 am
Top Things to do in Provence with Kids
After a few exciting and action-packed days in Paris with kids, our family boarded a train to Avignon, rented a car, and spent three gorgeous days relaxing in Provence. In my typical style, I spent countless hours researching Aix en Provence for kids. Watch our 1 minute video to see what we discovered and enjoyed, or just read on.
1. Pont du Gard Aqueduct
Not only is Pont du Gard a great place to visit and admire a nearly two thousand year old Roman aqueduct, it is also a lovely place for a picnic and a dip in the river (should water conditions allow).
My husband and daughter loved the experience of swimming in the Gardon River right underneath the ancient aqueduct. Pont du Gard also has a museum, cinema and several cafes. For more information, see the Pont du Gard website.
Note: There is not a lot of shade at Pont du Gard so be sure to bring your sunscreen and hats!
2. Château des Baux de Provence
The remains of this fortified castle built in the 10th century are simply magical for children of all ages. Before visiting, be sure to check the schedule of events at the castle, including the launch time for the largest trebuchet in Europe.
A visit should include time to meander the streets within the walls of the fort, to grab an ice cream or shop for local goods. We left the castle overloaded with french soap, cakes, local cheese and more. For more information, please see the Les Baux-de-Provence website.
3. Carrières de Lumières Art Exhibition
Carrières de Lumières is quite possibly the most beautiful presentation of art I have ever seen. Set in an old quarry, a seasonally selected artist's works are projected onto the stone walls in a 20 minute presentation set along to music. You can move throughout the quarry to enjoy the show from unique vantage points.
My children (who are not lovers of art galleries in general) both said that the Chagal show was one of the highlights of their trip. As the show is presented in the dark, and the music is quite loud, some young children may find it a little overwhelming. If you enter the quarry between shows when there is a short break, however, it might be an easier transition for them.
Learn more from the Carrières de Lumières website.
Note: Carrières de Lumières is located very close to Château des Baux de Provence. It makes for a great place to visit after the castle, as the quarry is very cool inside. If you buy your tickets to Chateau des Baux at the gate (rather than online), you can purchase a discounted combination ticket for both attractions.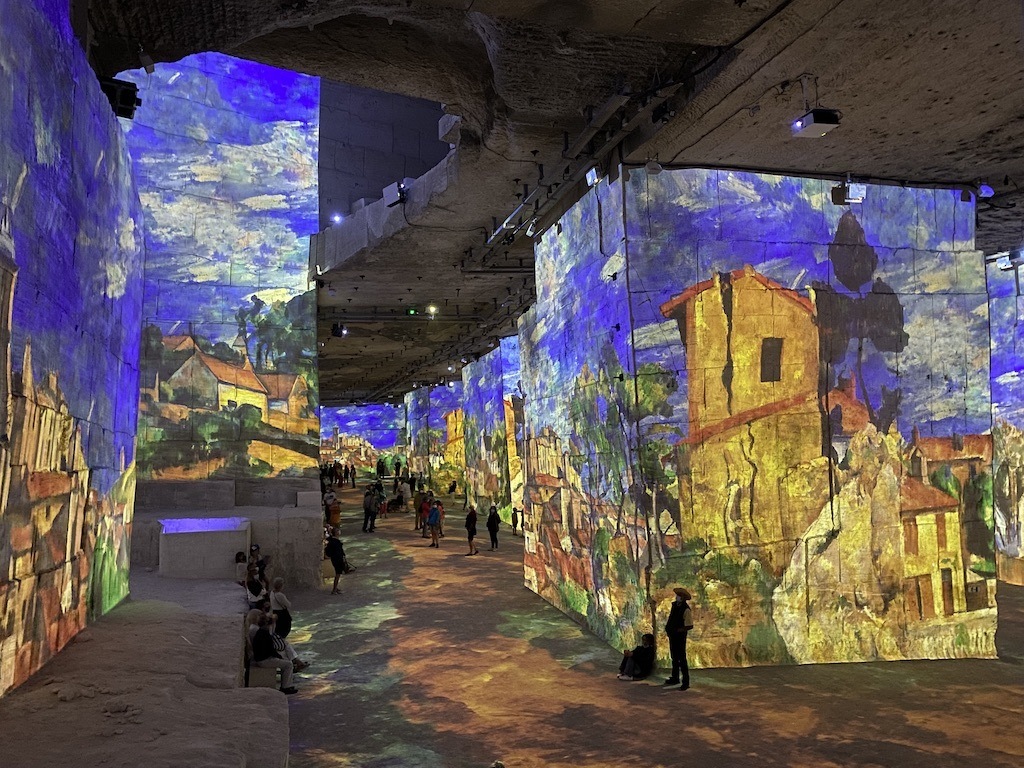 4. The Lavender Fields of Provence
Between June and September, the Luberon region of Provence is awash with the colour purple. From lavender soap to lavender sorbet, you would be hard pressed to miss it. Lavender lovers may wish to visit the Lavender Museum in Coustellet. Alternatively, visit the beautiful Sénaque Abbey, where the monks grow lavender, tend to their bee hives, and produce lavender honey.
Note: If you would like to see inside the abbey, silence and conservative dress is expected.
5. The Hilltop Villages of the Luberon
While postcard perfect Gordes is probably the most well known hilltop town in Provence's Luberon region, there are actually several dozen villages to explore. Visit colorful Roussillon for its houses made in varying shades of ochre. Antique collectors will delight in the treasures to be found in Ile-sur-la-Sorgue.
Those looking for a quieter hilltop village will fall in love with quaint Goult, with its lovely views, charming restaurants and tour-bus free ambiance. You may want to tie your visit to a Provence hilltop village in with their market day. See this link for a full list of Provence daily markets.
Getting to Provence, France
The TGV (Train à Grand Vitesse) is one of the easiest ways to get from Paris to Provence. In our case, we took the train directly from Gard de Lyon in Paris, to Avignon, where we picked up a rental car. As we did not plan on returning to Paris, we returned that car to the Nice airport where we flew out and continued on our travels. To save money, book your TGV tickets with Rail Europe as early as possible (the price changes based on availability).
While in Provence, we stayed in the tiny village of Goult at a lovely bed and breakfast called Lou Baou. We chose it because we are fans of family-friendly boutique hotels and we liked the fact that it was situated in a very quiet village. It also receives excellent reviews from guests on TripAdvisor. You will also find tons of beautiful Provence vacation rental properties (including gorgeous chateaus) on VRBO and Airbnb.
Further Reading