Last update: May 1st, 2023 at 07:17 am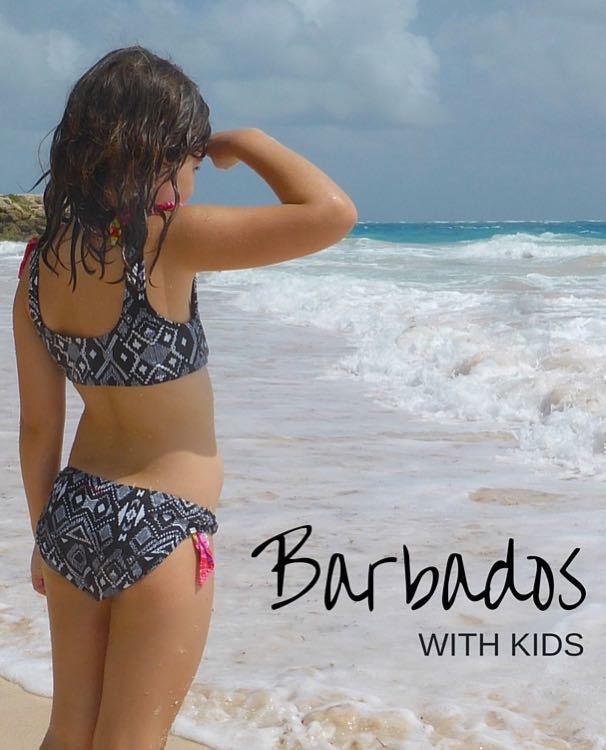 Affiliate Disclosure: This post on Barbados with kids contains affiliate links. If you click a link and make a purchase, I may receive a small commission at no cost to you. All opinions are entirely my own.
Barbados with Kids – An Introduction
I want to start this post off by saying that I am a little biased when it comes to Barbados. We first visited this beautiful Caribbean island with a baby and toddler in tow. During their daily naps, I would sit on a porch staring at the ocean, plotting my next career move (that I really wanted to involve self-employment).
Those roughly etched out notes, from those long afternoons, (creatively encouraged by a dose of Bajan rum punch), would eventually become the framework for this site.
It has been with great enthusiasm that we have since returned to Barbados several times – crafting and improving upon this guide to a Barbados family vacation. We have immensely enjoyed the island for its unique character and culture, incredible beaches, caves and gardens, abundance of wildlife and excellent Bajan cuisine. We know you and your family will love it too!
Please use the following menu to find the top Barbados kids attractions, inspired kid-friendly places to dine, the best Barbados family hotels, as well as some helpful tips for visiting the island. Can't wait to see what it's like? Start with our 1 minute video.
Barbados for Kids Video (1 min.)
Important: Please see Visit Barbados Covid Travel Guidelines for the most up-to-date entry requirements.
10 Best Things to do with Kids in Barbados
1. Barbados Wildlife Reserve
We like this place so much that we sometimes visit twice! Barbados Wildlife Reserve allows kids to enjoy a close-up encounter with some of the island's wildlife including green monkeys, iguanas and tortoises.
The best time to visit is around the 2pm feeding when the monkeys come down from the treetops. Be sure to take the short little stroll up the path to the Signal Station for beautiful views of Bathsheba on the east coast.
If you are interested in island tours that include the Barbados Wildlife Reserve, take a peek at these ones on Viator. See also Tripadvisor reviews for the reserve.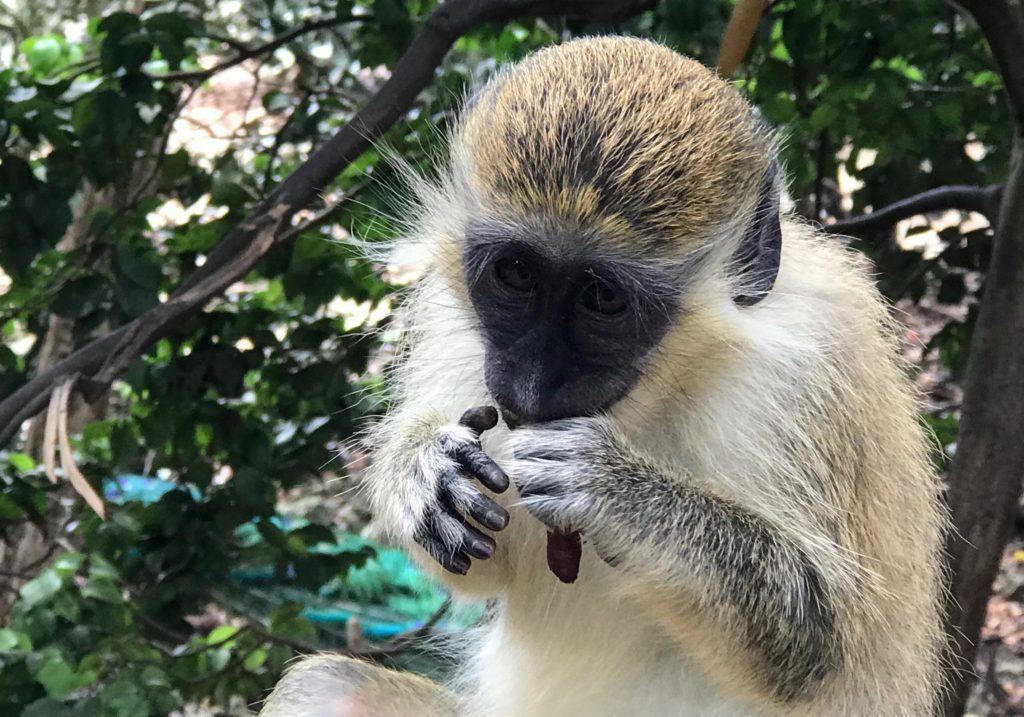 2. Swimming with Sea Turtles
There are a variety of ways to see sea turtles while visiting Barbados. We had been told that they tend to hang around out in front of the Lone Star Hotel on Alleynes Bay, so we used the many boats as a cue and just snorkeled out 75 meters from the beach to see them.
With little ones, however, you may prefer to book a boat tour. There are some good glass bottom boat tours leaving from Carlisle Bay and Paynes Bay ($55-105 USD per person). For children that are comfortable snorkeling, there are also some fun Barbados swim with turtles boat trips. See Viator shared tour or private tour options.
Honestly though, sea turtles aren't that hard to find in Barbados. One evening we were even able to feed them off the dock while attending the famous Oisten's Fish Fry (more on this later). We purchased scraps from the local fish vendors ($5) and the turtles just appeared at the end of the dock as we tossed the fish in.
3. Best Barbados Beaches
West Coast Beaches
The most gentle beaches for kids are on the west coast of Barbados – also known as the Platinum Coast. Some of our favourites include Mullins Bay, Alleynes Bay and Paynes Bay.
The kids have also enjoyed doing a little snorkeling at the Folkestone Marine Park (just north of Holetown). In addition to pretty fish near the shore, this nicely shaded area has a playground and occasionally, green monkeys playing in the trees.
South Coast Beaches
One of the most beautiful beaches on this island is Crane Beach on the south coast (often rated as one of the top beaches in the world). While the waters there are much wilder than on the west coast, my kids love jumping the waves and building sandcastles on this beautiful expanse of sand (we keep them very close to us due to the currents).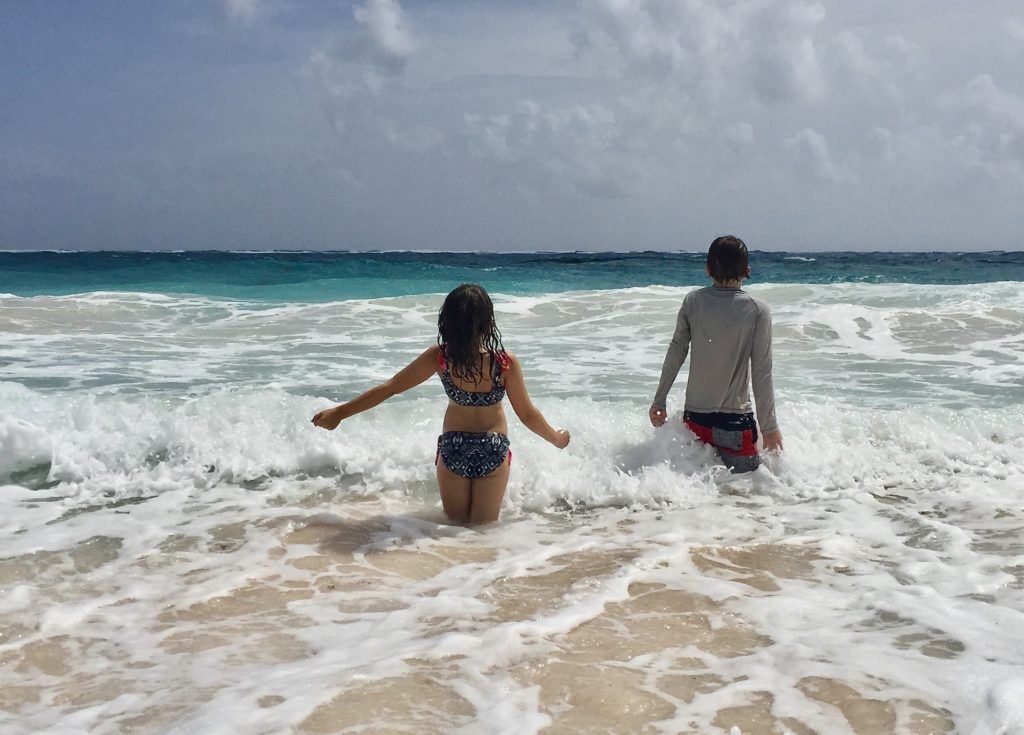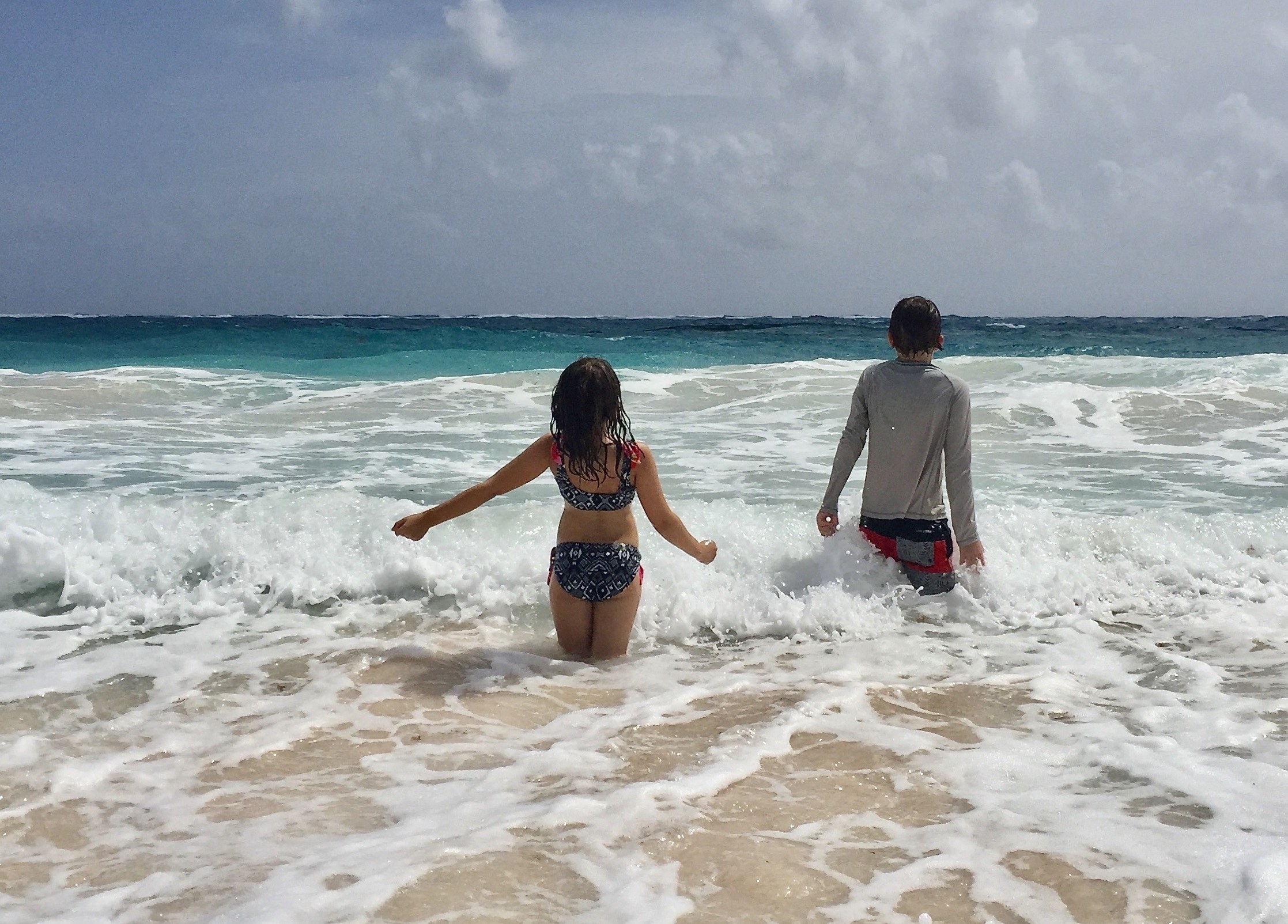 Just up the road from this beach is the delicious deli Cutters, with great food and the best rum punch on the island (IMHO). If you call ahead, they can make you a picnic for the beach.
East Coast Beaches
The east coast beaches are beautiful, but wild – great to look at but no good for a family swim.
Barbados Beach Chair Rentals
On most beaches in Barbados you will find beach chair and umbrella rentals. The day rate for 2 chairs and an umbrella is typically about $25 USD.
Sargassum Seaweed Alert
In recent years, large blooms of this unattractive (and smelly) seaweed have washed up on many Caribbean beaches – most prominently on the east side of islands. Fortunately, with every passing year, the islands have become much better at removing it quickly before it starts to rot (and smell).
The scientific community seems to agree on two things. 1. We can expect the seaweed to be an ongoing issue. 2. The likely cause is due to climate change or water pollution.
In Barbados, the seaweed tends to wash up on the east and southern coast, leaving the west coast beaches relatively seaweed-free. That said, my kids didn't seem bothered by the seaweed at all!
See also: Tips on how to avoid sargassum seaweed in Barbados
4. Harrison's Cave
Carved into the limestone that uniquely makes up the island of Barbados (the rest of the Caribbean islands are volcanic), Harrison's Cave provides a unique look under the surface.
Via a 30 minute underground guided train trip, you get to see the crystalized limestone formations and stream system that carved out these incredible caverns.
Learn more on the Harrison's Cave website . If you have not rented a car on Barbados, Viator has a selection of tours that included the cave (Best of Barbados Tour) as well as a Full Day Private Island Tour (up to 4 people).
Coming soon: Harrison's Cave is currently in the process of being transformed into an outdoor enthusiast hub for 2022! Additions to the newly renamed Harrison's Cave Eco Adventure will include a dry slide, a free-swinging bridge across the gully, a zipline, a freefall tower, a challenge course, and an adventure zone.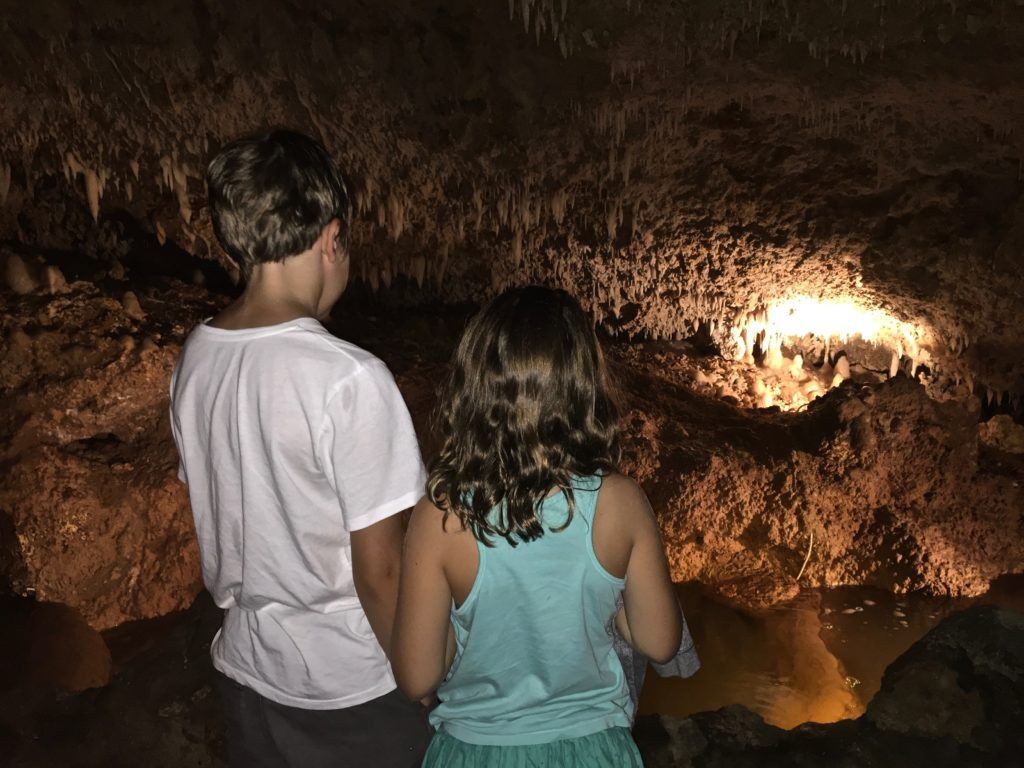 5. Hunte's Gardens
Not far from Harrison's Cave are the beautiful gardens of legendary horticulturist Anthony Hunte. His collection of tropical plants is quite astounding, not just for its variety, but also for its artistry.
I will fully admit that I do not have a green thumb. I took my gardener mother there on our last trip however, and she declared it to be the most beautiful tropical garden that she had ever seen.
Along with the kids, we very much enjoyed winding our way through the shady paths to a soundtrack of some lovely classical music. It should be noted, however, that the environment is rather quiet and serene. With young children, you may prefer the nearby Flower Forest.
A visit to the gardens is not complete without having a piece of homemade cake and ginger lemonade on the veranda of Mr. Hunte's house. It is here you will often have the opportunity to meet Mr. Hunte himself, who is an amusing and charming host. Learn more at: https://huntesgardensbarbados.com and read recent Tripadvisor reviews.
Note: Hunte's Gardens are in close proximity to both Harrison's Cave, Welchman Hall Gully (nature walk and monkeys) and the Flower Forest if you want to make a day trip out of your visit. See also Viator day tour options.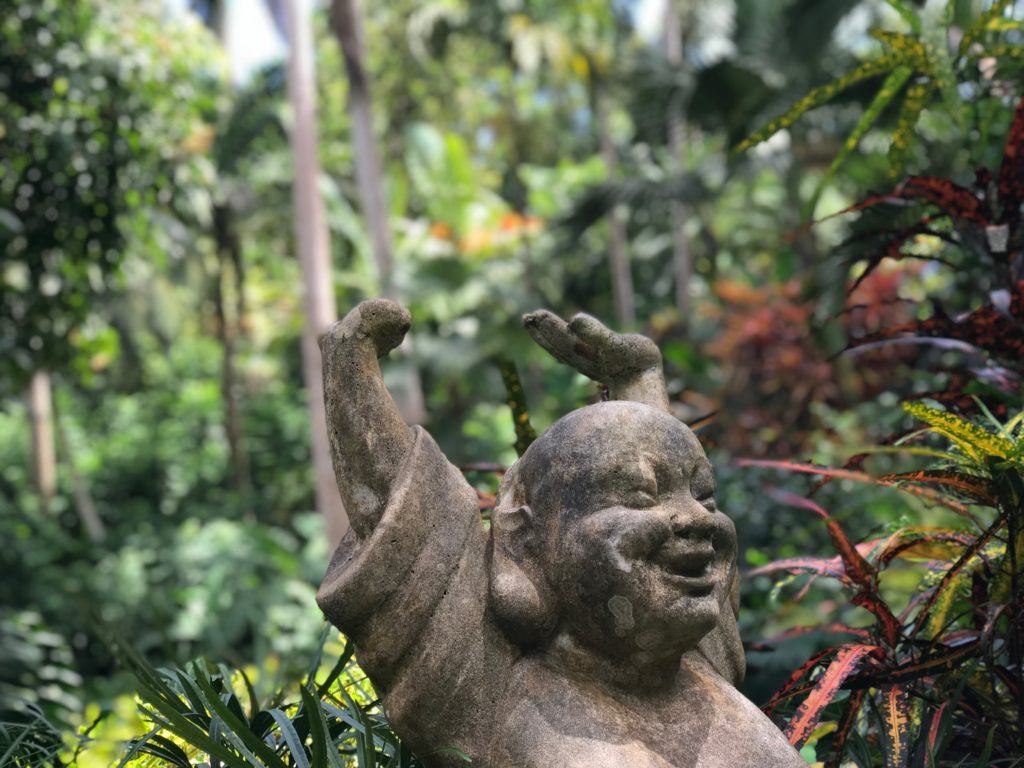 6. The Swimming Race Horses
If you have an early riser who is also a horse lover, there is a special experience just for them. In the wee morning hours (5:30am – 7am) trainers from the Garrison Savannah Race Track take horses down to Pebbles Beach just south of Bridgetown for a little water therapy. Grab a coffee at the nearby Radisson and sit yourself down in the sand to enjoy this beautiful sight.
You are best to sit a ways back as these are race horses after all and they can be rather spirited. Race days are also popular with families (although we missed this experience due to a rain cancellation). See the Garrison Savannah Race Day schedule here.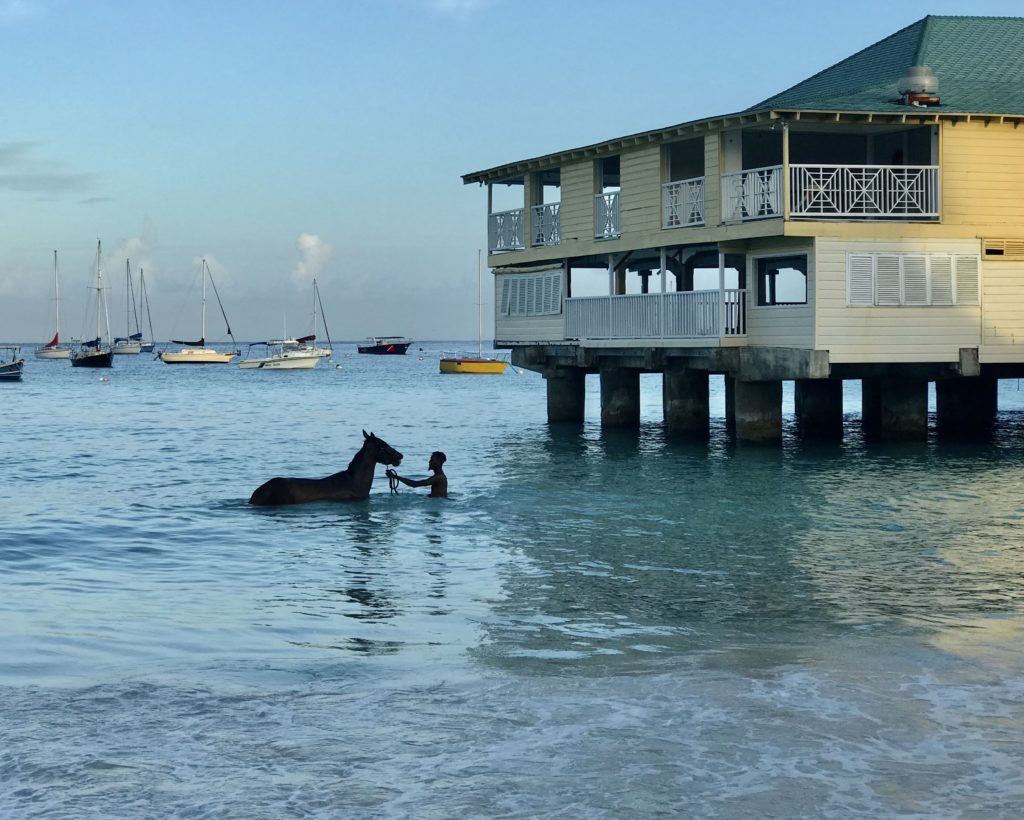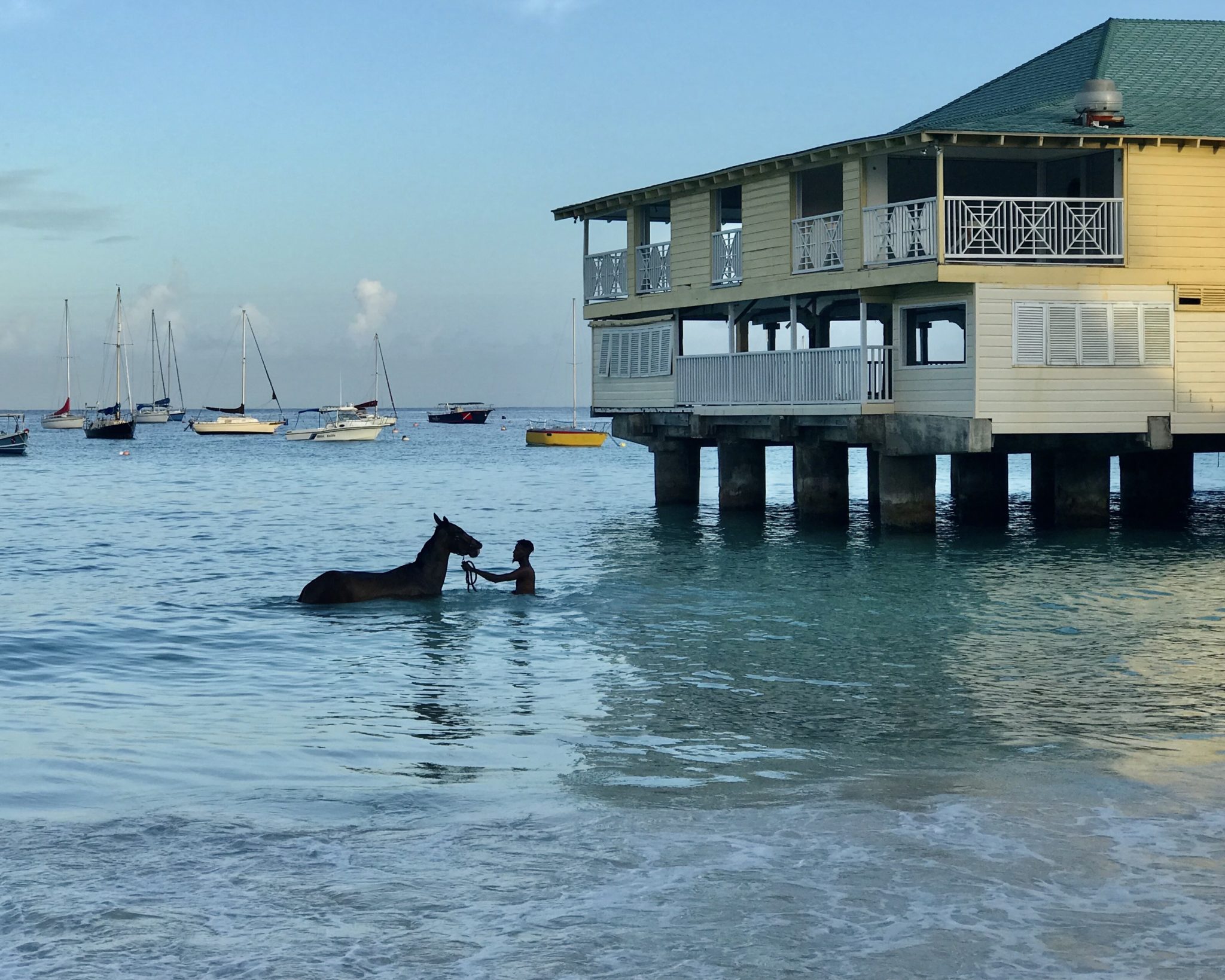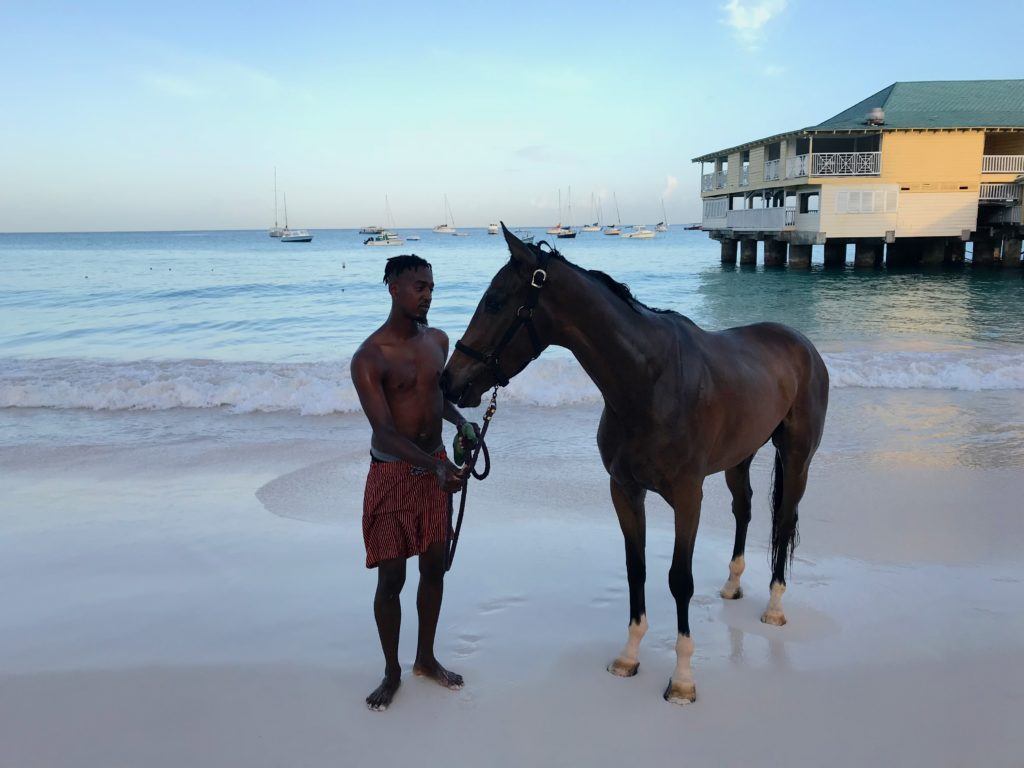 7. Record Those Family Memories
Until we discovered Flytographer, we had very few decent family photos. Twice now in Barbados, however, we have booked a shoot with Andrew of Flytographer to capture some of our trip memories.
The shoots have been short, easy and according to the kids "even fun". Flytographer packages start at $285 USD for a 30 minute session. We opted for this starter package the first time and then bumped up to a $385 – 60 minute package on a following trip as we had the grandparents with us too.
Interested in capturing your trip memories? Use Flytographer discount code MYSHOOT for $25 off your first booking or gift card purchase.
8. The Animal Flower Cave
The Animal Flower Cave is located at the most northerly point of Barbados in the parish of St.Lucy. The name "Animal Flower Cave" comes from the sea anemones found in the pools of the cave, although at the time of our visit there were not many anemone to be be found. Still, the caves are beautiful to see and my kids loved having a dip in the pools (brings a suit and towel).
All visitors must descend into the cave with a tour guide (tour is about 30 minutes long). As would be expected, the ground is very uneven in the cave so this particular tour is not great for anyone with mobility issues (My dad, recovering from achilles surgery enjoyed the view from the top). Learn more at: visitbarbados.org.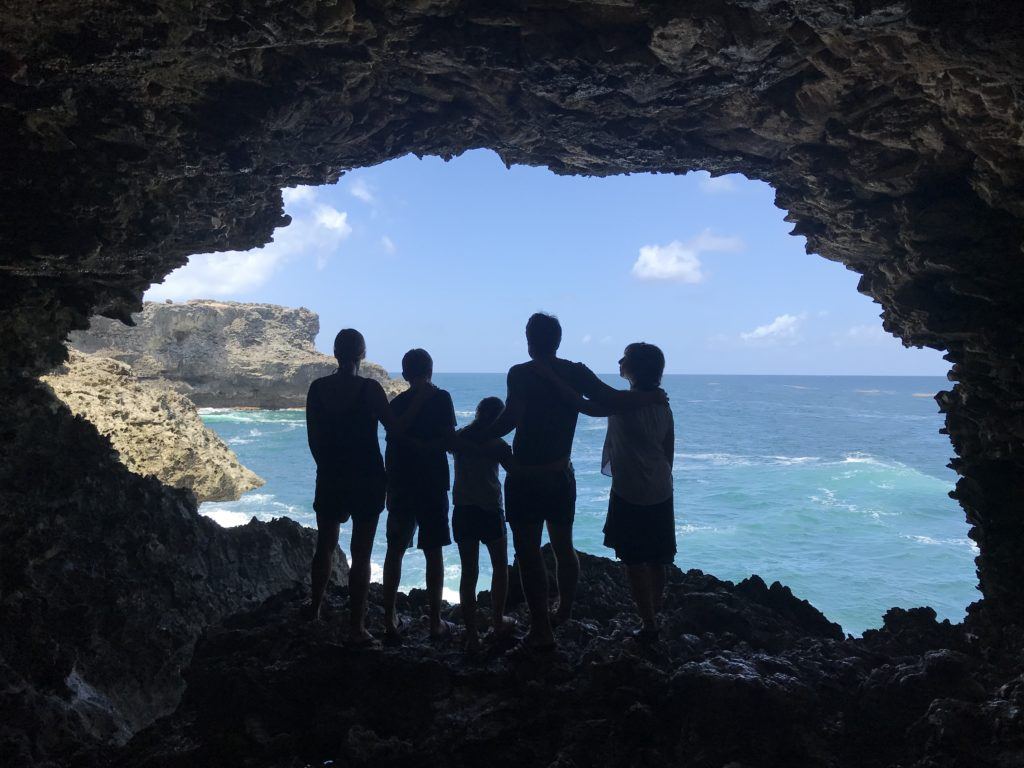 9. Barbados Polo and Cricket
On our most recent trip to Barbados, we decided to try to take in a local event in the form of a polo match. Polo season in Barbados runs from January to May, during which a number of international teams visit.
The events take place at either Apes Hill or Holder's Field and are a family-friendly affair (there is even a little playground set at Apes Hill). The cost of entry is $20 BDS ($10 USD) per adult (children 12 and under are free). There is food for purchase as well as a full-stocked bar (including bubbly of course). While the dress code is not super strict (no beach clothing), we very much enjoyed dressing up a little for it.
See upcoming polo events on the Barbados Polo Club Facebook page.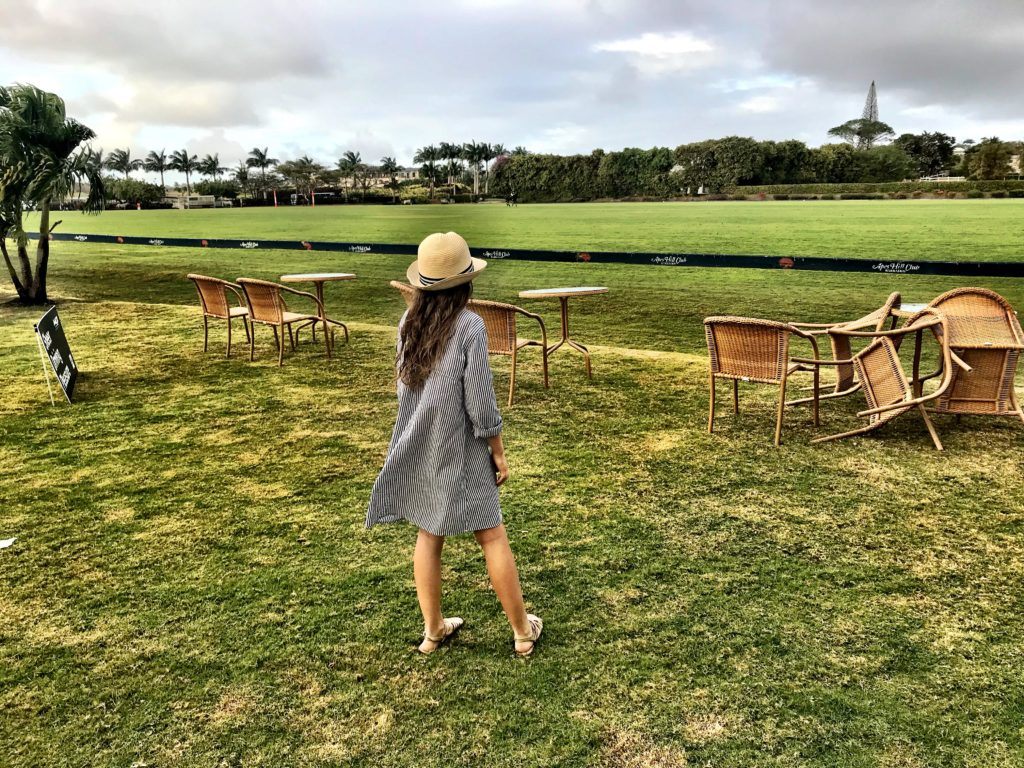 Cricket is the national sport of Barbados and the West Indies. While we have yet to catch a match, they are hugely popular and are played at Kensington Oval on the outskirts of Bridgetown. Find out if there is a cricket match on Barbados during your stay right here: visitbarbados.org.
10. Oistens Fish Fry
On Friday nights, a large number of islanders turns up for live music and fresh-off-the-docks flying fish at the Oistens Fish Fry. There are many restaurants to choose from, but we decided on Pat's Place as it had been recommended to us by several locals (white tent – big crowds).
Things start to get busy around 7pm, but with kids, you may want to go before sunset to feed the giant sea turtles that hang around the end of the jetty (you can buy some fish scraps from the adjacent fish market).
See Barbados.org for the full Oistens Fish Fry schedule.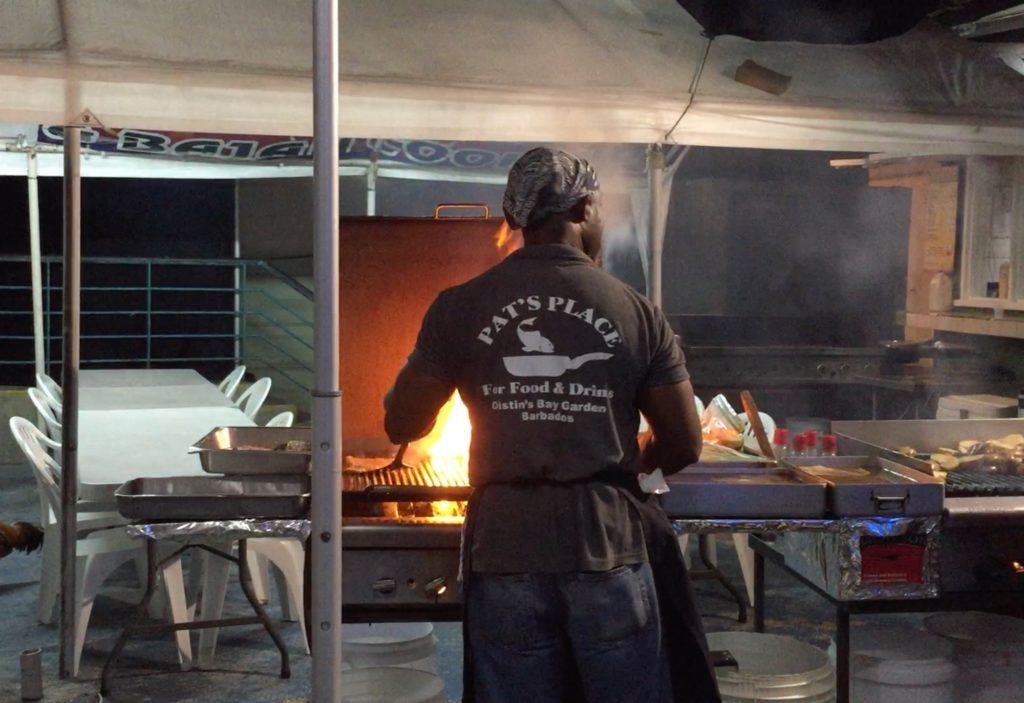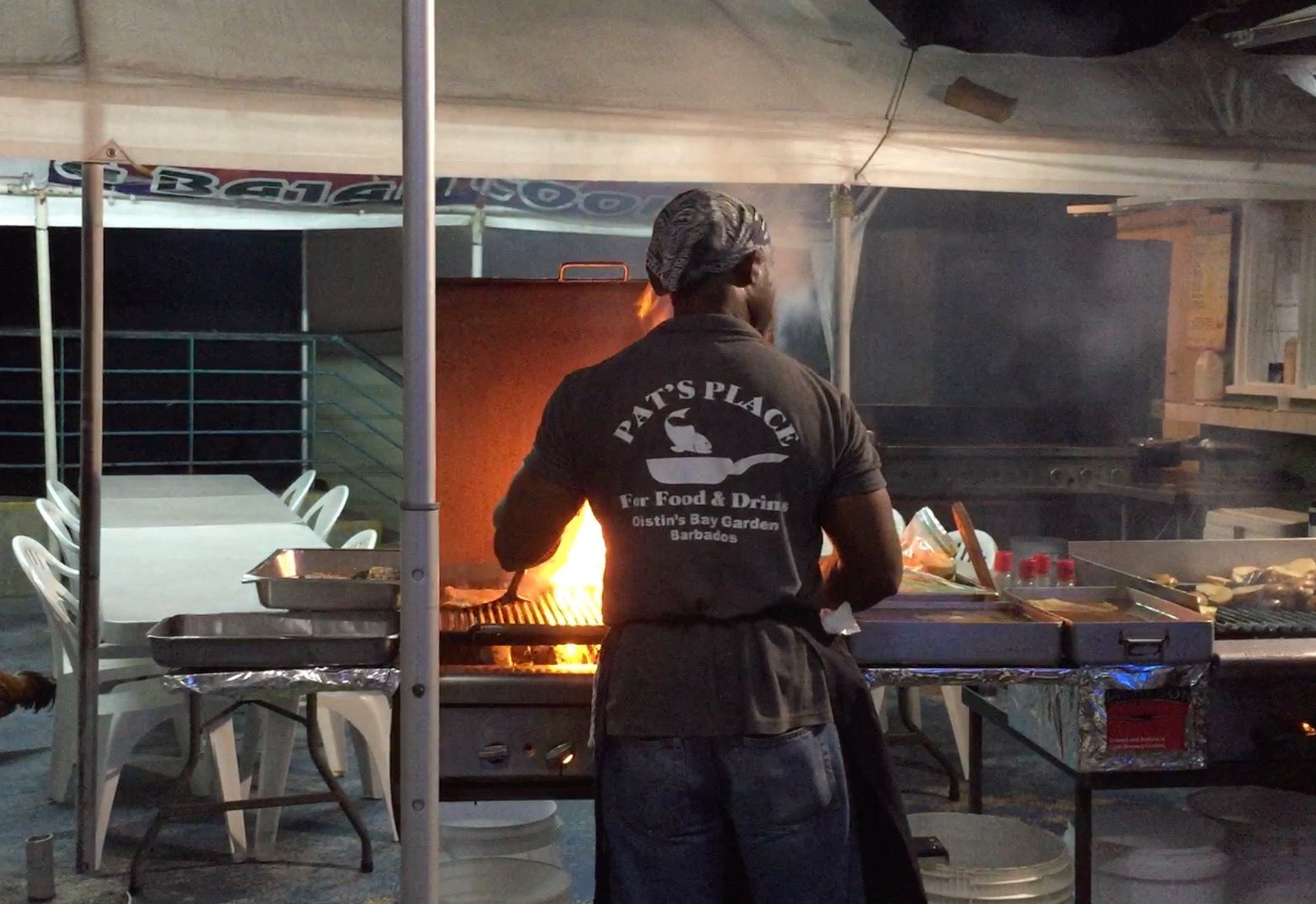 Barbados with Kids – There's More!
Naturally, this is not an exhaustive list of things to do on Barbados with kids. In fact, our most recent family trip to Barbados coincided with that of another family travel blogger. Andrea and her family visited a number of interesting places that we have not yet been to. Check out her guide to a Barbados family vacation on her wonderful site The Family Backpack.
See also these top Barbados tours that have been awarded Viator's new Badge of Excellence.
Best Hotels in Barbados for Families
I am really partial to Barbados family hotels that are located along the west coast or "Platinum Coast" of Barbados. I like this area best for families as the beaches are the nicest and the calmest on the island. Here are my favourites:
1. Cobblers Cove Barbados
This luxury beachfront hotel in Barbados is a big favourite of discerning family travelers. It has 40 suites, each individually decorated and open to the ocean and tropical garden surroundings.
A stay includes free watersports (windsurfing, sailing, waterskiing). The property also has a beautiful freshwater pool, fitness center, spa and the award-winning Camelot restaurant.
Check rates on Booking.com or read recent Tripadvisor reviews.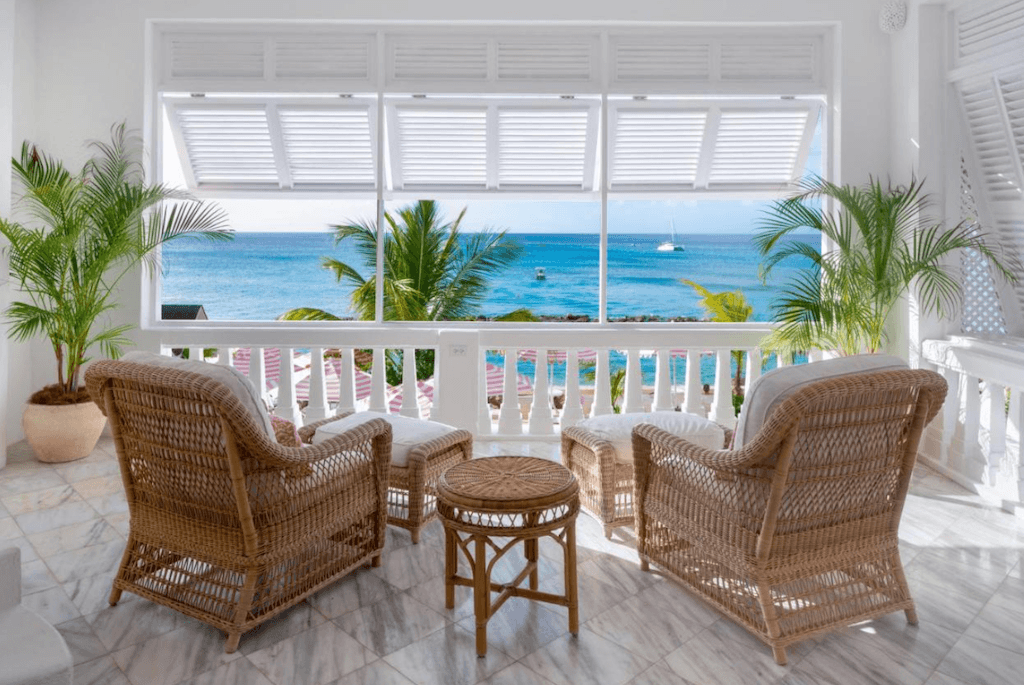 2. Waves Hotel and Spa All Inclusive
This lovely beachfront Barbados all inclusive family resort offers a luxurious experience focusing on premium accommodation, versatile dining and mind & body wellness. A stay at Waves includes complimentary motorized and non-motorized water sports, WiFi, all meals and beverages, fitness center, yoga, bespoke daily activities plus a complimentary water taxi.
Room tip: The duplex rooms are recommended for families with older children as they allow for more privacy.
See rates on Booking.com and read recent Tripadvisor reviews.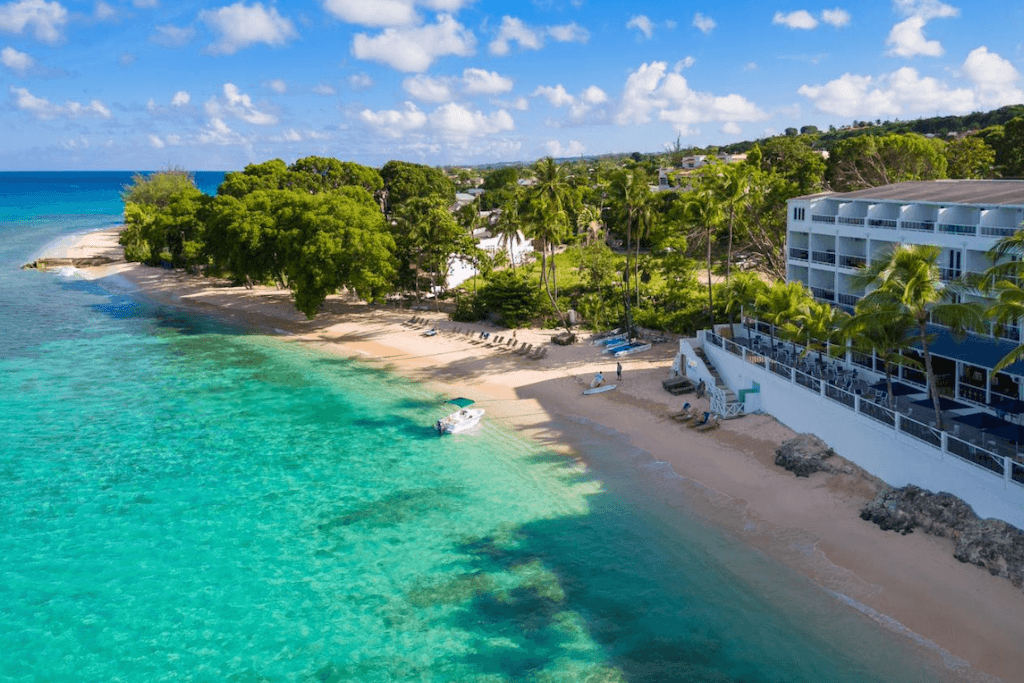 3. The Tamarind by Elegant Hotels
This 4 star property sits on beautiful crescent shaped white sand beach and included contemporary guest rooms, a spa, 2 restaurants and several pools. Complimentary features include: motorized and non-motorized watersports, daily breakfast, WiFi in rooms and throughout property.
Check rates on Booking.com or read recent Tripadvisor reviews.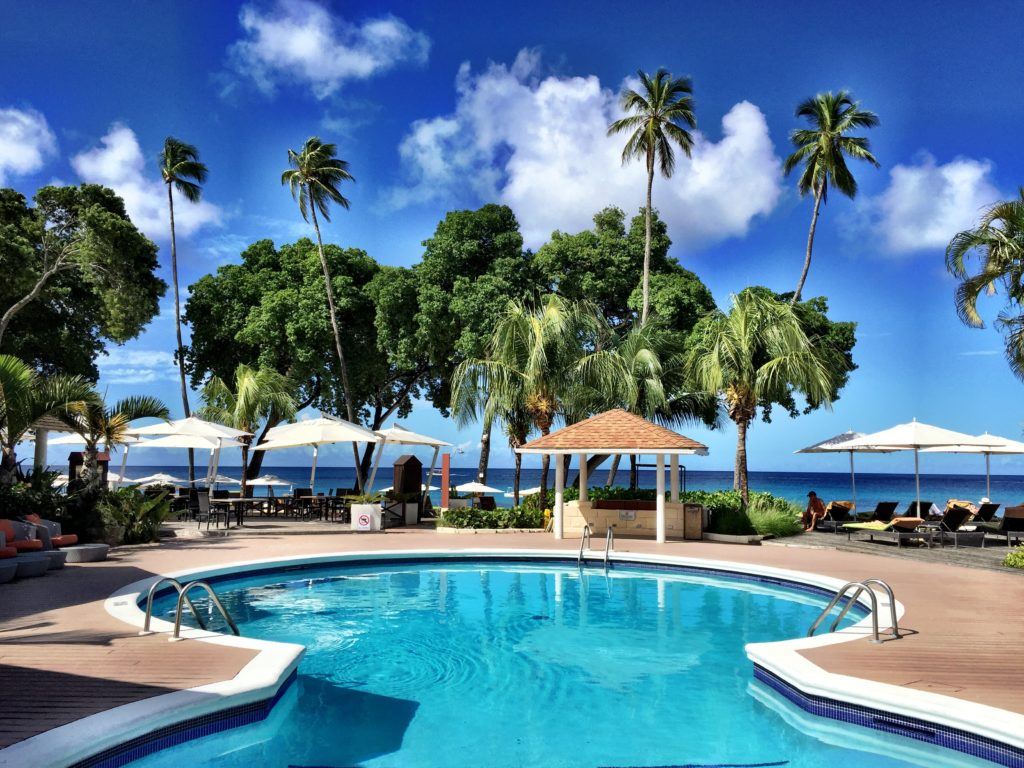 See also: 5 Beautiful Villas on the Beach Barbados
Family Restaurants Barbados
Barbados has no shortage of family-friendly restaurants (including many of the fine-dining establishments). Personally, we are partial to beach-front establishments, where the kids can play in the sand rather than have to wait at the table if the meal runs long (Barbados restaurants sometimes run on Island Time).
Family Restaurants Barbados
Unique Dining Experiences for Kids on Barbados
The Cliff Beach Club
This bar and restaurant serves up delicious fresh seafood and other Caribbean fare on a lovely sunset-facing deck. The coolest thing about this place is that you are perched right over the water, and at night, the lights from the restaurant attract giant tarpons and stingrays which managed to keep my kids very amused (the restaurant also has a kids' menu). See reviews of the Cliff Beach Club here.
Update Oct. 2021 – The Cliff Beach Club is under new ownership is currently being renovated. We look forward to seeing what it will become (hopefully something similar because it was really fun).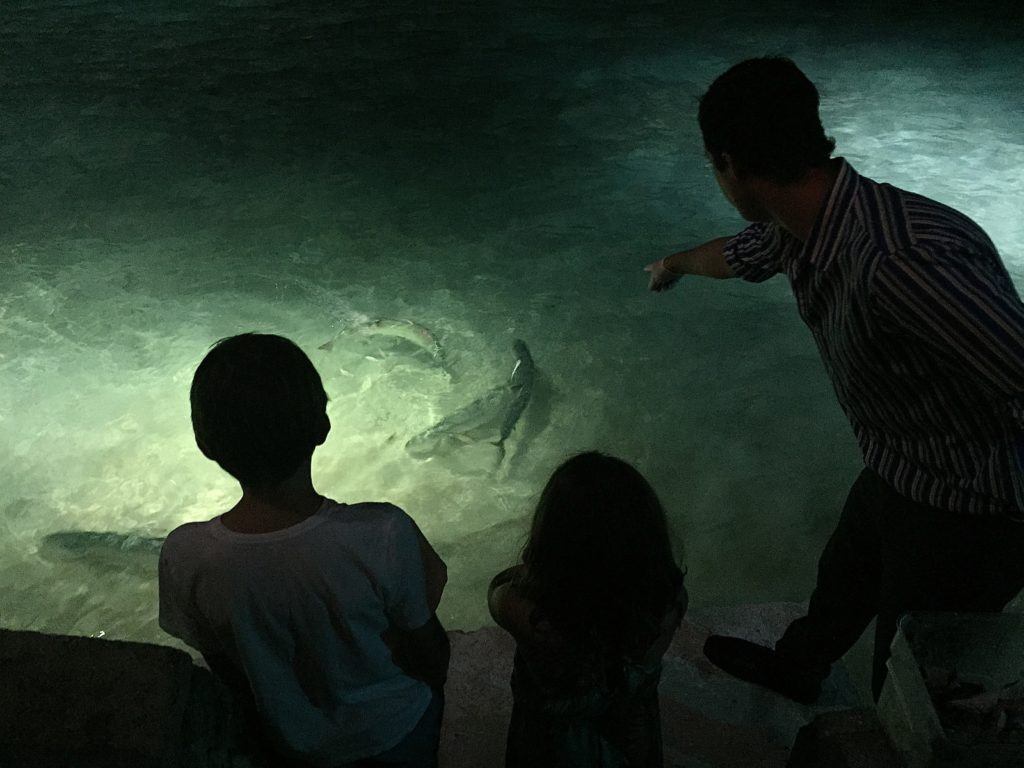 Barbados Family Vacation Tips
The Best Time to Visit Barbados
December to April is the nicest time to visit Barbados (dry season) but also the most expensive. In the past, we have also enjoyed visiting the Caribbean in late November or very early December (shoulder season), which is much cheaper, and just outside of hurricane season (June-November). In about a dozen trips at this time of year, we have yet to experience any extended bad weather, and pay about half what you would in high season.
Renting a Car on Barbados
To truly experience the best of Barbados, you should either rent a car or be prepared to spend a small fortune on taxis or tours. From my experience, renting a car anywhere in the Caribbean can be a hit and miss scenario.
Having done a lot of research on this subject before our first trip to Barbados, however, we opted to rent from Stoutes despite the fact that it was more expensive than some of the other car hire options. I am happy to report that everything went seamlessly, from the airport pickup to the drop off, and I would highly recommend them. They will also drop a car off at your hotel or vacation rental if you do not want a car rental for your whole stay.
We rented from Drive-a-Matic on a more recent trip and it was a fairly good experience except for the fact that we couldn't seem to get the built in GPS (not the ones they rent to you) off the island of Japan – clearly where the vehicle had been imported from. We chose Drive-a-Matic over Stoutes in this case because they had a vehicle that could accommodate 6 people plus luggage.
Barbados also has a very robust bus system. The buses are inexpensive and go almost everywhere on the island. I will say that having been almost run off the road by a few of them while driving, they seem a little wild. This bumper sticker seems to say it all (Don't hate the player, hate the game). For more information on Barbados buses see: visitbarbados.org.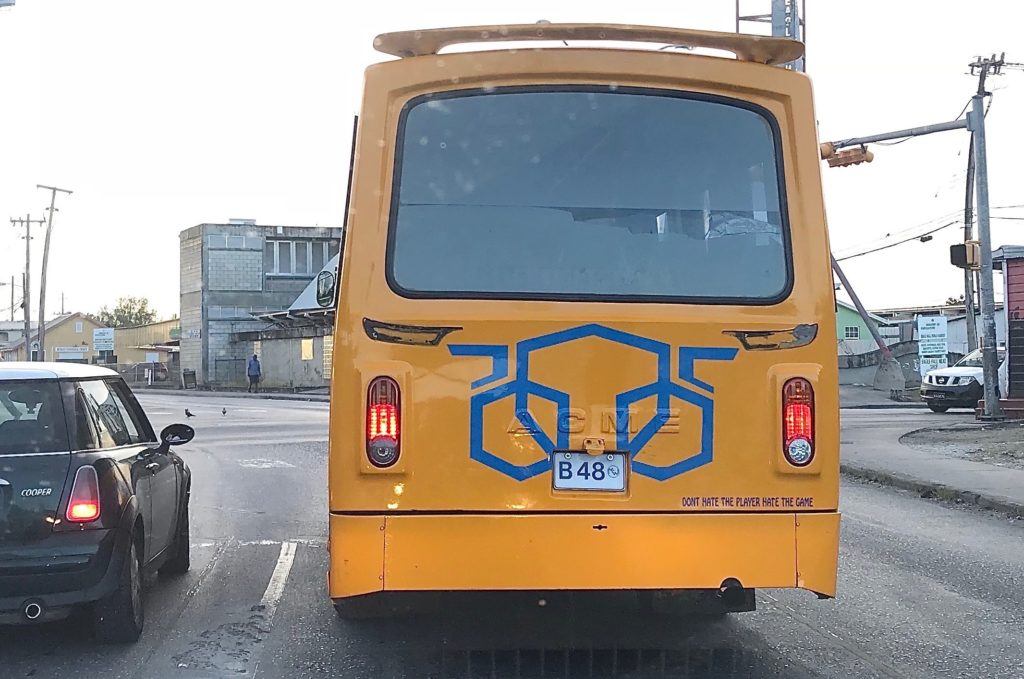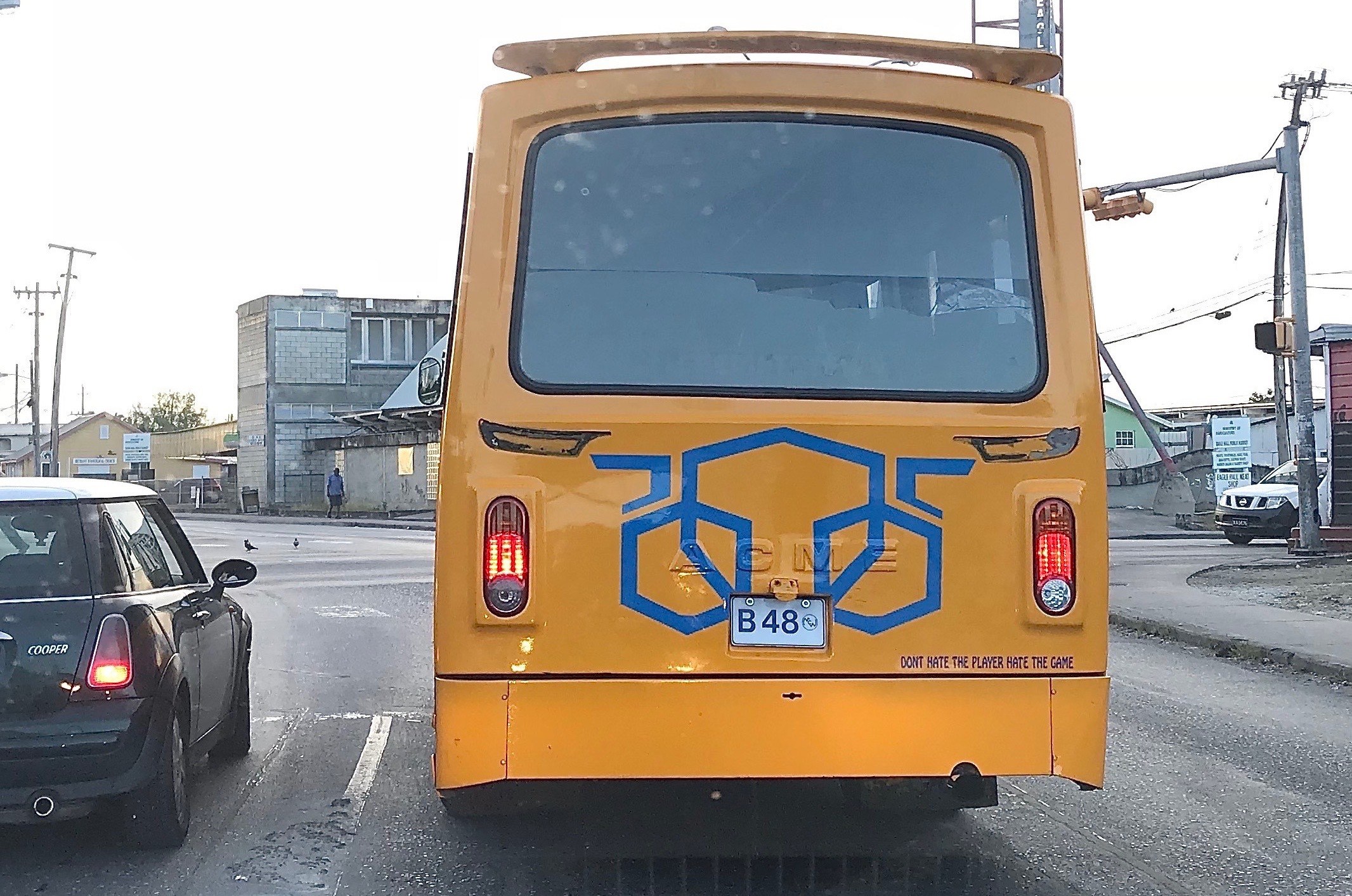 Barbados Safety
Is Barbados a safe place to travel? Like many islands in the Caribbean, you need to exercise caution by not wandering through towns or on the beaches late at night. Don't flash around cash and be sure to use the safe in your room. Anything left on the beach is considered fair game. During our stays we have encountered nothing but warm and helpful islanders proud to share with us the beauty of their island home, but we do exercise caution.
How do you get updated traveler information for Barbados? Check the travel advisories from the U.S. Department of State , Government of Canada, or the Gov.UK sites.
Also worth looking at on these sites is the health section to see if there are any exceptional health warnings (Dengue, Zika etc.). My go-to resource for health concerns is the CDC website (Center for Disease Control).
Barbados Baby Gear Rentals and Barbados Babysitters
If you are looking to hire a babysitter or rent baby gear in Barbados, try Baby Gear Hire Barbados or Island Sitters.
Barbados Souvenirs
We have a rule in our family that any souvenirs purchased must be local. We bought hand tied bracelets and delicious rum cakes from Chattel Village in Holetown and Bajan rum from Four Square Rum Factory near Crane Beach (they have a nice kids playground ). Barbados also has a booming Duty Free business.
Further Reading