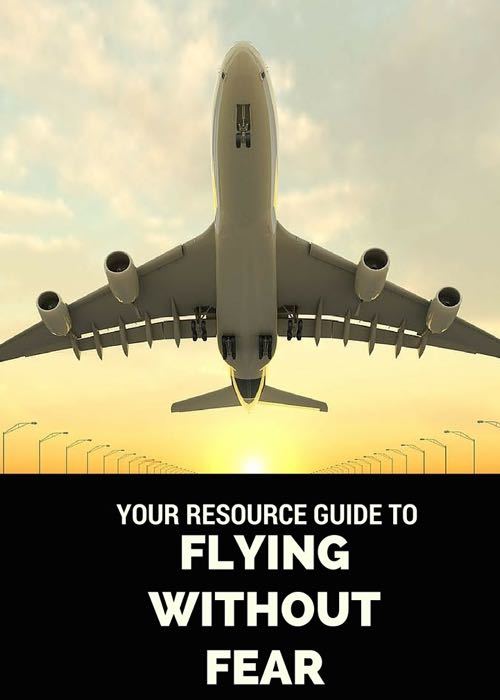 Affiliate Disclosure: As an Amazon Associate I earn from qualifying purchases. This post also contains additional affiliate links.
Overcoming a Fear of Flying
"How was your trip?" I asked a friend of mine after she returned home from Hawaii with her husband and young daughter. "I hate flying." she replied. I realized after we hung up that I never actually learned how her trip was. Our conversation ended up focusing on a subject that hits very close to home for many people – her fear of flying. So distraught was she, that a future family trip to Europe was now up in the air (no pun intended).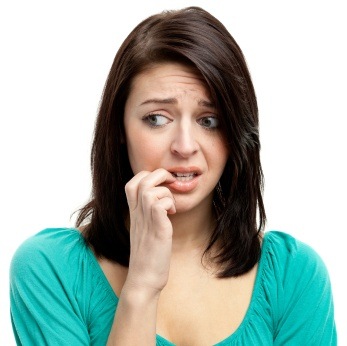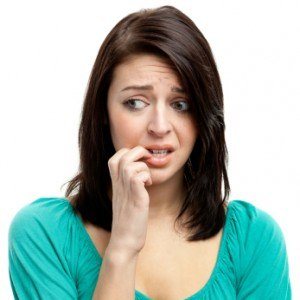 How I Overcame Flying Phobia
I empathized with her experience because I had had my own 2 year run-in with aviophobia following the 9/11 tragedies. Traveling frequently for work, I coped by drinking my way through flights, all the while hoping that my co-workers would not discover that I had suddenly become terrified of flying. I quickly realized that this was not a sustainable strategy and I began to seek out healthier flight anxiety remedies. It was really the morning flights that forced my hand. What was I going to do? Bring a 100ml jam jar full of Baileys to pour into my coffee on the plane?
I bought a book on anxiety, followed by the corresponding online program (which I loaded onto my iPhone so I could listen to it in-flight), and finally I purchased 3 sessions with a anxiety coach (whom I didn't really like and convinced that I was cured so I could quit without hurting his feelings). Honestly, I probably spent about $800, which I know is a lot of money……but eventually I was cured. I also managed to avoid some other potentially expensive and damaging pitfalls such as:
1) Getting kicked off a plane for screaming "WE'RE GOING DOWN ! "
2) Becoming a raging alcoholic.
3) Quitting my job.
If you, too, are afraid of flying, do not despair. Fear of flying help is on the way! In this post I have done my best to present the top treatment options below. While overcoming a fear of flying can require a bit of hard work, it is entirely possible. I know, because I have done it and I have seen many others do the same.
Disclaimer: I am not a doctor or a medical professional of any kind. The tips and suggestions here are based on my own experience and investigation into a subject that I am very passionate about (but not an expert on). Please understand that I do try to inject a healthy dose of humor here. I'd rather you have a little laugh, than a cry.
What is Aviophobia?
Aviophobia is defined as a fear of flying on aircraft. It is sometimes also referred to as flying anxiety, flying phobia, flight phobia and aerophobia. While estimates vary when it comes to measuring how many people are actually scared of flying, the phobia of flying is said to affect up to 30% of the population.
Celebrities with a Fear of Flying
I also like to call this the "You Are Not Alone" section. I don't know why, but somehow it has always made me feel better to know that other people have shared in my challenges. Misery loves company, right? The following celebrities have all admitted to a fear of flying.
Colin Farrell
Miley Cyrus
Ben Affleck
Taylor Swift
Kate Winslet
Kirsten Dunst
Sandra Bullock
Jennifer Aniston
Megan Fox
Billy Bob Thorton
Justin Bieber
And I'm sure there are many more…..
Fear of Flying Help – Temporary Solutions
The following suggestions are meant to be temporary solutions only. The reason I say temporary, is because they are meant to treat the symptoms, not the overall reason for your fear of flying.
Example: I have a very close friend who had to fly every week for work. After never having had any issues with flying, he developed a sudden, debilitating fear of flying. As travel was an essential part of his job, he feared that his career may also be in jeopardy. In the short term, he was able to get back on a plane with the help of one of the medications listed below. He was eventually able to entirely cure his fear of flying through therapy, but as that was a longer journey, the medication helped him in the short term.
Natural Remedies
Some people swear by melatonin or magnesium to reduce their anxiety and help them relax for flights. Personally, I like to take melatonin the night before a flight as it helps me get to sleep faster, thus avoiding arriving at the airport bleary-eyed and feeling the need to load up on caffeine (which is terrible for anxiety-sufferers). If you have a medical condition or are taking medications, please discuss the usage of melatonin or magnesium with your family doctor before trying it out.
Therapy Now
I fully appreciate the need to get immediate help (especially if you are flying in the next few days). Although I go into long-term solutions such as cognitive therapy in the next section, with Amazon's quick shipping and the availability of online programs, you can often get help within 24 hours. Check out the top selling Fear of Flying Books
 on Amazon. I am also a big fan of the SOAR Fear of Flying course run by Pilot Tom Bunn. He has free online counseling chats on Wednesday evenings and offers a wealth of resources (with the ultimate being a one-on-one phone chat). Learn more about his program here.
Boozing it Up
Travelers have been using alcohol to calm their nerves since the age of air travel began. If you are having a drink or two before or during the flight, and can still adequately function, great. If we're talking about Spring Break Cancun style drinking….perhaps you should move on to some of the other options listed below. I think it should also be noted that alcohol is technically a depressant, meaning that most people tend to feel worse after the effects wear off.
Medication
Benzodiazepines – found under brand names such as Ativan, Valium and Xanax are often prescribed as fear of flying medication solutions. They work by slowing down the movement of chemicals in the brain that may become unbalanced. They also work quickly— typically reducing nervous tension within 30 minutes to an hour. It should be noted, however, that these flight anxiety medications can be physically addictive and are not recommended for long-term treatment.
From the many fear of flying forums I have been on, lots of people swear by flying anxiety medication (especially Xanax).  There is the occasional story of it not working or working too well.  One person on a forum mentioned that they weren't convinced it was working, doubled up on their dose, and later couldn't remember a thing about the flight.  The long and short of it is, consult with your doctor and proceed with caution.
CBD Oil and Edibles
When I first wrote this post years ago, this was not even on my radar. With the trend towards cannabis legalization in Canada and in a number of U.S. states, using cannabis as a fear of flying treatment seems to be gaining traction. For instance, when flying domestically in Canada you can transport cannabis for personal use (up to 30g) and you can even smoke it in the designated domestic terminal smoking lounge at YVR Airport (Vancouver). That said, it is strictly illegal to take it on international flights and across international borders. In the U.S., things are trickier, since even if you are flying within California where it is legal for personal use, you still have to pass through TSA security screening at the airport which is federally regulated.
Basically, most people who use cannabis to help reduce their flight anxiety tend to consume/use it prior to arriving at the airport. Like with every other treatment mentioned in this post, moderation is key. If you Google flying while high, you will find that many people have taken too much and ended up on a roller coaster of terror and paranoia, rather than actually reducing their flight anxiety. For a gut-splittingly funny account, please read the following cautionary tale by Ryan Overhiser titled I Ate an Edible in the TSA Line and Things Went Poorly.
Fear of Flying Help – Permanent Solutions
For long term results dealing with flight anxiety, cognitive and behavioral therapy is recommended.  This can be approached in several ways and many people use a combination of treatments.
Books
Soar : The Breakthrough Treatment for Fear of Flying by Tom Bunn – Captain Bunn founded SOAR to develop effective methods for dealing with flight anxiety. Therapists who have found this phobia difficult to treat will find everything they need to give their clients success. People with an extreme fear of flying who have "tried everything" to no avail can look forward to joining the nearly 10,000 graduates of the SOAR program who now have the whole world open to them as they fly anxiety free wherever they want. The Soar Fear of Flying book is available in Kindle and Paperback on Amazon.
Cockpit Confidential: Everything You Need to Know About Air Travel by Patrick Smith – Cockpit Confidential covers not only the nuts and bolts of flying, but also the grand theater of air travel, from airport architecture to inflight service to the excitement of travel abroad. It's a thoughtful, funny, at times deeply personal look into the strange and misunderstood world of commercial flying. It's the ideal book for frequent flyers, nervous passengers, and global travelers. Available in Kindle and Paperback on Amazon.
Flying without Fear by Duane Brown – This book has helped many travelers overcome a fear of flying quickly. It uses cognitive behavioral therapy, to prepare the reader for every sight, sound, and sensation that will be experienced in the airport and airplane (including flight turbulence). It is available in both paperback and Kindle format on Amazon.
Apps
Help for Fear of Flying Apps
SOAR Fear of Flying App (Apple / Google Play ) SOAR – established in 1982 – has opened up the world to 10,000 fearful fliers. This program is now available as an app created by the leading authority on flight phobia: author, airline captain and licensed therapist Tom Bunn, M.S.W., L.C.S.W.
Turbcast – (Apple ) – Turbulence Happens! Whether it's called air pockets or bumps, this app will unlock the mystery about turbulence while giving you greater knowledge and confidence.
Fear of Flying Hypnosis and Meditation Apps
Headspace (Recommended by Virgin Airlines) – (Apple / Google Play ) Learn to relax with guided meditations and mindfulness techniques that bring calm, wellness and balance.
Calm Mediation App (Available in-flight with American Airlines) – (Apple / Google Play ) Calm includes guided meditations to help you reduce anxiety and lower stress.
Digital Courses
Soar Fear of Flying Course – This highly rated program created by Pilot Tom Bunn offers DVD's, downloads and phone call sessions. There is even an I'm Flying Tomorrow emergency option. Captain Bunn hosts a weekly online chat and online group counseling session on Wednesday nights. The Soar Fear of Flying course start at $125 USD.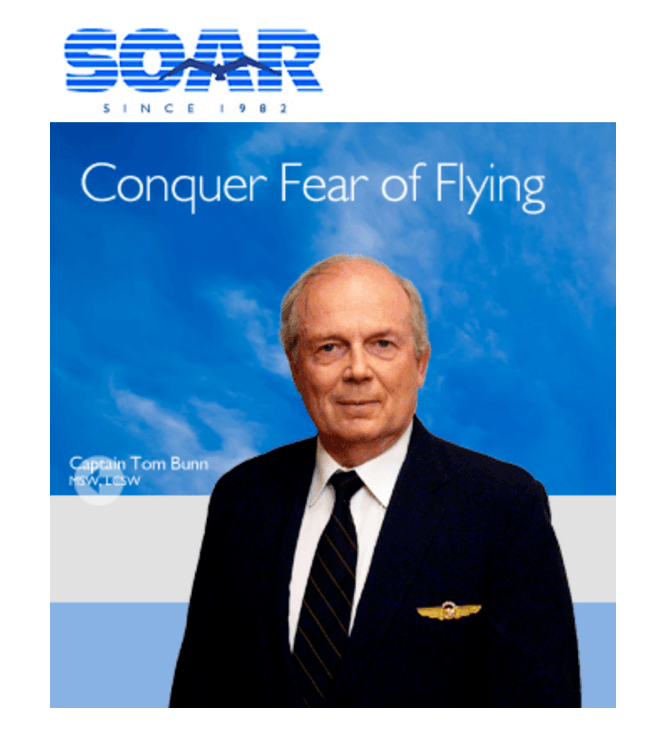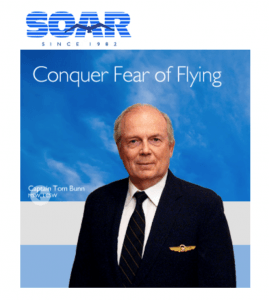 Fear of Flying Online Course – not the best website in the world, but it's free ! They also offer and option audio upgrade for $19.99.
Ask the Pilot (askthepilot.com) – Author Patrick Smith (Cockpit Confidential) has a great website  that will answer many of your questions for free.
Classroom Courses
The cats meow of the how to overcome Fear of Flying classes are full scale programs, involving a combination of pilots, counsellors, virtual reality therapy, airport and airplane tours and sometime even a graduation flight. Naturally, an extensive program typically does not come cheaply, running from a few hundred dollars, to over a thousand dollars.  Here is a fairly extensive list of programs.  Please share with us if you know of another.
Fear of Flying Classes – U.S.A.
Arizona – Phoenix – Fearless Flight Program (website)
California- Los Angeles – Fear of Flying Reality Treatment (website)
California – San Mateo –  Fear of Flying Clinic (website)
Georgia – Atlanta – Virtually Better (website)
Illinois – Chicago – Fear of Flying (website)
Maryland – Baltimore – Fear of Flying Class (website)
Maryland – Baltimore – Fear of Flying Seminars (website)
Minnesota – St. Paul – MySky Overcoming the Fear of Flying Program (website)
New Jersey – Relaxed Flight Seminars (website)
New York – Manhattan – Virtual Reality Treatment (website)
New York – Manhattan and Laguardia – Freedom to Fly Workshop  (website)
New York – Manhattan – Fear of Flying Virtual Reality Treatment (website)
New York – White Plains – Freedom to Fly Program (website)

Texas – Houston – Fear of Flying Workshop (website)
Washington DC – Travel Anxiety Workship (website)
Washington – Tukwila – Fear of Flying Clinic (website)
Wisconsin – Milwaukee – Overcome Your Fear of Flying Course (website)
Fear of Flying Classes – Canada
British Columbia – Vancouver –  Flying Without Fear (website)
Ontario – Mississauga – UFly Flight Simulator (website)
Quebec – Montreal and Quebec City – VisionAir Fear of Flying Class (website)
Fear of Flying Classes – Europe
Belgium – Brussels – Voler Sans Peurs (website)
France – Paris – Air France Stress Free Flying Workshop (website)
Germany – Various Locations – Lufthansa Fear of Flying Course (website)
Switzerland – Zurich and Geneva – Swiss Air Fear of Flying Class (website)
U.K. (Heathrow, Gatwick Glasgow ) – BA Conquer Your Fear of Flying Course (website)
U.K. (Many Locations) – EasyJet Fearless Flyer Classes (website)
Videos
Fear of Flying Help Video by Virgin Flying (YouTube)
Pilot Tells Us Why You Should't Be Afraid of Flying (YouTube)
Therapists and Counsellors
If you feel that one-on-one counseling would suit you best, there are many therapists and psychiatrists specializing in flight anxiety disorders. A good place to start getting information (and some free resources) is one of the following non-profit organizations; the Anxiety and Depression Association of America (USA) or the Anxiety Disorders Association of Canada (ADAC). Many cities also have at least one clinic that specializes in anxiety, depression and stress disorders.
An odd and funny fact (funny, in a dark comedy kind of way), explained to me by my own counsellor, is that rarely will you find a group session for people with a variety of anxiety issues. Rather than get better, people tend to adopt the fears of other session attendees.
Do you have some tips to share on how to overcome a fear of flying?  If you do, please comment on this post.  Thank you !
Other Resources
10 Tips for the Fearful Flier : NBC News
Fear of Flying? You Can Get Over It: The Washington Post
Experts Say You Can Get Over a Fear of Flying – Huffington Post
The Psychology of the Fear of Flying and How to Get Over It – Miami Helicopter