Last update: June 11th, 2021 at 09:06 am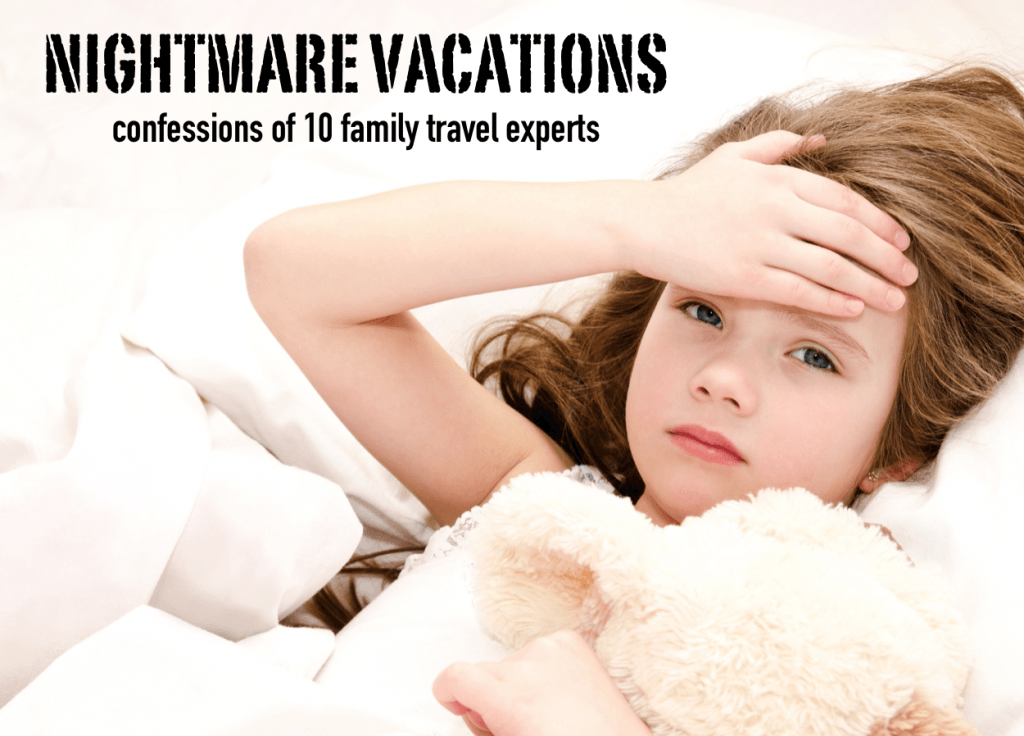 For years I have wanted to write this post. Although I consider myself to be quite skilled at family travel, sometimes things still go sideways on our family trips. Most of the suggestions I share on this site come from my own trial and error experiences. When things go terribly wrong on one of our adventures, I often share my tales of woe with other family travel experts. In exchange, they offer back equally disastrous stories along with humorous anecdotes. I find these imperfections comforting (because misery loves company). For this post, I decided to reach out to this community of family travel experts to share their stories. While we do not get it perfect every time, we share a determination to carry on traveling despite the occasional setback.
With that said, I hope you find inspiration in the following stories.
How to Break In a WestJet Plane
Tara Cannon from Pint Size Pilot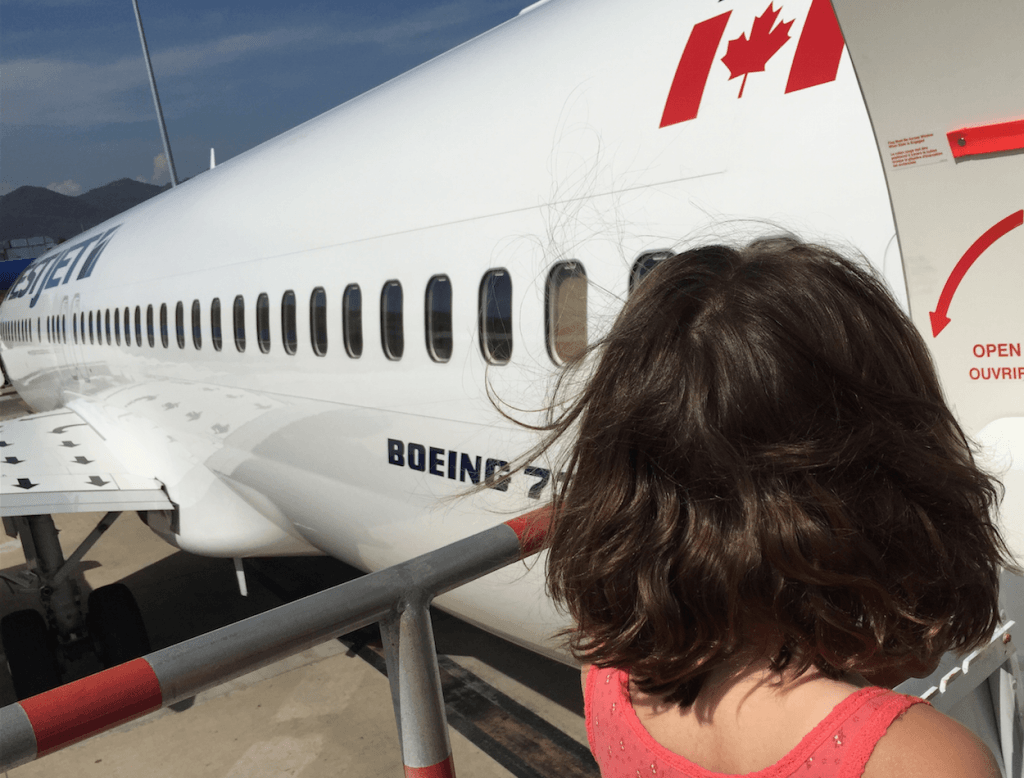 My husband and I had recently been celebrating the fact that after many years of traveling with young children, our kids had now reached the point where they were pretty self sufficient on a plane. We had even begun watching movies on flights (sometime with a glass of wine in hand).The fact that this blissful state was too good to be true became apparent on our latest flight to Mexico. It unfolded like this.
As I watched my daughter return from the lavatory, something didn't seem quite right. She had missed our seat and looked confused. When she eventually turned around, I started waving my arms at her so she could spot me. Then, just before she reached our seat, she paused and seemed to look right through me. What came next reminded me of a scene from the classic horror film "The Exorcist".  Her eyes rolled into the back of her head, and vomit started pouring from her mouth.  I leapt out of my seat at lightning speed and somehow managed to flip her over my lap in our row.  She emptied the rest of her stomach on my new sandals. Did I mention that the flight attendants had proudly announced that this was a brand new plane from their brand new fleet? This, I'm afraid, is how new planes get broken in.
My lesson learned was that despite the fact that I do not need to carry a bag full of extra wipes, diapers and sleepers anymore, I still need to have a few essentials at the ready.
Delhi Disasters
Courtesy of Katja Gaskell from Globetotting.com.
We've had our fair share of tears and tantrums (and the ubiquitous upset stomach on a plane) when travelling with the kids. But in reality, most of the trips we've embarked on with our children (aged 7- and 5-years and the newest arrival who is 1 month) have been relatively plain sailing. Except, of course, for when we were living in India. 
We spent three years in New Delhi and during this time we tried to leave the capital as much as possible, both to explore the country and to escape the furnace that was Delhi for 8 months of the year (we're talking 45C / 113F temperatures). Some of these adventures were wonderful; we visited magical forts and fairy tale palaces in Rajasthan, stayed on a beautiful working tea estate in Darjeeling and discovered a tiny family-run guesthouse on the edge of the Great Himalayan National Park. 
Other trips, however, were nothing short of disastrous. Like the time that we visited Udaipur during a particularly hot April and both the children's eczema flared horribly so that their skin was red raw. A situation not helped by our ill-chosen guesthouse where our only means of beating the heat was a decrepit air cooler than blew out dust rather than cold air. Or the time that we waited for hours on an over-crowded train platform at Old Delhi Railway Station for an overnight train that never came in 35C temperatures. And then there was the trip where, so desperate were we for colder climes, that we set off in the car for the hills only to take the wrong turn and spend nine hours travelling just 300km with a 2.5-year and 5-month old.
What I did learn from these various nightmarish trips was that kids are incredibly resilient, often far more so than me. The other positive result was globetotting.com, established to help other families avoid our mistakes and have incredible family adventures instead.
Viva Las Vegas
Courtesy of Connie Ott from Baby to Boomer.
My son was infamous as a child when it came to creating "natural" floods. There was the flood in our house days before Christmas, the one at the Boardwalk Hotel at WDW, and others, but the one I remember most was time at the MGM Grand Hotel in Las Vegas. We'd been travelling for about a week, having driven from Seattle to Disneyland and then on to Las Vegas. Our son is one who could only do his "business" at home, so we were a bit worried about what would happen on the trip. We talked with him about relaxing and letting nature take its course, but of course at 11, he wasn't about to listen to us.
Our first night at the MGM I went to bed with the kids about 9pm and my husband enjoyed the casino downstairs. He arrived at about 2am and we settled in. We were deep asleep when someone started BANGING on the hotel room door. Of course we panicked and thought someone had followed my husband and his winnings back to our room.
We were just about to call the police when the phone range. It was the hotel telling us they were coming into our room. Turns out they'd been trying to wake us up for some time. So in they came, scaring us to death! They asked why we were running the bathtub. Confused, my husband and I looked at each other and we knew instantly what had happened.
It wasn't the tub that was running, it was the toilet. After I went to sleep, my son got up and did a weeks worth of business then flushed the toilet and walked out. The toilet overflowed and continued to run for about 5 hours. When my husband came back to the room he hopped in bed and never knew what was happening.
Well our room happened to be one floor above the casino and our toilet's waste water was leaking onto a bank of slot machines. Oops!
The hotel was furious with us because it had gotten to be such a large leak. The bathroom floor was under about 5″ of water so while we tried to calm the kids, they brought in a huge wetvac and cleaned it up. Why they didn't move us I'll never know, but when we checked out the next day the room was closed to fix the damage.
Yep. We've never let him live it down, nor any of the other floods he's caused. Kids, they can sure make a trip interesting.
The Frontier Fiasco
Courtesy of Katie Baird from Tips for Family Trips.
I have a large family, and in an effort to save a few dollars I booked tickets through Orbitz on Frontier airlines for my family of seven last summer. I picked seats when I bought the tickets, but didn't realize until I was checking on things two days before my flight that we actually didn't have seat assignments because were in a class even lower than economy class on Frontier – we were economy class who purchased through a 3rd party booking site, and therefore we were not entitled to seat assignments until 24 hours before the flight unless we paid for seats for each leg of the flight. By the time I realized the problem, there were only middle seats left so I didn't do anything about it. My children, ages 3-14 were each scattered in middle seats throughout a full plane.
We left early for the airport in hopes of finding a solution to our seating dilemma, and on the ride the airport my five-year-old daughter started throwing up. The agent checking us in was able to seat five of us in the back row of the plane, which they usually try to leave open in case of emergencies, and my scattered family and sick daughter was starting to feel like an emergency to me. I ended up alone on the back row of the plane with all the younger kids while my daughter proceeded to be sick three times on that flight. And it just so happened, that the water in the bathroom was broken on that plane, so there was a bottle of water in the bathroom for washing hands and that was it. It was a disaster flight but I learned by lesson about the risks of buying airline tickets from a 3rd party provider!
Note: Katie offers some key points on the benefits of buying airline tickets direct in this informative post.
When it Rains – it Pours
Courtesy of Karen Dawkins from Family Travels on a Budget.
In 2006, my husband and I flew 14 hours across the United States for a dream getaway to Kauai, in Hawaii. We had plans: hiking the Kalalau Trail on the North Shore, Kayaking and a luau of course. Living on the east coast, Hawaii's weather rarely makes our news — so we had no idea that the Garden Island was in a rain crisis, with more than 70 inches of rainfall recorded the first 20 days of the month. In case you're wondering, the monthly average is about 3.5 inches. 
We arrived at the hotel, mesmerized by its beauty and excited for our adventure. And then, reality sunk in: flooded pool areas covered in red clay, elevators barricaded by sand bags to keep the basement from flooding and our hotel room, with a carpet so wet, our feet left puddle-filled footprints. 
That evening, we went to a buffet dinner — asking the hostess if anything had shellfish (I'm allergic). Ten minutes later she cleared me to eat it all… and wouldn't you know it, my first bite had shrimp! (After a 14 hour flight, I was really, really, really hungry!) Tough night.
The next night, with continued rains, water finally overwhelmed the hotel flooding the basement and setting off the fire alarm… for six solid hours! The hotel comped our stay that night and gave everyone free breakfast, but we were one high rise hotel of sleepy people! Besides that, the elevators weren't working right because of electrical issues and people kept mistaking our room for the stairs — all night long, the door rattled. It made sense… our room was tucked in a corner where many would expect the staircase.
The day after that, the driveway collapsed. To get anywhere (most roads were closed by now due to landslides and flooding), we had to take a shuttle through private roads to get to the back parking lot. It was nuts!
So, what's a woman to do in Hawaii when she's recovering from a serious allergic reaction one night, kept up another night by fire alarms and generally not enjoying Hawaii? I don't know about others, but I decided to ask the front desk if they could move us to a room away from the elevators. 
I went to the front desk and stood in a long line — lots of disgruntled guests! The man in front of me finally reached the desk. He pounded his fist on the counter, demanding that the poor clerk do something to fix the weather. She cringed. I fumed. So, I did what any upstanding, "retired" lawyer does: I interrupted! Mr. Angry turned toward me, his face maroon with anger. He paused and I plunged in, asking the clerk in my sweetest voice, "Ma'am, if you have the power to change the weather, can you just tell me tomorrow's lottery numbers? I'd love to win." 
Mr. Angry gasped. He turned even redder, spun on his heel and stomped away. The clerk smiled at me. She asked what I needed, and I explained the elevator/stairwell issue. A moment later, she handed me the key to our new room, the Presidential Suite overlooking the beach and Nawiliwili Bay. It kept raining, but at least I could relax a bit as I watched it fall. 
That trip, so totally not what I wanted, reminded me that the most essential item for any trip is a good attitude! What, did you think I was going to say umbrella?
The Crammed Condo
Courtesy of Allison Laypath from Tips for Family Trips.
When my first child was 18 months old, we planned a winter trip with extended family to Bear Lake in Northern Utah. We had to drive through the mountains just after a major snow storm to reach the resort, and when we arrived, we found that there was one less condo available than we expected. For the first night, we had to divide a two bedroom condo between six adults and four children.
My family got a small bedroom and we put our daughter to bed at her usual time. She went to sleep well, but when my husband and I tiptoed into the room a little after 10 pm, she woke up and would not go back to sleep. We tried reading, singing, snuggling, and everything else we could think of that wouldn't disturb my sister's family sleeping in the living room on the other side of the door. After two hours, I woke up my sister and begged her family to trade us places, so we would at least have a little more space for our wakey baby. We turned on a Disney movie and my daughter watched it all, finally falling asleep around 3 am.
The next day, everyone else went sledding and swimming, while my family tried to catch up on our sleep. After my daughter woke from her morning nap, we tried the indoor pool. The nail in the coffin of this family vacation was when my daughter had a messy swim diaper blowout in the pool. So disgusting! Fortunately, there weren't many guests wanting to use it on this wintery weekend.
It has been nearly 10 years since this trip, and we never stopped traveling with our kids. Fortunately, even bad vacations yield good travel stories. We laugh about it now, but are glad that most of our trips are nothing like this one.
Bottomless at the Beaches
Courtesy of Kendra Pierson from Headband for Today.
My children love our family travel just as much as I do. Even though they're young (2 and 6 years old), they love to help with all our planning from their first overhearing that we're off to a new adventure. With this travel and trip love, it's no surprise that they love to help me pack too. For local trips, we each have our own suitcases but longer ones we usually tend to share.  Here is the dilemma. Somehow when we're packing together, I miss my things. And, they're important things like underwear, toothbrushes, etc.   
My favorite missed packing instance occurred when we visited the island of Providenciales, Turks and Caicos to the Beaches Turks and Caicos resort. Somehow, I ended up in a beach paradise with only 2 swimsuits (missing the new ones I bought just for this trip) and 2 pairs of underwear. For a five day trip…As you can guess, there's not a Target or Wal-Mart right up the street that I can just run to and pick up new underwear. Did I mention that this was also for a conference so I actually had to put on clothes? Let's just say that I'm glad our suite had a washer and dryer. I can say I did the laundry even while on vacation. 
This is not the biggest inconvenience we've ever had on a trip but it was a pain. The lesson I learned from it was really to just keep going (and make sure to recheck what my kids pack for me!). If I had dwelled on what I didn't have, it would have been one less minute that I was able to enjoy paradise with my family. Every part of the trip helps create the memories and I'm choosing to embrace them all with a spirit of fun! 
When Every Bite Can Be Life Threatening
Courtesy of Kirsten Maxwell from Kids are a Trip.
Over 15 million Americans suffer from food allergies (according to FARE-Food Allergy Research & Education), which breaks down to approximately 1 in 13 children in the United States. Our youngest child has a peanut and tree nut allergy, which has made travel difficult and scary at times. Every time we travel to a foreign country I order allergy translation cards which translate expressions such as "If I eat this food or anything that has come into contact with it, I will need immediate medical attention" into the native language. These little cards have been extremely useful when we travel, providing a way to communicate with wait staff, restaurant owners, and chefs who otherwise would not be able to tell us if we were serving our child a dangerous meal.
We also bring an ample supply of Benadryl and an Epi-pen on every vacation. Both my husband and myself carry one at all times, just in case. My son does not have an airborne nut allergy, he is only allergic when he ingests a product with nuts. He immediately complains of his tongue itching and his lips begin to swell. We have been fortunate that we have never had to use the Epi-pen and can control his reactions with Benadryl, which helps to stabilize him briefly before he begins to throw up. It is not a pretty sight. 
Unfortunately, this past summer in Helsinki, despite all of our planning, our son had an allergic reaction, and it was completely my fault. We were in a market place where there were available food samples, and instead of getting out my trusty allergy translation card to ask if a cheese was safe to eat, I let my son try it. That was the first mistake. The second was that we had left the Epi-pen and Benadryl at the hotel in our carry-on bag, as we had just arrived that afternoon and I had forgotten to move it to our day pack. My son started complaining immediately and my husband swooped him up and started running for the hotel which was a good six blocks away. I ran behind with my two other children struggling to keep up and in my mind I kept thinking, "How do you say hospital in Finnish?" All sorts of thoughts ran through my head, but fortunately my husband was able to get my son back to the room, let him throw up, and get him some Benadryl. We spent the rest of the afternoon watching him and thanking our lucky stars that everything turned out ok. It was an ugly reminder of how violent food allergies can be, but we have learned from our mistakes. Traveling with food allergies can be scary, but when you're prepared, it can make all the difference.
The Cream Pie Moment
Courtesy of Robin Hutson from Luxe Recess.
Just before my daughter's 5th birthday, our family decided to experience the water parks Atlantis for the first time. My daughter had evolved from a toddler to a delightful, reasonable travel companion, and it was one of the most beautiful vacation days I had ever enjoyed with her, since we flew ahead of my husband for some days by ourselves. I recall taking this photo of her on the way to the water park feeling complete joy, celebrating her transition in to the next chapter of childhood. At the Atlantis pools, she befriended a sweet little boy from Winnipeg. After dinner we strolled through the marina village and ran into the cute Canadian boy at the ice cream parlor. A Junkanoo band began to play, and this precocious little guy asked my daughter to dance. I watched them celebrate their own sugar high while I thought, "Best vacation ever."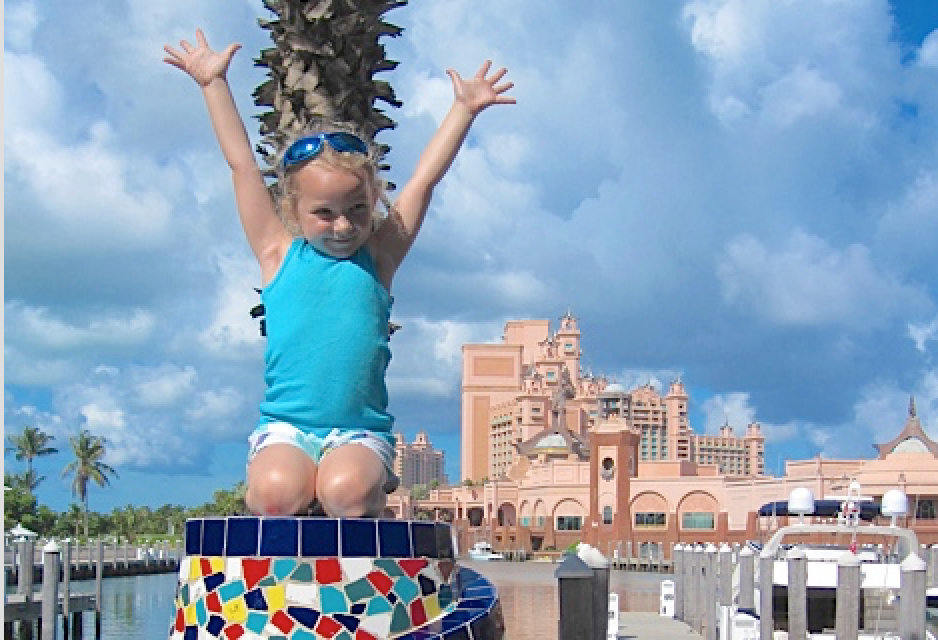 That night we curled up together in our room at the Comfort Suites, exhausted and content. A few hours later, I woke up to unfamiliar sounds and cries and turned the lights on. I was covered in my daughter's vomit, and so was the bed. She continued to throw up so many times over the next hour until she just fell asleep, while still puking. Is this how Janis Joplin died? I obviously couldn't go back to sleep and watched her, waiting for the next incident, hearing "Bobby McGee" play in my head.
I ascertained from her symptoms that it was food poisoning, as the one thing she ate that I didn't was a Boston Cream Pie flavored ice cream. After internet research, I saw egg as an ingredient and assumed the ice cream had become unfrozen during the import process into the Bahamas.
I was stuck at a hotel with no room service, and I was lucky to have packed instant soup mixes and peanut butter sandwiches for us to eat until she was well. Housekeeping finally left me a complete stack of towels and sheets that could have serviced the entire floor since I had called so many times. After 48 hours of little sleep, I was so delighted to set eyes on my husband when he arrived so that I could try and rest up. I opened the door to see him resting on his luggage handle. "Do you think there is a doctor we can call? I think I am coming down with something."
Thanksgiving Trip Trauma
Courtesy of Farrah Ritter from The Three Under.
We moved to the Netherlands from the US in 2012. Having three kids under 6, we didn't exactly relish the idea of traveling back 'home' and fortunately most of our family has come to visit us. My mother, however, is not a fan of air travel and so in November of 2014 we decided that it was time to fly back for Thanksgiving and see all of the family (and meet the newest additions) for the first time since we left. 
We planned for weeks. I stressed for months. There was so much to do, logistics to figure out and schedules to plan. We had it down to a science though, and when the time came we aced the big flight itself and I couldn't believe our luck at how easy it had been. Take that travel gods! 
We navigated the international flight together and I made the quick hop with the boys alone up to Michigan. No troubles, no worries, and the boys were on their best travel behavior. Just a day into our visit though- we all fell ill with a vicious stomach flu. Myself, my husband and our children were all taken down and even infected my poor parents. The entire week we were couch ridden and terribly, terribly sick. It was such a let down and a disappointment for everyone concerned, and the only bright spot was that we recovered in time to fly back home. 
Leaving Las Vegas
Courtesy of Jen Reyneri from Word Traveling.
In 2004, we sold everything we owned and left our home in Las Vegas in pursuit of a grand adventure and furthering my husband's wine career. My plans were to capture it all on film and write about our amazing experiences, all while nursing a baby. Two weeks into our year-long European travels, all of our camera gear was stolen from the trunk of our rental car in Madrid while we strapped our one-year-old into his carseat. We didn't discover it missing for hours, when we arrived to the coast of Spain. Since then, my camera gets packed incognito into a diaper bag. And, I'm finally beginning to write about the adventures and share the images from a much simpler camera and lessons learned from that journey over on Word Traveling.  
Sometimes, the challenges become the stories worth telling.

.
Can't get enough stories of misery?  Here are a few more:
Sarah Pittard shares her experience at a hip Miami restaurant on Solo Mom Takes Flight.
Kate Spiller has a nightmare flight from Kauai on Wild Tales Of.
Olga Mecking describes her best travel souvenir through her vlog at European Mama .
Do you have your own family vacation disaster story?  Share it by leaving a comment.
.