Last update: April 2nd, 2023 at 12:45 pm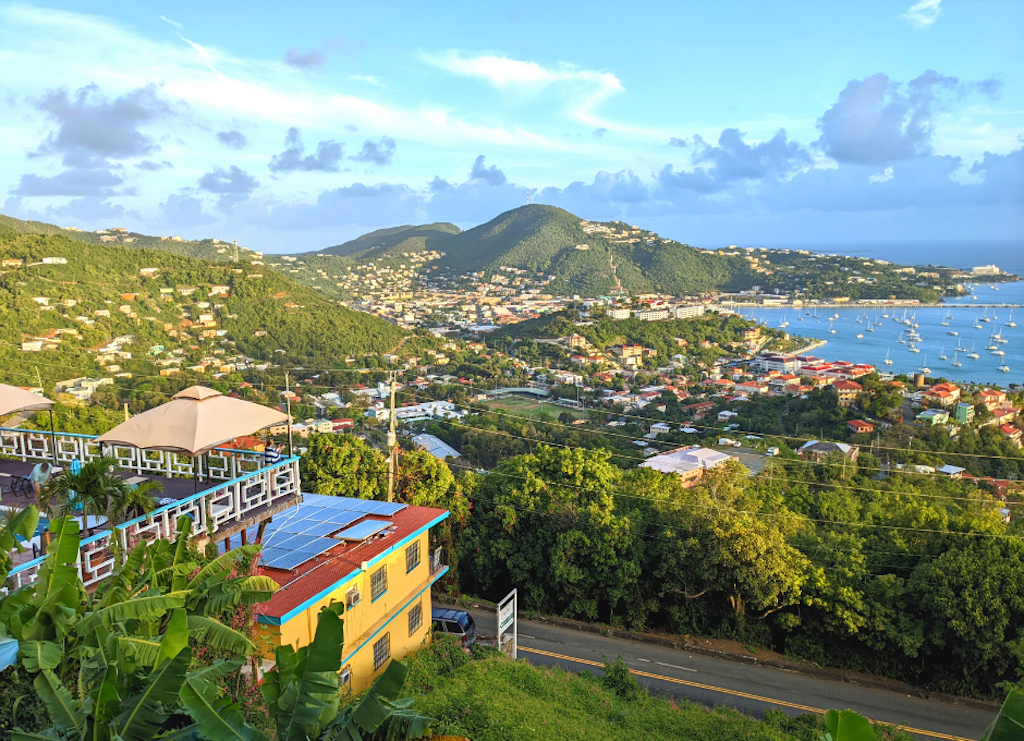 If you have followed Pint Size Pilot for a while, you will know that our family simply adores visiting the Caribbean. Despite many trips, however, we still have not managed to make it to all the major islands. For this reason, I was absolutely delighted when Lee Friedman, founder of family travel company Mango Tree Travel, kindly offered to write a guest post on exploring St. Thomas with kids. Thank you Lee!
Exploring St. Thomas with Kids
St. Thomas, part of the U.S. Virgin Islands, is more cosmopolitan than many Caribbean islands: Its port town, Charlotte Amalie, is known for its duty-free shopping – not its laid-back beach vibe. Many travelers choose to bypass St. Thomas in favor of St. John's natural beauty or St. Croix's relaxed atmosphere. Or they stay for a day or two, on their way to somewhere else.
But St. Thomas has a lot going for it! It should not be overlooked as destination in its own right. With direct service from the U.S. on most airlines, it is relatively easy and affordable to book flights for a St. Thomas family vacation (a huge plus these days, when flight prices seem to have skyrocketed). I took my 5-year-old daughter on a solo trip to St. Thomas to see what it has to offer – and we had a blast.
If you spot a good flight to St. Thomas for your next family trip, grab it! Here's my advice for how to spend an excellent vacation week in St. Thomas with kids.
About St. Thomas
The Virgin Islands is a group of about 90 small islands and cays in the West Indies, just east of Puerto Rico. They are divided into two groups – the British Virgin Islands and the U.S. Virgin Islands. The latter are considered an unincorporated U.S territory, so no passport is needed for U.S. Citizens.
St. Thomas, St. John and St. Croix are the three largest islands on the U.S. side, with St. Thomas being the liveliest of the three. It spans 32 square miles, with a population of just over 40,000. It's a mountainous island – making for exciting driving – with tons of eye-catching vistas. Home to the territory's capital, Charlotte Amalie, where many cruise ships dock, its known for its shopping and nightlife, plus its water sports and sailing.
Getting Around St. Thomas with Kids
Travelers often ask whether to rent a car in St. Thomas. The short answer: it depends, but with kids, probably yes. Taxis are easy to come by but are expensive – and drivers charge by the person. If you're traveling to St. Thomas as a family of three or more, those costs add up quickly.
For example: A short trip (under 15 minutes) will cost you $7 per person. For a family of four, then, you're looking at $56 for a round trip taxi to dinner. That same ride would cost a solo traveler only $14. A car rental will almost always be the more economical choice for most families.
In addition, this is an island you'll want to explore. You won't find many full-service, St. Thomas all-inclusive resorts. It's not the right destination for you if you want to check into a hotel and stay put on the property. Having your own car gives you the flexibility to experience St. Thomas's family friendly activities at your own pace.
Travel tip: Be prepared to drive on the left! The U.S. Virgin Islands are the only U.S. territory with left-side driving.
Things to do in St. Thomas with Kids
1. Saint Thomas Beaches
St. Thomas's iconic beach – Magens Bay – gets a bad rap on the travel boards for being too touristy. Frankly, though, it attracts travelers for a reason! It's stunning, and no trip to St. Thomas would be complete without a visit. The water here is so calm that you'll see travelers relaxing with pool floats, drinks in hand, and kids splashing safely for hours.
Another top choice for families is Coki Point Beach. Like Magens Bay, Coki is known for its snorkeling and calm waters. It's also right next to the Coral World Ocean Park, an open-air aquarium. Spending some time with sea lions and turtles offers a nice beach break for the kids.
My personal favorite beach on St. Thomas, though, is a little less popular: Secret Harbour beach, home to Secret Harbour Beach Resort (more on that below). My daughter and I visited Secret Harbour on the first day of our trip. For the next few days, we kept mentioning to each other how much we wanted to return – we loved this beautiful little beach so much. Go with kids of any age. But especially if you're looking for things to do in St. Thomas with toddlers, this calm beach is excellent spot.
2. Ziplining
Tree Limin' Extreme provides a beach break for kids age five and over. Over the course about two-hours, you will zip down six lines. Be prepared: You'll have to tandem zip with your kids if they are under 70 lbs. I'll admit, I had a blast.
The adrenaline rush is great – but it's the view that steals the show. Whereas many Caribbean ziplining courses wind through the jungle, this hillside course overlooks Magens Bay. You get to take in one of the island's most beautiful views while adventuring with your kids.
Travel tip: Pay attention to the cruise ship schedule! Magens Bay and Coki Point Beach are top St. Thomas excursions for cruisers. On days with multiple ships in port, they may be overrun, and the zipline lines long. Plan ahead and save these top family attractions for non-ship days, if possible.
3. Take in the Views
Plan to take a break from the beaches and water sports to take in St. Thomas's epic views. The top of St. Thomas's Crown Mountain is the highest point in the U.S. Virgin Islands. On one side, you get a sweeping view of the Charlotte Amalie harbor. On the other, you'll gaze past Magens Bay to the rest of the Virgin Islands.
There are several places to take in these eye-catching views. You can take the kids to Mountain Top – a souvenir shop and daquiri bar up in the ski. It's quite touristy, but the kids will enjoy taking photos with the pirate statues, and it's a good place to grab a few souvenirs. (Mountain Top offers the same view as the zipline.)
For something a bit more sophisticated, go for a sunset dinner at Mafolie Hotel, which overlooks the harbor. Families are welcome – the restaurant has award winning Caribbean cuisine but also a kids' menu. As a dinner activity, see if your kids can count all the boats in the harbor (we counted 93).
4. Swim With Turtles
One of the most unique activities to enjoy with your kids in St. Thomas is a snorkel/swim with turtles. Buck Island National Wildlife Refuge sits offshore just 2 miles south of St. Thomas. Your kids will love getting to sail on a Catamaran out to the island, where you are practically guaranteed to see a huge turtle underwater. We had an excellent experience with Heavenly Days, who made my daughter feel very comfortable as a novice snorkeler.
5. Kayak in Mangrove Lagoon
If you're out of the toddler years and traveling with school-aged kids, a super unique Caribbean activity is kayaking through St. Thomas's Mangrove Lagoon. You can kayak around the mangroves on your own, or as part of a tour, and can kayak out to Cas Cay – an island inhabited only by hermit crabs. More details available at Virgin Island Eco Tours.
Where to Stay in St. Thomas with Kids
Secret Harbour Beach Resort is my recommended place to stay in St. Thomas with kids, hands down. It offers beachfront condos of varying sizes (1, 2, and 3 bedrooms) with full kitchens, living rooms, and balconies. You'll have the flexibility to cook, but you don't have to; the beachfront restaurant serves some of the island's best fish tacos.
As I emphasized above (and can't say enough!), the beach itself is one of the best in St. Thomas for kids. Located in a sheltered bay, it remains calm even when winds make other beaches un-swimmable. Trees on the beach offer plenty of shade, and there's snorkeling just offshore.
Secret Harbour is also in the perfect location for exploring St. Thomas. It's less than 10 minutes from Red Hook, where you can catch the ferry to St. John or Tortola; 15 minutes from Coki Beach, and less than 25 minutes from Magens Bay. The Mangrove Lagoon is right down the road.
See more St. Thomas hotels on Booking.com.
Day Trips from St. Thomas
As you can see, St. Thomas has a lot to offer on its own shores. But one of the best parts about a vacation here is that St. Thomas can be a great home base for island-hopping. It's a short ferry ride from both St. John, USVI (20 minutes) and Tortola, BVI (45 minutes).
Here are some of the best nearby adventures to try with kids.
1. St. John
Where St. Thomas excels in shopping and conveniences, St. John takes the cake for natural beauty. Just a 20-minute ferry ride away, a day trip to St. John is a top family-friendly activity. If you've rented a car, take the car ferry from Red Hook, so that you can easily get to St. John's top beaches.
2. British Virgin Islands
If you want to see the other side of the Virgin Islands, you can take a 45-minute ferry from Red Hook to Tortola (just be prepared to go through customs). Numerous boat charter companies, such as Adventure Awaits or Sonic Charters, also offer day trips to sail around the British Virgin Islands.
3. Water Island
Did you know there's actually a fourth U.S. Virgin Island? Water Island covers less than 10 square miles. Just a 10-minute ferry ride away, it's an awesome and unique day trip from St. Thomas with kids.
Kids will love exploring Water Island by golf cart, pointing out cactuses along the roadside, and splashing at Honeymoon Beach. Parents can relax in a beach hammock with a drink from Dinghy's beach bar. There's delicious food for everyone at Heidi's Hillside. If you're interested, get your full guide to a day on Water Island here.
4. Lovango Beach Club
This private cay between St. Thomas and St. John is reachable by a 20-minute ferry from Red Hook. The beach club is set up to give you a memorable day – and a luxury experience – with your kids. An infinity pool, beach games, corn-hole, live music and more. It's a bit of a splurge at $135 per person per day (which includes a private resort ferry). But for a Caribbean beach day of your dreams, this is your spot.
Discover more St. Thomas activities with Viator.com.
Lee lives in Washington, D.C. with her two young children (ages 1 and 5). She and her husband traveled regularly before kids and have made it a priority to keep it up. She started Mango Tree Travel after becoming increasingly frustrated with the difficulties of finding a hotel room that would actually fit her family, at a hotel she was excited about. She wants to inspire other parents to travel with their kids, and make it easier for busy parents to find hotel experiences the whole family can enjoy – starting with the Caribbean.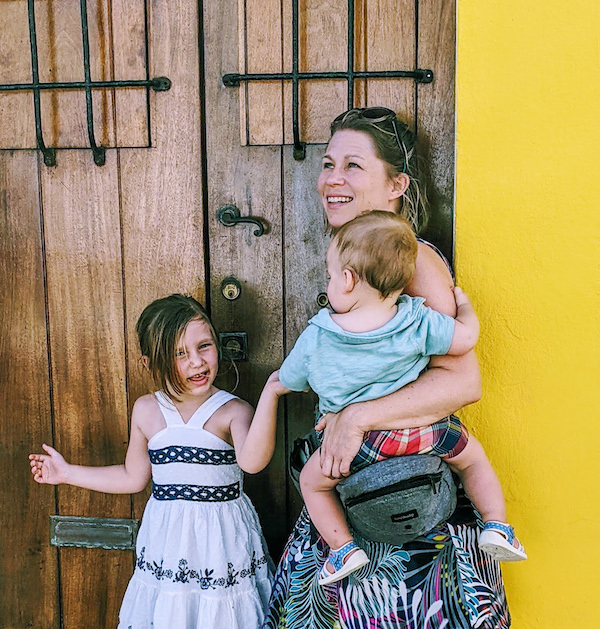 Related Posts