Last update: October 4th, 2021 at 04:40 pm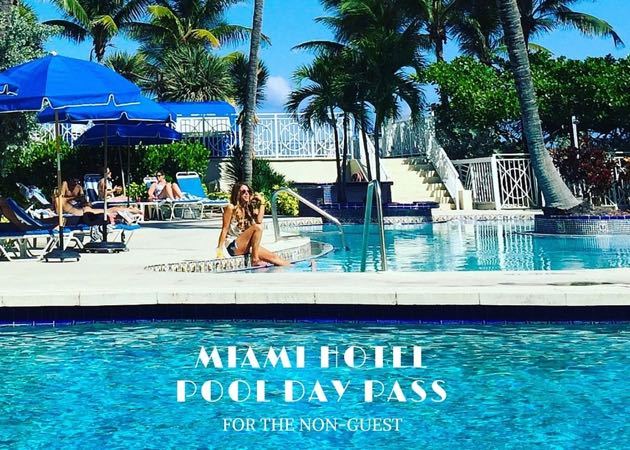 Recently, while contemplating a long layover at Miami International Airport, we discovered that several hotels in South Beach offer pool day passes to non-guests. Rather than die of boredom sitting at a gate, we instead spent a leisurely afternoon poolside, gazing up at swaying palm trees, sipping on fancy cocktails and nibbling on tasty bites. I have since learned that these passes are not only popular with locals and frequent flyers, but also with the cruising crowd, trying to kill time before boarding their ship. Looking for a nice way to spend a day in Miami? Check out the list.
Miami Pool Day Pass 101
Call the hotel to confirm that the offer is ongoing.
If you have luggage, confirm that they will check it for you. Alternatively, storage is available at MIA (I always love writing that airport code).
Be mindful of the fact that Miami has some serious traffic issues. Leave ample time to return to the airport for your flight. A cab from the airport to South Beach or vice versa will cost you around $35 and take about 30 minutes (without extreme traffic). Alternatively, you could use Uber or one of several shuttle services from the airport.
The Savoy South Beach Pool Day Pass
425 Ocean Drive (map)
+1 305-532-0200
4 star hotel
savoymiami.com
For $25 per person ($15 for kids 7-17), you gain access to their pools, fitness center, private beach, complimentary wifi, towels and beach chairs. If you have luggage, they will store it for $5/bag.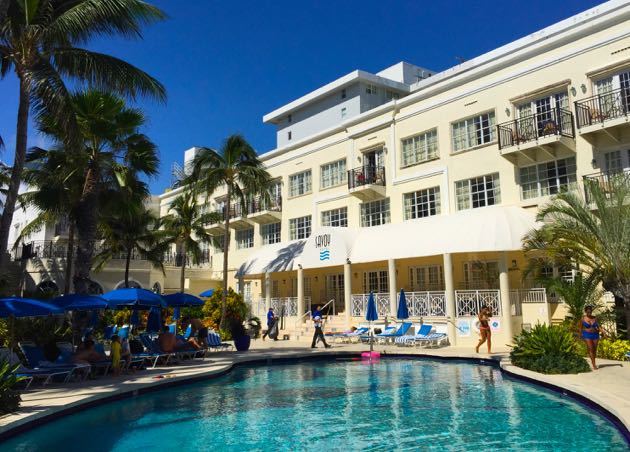 The Raleigh South Beach Pool Day Pass
1775 Collins Ave (map)
+1 305-534-6300
4 star hotel
raleighhotel.com
The Raleigh has a food and beverage consumption minimum that is dependent upon the day of the week.
Monday through Thursday the consumption minimum is $30 per person. Friday through Sunday and holidays, the consumption minimum is $60 per person.
Children 12 and under have no charge with a paying adult.
Adolescents from the age of 13 to 17 have a food and beverage minimum of $15 Monday through Thursday and $25 Friday through Sunday.
Anyone under the age of 18 needs to be with a full price paying adult with supervision.
Guests also have the option of booking a 

day

 bed with a food and beverage consumption minimum of $150.
The Raleigh also offers beach service to non-guests ( provided by Boucher Brothers ).  The Restaurant at the Raleigh provides all food and beverage service.
The following are the price guidelines for the beach:
Chairs  $15
Umbrella  $19
Cabana  $25

Day

beds depend on volume and start from $100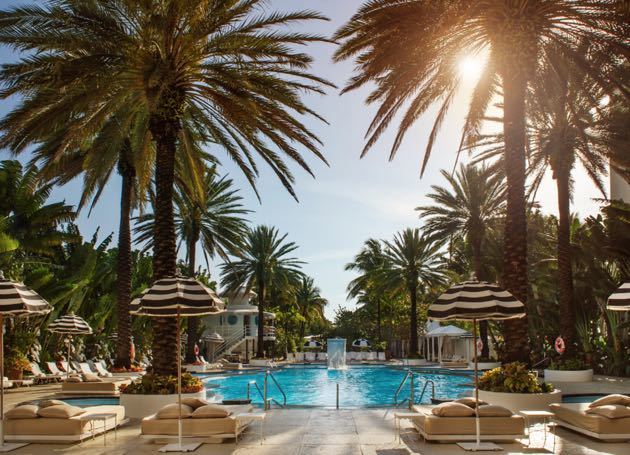 The National Hotel Miami Pool Day Pass
1677 Collins Ave (map)
+1 305-532-2311
4 star hotel
nationalhotel.com
Full day pool access is available for $30 per person (children $15). You can also rent a cabana for up to four guests for the day with only a $150 food and beverage minimum spent in their Blues Bar. Valet parking is offered at a discount of $15 for the day pass holders. There is no charge to store your luggage (but a gratuity is always appreciated).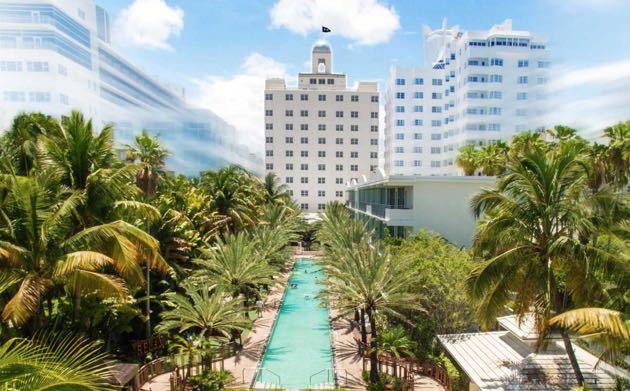 The Metropolitan Miami Pool Day Pass
2445 Collins Ave (map)
+1 305-695-3600
5 star hotel
comohotels.com/metropolitanmiamibeach/
For $65 per adult (children are free), this hotel offers day passes for their pool and beach areas. The day pass includes access to the hydrotherapy pool and main pool, a lounge chair by the pool or beach, luggage storage and 15% off food, beverage and spa services. Please be advised that these passes sometimes sell out, so call in advance to ensure availability.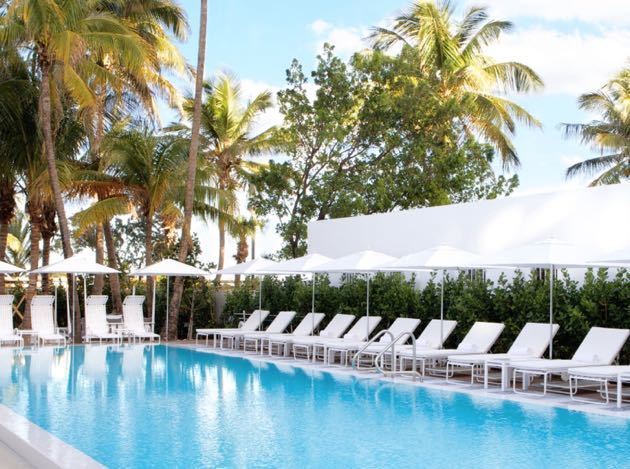 The Kimpton Surfcomber Miami Pool Day Pass
1717 Collins Ave (map)
+1 305-532-7715
4 star hotel
surfcomber.com
The Kimpton Surfcomber offers visitors a private poolside cabana with a $75 food and beverage minimum purchase per person. Children are welcome, but charges may apply depending on age. Call in advance to confirm pricing for kids and availability of cabana (they are popular).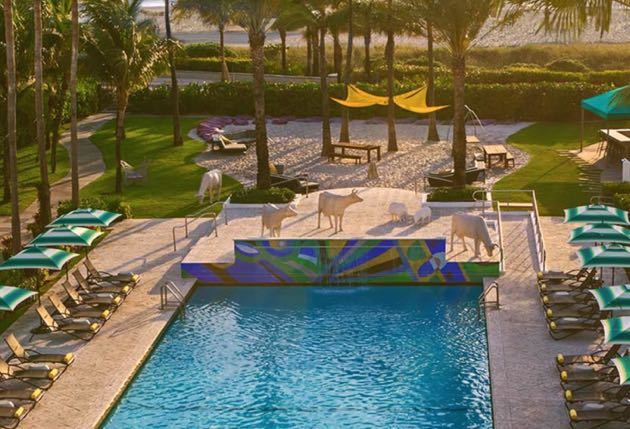 .
Epic Hotel by Kimpton (Downtown Miami)
270 Biscayne Blvd Way (map)
+1 305-424-5226
4 star hotel
epichotel.com
For $20 per adult (children are free), the Epic Hotel pool pass provides you with access to the two rooftop pools and the facilities in the Exhale Spa (including a sauna and locker room for a full day). The pools are adjacent to their Area 31 restaurant and bar which also offers poolside service.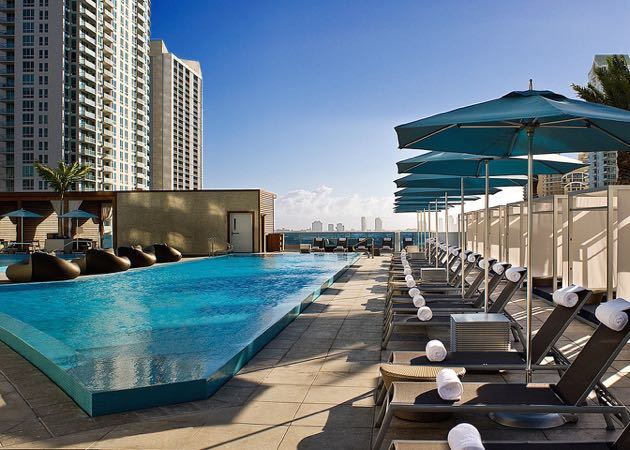 Do you know of another Miami hotel offering a pool day pass?  Please share in the comment field below.  Thank you !


You may also enjoy the following posts:
A Guide to Barbados, with Kids
The Swimming Race Horses of Barbados
A Guide to Zihuatanejo, Mexico – with Kids
Sailing the San Blas Islands, Panama – with Kids
A Guide to Disney Aulani, Hawaii
San Juan, Puerto Rico – with Kids