Last update: October 28th, 2023 at 10:01 am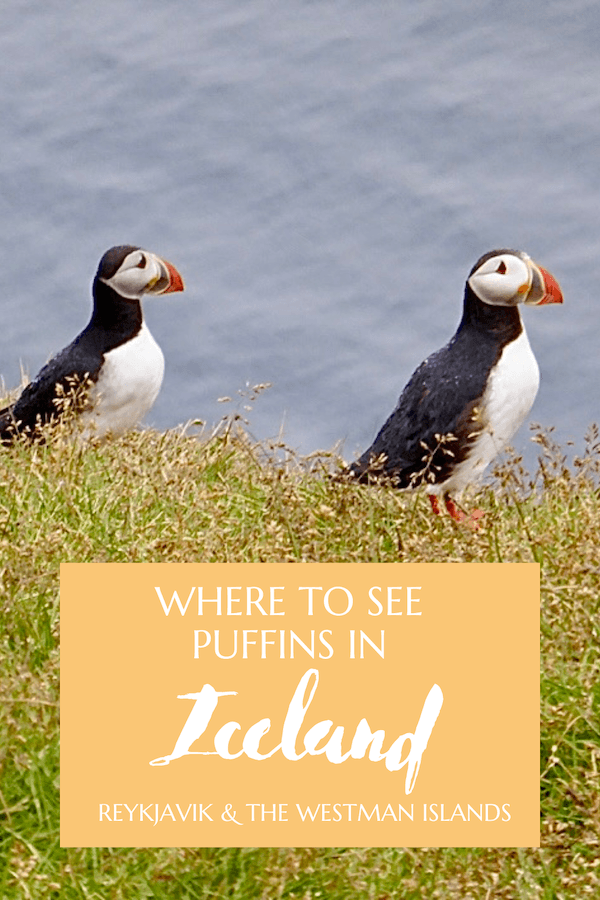 Affiliate Disclosure: This Where to See a Puffin, Iceland guide contains affiliate links. If you click on a link and make a purchase, I may receive a small commission at no cost to you.
Seeing Puffins in Iceland – Introduction
Along with driving the Golden Circle and visiting the Blue Lagoon, seeing puffins in Iceland was near the top of our must-do list on our first trip to this northern nation.
Iceland has one of the largest populations of Atlantic puffins in the world, with millions of breeding pairs visiting each year during the summer months.
In this post, I want to share with you the best ways to see puffins in Iceland on a short stay. This guide will be most useful to puffin-seekers spending their time in the greater Reykjavik area or along the South Coast of Iceland.
Please use the following menu to find what you need quickly.
When Can You See Puffins in Iceland?
Wondering exactly when to see puffins in Iceland? These adorable birds spend much of the year at sea. They return to shore in late spring (around late April) for breeding season – staying until mid-summer. This makes the months of May, June, July and early August the best time for puffin watching Iceland tours.
Note: In late August and early September, there are still a few puffins hanging around, but most tours stop running by the end of August.
Where Can You See Puffins in Iceland?
While the Iceland puffin population may be large in comparison to many other places in the world, seeing them still requires a bit of effort. You will not, for example, see puffins right in Iceland's capital city of Reykjavik.
So where are puffins in Iceland? During breeding season, puffins colonies can be found nesting on Iceland's coastal cliffs and offshore islands. For most visitors, a puffin tour from Reykjavik (boat trip), or a day trip to the Westman Islands are the most convenient options.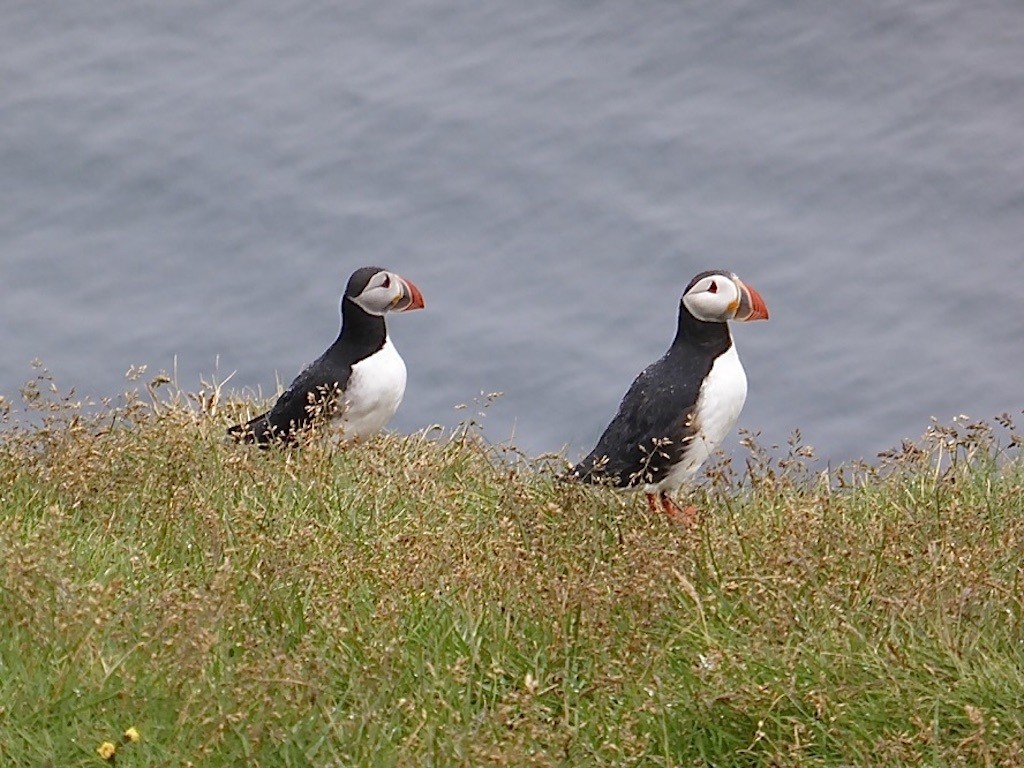 Note: Puffins can also be seen in the east, west and north of Iceland, so there are many more puffin viewing options for people driving Iceland's perimeter Ring Road. This post, however, is limited to those on a short stay in the country, spending most of their time in Reykavjik or along Iceland's South Coast.
See Puffins – Iceland, Reykjavik
The best place to see puffins close to Reykjavik, is to take a boat tour. Boats leave from the "Old Harbour", which is an easy 5-15 minute walk from most hotels in Reykjavik.
Reykjavik puffin watching boat tours typically head towards nearby Akurey Island and Lundey Island – both popular nesting spots. (Lundey is also sometimes referred to as Puffin Island.)
During these tours, guests can expect to learn everything they have ever wanted to know about puffins, as well as other local seabirds such as Arctic terns, northern fulmars, gulls, and black guillemots.
It should be noted that people are not allowed to step foot on these environmentally sensitive, protected islands. That said, guests still get a great opportunity to view and photograph the birds from various angles, as most boats will circle them several times.
See the following highly-rated, puffin watching tours from Reykjavik:
Another option is to do a longer puffin tour from Reykjavik that also includes whale watching. These tours typically run 2-4 hours.
From the Old Harbour, you will head to the off-shore islands on a maneuverable small boat to see the puffins before heading out further, in search of dolphins and whales. Species of whales that can often be seen near Reykjavik include humpbacks, orcas and minkes.
See Puffins – The Westman Islands
The Westman Islands ("Vestmannaeyjar" in Icelandic) are the breeding grounds for roughly 50% of all of Iceland's puffins. While Vestmannaeyjar includes 14 largely uninhabited islands, Heimaey is the one exception, with roughly 4500 inhabitants (and one very large puffin colony).
Even without puffins, Heimaey is a very interesting island, worthy of a day trip. It has incredible scenery, a cute little town, two volcanos (that you can hike) and two resident beluga whales (more on this later).
Self Drive Westman Islands Puffins Day Trip
If you have rented a car in Iceland, a day trip to the Westman Islands is very feasible. And although Heimaey is a small island, it is still much easier to navigate by vehicle than on foot (especially to get to the puffins).
The drive time from Reykjavik to the ferry dock for the Westman Islands (Landeyjahöfn) takes about 1hr and 45min. The scenery along the way is lovely, including some cascading waterfalls and numerous fields full of those gorgeous Icelandic horses.
The ferry duration is 35-40 minutes. During the busy summer months, you should most definitely make ferry reservations in advance. (See the Westman Islands ferry website.)
Note: When in Iceland, I like to use Lava Car Rentals at Keflavik International Airport. I find they have excellent service and sharp pricing. (Car rentals in Iceland are very expensive!) See below for a Lava Car Rentals discount code, but you also may wish to check out my post on renting a car in Iceland for some helpful tips.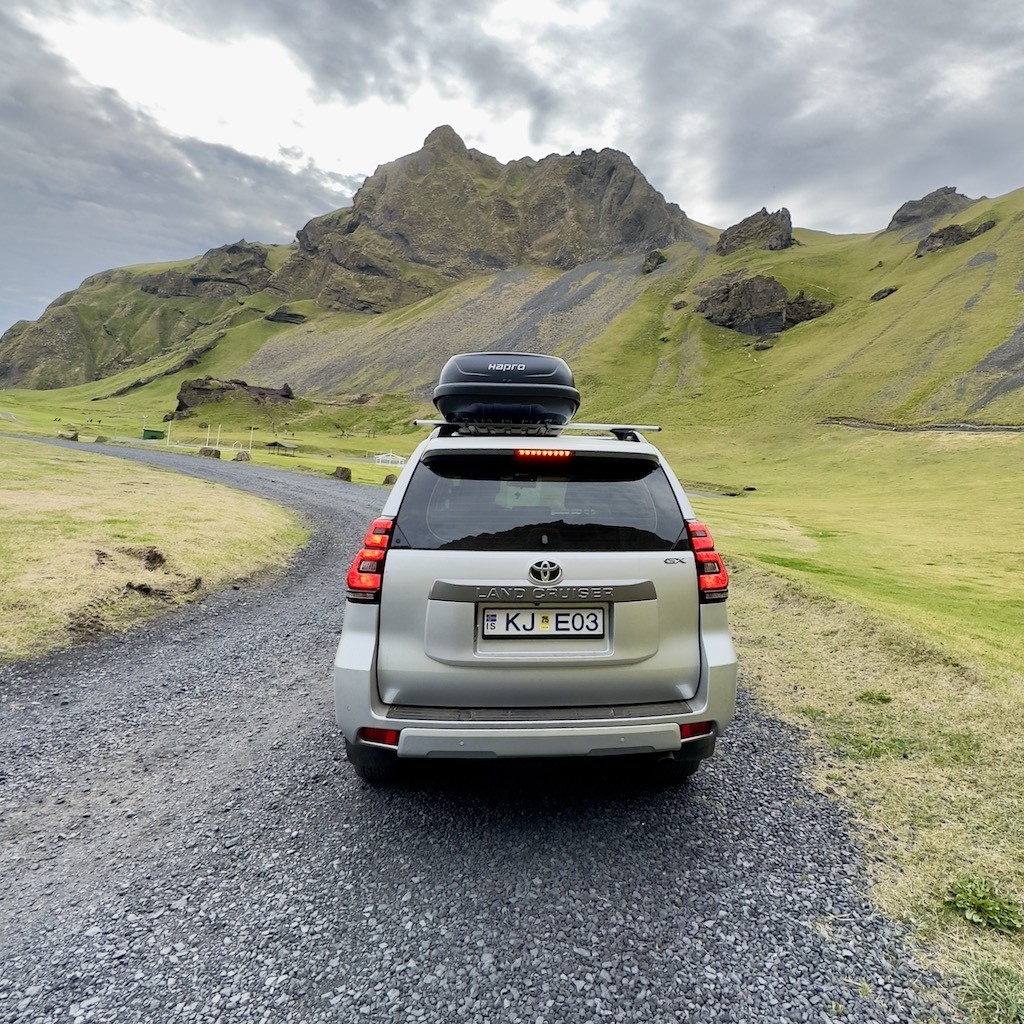 PROMO CODE ALERT
For a free GPS rental with Lava Car Rentals (1500 ISK/day value), please use discount code TARAGPS. Check the box for "GPS" when selecting your additional features and the daily fee will be removed upon checkout.
Westman Islands Puffin Watching Tours (From Reykjavik)
Alternatively, if you want an easier way to see puffins in the Westman Islands, you can simply book a day trip tour from Reykjavik. A tour will free you up from having to handle the logistics and will also include some additional activities (museum visit, lunch, optional boat tour).
Personally, I love the Puffin Westman Islands Tour from Reykjavik offered by the company Hidden Iceland. I have been working with this company from its inception and I just love what they have to offer.
Fun Fact: Hidden Iceland was started by some very experienced Iceland guides who wanted to offer a much more intimate and personal travel experience for their guests. Hidden Iceland is a Carbon Negative tour company with a Gold Class Environmental Certificate.
The Volcanic Westman Iceland Puffins Tour includes return transportation from Reykjavik in a comfortable van, an English speaking guide, ferry tickets, entry to the Eldheimar Volcano Museum, lunch, and optionally, a whale watching tour.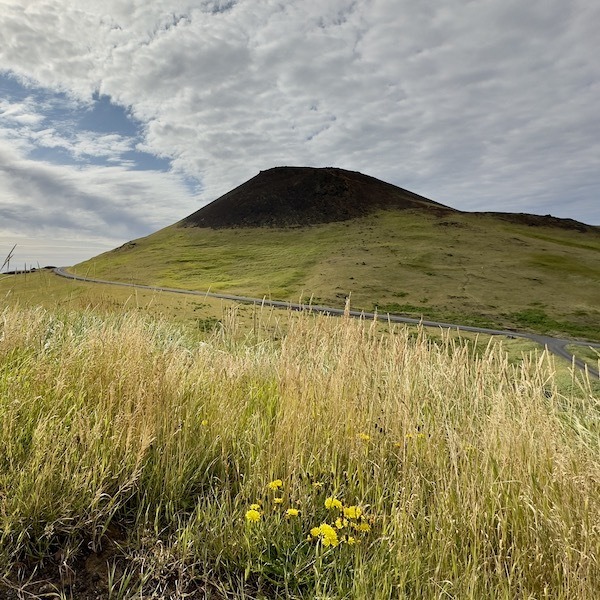 PROMO CODE ALERT
Use HIDDEN ICELAND promo code PINTSIZE10 for a 10% discount on the Volcanic Westman Icelands Puffins Tour, or any other "Small Group Tour" they offer.*
*Note: Although this discount code only applies to Hidden Iceland's Small Group Tours, should you be interested in one of their bespoke Self Drive or Private Guided Tours, please mention Pint Size Pilot in the "How did you hear about us" section for the most competitive rates.
Where to Find the Puffins on Heimaey
Storhofdi
One of the best spots to see Icelandic puffins in their natural habitat in the Westman Islands is at the Storhofdi Puffin Lookout, which is just a 10 minute drive from town.
Personally, I find the the puffin viewing from the clifftops behind the Storhofdi Lighthouse (just a few hundred meters further along) to be a little better.
Now, if you have a fear of heights, this clifftop location might not feel like the safest place. To get to the viewing area, you need to navigate a rather steep downhill slope towards a cliff, while working your way around some grazing sheep. Proceed with caution!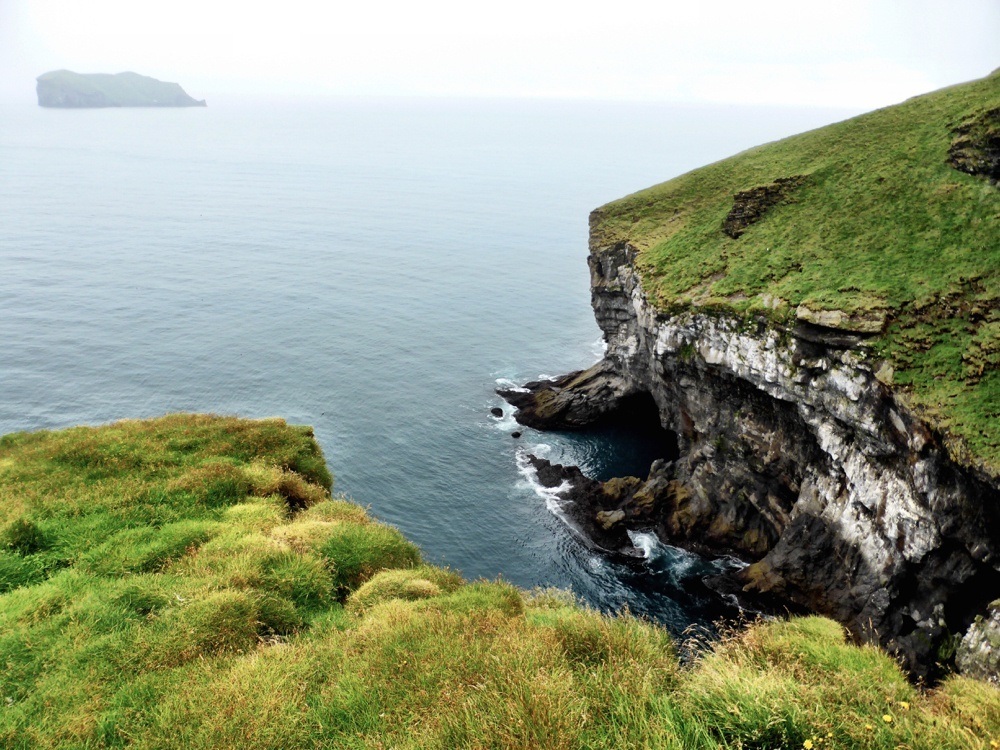 Once carefully near the cliff's edge, avid bird watchers can get a great view of the nesting grounds, full of adorable pairs of puffins, crowd-free. The puffins on Heimaey are quite shy, but if you stay very still, and don't get too close, you can get some nice shots of them with a zoom lens.
Dalfjall
On our most recent trip to Heimaey (August 2023), we were surprised to see some cute little puffins nesting in the rocks while doing the Dafjall hike. The views from the top of the island are also stunning and well worth the thigh-burn.
Note: The trailhead for this 20 minute ascent is located right behind the amphitheater by the golf course. (See the route on AllTrails.)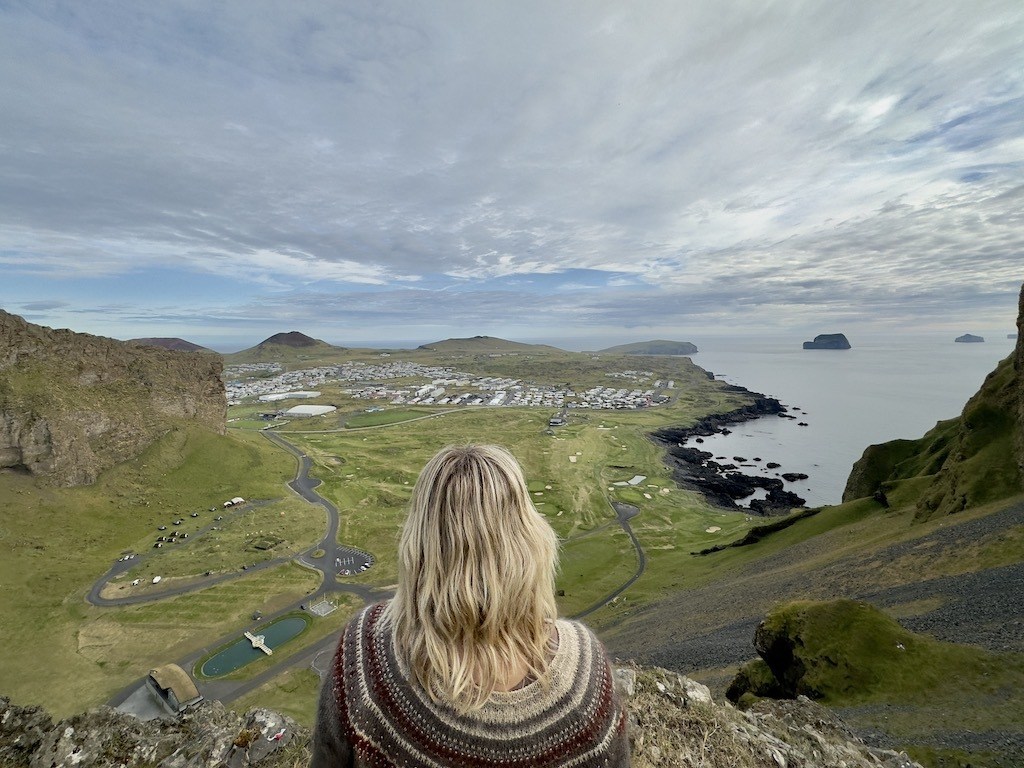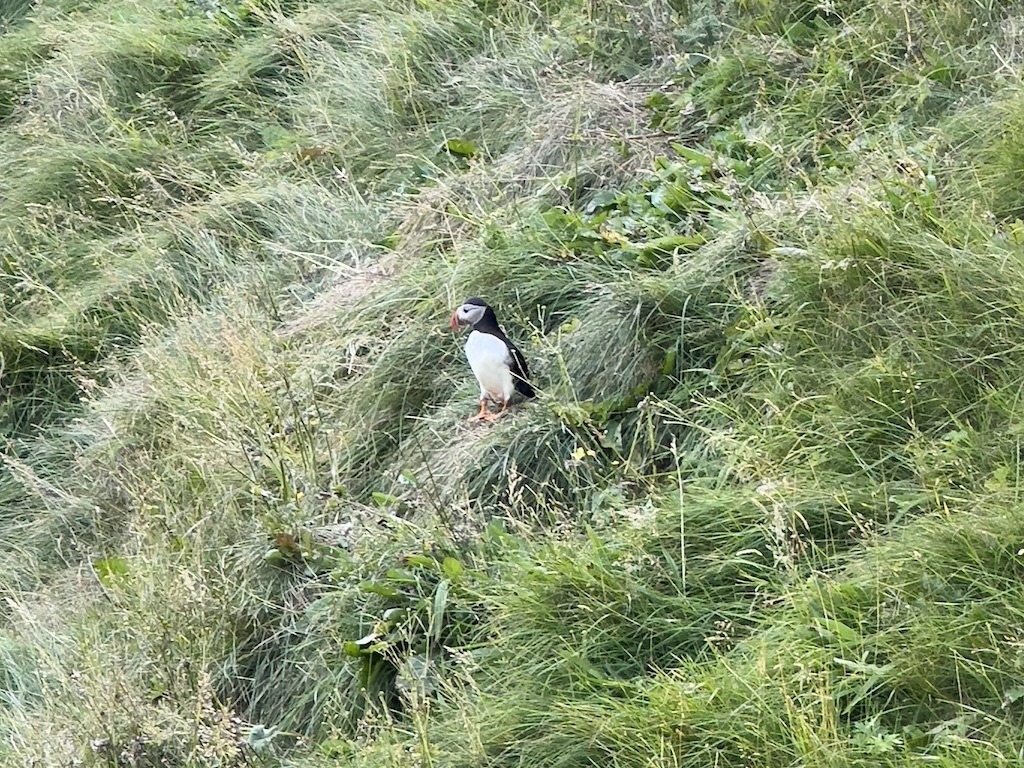 Vestmannaeyjar Boat Tour
Another way to see puffins on Heimaey is to take a boat tour and view the cliff faces from below. Heimaey has a really beautiful and dramatic coastline and a boat ride is one of the best ways to appreciated it. Not only will you see the puffins, but also a beautiful sea cave, and the very unique "Elephant Rock".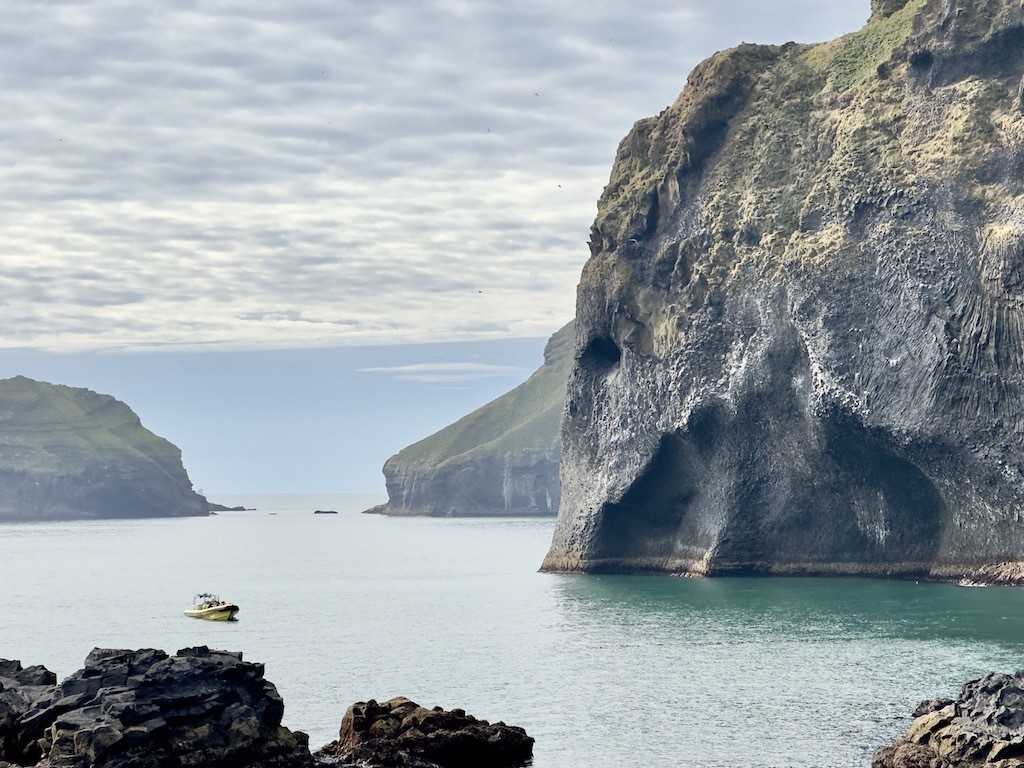 More Things to do on Heimaey, Westman Islands
Heimaey is a lovely island. In addition to seeing the puffins, a visit to the Edheimar Volano Museum is a must. Through the exhibits, guests can learn about the dramatic 1973 eruption of the Eldfell volcano, that lasted for about five months, and lead to the evacuation of the island's population to mainland Iceland.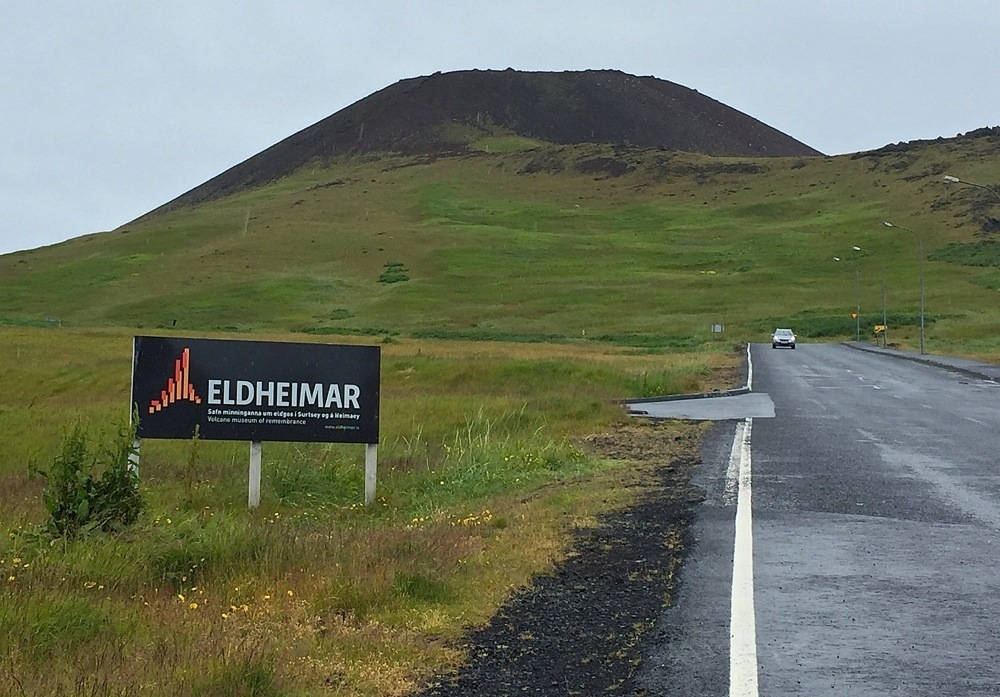 The island is also home to the world's first Beluga Whale Sanctuary. Visit the Sea Life Trust to learn more about this ambitious project which aims to return two rescued beluga whales back to the ocean in a secure bay.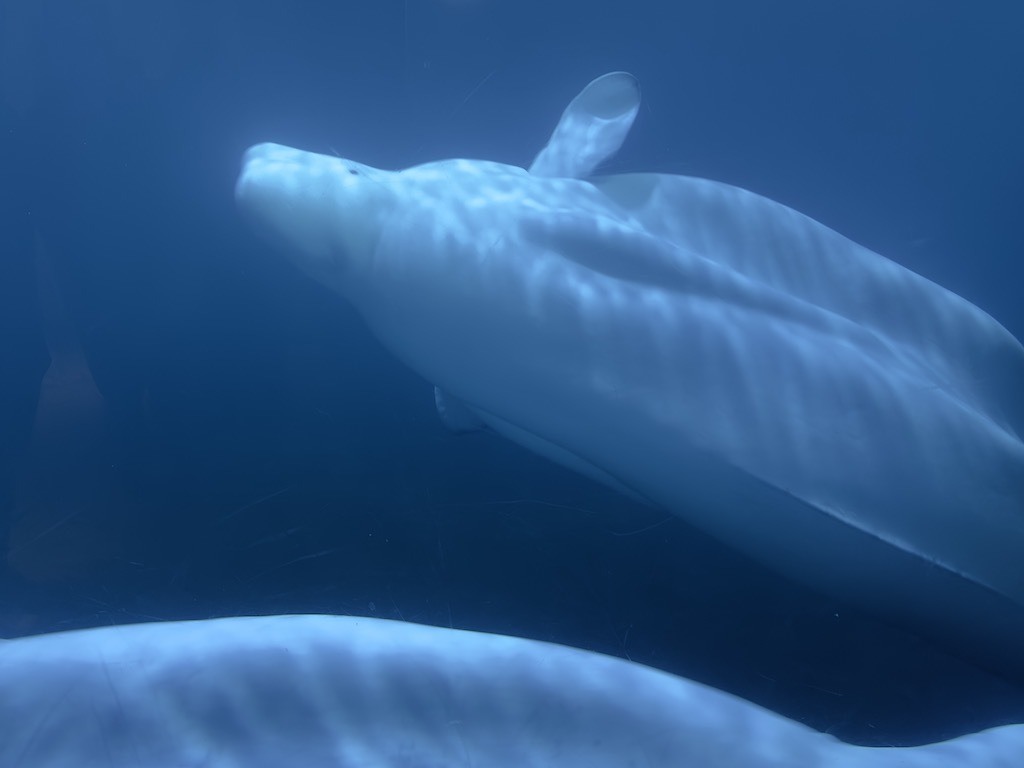 If you have an overnight stay on Heimaey (and are visiting in the late summer season), one of the best things to do is to join the local children on the nightly search for pufflings.
From about mid-August through September, baby puffins sometimes get confused by the town lights and fly towards them, rather than out to sea. These little birds are carefully collected, given a medical inspection, and then released from a clifftop for a fresh start.
Check out this little video on The Puffin Patrol from The Independent:
While on the island, try to squeeze in a meal at the highly acclaimed Slippurinn restaurant — a family run establishment, serving traditional Icelandic dishes. Read reviews for Slippurinn here.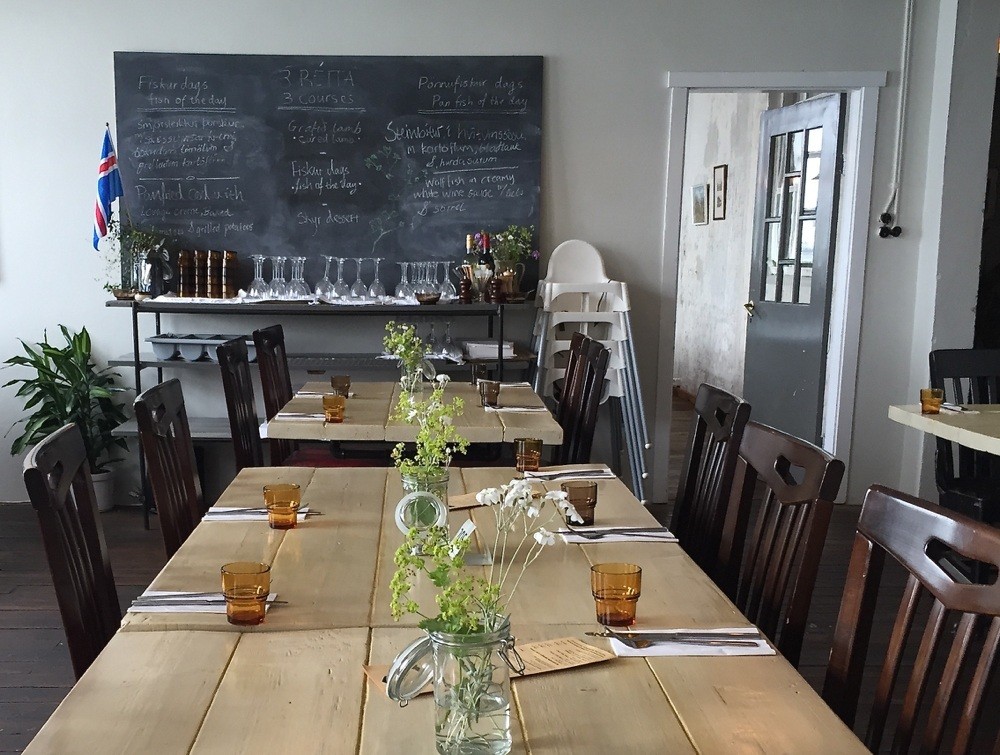 For more casual fare, Gott restaurant is another good place to eat. We liked it so much, we visited twice on a recent trip. (The Hidden Iceland day tour includes lunch at Gott.)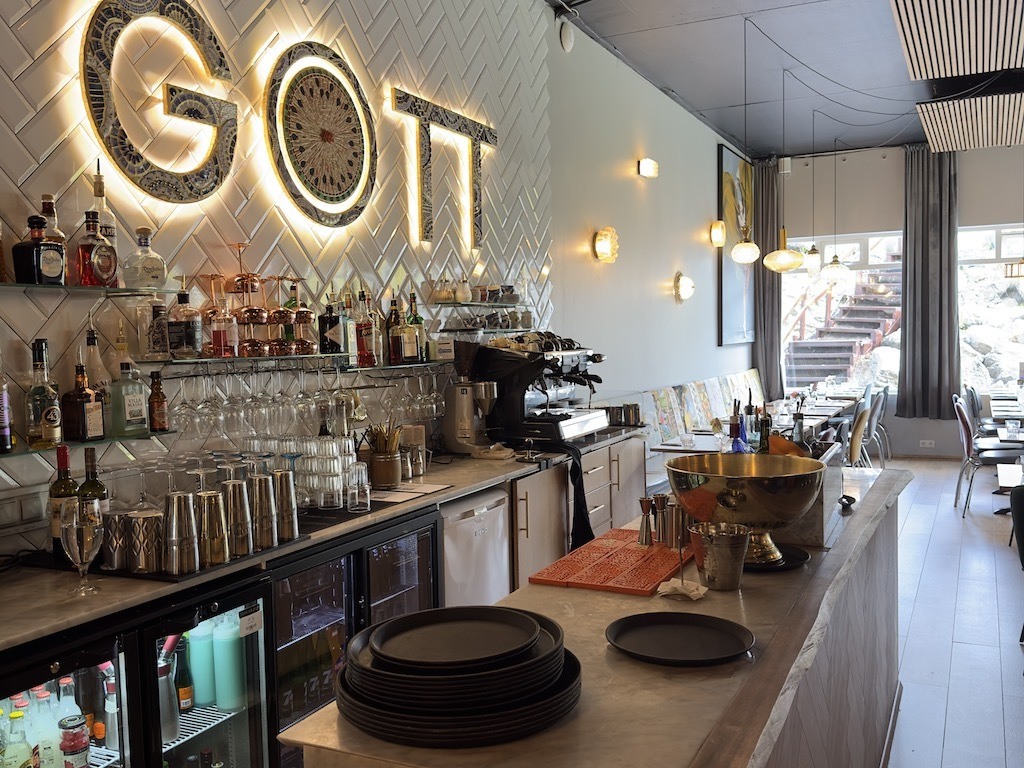 How to Photograph Puffins in Iceland
An important thing to know about photographing puffins in Iceland is that it can be tricky to get a clear shot of them. When they are not out at sea, they typically nest in the side of a cliff, so often, you are either viewing them from below (from the water) or looking down over the edge of a cliff (safely and carefully).
Puffins are also quite timid so they will fly away if you get too close.
To get good puffin photos, a zoom lens (and ideally a stabilizing tripod) is best. I took the first photo below with a 30x zoom point-and-shoot style camera.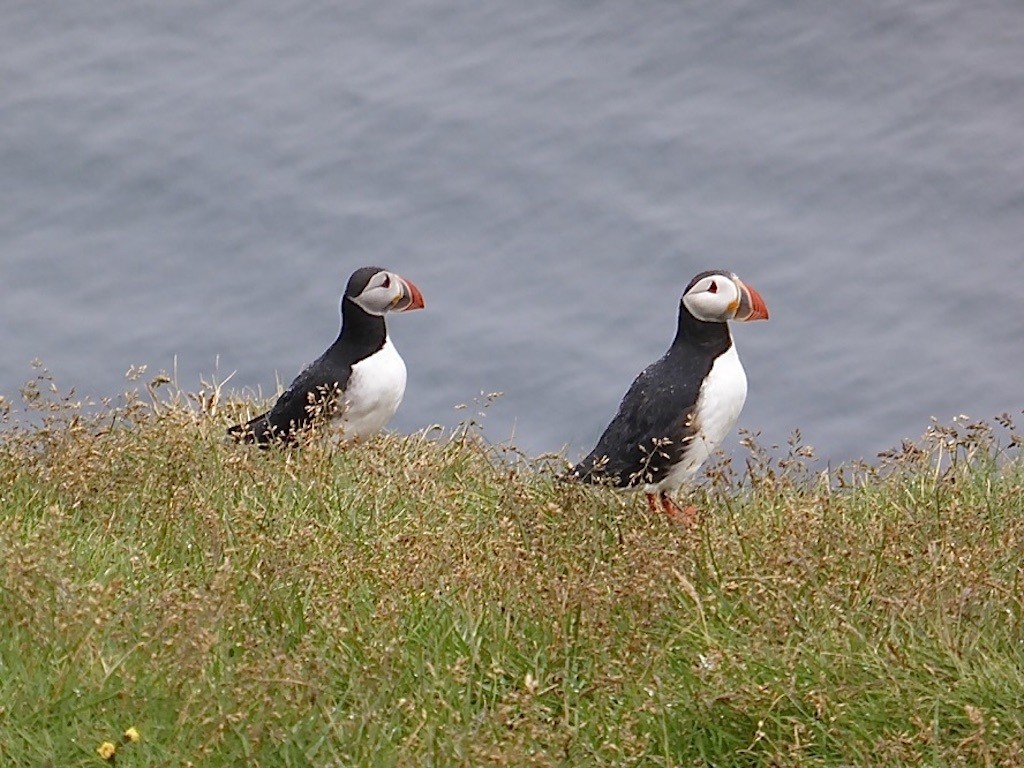 This second photo was taken on my most recent trip with an iPhone 14 Pro. I was trying super hard to get a clear shot, but it was really hard. You can also see how much the puffins can really blend into their surroundings.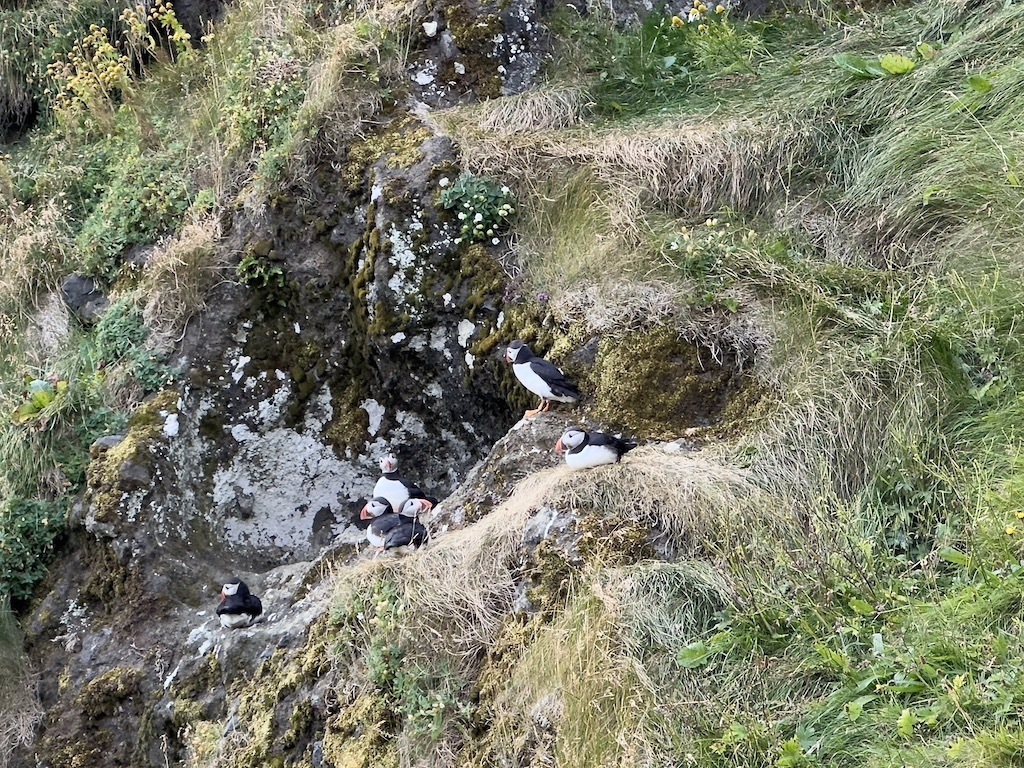 Further Reading