Last update: December 7th, 2022 at 08:41 am
Looking for 2022 Whistler Christmas events? Me too! We have been visiting Whistler Village in December every year for at least the past decade. Between the festive decor and the snow-covered village (when the weather cooperates) – we find that a little Whistler getaway really helps to put us in the holiday spirit.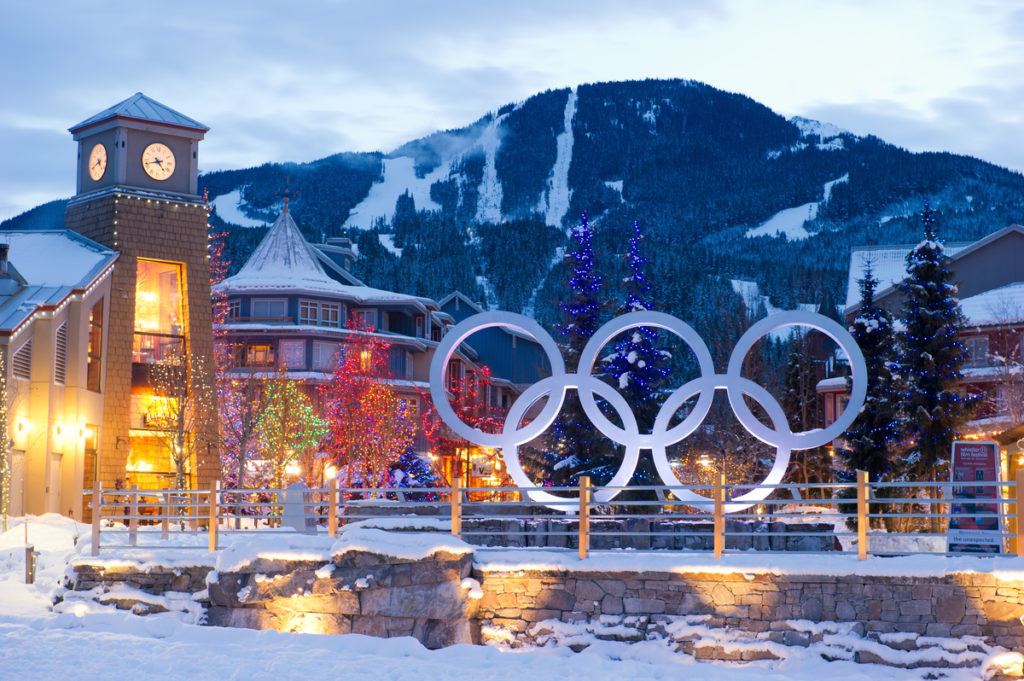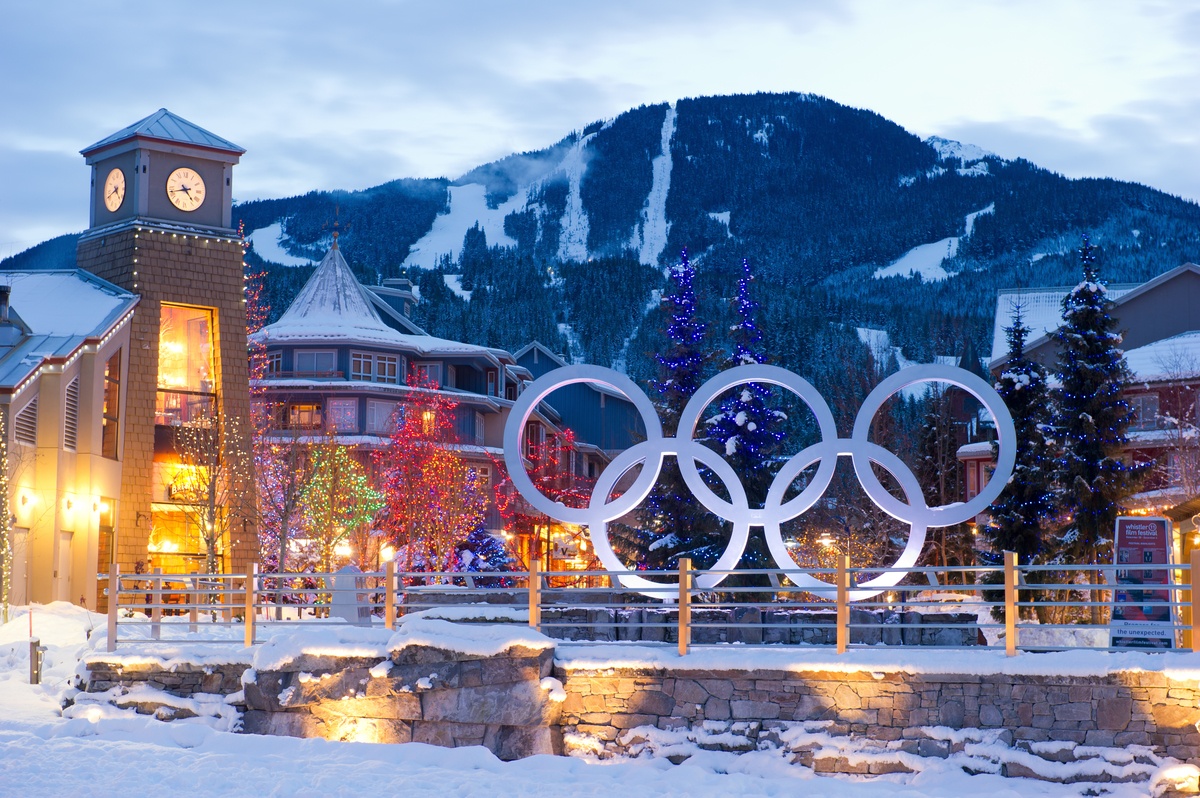 While there is no question that Christmas in Whistler is going to look a little different this year (with some classic events such as the Fire & Ice show currently "on ice"), my goal here is to focus on what we can still do in these unusual times. So…here we go!
Things to do in Whistler at Christmas
Ski with Santa Whistler
Santa Day is back for 2022! A free lift ticket will be gifted to the first 100 people to arrive at the Garibaldi Lift Company near the Whistler Village Gondola dressed in full Santa or Mrs. Claus attire on December 15.
See Whistler Blackcomb Events for full details.
The Whistler Village Stroll
Grab a hot chocolate and take a stroll down Main Street to enjoy the gorgeous holiday lights. These beautiful displays are made possible by 5,000 strings of lights covering 289 trees that light up the village from Nov. 25th through the New Year.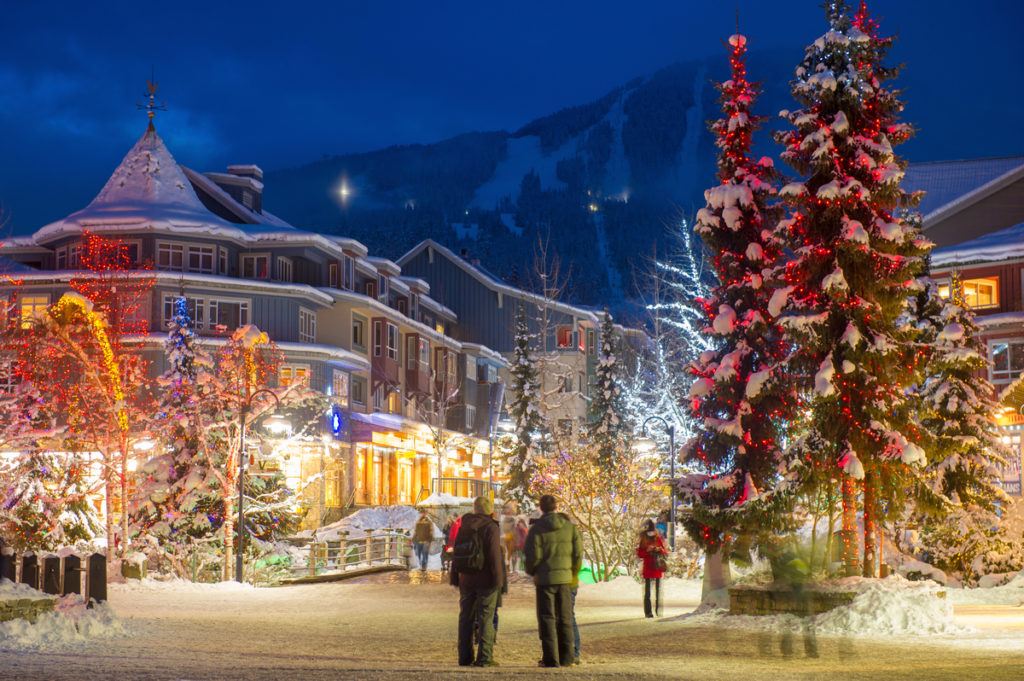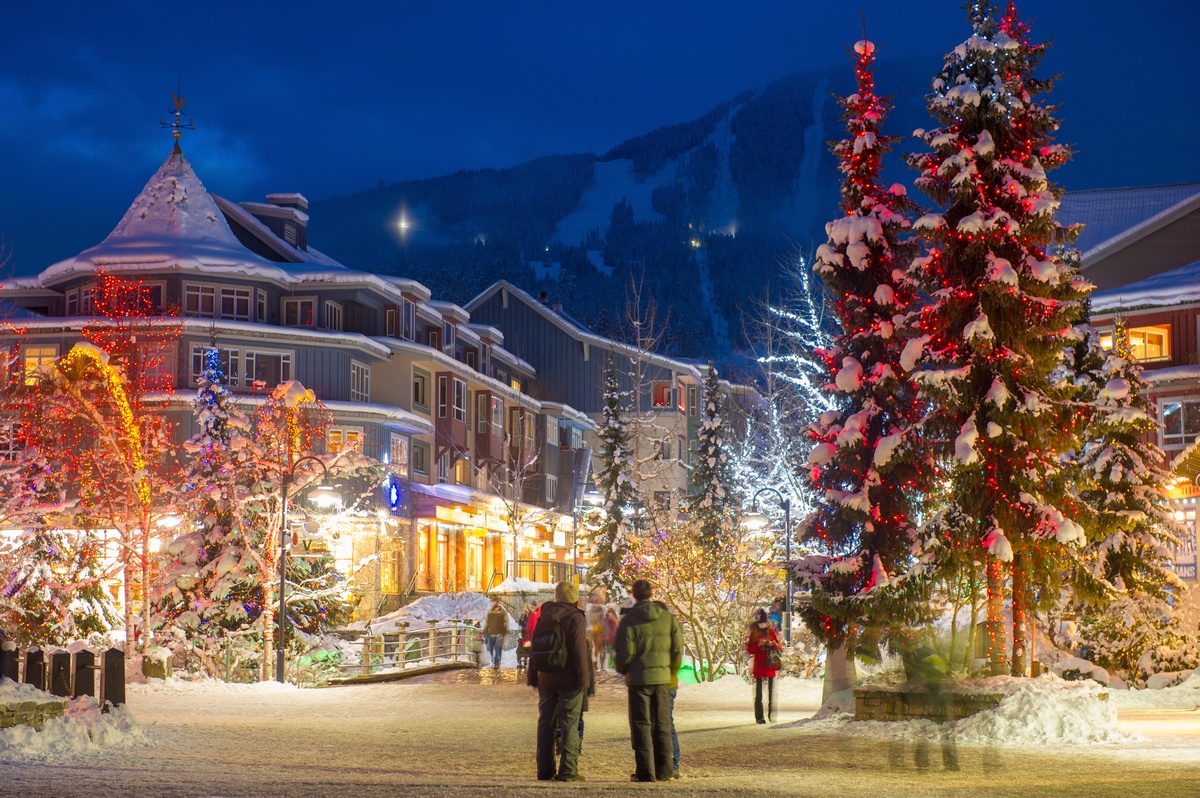 Wintersphere
Wintersphere at the Whistler Conference Center is the ultimate winter wonderland experience for the whole family. Activities include visits from Santa, entertainers, a holiday café, kids crafts, a holiday maze and much more.
Wintersphere is open from Dec.17th-31st (closed on Dec. 25th) from 9:30 AM – 5 PM daily, except 12 – 8 PM on December 31.
Photos with Santa Fundraisers
Village Centre – Dec. 19th, 3-6pm
Get your photo taken with Santa and his elves beside a vintage fire truck in the village. Donations go to support the BC Professional Firefighters Burn Fund.
Afterglow
Bundle up to celebrate the festive season with an unmissable outdoor experience filled with glowing lights, warm beverages, a creative zone to make your own ornament, live entertainment and so much more!
This is a free event for all ages at two Village locations (Whistler Town Plaza and Whistler Town Gazebo) between 2-5pm on Dec. 15, 16, 22, 23, 29 and 30.
Trees of Hope
Trees of Hope, presented by Fairmont Chateau Whistler and Mountain Galleries is a unique art auction featuring art by fifteen invited artists who painted their version of a "Tree of Hope."
Their paintings have been donated to a silent auction, with all proceeds going to Canuck Place Children's Hospice, which provides palliative and respite care services for sick children in BC. Their artwork is on display in the Chateau from Dec. 5-31st.
Ice Skating at Olympic Plaza
Hooray! Outdoor skating in Whistler is still on! This festive rink at Olympic Plaza will be open from November 25th until late March 2023 (weather dependent).
Admission is $2, skate rentals are $8, helmets and skating aids are available free of charge. Masks will be required in the lobby and exit areas. Please see Tourism Whistler for hours.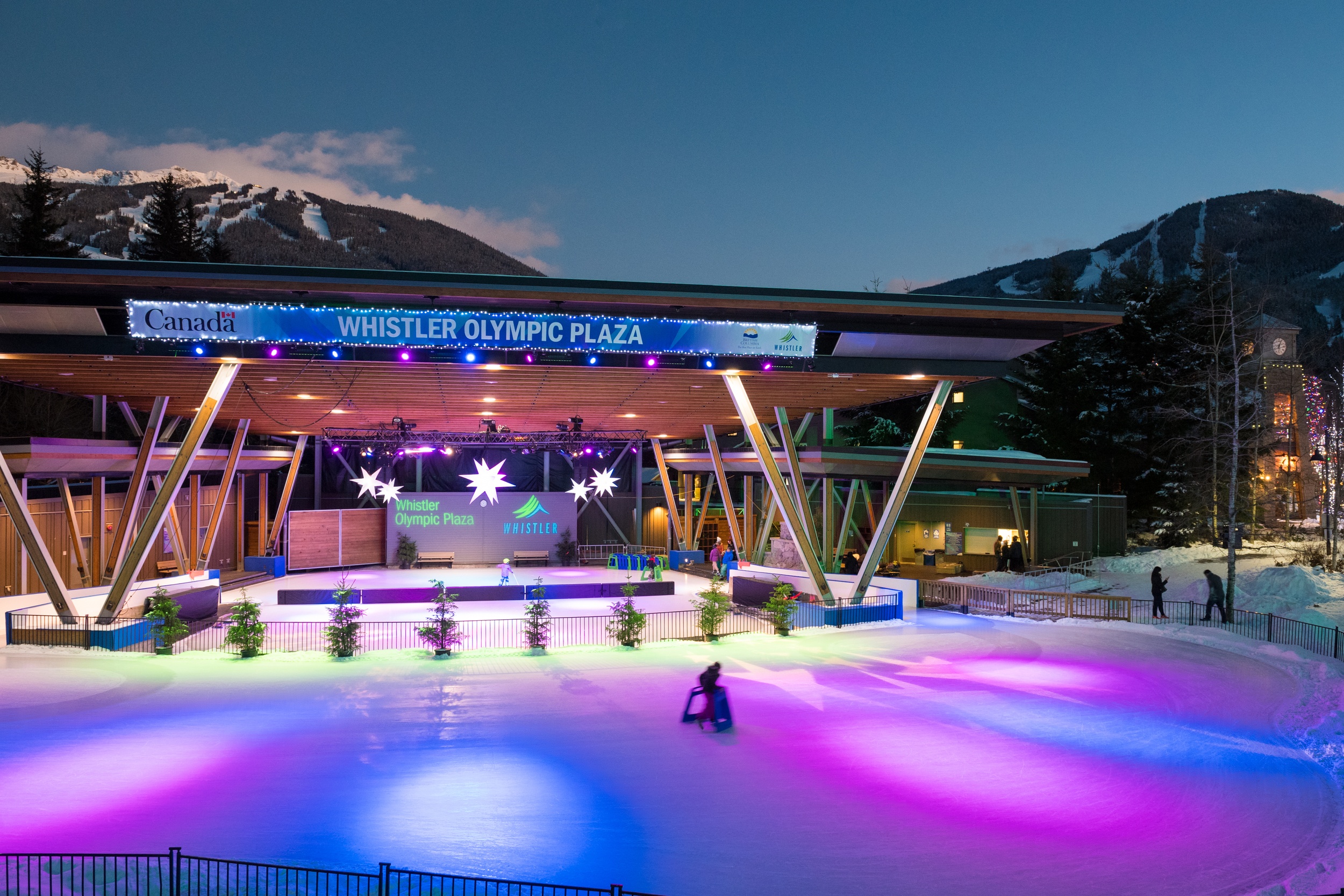 Vallea Lumina
This unique Whistler attraction involves a multimedia presentation and immersive light show set in the forested surrounds of Cougar Mountain. The Vallea Lumina Winter Story begins on Nov. 25th. Shows run on the half hour between 5 – 7:30pm throughout the Whistler Christmas season.
Tickets can be booked online at vallealumina.com. See also reviews for Vallea Lumina on Tripadvisor and enjoy a little peek at the experience in this 2 minute video.
Bobsledding and Skeleton
Did you know that Whistler Sliding Centre is the only place in Canada where the public can try bobsledding and skeleton? After a thorough orientation, guests will either hop in as a passenger (bobsled) or slide solo (skeleton) down the twists and turns of the track at over 100km/hr!
Learn more at Whistler Sliding Centre.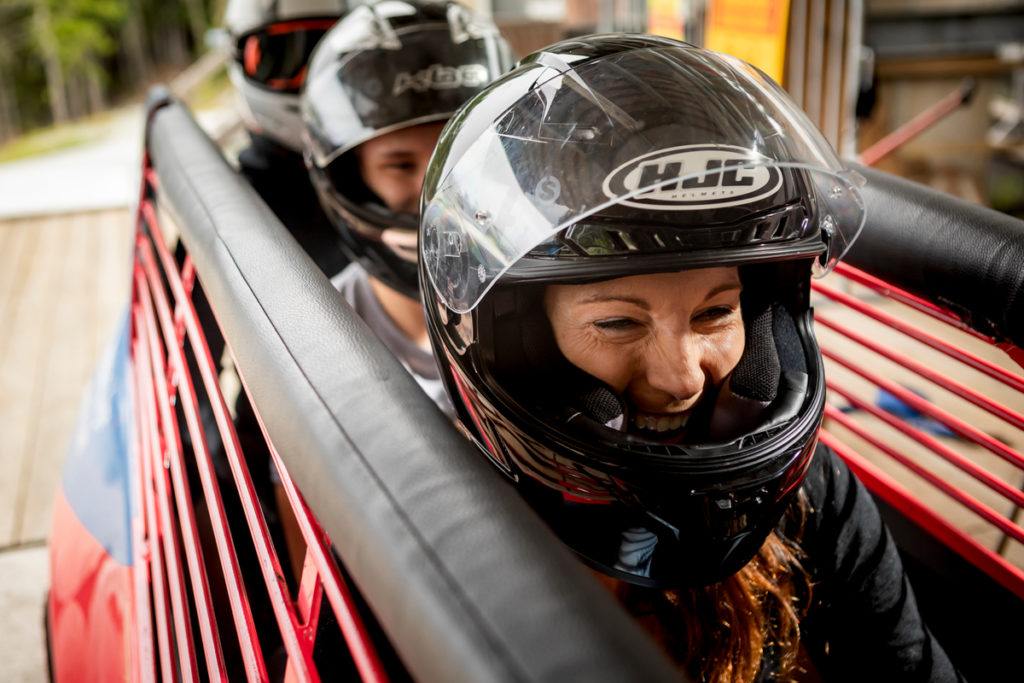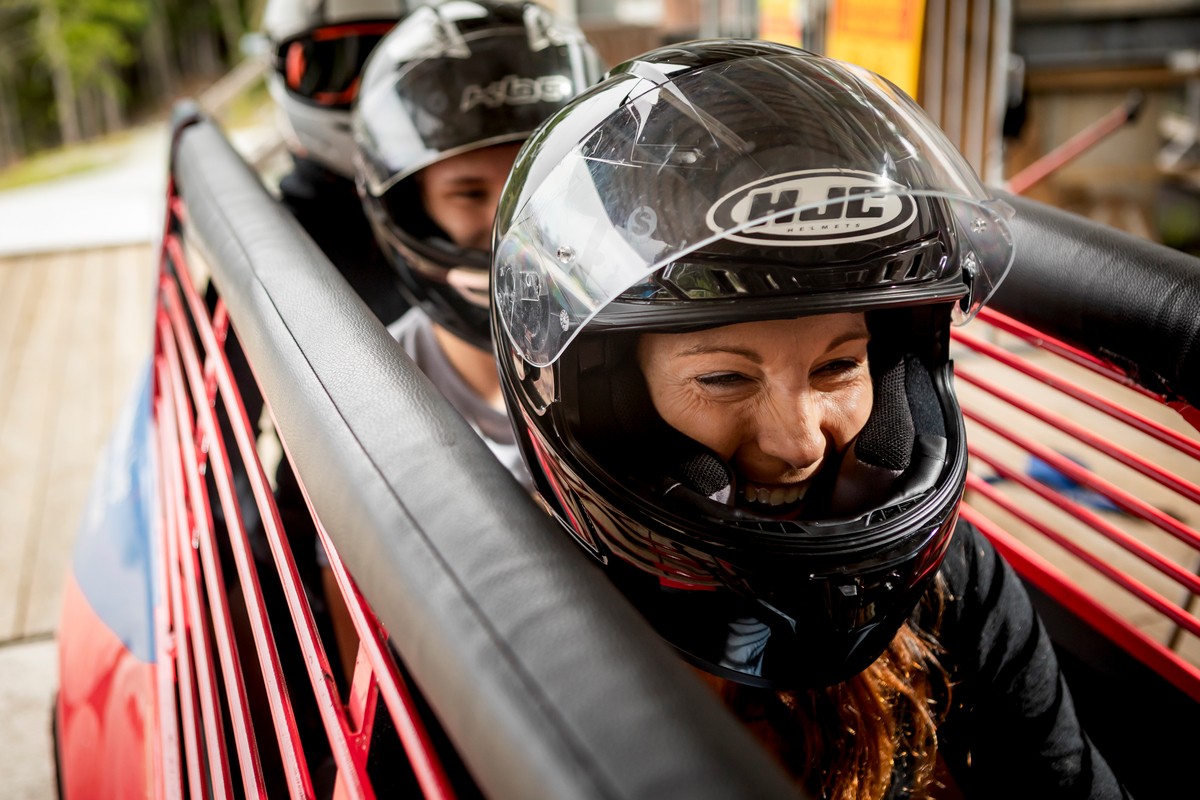 Hotel Holiday Festivities
Many of the hotels in Whistler offer festive events exclusively for guests throughout the month of December. That said, there are a couple of real standouts that do just a phenomenal job (making you never want to even leave the property).
1. The Fairmont Chateau Whistler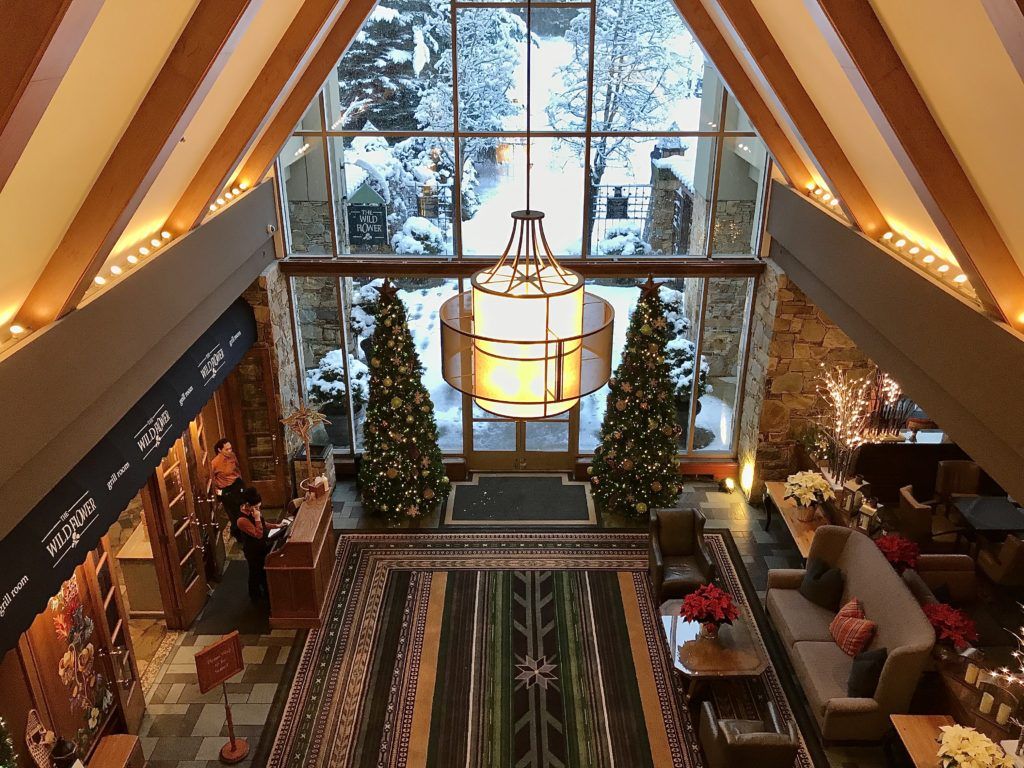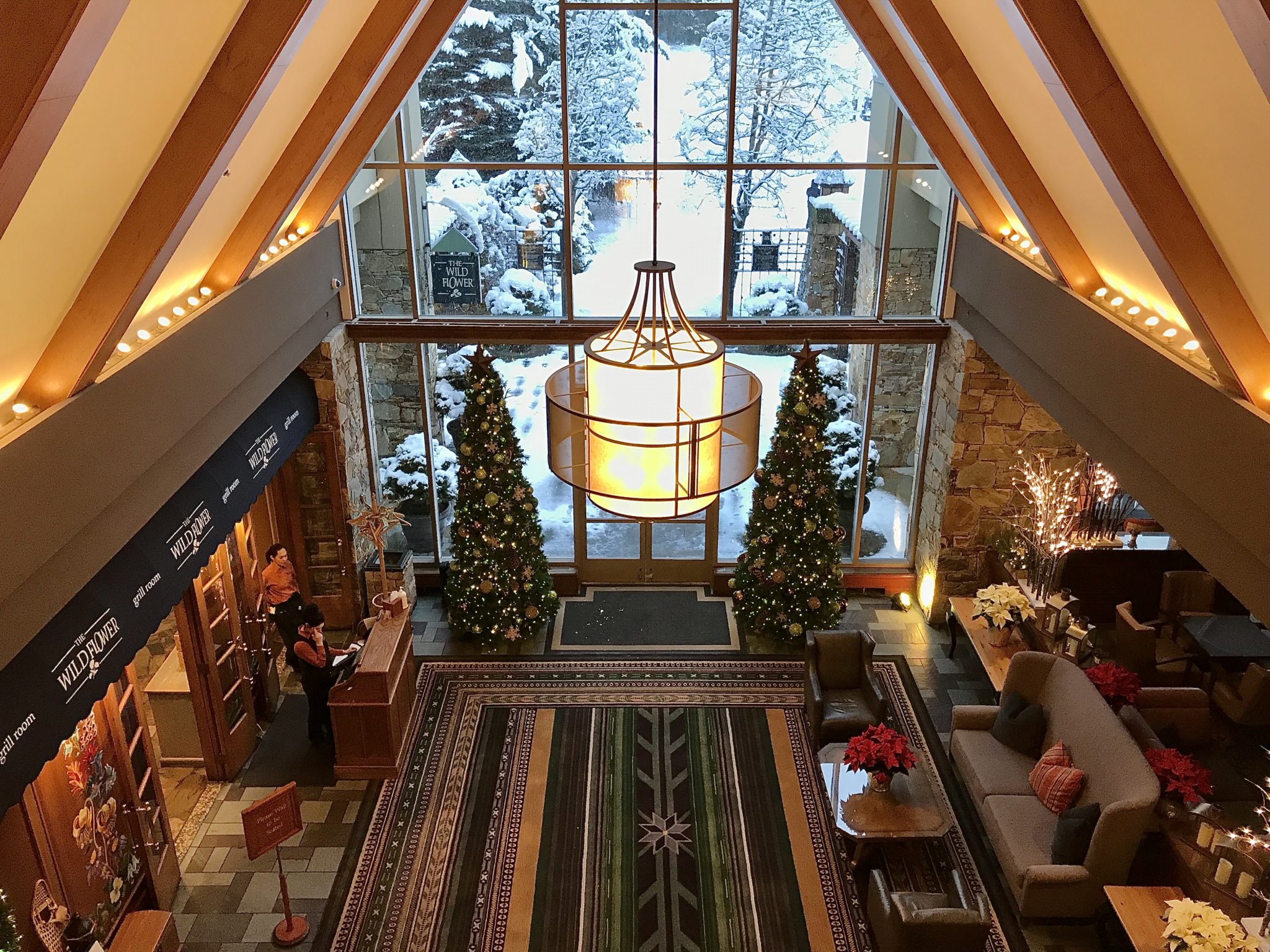 Not only does this property offer a myriad of festive dining options (see the full list), they also have a daily schedule of activities for families from Dec. 17th – Jan. 1st including christmas crafts, movie nights, cookie decorating, games and more. See the full Fairmont Chateau Whistler Christmas activity guide here.
Guests and non-guests alike can enjoy the Fairmont's beautiful Mallard Lounge – with its cozy fireplace, festive cocktails and live music. The Mallard is also a great spot for families as parents can sit around one of their outdoor fire pits sipping on something special while their kids have a ball playing in the snow nearby.
Check rates for the Fairmont Chateau Whistler on Booking.com or read reviews on Tripadvisor.
2. Festivities at the Four Seasons
The Four Seasons Resort Whistler is always a lovely place to be, but it's even more fun with the addition of their cute little vintage patio camper offering hot chocolate and cook-your-own s'mores. Guests can gather around the fire pit to warm up after a long day out adventuring, and enjoy the playful signature hot chocolate, The Tipsy Snowman.
The property also has some amazing family activities for guests throughout the holiday season. See them all here.
Check rates for the Four Seasons Whistler on Booking.com or read recent reviews on Tripadvisor.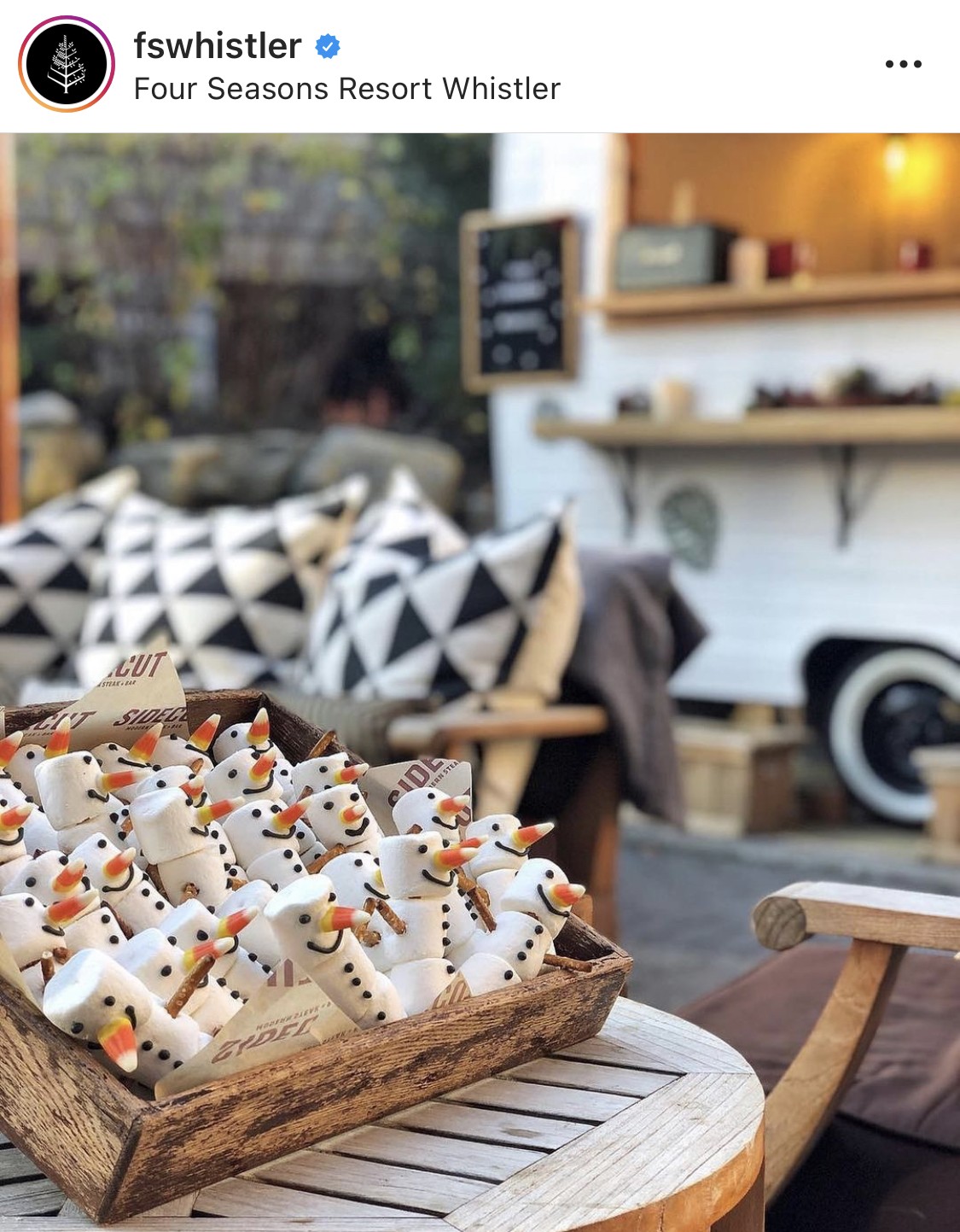 Holiday Dining in Whistler
If you are planning on spending your Christmas at Whistler, you might be interested in knowing your options for dining. Here are a few places offering special holiday seatings.
Christmas Dinner Whistler – Dine In
The Four Season will be offering both Christmas Eve and Christmas Day dining options. See the list here.
Festive Dining at the Fairmont Whistler – The Fairmont Chateau Whistler will be hosting Christmas dinner at the cozy Wildflower, the more upscale Grill Room as well as offering a very special gala (with a live orchestra) in the MacDonald Ballroom.
Rimrock Cafe – This celebrated Whistler restaurant is offering a special Christmas Eve and Christmas Day menu ($195 per adult, $110 per child).
Hunter Gather in Whistler Village will be offering a full Christmas dinner dine-in service on the 25th.
Christmas Dinner Whistler – Take Out
Whistler Cooks will deliver a complete Christmas dinner to your doorstep (home, vacation rental or hotel) on Christmas Eve that's ready to reheat and serve.
Portobello in Whistler's Upper Village will be offering their take-away Festive Feast from Dec. 20th – Jan. 1st including either prime rib or turkey plus all their gourmet fixings.
Whistler Christmas Tree Rentals
Need to liven up the decor in your Whistler holiday home, hotel room or vacation rental? Whistler Christmas Dream can take care of all of this with a variety of holiday decor rentals packages.