Looking for 2020 Whistler Christmas events? Me too! We have been visiting Whistler Village in December every year for at least the past decade. Between the festive decor and the snow-covered village (when the weather cooperates) – we find that a little Whistler getaway really helps to put us in the holiday spirit.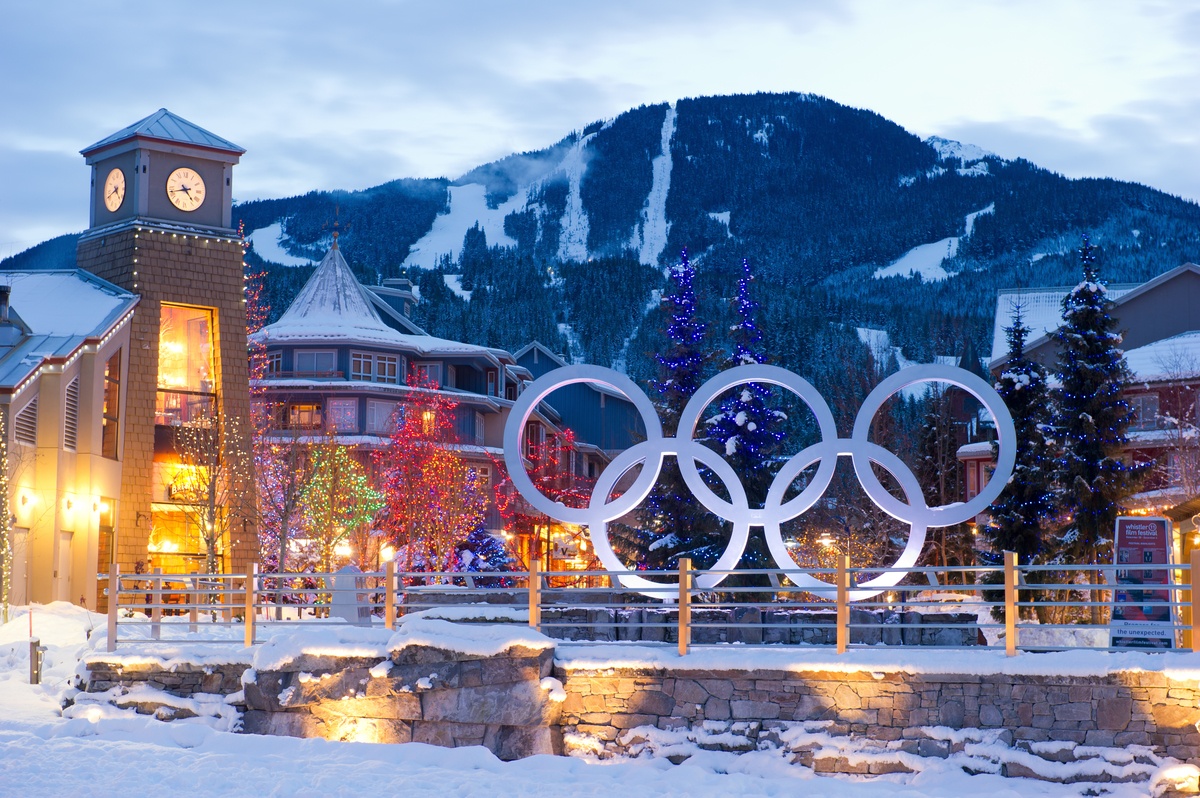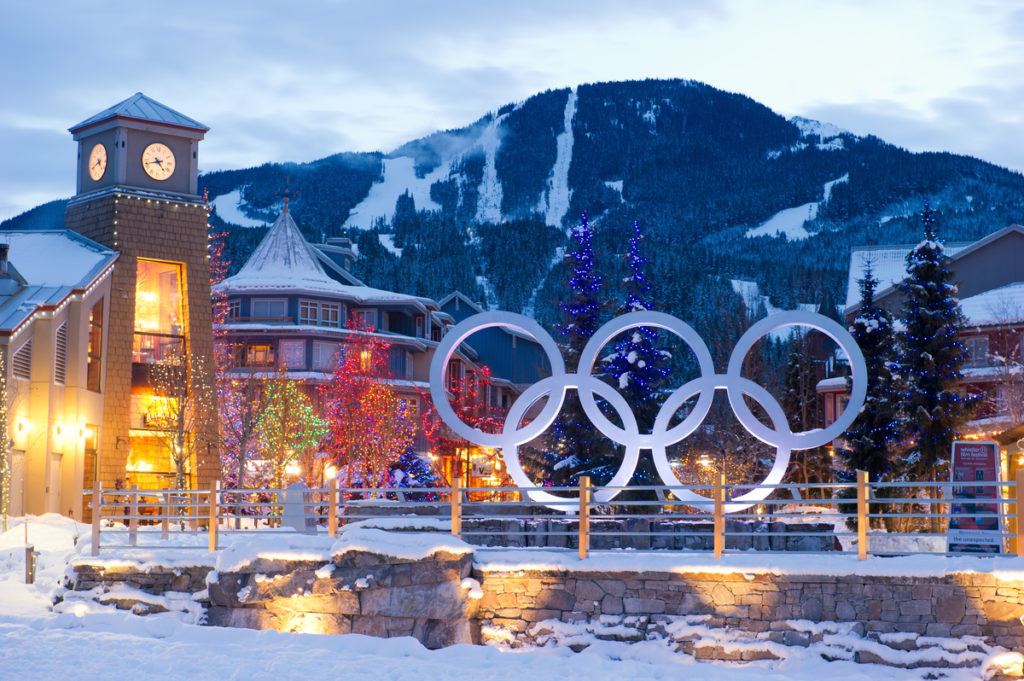 While there is no question that Christmas in Whistler is going to look a little different this year (with some classic events such as the Fire & Ice show currently "on ice"), my goal here is to focus on what we can still do in these unusual times. So…here we go!
Things to do in Whistler at Christmas
The Whistler Village Stroll
Grab a hot chocolate and take a stroll down Main Street to enjoy the gorgeous holiday lights. These beautiful displays are made possible by 5,000 strings of lights covering 289 trees that light up the village from Nov. 26th through the New Year.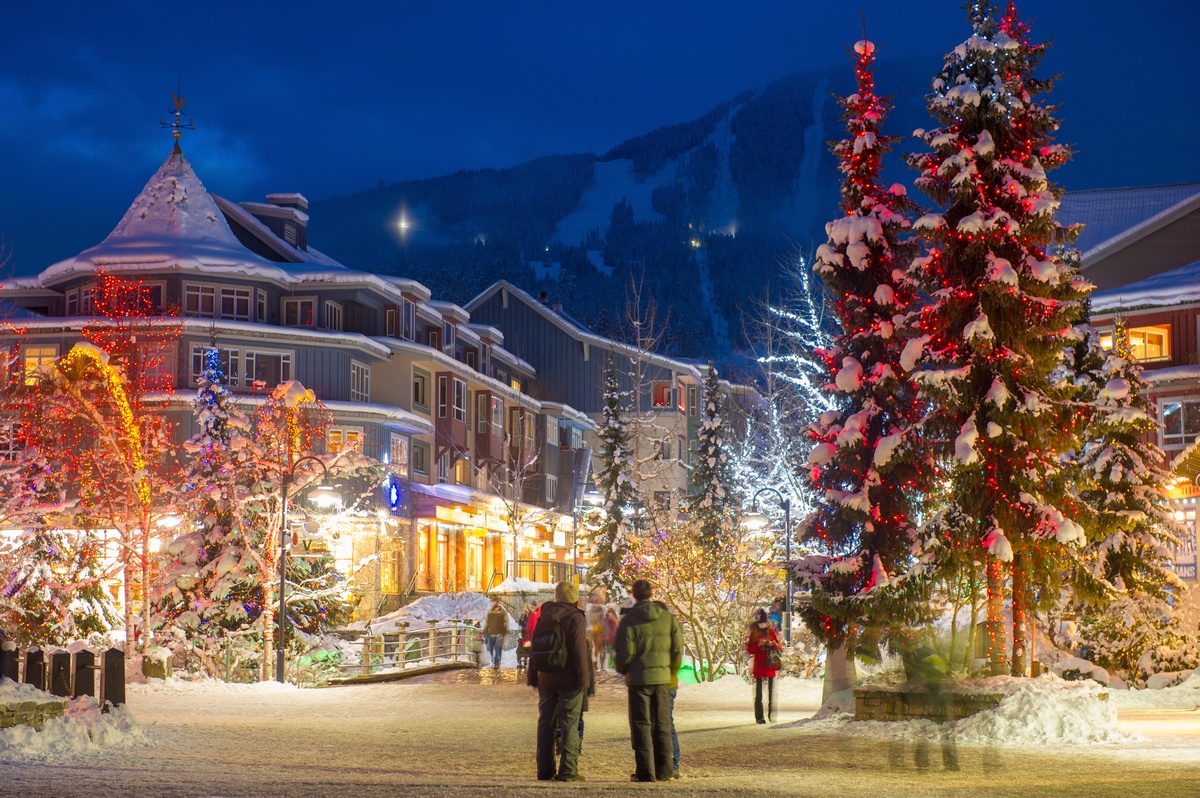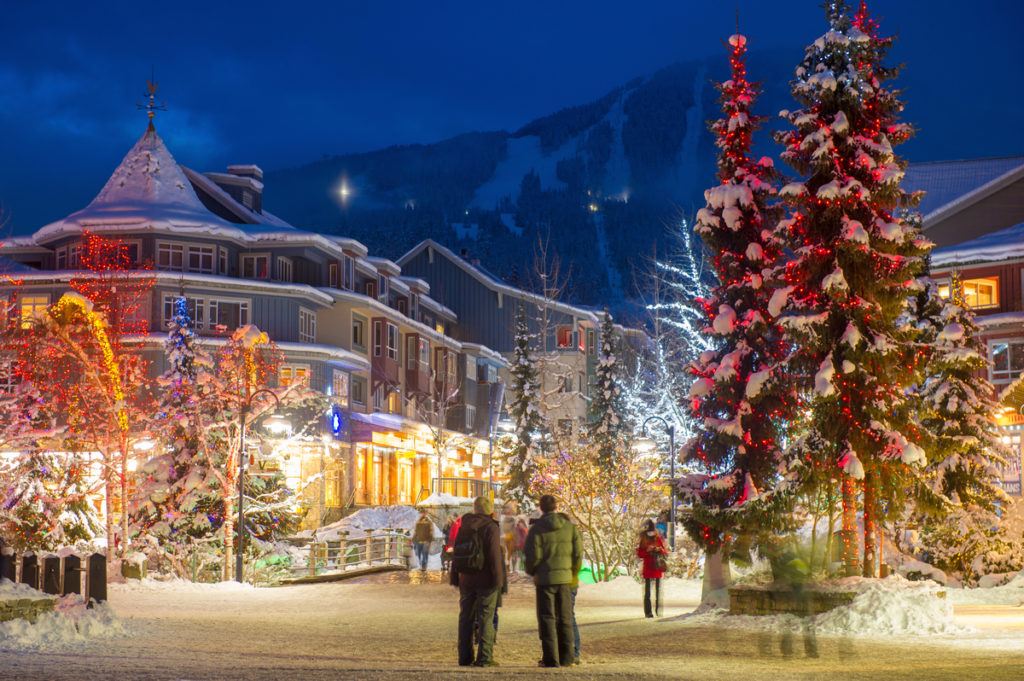 Ice Skating at Olympic Plaza
Hooray! Outdoor skating in Whistler is still on! This festive rink at Olympic Plaza will be open from November 27th until late March 2021 (weather dependent).
This season, the rink will be able to host a maximum of 30 skaters at a time. Admission is $2, skate rentals are $8, helmets and skating aids are available free of charge. Masks will be required in the lobby and exit areas. Please see Tourism Whistler for hours.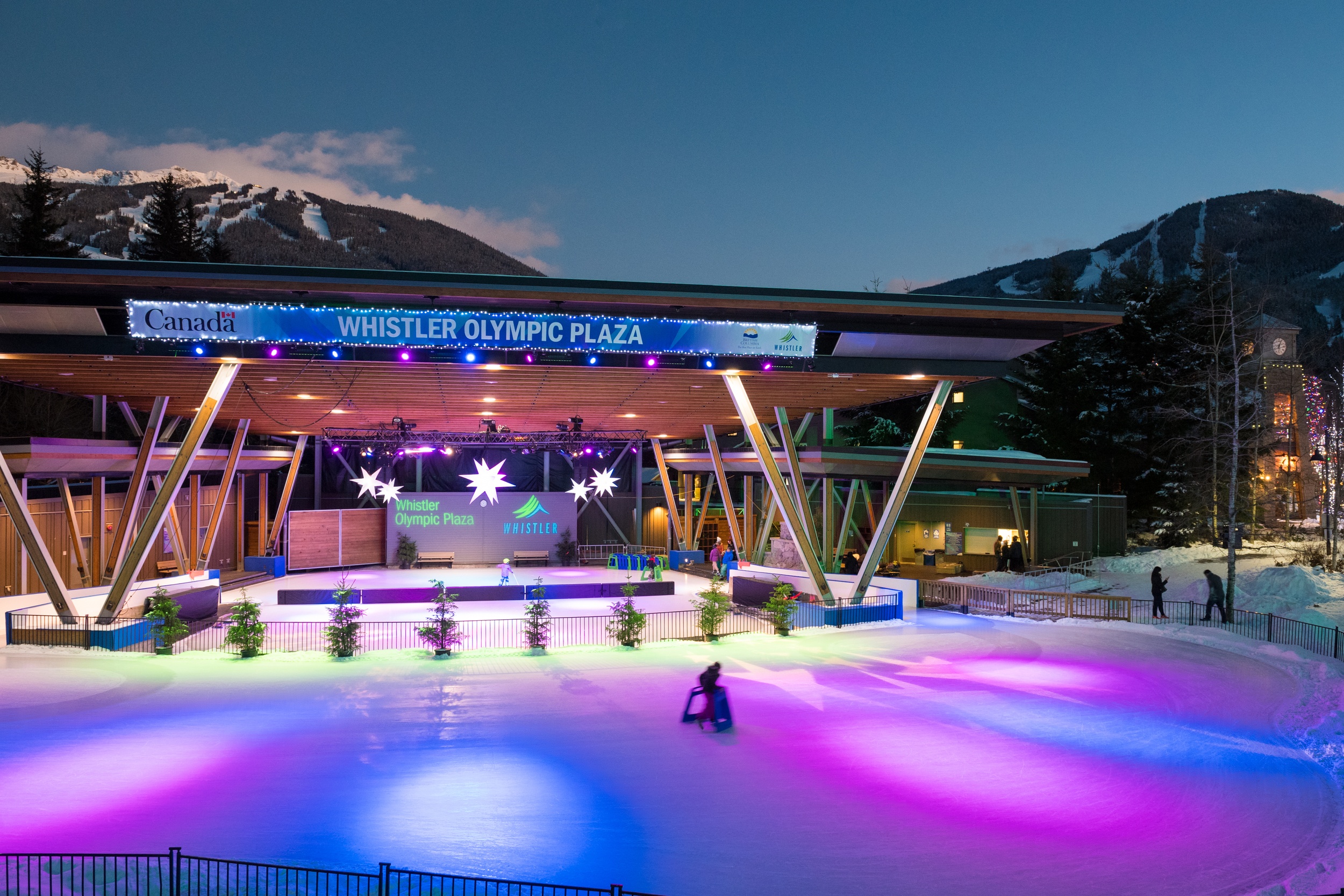 Vallea Lumina
This unique Whistler attraction involves a multimedia presentation and immersive light show set in the forested surrounds of Cougar Mountain. The Vallea Lumina Winter Story begins on Nov. 27th. Shows run on the half hour between 5-7pm throughout the Whistler Christmas season.
While in past years a shuttle to Vallea Lumina has been available from the village, guests currently need to make their own way to the venue (a 10 minute drive from Whistler Village).
Tickets can be booked online at vallealumina.com. See also reviews for Vallea Lumina on TripAdvisor and enjoy a little peek at the experience in this 2 minute video.
Bobsledding and Skeleton
Did you know that Whistler Sliding Centre is the only place in Canada where the public can try bobsledding and skeleton? After a thorough orientation, guests will either hop in as a passenger (bobsled) or slide solo (skeleton) down the twists and turns of the track at over 100km/hr!
Learn more at Whistler Sliding Centre.
Note: The Whistler Sliding Centre has made adjustments to protect the health and safety of their guests and staff including the mandatory use of face coverings (balaclavas).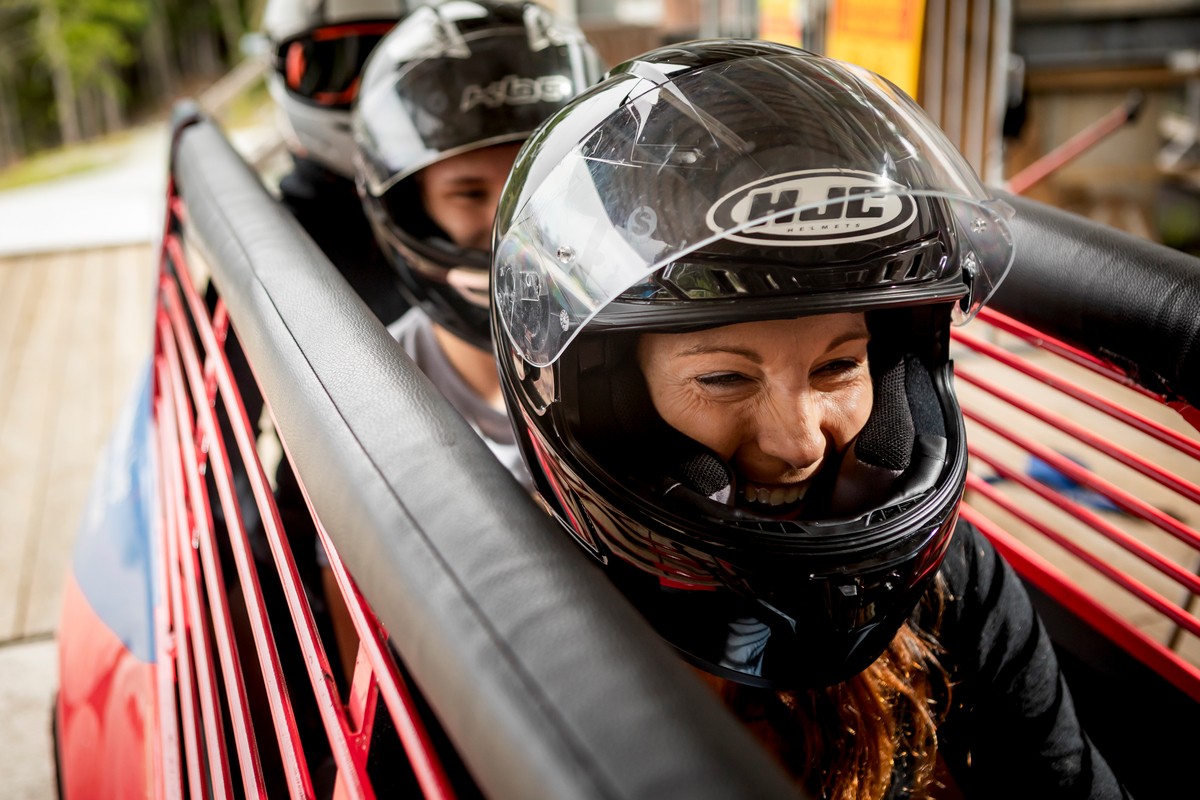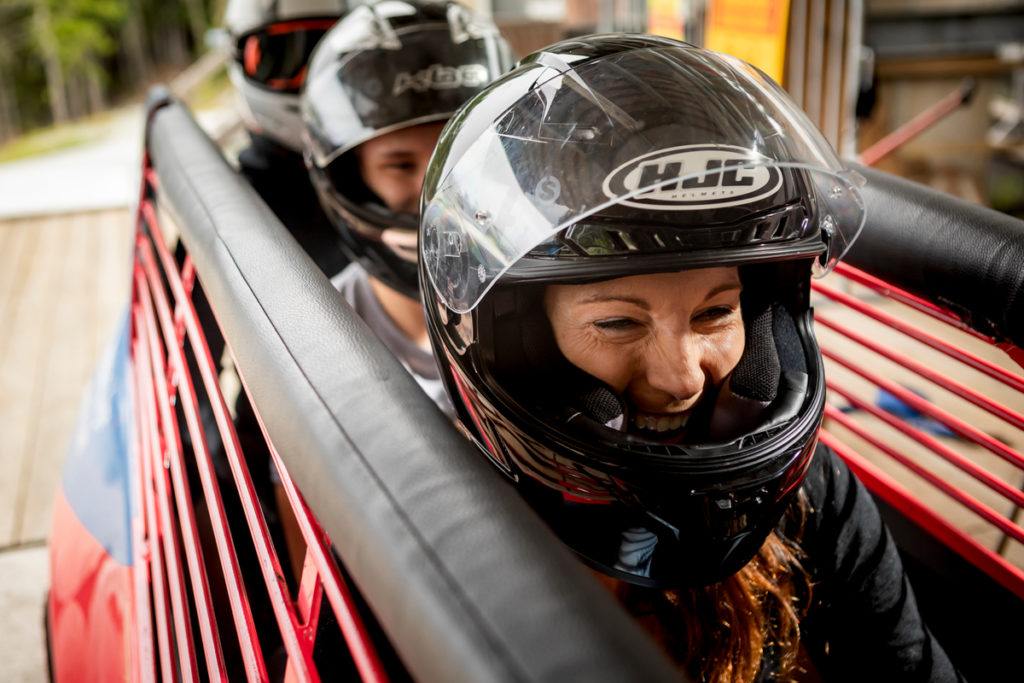 Hotel Holiday Festivities
Many of the hotels in Whistler offer festive events exclusively for guests throughout the month of December. That said, there are a couple of real standouts that do just a phenomenal job (making you never want to even leave the property).
1. The Fairmont Chateau Whistler
The December holidays are always a special time around the Chateau Whistler. During what is a rather challenging year, the Fairmont has clearly put a great amount of thought into how they can continue to offer the amazing holiday experience they are famous for, while also keeping everyone safe and comfortable.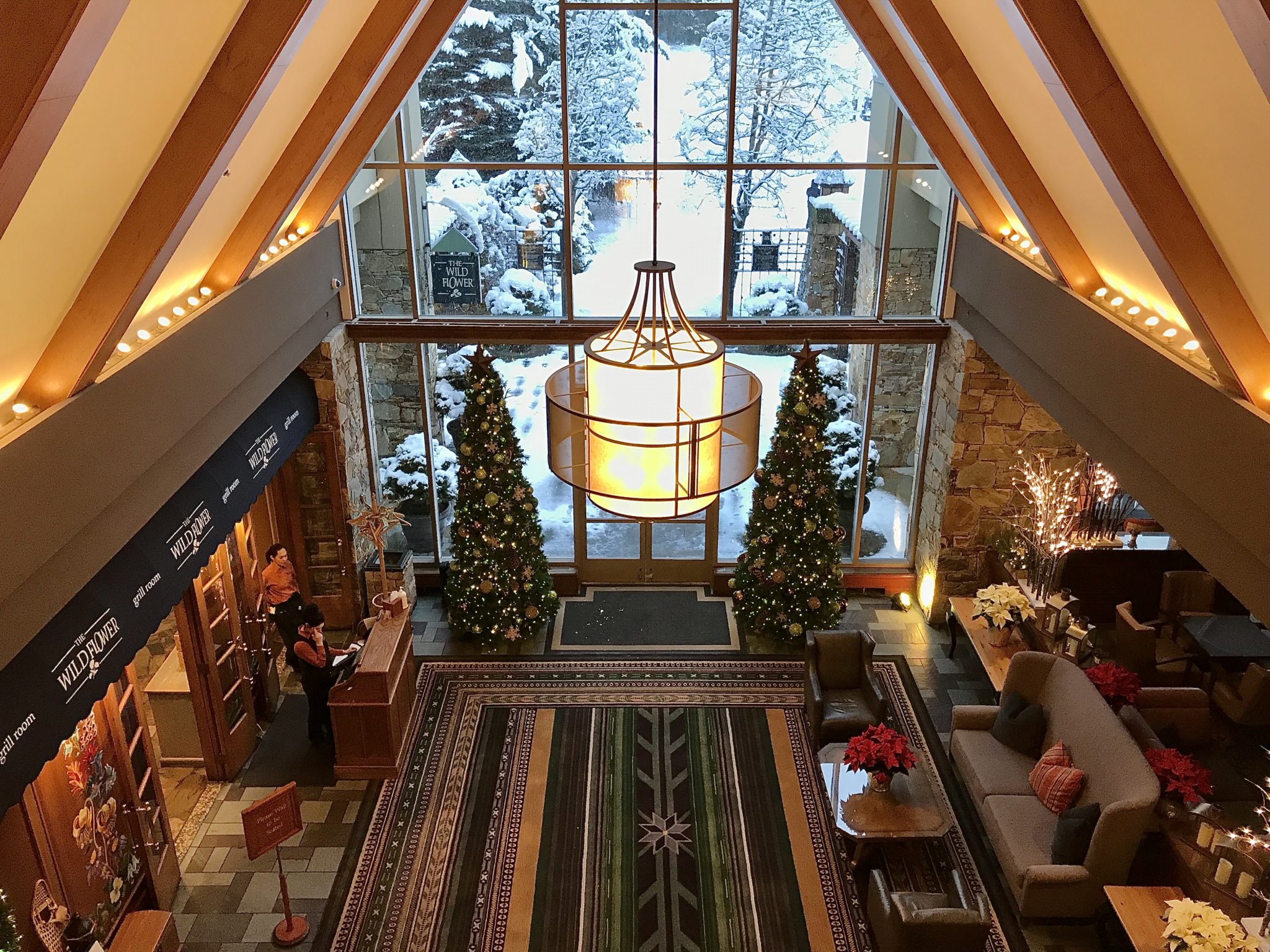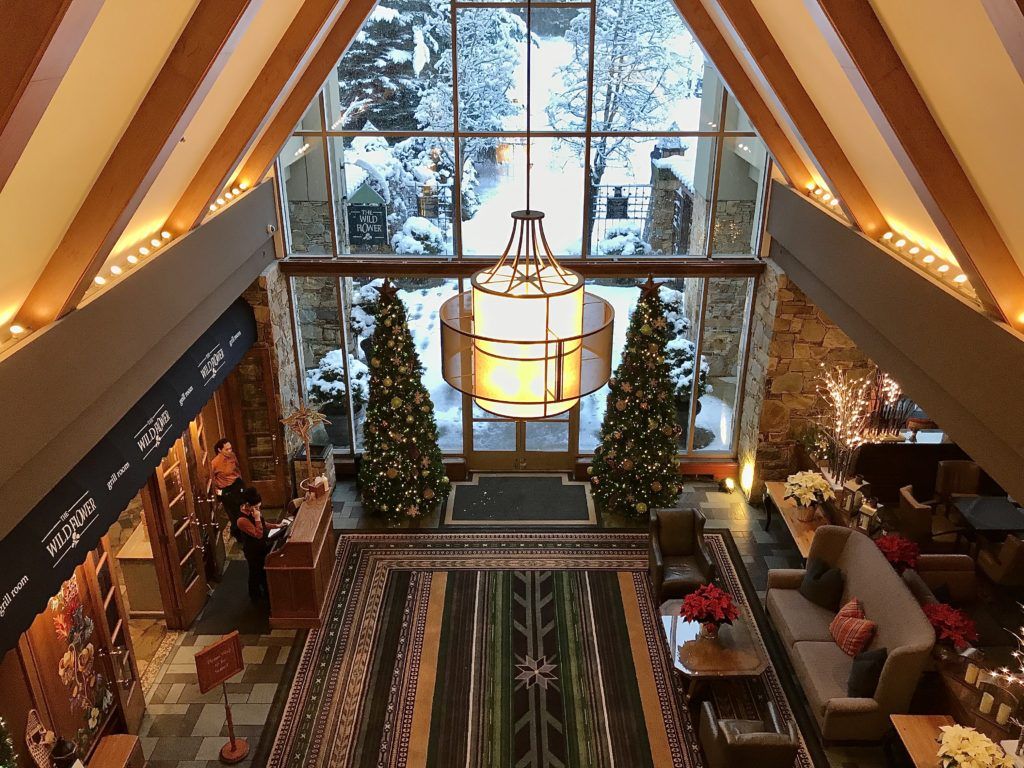 Not only does this property offer a myriad of festive dining options (see the full list), they also have a daily schedule of activities for families from Dec. 19th – Jan. 3rd including christmas crafts, movie nights, cookie decorating, games and more. See the full Fairmont Chateau Whistler Christmas activity guide here.
Guests and non-guests alike can enjoy the Fairmont's beautiful Mallard Lounge – with its cozy fireplace, festive cocktails and live music. The Mallard is also a great spot for families as parents can sit around one of their outdoor fire pits sipping on something special while their kids have a ball playing in the snow nearby. Please note that temperature screening is required prior to entering the Mallard Lounge (hotel guests are screened upon check-in).
Check rates for the Fairmont Chateau Whistler on Booking.com or read reviews on TripAdvisor.
2. Wintertide at the Four Seasons
The Four Seasons Resort Whistler is always a lovely place to be, but it's even more fun with the addition of their cute little vintage patio camper offering hot chocolate and cook-your-own s'mores. Guests can gather around the fire pit to warm up after a long day out adventuring, and enjoy the playful signature hot chocolate, The Tipsy Snowman.
If you are lucky, you might even get to visit with Maola, the Resort's resident Alaskan malamute. Her name is from the First Nations Lil'wat language meaning "raccoon," a nod to the pup's distinct facial markings.
Check rates for the Four Seasons Whistler on Booking.com or read recent reviews on TripAdvisor.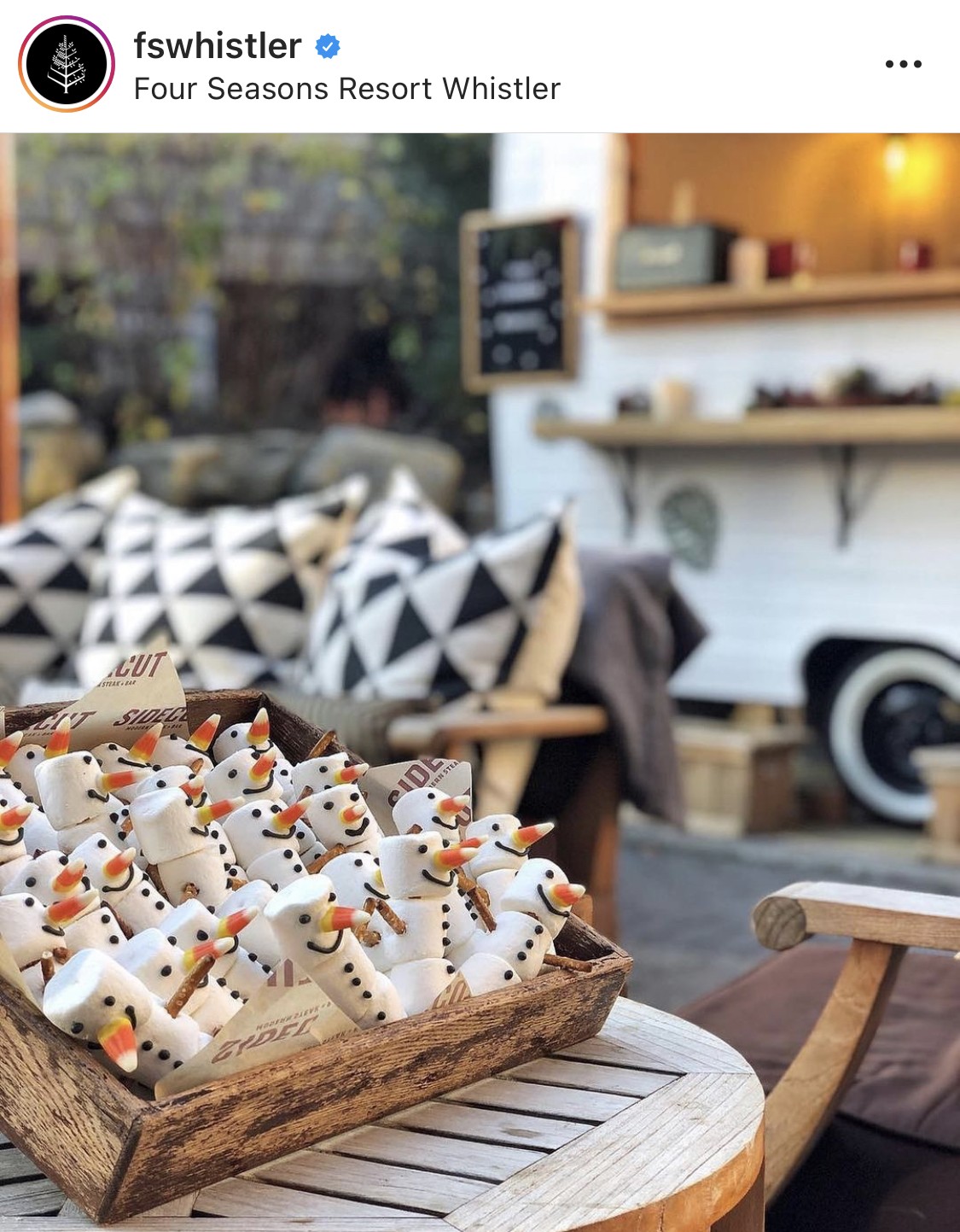 Holiday Dining in Whistler
If you are planning on spending your Christmas at Whistler, you might be interested in knowing your options for dining. With restaurants currently having limited capacity, be sure to make reservations for your Whistler Christmas dinner way ahead of time. Here are a few places offering special holiday seatings.
Christmas Dinner Whistler – Dine In
Sidecut and the Braidwood Tavern (The Four Seasons) – Fresh off an extensive renovation, this restaurant duo will be offering beautiful Christmas Eve, Christmas Day and New Year's Eve dinner seatings.
The Wildflower and The Grill Room (Fairmont Chateau Whistler) – The Fairmont will be hosting Whistler Christmas dinner at both the cozy Wildflower and the more upscale Grill Room.
Hunter Gather in Whistler Village will be offering a full Christmas dinner dine-in service on the 25th.
Christmas Dinner Whistler – Take Out
Whistler Cooks will deliver a complete Christmas dinner to your doorstep (home, vacation rental or hotel) on Christmas Eve that's ready to reheat and serve.
Portobello in Whistler's Upper Village will be offering their take-away Festive Feast from Dec. 20th – Jan. 1st including either prime rib or turkey plus all their gourmet fixings.
Whistler Christmas Tree Rentals
Need to liven up the decor in your Whistler holiday home, hotel room or vacation rental? Whistler Christmas Dream can take care of all of this with a variety of holiday decor rentals packages.