Last update: March 6th, 2021 at 08:20 am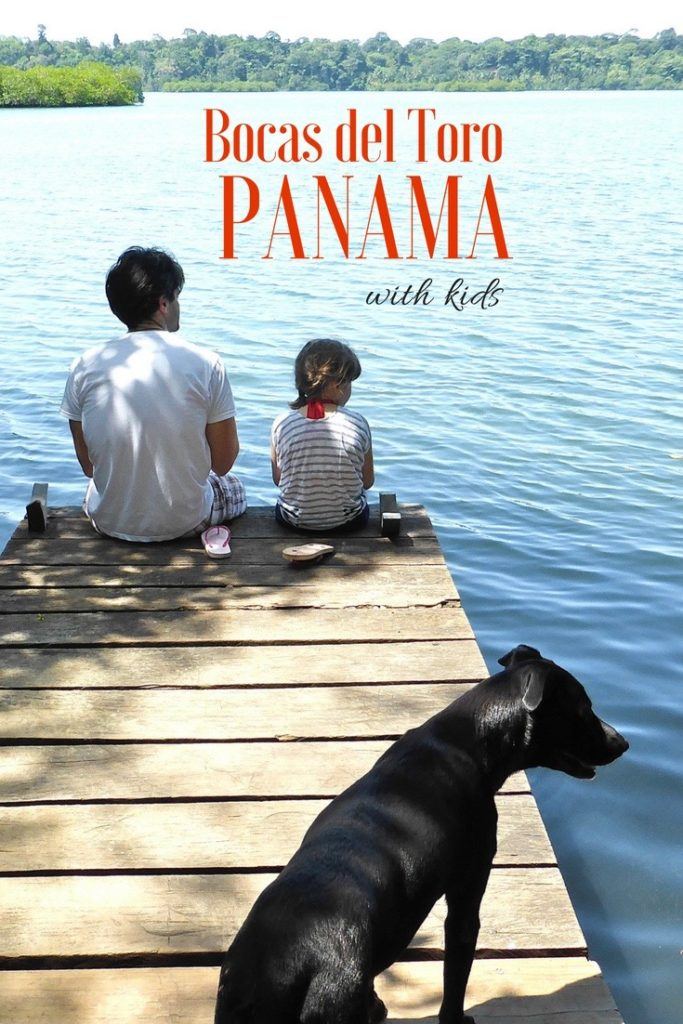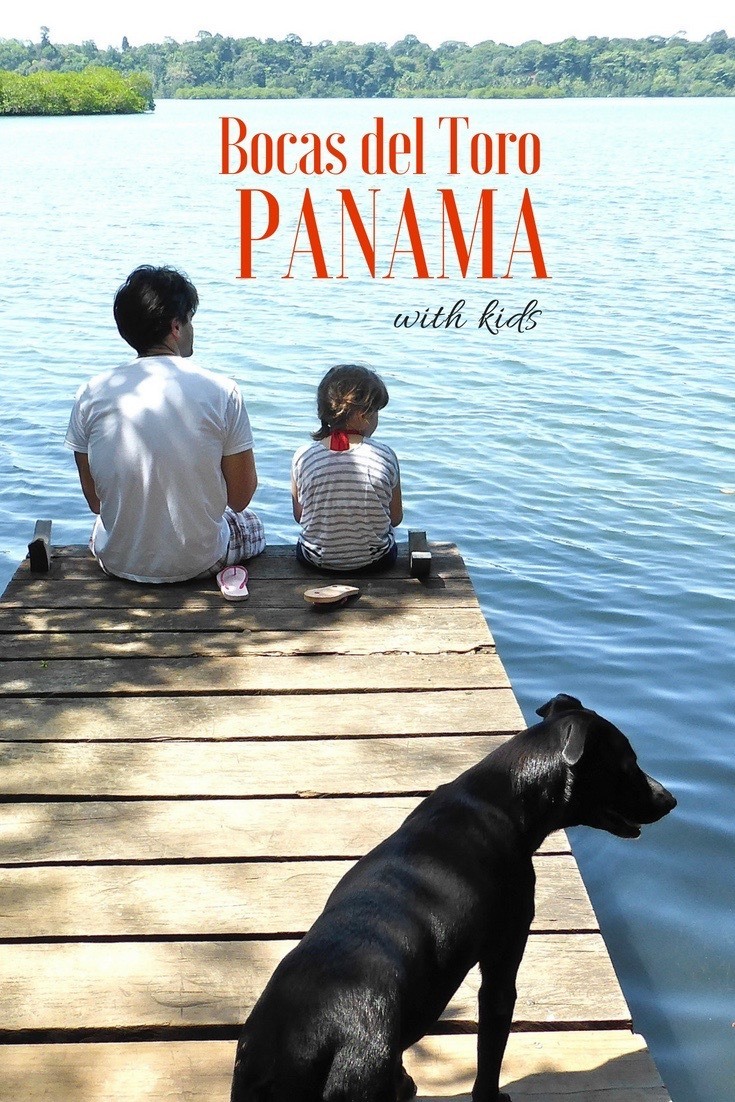 Bocas del Toro – La Loma Jungle Lodge
After watching one too many documentaries, we announced to our kids that despite their pleading we would never do a 'dolphin experience' or visit Sea World.  We explained, however, that if we were lucky, we might have the opportunity to one day see dolphins in the wild. Well, this magical moment came recently for us on a snorkeling excursion arranged by our hosts at a family friendly eco lodge on Isla Bastimentos in Bocas del Toro, Panama.
For years I had been eyeing up the much touted La Loma Jungle Lodge and Chocolate Farm (Doesn't the name just say it all?). We had patiently waited until our youngest was old enough to visit the resort (minimum age 5 years – although see alternative suggestions at the end of this article). Owners Margaret and Henry have built four cabins into this jungle hillside and garden setting, allowing guests to sleep in the open air (under mosquito tents) and awaken to the calls of hundreds of canopy dwelling tropical birds. It is an eco paradise for parents and children alike with even a short walk to the lodge being interrupted by sightings of monkeys, candy colored frogs (Look, don't touch!), geckos, hummingbirds and glow-in-the-dark beetles.  See little video here or keep reading.
A stay at La Loma is a locavore's delight with 3 skillfully prepared meals a day included (or 4 if you include your 7 a.m. treetop cabin delivery of coffee, tea and muffins) made from many ingredients grown right outside the kitchen. When Margaret and Henry are off the island, your are still in excellent hands with Jak (who ensures that all guests are happy) and Brie (a raw food genius). As I write this I am pondering if I can possibly replicate that lemon grass infused mojito she made.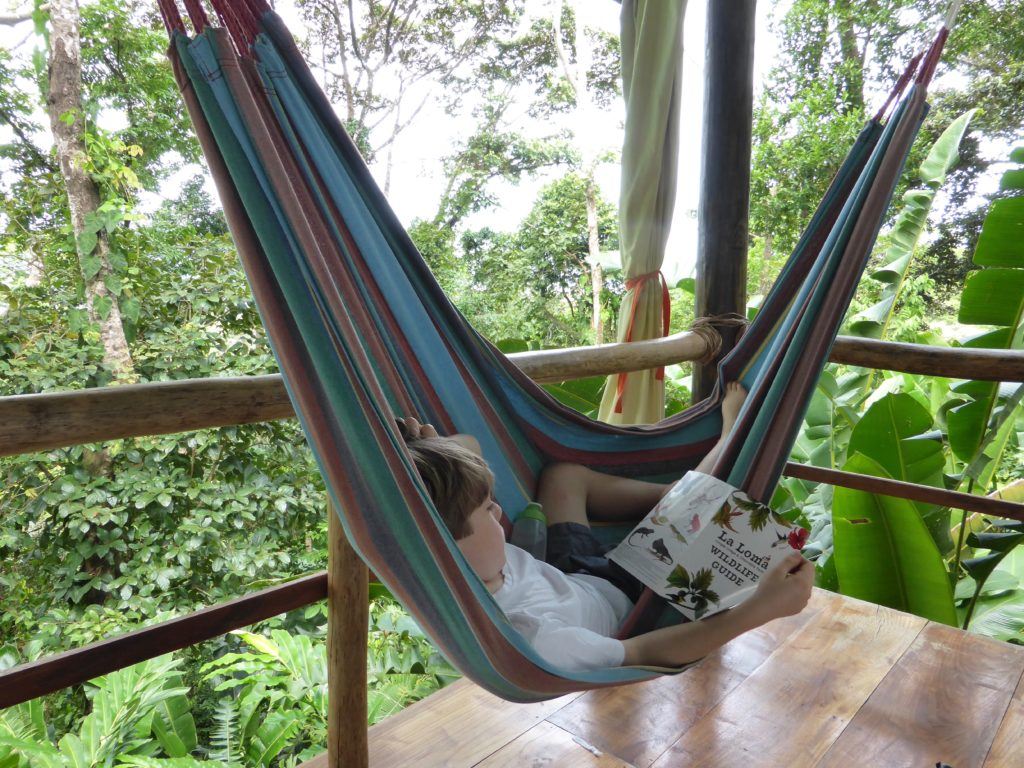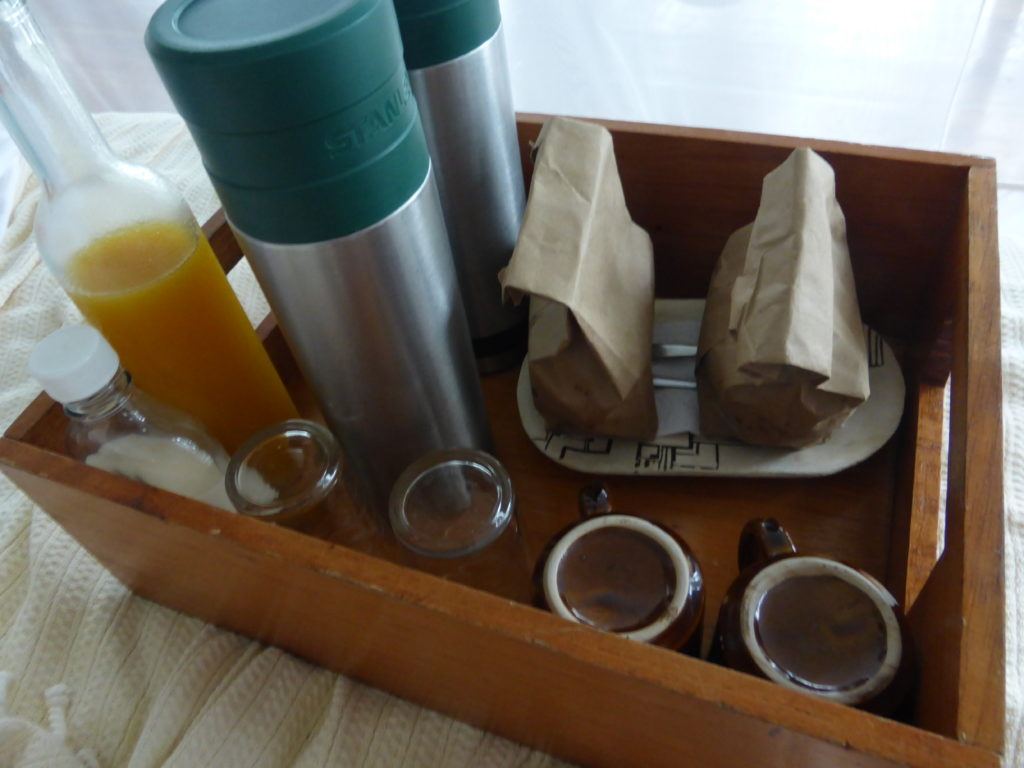 Not to be missed is the cacao grove, garden and jungle walk with Bocas local Mr. Kelly.  Mr. Kelly is not only very knowledgeable when it comes to just about every plant growing on the property, but he also has fascinating stories to tell about his childhood growing up in the region.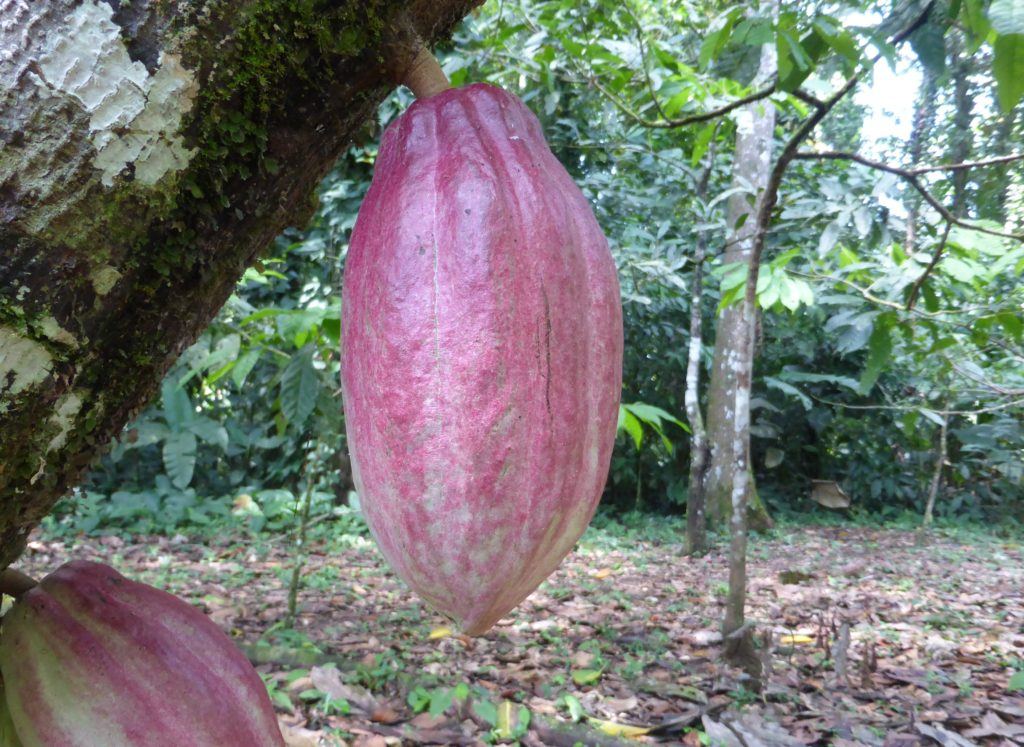 The Cayos Zapatillas (Shoe Cays) snorkeling trip in the Isla Bastimentos National Protected Marine Park is a must, and it was truly one of the highlights of our two week trip to Panama. The day included a visit to 'Sloth Island',  a stop at a nearly deserted and absolutley perfect island beach and then….cue the music….the tear inducing pod of dolphins diving under our boat on our return to La Loma.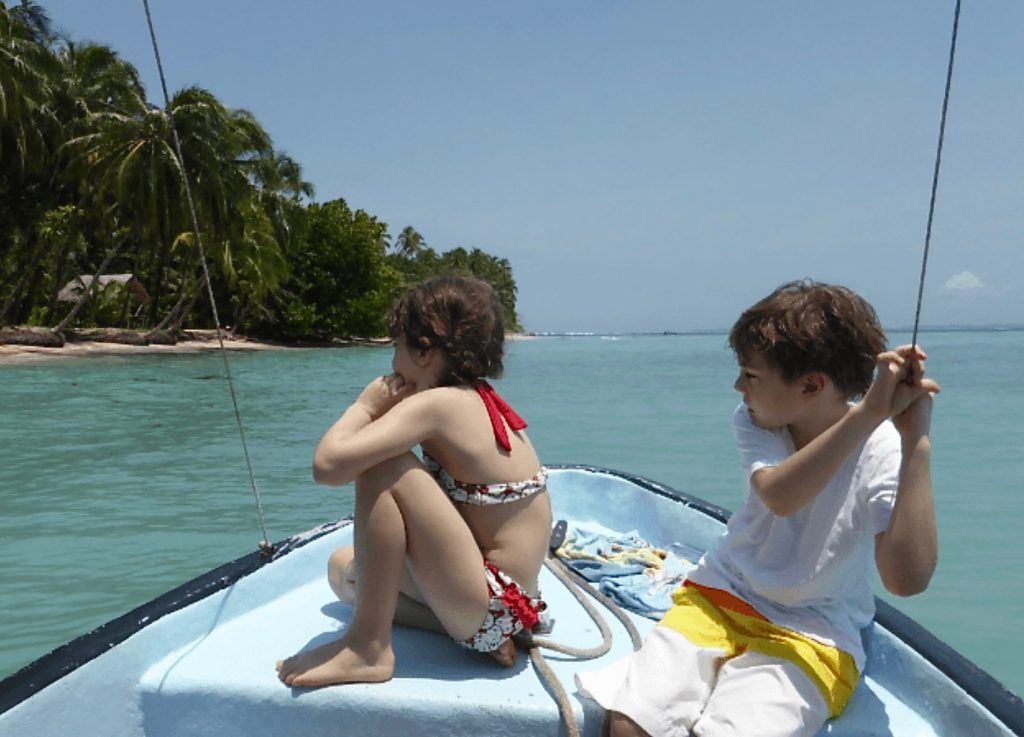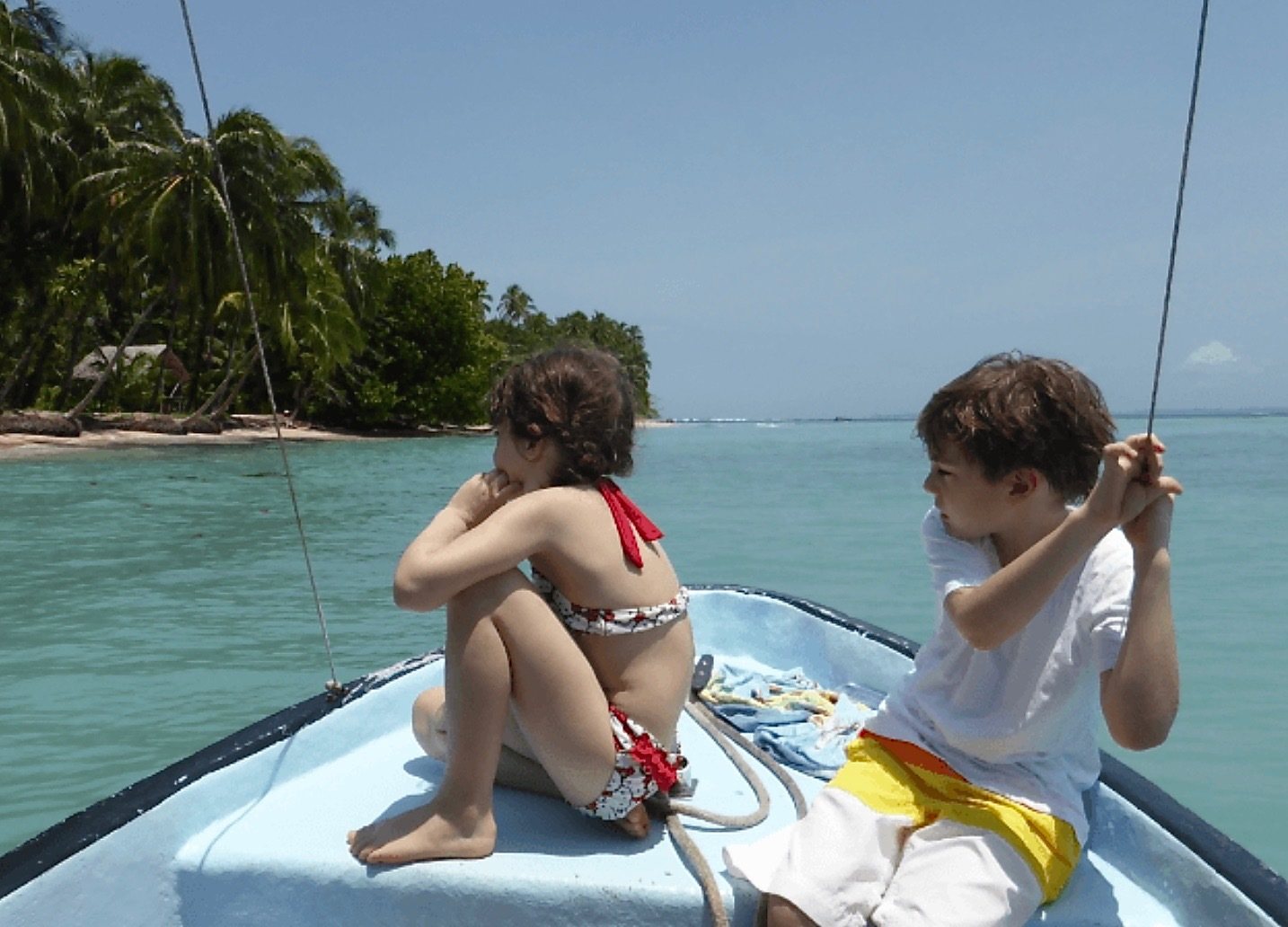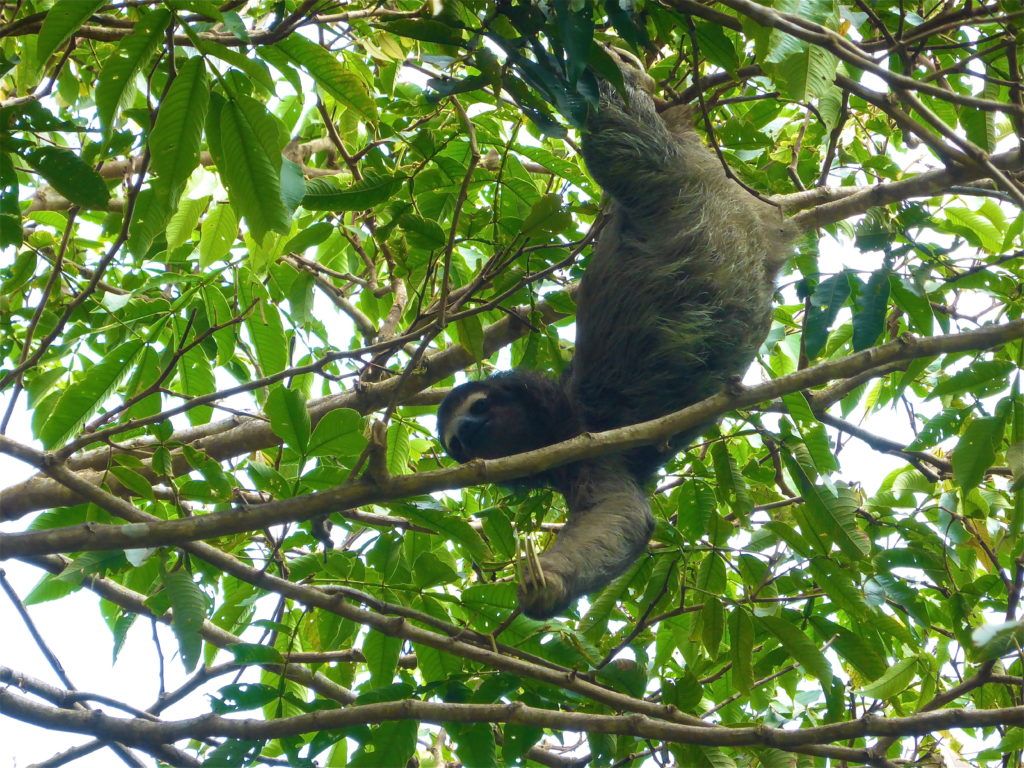 Another enjoyable excursion is to nearby Red Frog Beach.  While there can be quite an undertow, for our kids it was great for jumping some waves near the shore and building sand castles.  There is also a little bar and restaurant at one end where you can also get your wifi fix. Ask the boat driver to drop you of at the Palmar dock where you may get to sea some Caimans in the pond on your short walk through the park.  If you instead go via the marina dock, keep your eyes peeled for sloths in the trees (we saw two).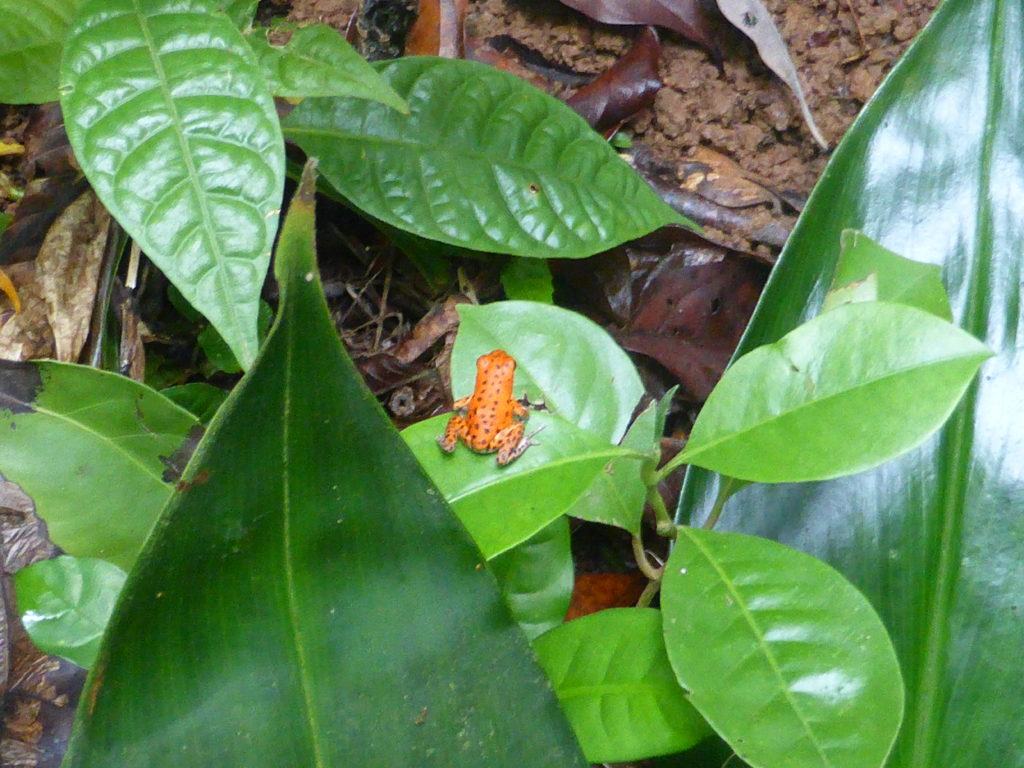 About La Loma Jungle Lodge and Chocolate Farm
Getting to Isla Bastimentos: Daily flights run from Panama City to Bocas Town, followed by a 20 minute boat ride to the lodge on neighboring Isla Bastimentos.
Rates From: $130 per adult, $50 per child (5-12 years), including airport transfer, some excursions and 3 delectable meals a day (plus morning coffee, tea and muffin delivery to your treetop cabin). Check availability here.
Best Room for Families:  Tree top cabin number 4 with a queen bed and 2 single beds
Don't Leave Without: A bag of cocoa nibs or some chocolate from their cacao grove
Things to Know:  You are truly living with nature at La Loma. If you are an entomophobe (fear of insects), this place may not be for you.  One night we awoke to a 2 inch long screeching beetle trapped between our canopy nets.  Although I could not stop laughing, understandably this would be less humorous to some.
Note: Is your child too young to stay at La Loma? Take a peek at Al Natural Resort  or Tranquilo Bay All Inclusive   both of which are also on Isla Bastimentos.
Giving Back: La Loma has partnered with Pack for a Purpose to support the local Honda de Bahia Elementary School (and they also runs a kindergarten program at the lodge).  If you are interested in providing some support to the school , please see a list of needed supplies here.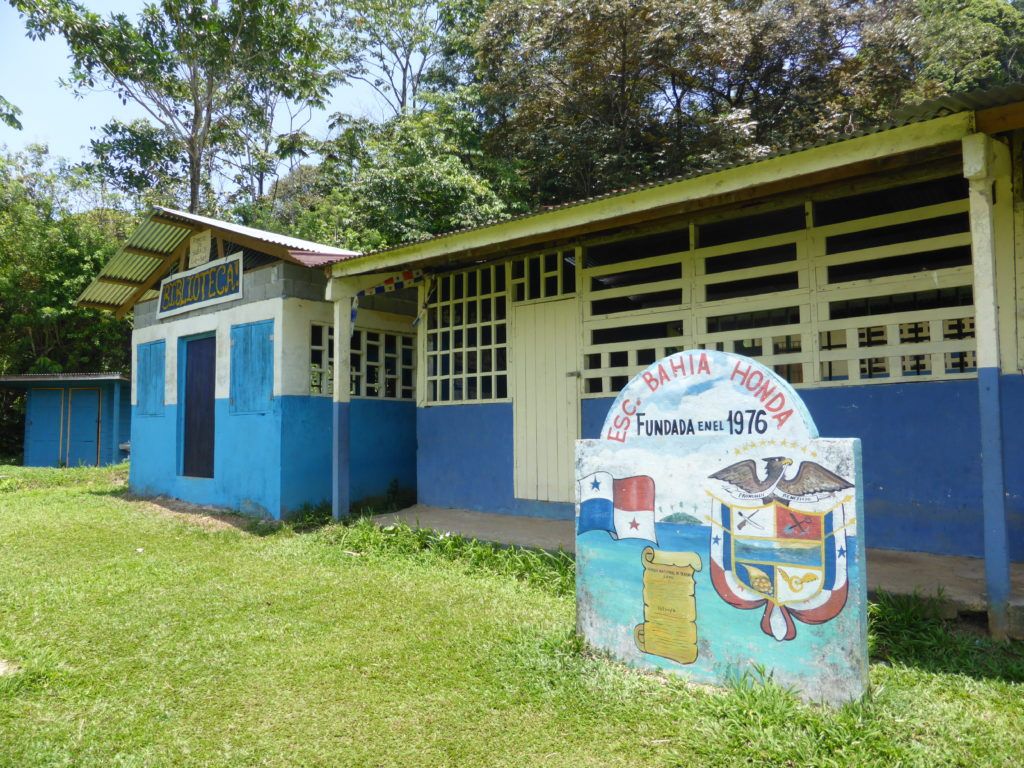 You May Also Enjoy the Following Posts: