Last update: March 6th, 2021 at 09:37 am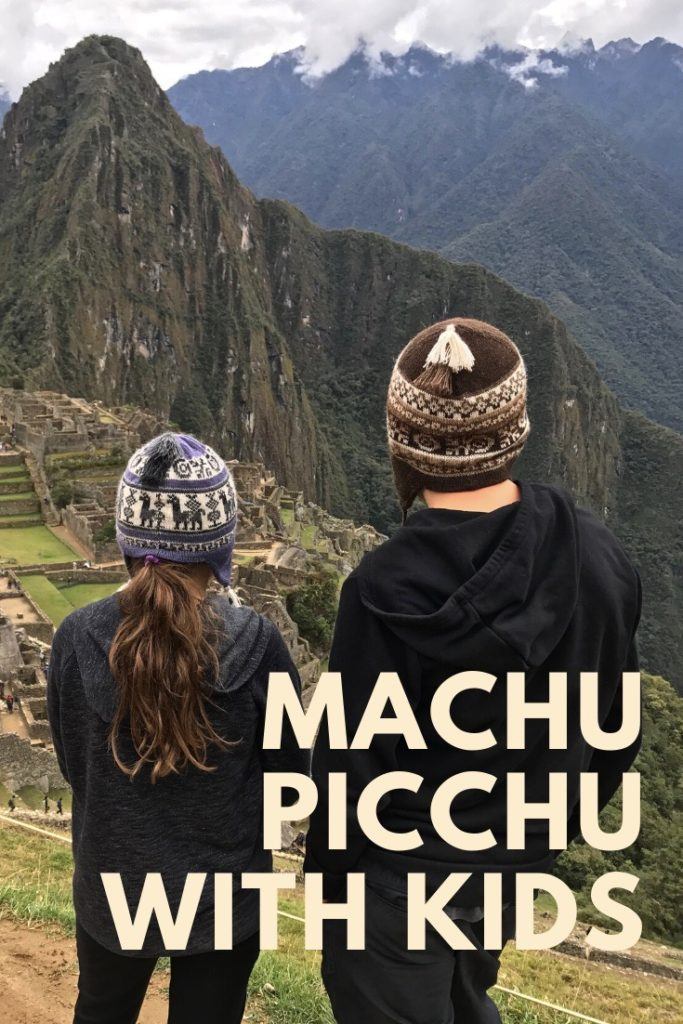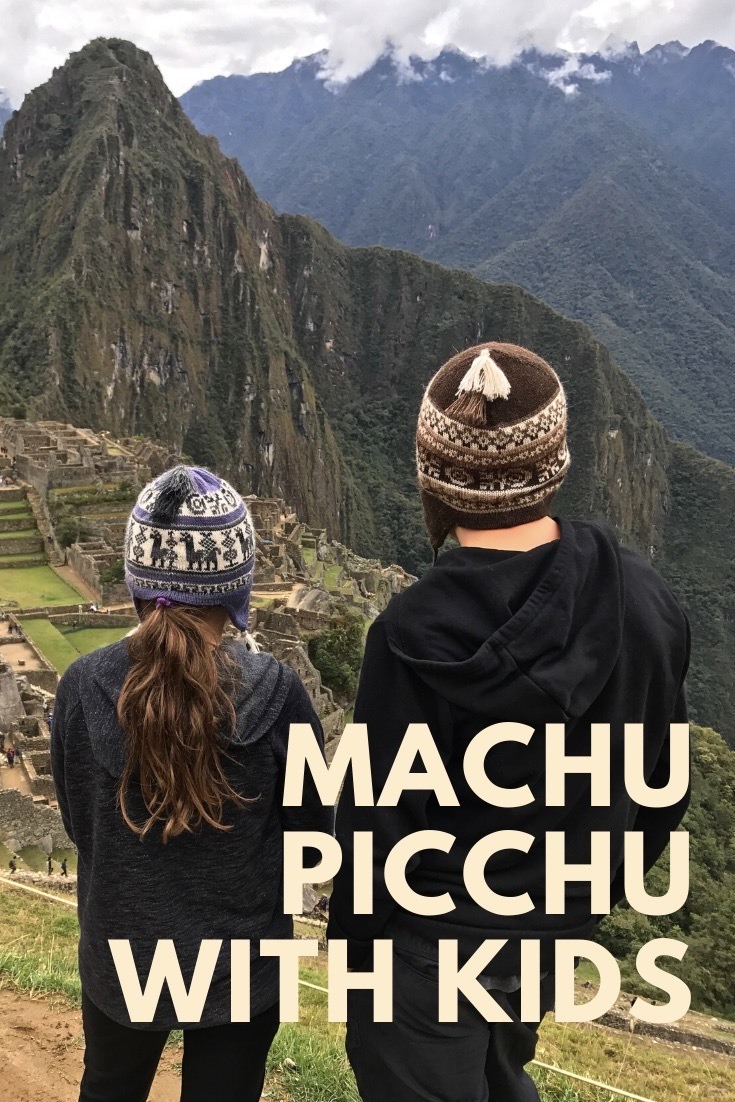 Affiliate Disclosure: This post contains affiliate links. For more information, please see our Terms of Use and Privacy Policy.
Machu Picchu with Kids – Intro
Are you considering a trip to Machu Picchu with kids? For our family of four, it was an adventure that had been on our travel bucket list for many years.
Our primary reason for putting it off for so long (other than financial), was the fact that we didn't really want to visit Machu Picchu with a baby or toddler. We wanted our kids to be old enough to enjoy, appreciate, and later remember the adventure (they were 10 and 12 at the time of our trip). That said, there are a number of adventurous parents who do visit the great citadel of Machu Picchu with toddlers and babies each year — so it absolutely can be done.
What I offer you in this post, are a bunch of trip planning tips and other helpful information for a visit to Machu Picchu with children, regardless of age. It is the trip of a lifetime and I know you and your family will love it!
Please Note: This post is not about hiking the Inca Trail with kids. Sadly, I am just not that person. The longest hike I have done in my whole life is about 4 hours.
Before I dive into all the details, if you would like a little Machu Picchu family vacation inspiration, please see this quick 2 minute video of our Trip to Machu Picchu with Kids. This video could also be titled We Took Our Kids to Machu Picchu and They Were Mostly Interested in the Llamas.
Machu Picchu for Kids Video (2 min.)
Machu Picchu with Kids – The Experience
Experiencing the great Inca citadel of Machu Picchu is a spectacular adventure, but there are certainly a few things that you should know before you go.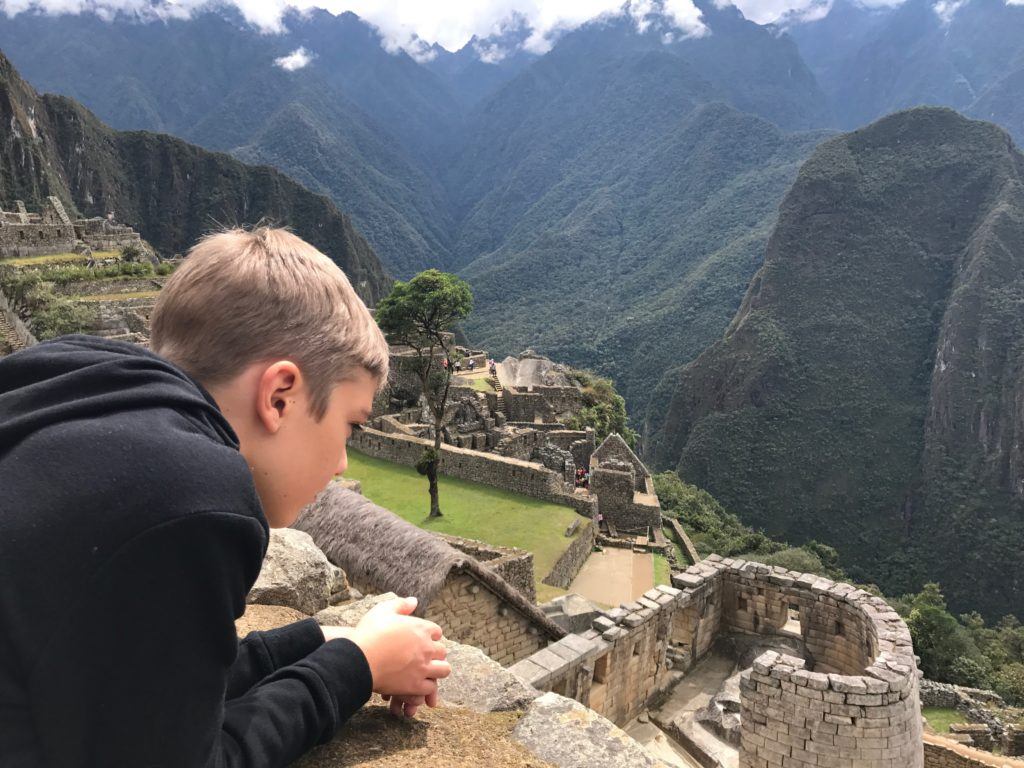 Tips for Visiting Machu Picchu
For most people going to Machu Picchu, the trip involves a flight (or bus ride) to Cusco, a train ride to the town of Aguas Calientes (from either Cusco or Ollantaytambo in the Sacred Valley) and a short bus ride (20 min.) up the mountain to Machu Picchu.
While it is possible to see Machu Picchu as a day trip from Cusco, it is much more enjoyable if you can give yourself a few days to explore the Sacred Valley before or after.
You are less likely to experience altitude sickness at Machu Picchu (8000′ – 2430m), than in some other places on your Peru trip such as Cusco (11,000′ – 3400m). For this reason, savvy travelers leave Cusco immediately upon arrival, returning to explore it after The Sacred Valley and Machu Picchu. This allows your body to adjust to the higher elevations more slowly.
Weather can be quite variable at Machu Picchu. You should be prepared for sun, wind or rain (dress in layers).
There are bathrooms outside the gates at Machu Picchu, but none inside. Re-enty to the site is not permitted.
Tips for Buying Tickets for Machu Picchu
Tickets for entry to Machu Picchu are limited and can sell out during the high season of May to September. If you are visiting during this window, you should buy your Machu Picchu tickets ahead of time.
All foreigners, including children 8 and up, need to provide their passport information to purchase tickets for Machu Picchu. Passports must be presented along with the tickets at the entrance and the information must match. Although children under 8 do not need a ticket for Machu Picchu, their passports must still be presented at the entrance as proof of age. They can also get a passport stamp for Machu Picchu which is kind of fun.
Regulation changes in 2021 now require you to have a time stamped entry ticket to visit Machu Picchu (6am – 2pm). You are also required to visit the site with an official Machu Picchu guide or a licensed tourist guide. If you have not pre-booked a guide as part of a ticket package, one can be hired at the entrance to the site (roughly $25 USD per person for 2.5 hours).
Guided tours are hard for kids (so much talking). If possible, find a private guide that can offer a dynamic family tour of Machu Picchu, and consider a condensed visit.
There are several optional add-on hikes offering beautiful views of Machu Picchu that can be purchased with the morning ticket. The Huayna Picchu hike is very steep and requires that children be a minimum age of 12 years (hike time 1.5 – 2 hours). The Machu Picchu Mountain hike takes longer, but is less steep and could potentially be done with a fit and active child (2.5 – 3 hours).
What You Can (and Can't) Bring With You
Strollers are not permitted at Machu Picchu, but baby carriers are.
You cannot bring food or drinks inside of the gates (water bottles are permitted), but there are snack and drinks available outside.
The is very little shade at Machu Picchu so bring along a good hat and sunscreen.
Umbrellas and sun shades are not permitted.
Selfie sticks, tripods and drones are not allowed.
Large bags are not permitted. Any bags over 40 x 35 x 20 cm / 15.7 x 13.7 x 7.9") must be placed in the storage area near the entrance.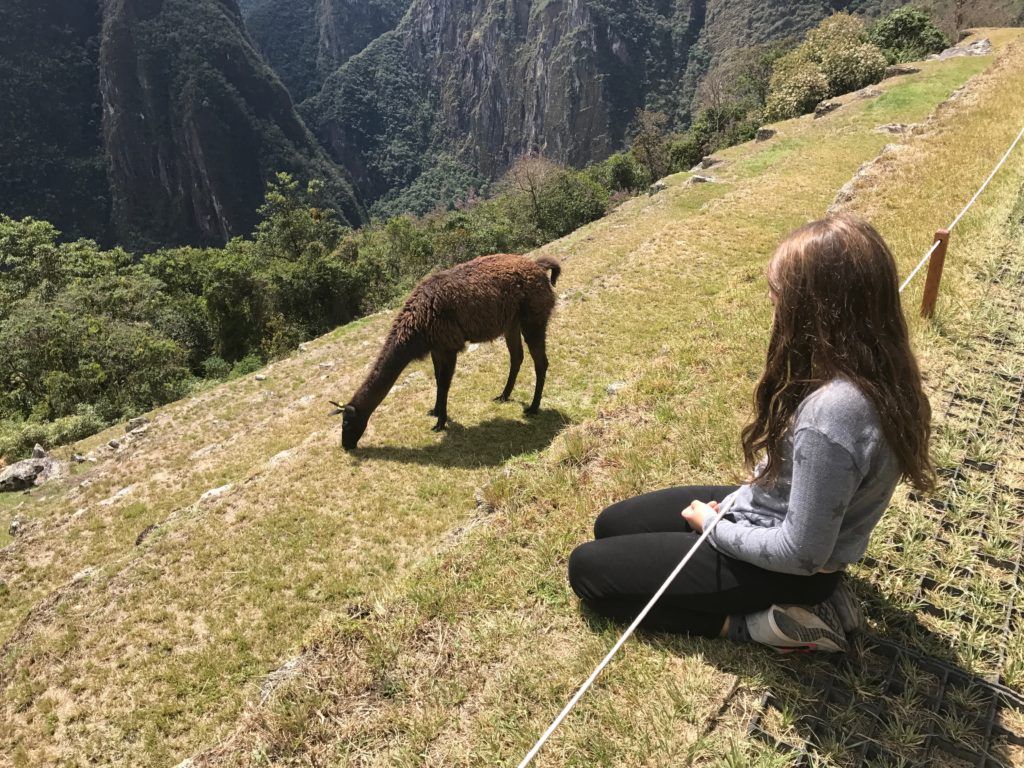 Funny Machu Picchu Rules
Musical instruments and speakers are prohibited.
Paragliding is prohibited.
Getting naked at Machu Picchu is prohibited (although baby diaper changes, seem to be allowed).
Loud noises are prohibited. You are discouraged from clapping and screeching (good luck with that one if you have a toddler).
Only soft soled shoes are allowed — high heels are prohibited. One would think that would be obvious, but you know someone has tried to traipse around the citadel in kitten heels.
Naturally, there are a whole bunch more rules, but I think this has covered the most critical ones.
Arranging a Trip to Machu Picchu
Most people get to Machu Picchu by flying into the city of Cusco (1.5 hr flight from Lima) and then taking the train to Agua Calientes. Also known as Machu Picchu Pueblo, Agua Calientes is a small, walkable town nestled into the mountainside below Machu Picchu.
From there, it is only a 20 minute bus ride to the entrance of Machu Picchu. Some travelers prefer to hike up which takes between 1.5-2 hours.
Those wishing to see Machu Picchu at first light, need to spend at least one night in Aguas Calientes, as the first train does not arrive into town until after the first buses have left.
As mentioned earlier, Cusco is actually at a much higher altitude than Machu Picchu and the Sacred Valley. To allow your body time to acclimatize to the altitude more slowly (and avoid altitude sickness), it makes sense to leave Cusco upon arrival and visit this historic city after your time at Machu Picchu.
Booking Machu Picchu? – Get Help
While I will briefly explain things in more detail below, it should be noted that arranging your trip to Machu Picchu and securing tickets for the train, bus and entrance to the site (all which must be purchased separately), can be rather confusing.
For example, the official Machu Picchu government website for online ticket purchases only accepts Visa cards, and the English version is only partially in English. The site is quite buggy, adding to some booking frustrations. Furthermore, tickets often sell out in advance, especially during the high season of May to September.
If your chosen Machu Picchu hotel offers the option to make these arrangements for you, I would definitely take them up on it – even if you have to pay a premium. Alternatively, there are many tour companies offering a wide variety of Machu Picchu ticket packages. Please just read reviews carefully before booking.
Note: While in Peru, we stayed with several Inkaterra properties. We ended up booking a complete add-on package with them through their Inkaterra Experiences division, covering our time in Cusco, the Sacred Valley and Machu Picchu. The package included our airport pick up and drop off, a car and driver, private guides, train tickets, Machu Picchu tickets, and much more.
I am typically a DIY kind of person so I was initially reluctant to book the package, fearing that maybe we were paying too much. In the end, I did go ahead and could not have been happier. Everything went seamlessly, the guides were great, the communication was excellent, the vehicle was nice and our driver very careful.
Booking The Train to Aguas Calientes
Both Peru Rail and Inca Rail run trains to Aguas Calientes (25 minute drive outside of Cusco – 3 hour train ride). You can also take the train from Ollantaytambo within the Sacred Valley (1.5 hour drive from Cusco – 1.5 hour train ride).
Tickets can be purchased in advance online and require you to enter your passport information. Kids 0-2 years ride for free. Kids 3-12 years ride for 50% of the adult fare.
*From Jan-Apr. (low season), no trains runs directly from Cusco to Aguas Calientes. You are instead bused from Cusco to Ollantaytambo, where you can then take the train.
Each passenger is allowed to bring one piece of luggage weighing no more than 5kg/11lbs. Obviously, this is not a lot and may require you to use bag storage facilities (available at Ollantaytambo station only) or to leave a bag with a hotel in Cusco you will be returning to. We packed a large nylon bag in our luggage to throw extra items into and store for this portion of our trip.
Rather than take the train from Cusco, we chose to arrange a driver (through our hotel) to pick us up at the Cusco airport and take us on a day tour of the Sacred Valley — spending the night at the lovely Inkaterra Hacienda Urubamba.
The following morning, the same driver picked us up from our hotel, took us on a guided tour of the Inca fortress at Ollantaytambo, before dropping us off at the train station to head to Aguas Calientes. Looking back, as much as we loved Machu Picchu, our time in the Sacred Valley was one of the best parts of our Peru family trip.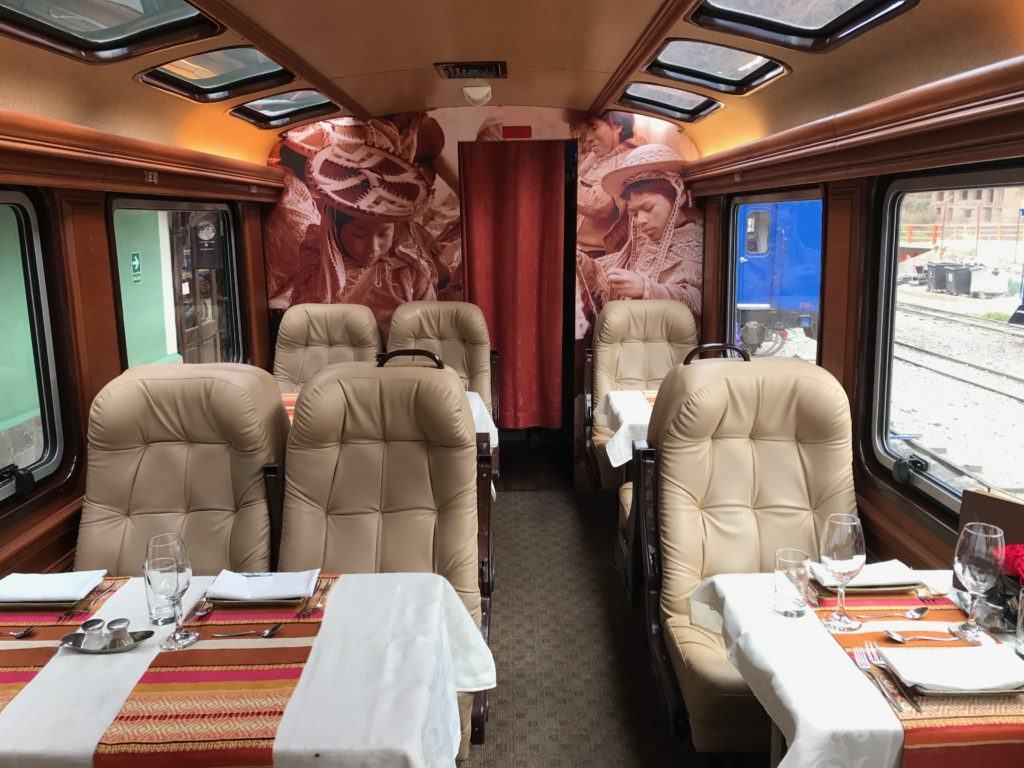 Train Ride to Agua Calientes – The Experience
We rode with Inca Rail on our way to Agua Calientes, enjoying a lovely lunch service offered in the first class car (some angel upgraded our tickets). The train ride is a gorgeous one, and although the first class car is fantastic, you are sure to enjoy this ride no matter which class of service or company you choose.
On our return from Aguas Calientes, we rode with Peru Rail in one of their Vistadome rail cars – offering an even better view of the scenery.
Now, here's the thing — if you are the type of person who enjoys clapping along to music and watching a Peruvian fashion show in the aisles (show offered on the return trip from Machu Picchu only), then the Peru Rail Vistadome car is for you.
My daughter was simply delighted by it. For me, getting selected to dance with a masked creature in the aisles in front of a crowd of captive passengers, is just not my ideal train ride. I will spare you the cringe-worthy video that my husband took of that one.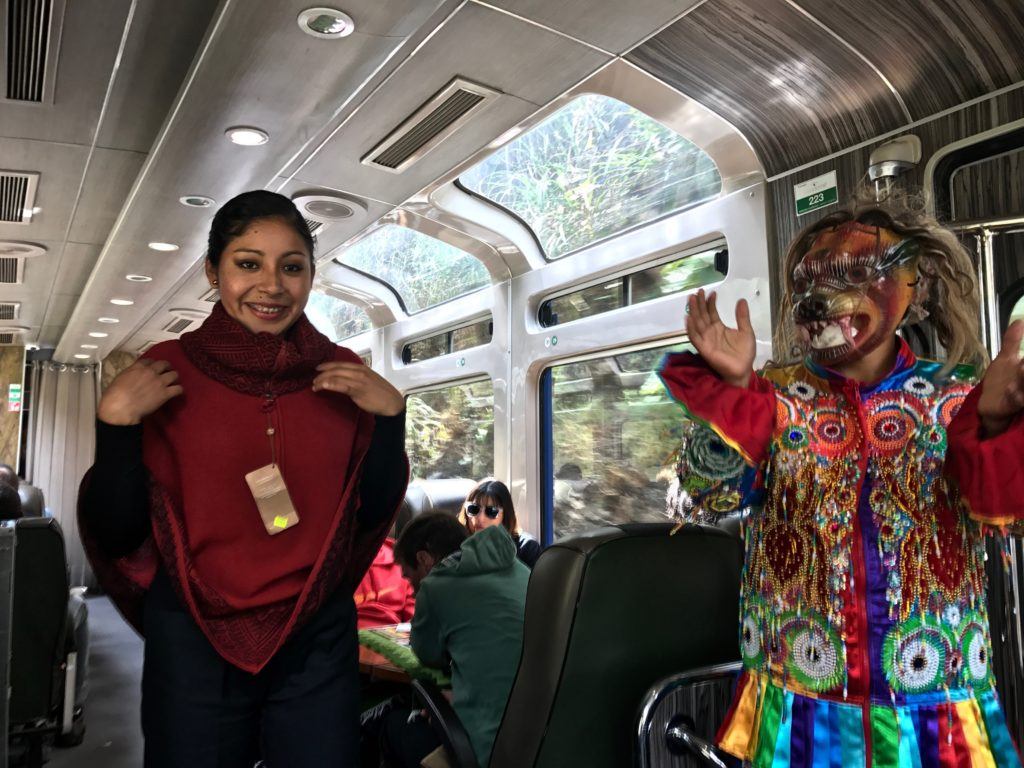 Buying Entrance Tickets for Machu Picchu
Entrance tickets for Machu Picchu can be purchased in advance online via the government ticketing website, through ticket resellers (which usually includes your hotel), or at offices in Cusco and Aguas Calientes. Tickets are limited, and sell out in the high season of May to September.
In 2021, visitors need to select a time stamped ticket. Time slots are on the hour, running from 6am – 2pm. Foreigners need to enter their passport details when purchasing tickets and will also need to present that passport upon entry to Machu Picchu.
If you would like to book Machu Picchu tickets on your own online, be ready to sit down in front of your computer with an abundance of patience and your passport(s). You will also need a Visa card as this is the only payment form accepted,
Buying Machu Picchu Tickets for Kids
Discounted tickets to Machu Picchu are offered to kids 8-17 years (roughly half price). Kids 7 and under are admitted for free (but you still need to show their passport at the entrance).
It should also be noted that the government ticket website does not allow you to purchase more than 5 tickets. This is where you may want to refer back to the section above on Booking Machu Picchu? — Get Help.
Buying Bus Tickets to Machu Picchu
Tickets for the bus from Aguas Calientes to Machu Picchu can be purchased at a booth right by the bus stop in town. They can also be acquired through ticket resellers (usually including your hotel), or at an office in Cusco.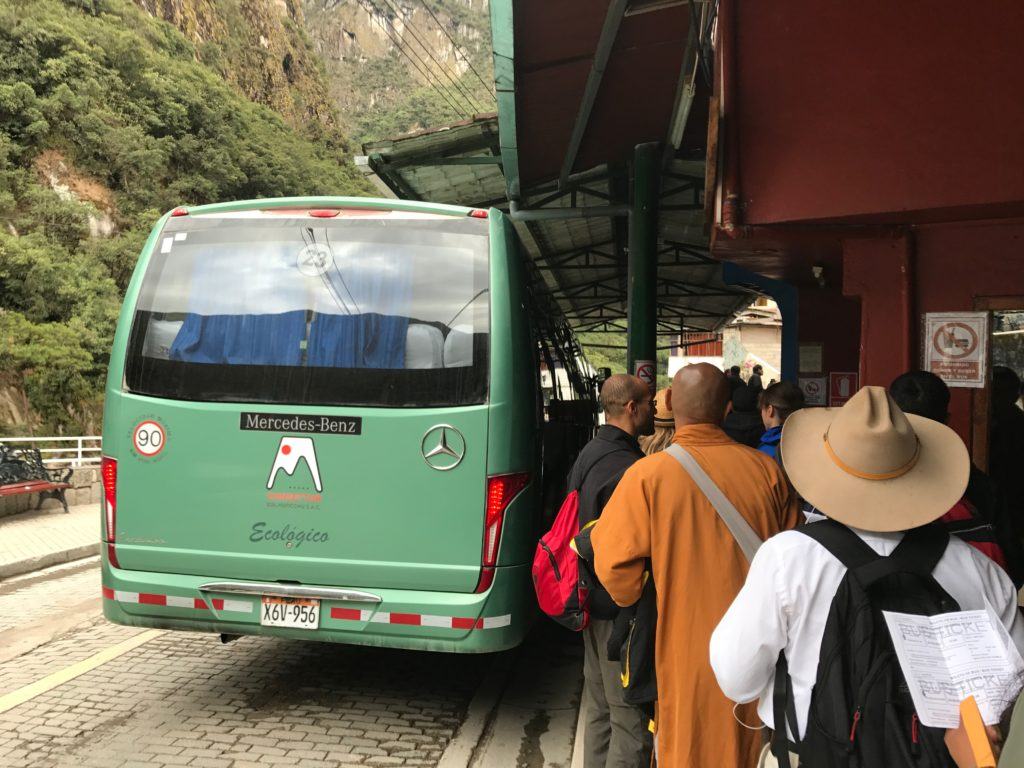 The first bus to Machu Picchu leaves at 5:30am and the last one goes up at 3:30 pm. To be on that first bus, you should buy your bus tickets ahead of time. The ticket booth does not open until 5am and people sometimes start lining up for the bus much earlier.
Note: Initially, I thought we might try to get our kids into Machu Picchu at opening. That was until I realized that, being that it was high season (August), we would have to line up for the bus at 3:30am. That, I knew, would certainly be a recipe for disaster (cranky family = not worth it to me).
We instead visited at about 10am. This was definitely peak time, and had to shuffle around the site waiting our turn for some key photo opps. To do it again with kids, I would book the latest afternoon ticket. I spoke to some people who did this in peak season, and they said it worked out very well for them.
Machu Picchu FAQs
When Is the Best Time to Visit Machu Picchu (Year) ?
If you can visit outside of the high (dry) season of May-Sept, you will have a much better chance of avoiding crowds. Wet season runs December to March. October or April would be ideal if you have the flexibility to travel to Peru at this time.
When is the Best Time to go to Machu Picchu (Day)?
It is less busy first thing in the morning and in the late afternoon (although you will start getting herded towards the exit after 5pm).
Will You Get Altitude Sickness at Machu Picchu?
As mentioned earlier in this post, Machu Picchu is at a much lower altitude than Cusco. The general consensus is that altitude sickness can happen at an elevation greater than 2500m or 8000 feet. Machu Picchu sits at 2430m, so in theory, you and your family should be fine.
It is important to note, that people can have vastly different reactions to changes in altitude. In our family, we experienced shortness of breath, nausea and headaches in both Cusco and Lake Titicaca. That said, it was nothing that stopped us from enjoying ourselves. We were fine at Machu Picchu.
For those planning a trip to Peru with a baby or toddler, I do encourage you to discuss the effects of altitude sickness on children with your family doctor beforehand. I think it is important to know what to look for and how you could help alleviate any discomfort. While my children were old enough to express how they were feeling, certainly wee ones cannot.
About The Town of Aguas Calientes
We had a pretty tight schedule on our Peru family tour (12 days). For that reason, we decided to spend 2 nights in Aguas Calientes as a little down time. The town itself is a bit touristy, as its very existence relies on the great draw of Machu Picchu. That said, it is not without charm.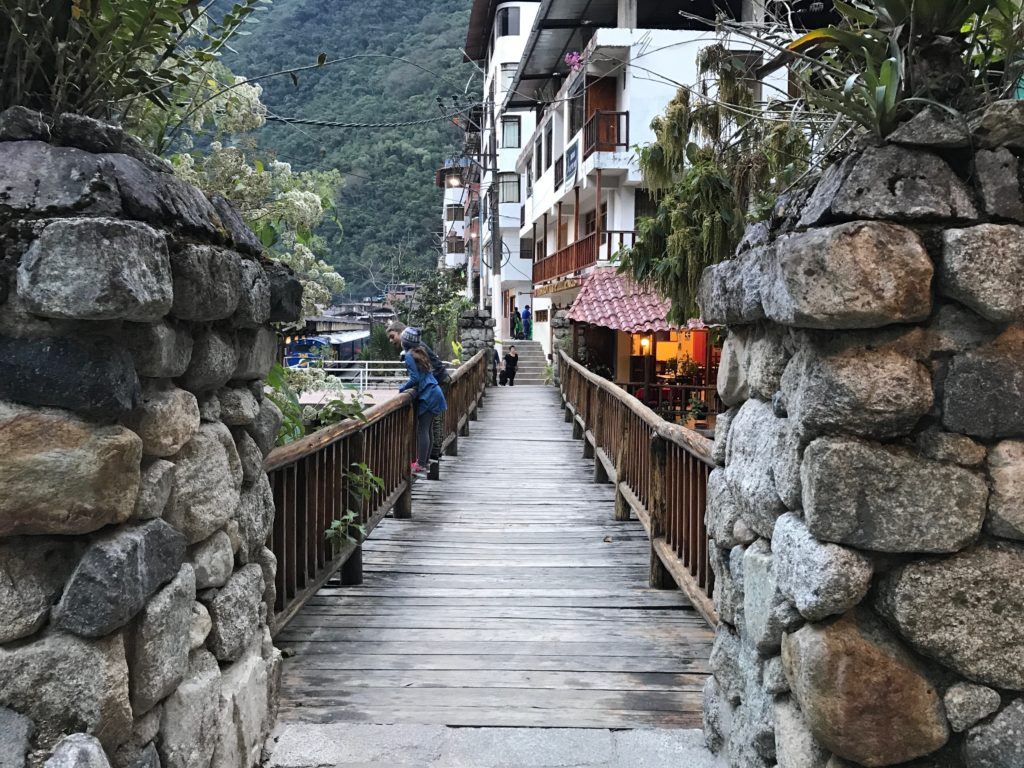 We enjoyed exploring the narrow streets, eating at some local restaurants, watching the trains come and go. We even and checked out the hot springs (for which the town is named).
While we didn't actually go in the hot springs, a local suggested visiting in the morning (freshly cleaned pools). Towels can be rented in shops along the pedestrian road heading to the hot springs – as well as bathing suits. Okay, I'm just going to stay it — I don't recommend the latter (that's just gross).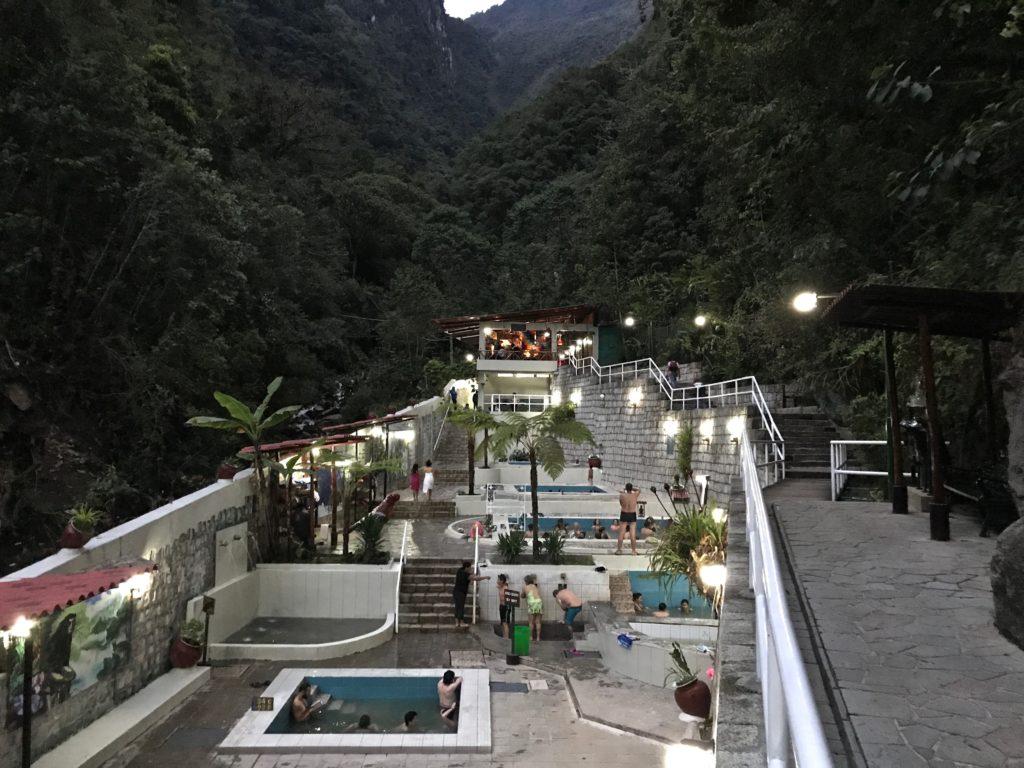 Where to Stay in Aguas Calientes
Almost all overnight guests visiting Machu Picchu stay in the town of Aguas Calientes (below the citadel). That is of course, unless you are one of the lucky few staying at the ultra-exclusive Belmond Sanctuary Lodge. The Sanctuary Lodge is the only property that is located right near the entrance of Machu Picchu.
The tricky thing about finding family accommodation near Machu Picchu is that most hotel rooms are designed for couples. Adjoining hotel rooms might be an option, but that can get a little pricey. Below, I will share a few hotels that have some decent Machu Picchu family accommodation options (as well as family-friendly amenities).
1. Inkaterra Machu Picchu Pueblo Hotel – Luxury Pick
Other than Machu Picchu itself, the best part of our stay in Aguas Calientes was our hotel. If a full service, luxury family-friendly Machu Picchu hotel is what you seek — the Inkaterra Machu Picchu Pueblo is perfect. This hotel is often described as a "sanctuary" and that is exactly how it felt for us.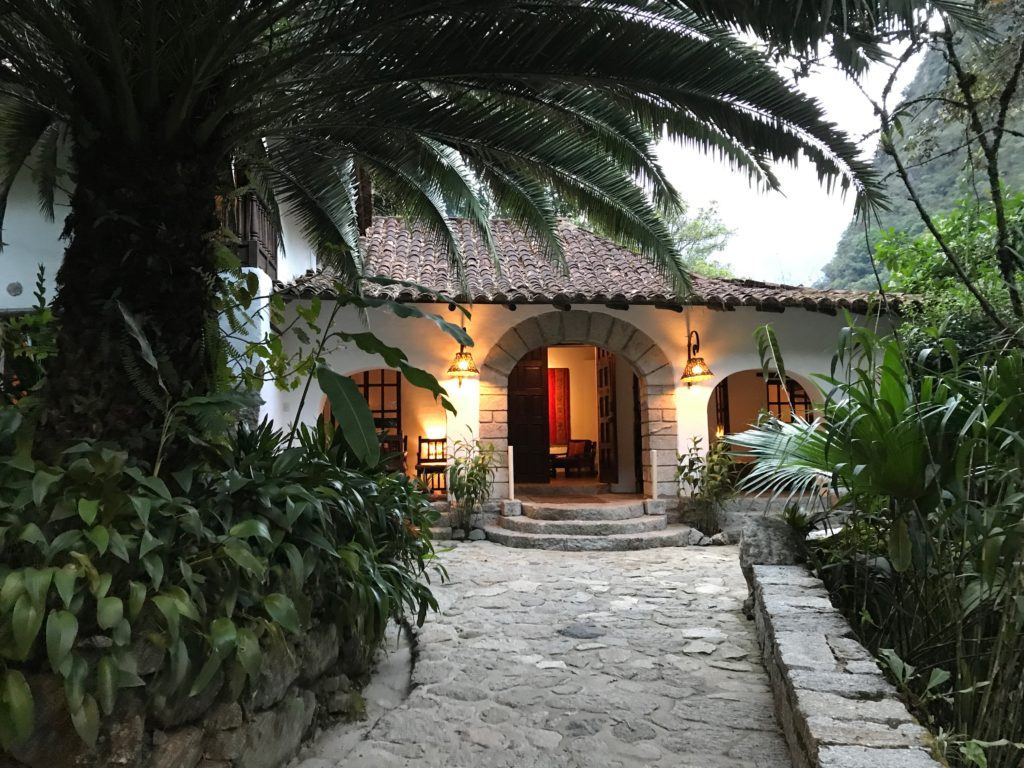 The 12 acre boutique hotel property has 83 luxurious rooms and villas. Each is nestled into beautifully landscaped gardens full of birds, butterflies, orchids and other gorgeous flora. It has a lovely pool and hot tub area, a full-service spa, and an award-winning restaurant.
The property has some great onsite activities. They include nature walks, a visit to their spectacled bear refuge, an excursion to their tea plantation (to make your own tea) and much more. They also have excellent programming for children including a treasure hunt around the grounds.
Please see also our full post on Hotel Inkaterra Machu Picchu Pueblo or Tripadvisor reviews from other visitors. Learn more or check rates at Inkaterra.com.
Disclosure: We were offered a discounted media rate for our stay at Inkaterra Machu Picchu Pueblo Hotel. All opinions in this post are entirely my own, but as always on this site, I encourage you to also read reviews from other family travelers prior to making a booking.
2. Sumaq Machu Picchu – Luxury Hotel
The Sumaq Machu Picchu Hotel is another popular pick for families. It offers spacious rooms than can accommodate a family (of up to 4 in one room). Many of their rooms offer beautiful views over the river or of the mountains.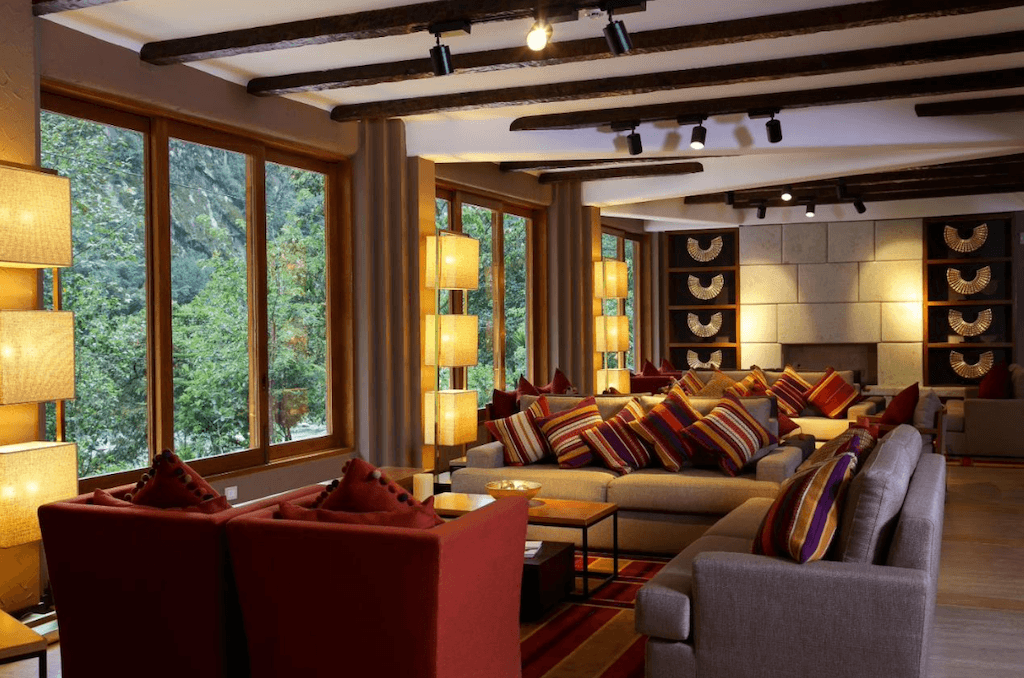 Lovely Peruvian gastronomy is served at their on-site Qunuq restaurant. A kids' menu is offered for their younger guests. For those looking for a relaxing escape, they also have a full service spa.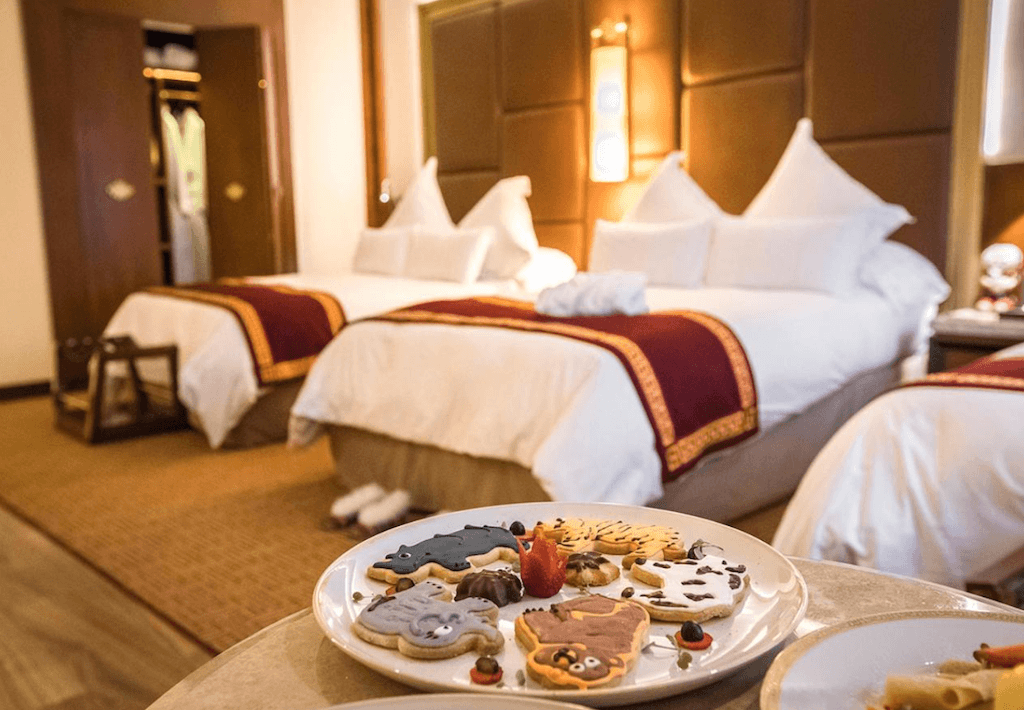 See reviews from families on Tripadvisor reviews or check rates on Booking.com.
Casa del Sol Machupicchu – Moderate
This lovely boutique hotel has tastefully decorated rooms including triple bed configurations (2 twin/1 double) that are perfect for families.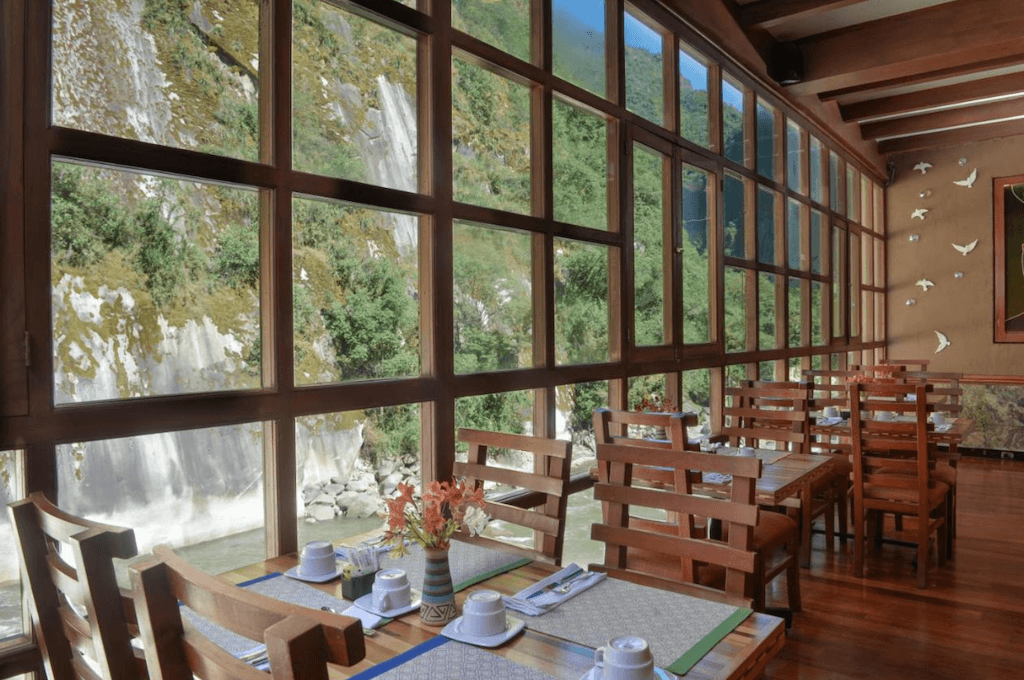 For reviews from families that have recently visited Casa del Sol Macchu Picchu, see Tripadvisor. For rates and more information, please see Booking.com.
Further Reading