Last update: April 8th, 2021 at 11:29 am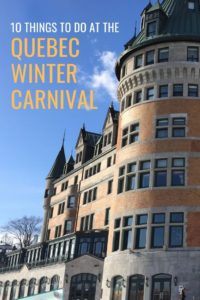 The Winter Carnival in Quebec City
The Quebec Winter Carnival (or "Carnaval" as it is known in Quebec) is the quintessential Canadian party. For 10 days each February, Quebecers and visitors alike take to the streets to eat, drink, dance and party. It is for good reason too – as I can assure you that when it is -18°C (0°F), one would find any reason to throw a party.
Growing up in Canada as I did, you learn a lot about the traditions of this famous event and can probably even rattle off the name of its mascot, Bonhomme Carnaval. Although I never had a chance to attend as a child, I was delighted to bring my own kids when the stars aligned and an opportunity presented itself.
The winter carnival in Quebec is not the only reason you should visit Quebec City, however. It is truly one of the prettiest cities in North America. Part of the beauty of this 400 year old city is the European charm of its narrow cobblestone streets, and the historic stone buildings within its fortified stone walls.
The Old City (Le Vieux Québec), is in fact the only walled city north of Mexico. These days, with no great need to defend against attacks, you will find the gates open and the streets full of lively cafes, art galleries, fine restaurants and lovely hotels.
I would love to show you all the things we enjoyed with our kids in this beautiful city during the Quebec Winter Carnaval. If you are in a hurry, you can simply watch this Winter Carnival of Quebec video (2 min). Otherwise, please read on.
Quebec Winter Carnival Video
10 Quebec Winter Carnival Activities
The Ice Hotel – L'Hôtel de Glace
Painstakingly made anew each year (with a unique theme), the Ice Hotel is a must for a winter visit to Quebec City. Even if you are a not one of the lucky few ticking spend the night at an ice hotel off your bucket list, be sure to stop by for a tour.
During the day, visitors have full access to the whole compound including the cathedral, the grand foyer (with an ice slide for the kids), and the themed hotel suites.
Leave time to pop into the Bar de Glace cocktail bar to sip on a delicious concoction from an ice glass (non alcoholic drinks are available for kids).
Learn more about visiting on the Ice Hotel website. Reservations for the Hôtel de Glace can also be made on Booking.com.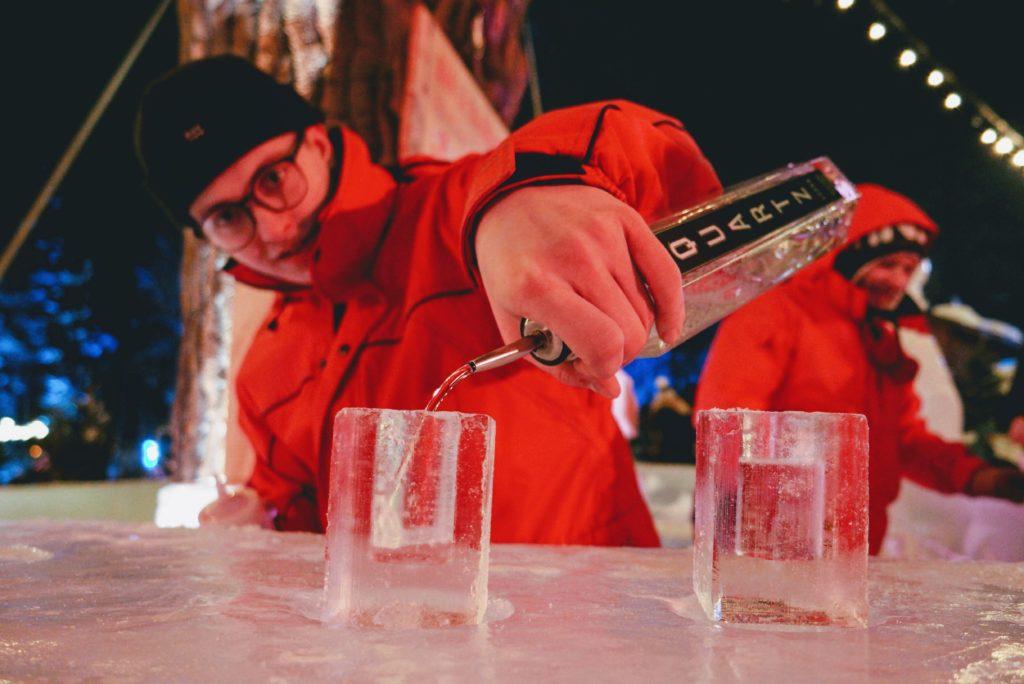 Bonhomme's Ice Palace
Where else would Bonhomme Carnaval live but in a castle made of ice ! This is the Quebec Winter Carnival's version of Santa's Workshop and is sure to delight kids both big and small. It is the perfect place to have a meet and greet with the famed snowman and get that keepsake photo.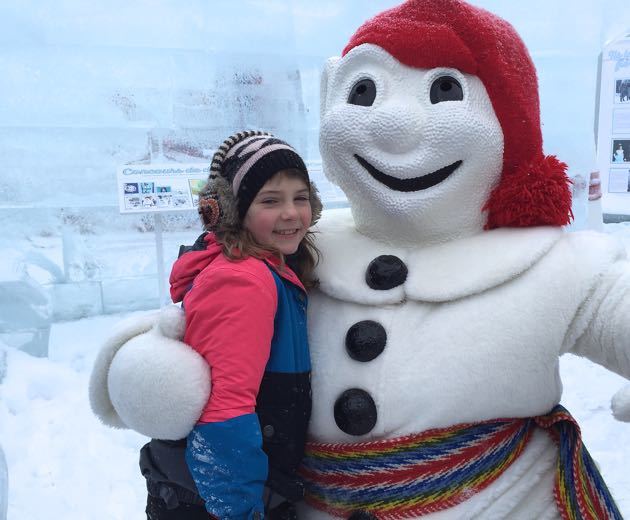 Go Tubing
This Village Vacances Valcartier tube park is absolutely gigantic with all kinds of runs, from gentle slopes to terrifying double black diamonds. The tubing is only part of a larger entertainment complex that includes a 153 suite hotel and indoor aquatic park.
Learn more about Village Vacances Valcartier here.
For the 2020 Quebec Carnival, there is a brand new snow sliding site featuring the 300 foot long Christie Descent that launches right off of Grande Allee street in Quebec City.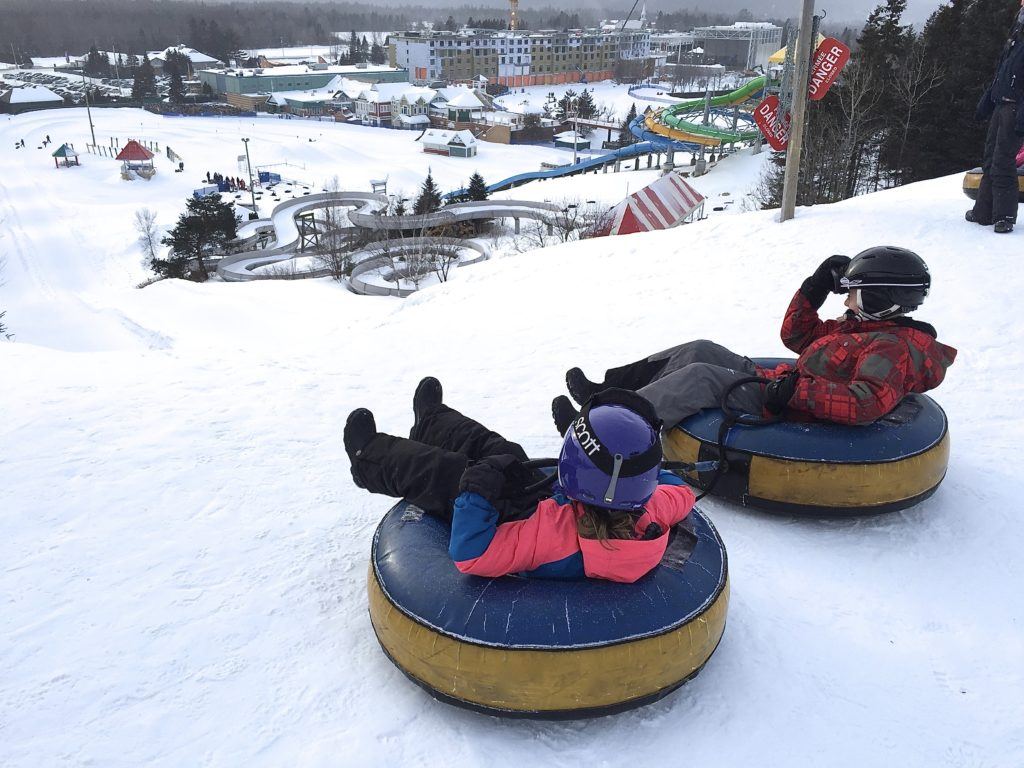 The Quebec Carnival Parade
It feels like all of Quebec City takes to the streets on Quebec Carnaval Parade nights. The parade runs both Saturday nights and features continuous electro and rock music, colourful lights, circus feats, stunning dance numbers and impressive roving performances.
The Parade take place on Grande Allée from Avenue des Érables to Honoré-Mercier.
Learn more: https://carnaval.qc.ca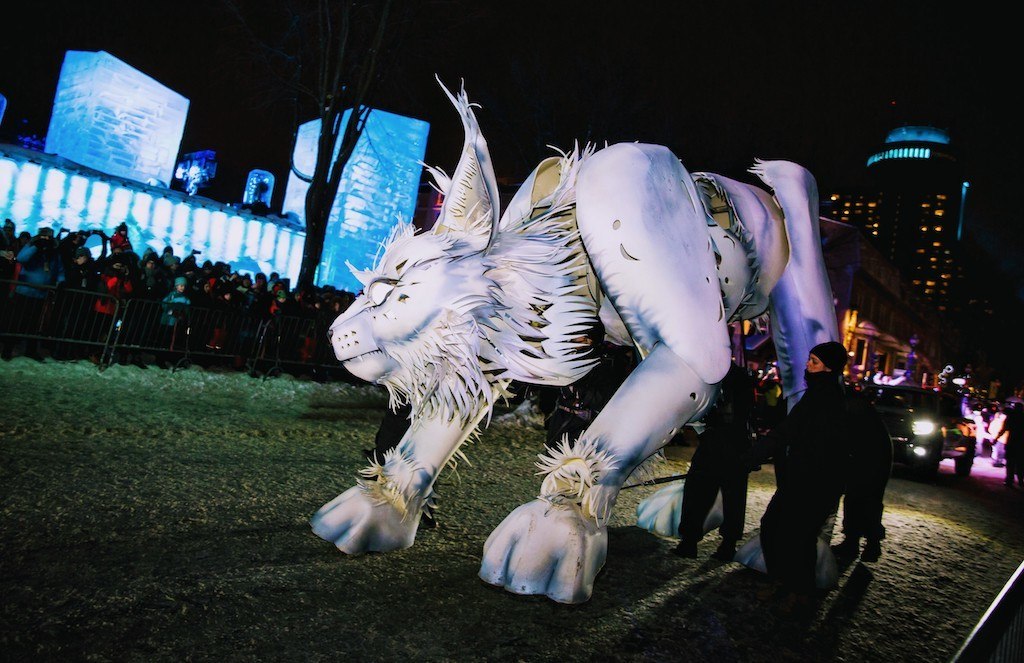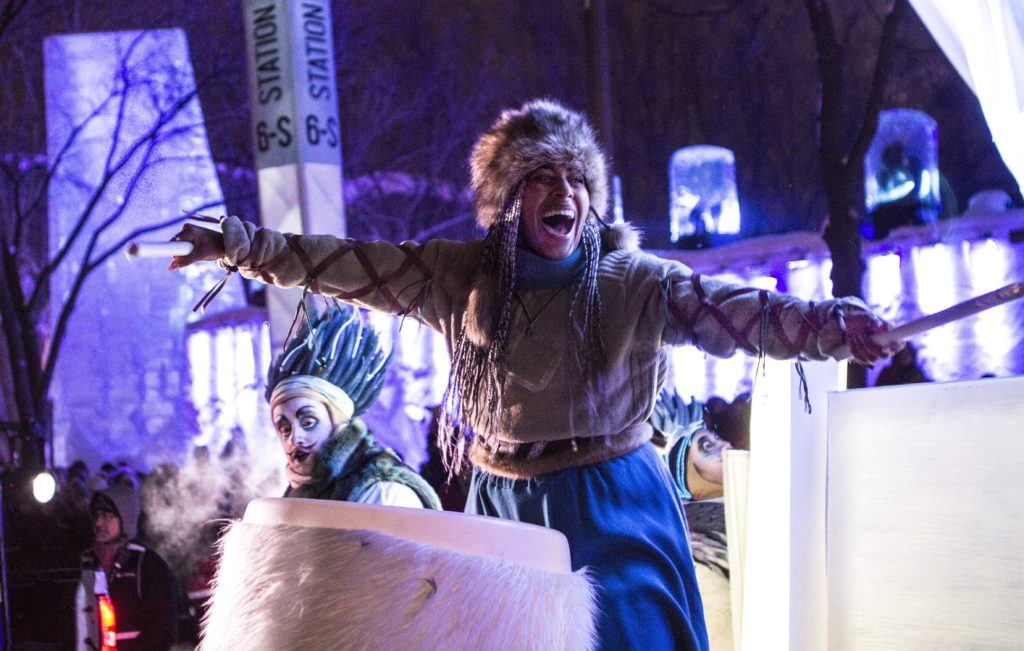 The Canoe Races
Bundle up and cheer on the teams competing in the ice canoe races. Dozens of teams square off over the frozen waters of the St. Lawrence River, competing in one of four classes: Elite Men's, Elite Women's, Competitive and Sport.
Don't miss the western-themed Tailgate and its country music, the best way to kick off a day of canoe racing.
Location:Port de Québec, Bassin Louise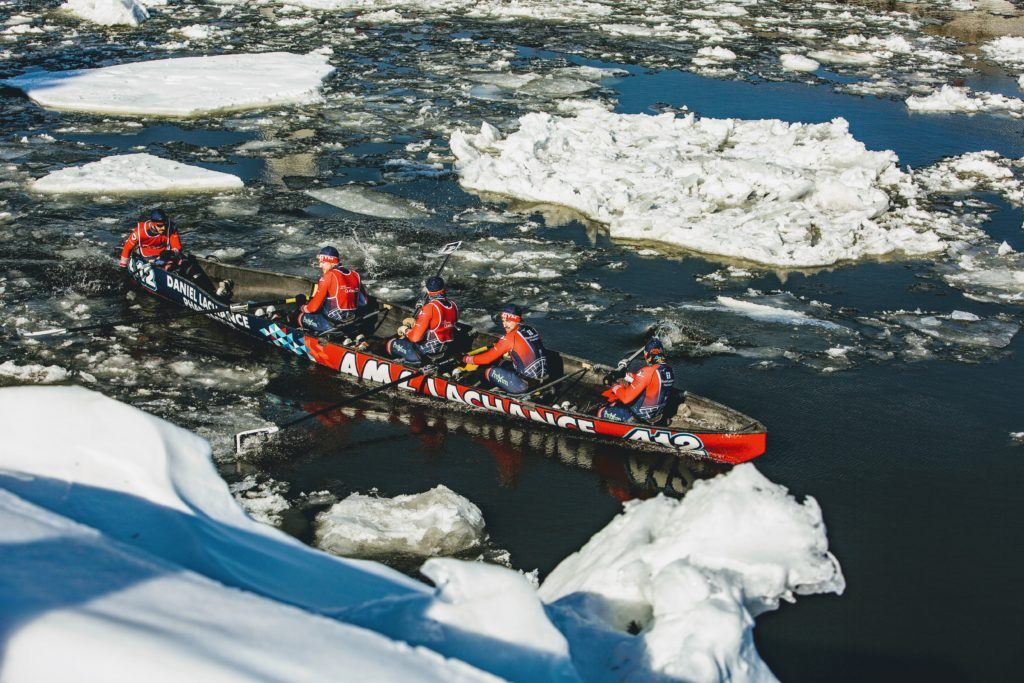 Take a Carriage Ride
Imagine life several centuries ago as you pass through the gates into the Old City on your very own carriage ride and history tour. It is great way to get an overview of the city while also staying nicely bundled up in the carriage.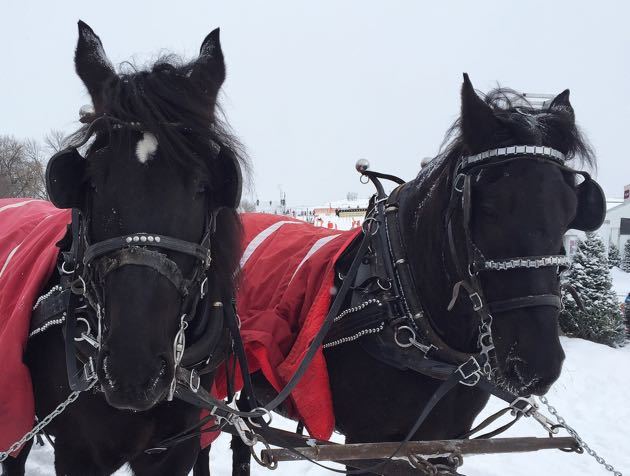 The 1884 Toboggan Slide
Race at almost 70km and hour on this classic 3 track toboggan slide. The Toboggan Slide au 1884 has been delighting visitors and locals alike for over 130 years (it even predates the Château Frontenac). Tickets can be purchased at the nearby kiosk and the toboggans are provided.
Ride the Funicular
Why take the stairs that connect the Old City's Haute-Ville and Basse-Ville, when you can take a funicular?
The two cabins act as counterweights to take visitors up and down the steep embankment between Place Royale and Dufferin Terrace in front of the Chateau Frontenac. Enjoy this short, but unique experience as it is the only funicular found in the U.S. or Canada.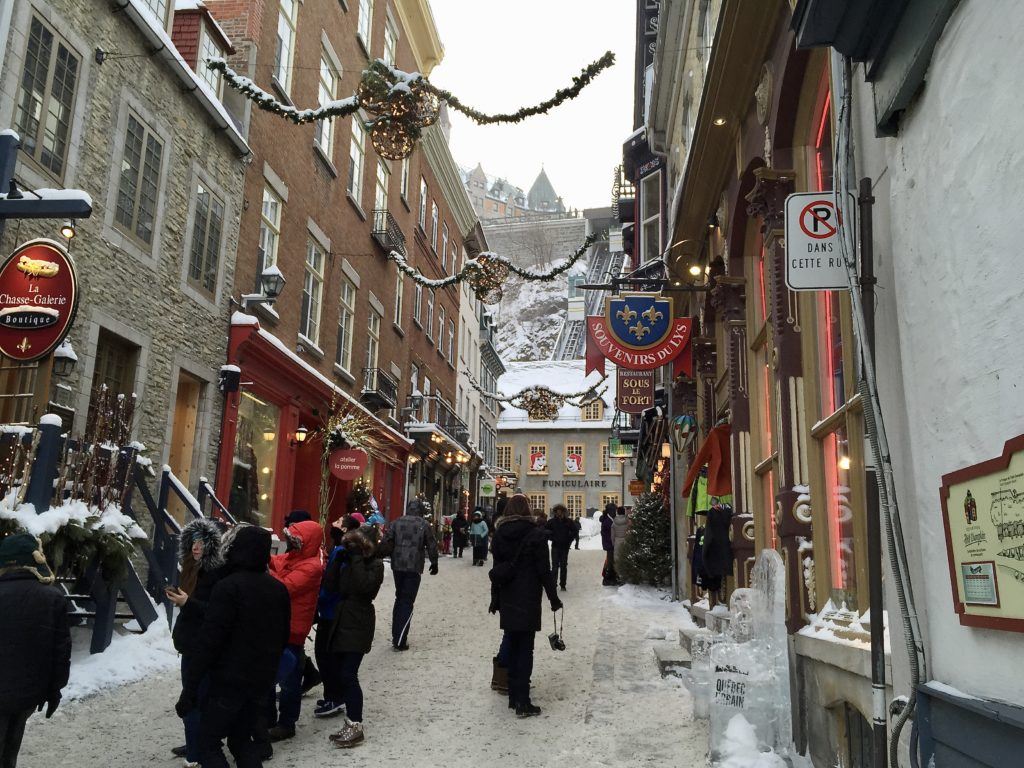 Monmorency Falls
Just a short drive outside of Quebec City are the incredible Monmorency Falls. At 83 meters, they are a full 30 meters higher than Niagara Falls.
Take the cable car from the bottom and then view the falls from above from the suspension bridge.
You might even get to see it when the Sugarloaf appears (Pain de Sucre); a unique mound that forms in front of the falls from the freezing mist (a little one is shown in the image below).
Outdoor Ice Skating
Take in the crisp cold air with an afternoon of outdoor skating. You will find a rink on the historic Plains of Abraham that operates from mid-December to mid-March. It has skate rentals and a snack bar.
There is another outdoor rink at Place D'Youville in the heart of the Old City that is open from mid-October to mid March. This space has skate rentals but is without a snack bar (warm up with a hot chocolate and yummy pastries at the nearby Second Cup cafe).
Learn more about ice skating in Quebec City at:https://www.quebec-cite.com.
5 Foods to Try in Quebec City
When in Quebec, there are several food you may want to try if you have not already. May I recommend the following:
Poutine: Although it is now on many menus around the world, Quebec is the birthplace of poutine. What's not to love about a pile of fries, layered with cheese curds and then smothered in gravy? Ask a local for the favourite spot, or try Chic Shack which is right next door to the Fairmont Chateau Frontenac in the Upper Vieux Quebec.
Tourtière: A delicious meat pie made from finely diced or ground pork, veal, beef or even wild game.
A Montreal Smoked Meat Sandwich: If you are not going to get to nearby Montreal for a famous Schwartz's Deli smoked meat sandwich, you can certainly find a decent substitution in Quebec City. What makes Montreal smoked meat special? The kosher meat is cured with a special recipe of cracked peppercorns, garlic, coriander and mustard seeds and more (and less sugar that New York pastrami).
Caribou: Okay, this is more of a drink than a food, but it certainly sticks to your ribs ! I was initially hesitant to try this traditional Quebec Winter Carnival drink, that is a concoction of red wine, whiskey/brandy and maple syrup (although there are many variations on this recipe). When the mercury dropped low enough, however, my resolved weakened and it actually tasted pretty good.
Maple Taffy: Known as tire d'érable in french, this sweet treat is made from sweet maple sap poured on to snow and then lifted with a stick. It was a favourite for my son (who doesn't like sweets), yet was considered too sweet by my candy-loving daughter. Go figure !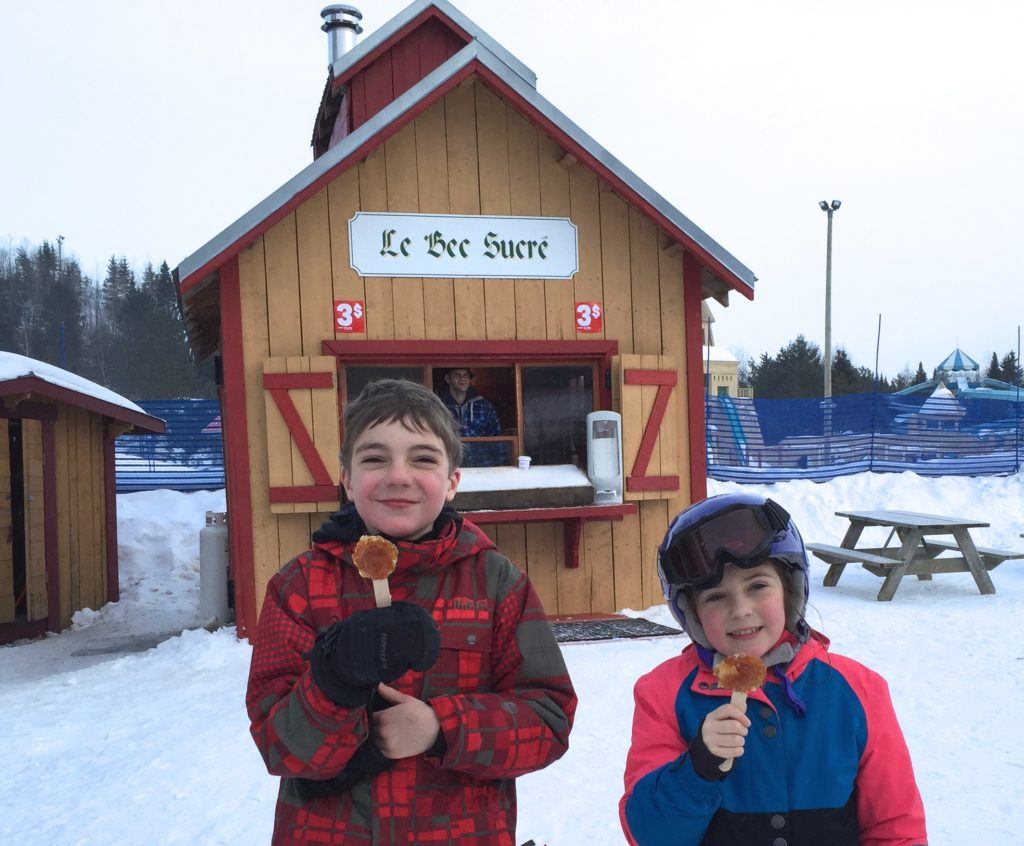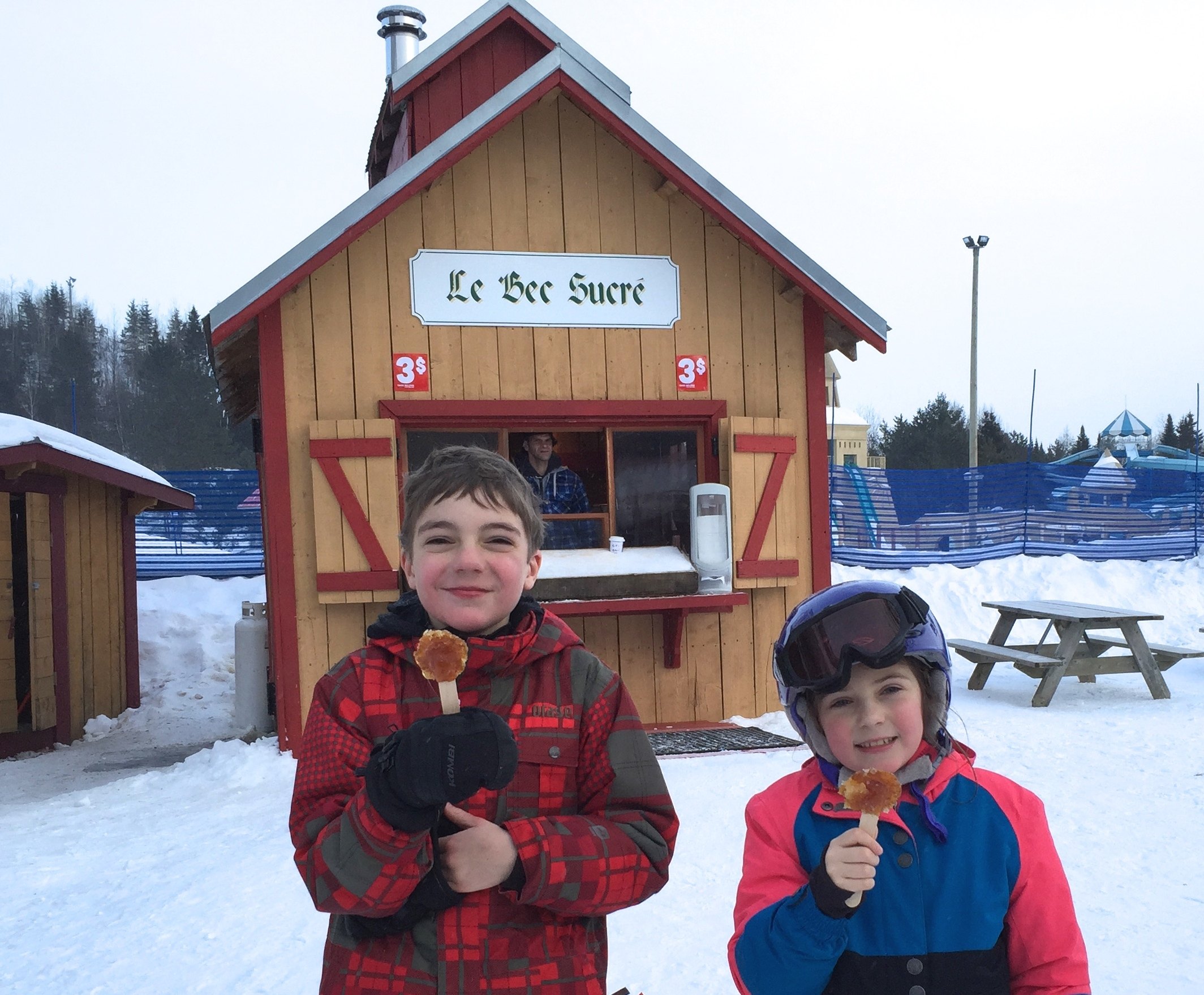 Where to Stay for the Quebec Winter Carnival
We typically prefer boutique hotels, but for this trip we stayed at the Hilton Quebec City. The location of this hotel is extremely convenient as it is close to all the Quebec Winter Festival sites.
If you prefer a boutique hotel, take a look at the Auberge Saint-Antoine. If a stay in a fairytale palace is on your bucket list, look no further than the Fairmont Chateau Frontenac.
What to Wear to the Quebec Winter Carnival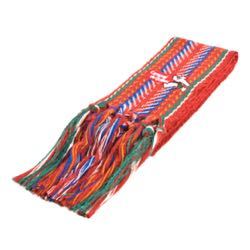 If you enjoy accessorizing, sport the arrowhead traditional sash, also known as the "ceinture fléchée".
Another popular accessory is the carnival cane. No, all of Quebec City doesn't walk with a limp, but they do enjoy warming up with a festive libation. The cane is hollow and can be filled will Caribou, or another spirit of your choice to be enjoyed while out and about.
Note: The rules around consuming alcohol in public are refreshingly lenient in Quebec. Drinking out of your souvenir cane in other Canadian provinces, is not advised.
During the Carnival de Quebec, the average high temperature ranges from a low of -14°C (7°F) to a high of -5°C (23°F). That said, it can go much lower. During our stay, the temperature hovered around -26°C (-15°F), an experience that I found rather shocking (I am Canadian, but live in relatively balmy Vancouver).
My advice would be to prepare for the Ice Age, and you will likely remain happy and warm. So as not to go on at length in this post, I have written this separate post on What To Wear To the Quebec Winter Carnival.
To learn more about all the great events that are part of the Quebec Winter Carnival, please see the Carnaval de Quebec website.
Disclosure : While visiting Quebec City, we were guests of Tourism Quebec and Quebec City Tourism, with most expenses being covered by these entities. All opinions about our experience are entirely my own.
Further Reading