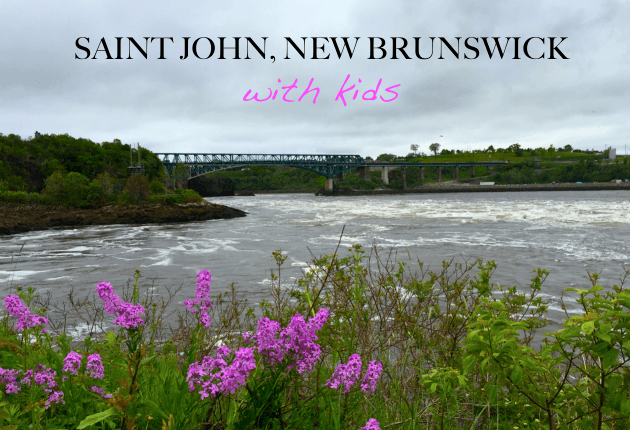 Affiliate Disclosure: As an Amazon Associate I earn from qualifying purchases. This post also contains additional affiliate links. For more information, please see our Terms of Use and Privacy Policy.
Top Things to do in Saint John, NB with Kids
Quite frankly, I didn't know what to expect from the city of Saint John, the first stop on our family Maritimes adventure that would eventually take us through 2600 kilometers of New Brunswick, Prince Edward Island and Nova Scotia. Having recently visited some rather large cities with the kids (NYC, San Francisco), I found Saint John's charming brick buildings and compact downtown core to be refreshingly easy to navigate. In fact, Saint John has the shortest, and steepest main street in all of Canada (King Street).
The other very interesting thing about this city's layout is that from the harbour, you can actually ascend King Street without ever going outdoors, traveling through a series of tunnels and escalators (passing by the Aquatic Centre, the famed Saint John Market, the New Brunswick Museum and more). We were lucky enough to have several days to explore the city and nearby attractions. Take a quick peek at this video, or read on to learn about what we loved for families visiting Saint John.
1. The Reversing Rapids
What happens when the Bay of Fundy tides collide with the Saint John River? Super cool whirlpools, waterfalls and rapids ! We visited this incredible natural phenomena at low tide, but then found ourselves returning several times to see what it looked like when the tide changed. For adventure seekers, you can also zip line over the rapids with Saint John Adventures.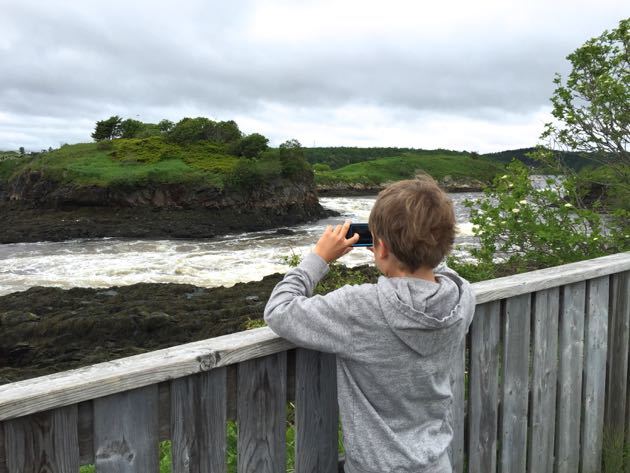 2. The New Brunswick Museum
I always worry a bit about my children getting fidgety on a museum tour, but right from the moment we met him, our excellent guide Stephen at the New Brunswick Museum had my kids enthralled by the Maritimes. From the Wind, Wood and Sail exhibit to the Hall of Great Whales – this is the perfect place to learn about the history of this region.
The museum also has a large craft and play area for children and regular programs and activities for families. Be sure to check the New Brunswick Museum calendar of events before visiting.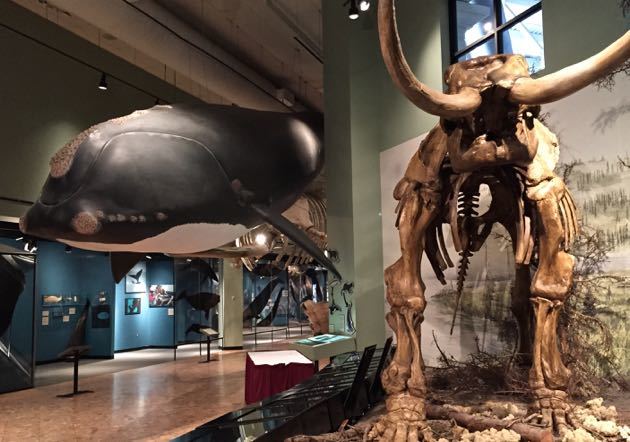 3. The Saint John City Market
Designed with a roof that resembles an inverted ship's hull, this market is the oldest continuing farmers' market in Canada. We enjoyed strolling through in the morning watching the fishmongers lay out the daily catch and the artisans setting up their stalls. Foodies may also be interested in the daily tasting tour (see Saint John City Market website).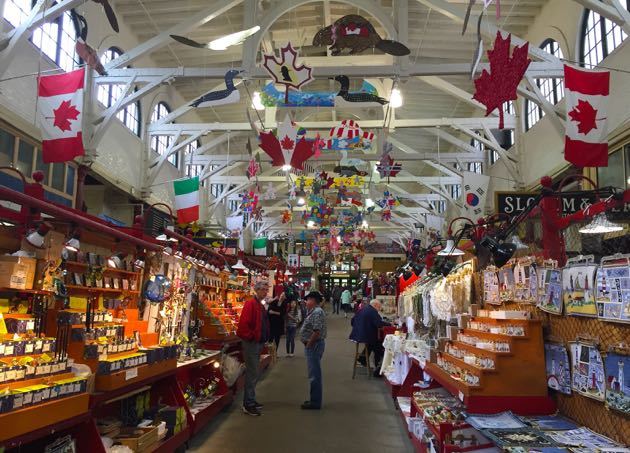 4. The Canada Games Aquatic Centre
This pool facility is located right near the harbour and is the perfect place to exhaust active children. My kids were particularly impressed with the waterslide that drops off like a diving board at the end. See Canada Games Aquatic Centre website for family swim times.
5. Market Square and Festival Place
We very much enjoyed spending time down around the riverfront boardwalk and patio restaurants of Market Square. As our visit coincided with the start of summer leading into Canada Day, there were music performances every night as well as beach volleyball set up. To see what events are on during your visit, be sure to check the Market Square schedule.
6. Day Trips
They are plenty of interesting things to see nearby Saint John, including Stonehammer Geopark, Irving Nature Park, and the Cherry Brook Zoo. We took an afternoon and drove to St. Martins, a picturesque town with a lovely fisherman's cove, covered bridge, pebble beach and really cool sea caves. This area is also the gateway to the Fundy Trail Parkway with its scenic lookouts, beaches, suspension bridge and wildlife viewing. You could easily spend a day exploring the Fundy Trail area, so pack along a lunch and enjoy a picnic with spectacular views.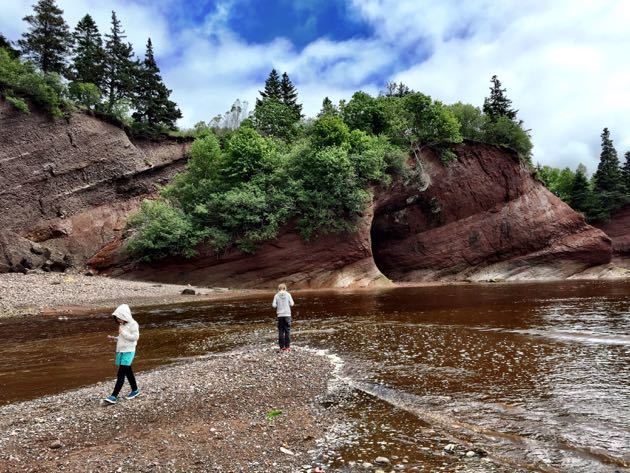 Family Restaurants in Saint John
Saint John has been coming into its own in terms of the local food movement. With some excellent recommendations, we enjoyed fine meals at Saint John Ale House, Britt's Pub and Urban Deli (with a sour cream lemon pie that I am still dreaming about), all of which catered easily to kids. While it doesn't really qualify as food, my kids were also delighted by the eclectic candy store Freak Lunchbox.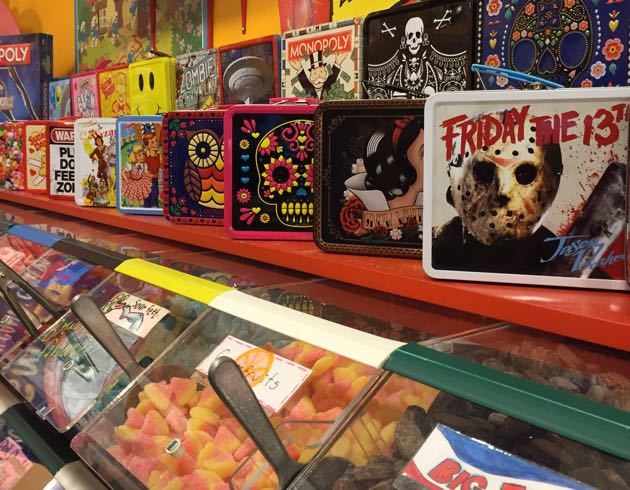 Family Hotels in Saint John, NB
During our visit we stayed at the Hilton Saint John which is conveniently located right on the harbour front and close to many attractions. The property offers some well priced packages that include breakfast, wifi and parking. It also has a small pool (although there is an excellent aquatic centre very close by).
Getting Around Saint John, NB
While we had a rental car during our stay (necessary for day tripping), the city itself is very walkable. In nice weather, the Harbour Passage guides you to some of the city's nicest viewpoints (just follow the cranberry coloured sidewalks). In inclement weather you need not venture outdoors but can visit the attractions along the indoor tunnel system by King Street (the market, the museum etc.).
More Information
For more information on things to see and do in Saint John, New Brunswick, be sure to check out the Tourism New Brunswick website and the Discover Saint John website. While we were visiting, I downloaded the Discover Saint John smartphone app (available here), allowing me to keep track of the tidal schedule.
Disclosure: While visiting Saint John, New Brunswick, we were guests of Tourism New Brunswick with partial expenses being covered by this entity. All opinions about our experiences are entirely my own. As always on my website, I encourage you to also read current reviews by other family travelers on hotels, attractions and restaurants (Tripadvisor, Google, Yelp etc.) before booking or making any final travel decisions.
Further Reading