Earlier this month, we drove over 600 miles (1000km) to Cave Junction, Oregon, so my children I could sleep in a treehouse. Although I would like to pretend that it was just for the kids, (who did love it), in all honesty, the driving force was me. Many a late night I have spent combing the web for 'unique family accommodations' and the Out n' About Treesort in Southern Oregon would often top the search results. While the West Coast has a number of tree house hotel options, the Out n' About is one of a few such properties that not only allows, but actually welcomes families traveling with young children. For those of you who long for a Swiss Family Robinson type experience, this may just be for you. Take a peek:
The 'Magistree' – one of the largest and highest treehouses at Out n' About.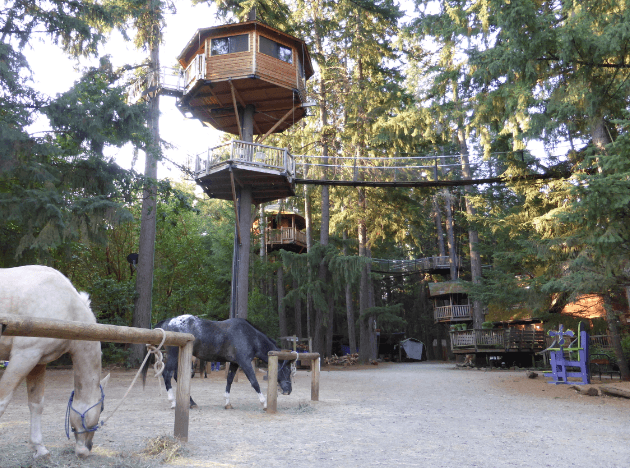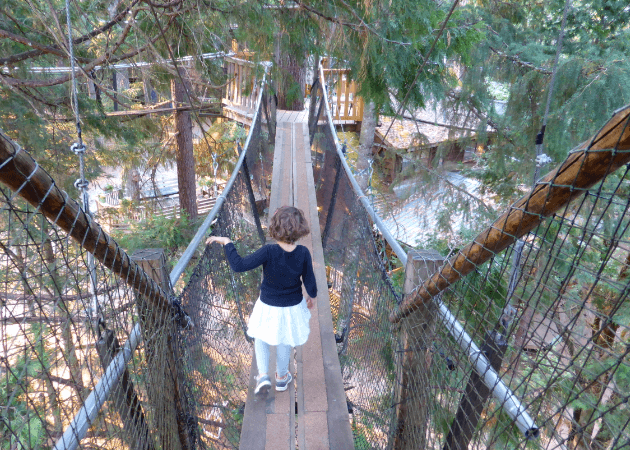 Hoisting up the luggage.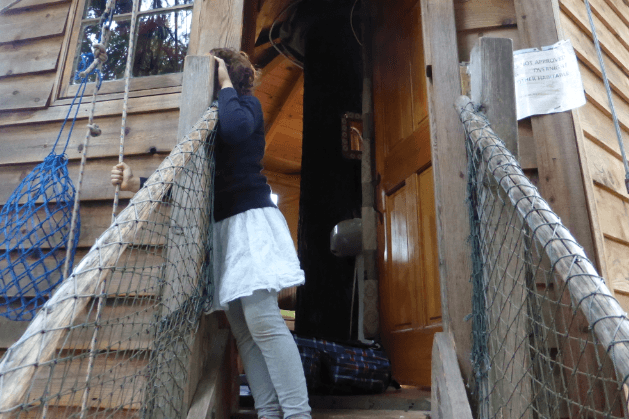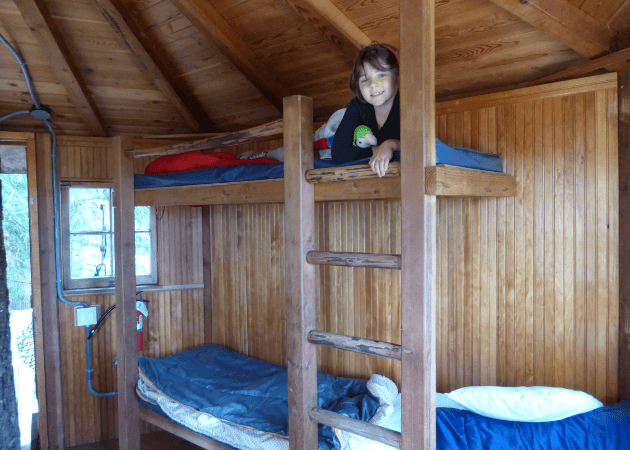 The 2 bedroom 'Swiss Family' Treehouse.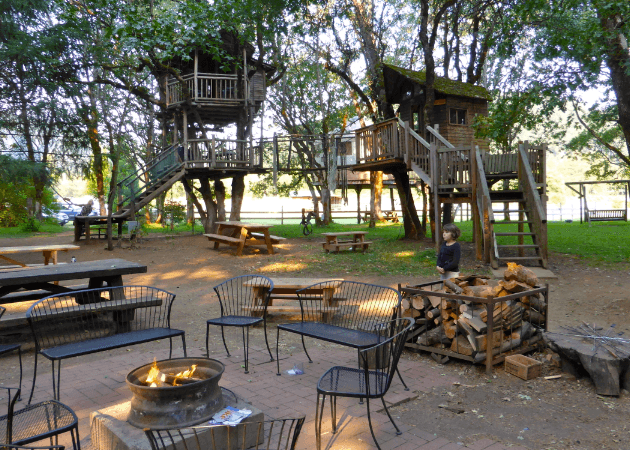 Out n' About Treesort can arrange horseback riding, zip lining and river rafting.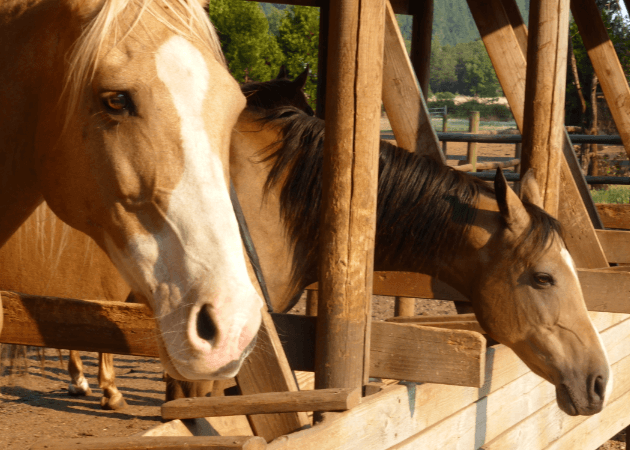 The outdoor swimming pool.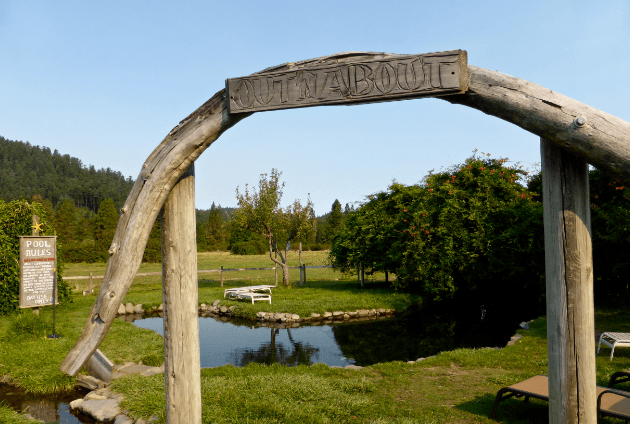 The giant rope swing.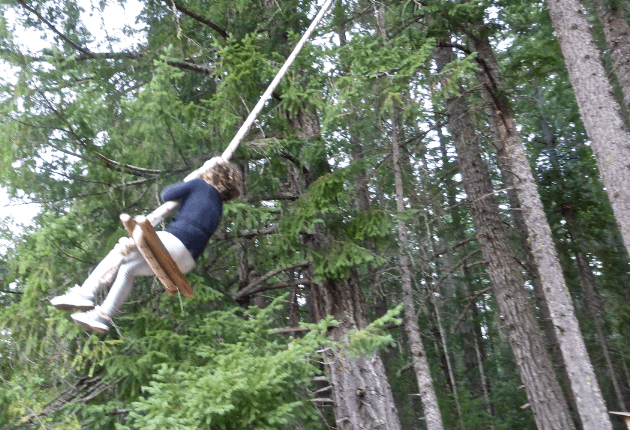 Out n' About is a little rustic for those looking for a luxury 'glamping' experience. Still, the beds are comfortable, bedding and towels are provided, and several of the tree houses even have their own washrooms (otherwise there are washrooms and showers on the ground level). There is a fully equipped kitchen from which to make your meals and a delicious breakfast with homemade quiche and baked goodies is included in your stay.  Not interested in making your own supper? Pick up excellent pizza from Rosie's Inferno in town.
More Information on Out n' About Treesort:
Price Range: $$
Features: full shared kitchen, evening campfire, horseback riding, zip lining, and outdoor pool
Reviews: 84% of family reviewers rate as 'Very Good' or 'Excellent' on Tripadvisor
To Book: See the Out n' About Treesort website
Additional Information:  If you have children younger than about 6 years old, personally I would choose one of the tree houses built close to the ground; the coolest of which is the Swiss Family 2 bedroom suite (all the kids at the resort wanted to play there).
Note: We did not receive any payment or compensation for staying at the Out n' About Treesort. All opinions are entirely my own. As always, however, I would encourage you to read current reviews by travelers on Tripadvisor before booking.
While in the area, you may be interested in joining a cave tour at The Oregon Caves National Monument.  You may even want to spend a night at the historic Chateau. Both are about a 40 minutes drive from Cave Junction, and the guided cave tour (required if you want to see inside) lasts about one hour.  My children really enjoyed it (7 and 10 years), but it might be too long for younger ones.  Read more about Oregon Caves National Monument and the hours of operation here.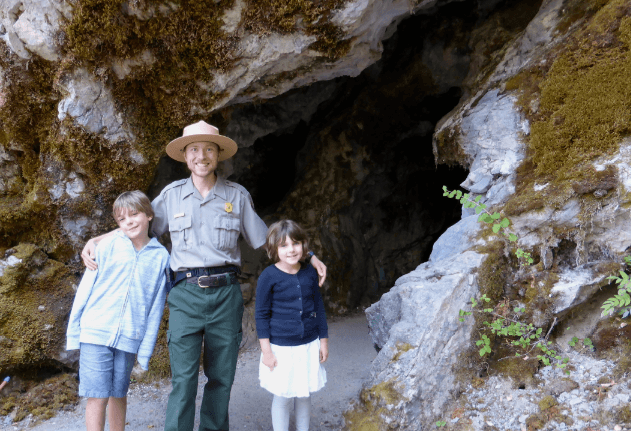 You May Also Be Interested in the Following Posts
Cannon Beach, Oregon with Kids
Crater Lake, Oregon, with Kids