Last update: April 4th, 2022 at 09:29 pm
Affiliate Disclosure: This Vancouver to Banff roadtrip post contains affiliate links. If you click on a link and make a purchase, I may receive a small commission at no cost to you. All opinions are entirely my own.
Who on earth decides to do a Vancouver to Banff road trip in the winter? People like us! There are few things our family loves more than filling our car with gear and hitting the open road for a grand winter adventure.
For some context, my husband and I were both born and raised on winter trips into the B.C. mountains. He (our primary road trip driver) practically cut his driving teeth on the treacherous old highway to Whistler.
For us, piling into the car and heading into the hills in search of snow is nothing new. These adventures are such a tradition in our family that even our hard-to-please teens are fully on-board and can't wait to hit the highway.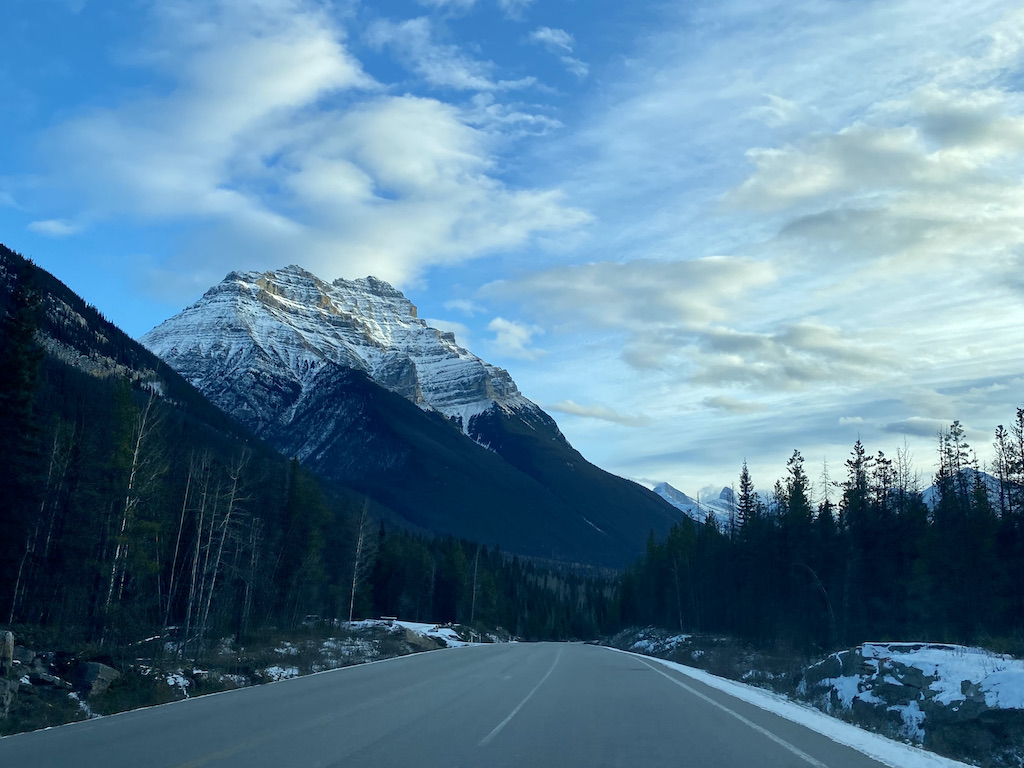 Winter Driving in B.C. – The Need to Know
Before I get into our itinerary on driving from Vancouver to Banff in the winter, I want to point out that driving on B.C. winter roads is not for the inexperienced.
While sometimes you do get lucky with blue skies and dry roads, this is the exception, not the rule. More often than not, there are a least some sections that are icy, snowy, or even a little scary.
Before hitting the road, please read the following winter driving tips:
Make sure your vehicle is equipped with winter tires (with snowflake symbol or M&S). Alternatively, carry chains and know how to put them on. Winter tires or chains are required on most B.C. roads and highways from Oct. 1st to Apr. 30th (some coastal regions and cities such as Vancouver are excluded from this rule).
Pre-plan your route using the DriveBC website/app. Make sure you are aware of any weather events, construction or road closures along your route. In many areas of BC you will not have a cell signal, so planning on the fly can be difficult. When you do have cell coverage en route, check for new updates and travel advisories (@drivebc / waze.com).
Plan to stay well fueled up. It is not unusual to find yourself stopped on the road for a while as closures can happen without warning. It is much less stressful when your fuel dial is hovering near "F" rather than "E" in sub-zero temperatures. (Although we own an EV, we do not take it on winter trips. The battery depletes far too quickly for our comfort level when having to run defrost, heat etc.)
Make sure you have appropriate winter clothing, footwear, extra food and water in the event that you do get stuck somewhere. Does this really actually happen? Rarely, but yes it can. (See personal story at the bottom of this post.)
Ensure your vehicle is in great working order and top up your wiper washer fluid. (I try to time my annual car servicing to be done in the fall before we head out on one of our big road trips.)
Plan your driving schedule around daylight hours. The roads are maintained more frequently (plowing etc.) during the day and you also don't want to miss out on all of that amazing scenery. The sun sets before 5pm in the deep of winter at this latitude. You also lose an hour as you cross over from BC into Alberta .
Always watch for wildlife while on route. Honestly, I'm simply mad for wildlife and rarely see anything (and I'm always looking)…but there's stuff out there for sure. Check out these Bighorn Sheep in Radium Hot Springs!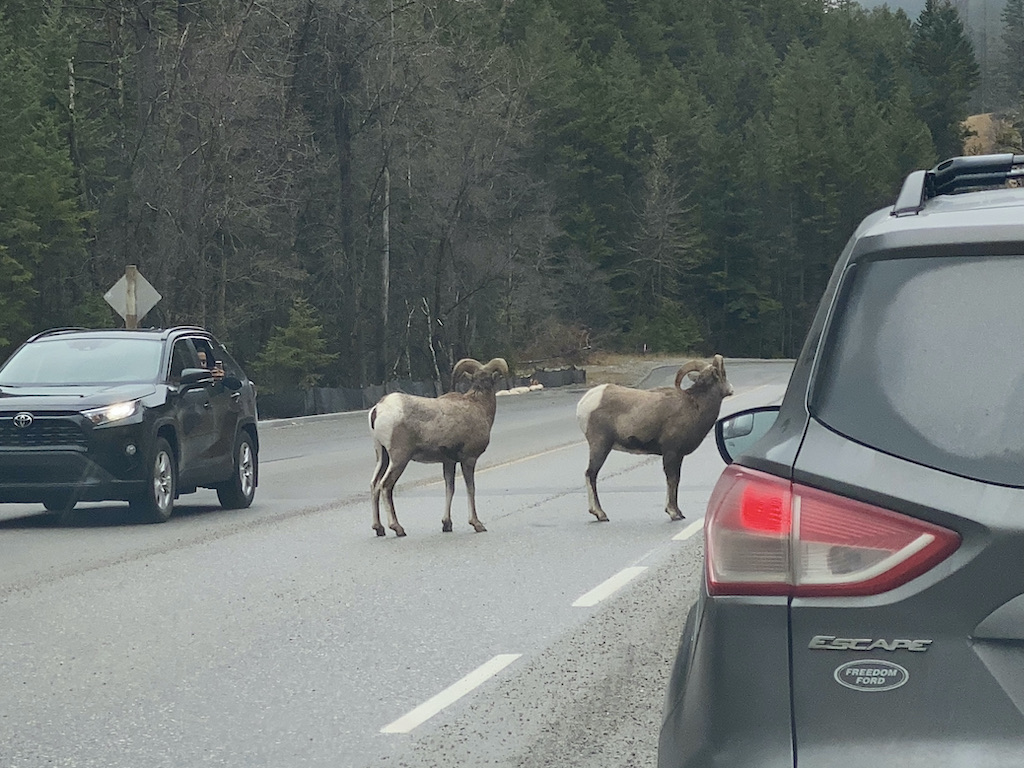 The Vancouver to Banff Drive
So why drive from Vancouver to Banff in the winter? Honestly, if you just want to see Banff, it is much easier (and shorter) to fly into Calgary, rent a car, and drive west from there.
You can do the 145km drive from the airport in less than 2 hours (with decent road conditions). We have taken this route before as part of a Powder Highway winter ski trip (visiting Banff, Fernie, Kimberley and Panorama) and found it to be relatively easy.
If, however, you are looking for a grander winter trip, and view "getting there" as part of the fun, then a Vancouver to Banff driving adventure might just be for you. I know for us (with limited travels due to the pandemic), we were just itching to get out of the Vancouver rain. For us, hitting the road and enjoying B.C.'s beautiful winter scenery was as much of a vacation as visiting Banff itself.
Note: In a perfect world, we would do this trip over a week. With kids in high school however, we did this road trip from Vancouver to Banff (return) in a very rushed fashion – 4 nights/4.5 days (leaving after school on day one).
The Route
Our Route
Normally, to drive Vancouver to Banff, we would take a direct route of Vancouver – Kamloops – Banff and return back the same way. (We would overnight on the way in and out at hotels in Kamloops and Revelstoke respectively.)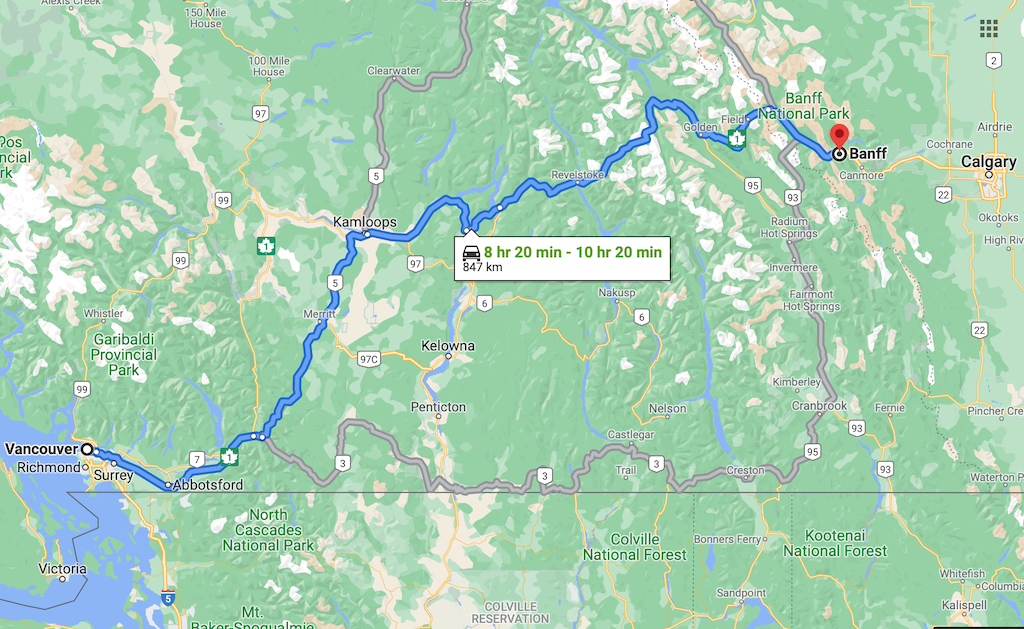 In the case of this trip, however, the #1 Hwy between Golden and Banff was closed for road work, so we did a circuitous route going Vancouver – Kamloops – Jasper – Banff – Revelstoke – Vancouver.
Although longer and less direct, the beauty of this route was that it allowed for us to drive the absolutely stunning (and must-see) Icefields Parkway from Jasper to Banff (Hwy. 93) without backtracking.
Note on Timing: We did this Vancouver to Banff driving trip in November when snow was just beginning to fall in the Rockies. What was nice about this timing, was that we could see many of the gorgeous natural features along the route (Athabasca Falls, Lake Louise etc.) almost entirely crowd-free.
In a perfect world, however, I would have preferred to do this trip a little later in the season when we could hit some of the ski mountains. Along our route we had Sun Peaks, Lake Louise, Sunshine, Kicking Horse and Revelstoke which were all on the cusp of opening! If we had waited a month, the lakes would also have been frozen enough to go ice skating.
Vancouver to Kamloops
354 km / 4 – 5.5 hrs
While I don't love Kamloops, we made it our first overnight stop on our Vancouver to Banff road trip. The drive from Vancouver took us about five hours (with good conditions on the Coquihalla but lots of traffic out of Vancouver).
Kamloops is a reasonable place to stop as it is an approximate half way mark on the Vancouver to Banff drive. It is also big enough to have some okay chain hotels and some decent restaurants.
We have stayed at both The Coast and The Sandman Signature during overnight visits to Kamloops. While neither is abundant with character, the service is pleasant and the rooms are just fine (both have indoor pools as well).
Things to do in Kamloops
Honestly, not so much. When a ferry ride is on Tripadvisor's top 10 list of things to do in a city, I say move along.
Kamloops to Jasper
441 km / 5 – 6 hrs
Here is where the spectacular scenery begins. If you have the time, make your first stop Helmcken Falls Lookout in Clearwater's Wells Grey Provincial Park (123km from Kamloops). The falls are only a 5 minute walk from the parking lot.
If you have more time, there are also some nice hikes in the park including the Helmcken Falls Rim Trail (2-3 hours return). See Alltrails.com for hike details. Just be prepared for winter conditions on the trails (ice cleats and trekking poles highly recommended).
While rare, in the deep of winter, you may even get to see the falls descending into a snow cone!
From Clearwater, you continue driving on to Valemont. For years, Valemount has been touted as home to B.C.'s next great ski resort. From what I have read however, it seem investors are a little skittish. It remains to be seen whether this elaborate winter playground will ever come to be.
Shortly after passing through Valemount, you will connect on to Hwy. 16 East. If skies are favourable, the majestic Mount Robson will come into view.
For me, this view made the 780+ kilometres that we had already traveled 100% worth it! Outside of being simply stunning, Mt. Robson holds the distinction of being the tallest mountain in the Canadian Rockies (#21 in Canada).
Mount Robson Provincial Park has some beautiful trails, but please be aware that there can be closures during the winter if conditions are unsafe. Please see Mount Robson Provincial Park for current status.
Shortly after leaving this area, you will enter Jasper National Park. To visit Canada's national parks, you must have a Parks Canada Discovery Pass. They can be purchased at the booth as you enter the park or you can pre-purchase one online ahead of time.
Our Discovery Pass took only a few days to arrive by mail.The pass is good for 1 year and can be used in more than 80 national parks across Canada. In the B.C. Rockies you have four that you can visit (Jasper, Banff, Yoho and Kootenay).
Note: Keep an eye on the time. As you pass through Jasper National Park, you move from British Columbia into Alberta and from Pacific Mountain Time onto Mountain Standard Time (losing one hour).
Jasper
While we only stopped for a quick lunch in Jasper, I would highly recommend staying the night so that you can can have a full day to enjoy the Icefields Parkway Drive between Jasper and Banff.
There are a couple of cozy places to stay in Jasper including the Pyramid Lake Resort and the Fairmont Jasper Park Lodge.
Things to do in Jasper
If you have more time, popular winter activities in Jasper include sleigh rides, dog sledding, ice skating (Mildred or Pyramid lake), snowshoeing, ice climbing and more. See a full list of Jasper winter activities on the Tourism Jasper website.
Jasper can also be a great spot to see the Northern Lights. Jasper is a designated Dark Sky Preserve ("an area in which no artificial light is present"). The town has a wonderful planetarium as well as year-round events to celebrate the skies (photography tours etc.).
See also: 5 Tips on Seeing the Aurora Borealis in Jasper
Jasper to Banff – The Icefields Parkway
288km, 4-7 hrs
If you haven't encountered much in the way of winter driving conditions yet on your Vancouver to Banff drive, you probably will here. Before setting out to drive Jasper to Banff along the Icefields Parkway, please remember the following tips.
Tips for Driving the Icefields Parkway
Make sure your vehicle has good winter tires or chains (M&S / Snowflake symbol). They are required on the Parkway from Nov. 1st – Apr. 1st.
Before setting out, check your route (Hwy. 93) for road advisories on the 511 Alberta website.
Gas up. You will be driving through two national parks (no towns) and you will have little to no cellular phone reception.
Make sure you have ample snacks, water and proper clothing in case you get delayed on the road.
Give yourself lots of time. While the drive can be done in as little as 3.5 hours, you'll want double that to enjoy the sights fully.
Drive during the day when you have better visibility. Snow plows operate on the Parkway between between 7am and 3:30pm only.
Remember that in the winter months you will be losing daylight fast from about 4pm.
See also: Tips for driving the Icefields Parkway from Parks Canada
What to See Along the Icefields Parkway
Note: In freezing conditions, the trails and parking lots along this route can get very slippery. Once again, I strongly recommend ice cleats to go over your shoes or boots. We bought inexpensive Icetrax V3s and they were perfect for this trip.
Athabasca Falls
From Jasper, your first must-see is Athabasca Falls (30km from Jasper). The beauty of visiting spots like this in winter is that there are way less tourists. (We didn't see a single tour bus!) Follow the short trail to see these gorgeous 23m falls from several vantage points.
Sunwapta Falls
Just a little further along you reach Sunwapa falls (55km from Jasper). You can reach the upper lookout for these beautiful 18m falls via a short walk from the parking lot. The lower falls can be reached after following a 1.3km trail through the pine forest.
Bow Lake
Continue on enjoying the scenery of Hwy 93 until you reach Bow Lake (195km from Jasper). Follow the signs to Num-Ti-Jah Lodge parking lot (lodge closed in the winter). Some people compare the views here to Lake Louise – but without the crowds.
Lake Louise
A final major stop along this route is the gorgeous Lake Louise (232km from Jasper / 57 km from Banff). You can opt to just pop down to the lakeside lookout for that classic Instagram shot or enjoy a longer stroll along the Lakeside Trail (4.5km in and back).
In the deep of winter, you can also skate on the froze lake. Skate rentals (and other gear) are available just to the right inside the Fairmont Chateau Lake Louise.
Prefer to enjoy a beautiful view while staying warm and cozy? The Chateau Lake Louise is truly an exceptional beauty and is a worthy place to while away an afternoon. Book at table at the Lakeview Lounge for afternoon tea service, lunch or just a fancy coffee or cocktail.
Tip: Make a reservation for the Lakeview Lounge in advance on OpenTable.com. We were able to avoid a 45 minute wait by booking just a few a hours ahead of time (and that was in low season)!
If you would prefer to stay a while, the Fairmont Chateau Lake Louise makes for a perfect base for a few days to enjoy snowshoeing, skiing/snowboarding (at nearby Lake Louise Ski Resort), sleigh rides and more!
Check rates for the Fairmont Lake Louise here.
Banff
Banff is definitely a worthy winter destination to spend a few days. Stroll the picturesque Main Street (I've just made the photo below my iPhone background,) enjoy fabulous meals at the numerous eateries around town, and be sure to get out to enjoy the great outdoors.
Things to do in Banff
Winter activities in Banff include visiting the world-famous hot springs, dog-sledding, snowshoeing, winter hikes, ice skating, and of course, skiing/snowboarding. While making your base Banff for a few days, your can visit The Big 3 ski mountains – Banff Sunshine, Lake Louise and Mt. Norquay.
See a full list of Things to do in Banff here.
Where to Stay in Banff
While a splurge, we really enjoy the grand experience of staying at the castle-like Fairmont Banff Springs Hotel. Even just exploring the property feels like a full vacation experience with its great restaurants, beautiful pool and spa,outdoor ice skating rink (seasonal) and much more!
Note: The one thing I will caution about the Fairmont Banff Springs (as much as I love it) is that many of the rooms are quite small (unless you can upgrade to a suite). If you would prefer more space, take a peek at The Moose and The Peaks Hotel (both get great reviews).
Banff to Revelstoke
283km – 4+ hrs driving time
Follow Hwy #1 north to Lake Louise and then west towards Golden and Revelstoke. Take your time, as you can expect winter road conditions and occasion closures. (Again, use the Drive BC website/app before hitting the road.)
If Hwy. #1 is closed between Lake Louise and Golden (as happened to us on this trip), you will likely be re-routed south through Radium Hot Springs. For us, this added 100km and about 90 minutes to our drive.
Radium Hot Springs
Want a little break in Radium? Pop by their pretty hot spring pools that are uniquely built right into the mountainside. They have swimsuit and towel rentals in a pinch. See website for more details.
Note: Keep an eye out for wildlife on the roads (always) but especially in Radium Hot Springs where Bighorn Sheep congregate. It is actually my favourite thing about Radium!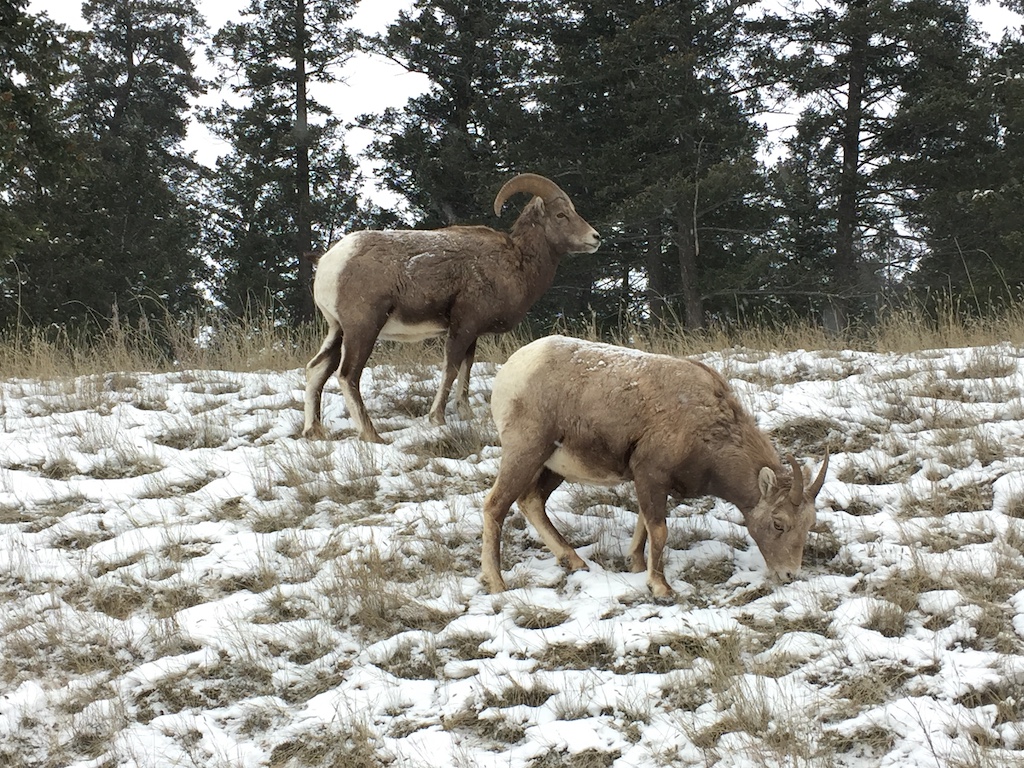 Golden
Golden is a great place to break for lunch on the way to Revelstoke (Whitetooth Bistro and Reposados Tacos are both good). It is also home to one of our favourite B.C. ski mountains, Kicking Horse, if you have the luxury of more time.
Even if you don't ski or board, Kicking Horse Mountain Resort has a very special restaurant up top called the Eagle's Eye. This can be accessed by gondola and offers beautiful views of the Purcell Mountains.
Rogers Pass Golden to Revelstoke
150km – 2+ hrs
Rogers Pass offers some of the most spectacular scenery in the B.C. Rockies but the road conditions here can be challenging. Check the Drive BC website/app before heading into the pass as closure happen frequently.
Drive this section in daylight hours, not only because it is safer, but also so you can enjoy the gorgeous views of Glacier National Park.
Note: As you pass through Rogers Pass, you go from Mountain Time to Pacific Time, gaining an hour. (Golden, BC is actually in the same time zone as Alberta.)
Revelstoke
If you have followed my website for a while, you will know that Revelstoke is absolutely our family's favourite B.C. mountain town. It has such a fabulous balance of B.C. heritage charm coupled with the perfect smattering of good restaurants and hotels.
We are also huge fans of Revelstoke Mountain Resort – home to North America's longest vertical. We try to squeeze in at least one trip per winter season.
Things to do in Revelstoke
Now of course, Revelstoke has much more to offer in the winter than just skiing/snowboarding. It is also a popular spot for snowshoeing tours, snowmobiling, nordic skiing and more.
See a full list of Revelstoke winter activities on SeeRevelstoke.com.
Where to Stay in Revelstoke
While in Revelstoke, we enjoy staying at Explorers Society boutique hotel in town (#2 Boutique Hotel in Canada according to Tripadvisor 2021.) It has gorgeous rooms, a beautiful rooftop lounge and hot tub, as well as one of the town's top restaurants (The Quartermaster Eatery).
If we are skiing, we like to stay right on the mountain at the ski in/ski out Sutton Place Hotel. That said, Revelstoke is small and all of the hotels are within a 15 minute drive of the mountain gondola.
Do make sure you pop by La Baguette at least once during your stay for coffee, baked goods or to visit their wonderful gourmet store!
Revelstoke to Vancouver
565km / 6-7 hrs
Revelstoke to Vancouver is always a bit of a grind for us. Our vacation is basically over and now we just want to get home and get the laundry on!
That said, we still try to take our time as the conditions can be challenging. This was what the road looked like as we left Revelstoke (November). Still, with good snow tires and by taking our time, this section was fine. Little did we know, however, that the real driving adventure was about to begin…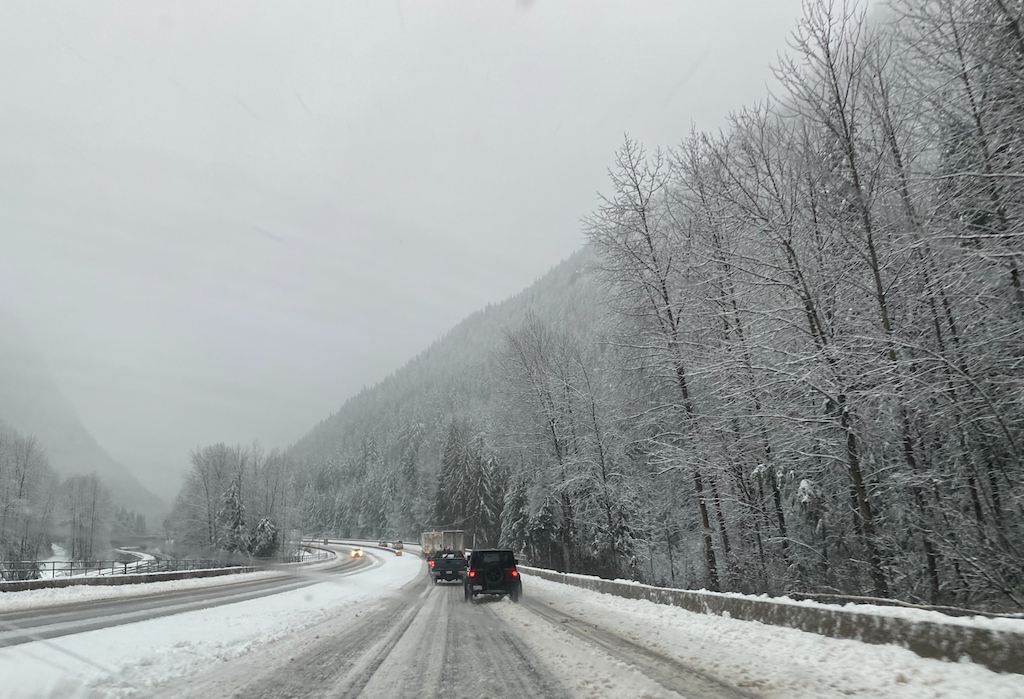 An Atmospheric River
Ironically, although we followed winter driving rules in B.C. absolutely to the letter (in part, because I wanted to write a post about safe winter driving in B.C.), we still had some major issues on our drive home from Revelstoke to Vancouver. It is a drive we have done many times in winter conditions…but this was quite different.
From weather reports, we knew that a lot of rain was coming, which in itself isn't that unusual. What was unusual however, was that fact that we would end up being caught up in what is now a familiar term to most B.C. residents – the Atmospheric River (a.k.a Pineapple Express).
While we knew this meant bucket-loads of rain, nobody (including DriveBC) was adequately prepared for the destruction it would leave in its wake. Between the copious amounts of rain, warm temperatures melting the snowpack above, and mountainsides stripped of vegetation due to forest fires earlier in the year – it was like the mountains just dissolved into rivers of mud. The storm left behind a path of destruction that included wiping out major sections of highway and catastrophic flooding that destroyed towns and farms.
We did manage to get home safely, in 10 hours rather than 6, hop-scotching our way home as highways closed one after another due to flooding and mudslides. It was not the DriveBC website however, that helped us get home safely. They were reporting incidents much too late (I think they were simply overwhelmed).
It was the BC and AB truckers I started following on Twitter that provided the up-to-date information and photos that let us know what was still open and what problems lay ahead. We were able to narrowly get through the worst sections of highway before two mudslides trapped dozens of cars on a section of road overnight and trapped other people in the town of Hope for 4 days.
I share this story not because I think this will happen to you. The whole situation on the roads was such a dangerous mess, and such a wakeup call for B.C., that I don't think it will happen again. (They would shut the highways down first as should have been done in this situation.) Anyone on these roads that day, however, will not forget it and knows exactly why it's important to make sure you pack your car in anticipation of possibly getting stuck on the road overnight.
I hope I didn't scare you off taking a trip like this. I just want you to be prepared. Pack the right gear, make sure your vehicle is winter-ready and you should be good to go. It actually feels great to know that you can tackle almost any situation that might come your way.
Have a Question? Hearing from other travelers is the thing I love most about this job. If you have a question or a comment, please feel free to reach out to me via the comment field below or by email (Contact Us on the upper menu).
Related Posts