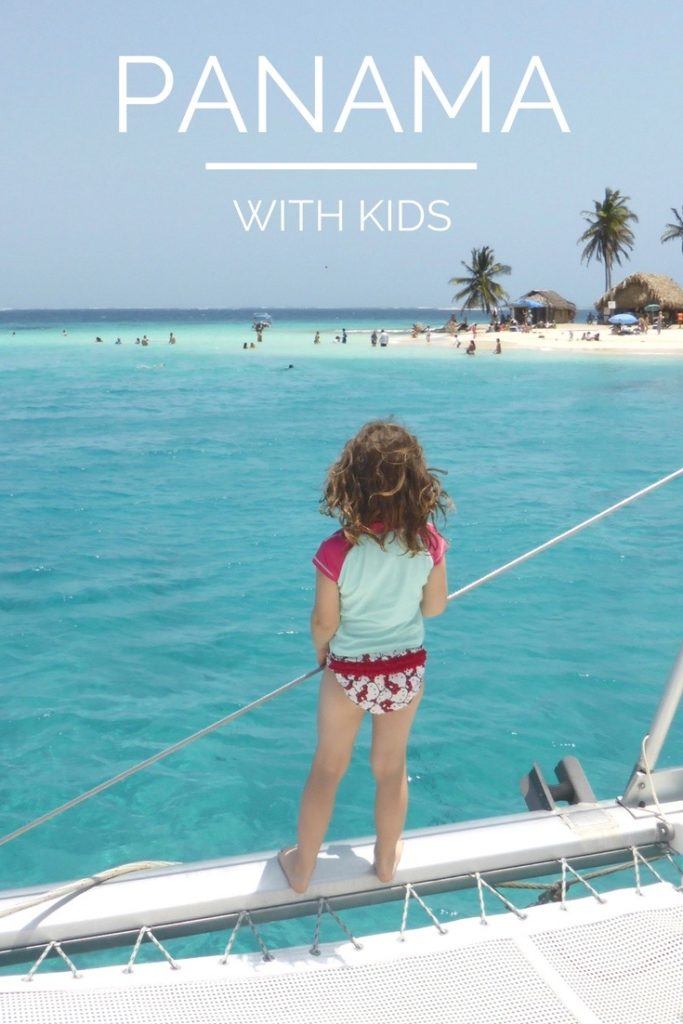 Visiting Panama with Kids
"Have you ever been to Panama?" a friend asked me a while back. Well no, we had not been – but we would be on our way shortly. I had been dying to get to Panama for many years and this innocent question provided me with just the impetus I needed. My main stumbling block was cost. I needed to get us there on points. 24 hours later, with some bloodshot eyes and a hard drive about to explode, I managed to find us 4 points seats to Panama City during my children's school break.
Panama intrigued me for several reasons. First of all, I had heard that this country could provide a similar eco-tourism experience to Costa Rica, but a little more economically. When I did a quick cost comparison, it seemed that the per night rate of an eco-lodge in Panama was considerably less than a similar one in Costa Rica (although rates in Panama City itself are comparable to many major cities in the U.S.).
For nature lovers such as myself, Panama hosts almost 1,000 species of birds, as well as 220 mammals and 354 reptiles and amphibians. The country is also home to hundreds of islands, many with stunning white sand beaches and large stretches of protected coral reef, allowing for some great snorkeling and scuba diving. Volcano hikes, coffee plantation tours, jungle tours, river rafting, ziplining and more! Panama also offers much cultural diversity with its seven native Indian populations, many still living quite traditionally and autonomously.  All in all, it sounded like a worthy trip to me.
After months of planning and agonizing over our itinerary, here is how we ended up spending our 12 days in Panama. Of course, there is much more to see in this beautiful country, but we needed to make some choices due to time limitations, budget limitations, personal preferences and logistics. That said, hopefully this will provide you with some inspiration and helpful suggestions for your own family trip to Panama. I also put together a short 2 minute video of our Panama family trip if you would like to take a peek:
1.  Panama City – Casco Viejo (3 Nights)
Why: This UNESCO World Heritage site within Panama City is in the process of being painstakingly restored, and has many beautiful buildings, hip hotels, hot restaurants and quaint plazas. It also provides a great base from which to take day trips to the Panama Canal , the Amador Causeway and the Frank Gehry designed Museum of Biodiversity. See also our Guide to Casco Viejo.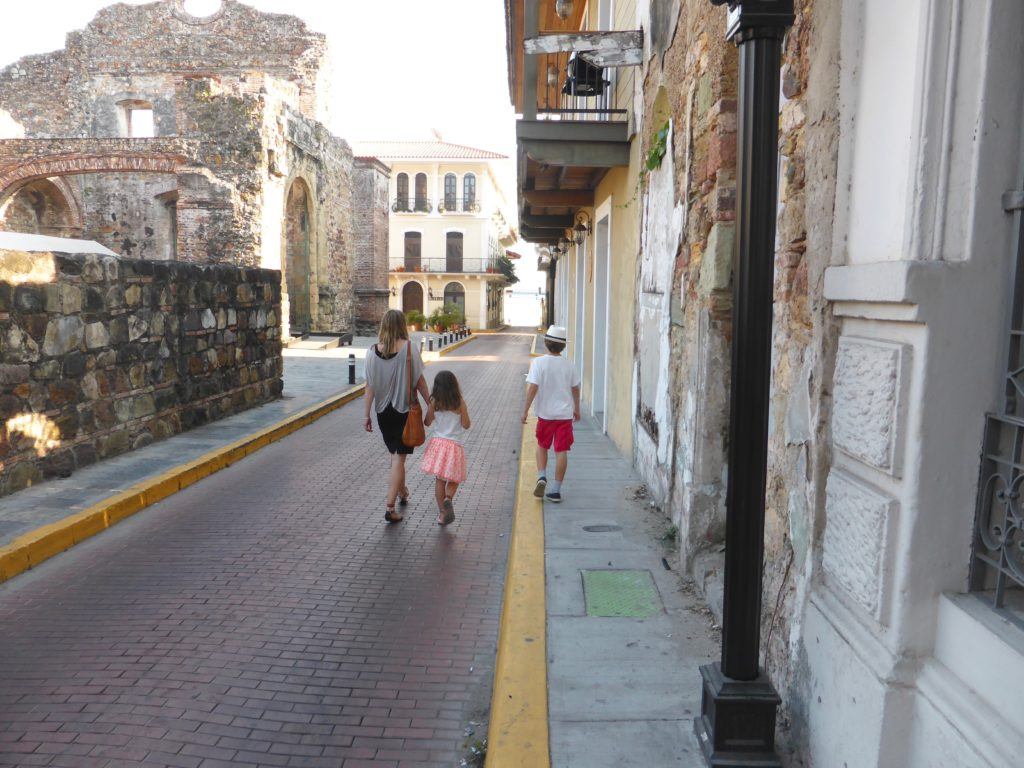 Family Hotels – Casco Viejo
While many people may prefer a hotel in the more modern areas of Panama City, we enjoyed a beautiful stay at Las Clementinas – a lovely boutique hotel in Casco Viejo. While very charming, and full of wonderful restaurants, I do want to mention that Casco Viejo is a little gritty and not the kind of place where you should wander around alone late night (fine for us since we were to bed early with the kiddies anyway).
Las Clementinas
Class: 4 star
Reviews: 87% of family reviewers rate as very good or excellent on TripAdvisor.
Family Friendly Features: Spacious apartment-style suites. Extra cot or crib can be added.
Check Rates and Availability: here.
Two others highly rated apartment style boutique hotels in Casco Viejo that could work well for families include Las Isabela Suites and Casa MarAlta.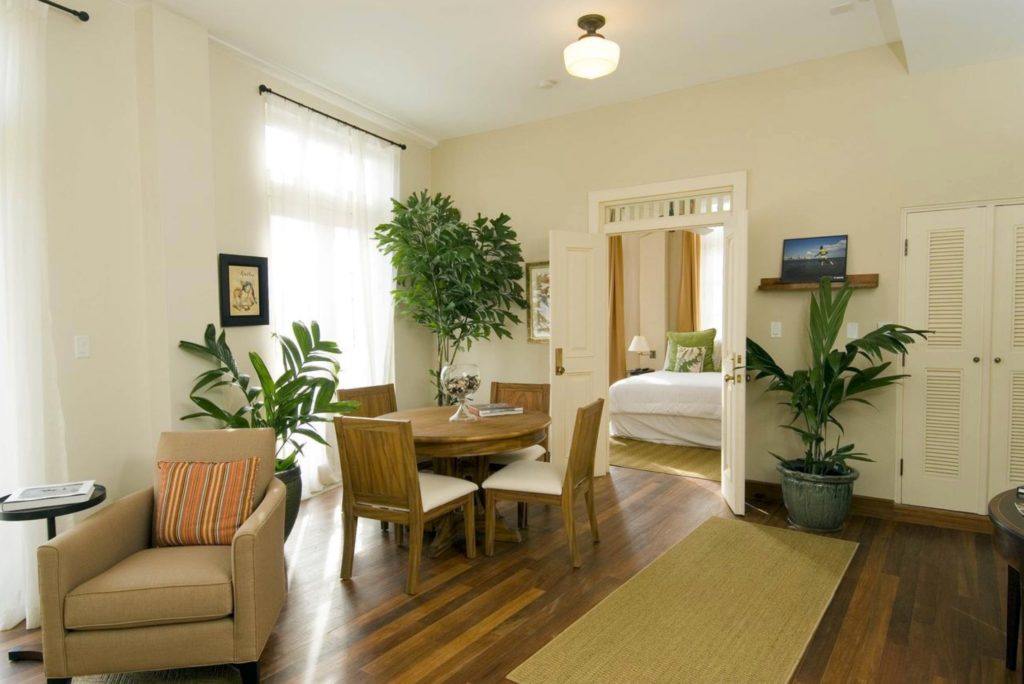 2. Gamboa, Panama (1 Night)
Why: Only 40 minutes from downtown Panama City, the little town of Gamboa is located on the north bank of the flooded Chagres River, between the Panama Canal and rain forest of Soberania National Park. Although originally built to house employees working on the Panama Canal, this area now has a second life as a base for nature loving eco-tourists.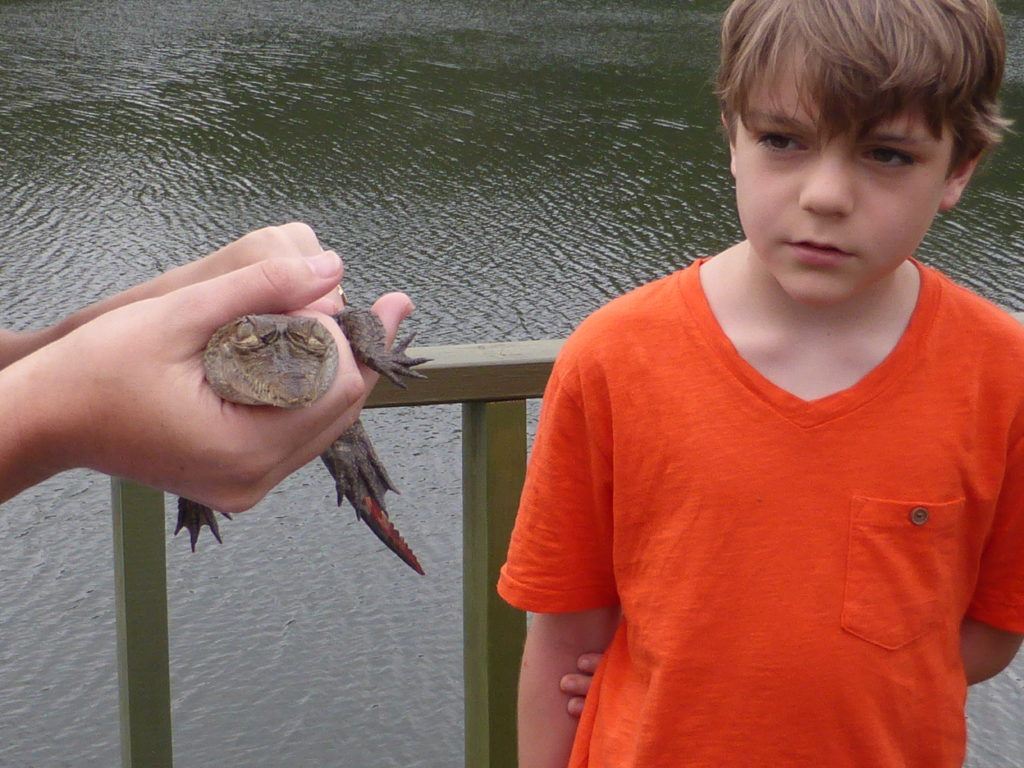 Panama Eco Lodges near Gamboa
Although many travel resources mention the Gamboa Rainforest Lodge as a great place to stay, we felt that the slightly quirky, and more favorably reviewed Jungle Land Panama Floating Lodge was a better choice for us. Jungle Land gives you the option of visiting for the day, or adding an overnight stay. Choosing the latter was magic for us, as it was just so special to fall asleep and wake to the sounds of the jungle. Due to the fact that Jungle Land is a floating barge (one huge water hazard for little ones), they welcome guests from 3 years and up only.
Jungle Land Floating Lodge
Reviews: 100% of families rate as very good or excellent on TripAdvisor.
Check rates and availability: here.
Room Tip : Deluxe upstairs rooms with bunk beds and a private bathroom are preferred by families.
Further Reading: See our full post on Jungle Land Panama Ecolodge here.
My children seriously watched this video from Jungle Land about 20 times prior to our trip.
3. Bocas del Toro (3 Nights)
Why: The Bocas del Toro Archipelago (mouth of the bull), consists of six jungle covered islands, dotted with pristine and sparsely populated beaches. The coral reefs and decent waves attract divers and surfers alike. Although this beautiful region is going through quite a change (the world has discovered its beauty, and a number of new hotels and condos are in the works), there is still time to enjoy its laid back Caribbean vibe.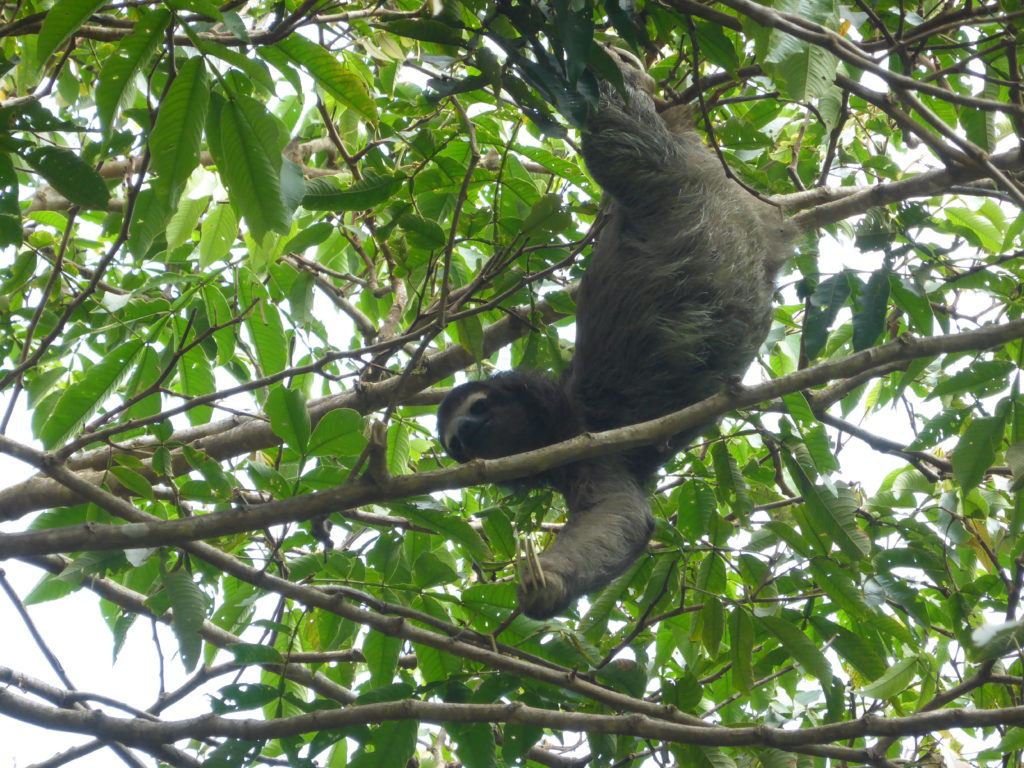 Family Hotels Bocas del Toro
Staying a La Loma Chocolate Farm was a bucket list experience for us. I had been dying to visit for years and had pretty much been been counting the days until my daughter turned five (minimum age to visit).
La Loma Jungle Lodge and Chocolate Farm – Isla Bastimientos
Reviews: 99% of families rate as very good or excellent on TripAdvisor.
Check rates and availability: here
Room Tip : Tree top cabin number 4 with a queen bed and 2 single beds is popular with families.
Further Reading: See our full post on Bocas del Toro with Kids.
Important Note: Due to the layout of the resort (treehouse rooms) they are unable to accommodate children younger than 6 years.
If you are traveling to Bocas del Toro with a baby, toddler or child younger than 5 years, I would consider at Al Natural Resort  or Tranquilo Bay All Inclusive  both of which are also on Isla Bastimentos.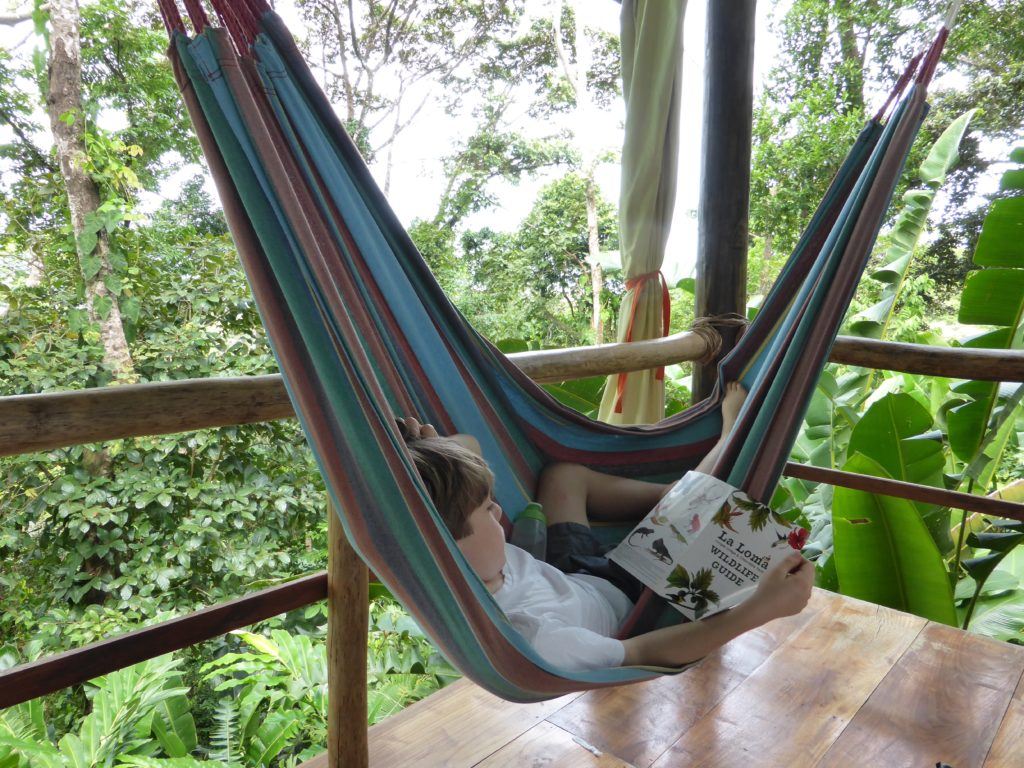 4. Boquete (1 Night)
Why: Boquete is a small town in the mountain highlands of Panama, in the western-most Chiriquí Province, attractive for its cool climate and incredible natural setting. An ecotourist's delight, people come to taste and learn about the delicious shade grown coffee, hike in the cloud forest, and to admire the flora and fauna (some birders are even lucky enough to spot the elusive Quetzal – often considered to be the most beautiful bird in the world).  If you enjoy adventure travel,  you can partake in river rafting, zip lining, rock climbing and more.  Alternatively, grab a book, a hammock, and enjoy your view of the Baru Volcano.
Note: While we very much enjoyed the day trip we took from Bocas del Toro to Boquete (see Coffee Adventures below), we were not particularly blown away by Boquete. One of the reasons for this could have been that our kids were a little young to enjoy a lot of the adventure tour options in the area. With pre-teens or teens, this could be great. Boquete also has a large American and Canadian expat community. While there is nothing wrong with an expat community, when we travel to somewhere like Panama, we are looking to experience a different culture, not more of the same.
Family Hotels Boquete, Panama
Panamonte Inn an Spa
Class: 4 star
Reviews: 88% of family reviewers rate as very good or excellent on TripAdvisor.
Check Rates and Availability: here.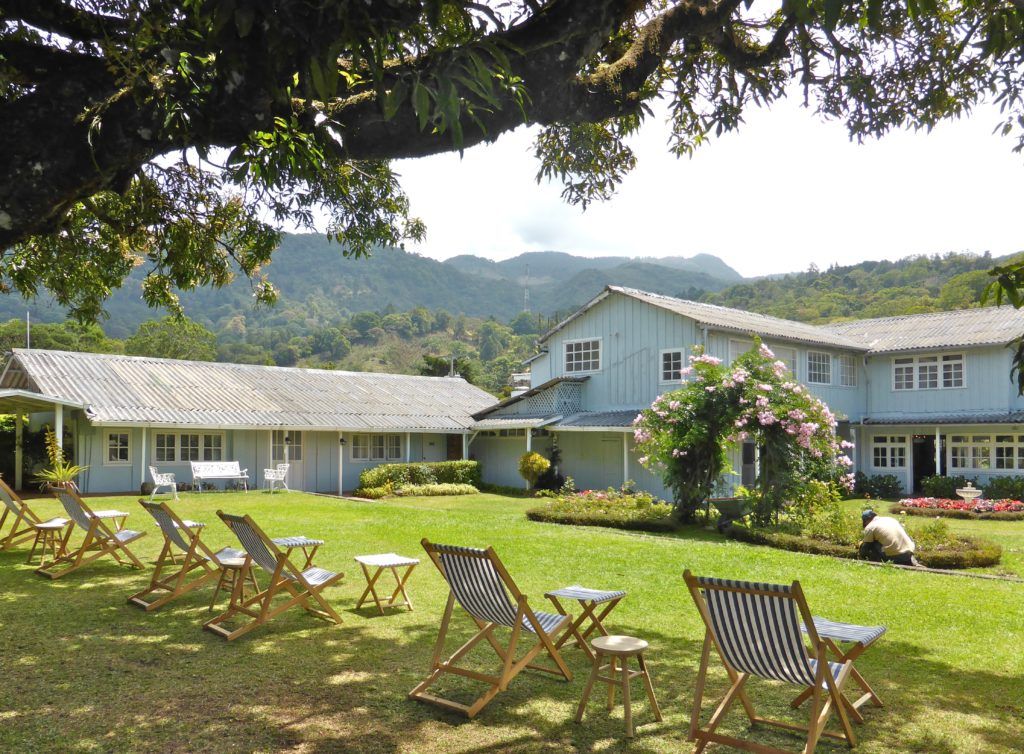 If you are traveling with children 8 and older, you may also want to consider Tinamou Cottage.
Tinamou Cottage Hotel
Reviews: 100% of families rate as very good or excellent on TripAdvisor.
Check rates and availability: here
Note: Owners Hans and Terry also run tours in the area through their company Coffee Adventures (website).  Many families recommend them for their kid-friendly day trip itineraries. They also conveniently can combine a day tour and transport to and from Bocas del Toro. This worked well for us as we took their day trip one way, from Bocas del Toro to Boquete, enjoying stops that included making chocolate at a Ngobe Indian farm (flying back out of Boquete to Panama City).
5. The San Blas Islands (3 nights)
Why: The San Blas Islands are a group of 378 stunning islands in the indigenous Guna Yala province, just east of the Panama Canal. The islands are home to the semi-autonomous and self governing Kuna tribe. A trip to this area is a fascinating one, as you spend your days visiting nearby deserted islands or paying your respects at a Guna village. You will be hard pressed to leave without a beautiful mola, the colorful traditional clothing made and sold by the Kuna women, which are creatively stitched from multiple layers of cloth.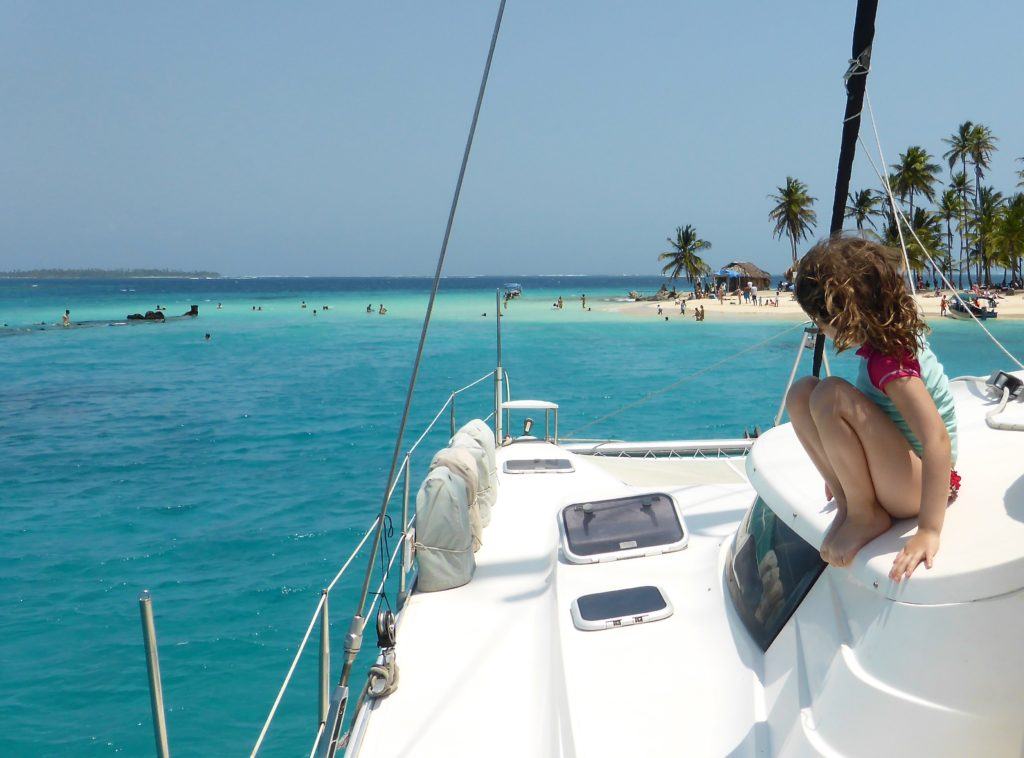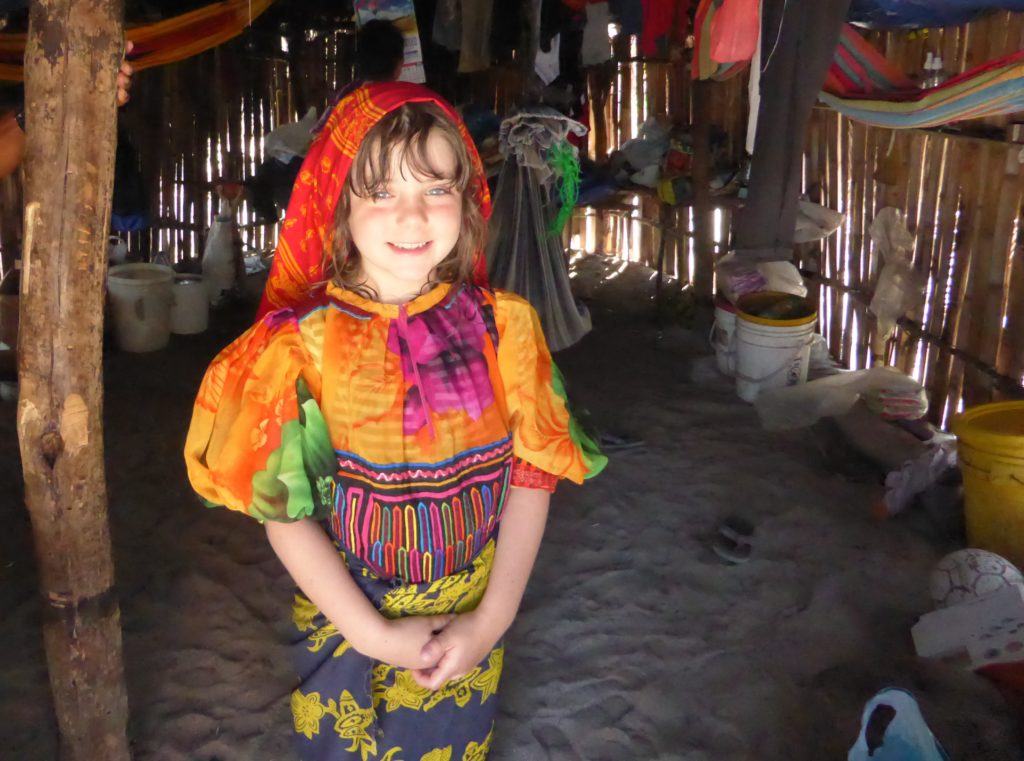 Sailing the San Blas Islands with Kids
We decided that the best way to see the San Blas Islands was to charter a sailboat. We had an amazing time visiting the various island on the Southern Belle catamaran. Alas, the Southern Belle is no longer sailing in Panama, but I can suggest another wonderful option – The Blue Sky. Captain Breeze and his wife Debbie come highly recommended for their San Blas sailing trips and they are wonderful with families. See also this post on sailing the San Blas Islands with Kids.
Family Hotels San Blas Islands
Alternatively, if you would rather have a hotel stay in the San Blas Islands, here is your best option. Please be aware that the words rustic and rudimentary seem to frequently be used when describing accommodations in the San Blas. If you are visiting for the cultural experience, not the 5 star service, then you will be fine.
Yandup Island Lodge
Reviews: 93% of family reviewers rate as very good or excellent on TripAdvisor.
Check Rates and Availability: here.
Note : Getting to the Yandup Island Lodge involves a 45 minute flight from Panama City followed by a boat transfer to the island
Important:  Is Panama the perfect country that is all butterflies and rainbows?  Well, of course not.  According to the United Nations, it falls into the developing nation category, alongside Costa Rica and Cuba. Therefore, like in any developing country, one needs to make educated choices.  For instance, when traveling with children you should seriously consider skipping the Darien province (bordering Colombia) and the historical city of Colon, due to security concerns. For up-to-date health and safety information, including recommended immunizations, I like to use the websites of the  Center for Disease Control and the U.S. Dept. of State.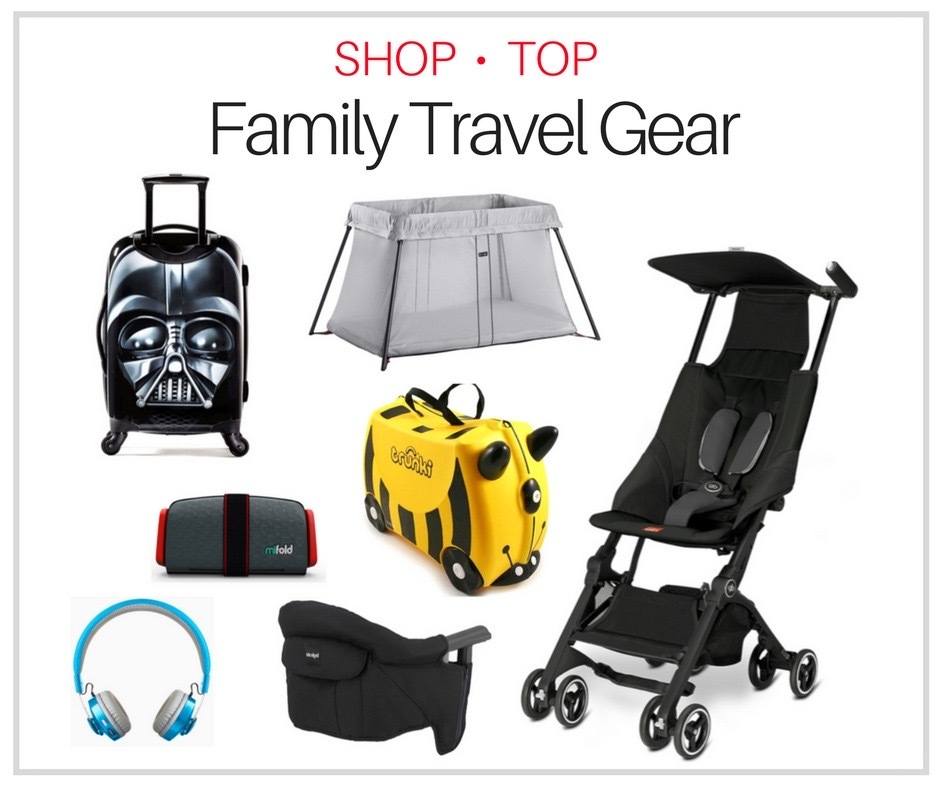 You may also be interested in the following posts: