Last update: March 30th, 2023 at 06:52 pm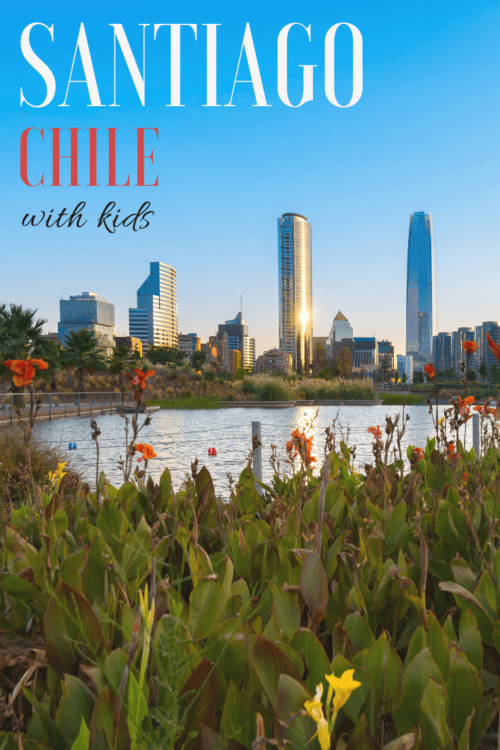 Santiago with Kids – Intro
We didn't plan a trip to Chile with kids around a stay in Santiago. Our Chile family vacation was about skiing in South America and experiencing the wonders of the Atacama Desert. That said, when our itinerary came together, we found ourselves with two separate stays in this bustling metropolis (Santiago being the domestic flight hub for the country). Wanting to make the most of our time there, we set out to discover the best of Santiago with kids during our short visits (approximately 48 hours in total).
If you happen to be looking for things in Chile for kids and have a little Santiago stopover, you may also enjoy some of the following attractions and activities. For a quick peek before reading on, please feel free to watch our two minute video on Santiago, Chile with Kids.
Quick Tips for Santiago
Getting Around Santiago – We did not rent a car in Santiago. Although we are quite comfortable driving in cities around the world, traffic and parking in Santiago can be quite horrendous and we decided that we didn't need the stress. We used a driver to take us into the city because we were coming from the coastal town of Valparaiso and wanted a bit of a tour and we took a cab to get back to the airport (on our second visit we took a cab both ways). We were advised by our hotel that a cab was a more reliable choice to and from the airport than Uber.
Within the city, we used Uber and walked. At one point, when I was on my own (the family was having a sleep-in and I decided to join a morning walking tour of the city), I took the subway. It was rush hour and extremely crowded. While it was fast and convenient, I'm not sure I would want to do that with my kids (I was mashed up against the doors).
Safety in Santiago – Like in most major cities, petty crime and property theft can be an issue. We made sure to keep our valuables (iPhones, cash etc.) discretely tucked away while walking around Santiago. As a travel blogger, I take tons of photos with my iPhone but always take a peek around before I pull it out. I also kept my bag on my lap while dining in restaurants rather than putting it under the table as I normally do. We kept our passports and extra cash back at the hotel in the safe. We chose to stay at a family friendly hotel in Santiago's Barrio Italia called CasaSur Charming Hotel. We felt very comfortable walking to and from restaurants in that neighborhood, but in some areas of the city I would take a cab or Uber around after dark.
Note: I am rather embarrassed to report that at one point on our trip, while trying to meet up with a walking tour and taking a wrong turn (landing me in the wrong park), I found myself alone, wandering around Santa Lucia Hill (Cerro Santa Lucia). I quickly realized that this was not the kind of place a female (or anyone) should be on their own and a guard helped get me going in the right direction.
Doing some research for this post, I learned that muggings do occasionally occur at Cerro Santa Lucia and Cerro San Cristóbal. My advice? Don't going wandering off the beaten track in Santiago (or in any other major city around the world including my hometown of Vancouver).
Money in Santiago – We brought with us some Chilean pesos for smaller purchases in Santiago (purchased from a foreign currency exchange in our home city that offered much better rates than our bank). We used our credit cards for all major tourist attractions, restaurants and our hotel. When we needed more cash, we used an ATM (readily available). As bank service charges can be high when using foreign ATMs, we try to take out a larger amount all at once rather than having to go back several times. We never exchange cash at airports as they have the worst rates (even the airport ATMs can apparently be terrible).
10 Things to do in Santiago with Kids
1. Ride the Funicular to Cerro San Cristobal
My kids enjoyed riding the funicular from the base of the rather enormous Metropolitan Park in Bellavista to take in the view from Cerro San Cristobal (the second highest peak in the city). The funicular makes a stop midway for those interested in visiting the Santiago Zoo. While we love animals, we chose to take a pass on the zoo after reading some reviews suggesting that the habitats were not of a modern size (a zoo from a different era). Do note that lines for the funicular can get quite long. We went in the morning (about 10am) and had to wait about 20 minutes.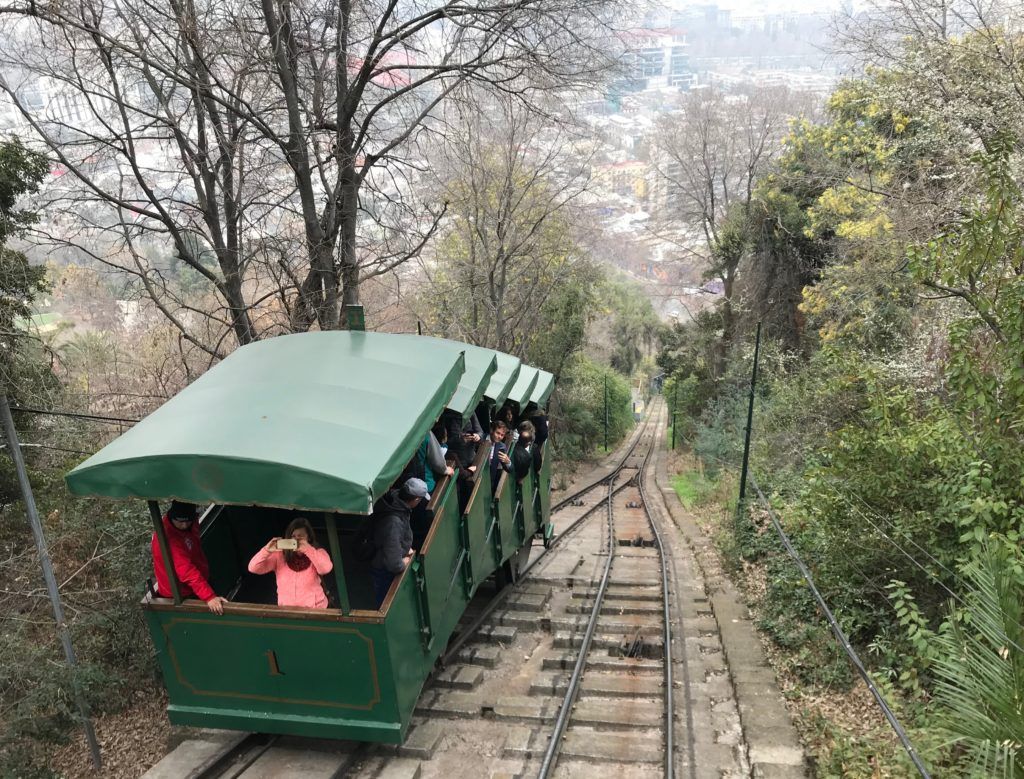 2. Ride the Teleferico in Parque Metropolitano
From the top of San Cristobal we then hopped on the Teleferico gondola to ride across Metropolitan Park and get a different view of Santiago and beyond to the Andes. While you can ride the gondola there and back, we chose to get off at the far end and continue on with our exploration of the city (to Sky Costanera skyscraper via an Uber).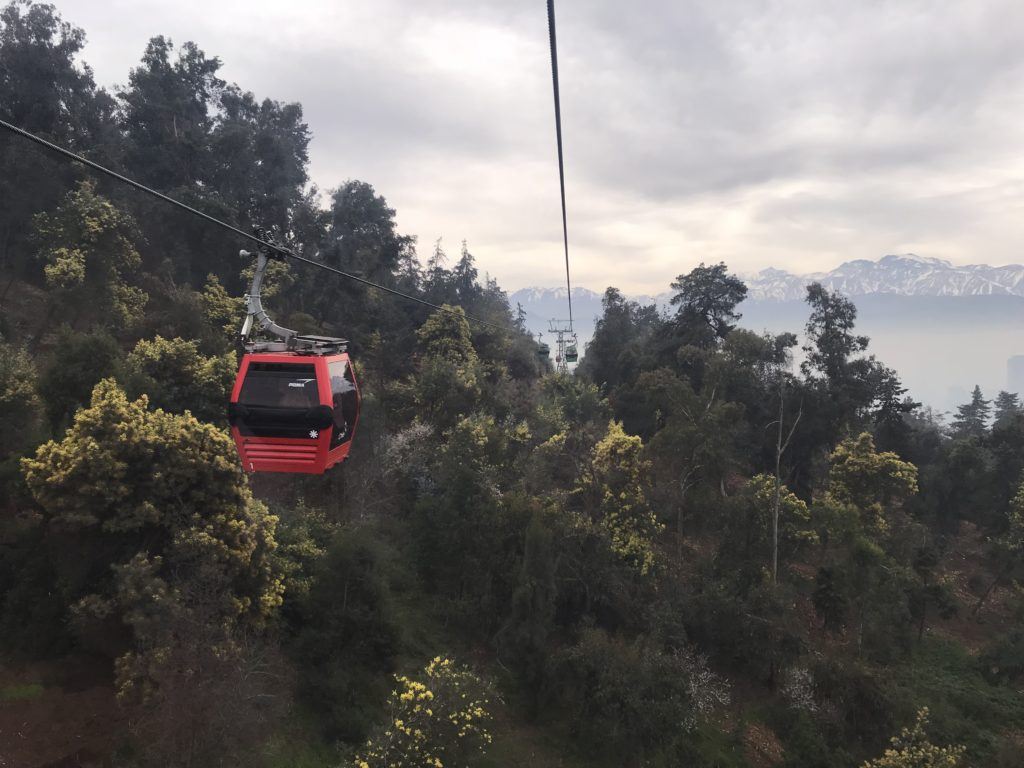 3. Santiago Ice Cream and Gelato Stops
Good ice cream or gelato is a staple for us during any city tour. We chose to visit the award-winning Moritz Eis next to the W Hotel in Las Condes because of its great reviews and the fact that it was conveniently close to our next stop, the Sky Costanera Observatory. While pricey, their delicious flavors are made with the best ingredients and without emulsifiers, artificial flavors, or gluten.
With more time, and for something with more of a local feel, we would have also visited the Chilean family classic Heladería Emporio La Rosa near Parque Forestal. While they have many other locations, this one is the original.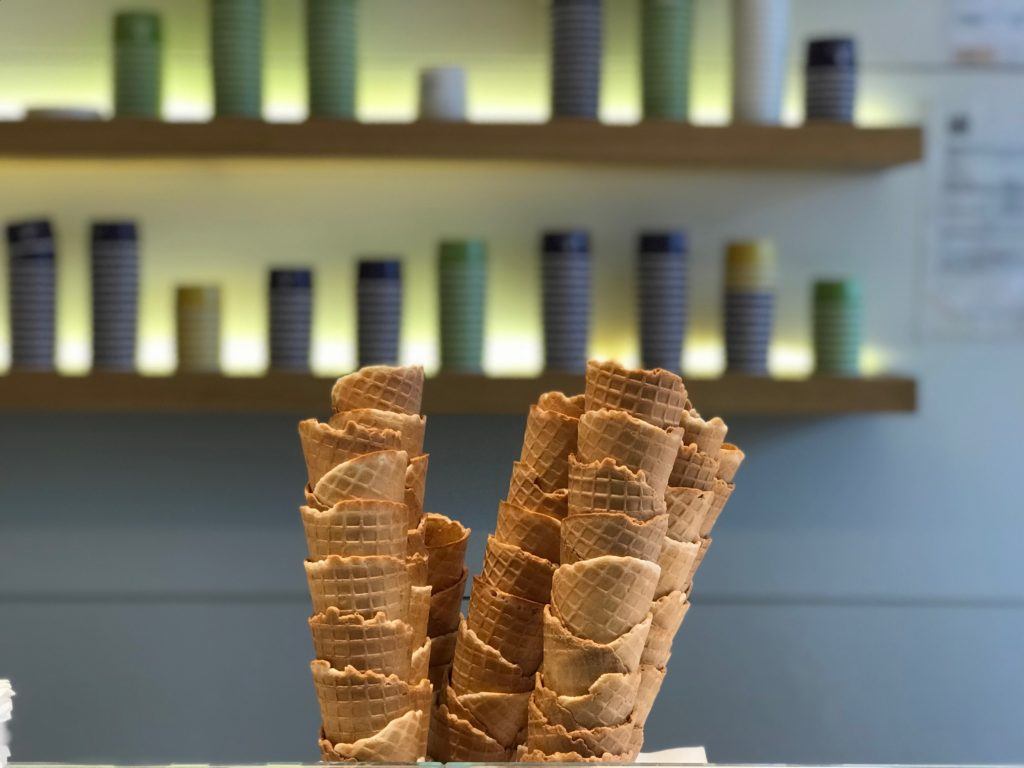 4. Enjoy the View from Sky Costanera
I want to preface this by saying that my kids thought that Sky Costanera was great and felt that I should highly recommend it. With this attraction, you are whisked 300 meters above Santiago via a high speed elevator to enjoy a 360 degree view of the city and the Andes beyond. It is most certainly a great view, I personally just found the price of 50,000 CLP ($70 USD) a little steep for a family of four and what amounted to a 20 minute visit. Learn more at: http://www.skycostanera.cl.
The first few floors of the building house the Costanera Center Mall if you care to do a bit of shopping (Adidas, Top Shop, Mango, Zara, H&M). Personally, I took the opportunity to buy my kids new Adidas running shoes for school. When you choose to travel the week before school goes back for fall session, you need to find a way to tick things of your to do list.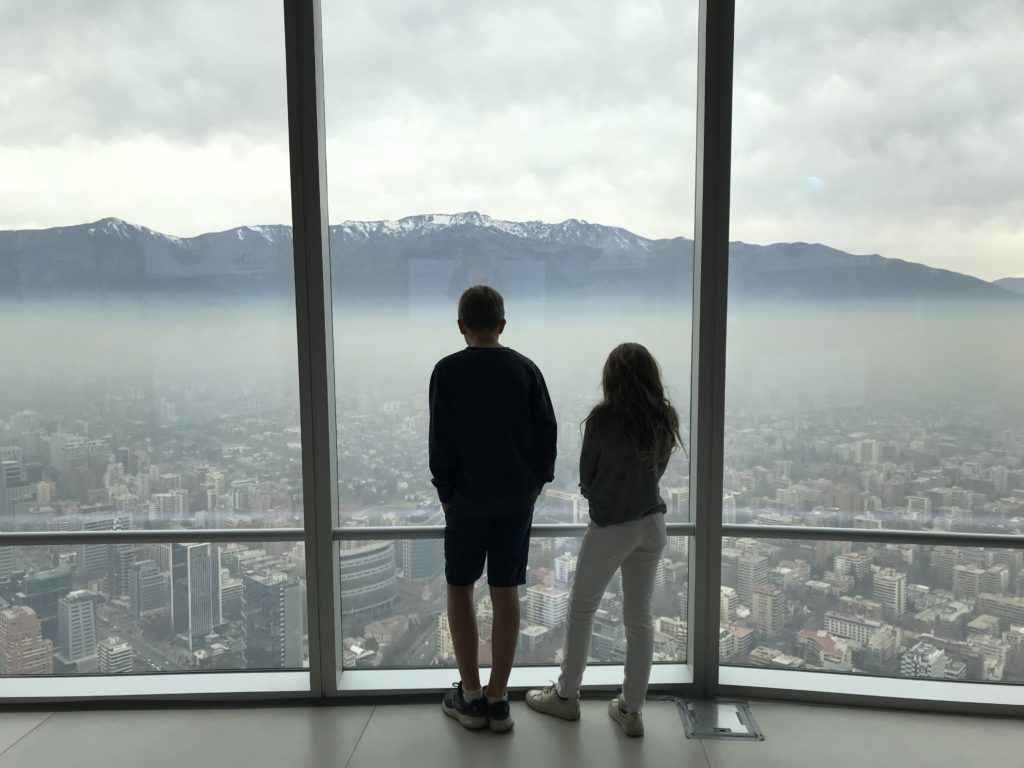 5. Parque Bicentenario de La Infancia
I stumbled across this playground in a Wallpaper article. Once in Santiago, we had the hardest time finding it (nobody seemed to have heard of it). When we finally managed to get there, it was almost deserted. In all fairness, it was late in the afternoon on a cool August day. With that said, this is the best playground we have ever seen in all of our travels. It is absolutely huge, and has some really creative features including a small funicular that takes kids to the top of a hillside full of slides. On a sunny summer day, this place would be amazing. The park is located near the southwest corner of Metropolitan Park (we took an Uber there as it is a little off the beaten track).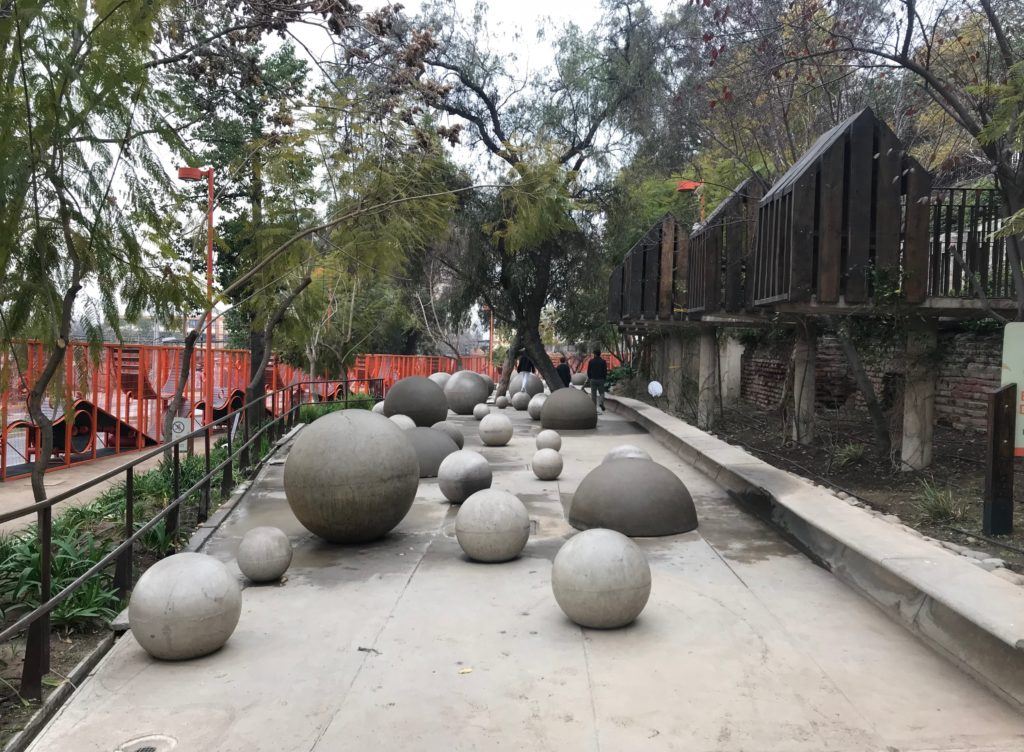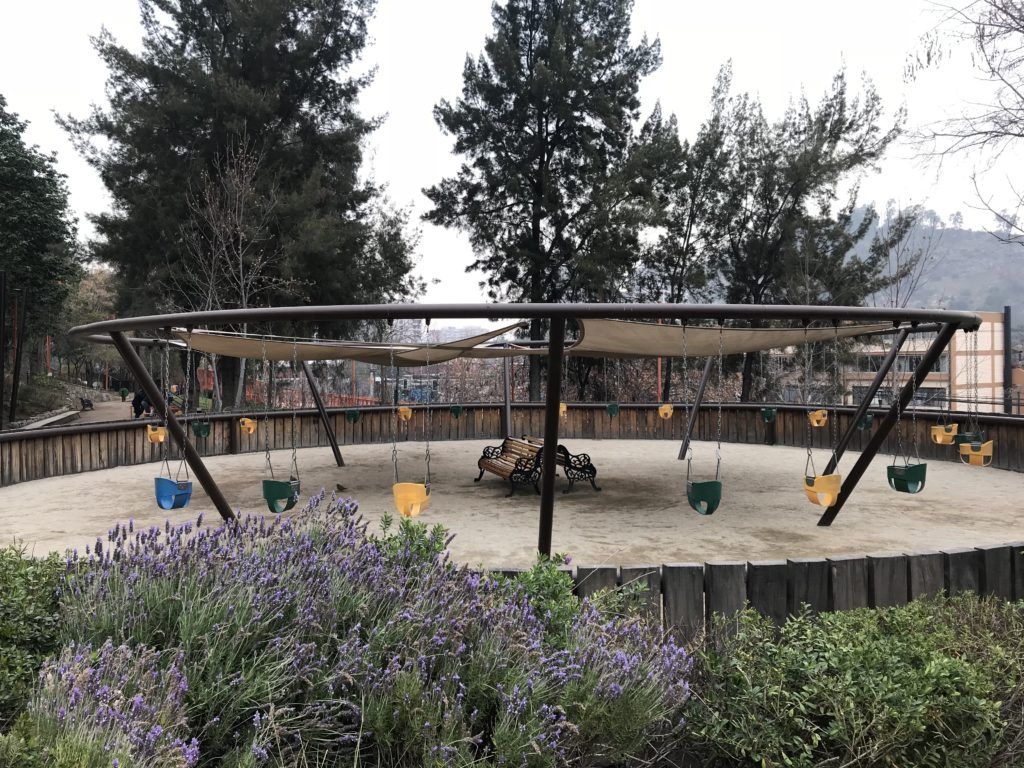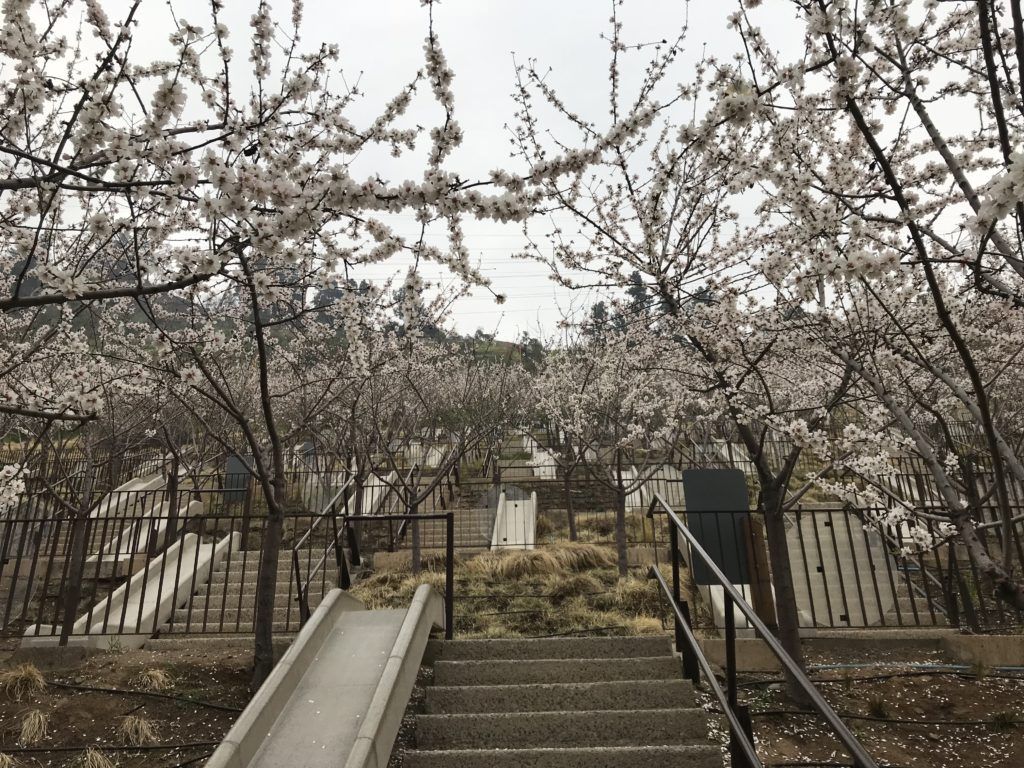 6. Take a Stroll in Parque Forestal
Parque Forestal is the perfect place for a stroll, with several children's playgrounds and often some lively entertainers (see juggler from my video above). While there, we enjoyed a nice lunch at Castillo Forestal, a lovely restaurant within the park. The extensive french menu also has some kids' options. No trip to Parque Forestal would be complete without popping by the nearby Heladeria Emporio La Rosa for a sweet treat.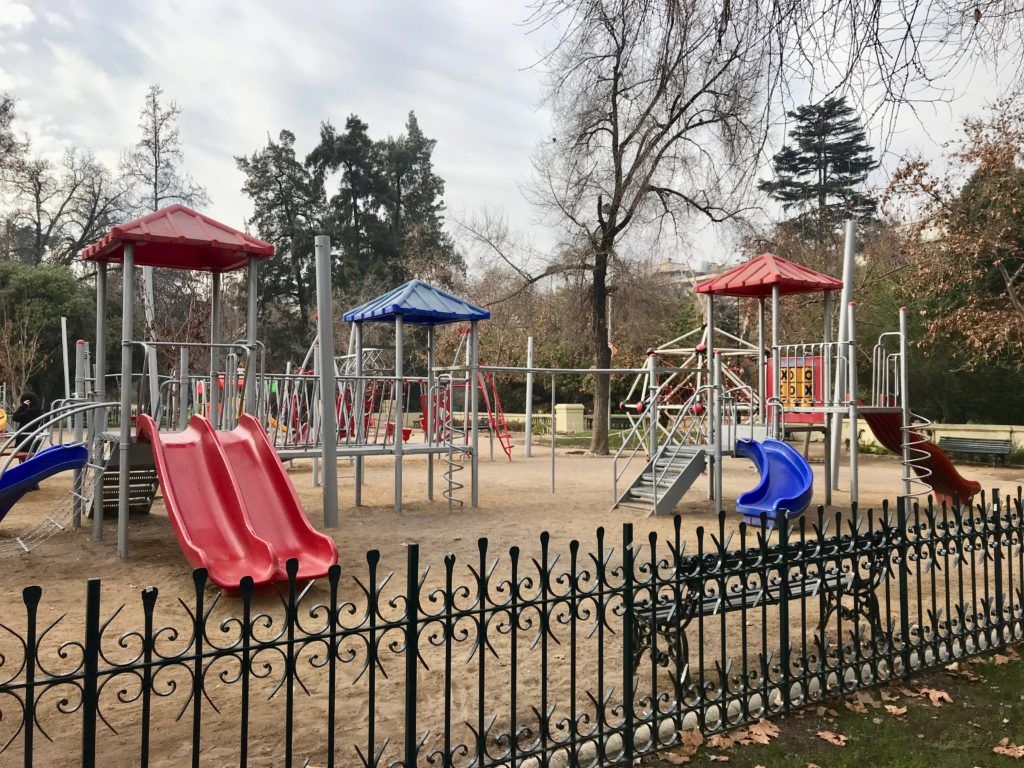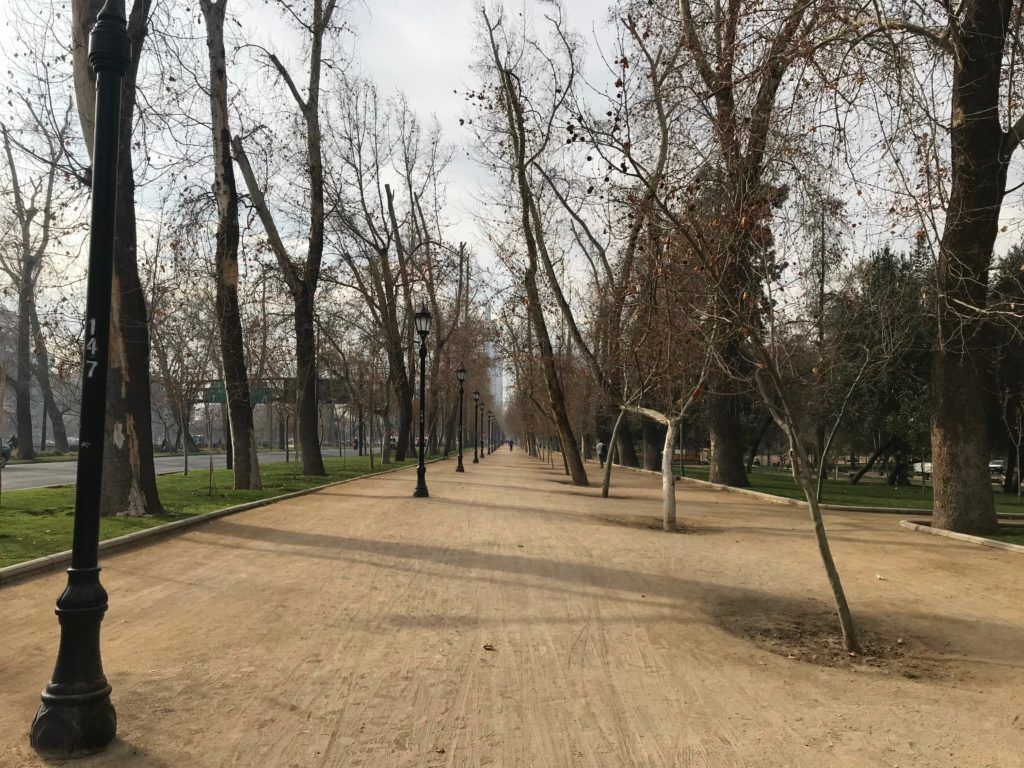 7. Turistik Bus Tour Santiago
I used to hate bus tours, but while in Mexico City not too long ago, I discovered that they can be a very fun, safe and relaxing way to see a city (especially on the top deck of a double decker on a sunny day). If you don't have a lot of time and want to just get an informative Santiago city tour, this could be good for you.
The buses run every 30 minutes and there are 12 stops around the city. Please be aware, however, that due to rather horrendous traffic jams in Santiago, the buses can run late and the total tour time of roughly 2 hours can run longer. Children under 3 are free and those 3-11 years are half price. Learn more at: https://turistik.com.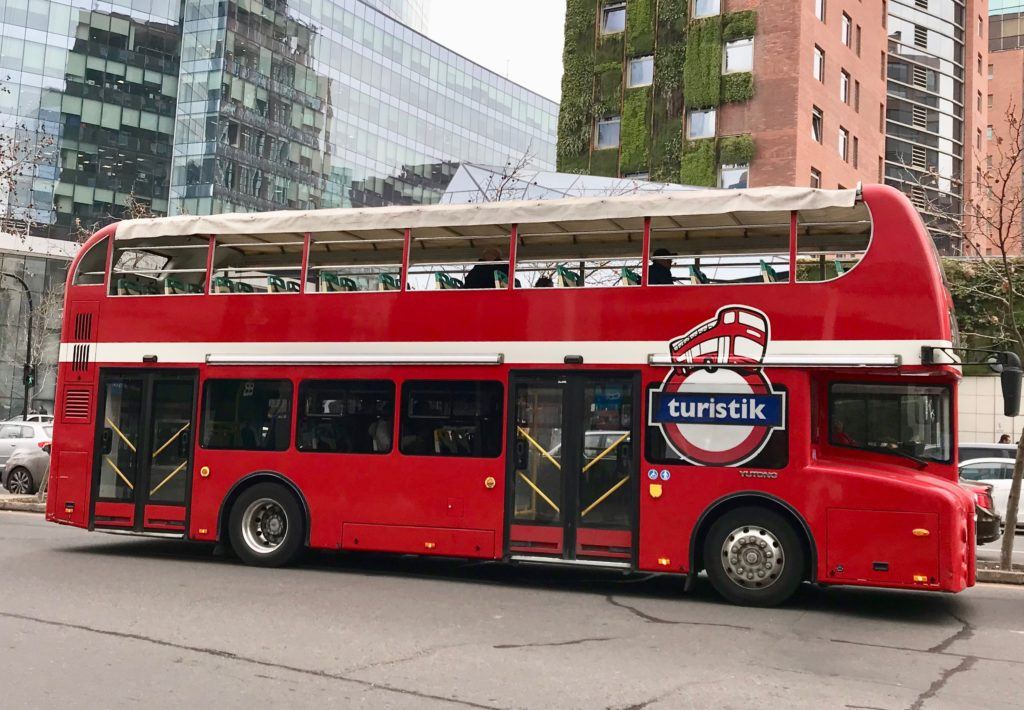 8. Visit Parque Bicentenario
This relatively new urban park in Santiago's Vitacura neighbourhood has nice (newish) playgrounds, dog parks, lounging chairs and umbrellas (for rent), a cafe, food trucks and lagoons filled with fish, flamingos and swans. Sadly, we did not have the best weather in Santiago (winter) so we did not get to this park, but on a nice day I think it would make for a great place to have a family picnic.
9. Explore KidZania Santiago
If case you haven't heard of KidZania, it is a company that has taken the world of kids entertainment by a storm with openings of its indoor theme parks in major cities around the world. They are essentially interactive play areas designed for children 1-14 years* that are intended to combine inspiration, fun and learning through realistic role play activities.
I have reservations about the overt commercial nature of such a concept (many exhibits are sponsored by KidZania's Industry Partners) but my daughter (11) was very disappointed that we did not visit (which is why I decided to include it in this post). KidZania Santiago has a morning and afternoon shift. Mornings are quieter as are weekdays (weekends can be a zoo). Learn more at: https://santiago.kidzania.com. Here also a little KidZania video in case you are curious to know more about the concept.
* I'm just going to say here that I don't think many 14 year olds would set foot in a KidZania willingly (or at least not if they could possibly run into anyone they knew). My daughter (11 at the time of our visit to Santiago) says that she would have LOVED to have gone even though she felt she was a bit old for it.
10. Santiago with Kids – Other Places to Visit
The Santiago Science Museum
With such a short time in Santiago, we naturally couldn't see or do everything we wanted to. If we had an extra day, we would have tried out the highly rated Santiago science museum – the Museo Interactivo Mirado. It has over 350 interactive activities suitable for a wide range of ages. While most of the instructions and descriptions are in Spanish, some visitors have been able to connect with english-speaking staff members to give them a hand when necessary. Learn more at: https://www.mim.cl.
The Changing of the Guard at La Moneda Palace
Had we been in Santiago on the right day, we would have also watched the pomp and circumstance of the changing of the guard ceremony at La Moneda Palace. Replete with marching bands and horses, the 40 minute ceremony occurs every second day at 09:50 on weekdays and at 10:50 am on holidays and weekends. In the months of January, April, May, August, November and December, the ceremony takes place on even days. In the months of February, March, June, July, September and October, it takes place on odd days.
To get the most out of this ceremony, it is recommended to wait in Plaza de la Ciudadania and then follow the officers to Plaza de la Constitución. You can also go directly to the Plaza de la Constitución and watch only the change of the guard itself. If you plan on attending, please double check the schedule using the following link as it has been known to change. Please see: https://brchile.com/troca-da-guarda-em-santiago/
Best Santiago Hotels for Families
One of the things I spend the most time on when planning our family trips is our accommodation. I love having a great place to stay and it can be challenging to find something suitable when traveling with kids, especially in big cities where many hotels force you into 2 separate rooms. For this trip, I did a lot of research on family friendly hotels in Santiago. I was very happy with the place we stayed (CasaSur) but I also wanted to share with you the other places that were on my short list.
All the places listed here have rooms that are suitable for a family. While I can 100% vouch or the first one, I did not stay at any of the others. I did, however, spend hours, perhaps even days, pouring over their websites and reviews. It becomes an obsession for me. As always on this site, I encourage you to carefully read reviews (from multiple sources, if possible) before booking.
1. CasaSur Charming Hotel – Stylish boutique hotel in Barrio Italia (10 minute Uber/taxi from central Santiago) with a cozy room that is perfect for families (double bed, plus small bunkbed in separate room). Includes a wonderful breakfast. Please note that CasaSur welcomes children from 8 years and up. Read reviews
or check rates.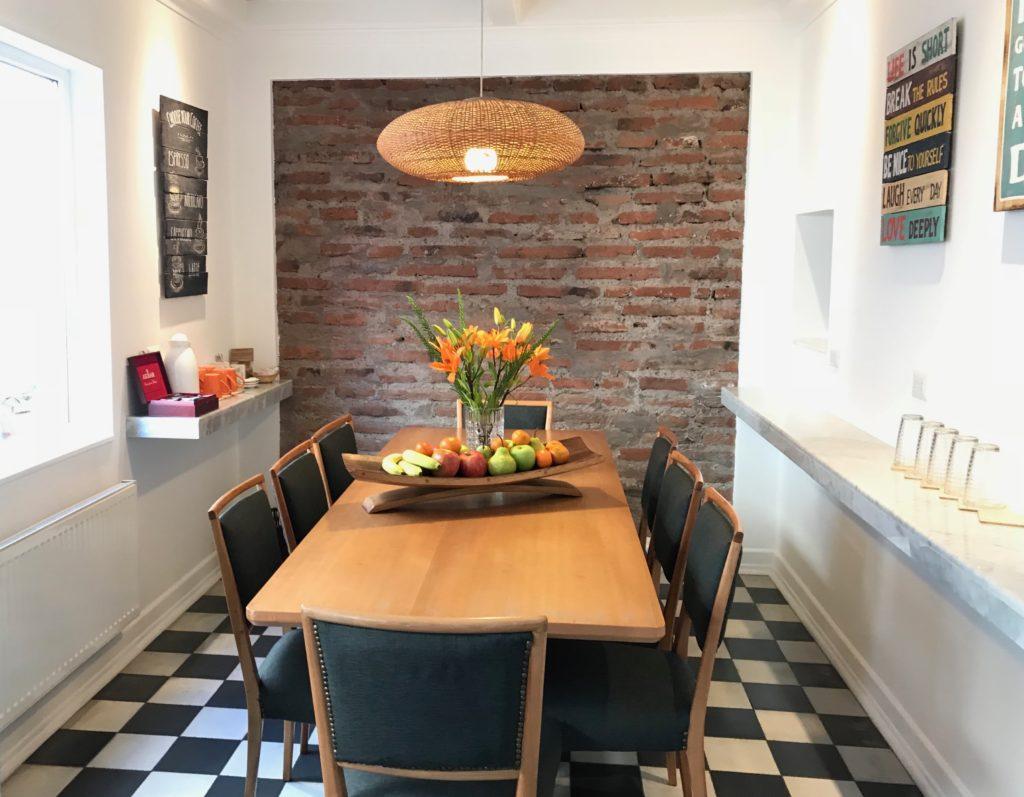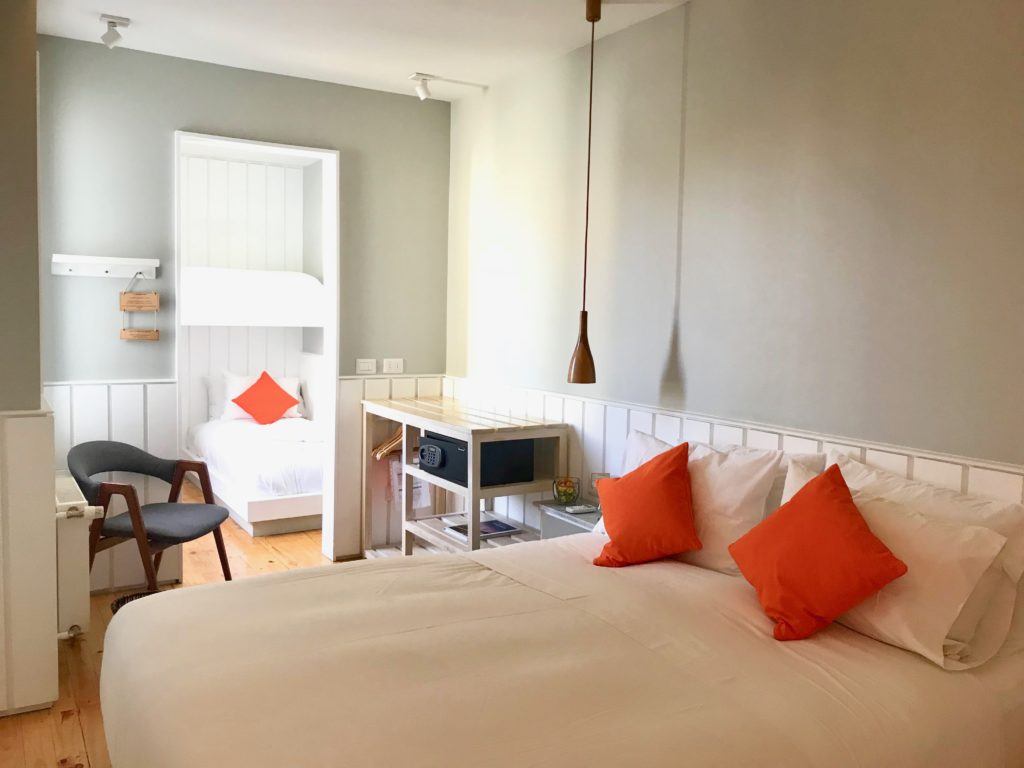 I also considered the following list of family hotels in Santiago. In the end, I opted for CasaSur even though it was less central than the other hotels because of I liked the style of it and the fact that it had stellar reviews (we loved our stay). That said, I think all of these could be decent options depending on your needs.
2. Hotel Boulevard Suites – Apartment style hotel in upscale Las Condes neighborhood with pool and gym. Breakfast included. Read reviews
or check rates.
3. Hotel Plaza El Bosque San Sebastian – Upscale hotel in central Las Condes neighborhood with spacious 2 bedroom suites or quadruple room options. Read reviews
or check rates.
4. Lastarria 43-61 – Apartments style suites (sleep up to 5) in the historic central neighborhood of Lastarria. Read reviews reviews
or check rates.
5. Orly Hotel and Suites – Boutique hotel in Providencia neighborhood with family suites (4 people). Read reviews
or check rates.
Alternatively, you may wish to consider a vacation rental in Santiago. You can find some very beautiful properties on sites such as VRBO
and Airbnb. As with hotels, pay careful attention to reviews and filter for children welcome (VRBO) or for families (Airbnb). Consider the central neighborhoods of Providencia, Las Condes, Vitacura or Lastarria.
I hope you very much enjoy your Santiago family holiday. Have a question? Please ask it in the comment field below. If you have already been and have found other places that you loved in Santiago for kids, please feel free to share you experience and suggestions with us.
Related Posts