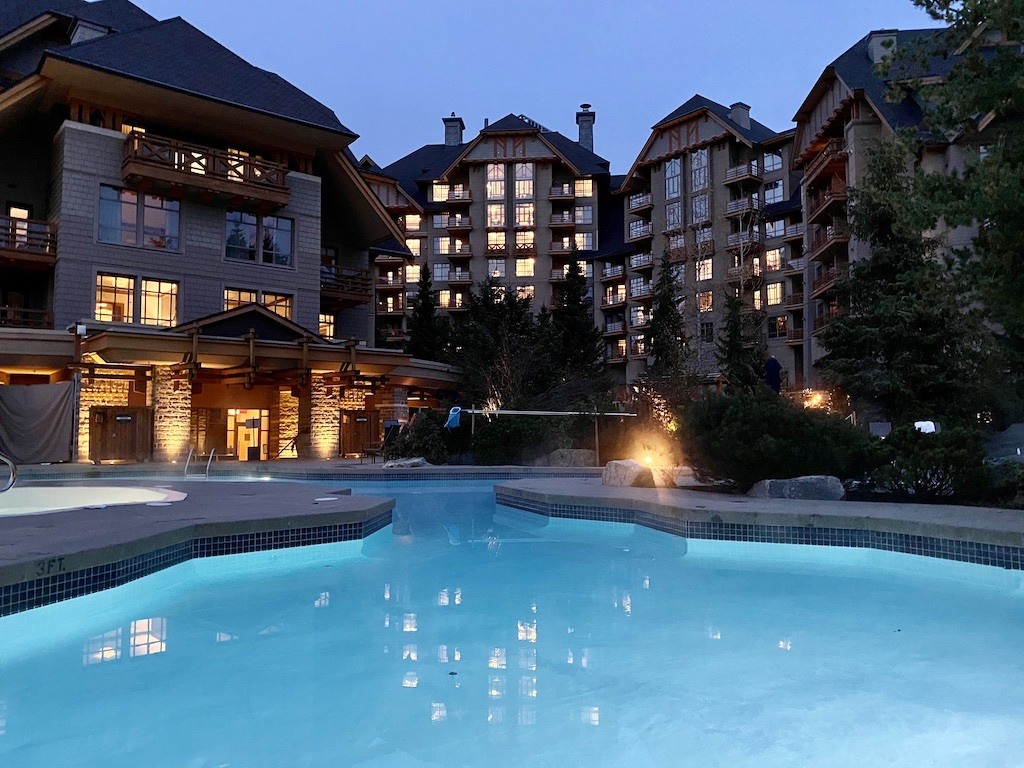 Disclosure: This family accommodation Whistler post contains affiliate links. If you click on a link and make a purchase, I may receive a small commission at no cost to you. All opinions are entirely my own.
The Best Whistler Family Accommodations
Looking for the best hotels in Whistler for families?
My husband and I have been traveling to Whistler with kids multiple times a year since our two were born (and long before that as well). Through tons of research on Whistler family accommodation options (and much trial and error), we have found what we believe are the best Whistler family hotels.
Please see our top picks as well as our recommendations for finding the best Whistler family vacation rentals.
Note: Consider reading the Need to Know section below first before moving on to our best family accommodation Whistler list. It may help you to avoid some potential pitfalls, especially when it comes to location.
Looking for something else? See also:
Family Accommodation Whistler Tips
Whistler Resort encompasses two mountains: Blackcomb Mountain and Whistler Mountain. The two mountains are linked at the top by the Peak-2-Peak gondola. This allows you to ski/ride both mountains easily on the same day (for one price).
Whistler Layout
Whistler Resort has 3 village bases: Creekside, Whistler and Blackcomb, all with gondola access to the mountains. The best place to stay in Whistler with kids depends on your needs and travel style. This mountain trail map should help to give you a better understanding of the layout.
Creekside Village is quite quiet, with a few good restaurants, but it is a 5-10 minute drive into Whistler Village proper.
Whistler Village is the main village where most of the restaurants, activities and events are hosted. It is also the liveliest (which can also meant the noisiest).
Blackcomb Village (a.k.a. Upper Village or Base ll) is a 2 minute drive or a picturesque 15 minute walk through the forest to the main village. It has several good restaurants and happens to be my personal favorite (quiet, but with easy access to the action).
Little Things Add Up
The little things can add up with your Whistler family lodging. Be aware of extra charges such as resort fees and parking (the latter can run over $50 a night)! To save money, overnight parking is available at the Whistler Conference Centre ($15 for 24 hours).
Read Reviews
When considering where to stay in Whistler with kids – whether you are looking at hotels or vacation rentals – please always take the time to read reviews carefully before booking (preferably filtering for reviews from family stays).
Read the Fine Print
Pay careful attention to property cancellation policies, especially for a winter stay. For family ski holidays, Whistler hotel reservation policies are often not that flexible. I like to put a reminder in my calendar a day before the last possible full-refund cancel date so I can reassess (and check for better deals).
Reserve Childcare Early
All 3 village bases have Whistler Kids Snow School and Whistler Childcare drop off facilities. Please note that the Whistler daycare facilities can get quite busy during peak periods. I recommend reserving your spot(s) way in advance.
Also be sure to book the closest ski school or daycare to your accommodation to make your life easier in the mornings. It's hard enough getting a little one out the door in snow gear – why make it harder on yourself?
Winter 2021/22 – At the time of this update (Nov. 2021), Whistler has not confirmed whether they will be opening their childcare facilities this season. There also seem to be fewer lessons offered out of the Creekside base. If these are services you need, please check on your options before choosing the location of your Whistler family accommodation.
Baby Gear and Sitters
If you are visiting Whistler with a baby and are in need of baby gear, try BabysontheGo.com. If you need a babysitter in Whistler, Babysitting Whistler has been taking care of mountain kids for 20 years.
Best Family Hotels – Whistler Village
This main village with its pedestrian only Village Stroll is a very popular spot to stay with the greatest concentration of hotels, restaurants and amenities.
Pros: You are within easy walking distance of lots of great restaurants, shopping, the children's playground, the outdoor ice rink (winter), the bike park, the skate park, the movie theatre and the gondolas to both mountains.
Cons: The only real downside to Whistler Village is that it can sometimes get a bit lively at night for families wishing to get to bed early. In recent years, I have pulled a few hotels off this list after some sleepless nights. (I clearly have some bad karma from some Whistler stays in my university years.)
Comments: All of the family friendly hotels in Whistler Village listed here offer suites with kitchenettes.
1. Pan Pacific Whistler Village Centre
About: Of the family friendly hotels in Whistler Village, the Pan Pacific Village Centre is our favourite. Its cozy mountain-styled suites are perfect for families and groups.
Guests have the option of self-catering or choosing from dozens of nearby restaurants. While not slope-side, it is only a short walk to the gondolas and Whistler Kids Snow School. A complimentary breakfast is also included with your stay.
Highlights: A fantastic central Whistler village location, included daily breakfast, salt water outdoor pool, 2 hot tubs, complimentary wifi, newspaper, ski valet, kids robes, games, high chairs, cribs, baby monitors, pool diapers and babysitting (fee).
Hotel class: 4 star
Rooms: Studio to 3 bedroom suites with kitchenettes (some with washer/dryer).
Learn more: Read reviews on Tripadvisor or check rates on Booking.com.
Important Note: I want to mention that I also really love the nearby Pan Pacific Whistler Mountainside
which is located right next to the gondolas, but the Pan Pacific Village Centre wins me over for a Whistler family vacation because of their complimentary breakfast.
2. Delta Hotels by Marriott Whistler Village Suites
About: The Delta Village Suites provides good value. The rooms are quite spacious (some with full kitchens and washer/dryer). It has an excellent mid-village location – close to the playground and Olympic Plaza (winter skating rink / summer concerts). The property offers a shuttle to the gondolas or it is about an 8 minute walk.
I think this hotel is particularly good for families with kids aged 4 to 10 years – that are old enough to get around on their own, but still can't get enough of a playground or sledding (at nearby Olympic Plaza).
We have found that we could sometimes get a large suite at this hotel (with kitchen and laundry) for the same price as a double queen room at a fancier hotel, making it a worthy tradeoff.
Highlights: Large suites, outdoor pool, 3 hot tubs, fitness room, sauna, and a handy resort shuttle.
Hotel class: 4 star
Rooms: Studio, 1 and 2 bedroom suites (some with a full kitchen and washer/dryer).
Learn more: Read reviews on Tripadvisor or check rates on Booking.com.
Important Note: There are a couple of rooms that are above a nightclub (Garfinkel's). Make sure you don't get one of those. We had one once and I could have sworn that the "Ladies Night" DJ was somewhere in our room.
3. The Westin Whistler Resort and Spa
About: The Westin Whistler has one of the best locations in Whistler Village. It is especially good if you plan on skiing or boarding as the gondolas are very close by. The location also can't be beat if you have kids in Whistler Childcare or the Snow School as these facilities are right next door.
With its fantastic location, I always want this hotel to do better on service. It's fine, but rarely do people rave about it. Still, I keep it on this list because it's a solid and convenient Whistler family resort option.
Highlights: Excellent location, outdoor pool, hot tubs, fitness center, sauna, spa.
Hotel class: 4 star
Rooms: Studio, 1 and 2 bedroom suites with kitchenettes.
Extra Perk: Guests can easily take advantage Fresh Tracks early morning mountain access, as it lines up just outside the hotel at the Whistler Village Gondola.
Learn more: Read reviews on Tripadvisor or check rates on Booking.com.
4. Summit Lodge Boutique Hotel – Best Budget Pick
About: Located just a 10 minute walk from the Blackcomb Excalibur Gondola, The Summit Lodge is one of the top picks for family-friendly hotels in Whistler, with its tastefully decorated, budget-friendly suites. Guests will appreciate the outdoor pool and hot tub, free WiFi, flat screen TVs, in-room fireplaces, soaker tubs and bathrobes.
Highlights: Family-style rooms and suites, kitchenettes, self-service laundry, outdoor pool, hot tub, convenient, mid-village location, bathrobes, complimentary candy bar and hot chocolate.
Hotel class: 4 star
Rooms: Studio, Double Queen and 1 Bedroom Suites (all with kitchenettes).
Learn more: Read reviews on Tripadvisor or check rates on Booking.com.
Best Family Hotels – Blackcomb Village
Pros: Blackcomb Village is quieter than Whistler Village but still only a short walk (or shuttle) away.
Cons: Both hotels recommended here do not offer much in the way of self catering options (suites with kitchenettes) as they are luxury, full service properties. They are both exceptionally expensive. I will admit to working every travel hack I have to stay at these properties (booking early, loyalty programs etc.) as I have watched their prices soar over the years.
Comments: Worth noting is the fabulous Mallard Lounge at the Fairmont Chateau Whistler where you can enjoy a lovely Whistler family après next to a cozy fire (inside or outside). This lounge has always been a part of our Whistler family vacation tradition even when we have not been staying at the Fairmont. It's pricey, but the venue is lovely and it is perfect with kids (kids menu', little hill for them to slide on outside, etc.).
1. Fairmont Chateau Whistler – Best Family Resort Whistler
About: The luxurious Fairmont Chateau Whistler feels a bit like a fairytale hotel. It smells great, it looks great, and it is always styled perfectly for the respective season.
This Whistler family resort is located right beside the Blackcomb gondola and steps from the Blackcomb Base Snow School – making mornings in Whistler with kids very easy.
The hotel has a cafe, a great restaurant and one of the best après ski lounges in Whistler. It also has a very nice indoor-outdoor pool with multiple hot tubs. In my opinion, it is the best place to stay in Whistler with kids during the winter season (although it get pricey). If conditions are favorable, look to early December or March for deals.
Highlights: Ski valet, indoor/outdoor pool, hot tubs, fitness centre, spa, seasonal kids programming.
Hotel Class: 4.5 star
Rooms: Double queen rooms to 2 bedroom suites.
Learn more: Read reviews on Tripadvisor or check rates on Fairmont.com.
Comment: According to my own children, the Fairmont is the "best hotel in Whistler for kids". The property has also recently undergone a multi-million dollar renovation.
2. Four Seasons Resort and Residences Whistler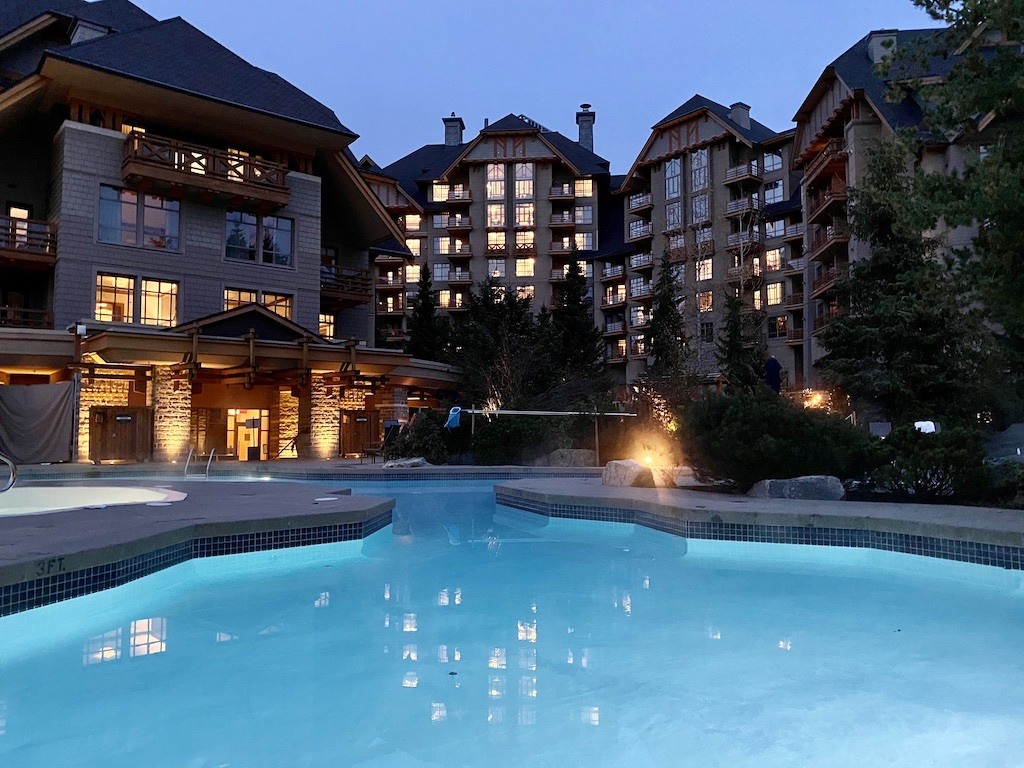 About: If luxury and full service is what you seek, the Four Seasons might be perfect for you. Tucked into the Upper Village (Blackcomb Base), it provides a serene sense of seclusion and exclusivity that befits their brand.
Rooms are beautifully decorated and are very spacious – with nice features such as walk-in closets, fireplaces and balconies. The pool and spa complex is the nicest out of all of the hotels in Whistler (large pool, 3 hot tubs, outdoor sauna, steam rooms) – and is usually crowd-free.
Although the Four Seasons Whistler rates are often very high, the little extras that are included can make it quite good value at the top end.
As an example, on a recent summer visit, my daughter was delighted to discover a giant cookie with her name on it in our room. Later that day, I enjoyed a complimentary wine tasting, while she partook in a snow cone tasting right beside me. We have enjoyed similar perks during the winter season including complimentary hot chocolate and family movie nights (with popcorn) in the library.
It should be noted that the Four Seasons is further from the gondola than the the Fairmont Chateau Whistler (but not at all far away). The property offers ski valet and shuttle service.
Highlights: Ski valet, complimentary wifi, pet-friendly, baby gear/toiletries, babysitting, spa and health club, complimentary s'mores by the fire pit, family movie night, kids cookies delivered to room, evening wine tasting, complimentary yoga classes and more.
Hotel Class: 5 star
Rooms: Deluxe kings (with sofabed) to 3 bedroom suites.
Learn more: Read reviews on Tripadvisor or check rates on Booking.com.
Best Family Hotels – Creekside Village
Pros: As Creekside is a little removed from Whistler Village proper, it is quieter and room rates tend to be a bit lower. You will find everything you need in Creekside including very easy gondola access, several restaurants, Starbucks, a Whistler Kids Ski School and Daycare drop-off and a grocery store.
Cons: You are removed from the main village action which is a 5-10 minute drive/bus/shuttle ride away.
1. First Tracks Lodge – Best For a Large Group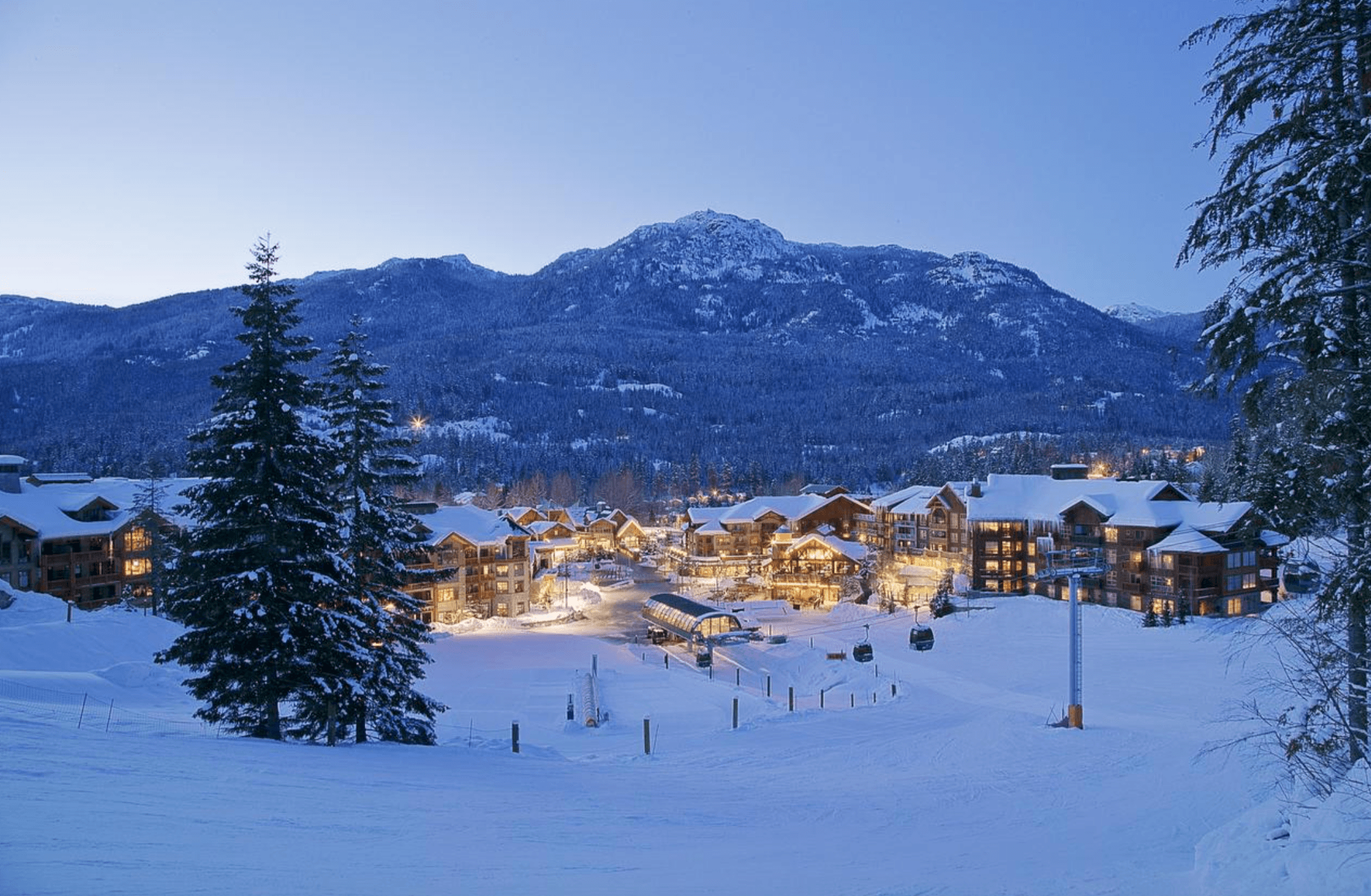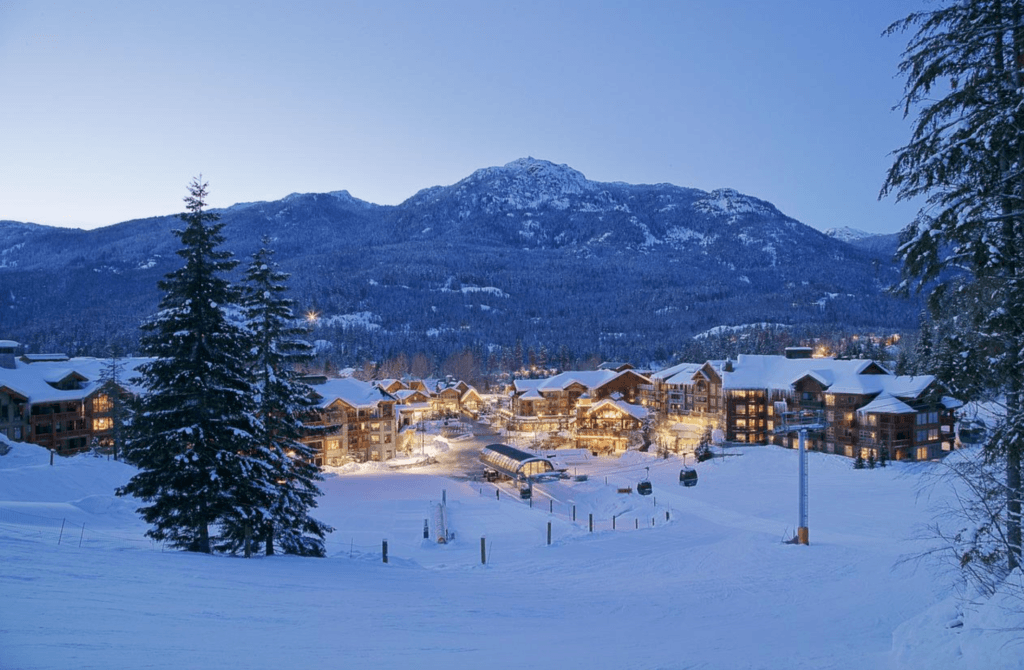 About: Set at the base of Whistler Mountain, in the relatively quiet Creekside Village, First Tracks Lodge is literally steps from the Creekside Express Gondola, shopping, fine dining and aprés ski. The decor has the quintessential ski lodge feel (timber, stone and slate) and the suites have full gourmet kitchens. Unwind after a busy day in the pool, hot tubs or relax in the lobby library.
Highlights: Pool, hot tubs and fitness centre, ski in/ski out, wifi, full gourmet kitchens, washer/dryer.
Hotel Class: 4 star
Rooms: One to four bedroom suites (that sleep up to 10!).
Learn more: Read reviews on Tripadvisor
or check rates on Booking.com.
2. Nita Lake Lodge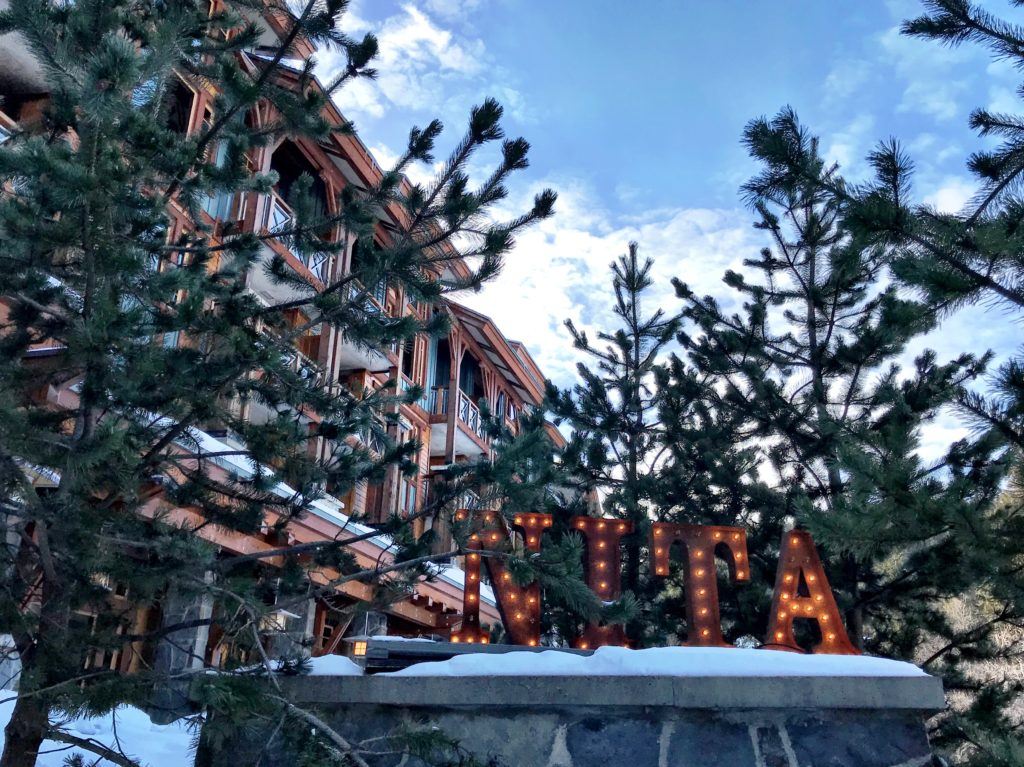 About: Although this hotel doesn't specifically do a lot of marketing towards families (it comes off as more of a romantic retreat), we really enjoy it with our kids. It is about a 10 minute walk to the Creekside Gondola and Snow School, but they also have a village shuttle running every 30 minutes.
Their lounge and restaurant are both very nice (has kids' menu), their suites offer ample room for a family, they have a nice pool and hot tub area, and there is a good pizza place within walking distance (Creekbread). It is also close to two of Whistler's nicest high end restaurants (Rimrock Cafe and The Red Door Bistro) if you would like to book a sitter.
Another nice thing about this hotel is that it is one of the first hotels you hit when you arrive in Whistler. Traffic can get quite heavy between Creekside Village (where the Nita is located) and Whistler Village, especially as everyone heads back towards Vancouver on Sunday afternoons. This hotels allows for a quick exit from Whistler.
Highlights: Spacious suites (studio to 2 bedroom), quiet location, pool and hot tub, fitness center, spa, mini in-suite kitchens.
Hotel Class: 4 star
Rooms: Studio to 2 bedroom suites.
Learn more: Read reviews on Tripadvisor or check rates on Booking.com.
Whistler Family Vacation Rentals
If you are thinking about booking a vacation rental rather than a hotel for your family ski holiday, Whistler VRBOs
and Airbnbs can be a great option.
To find family friendly Whistler vacation rentals, use the filters to narrow down your search. On VRBO, select Children Welcome (under House Rules) and on Airbnb select For Families (under Trip Type). I strongly encourage you to thoroughly read reviews on the properties you are interested in beforehand (especially from families).
It should be noted that not that many Whistler vacation rentals are true ski in/ski out all season long, and thus may require some extra effort to get on and off the hill. Having some extra space, a good kitchen, laundry facilities – all at a great price, however, can totally make it worth while.
Further Reading