Last update: December 9th, 2023 at 08:37 am

Affiliate Disclosure: This post contains affiliate links. To learn more, please see our Terms of Use and Privacy Policy.
5 Best Hotels Zihuatanejo – Intro
Are you looking for the best hotels in Zihuatanejo, Mexico? While there are quite a number to choose from, we have created this curated list of the 5 best Zihuatanejo hotels to make your trip planning easier.
Whether you are looking for Zihuatanejo hotels on the beach, the top Zihuatanejo resorts for families, or romantic Zihuatanejo boutique hotels – we've got you covered here.
Please use the following menu to find what you need quickly.
Why Zihuatanejo?
Zihuatanejo is the perfect Mexico holiday destination for people who prefer authentic small towns over cities, boutique hotels over mega-resorts, and a laid back beach holiday over action-packed days.
Located on the Pacific Coast just south of Ixtapa, Zihuatanejo is an active fishing village and a town where real people live (not just a pre-planned resort community).
Want to practice your Spanish? This is the place. Want to try try local food specialties (mole or pozole anyone?) – this is also the place.
A Quick Peek (1 min. Video)
First visit to Zihuatanejo? Take a quick peek first.
Best Area to Stay in Zihuatanejo
Are you wondering where the best place is to stay in Zihuatanejo? Assuming you have chosen Zihuatanejo as a beach holiday (or at least in part), the best place to stay in Zihuatanejo is on or near the nicest beach – Playa La Ropa.
There are some cute places in the town of Zihuatanejo as well, but it is a little noisier, a little busier, and the town beaches just aren't as nice. You can also visit the town very easily from Playa La Ropa by taking a short cab ride or a 20-30 minute walk.
Zihuatanejo hotels on the beach are typically more expensive than the ones that are set back a bit or are in town – but you are paying for that great location. If you find they are too pricey, I have also included a nice Zihuatanejo boutique hotel on Playa La Madera, which is between Playa La Ropa and the town of Zihuatanejo.
Zihuatanejo Hotels Map
I wanted to share this Google map of Zihuatanejo to help you understand the layout of the area. As mentioned, I highly recommend that you stay as close to Playa La Ropa (La Ropa Beach) as possible, whether you choose a hotel or a Zihuatanejo vacation rental. You will be rewarded with the best beach right at your doorstep and sunsets that will have you longing to return.
Most of the hotels along the northern end of Playa La Ropa are built into the hillside which means you may have a few flights of stairs to get from your room to/from the beach. Elevators in hotels are not the norm here (on the plus side – you can burn off a lot of guacamole).
The south end of the beach (where the Thompson Hotel is located) is much flatter. If anyone in your party has mobility issues, this end is a better option.
All the hotels I have recommended are marked with a red pin on this map.
Zihuatanejo All Inclusive Resorts
Zihuatanejo, Mexico all inclusive resorts are not really a thing. That said, you may find a Zihuatanejo hotel that offers a partial or full meal plan option.
If you are looking for an all inclusive hotel experience, you are better to look north to nearby Ixtapa instead where there are plenty.
See the 10 Best Ixtapa All Inclusive Resorts
.
The 5 Best Hotels in Zihuatanejo
Thompson Zihuatanejo
The Thompson Hotel Zihuatanejo is a beautiful, full-scale luxury resort nestled into a tropical garden right on La Ropa Beach. 
The property has spacious suites, several restaurants, 3 pools (2 adult, 1 family), a full-service spa, a fitness center and 2 tennis courts. Water skiing, wind surfing and snorkeling are available on site.
Note: While some Zihuatanejo hotels are built into the hillside and have many stairs, the Thompson Hotel Zihuatanejo is at the flatter, southern end of the beach. It's a little further from town for walking, but only a short cab ride.
Check rates for the Thompson Zihuatanejo on Booking.com or read reviews on TripAdvisor.
The Thompson Zihuatanejo is definitely one of the best Zihuatanejo hotels and the price comes dear – but it is a worthy splurge if you have the budget.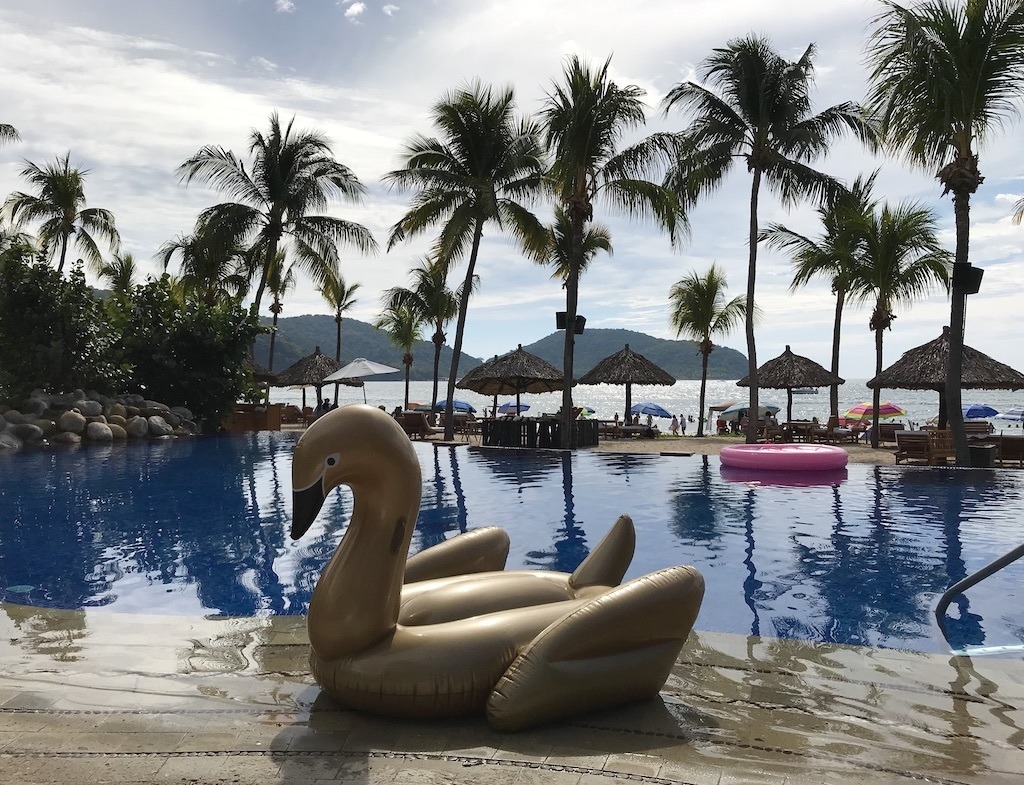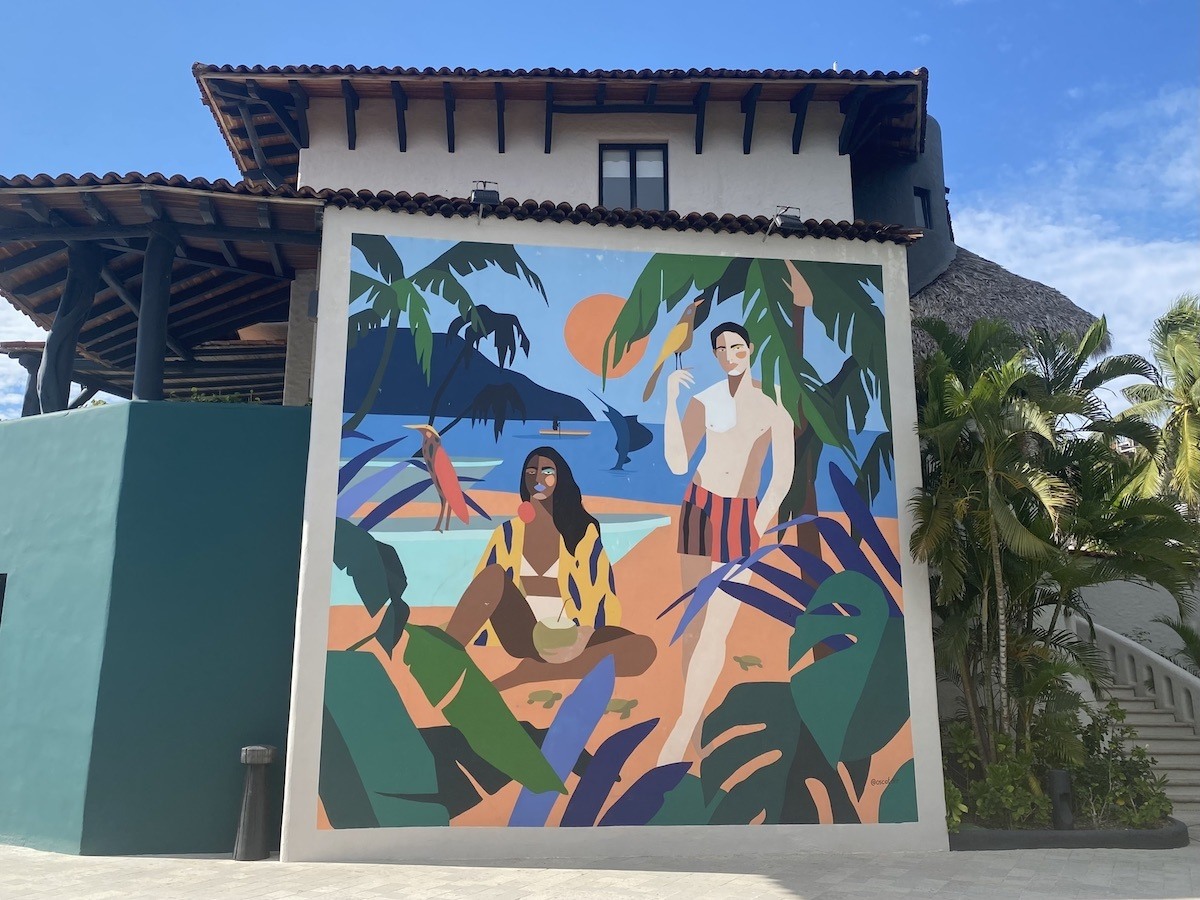 Embarc Zihuatanejo
The upscale Embarc Zihuatanejo has nicely appointed studio, one and two bedroom suites (sleep up to 6 – great for families). All of the rooms include kitchenettes with fridges and microwaves, wireless internet access and TVs with satellite channels.
The suites all have balconies and many have beautiful ocean views (worth paying extra for). The hotel has a nice restaurant, beach chair service and a cocktail bar between the 2 pools.
Note: The property just south of the Embarc Zihuatanejo (the Sotavento), is currently under construction (2020). If possible, request a room on the north side of the hotel (closer to town) to minimize noise disruptions.
The property is run as a timeshare, but you can still book suites for the Embarc Zihuatanejo on sites such as Booking.com (or read reviews on Tripadvisor).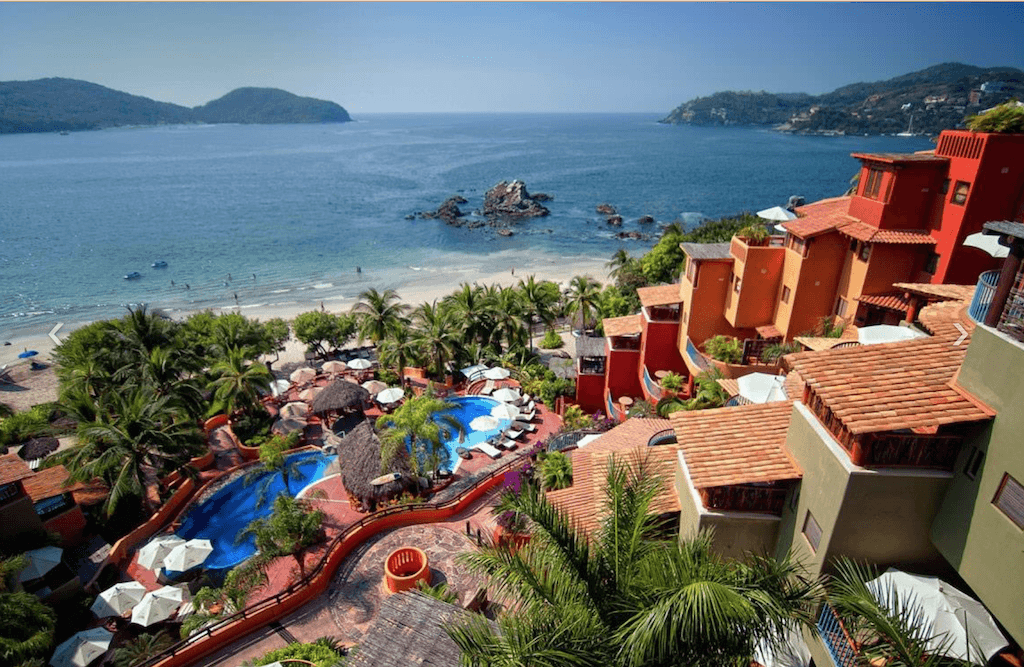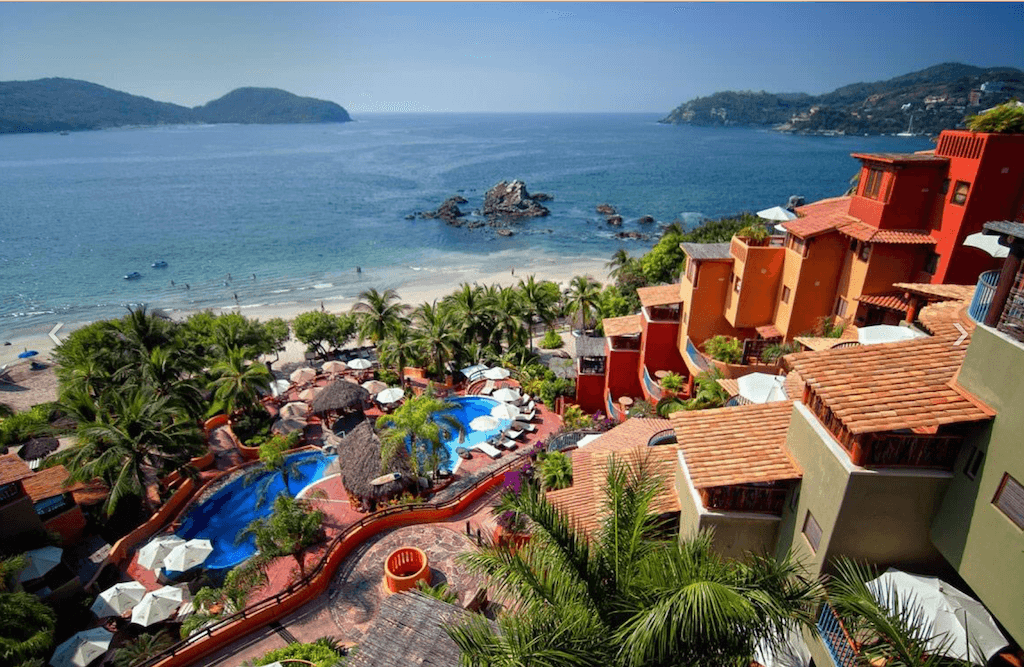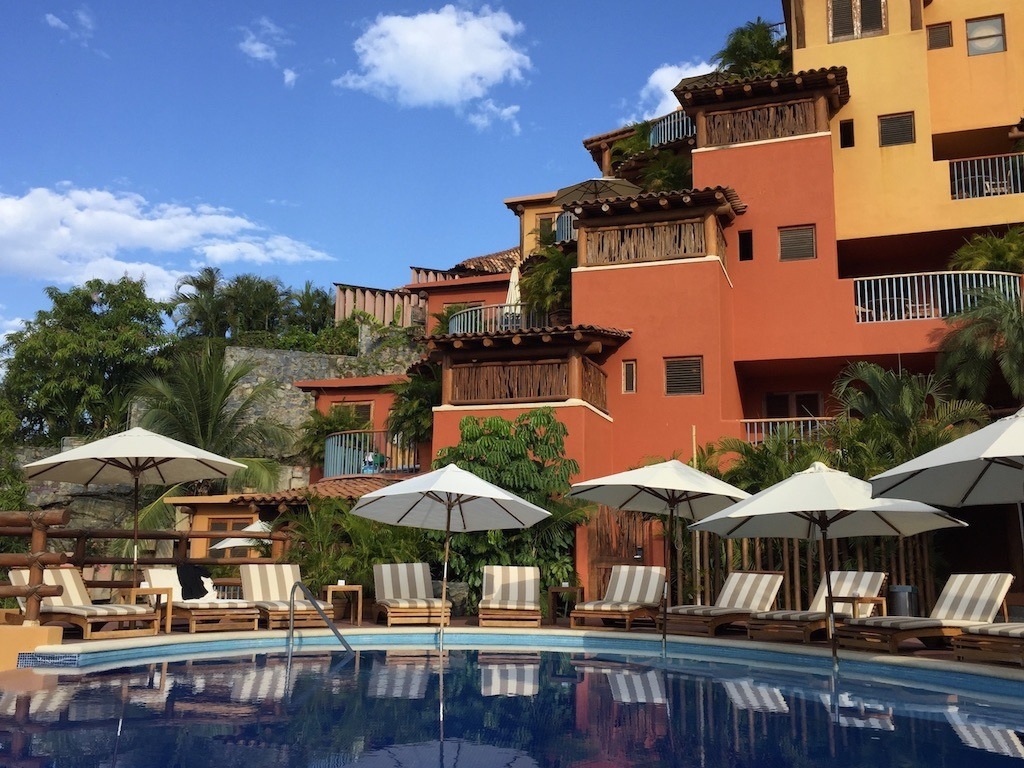 La Casa Que Canta
I dream of staying at this gorgeous luxury Zihuatanejo boutique hotel. In my opinion, for boutique hotel-lovers, this is the best hotel in Zihuatanejo. Alas, they only welcome guests 16 and older (and we have always traveled to Zihuatanejo as a family).
This intimate and romantic oceanfront property offers breathtaking views of Zihuatanejo Bay from its spacious terraces and infinity pool. It has a fitness centre, and its impressive rooms come with a balcony and free internet.
La Casa Que Canta has an oceanfront saltwater pool, surrounded by natural rock formations. There are loungers on the terrace which overlook the bay, and massage services are available. This hotel also has an elevator.
La Casa Que Canta is perfectly situated on a rock outcropping between La Ropa Beach and the town of Zihuatanejo.
Note: If you are not staying at this hotel, you should definitely stop by for a sunset cocktail. Their rooftop garden bar offers a lovely view (and let us bring our kids in).
Check rates for La Casa Que Canta on Booking.com or read reviews on TripAdvisor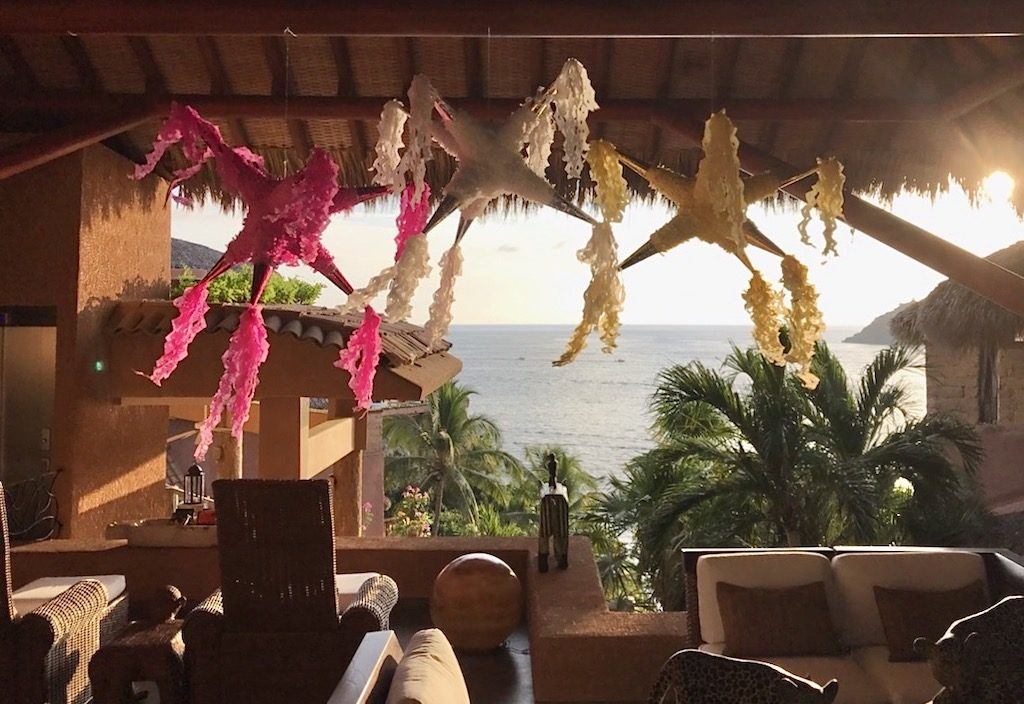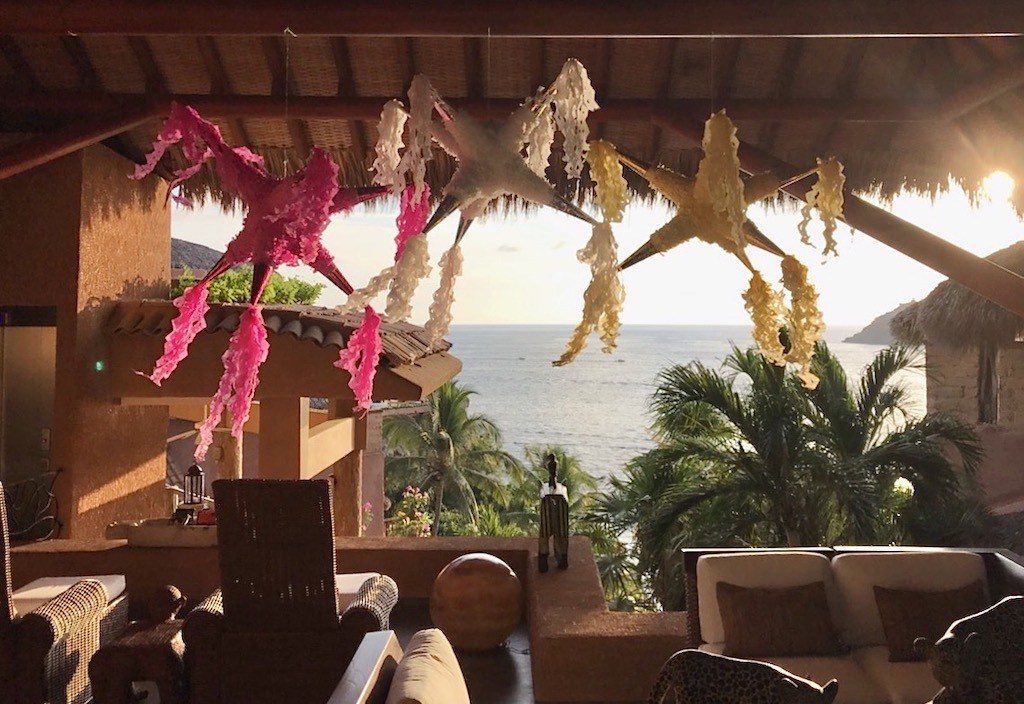 Hotel Aura del Mar
Hotel Aura del Mar Zihuatanejo is a boutique hotel is located beachfront on Playa Madera, which is right between Playa La Ropa and the town of Zihuatanejo (a 10 minute walk to the center of each).
They hotels has spacious ocean view suites (some with plunge pools), a full service spa, a nice pool (with waterslide) and a decent restaurant.
Check rates for Hotel Aura del Mar on Booking.com or read reviews on TripAdvisor.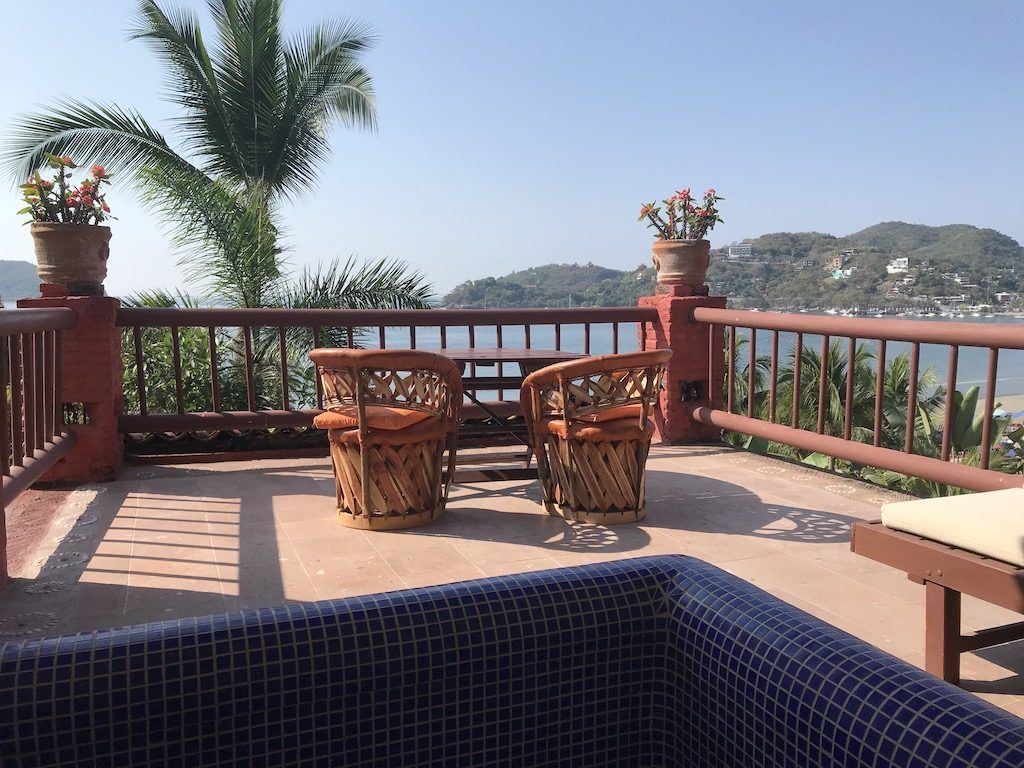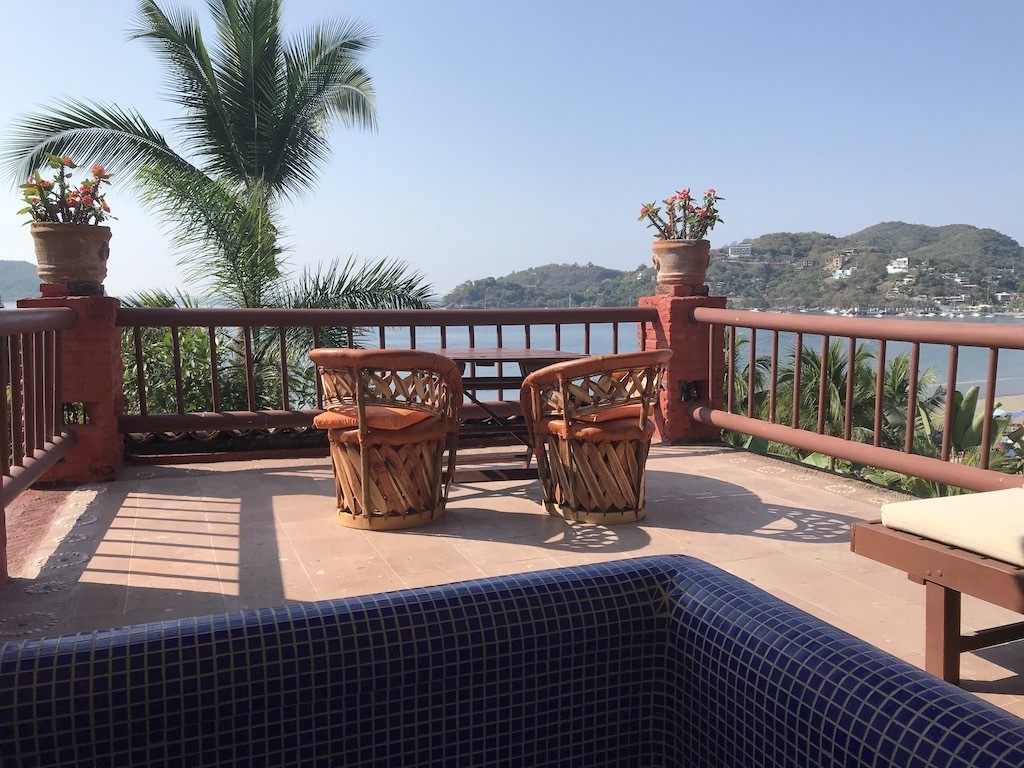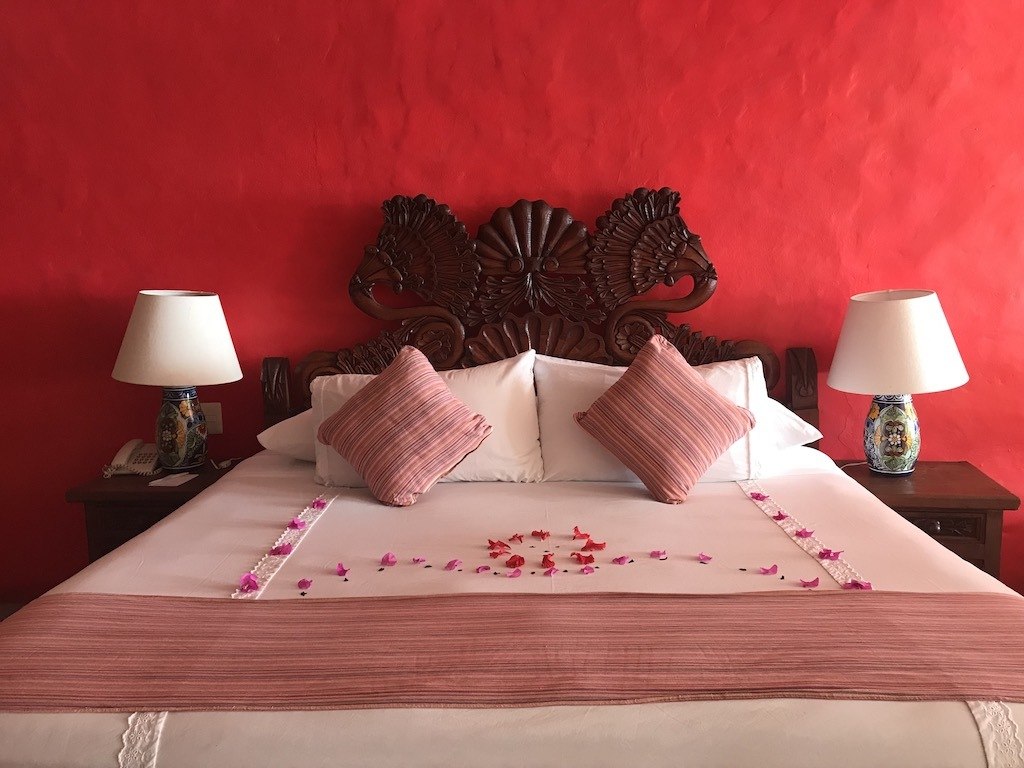 Hotel Catalina Zihuatanejo
Most of the units at this family run property are very basic. If you are on a tight budget, however, and don't mind stairs, this hotel can be a real gem. Most of the guests of The Catalina (and many who can afford much more), have been staying there for decades because they know what great value it offers.
The rooms at the Catalina are a little dated and quite sparse – furnished with only the basics (just a bar of soap and a little shampoo bottle, for example). You have to ask at the front dest for things that one might consider standard at other hotels…such as a hair dryer.
There are a few things, however, that make the Catalina a good value. The pool and the beachfront location are very nice. The property also has a pretty mature garden and you can get some great views from the higher suites (request one).
Breakfast is included at the Catalina and it is quite good. The happy hour at their sunset bar (with one of the best views along the beach) is also hard to beat.
The hotel has a lot of stairs so it is not great if you have mobility issues. I also wouldn't recommend it if you are traveling with small children (some dangerous drop-offs).
Check rates for Hotel Catalina on Expedia or read reviews on TripAdvisor.
Note: I'm not going to bother showing room pictures, because they are very basic. Here are a few property pictures though.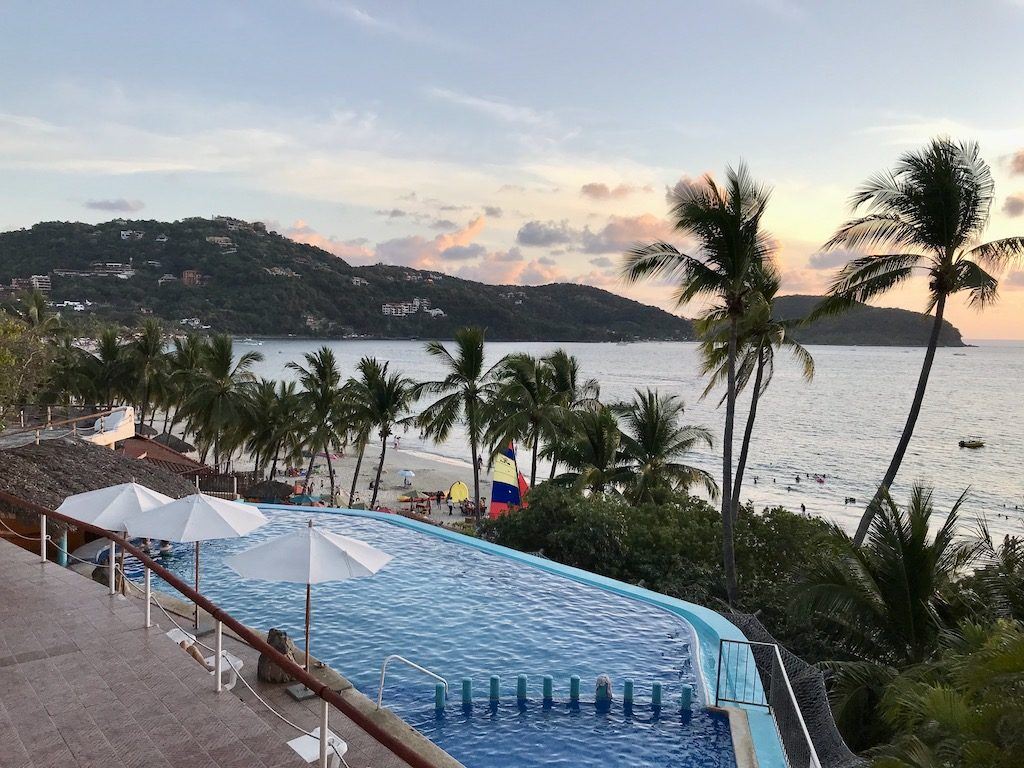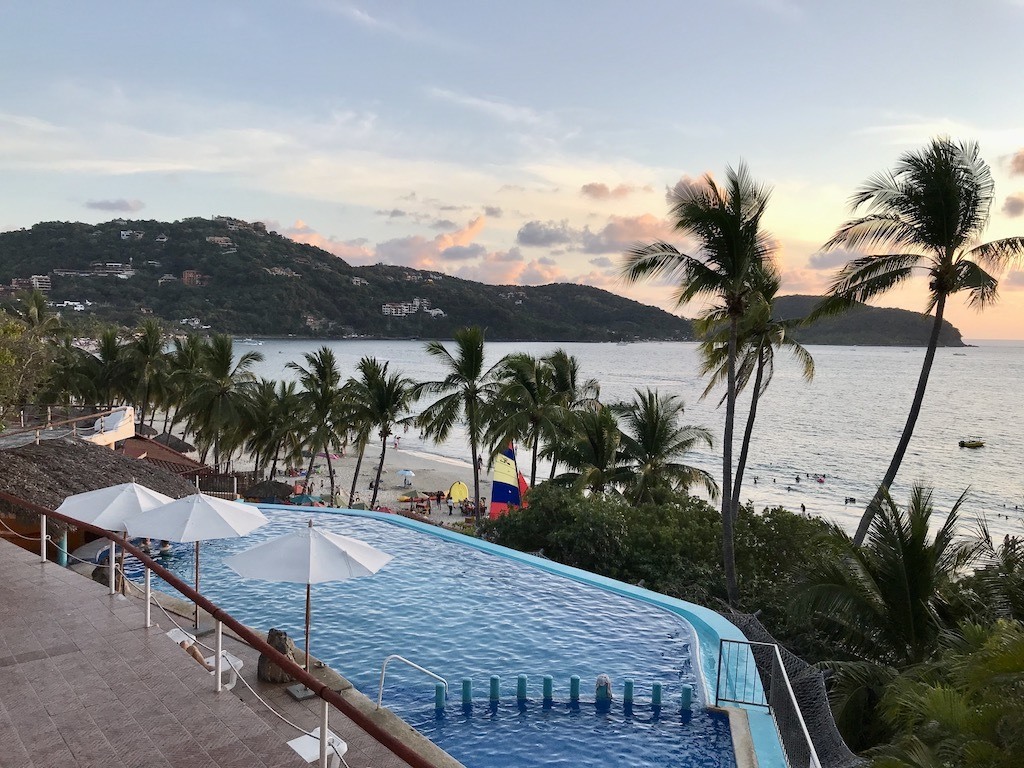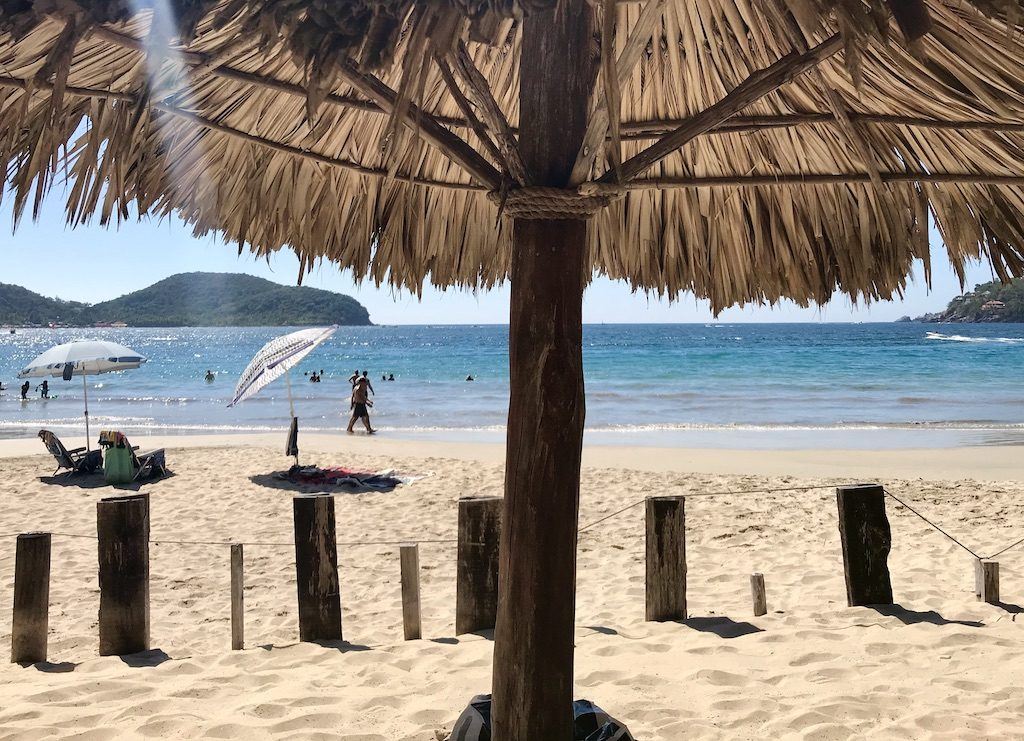 Zihuatanejo Vacation Rentals
If a Zihuatanejo hotel doesn't suit your needs, perhaps a Zihuatanejo VRBO will.
As with Zihuatanejo hotels, I would recommend looking for a Zihuatanejo Airbnb or other vacation rental close to La Ropa or La Madera beaches, rather than in town.
Check out hundreds of listing in Zihuatanejo on VRBO
and Airbnb.
Further Reading