Last update: June 10th, 2021 at 02:33 pm
On a short 3 day stopover in culturally rich Mexico City, our family had to make some big decisions on how to spend our time. One activity that we all agreed upon was a visit to the great Teotihuacan pyramids. Although slightly jet-lagged, we happily awoke early on our first morning, anxious to beat the crowd and the midday sun.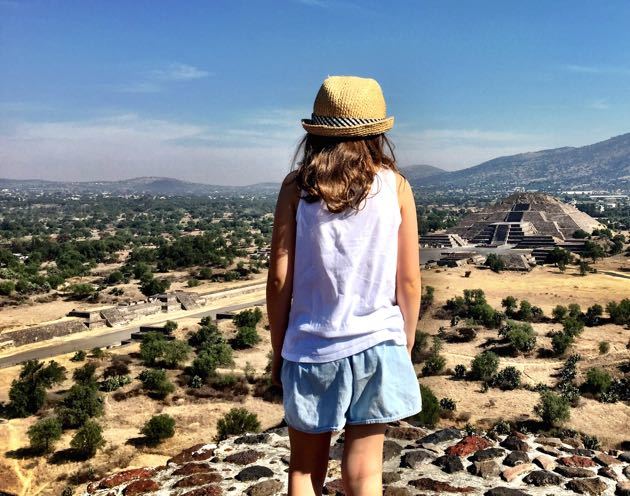 Who Built Teotihuacan?
The ancient city and pyramids of Teotihuacán are presumed to have been built around 100AD. Who exactly built this city, with a population that may have been as high as 100,000, is still a mystery. There is some evidence that it may have been a multicultural society made up of groups including Totonacs (a tribe from the east) Maya, Mixtec, and Zapotec. It was the Aztecs, some many centuries later, however, who discovered the abandoned site and gave it its name "Teotihuacan". Currently only a small fraction of the site has been excavated, but it is an amazing sight to behold.
What to See at Teotihuacan
Most striking to see (and climb) at Teotihuacán are the Pyramid of the Sun (248 steps to the top) and the smaller Pyramid of the Moon. The Pyramid of the Sun is the second largest pyramid in the world (after Egypt's Giza). The Avenue of the Dead connects the site and the two pyramids.You are allowed to climb both structures to enjoy the view. In fact, you can walk and climb around most of the site, a discovery that my children were quite delighted by. One could easily spend the good part of a day at the site, but with kids, you may find that several hours is plenty. There is also an excellent (and air conditioned) museum that holds some very special artifacts that have been excavated from the site.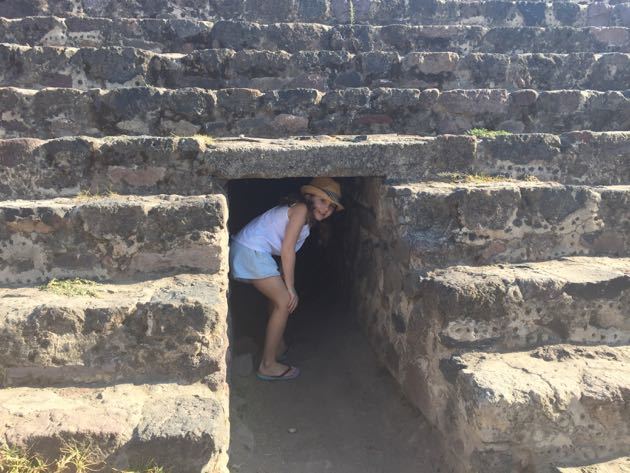 When to Visit Teotihuacán
If you can aim to arrive at the pyramids at, or even before 9am, you will get to explore and climb the pyramids almost on your own. By 10am the tour buses and school groups arrive in force and you will now be part of the herd. Unless you are a sun worshipper of the celestial kind, avoid the spring equinox (around Mar 21st) when thousands arrive for sunrise at the pyramids to chant, burn incense and who knows what else. We happened to visit a few days before, and there were ropes being set up to try to contain the crowds. PASS.
Getting from Mexico City to Teotihuacan
We chose to hire a driver for the day (for about $100 USD) who picked us up from our hotel at 7am. Although we did this through a friend, this is something your hotel should be able to arrange for you. We were lucky in that the traffic was light and we were walking toward the pyramids shortly after 8am.  By noon, we were on a patio in Polanco enjoying a fine lunch and a glass of chilled Mexican wine. There are certainly many other options to get to the pyramids included the more economical public bus or a dreaded tour group.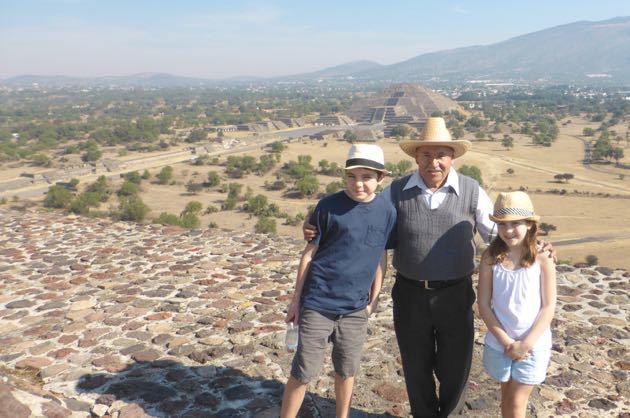 What to Bring with You to Teotihuacan
Be sure to bring with you sunscreen, a hat, water, and very good walking shoes. There is almost no shade at the site, although you can take temporary refuge in the air conditioned museum. The site is not stroller friendly so if you are traveling with a baby, consider leaving the stroller behind and using a carrier. If you forget something, there are a number of stores selling hats, water etc. at the entrance of the site. You call also buy snacks there or leave the site altogether to visit a nearby restaurant (and you are still allowed to re-enter the site later).
If you would like to see a little more, there are some nice shots of Teotihuacan in this short video on our 3 days in Mexico City.
You May Also Be Interested in the Following Posts:
.