Last update: January 4th, 2023 at 04:25 pm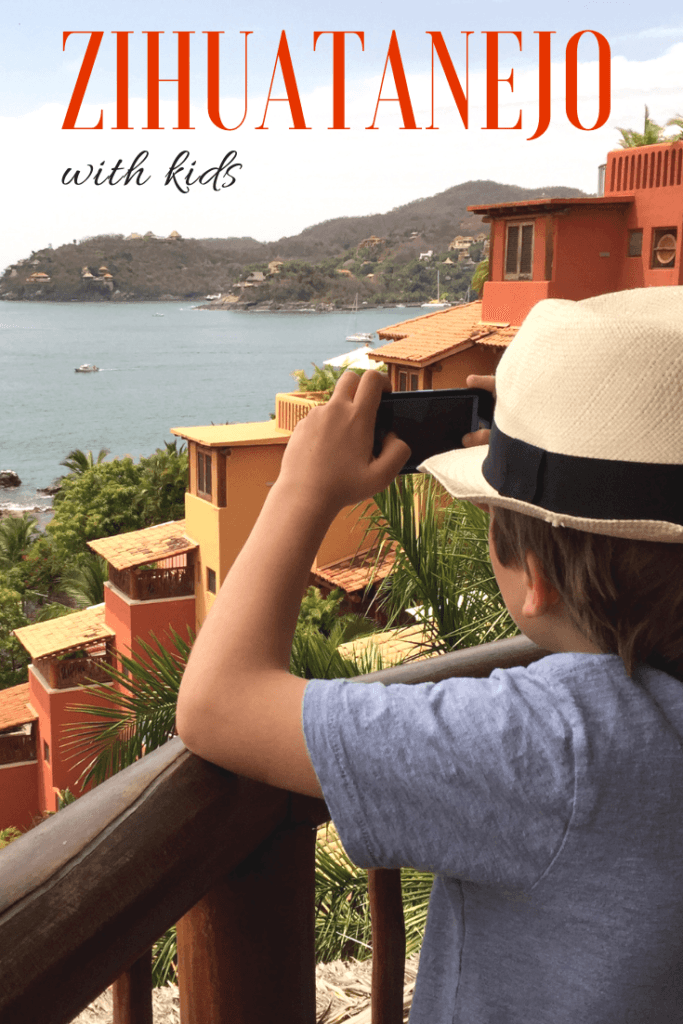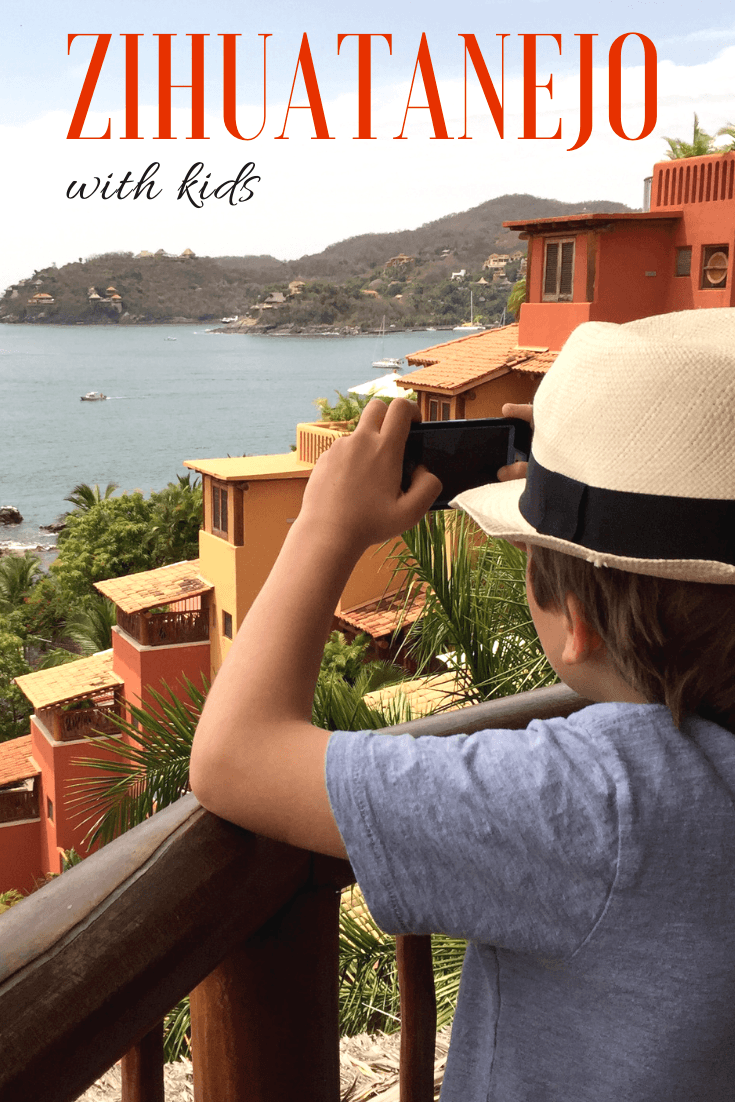 Zihuatanejo with Kids
I have lost count of how many trips we have done to Mexico with kids. I do remember well, however, our first visit to Zihuatanejo when our eldest was a baby. We enjoyed it so much that we have since returned many, many times.
While not for everyone, the quiet fishing village of Zihuatanejo (and its beautiful La Ropa Beach) is a perfect vacation destination for those preferring the vibe of a small quaint fishing village dotted with boutique hotels, over the mega-resorts of Cancun or Ixtapa. In the following post we will share everything we love to do on a Zihuatanejo family vacation.
Zihuatanejo with Kids Video (2 min.)
In a hurry? Check out our 2 minute video on Zihuatanejo with kids, or just read on.
10 Things to do in Zihuatanejo with Kids
Enjoy Beach Time on Playa La Ropa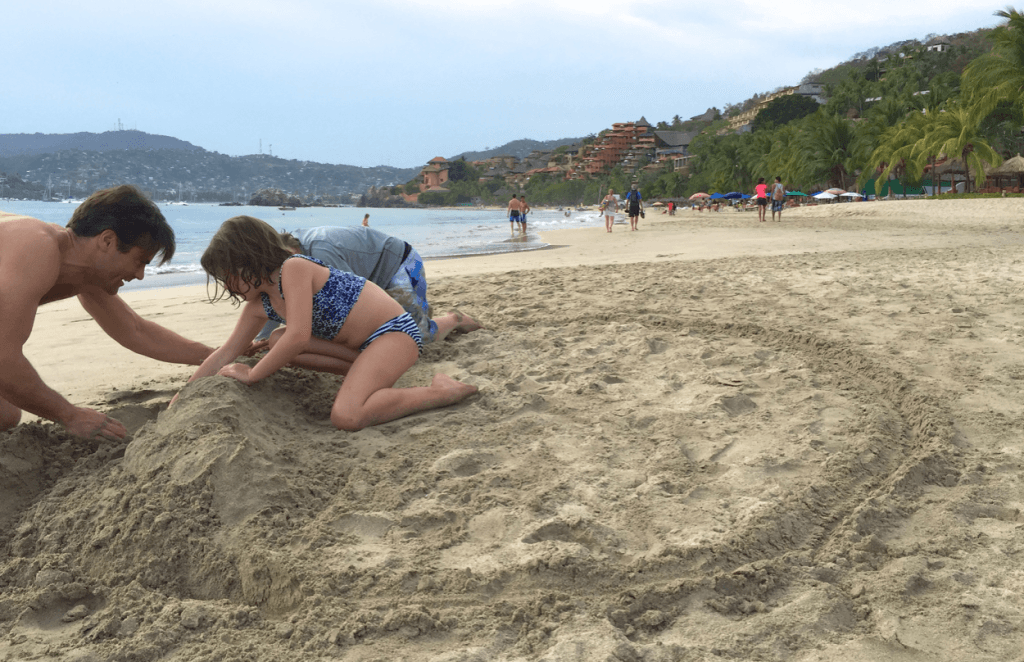 Named for the sunken merchant ship that left bolts of beautiful fabric all over the bay, Zihuatanejo's Playa La Ropa is a gorgeous stretch of beach for kids to play on. It has the perfect balance of locals and tourists; active beach activities and quiet spots to read under a beach umbrella.
Help Save the Sea Turtles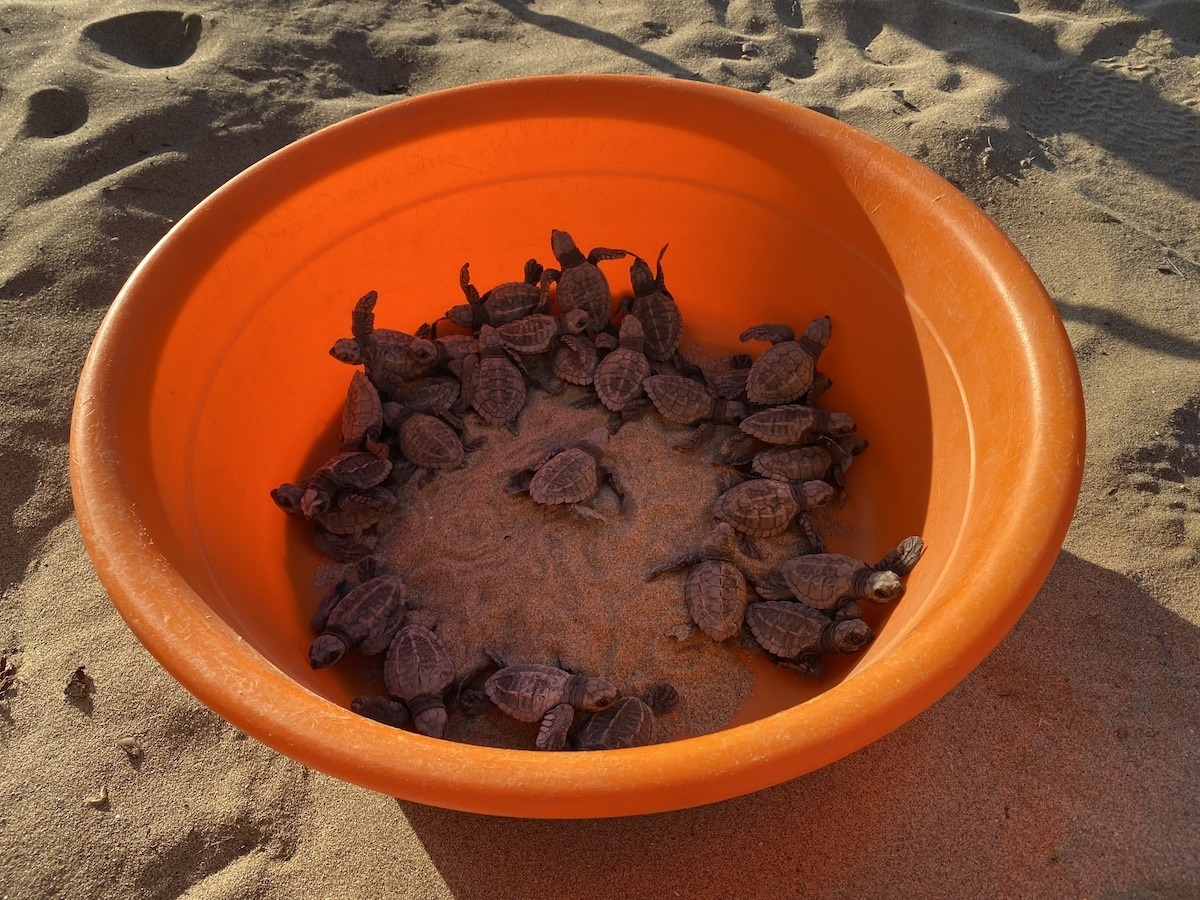 Support the local organizations that are helping to protect the sea turtles of the region by participating in a turtle release. Damaris and Gene Smith of Campamento Tortuguero Ayotlcalli have been protecting the native endangered sea turtle populations and their habitats near Zihuatanejo and Ixtapa since 2011.
To participate, see the Campamento Tortuguero Ayotlcalli Facebook page for upcoming release dates. This activity normally occurs around 5pm at their home location on Playa Blanca (very near the Ixtapa-Zihuatanejo Airport) and is preceded by a short presentation on local sea turtle populations. The cost is 200 pesos/adult and 100 pesos/child. Reservations are requested.
Dine with Crocodiles and Iguanas at El Manglar Restaurant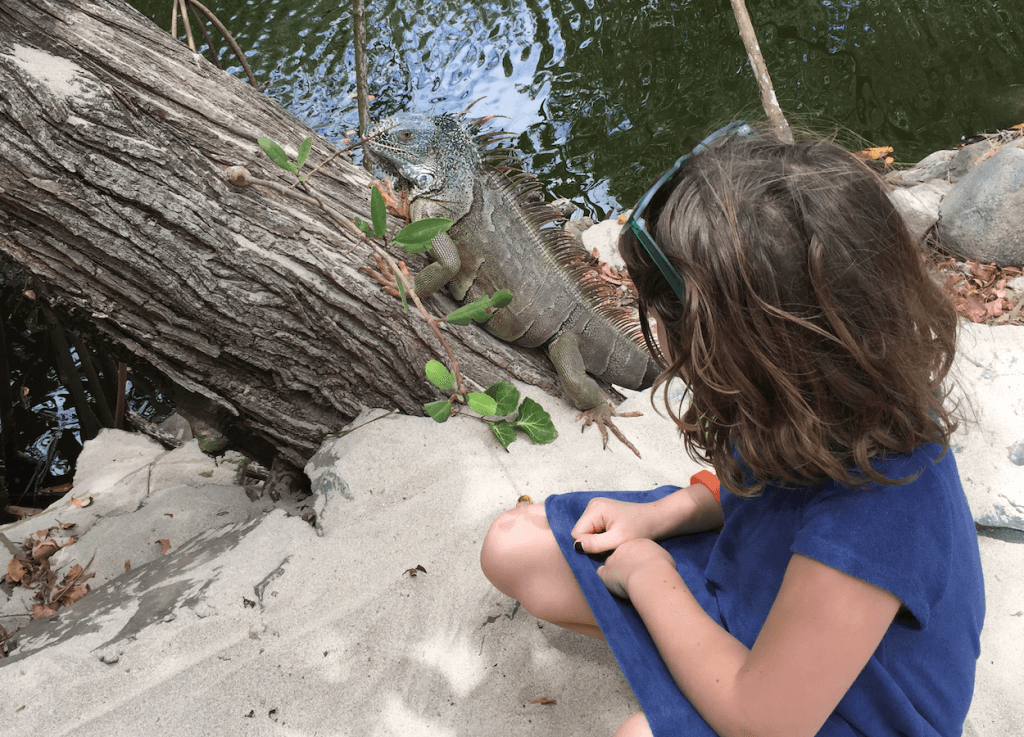 At the south end of Playa La Ropa there is a small fenced estuary that has an incredible amount of wildlife. From a table at the nearby El Manglar restaurant, you can see gorgeous birds in the trees, squirrels, large iguanas and even the occasional crocodile swimming by (don't worry, they are well fed and do not bother people).
While the restaurant is very casual, their ceviche, guacamole, and calamari are as good as anywhere along Playa La Ropa…plus you get the added animal entertainment!
Read Tripadvisor
reviews for El Manglar.
Visit Zihuatanejo's Food Markets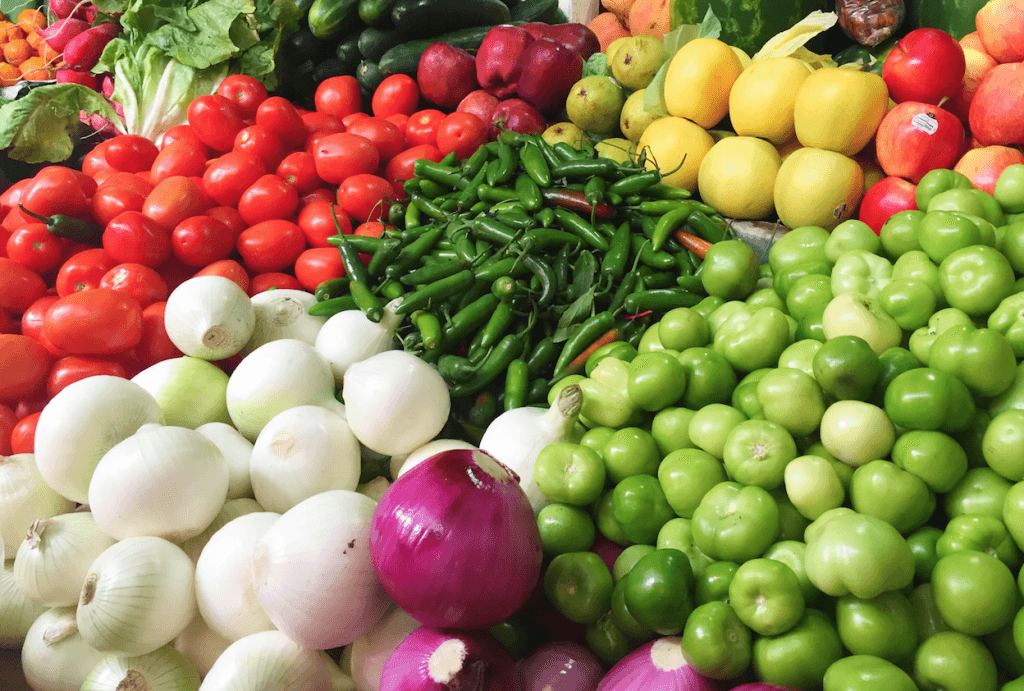 If you catch a rare rainy day in Zihuatanejo, visiting the markets is a wonderful activity. Our kids loved wandering through the stalls of the fresh food market (although they were a little shocked to see where the chicken from their quesadilla was coming from).
This can be followed up by some souvenir shopping at the Mercado des Artisania, where kids can hone their negotiating skills. "You mean the price isn't actually the price mom?".
If you want a more immersive Zihuatanejo food experience, check out Cooking with Claudia (read TripAdvisor reviews).
Attend a Festival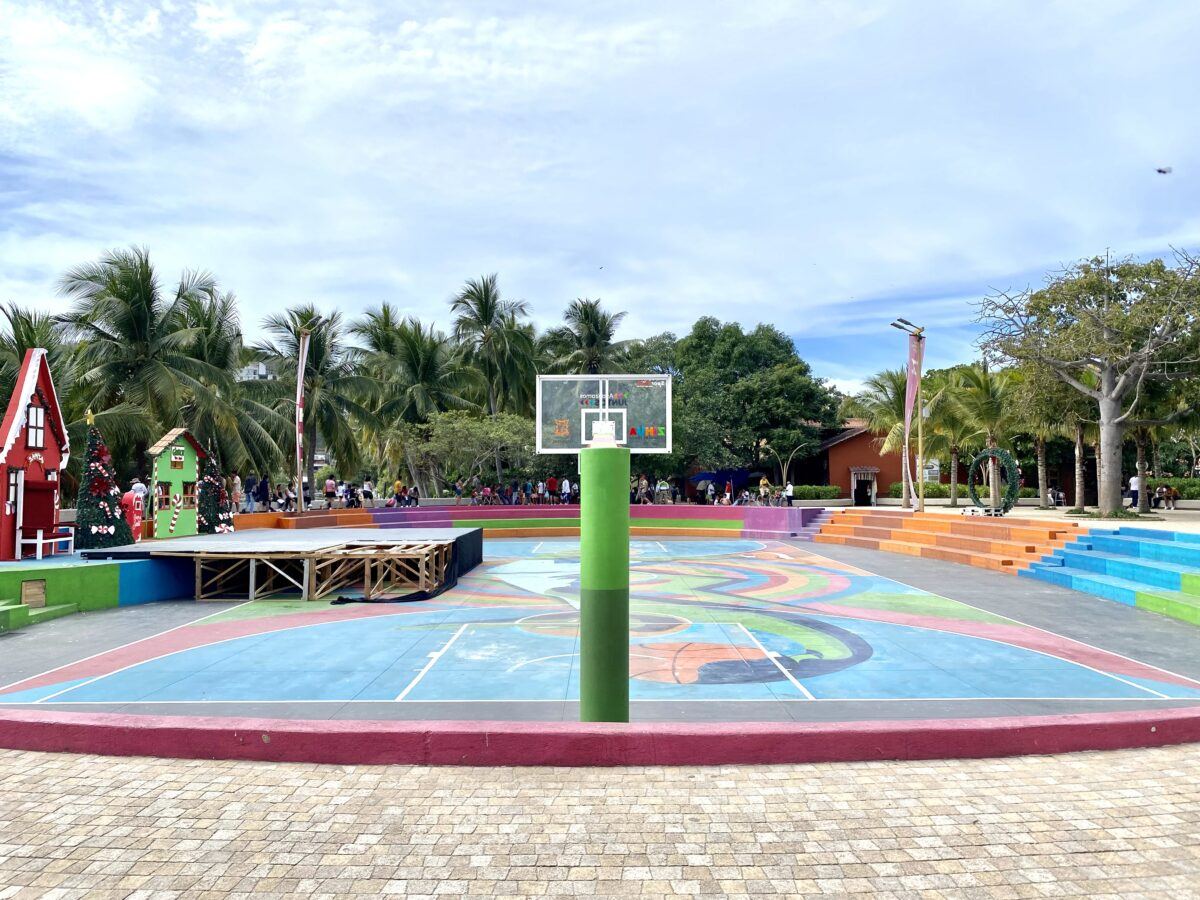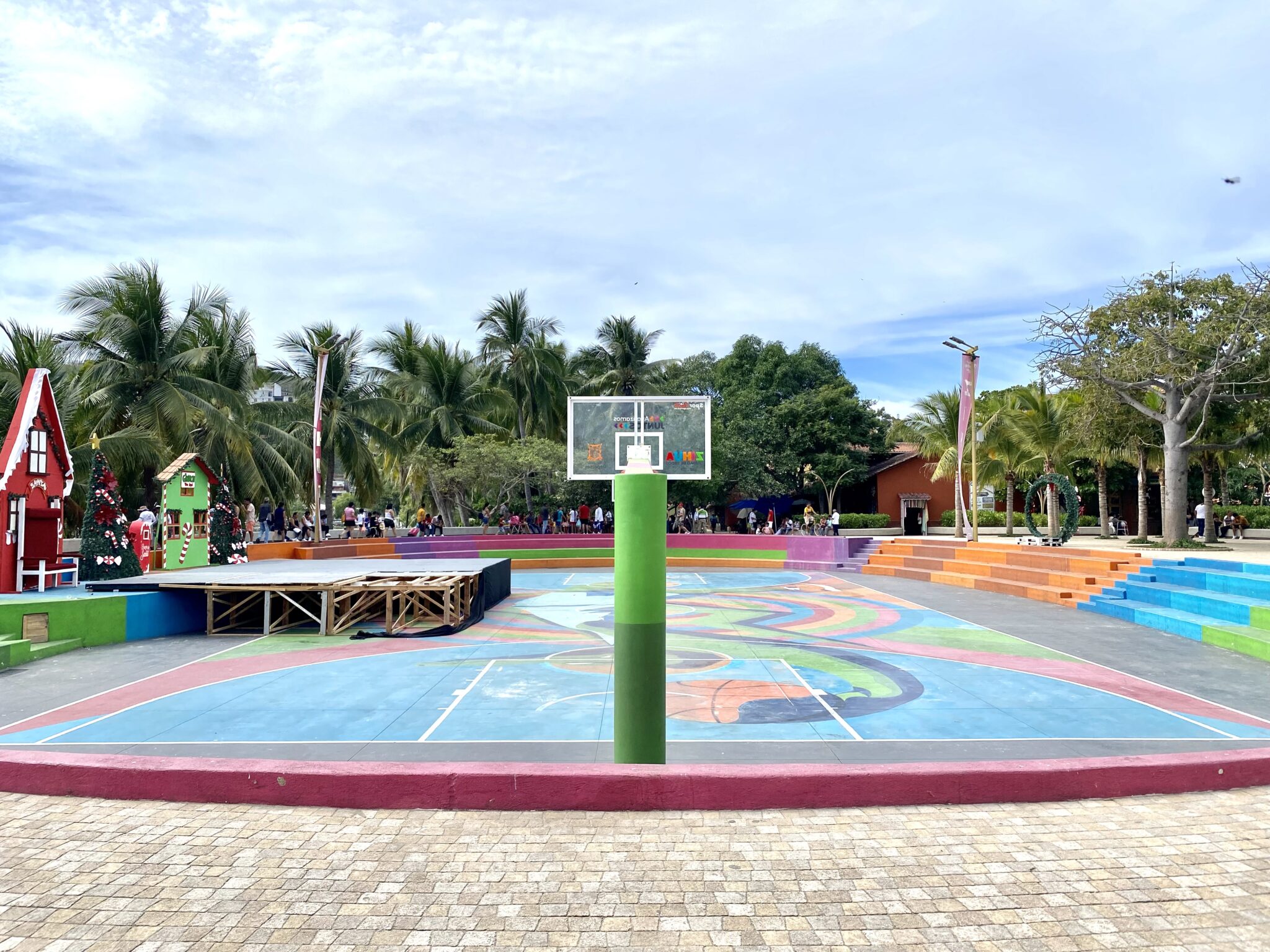 Zihuatanejo's main gathering spot is the waterfront square and basketball courts.  At almost any time there is something interesting going on in this location, especially in the evenings, when you will see lot of families hanging out.
For instance, on a recent stay, the square was hosting its annual guitar festival, with nightly shows from artists around the world (March).
Watch the Fishing Boats Come In
At the heart of it, Zihuatanejo is still a fishing village. If you have a child who is an early riser, walk into town and watch the village come alive as the boats come in with the daily catch and the buying and selling begins.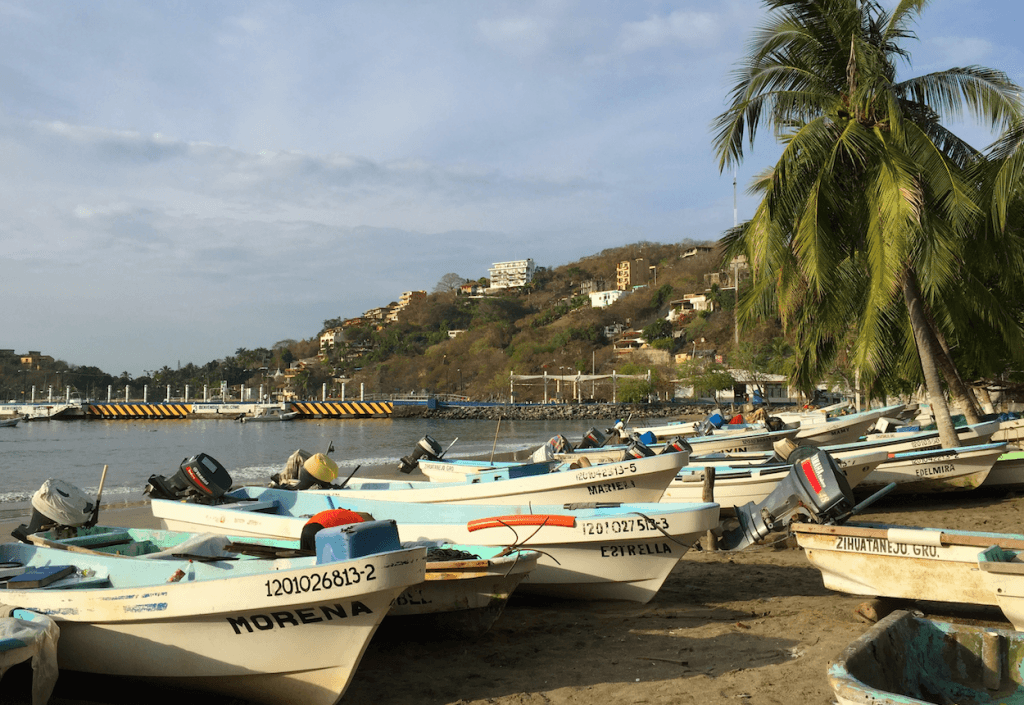 Day Trip to Playa Las Gatas
On Playa La Ropa, you can arrange a boat tour to various other beaches. One of the easiest to get to is Playa Las Gatas, which is just across the bay (You can also walk there if you are so inclined, but it's a hot walk.)
Several companies along Playa La Ropa offer a reasonably priced water taxi service, but in our case we chose to take a catamaran (with captain) in the late afternoon.
We book most of our beach activities from a place called Burbuja on Playa La Ropa which is located on the beach between the Embarc Hotel and the new Sotavento. Owner Jorge Sotelo and his family have been running this place as long as I can remember and they are very reliable.
Playa Las Gatas has some decent snorkeling and the beach is great for little ones as it is partially protected by a breakwater. There are also several places to rent beach toys and many restaurant options. It is a favorite day trip for Mexican families if you are looking to experience something more local.
Note: On a more recent trip over New Year's we visited Playa Las Gatas again. Due to the holidays it was a total zoo. I would avoid doing this trip at peak holiday times (do a sunset cruise instead).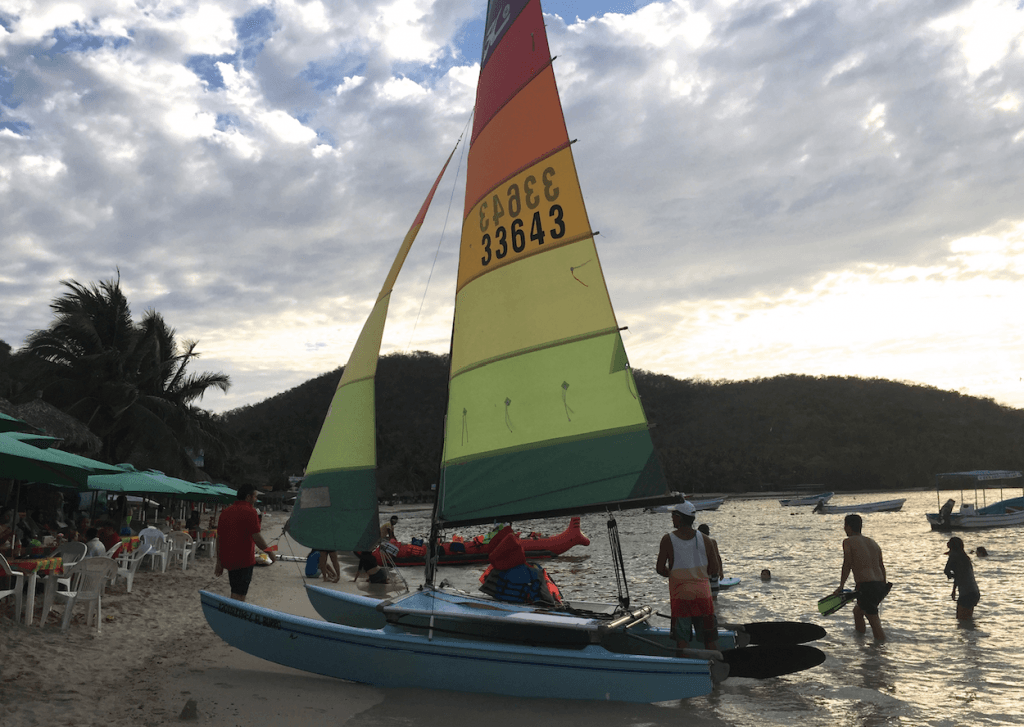 Parasailing and Jet Skiing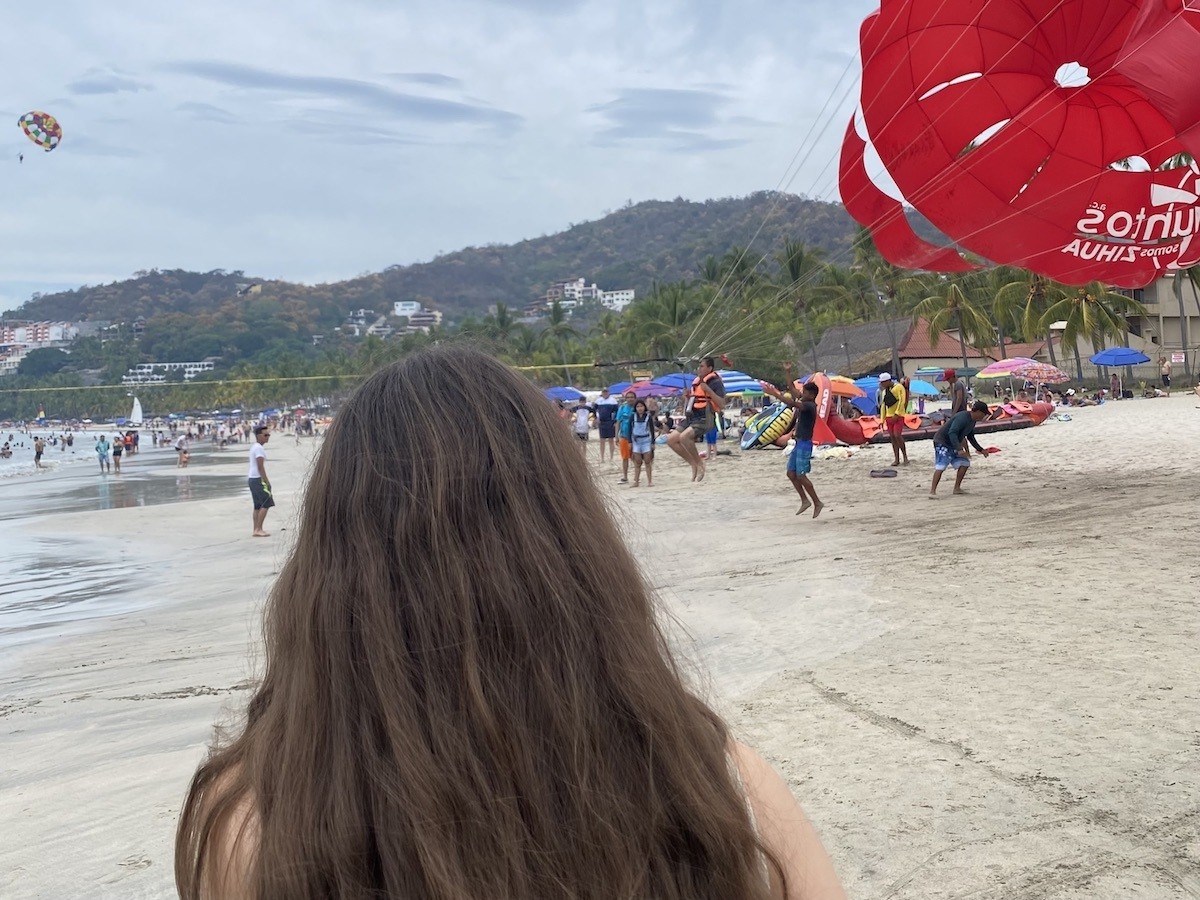 There are a number of parasailing and jet ski outfits operating along Playa La Ropa which can provide a little more excitement if you are traveling with older children or teens.
Note: I'm more inclined to recommend the jet skis as I have seen some crazy things with the parasailing (trying to land in big beach crowds – riders crashing into beach umbrellas…) If you are still interested, I recommend you watch the operators for a while before deciding who to go out with.
Enjoy Awesome Gelato
Very quickly on our trip to Zihuatanejo, we developed an addiction to the gelato at Fragolino. Although they have more than one location, we would grab our daily scoops from the location across from the basketball court / town square, and then people watch in the shade while enjoying the ocean breeze.
There is also a frozen yogurt place and another gelato place right beside Fragolino's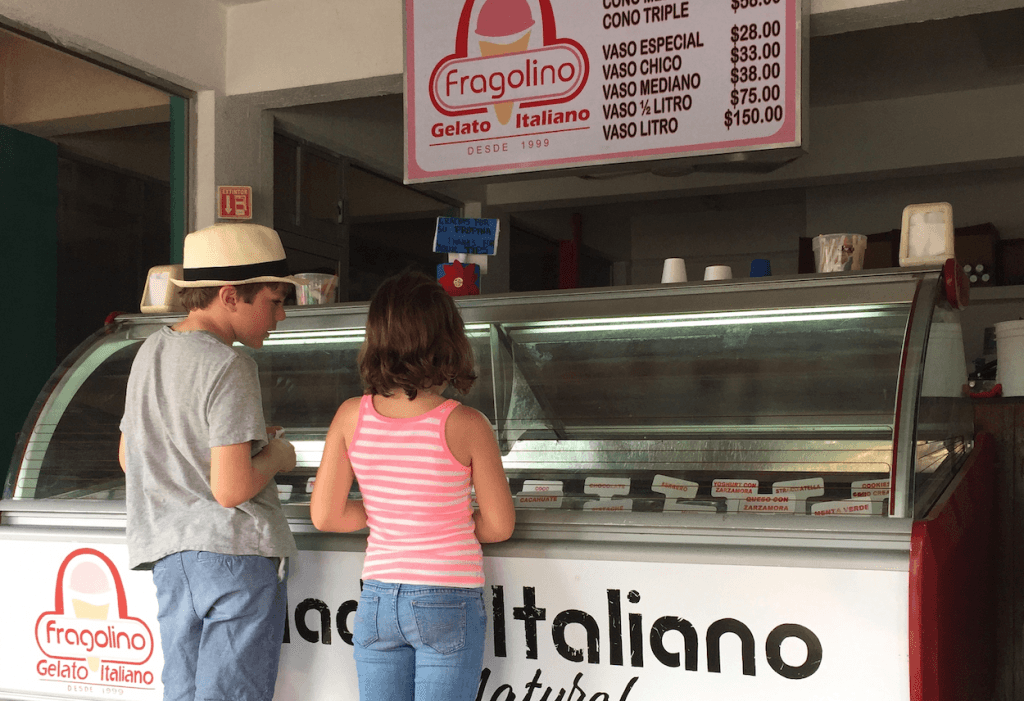 Try the Best Zihuatanejo Restaurants
Zihuatanejo has some wonderful restaurants both along Playa La Ropa and in town. While a kids menu is rare outside of a hotel, almost every place can whip up a cheese quesadilla (which my youngest often lives on in Mexico).
For a traditional Mexican breakfast and a superb mole try the family-run Carmelita's Cafe
in town.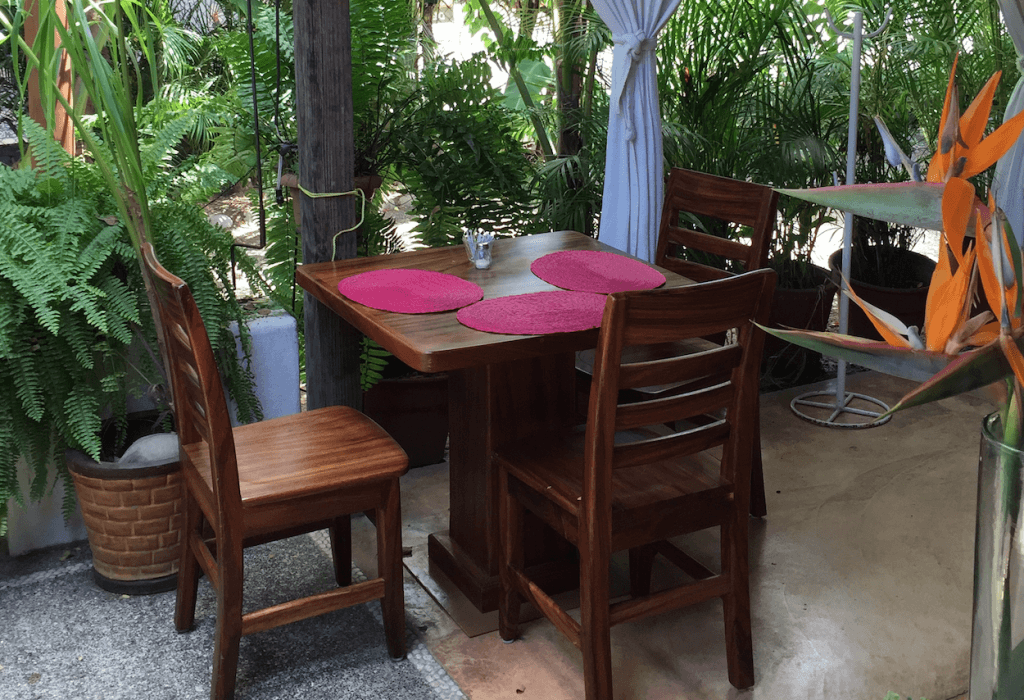 For Mexican fare (tacos, moles etc.) you can't go wrong with Any's Tamales,
La Sirena Gorda
and Bandidos
(all in town). On Thursdays, Any's is a great place to try pozole – a traditional Mexican soup typically served on special occasions.
Along Playa La Ropa, we like the casual toes-in-the-sand atmosphere of La Cantinita
. They will let you use their beach chairs and umbrellas as long as you are ordering food.
El Manglar
with its abundance of wildlife is also fun. We typically just go there for a guacamole snack while the kids check out the iguanas and birds.
For sunset cocktails, the rather exclusive boutique hotel La Casa Que Canta
rooftop garden bar is divine. While the hotel is adults-only, they don't seem to mind if you just pop in for sunset.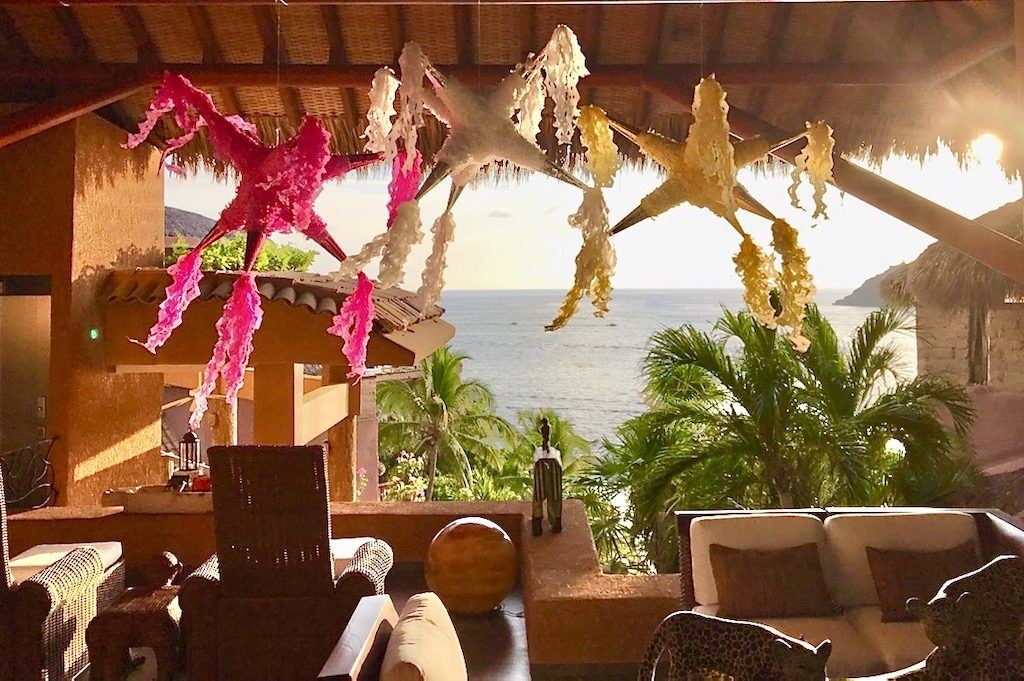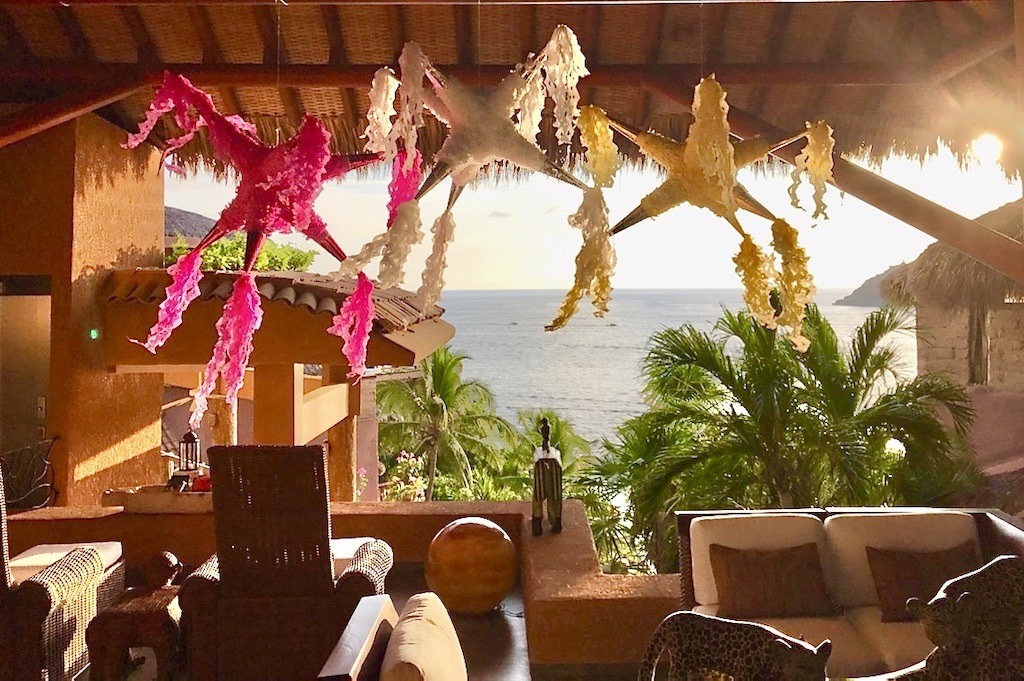 For something a little more budget-friendly, the Sunset Bar at The Catalina on Playa La Ropa has 2-1 happy hour drinks (6-8pm) and one of the best sunset views in Zihuatanejo (you just need to climb a few stairs for it).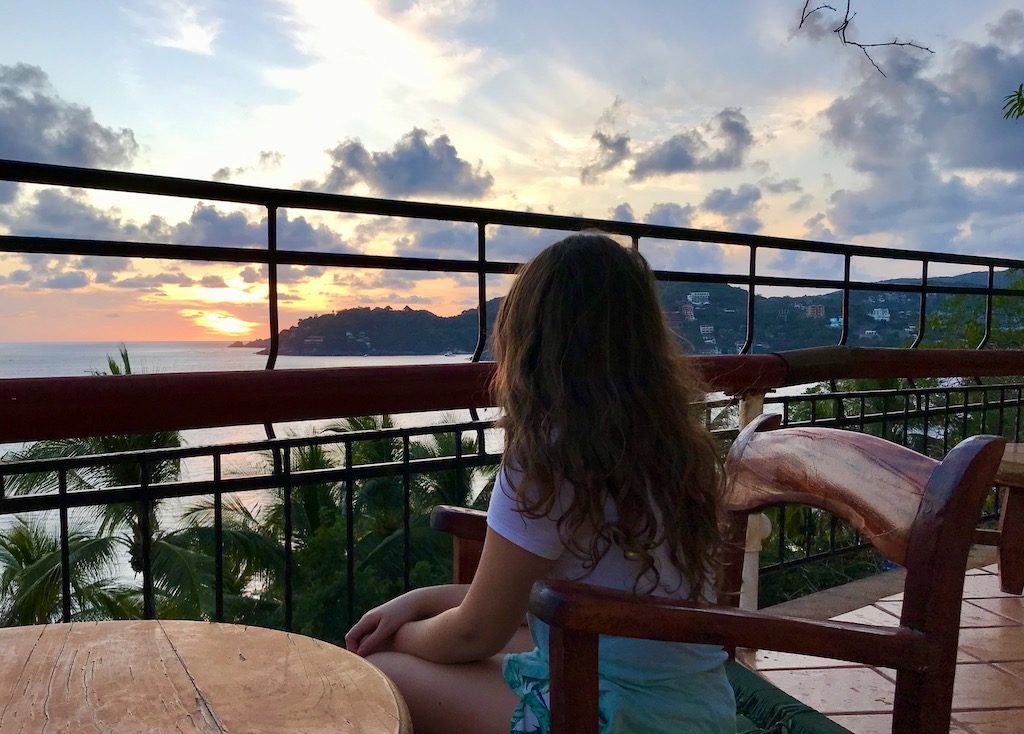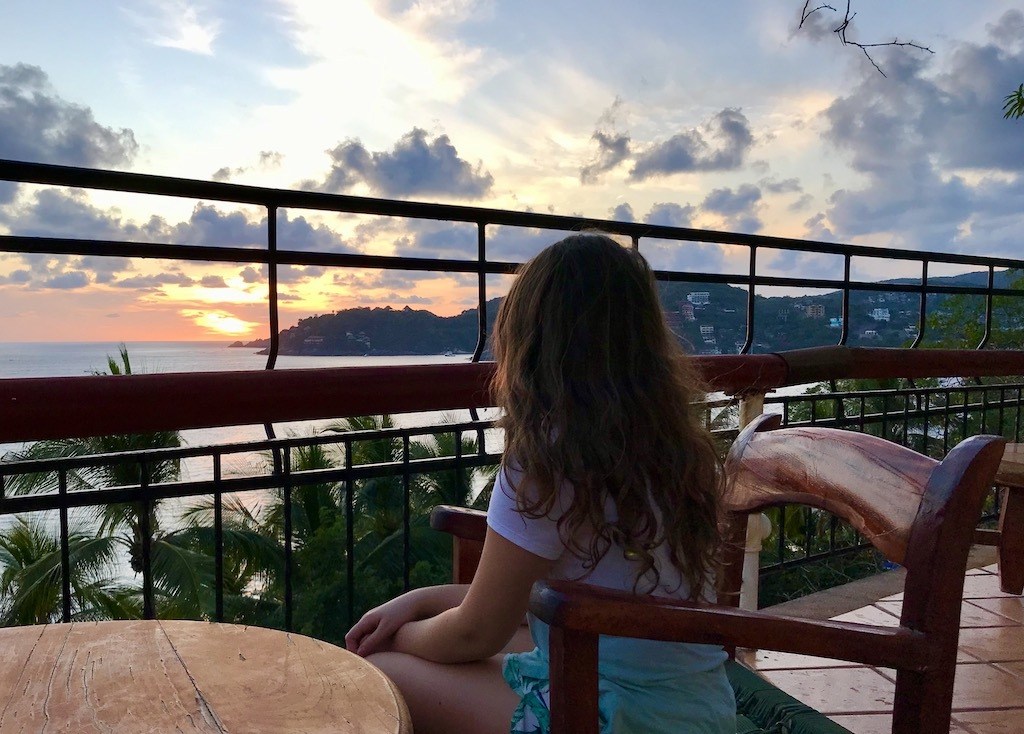 On our most recent trip, I fell in love with the breakfasts at LOOT Surf and Lifestyle
which is tucked just in behind Playa La Ropa. It is a beautiful space with gorgeous fresh juices, nice coffee and lovely fresh fare.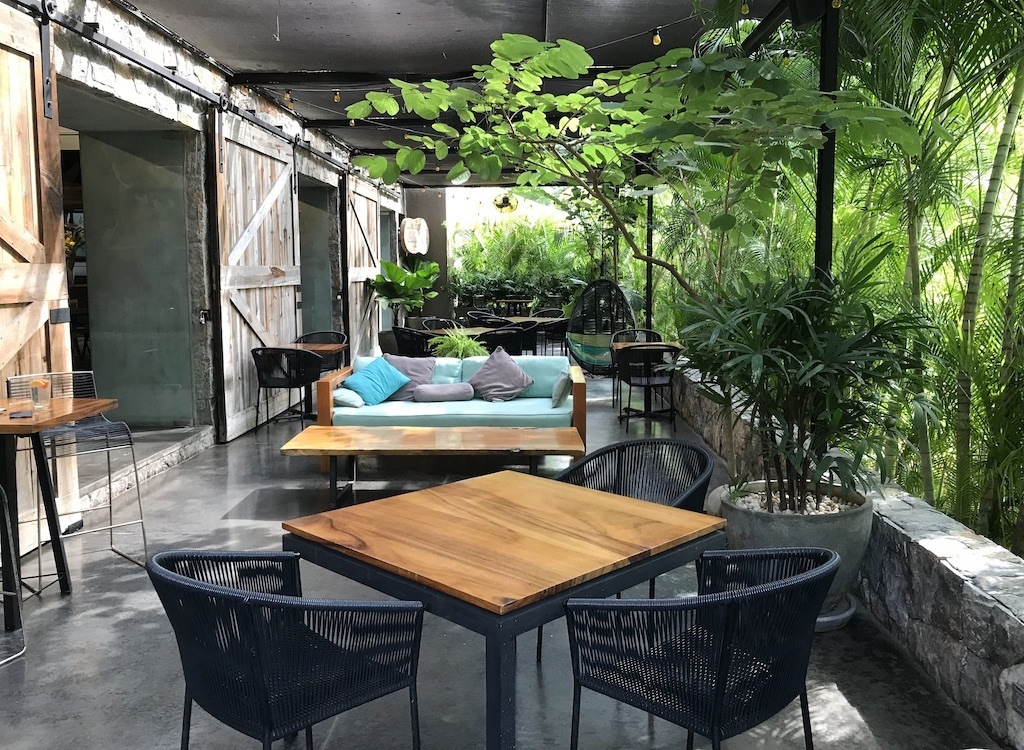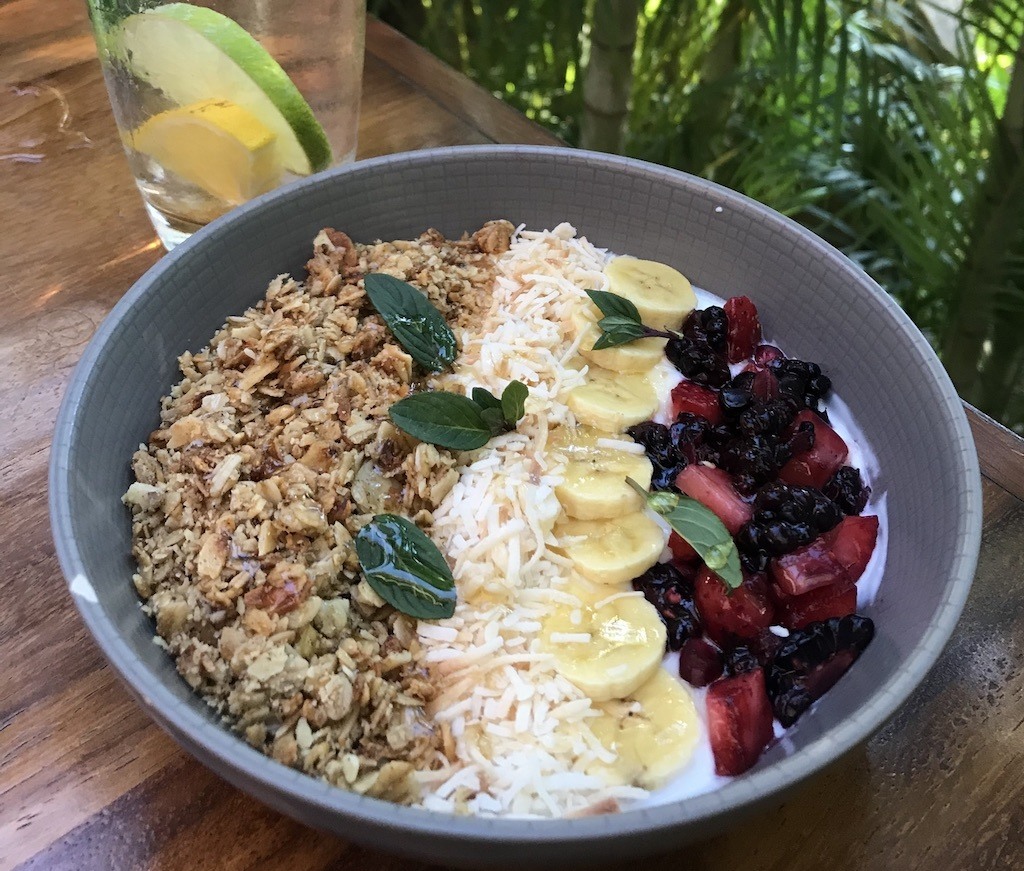 Just need a pizza? You can't go wrong with Jungle Pizza
(also tucked in behind Playa La Ropa).
And finally, for that special dinner out, Espuma
has excellent Mediterranean food and an even better view. Prices, however, are pretty high.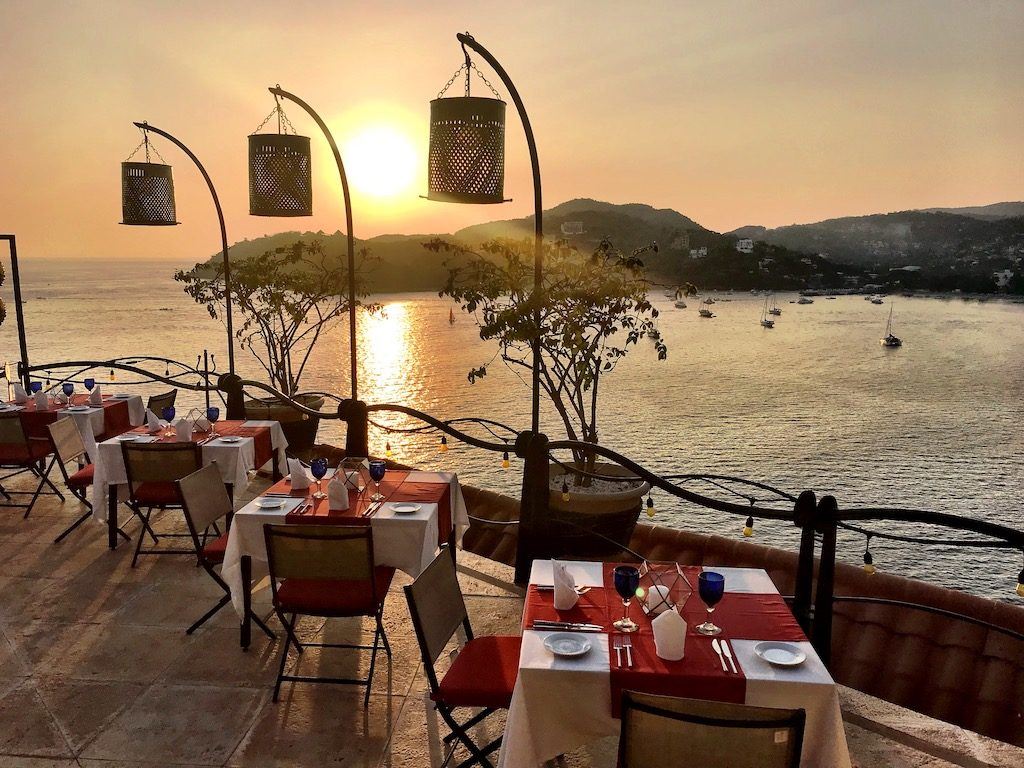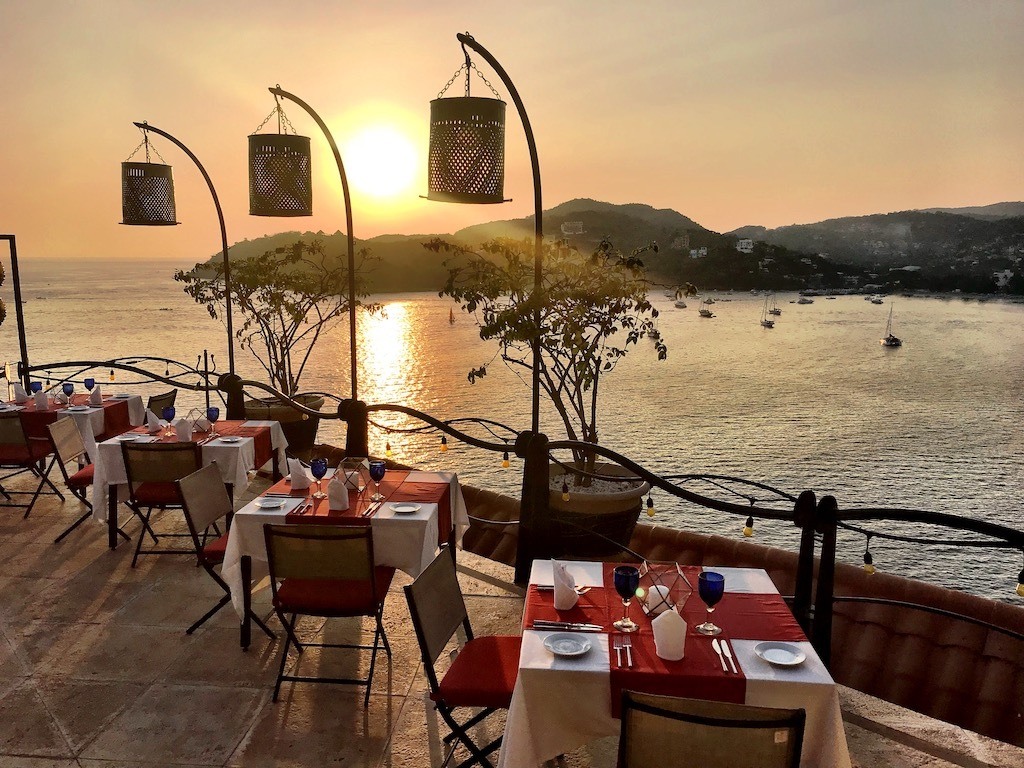 Note: Not all restaurants offer high chairs but they all welcome children. At many local restaurants, it is typical to see babies sitting in their parent's laps.
That said, when we traveled with our children as babies, we found it useful to bring along a portable high chair so that our options would not be limited.
Is Zihuatanejo Safe?
I find this to be a difficult question to answer. Personally, I don't feel unsafe with my family in Zihuatanejo, but we also don't go far. We go to the beach, our hotel, and to town during the day and in the early evenings.
That's said, the state of Guerrero, within which Zihuatanejo lies, has experienced increased gang activity in recent years. There are travel warning for this state.
I would not, for example, decide to do a driving day trip to explore hidden beaches south of Zihuatanejo. I also wouldn't go driving around after dark with the exception of going from our hotel to restaurants in town.
At the time of updating this post (Feb. 2020), the Canadian government (at Travel.GC.ca) has a travel advisory for the whole state of Guerrero with the exception of Ixtapa, Zihuatanejo and Taxco. The U.S. State Department has a "Do Not Travel" recommendation for the whole Guerrero state due to "crime".
I tend to do a lot of reading on the Mexico safety situation prior to booking a trip (I obsess a little). At minimum, please consult the government travel advisories before traveling to Mexico with kids.
Further Reading