For a summer trip to Provence, we set out to find a perfect family-friendly boutique hotel, in a perfectly quaint french village. We found what we were looking for in Lou Baou; a family run bed and breakfast in the tiny hilltop Luberon town of Goult. We could not have been more delighted with our choice. Take a peek at our one minute video, or just read on.
About Lou Baou – A Provence Boutique Hotel
Lou Baou is run by Guy and Marie Descamps. Their 3 room bed and breakfast is a 15 minute walk to the center of Goult, and just a short drive from the larger Provence villages of Gordes, Bonnieux, Menerbes, and Roussillon.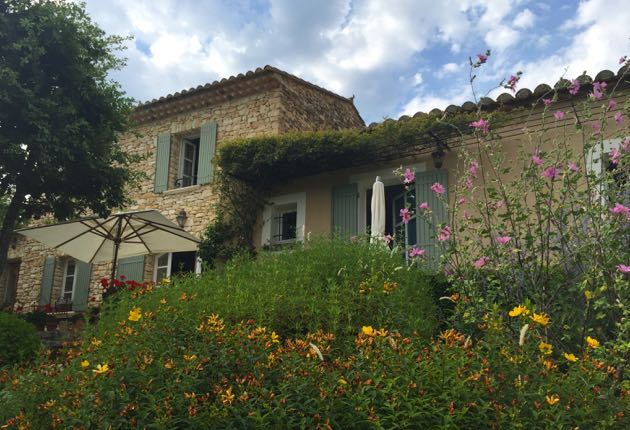 For our stay at Lou Baou with our family of four, we chose the blue room and the rose room because they opened up to form a two bedroom/two bathroom suite with a large south facing patio. While not fancy, the rooms are furnished in a cozy and personal Provence country style (including a wall filled with family photos), making you feel more like family friends than guests. Marie had even set up the blue room in a very whimsical and child-friendly way for our kids.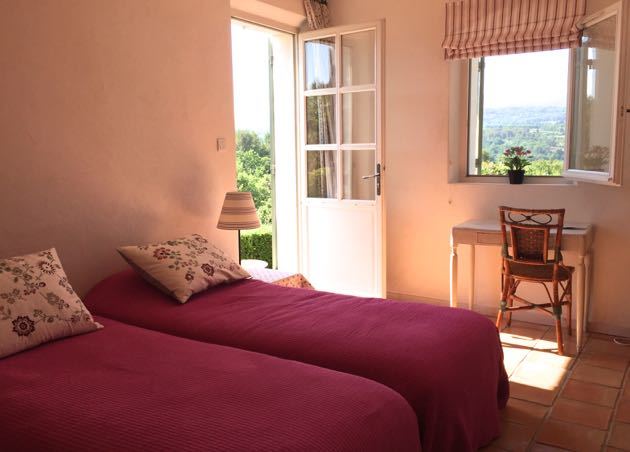 Lou Baou has a beautiful garden area (full of flowers, butterflies and lavender) and from the pool you have lovely Luberon valley view. The little garden shed is full of pool toys for the children, and even has a little fridge for storing drinks and snacks for those wishing to self cater.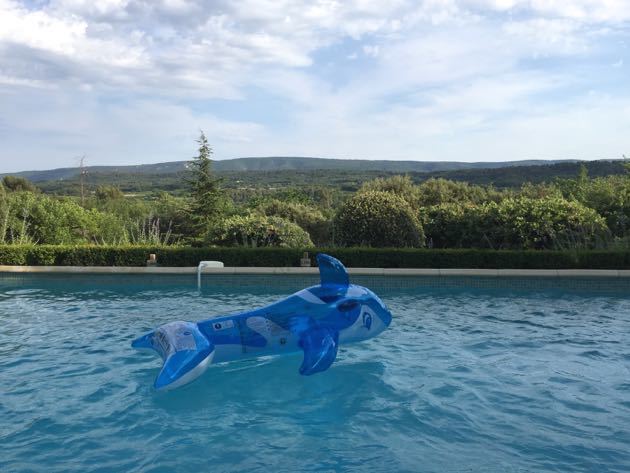 A lovely breakfast is provided including many locally sources goodies (pastries from the Goult bakery, jam and fruit from a local orchard, lavender honey from the Luberon etc). In typical french style, my children were delighted to enjoy hot chocolate with their breakfast.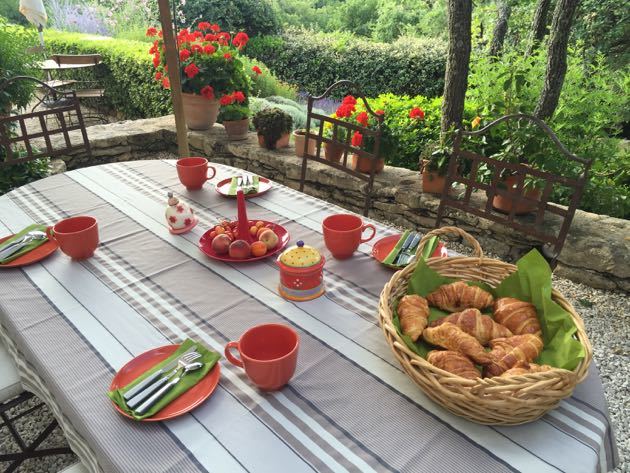 We spent our days sightseeing around Provence (see full post on Things to do in Provence with Kids), and our afternoons lounging around the Lou Baou pool. Guy and Marie put great attention into making sure we enjoyed the best of Provence, making excellent suggestions for what we should see and do. As their grandchildren often visit during the summer, they were particularly in tune to activities to be enjoyed with children.
We looked forward to our evening walks to the top of Goult to enjoy the panoramic views from the windmill and then winding back through the village streets to our chosen dinner spot in town.We enjoyed lovely meals at La Terrasse, Le Carillon and casual pizza at Cafe La Poste (actually a pub, but the pizza is delivered to your table from across the street). Even when a restaurant looked like it couldn't possibly have a kids' menu, there would usually be something offered (such as roast chicken, lamb or fish, with potatoes etc.). In such a quiet village, it was possible for our kids to walk around a little bit while waiting for dinner, which was a huge bonus as french dinners can be a little lengthy.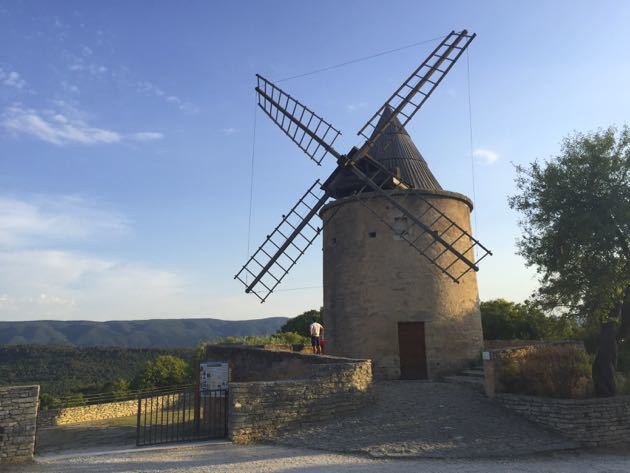 We are very happy to recommend Lou Baou to other families looking for a similar small hotel experience. Please be advised that Lou Baou welcomes families with children 5 years and up (with the pool, children should be able to swim). The hotel is about a 15 minute walk from the center of Goult (gently uphill on the way there). We only hope that there is still room for us there the next time we visit.  Thank you Marie and Guy !
For rates and information, see LouBaou.com . For Lou Baou's excellent reviews (5/5) see TripAdvisor.com
Getting to Goult: We took the TGV (Train à Grand Vitesse) from Paris to Avignon, where we picked up a rental car. As we did not plan on returning to Paris, we returned that car to the Nice airport where we flew out and continued on our travels. To save money, book your TGV tickets as early as possible (the price changes based on availability).
Disclosure: We were given a discount on our stay at Lou Baou in exchange for sharing information about their bed and breakfast on this site. All opinions about our stay are entirely our own. As always, I encourage you to read other reviews by family travelers (TripAdvisor, Google etc.), before making a booking. This post does contain affiliate links from which I do make a small income, allowing me to continue writing about travel with kids.
.
You May Also Enjoy the Following Posts:
Picnic in Paris – 5 Perfect Places
5 Things to Do in Provence with Kids
Picnic in Paris – 5 Perfect Places
12 Baby Friendly Cafés in Paris
10 Fun Places for Kids in Paris
Best Travel Strollers and Lightweight Strollers
Best Travel Cribs and Infant Bassinets