Last update: March 4th, 2022 at 10:52 am
The first time I visited Paris with my children, I skipped the Louvre all together (Gasp!). I was on my own with the kids, they were 5 and 8, and I just couldn't fathom fighting my way through the crowds to show them artwork that they probably would not yet appreciate.
Instead, I opted for short visits to smaller museums, bribing them with the promise of an ice cream cone at the end if they could hold it together for 30 minutes. (The Musée de l'Orangerie in the Tuileries Gardens is perfect for this with its beautiful collection of Monets).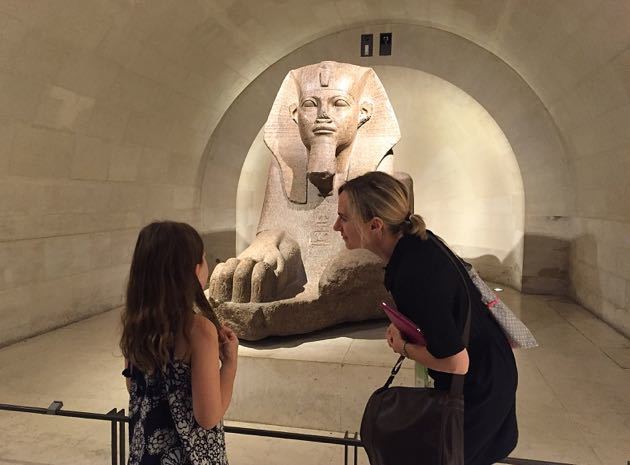 Fast forward 4 years, and my children now actually have a small amount of art history under their belts. Still, with an upcoming visit to Paris, I wasn't sure how to tackle the enormous collection of the Louvre. Even more problematic, was the fact that our time in Paris coincided with the UEFA Euro Football Championship, so the city was sure to be busier than ever.
I found my solution in Context Travel. Context offers family-friendly private tours of the Louvre (and many other Paris sights) designed to engage visitors of all ages. We chose their interactive Gods, Queens & Heroines tour, which involved seeing a small selection of master works. With our guide Isabelle, we decided to visit the Louvre on a friday night to try to beat the weekend crowds. I loved that Isabelle really understood what it was like to see a gallery with kids. Before we even attempted to get started, she made sure the kids were set (had water, had visited the restrooms) before heading deeper into the Louvre.
Take a one minute peek at our experience in this video, or just read on.
What to See on a Private Guided Louvre Tour with Kids
We began our 2.5 hour tour by learning a little bit about the building itself by visiting the moat of the original palace. We then moved to ancient Egypt and Greece, with Isabelle engaging my children with questions about Winged Victory and Venus de Milo.
Naturally, there was a stop at the Mona Lisa and then it was on to several French and Italian paintings, pausing at each for a short and interesting story. With a few minutes to spare, we finished up our tour dazzled by frescos and royal jewels.
At each piece, Isabelle would take us aside to a spot with good acoustics to tell us a bit about it. Only when she was finished, and we were armed with our newly acquired knowledge, would we approach the masterpiece. This method, proved most effective and enjoyable when faced with the overwhelmingly large and noisy crowds of the Louvre.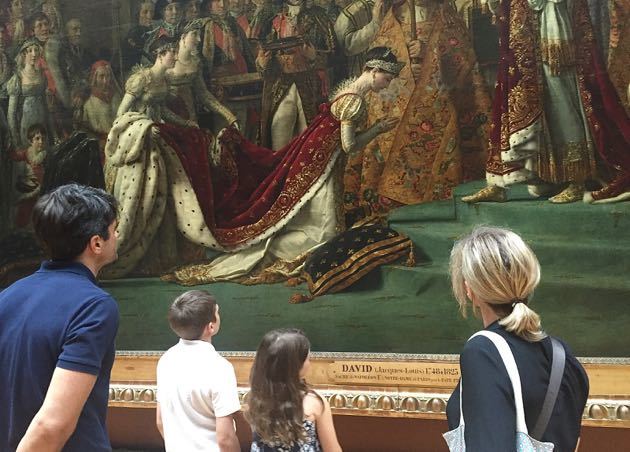 While naturally a private tour is not an inexpensive option, I think the Context Tour provides good value. I just can't imagine how our visit would have gone otherwise. We likely would have whipped through, learning very little, with the kids complaining and with me stopping every so often to hiss at them "Do you have any idea how lucky you are ?".
Advice for Visiting the Louvre with Kids
Although we chose to visit the Louvre in the evening because we were trying to avoid weekend crowds, I might suggest a morning visit instead. By the time of our tour, we had already had a long travel day, and despite their best efforts, my kids were fading by the end. If we had had more time in Paris, I would have booked a tour early in the morning.
How Much Does a Private Tour of the Louvre Cost?
A private family tour starts at about $515 USD (admission tickets are extra).
Does Context Travel Offer Other Tours of Paris for Families?
Yes ! Context Travel offers many different Paris Tours including Notre Dame and Gothic Paris, Montmartre for Famlies, Versailles for Families and more ! To learn more, please see the Context Travel site.
Disclosure: Our family was kindly offered a complimentary tour from Context Travel. All opinions and the content of this post are entirely my own. Should you choose to book a tour using my link, I do receive a small affiliate commission which helps me to keep on writing about travel with kids.
You May Also Enjoy the Following Posts: