Last update: September 8th, 2022 at 09:19 am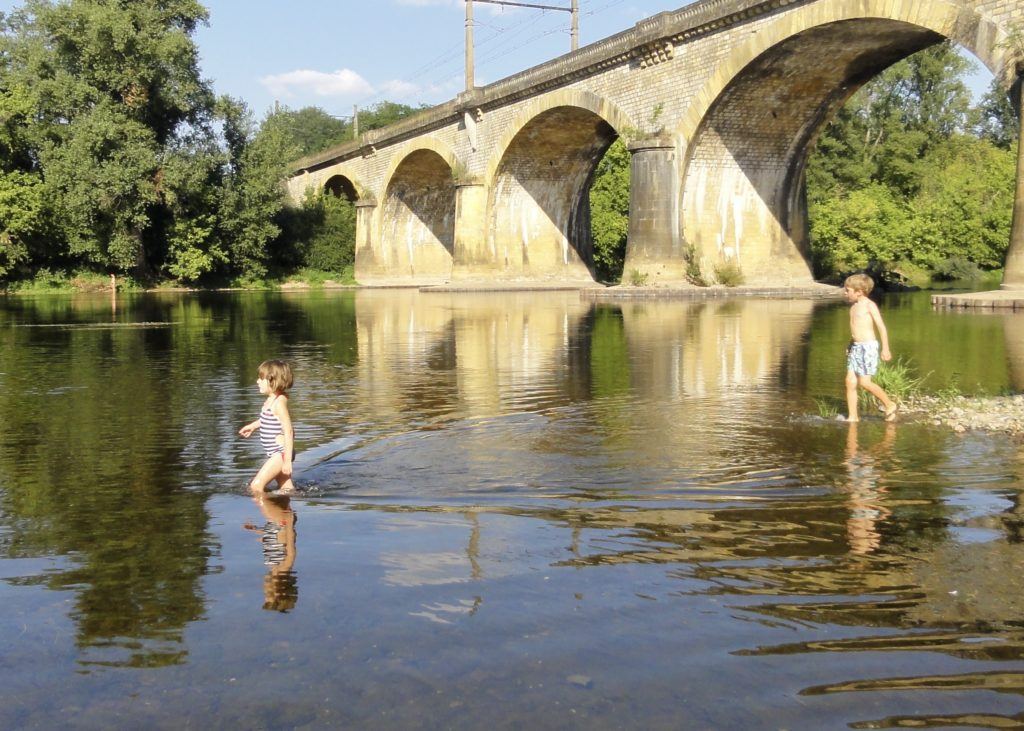 Affiliate Disclosure: This post contains links from which Pint Size Pilot may receive a small commission if you choose to make a purchase.
A Dordogne Family Holiday
"I hope I don't hurt your feelings mom, but I like the Dordogne better than Paris. We can run around and there's way more nature."
Spoken like a true 8 year old. I can't say I blamed him. After a week of trying to see all the best things in to do in Paris with kids, even I needed to relax and let my hair down a little. I was also looking forward to some adult company on a Dordogne family holiday that would include meeting up with my parents and my pre-teen nieces (or shall I say – my babysitters).
Are you looking for some great days out in the Dordogne? In the following post, I share some of the places we enjoyed most on our one week sojourn. Please use the following menu to quickly find what you need to know about visiting the Dordogne.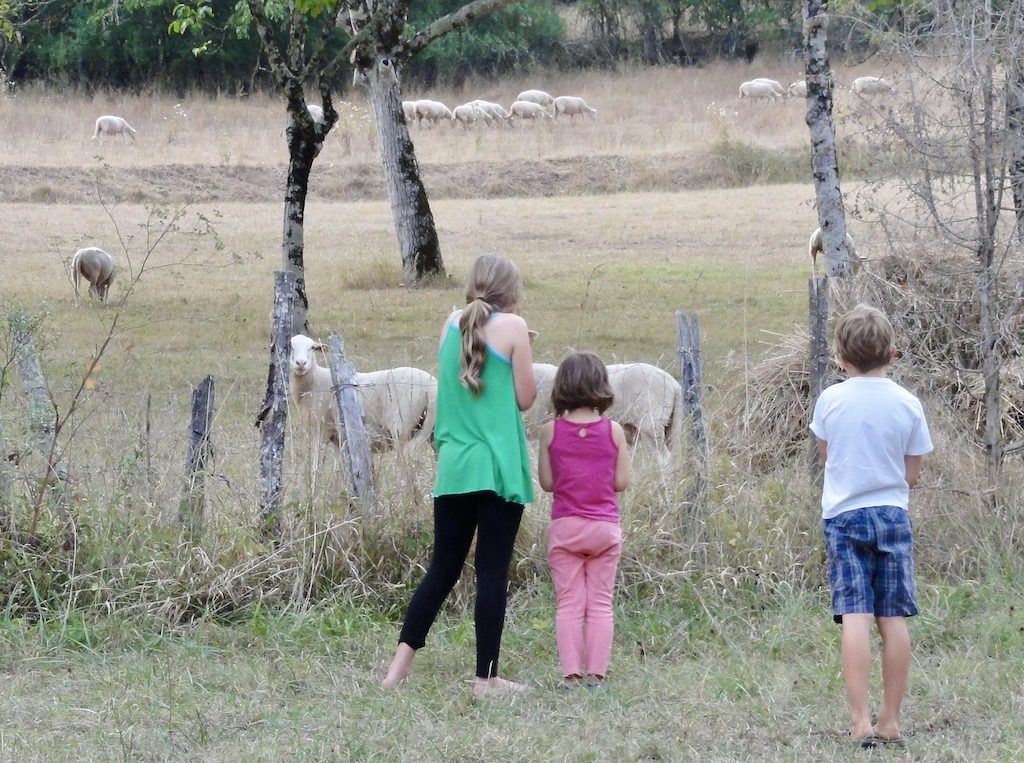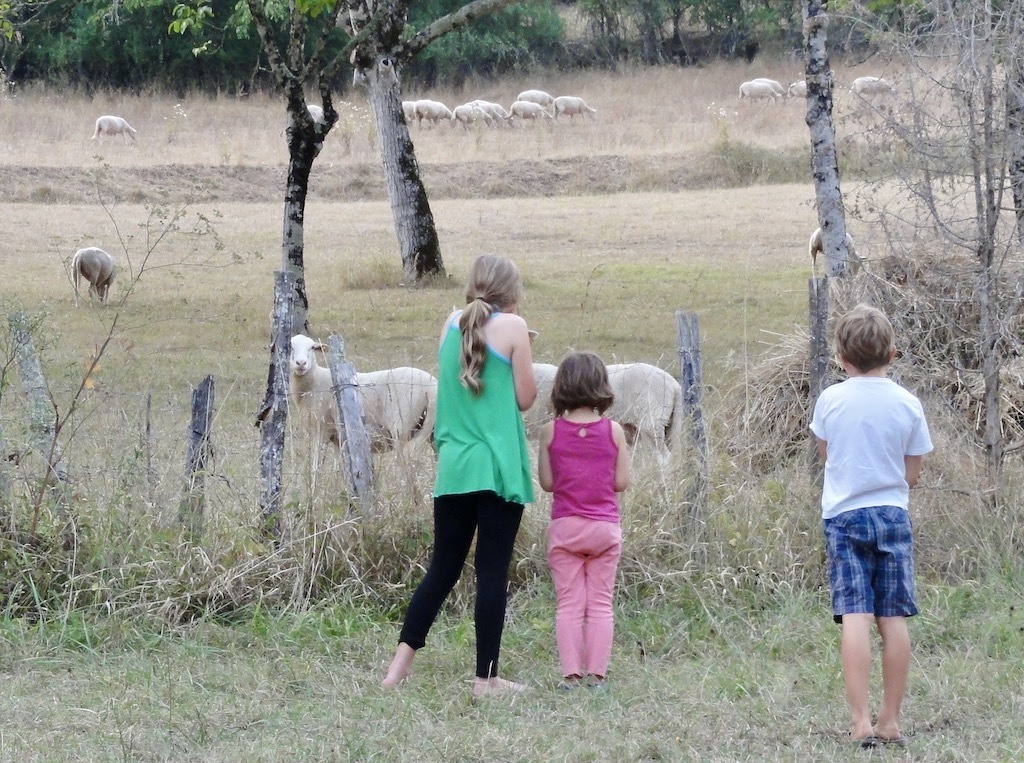 Why Visit the Dordogne with Kids?
The Dordogne River Valley in southwest France is a pastoral paradise with picturesque villages and fairytale castles built into limestone cliffs. The area is well known for its incredible caves and prehistoric cave paintings which are sure to delight if you are planning a visit to the Dordogne with children.
Foodies will love the farm to table culinary delights available on village market days. In fact, you might later find yourself dreaming of picnics under walnut trees with fresh pain de campagne, fois gras, local cheese, sausage, and wild strawberries – all washed down with a sumptuous glass of Bordeaux. What could be better?

Things to do in the Dordogne with Kids
This list by no means covers everything there is to do in the region as a family. There is so much more available in the Dordogne for kids – these, however, were our favourites.
1. Swimming in the Dordogne River
Anytime I asked a local villager where to find a good place to swim in the river, they would simply point directly at it. Apparently, there were a lot of good spots, or at there were when we visited in late August when the river flowed very slowly.
My kids spent hours in the refreshing water, looking up only occasionally as a canoe or family of ducks floated by. What's even better about this activity? It's free (very nice after a week in pricey Paris).
See also these top spots to swim in the Dordogne River.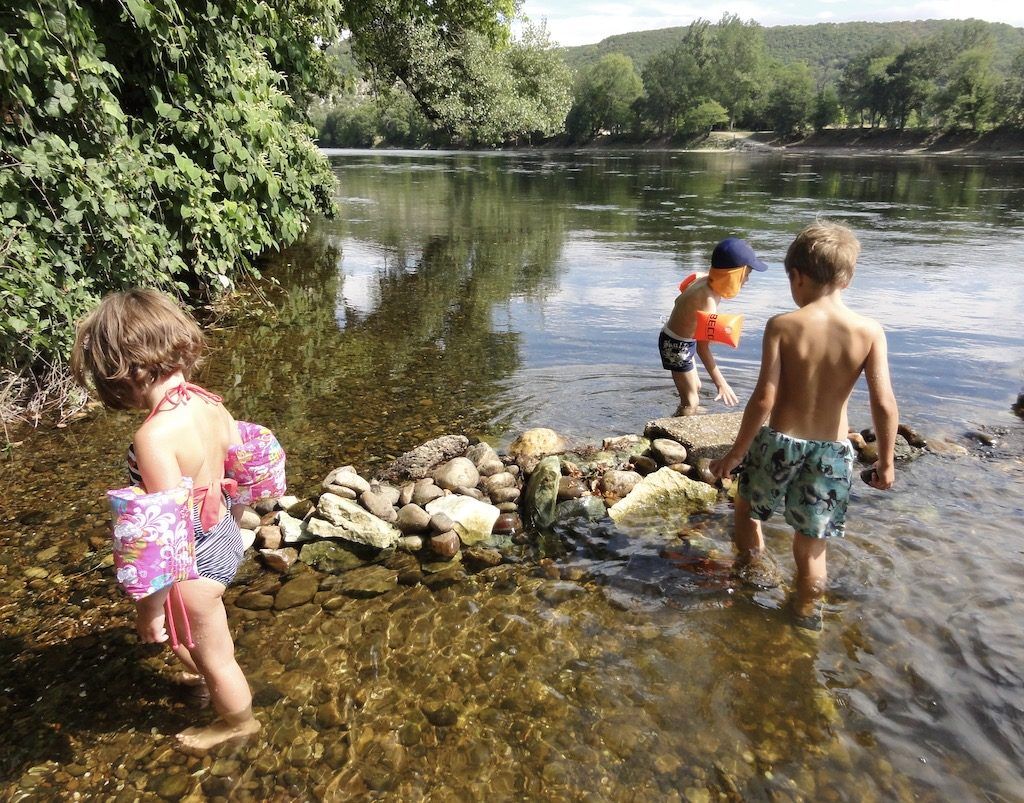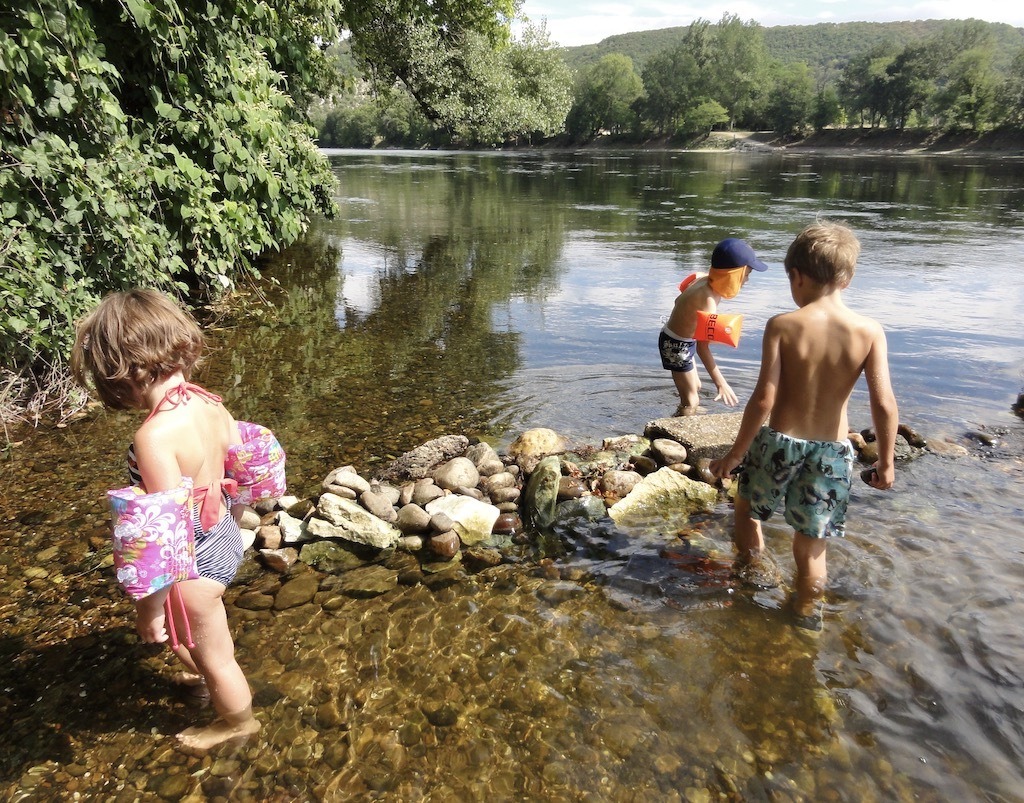 2. Canoeing on the Dordogne River
If you want to combine your Dordogne family holidays with an active pursuit, a canoe trip along the Dordogne River makes for a great option. There are many companies that offer canoe trips in this region ranging from as little as one hour to multi-day adventures, depending on your departure point.
We chose to do the route from Vitrac to Beynac that can be done in 3 hours but it took us closer to 4 including transport to the canoes and a picnic stop. The company we used provided child-size life jackets and a water-tight barrel to put our stuff in.
The water levels were quite low (typical for August) so the current really didn't help us along much. My kids also didn't turn out to be the most engaged paddlers in the world. Still, I think it is a quintessential activity in the Dordogne for families as you get to see so many little villages and castles along the way.
See reviews and options for companies offering Dordogne canoe trips on TripAdvisor.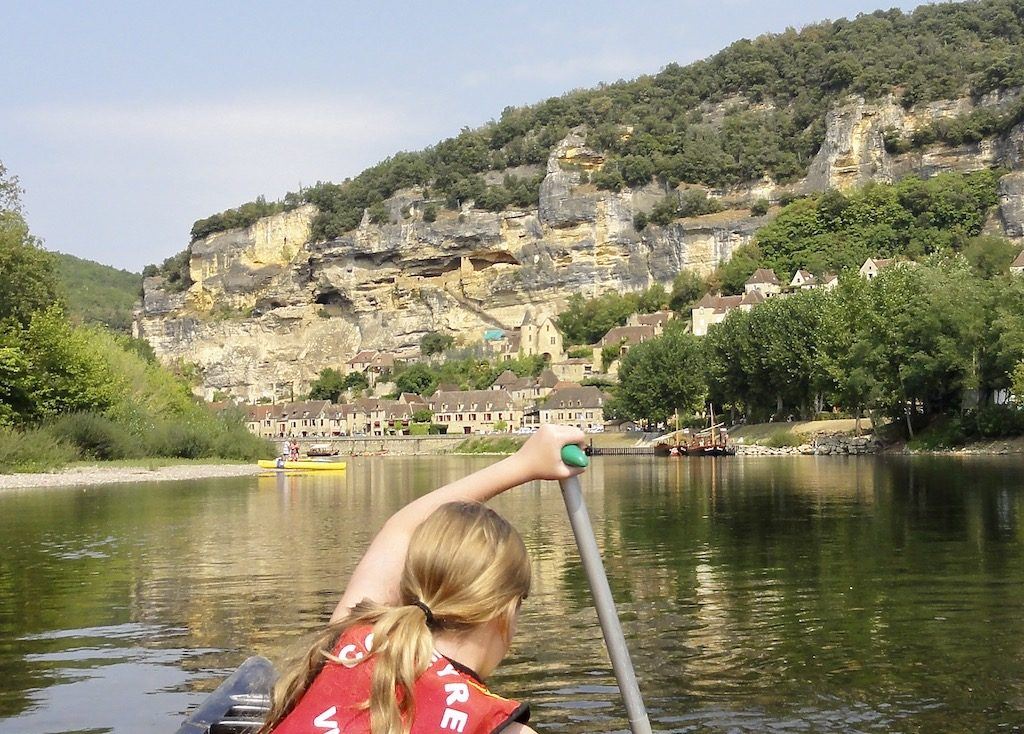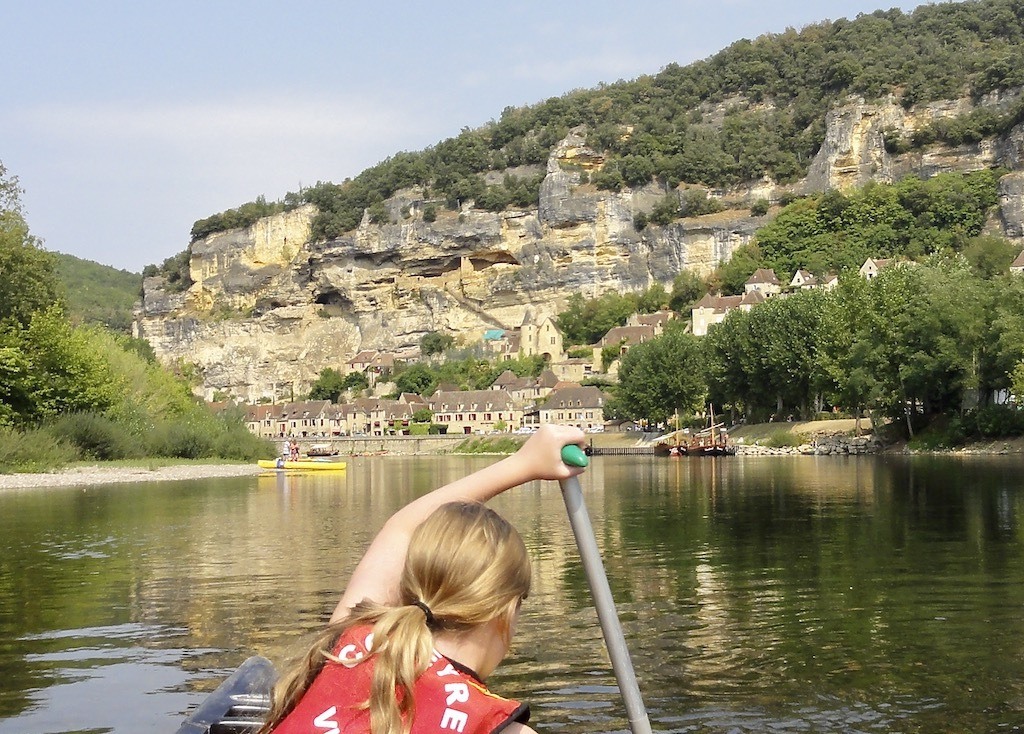 3. Dordogne Castles with Kids
Pick a castle, any castle! It almost seems as if around every bend in the road or the river, there is another castle or chateau towering over you in the Dordogne.
Our favorite was Chateau de Castlenaud. It has everything a child is dying to see including knights in armor, catapult demonstrations, gelato stands, a cute little store well stocked with books and costumes, and gorgeous views of the Dordogne River Valley.
Also worth visiting is Chateau de Beynac. As two castles in one day might be too much for little ones Chateau de Beynac could be combined on another day with a visit to the famed Jardins de Marqueyssac.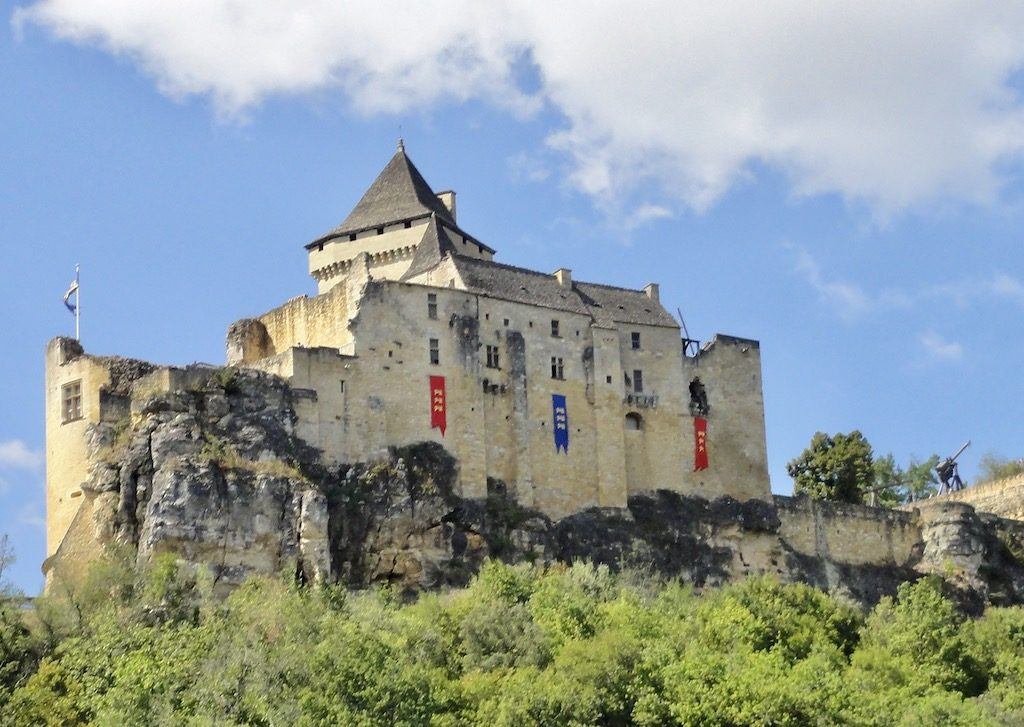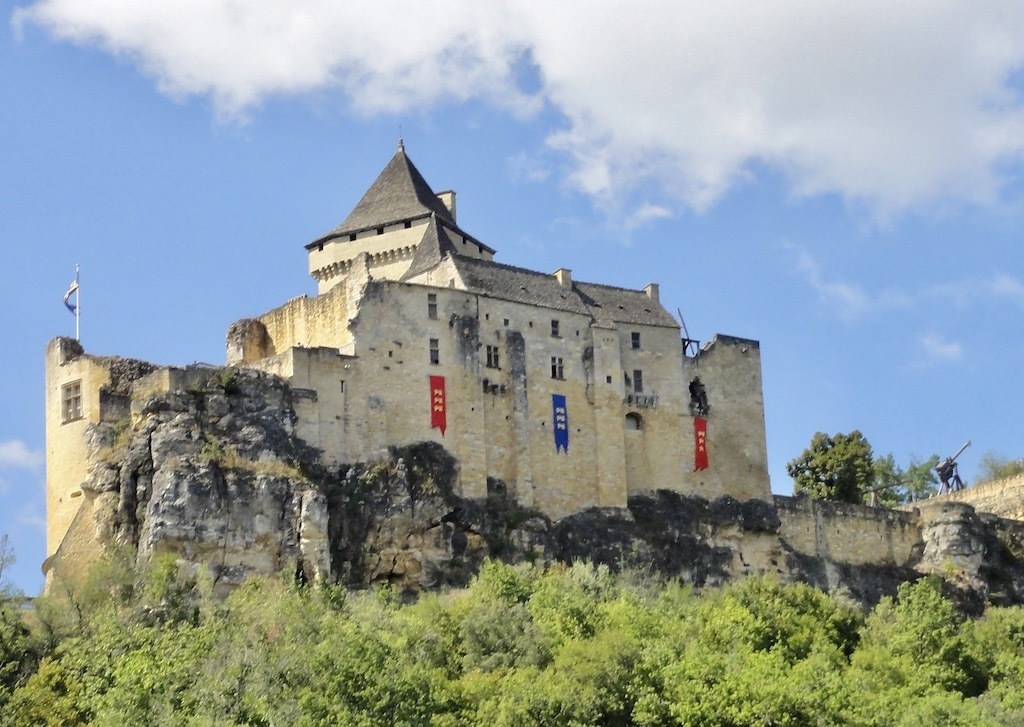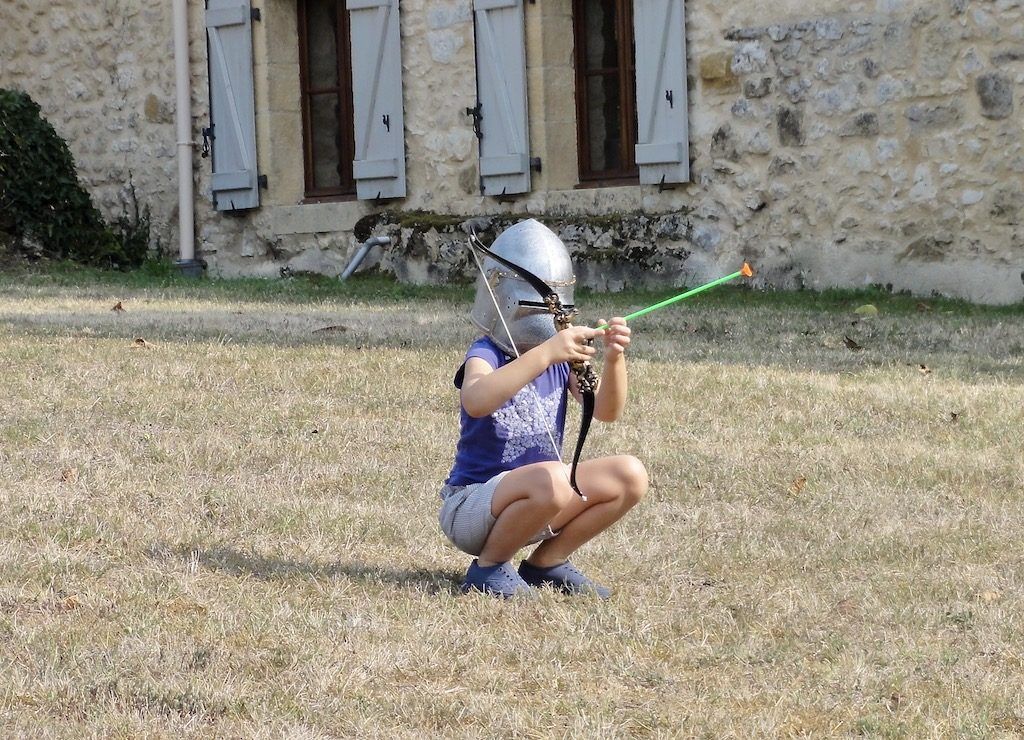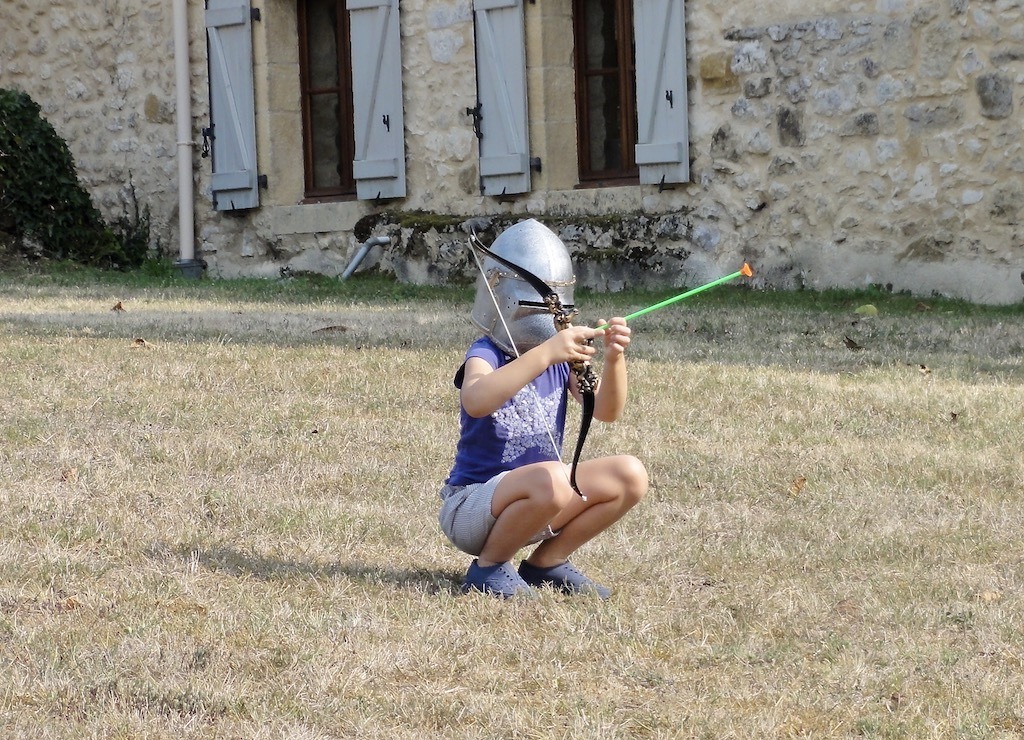 4. Les Jardins de Marqueyssac
Les Jardins de Marqueyssac are a wonderful place to explore with kids. These beautiful gardens have several games areas for children and a wonderful boxwood maze. During the summer months, they also host an evening where you can tour the gardens lit by candlelight to the soothing sounds of classical music.
Please check the events calendar for more entertainment options at Marqueyssac. How I would love to be there for their spring Easter egg hunt!
5. Dordogne Cave Tours
There are many options for the viewing of prehistoric cave paintings and drawings in this region. We chose to visit Les Grottes de Rouffignac since they seemed to be the most kid-friendly. Les Grottes de Rouffignac offers short tours via a 20 minute electric train ride, which is sure to keep most children entertained.
A more thorough 45 minute tour can be found at Les Grottes de Font-de-Gaume. The difficulty with Font-de-Gaume, however, is that they only allow around 100 people to tour the caves daily. You can either try to reserve ahead (months in advance in summer to guarantee a place) at [email protected], or arrive early the day of to wait in line for the few remaining tickets.
Also very popular are the Caves of Lascaux for kids. The drawings and paintings depicted at this attraction are a recreation of the original Grotte de Lascaux (situated 200 meters away), that was closed to the public in 1963 due to deterioration caused by too many visitors. Learn more at Lascaux IV or read reviews on TripAdvisor.
6. Reserve Zoologique de Calviac
Reserve Zoologique de Calviac is a wonderful facility that strikes just the right balance between animal preservation and education/interaction for visitors. Our visit coincided with feeding time where a kindly zoo keeper let us tag along to watch the excitement. The visit was a huge hit with children and adults alike in our party.
Learn more at reserve-calviac.org or read reviews on TripAdvisor.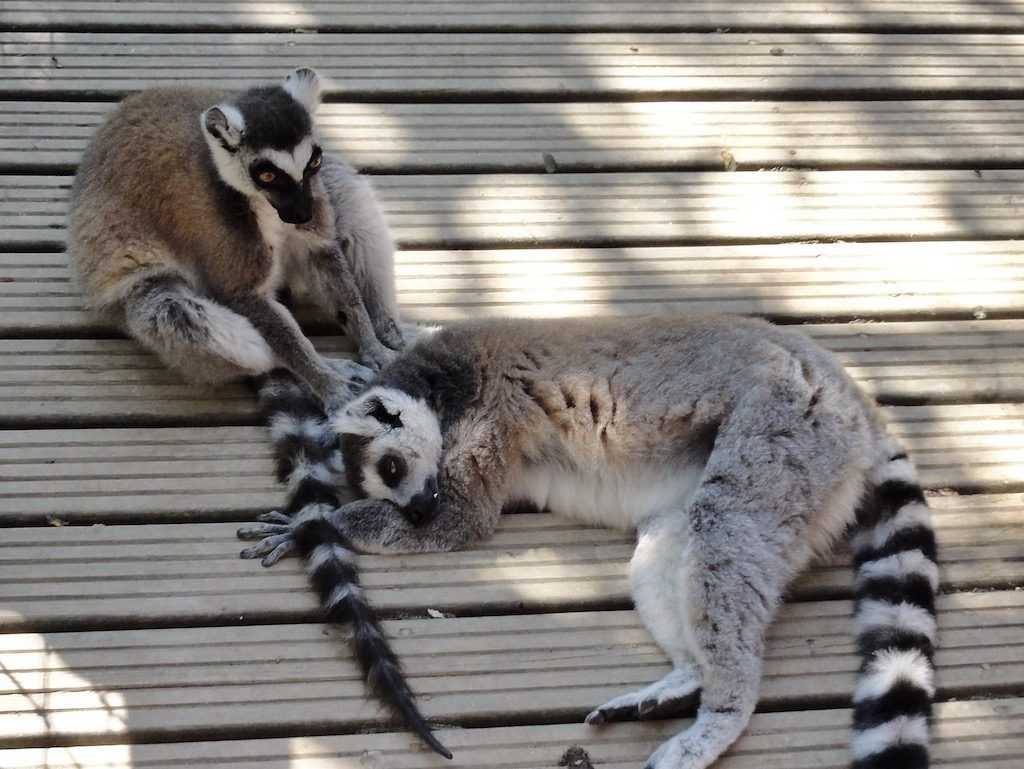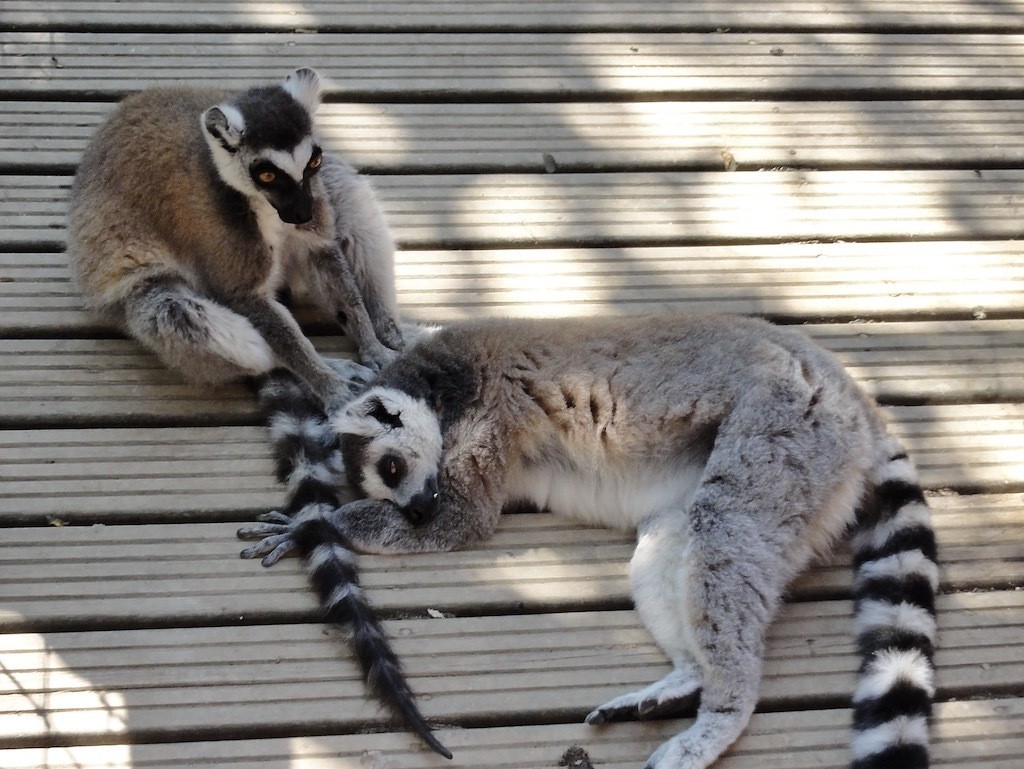 Dordogne Family Vacation Rentals
There are many options for Dordogne family vacation rentals including hundreds of listings on sites like VRBO. We absolutely loved the farmhouse we rented for our large family group. After a morning of exploring, the kids would play in the giant yard, while we adults relaxed under the shade of a walnut tree nibbling on local treats and drinking chilled rosé.
Dordogne Vacation Rental Tips
Attractions in the Dordogne are quite spread out (you'll want a rental car). Try to find a base that is central to the key places you would like to visit.
A location within walking distance of a charming village is a nice benefit (especially for market days).
Book early for summer months. The best places disappear quickly.
A pool can be a very desirable amenity after a long day of exploring during the summer months. (I know…because we didn't have one.)
Don't try to do everything yourself. Your Dordogne vacation rental host can often help you to arrange laundry services, a chef and more. Alternatively, check out these top rated Dordogne hotels on Booking.com.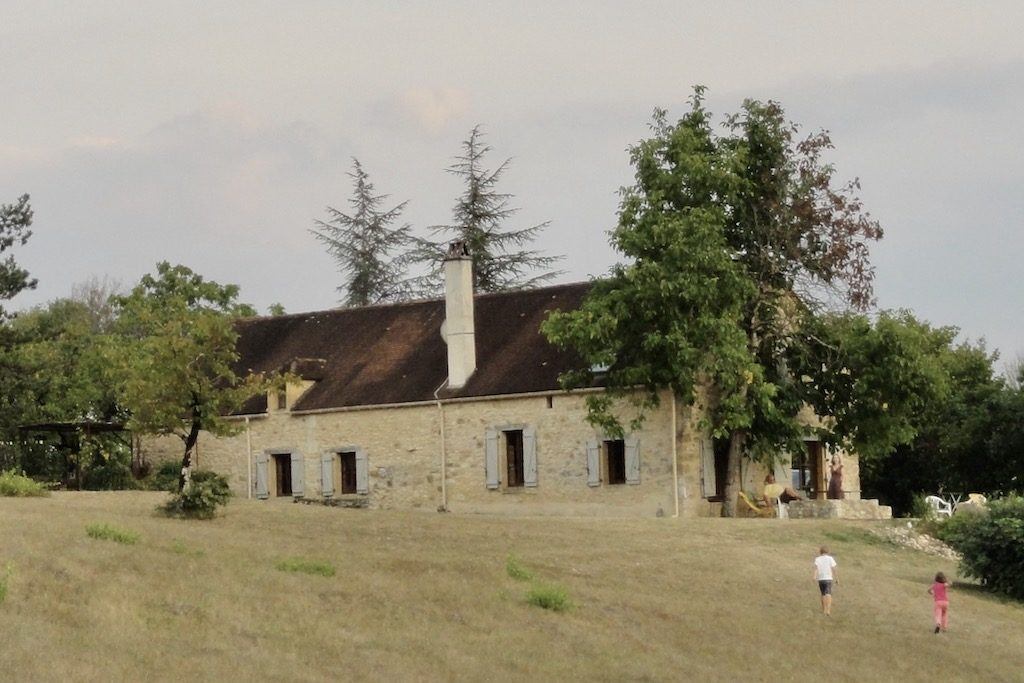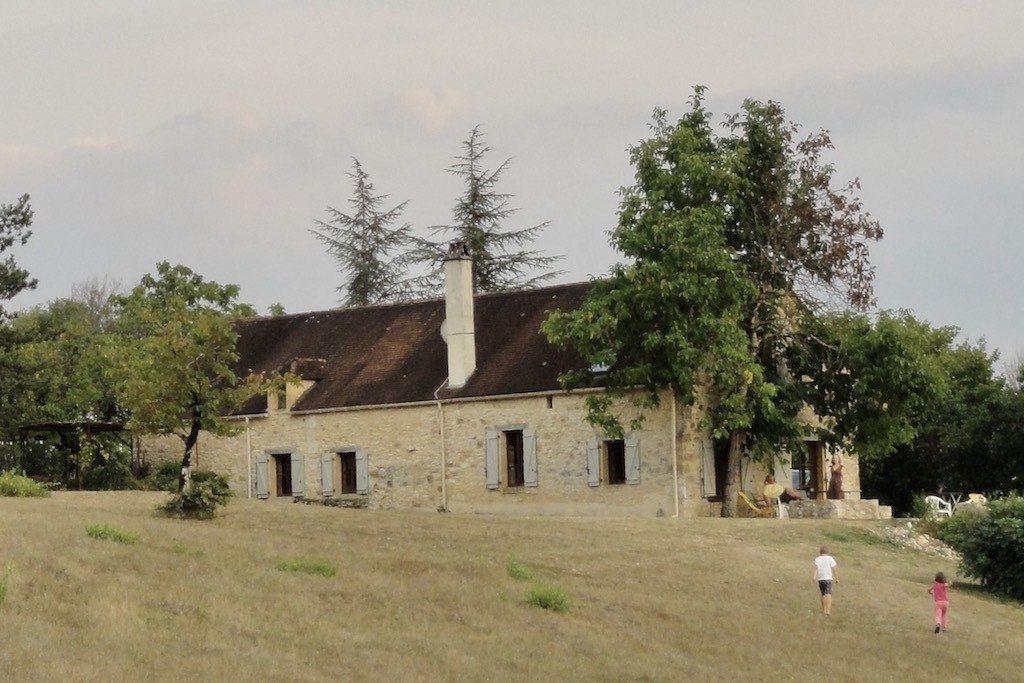 Helpful Links
Further Reading