Last update: January 14th, 2022 at 04:40 pm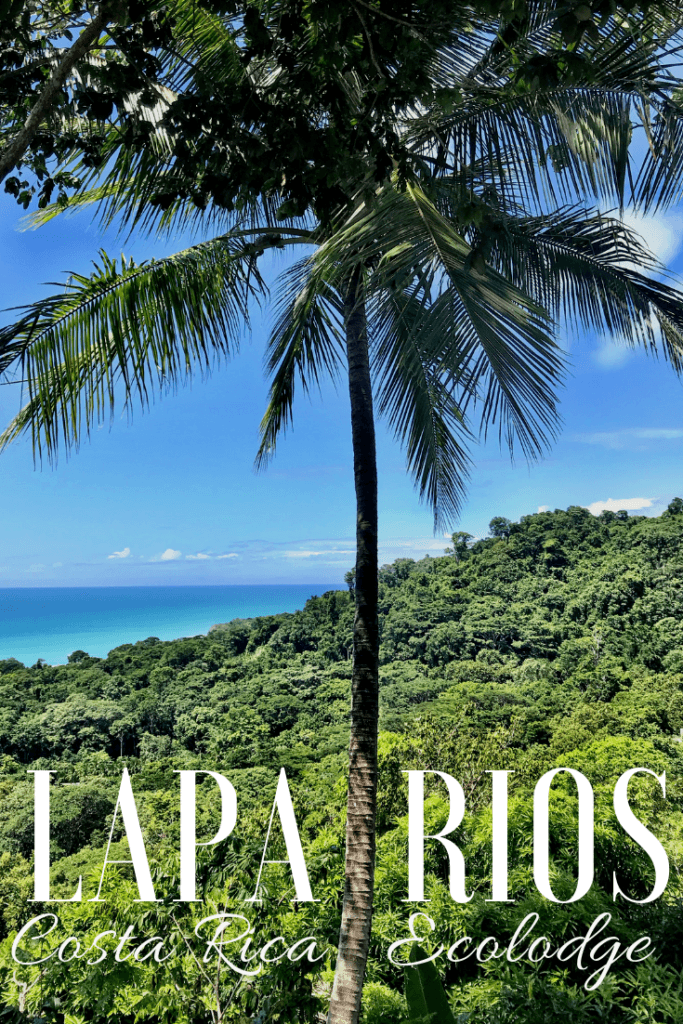 Lapa Rios Ecolodge
Will travel for exceptional wildlife experiences!
In our family, dream vacation activities include rising before dawn in the Amazon to watch parrots feeding on a clay lick or leaping over the side of a boat to snorkel with baby sea lions. For this reason, when planning a family trip to Costa Rica, we knew that the Osa Peninsula, home to over half the species found in Costa Rica, would be a perfect fit for us.
Our Costa Rica family adventure vacation was also very much encouraged by my husband. He had visited the Osa Peninsula many years earlier as a backpacker and longed to share it with the rest of us. Back then, the accommodation options were rather rudimentary (a tent camp on the beach). For this trip, however, we were looking for something a little more deluxe. We quickly honed in on one of Costa Rica's top luxury eco resorts, Lapa Rios.
Please read on to learn all about our Lapa Rios eco lodge adventure. In a hurry? Please check out our 3 minute Lapa Rios video first. If nothing else, you should watch it for the baby monkey at about 1:30.
Lapa Rios Video
About Lapa Rios
The name Lapa Rios means River of Scarlet Macaws. It was named for the beautiful birds that filled the sky when Americans John and Karen Lewis first visited the property in the seventies. The former Peace Corps volunteers set out to protect this treasured ecosystem by buying up over 1000 acres of land.
In 2019, Lapa Rios was purchased by the owners of Pacuare Lodge, another very special Costa Rica luxury eco lodge. Having also had the pleasure of visiting Pacuare on this trip, I can't imagine more appropriate stewards of the land.
The Lapa Rios compound includes 17 bungalows, an impressive lodge and a community school. All of these are tucked away into the landscape – running from a mountaintop to the sea. Lapa Rios is a charter member of National Geographic's Unique Lodges of the World ™ (as is Pacuare).
For those looking for a Costa Rica family adventure vacation package or a couples getaway, Lapa Rios is a great option. The experience is all-inclusive so you will not have any big surprises at the end. A stay includes 3 à la carte meals a day, snacks, non-alcoholic drinks, guided tours and Puerto Jimenez Airport transfers. Lapa Rios is most suitable for children 6 and above due to the nature of the landscape and tours.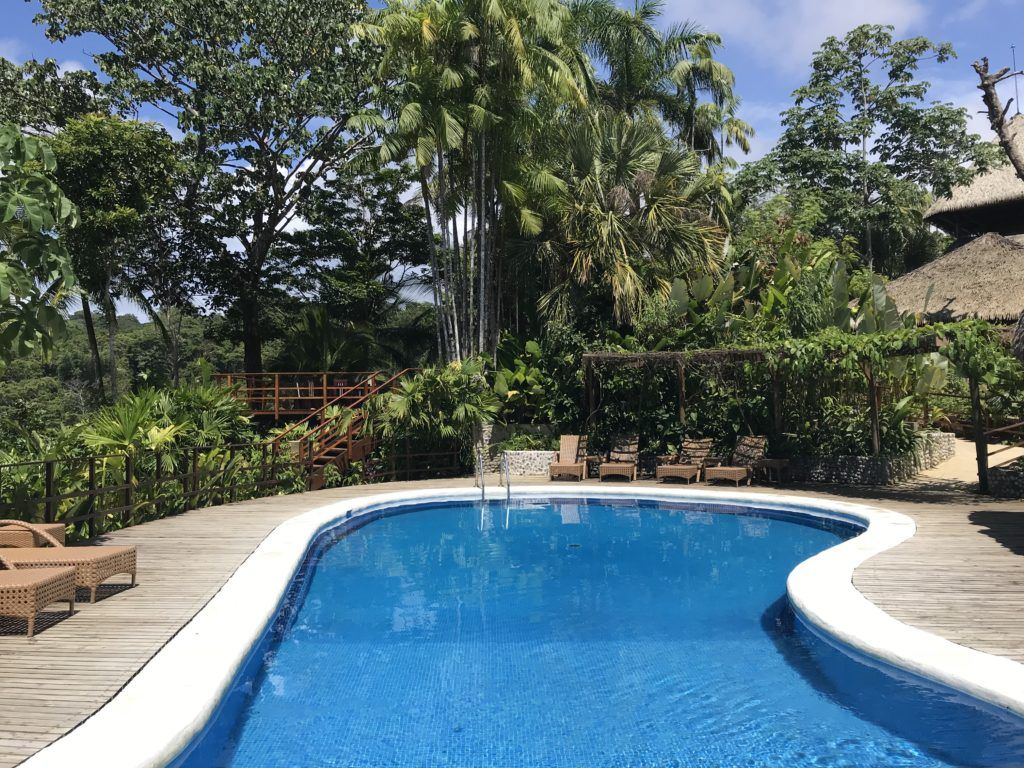 Lapa Rios Bungalows
Lapa Rios allows you to experience the most of indoor-outdoor living with their fully screened luxury bungalows. Guests can enjoy the sights and sounds of the jungle right from their beautiful canopy-netted bed, or while relaxing in a hammock on the deck.
In keeping with their sustainability practices, toiletries are all eco-friendly and are available at both the indoor and outdoor rain showers. As I write this, I can't help but think of my daughter excitedly shouting to me from the outdoor shower "Mom ! There is a toucan in the tree right above me!"
Turndown service includes a nightly treat or gift – something my kids would rush back after dinner to find. For me, the best part of our stay was the 6am coffee/tea/hot chocolate delivery, quietly left outside our door. The jungle comes alive at dawn and I cannot oversell the experience of sitting on our deck, listening to the haunting calls of howler monkeys in the distance.
Note: There are 17 bungalows at Lapa Rios. The higher the number, the further the bungalow is from the main lodge. We were in unit 10 which meant a little uphill walk to the pool and meals in the main lodge. This was fine for us as we appreciated the exercise and also enjoyed all the wildlife we would see along the way.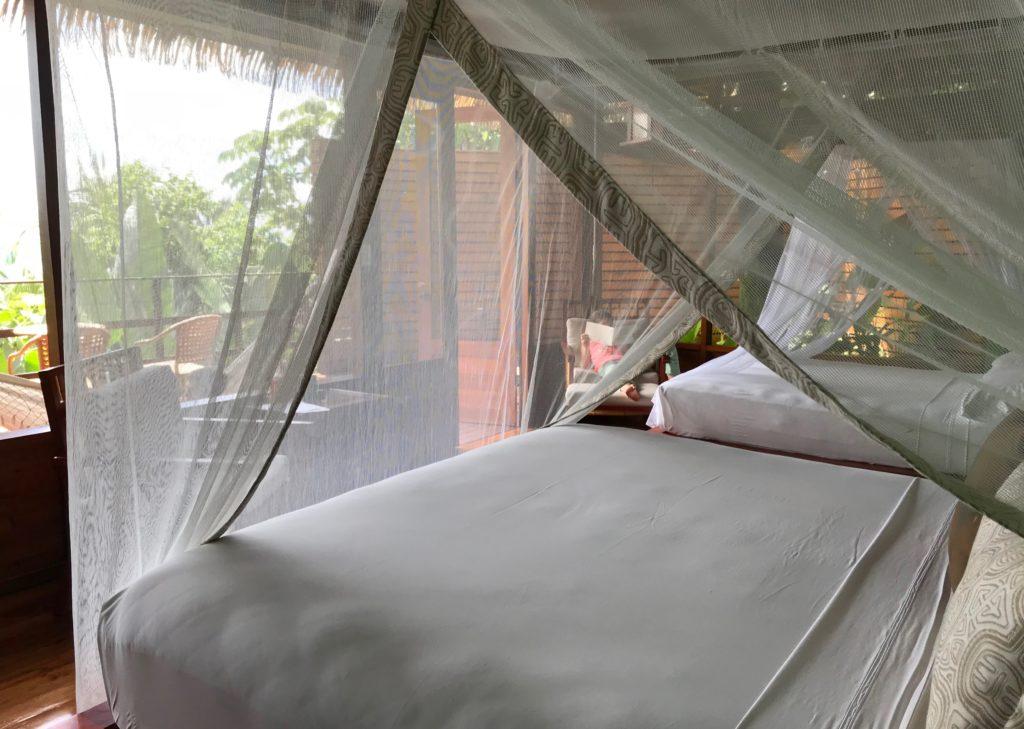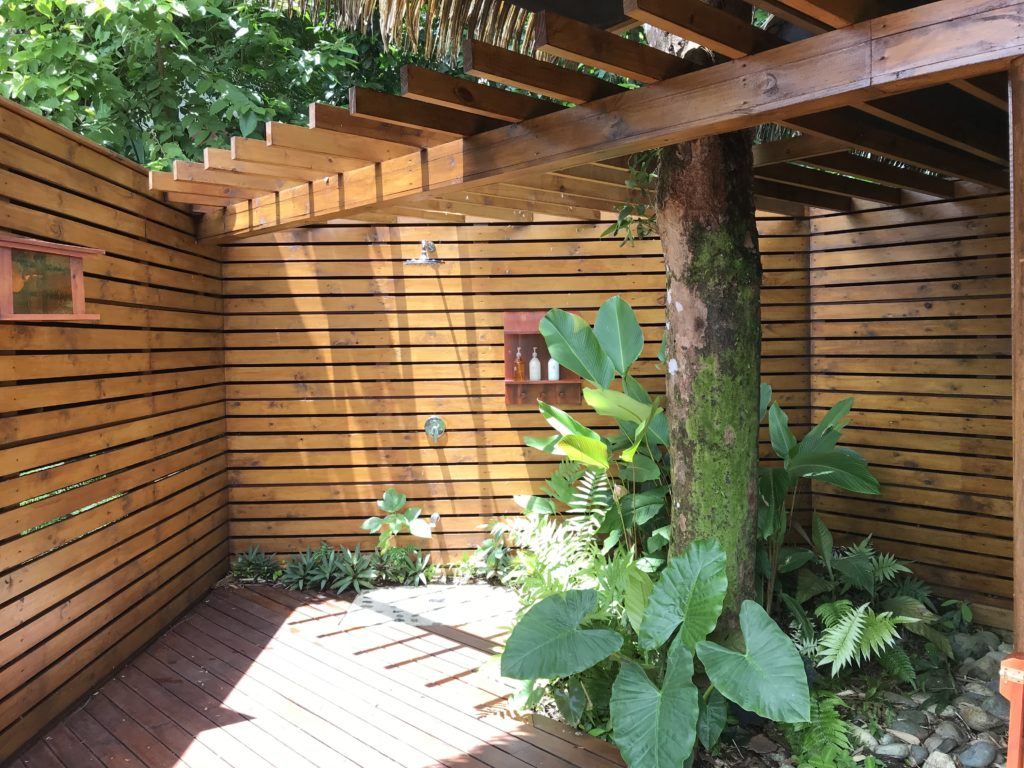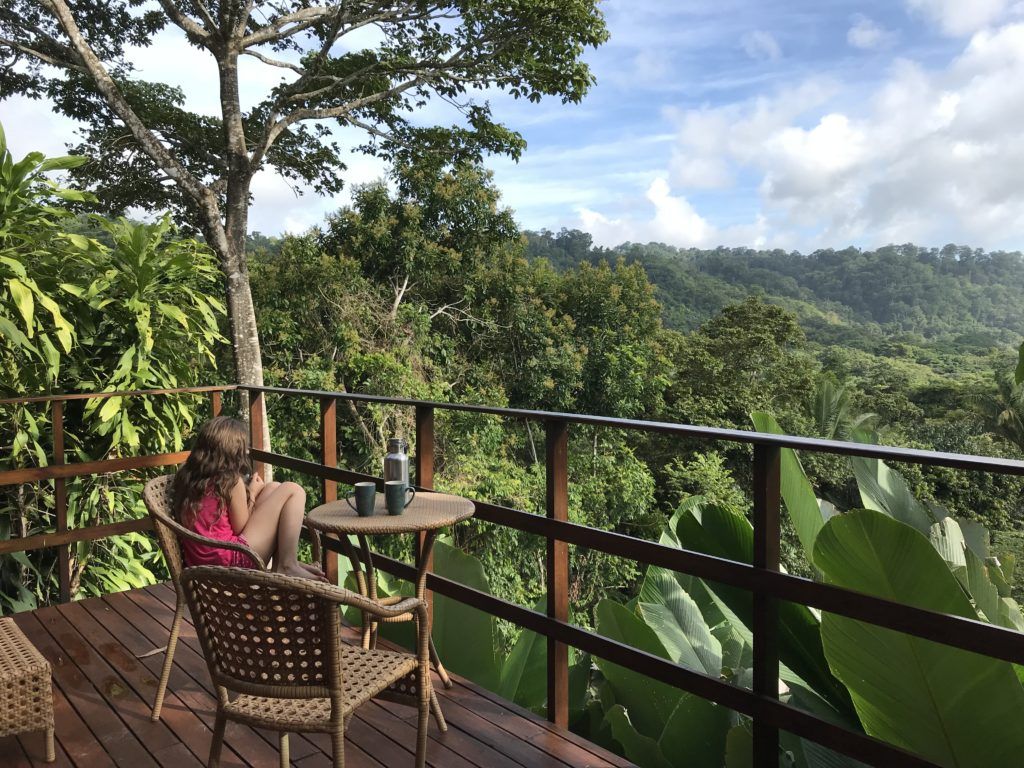 Lapa Rios Amenities
The immediate grounds of Lapa Rios are simply lovely and include a large main lodge. The covered dining room has several beautiful decks overlooking the jungle and beyond to the ocean. There is also a gorgeous pool area, a yoga studio, and a little wifi hut (that we fondly referred to as the wifi cafe).
From our travel experience, it is not a given that you will find a pool at a jungle lodge. I had forgotten how important this can be for kids. Mine were in it almost every spare moment, and when they weren't in it, they were exploring around it. There were monkeys in the trees, iguanas in the bushes, and at night, toads that congregated around it.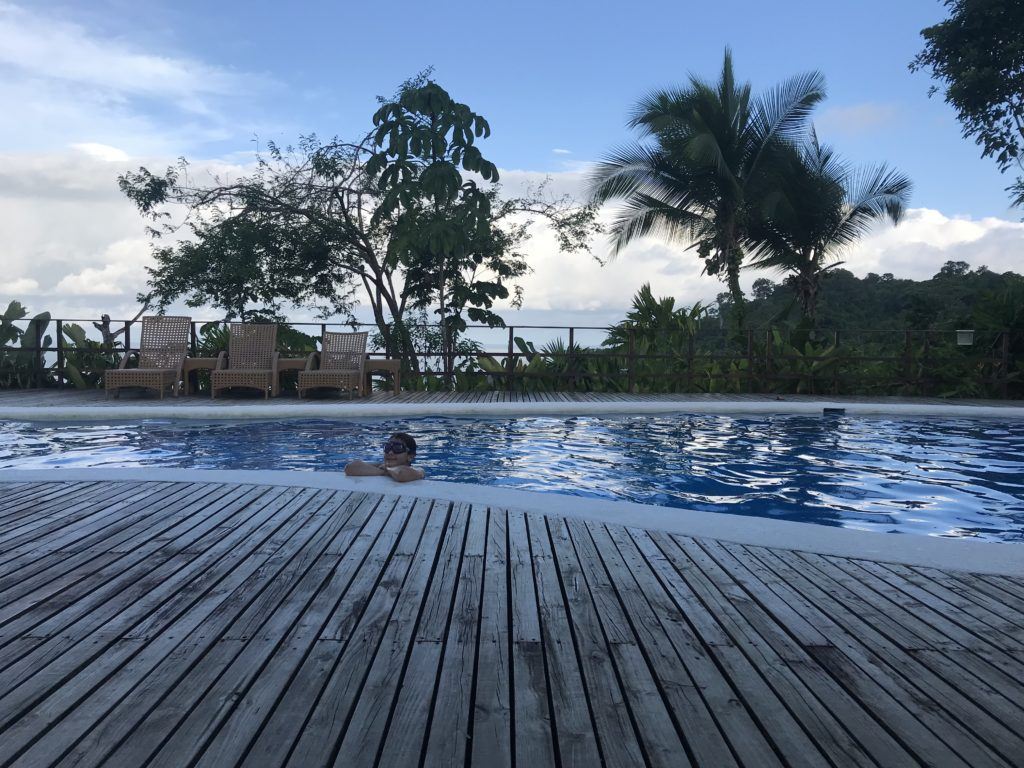 Activities and Excursions
A stay at Lapa Rios includes a wide range of tours and activities suitable for varying fitness levels and interests. As we were visiting Lapa Rios with kids, we started with the Pigs and Twigs sustainability tour. This tour involved a visit to the organic gardens and the resident pigs (who help out at the lodge by eating the vegetable food scraps). In the following days, we enjoyed a waterfall walk, beach-combing and swimming in the bay below the lodge. We especially loved hiking the Osa Trail with the fabulous guide Edwin who's worked at Lapa Rios for 20+ years!
Our activities weren't limited to the rainforest of course. We also took in an early morning family yoga session and a private Spanish lesson. Another highlight was a night tour of the rainforest to see all kinds of creatures that typically hide during the day. The common element in all the tours, however, was the abundance of wildlife present and the incredibly knowledgeable guides. Check out the full list of Lapa Rios Activities and Tours.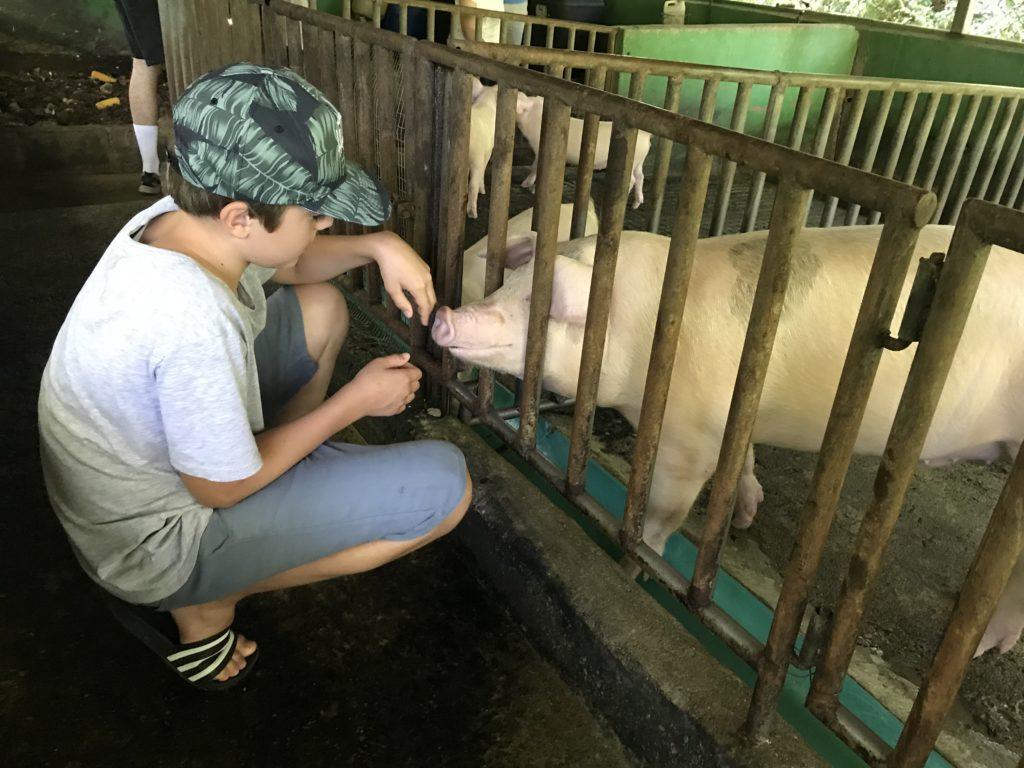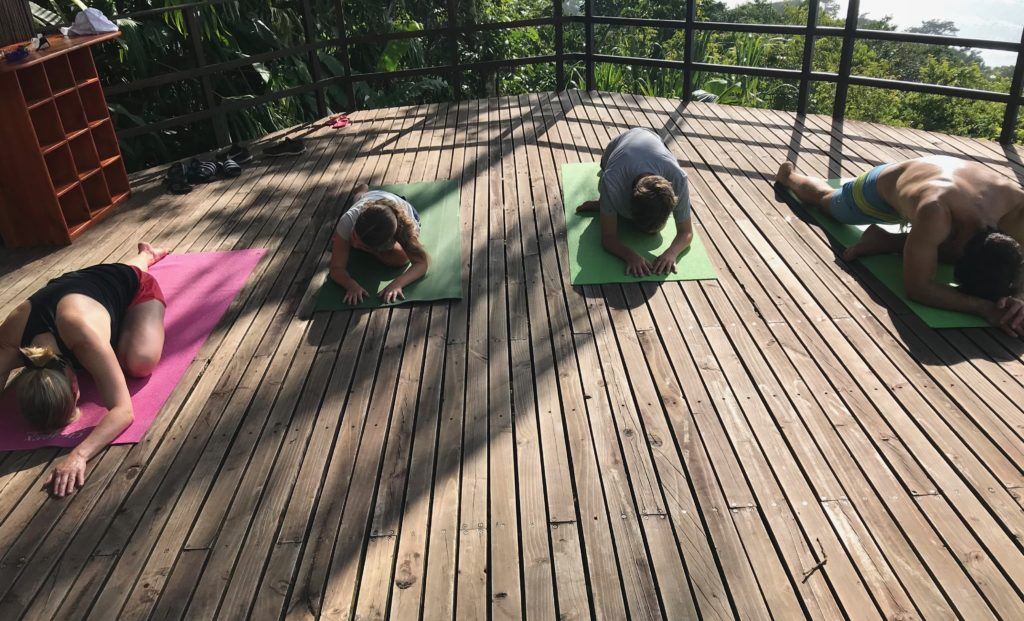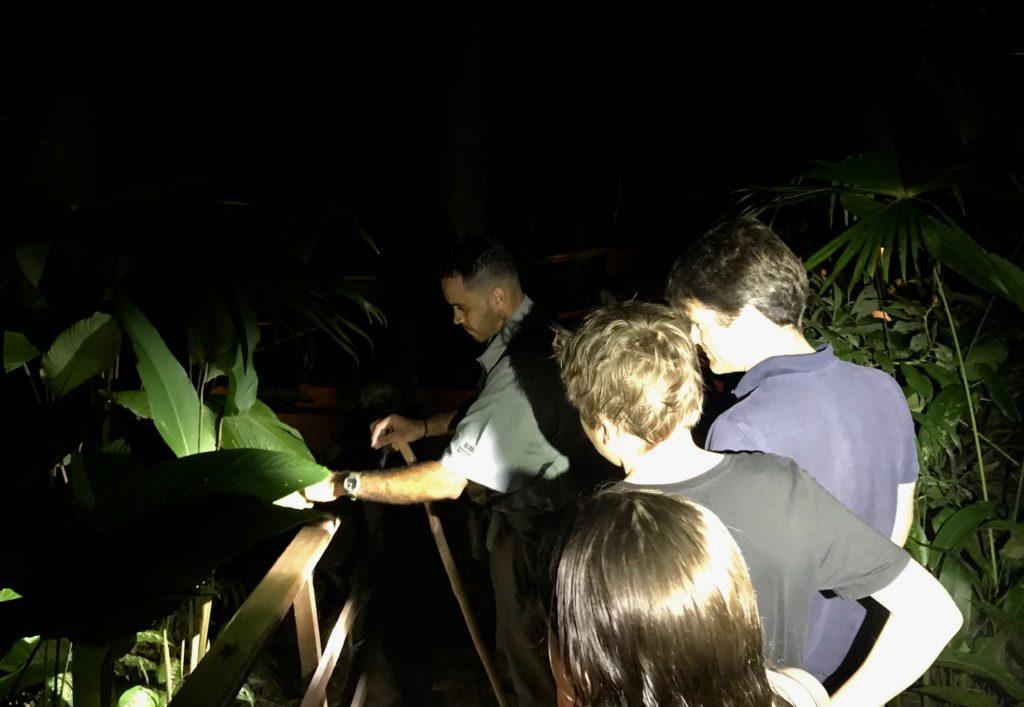 What Makes Lapa Rios Special
As a family, we have been lucky enough to visit some of the best jungle lodges in Central America. While they have all provided wonderful experiences, we noted several things that were very unique and exceptional at Lapa Rios.
1. If you are specifically wanting to see wildlife at a relatively close range, Lapa Rios was amazing. For example, prior to this trip, we had only ever seen toucans at a distance through binoculars. At Lapa Rios, we saw them almost every day in trees all around the property (at quite a close range). We also saw many scarlet macaws, squirrel monkeys, white-faced monkeys, iguanas, toads, and frogs.
Although we missed it, some lucky guests even had a sloth hanging out in a tree right by their deck. Part of the abundance of wildlife would certainly have to do with the fact that we traveled to Costa Rica in rainy season when food is plentiful. Even so, the Osa Peninsula is very special in this way. As one guest put it, all you needed to do was stay put for a moment and look around.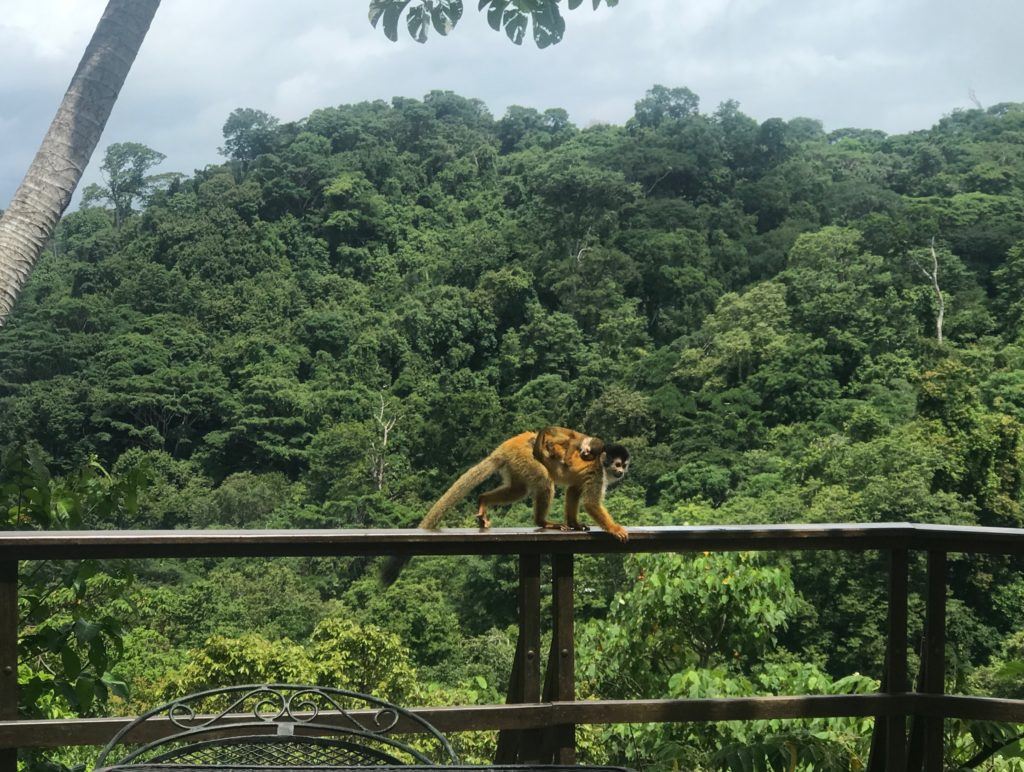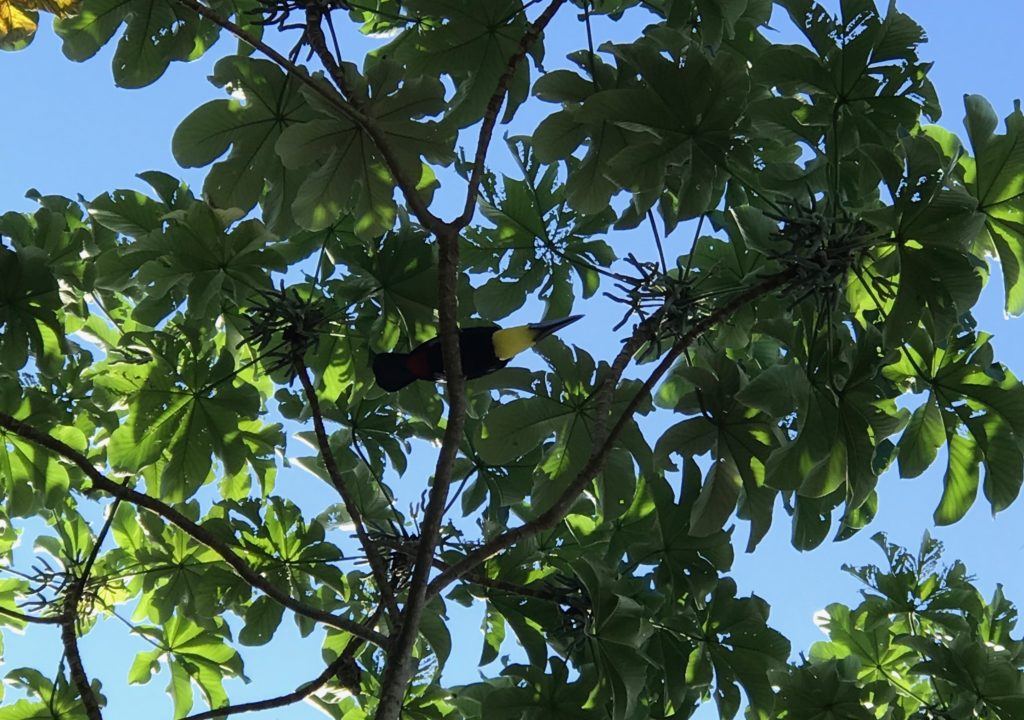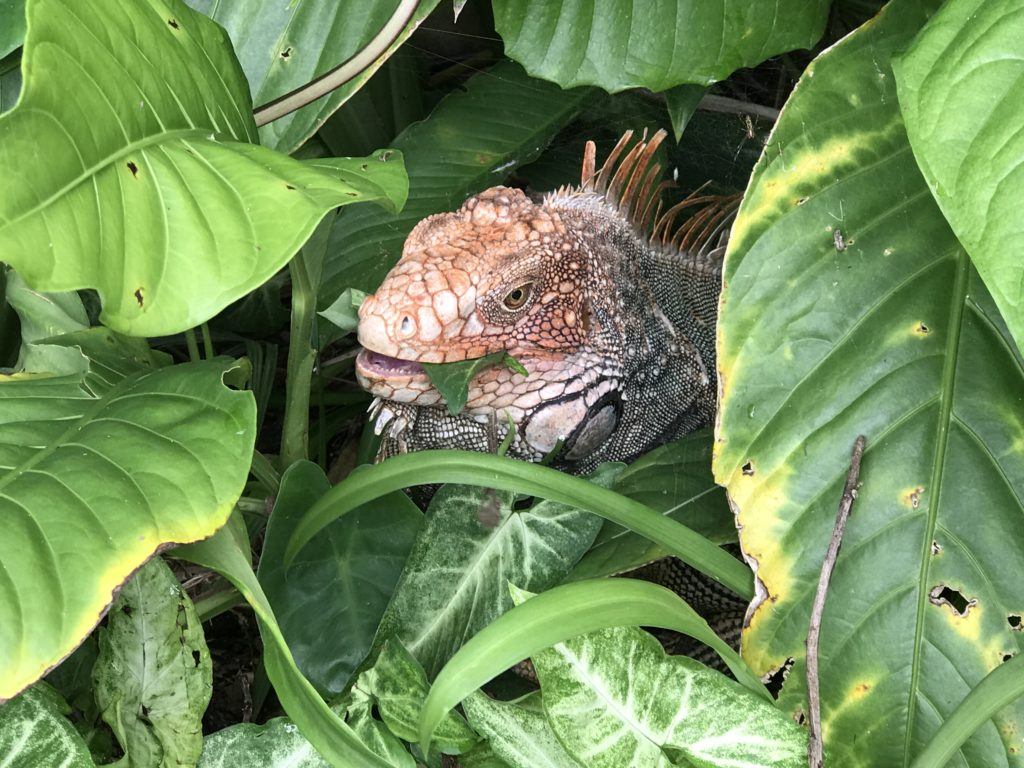 2. Another thing that my kids really appreciated was the freedom to roam. At Lapa Rios, they could walk around the property quite freely without having to constantly be with a guide. There were also several little excursions that we could do just as a family.
From our previous experience with rainforest and jungle lodges, this is not typical. Now of course there are very good reasons for not letting guests wander off into the jungle in certain situations (safety, for one). That said, it was really nice to be able to do a few things on our own and not as part of a guided group.
3. We travel frequently as a family and I think a lot about our impact on the places we visit. Prior to our visit, I already knew that Lapa Rios took their commitment to the community and environment seriously. Even so, I was quite blown away by all the sustainability initiatives they have in place. Just a small sampling of these include:
Hiring from the local community when possible and providing year-round employment.
Supporting a local school project on the property.
Buying provisions and supplies locally whenever possible.
Buying what the fishermen have to sell on any particular day (not dictating what they need to provide).
Banning all single use plastics (straws are made from bamboo, guests are encouraged to bring their own water bottles etc.).
Feeding compost scraps to their pigs and using their methane to fuel the staff kitchen.
Using eco-friendly products in and around the lodge (soaps, mosquito repellent etc.)
Using recycled products wherever possible. For example, although the bungalow roofs look like they are made of leaves, they have actually recently been replaced with a cool product made from recycled water bottles.
Getting to Lapa Rios
The drive time from San Jose to Lapa Rios is a little over six hours. Otherwise, the closest airport to Lapa Rios is Puerto Jimenez – which is only a short 45 minute flight from San Jose's Juan Santamaria Airport (SJO). Once you touch down, you are warmly greeted by a representative from Lapa Rios and taken on a short 45 minute car ride to the lodge. The whole process is very easy and stress-free.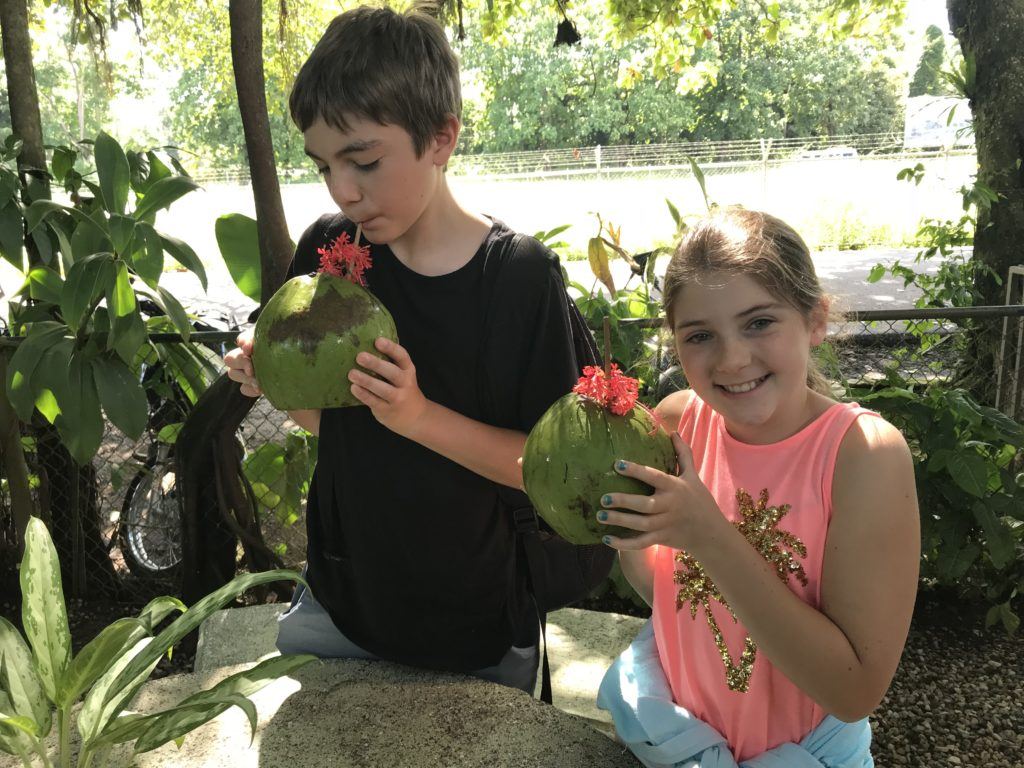 Tips for Visiting
To make your stay at Lapa Rios the best it can be, I offer the following tips.
As mentioned earlier in this post, the beautiful bungalows are completely screened allowing you to hear the full symphony of the jungle. We loved waking up to the calls of the howler monkeys in the distance, but if you really need your beauty sleep, you may wish to bring along a set of earplugs.

I like to wear my Nike running shoes everywhere, but on the Lapa Rios tours I would like to encourage hiking boots, or better, the rubber boots provided by the lodge. The rubber boots are really comfortable and they have plenty available (even kids sizes) – just bring your own boot socks (long socks). The rainforest is full of little critters (such as trails of leaf ants) and the boots just give you some extra peace of mind.
It's nice to have your own set of compact binoculars for hikes (although the lodge does have some for loan). For the kids, we also brought along extra flashlights as they each like having their own when seeking out the creatures of the night.
While we did not have much of an issue with mosquitos at Lapa Rios (despite visiting in rainy season), even a few can be annoying to some people. The lodge offers a complimentary natural repellent in the cabanas, but if you are really bothered by them, you may wish to bring your own. I like the individually wrapped Picaradin wipes. Sorry Lapa Rios ! I know they are not eco !
If you visit in Costa Rica's Green Season as we did, I recommend a good lightweight rain jacket and a wet bag or large Ziploc to put items in that haven't completely dried by the time you leave. That said, the property does have quite a quick turnaround laundry service.
While the lodge has a small wifi area, the signal is quite weak, so you may want to plan to take a break from it all. Quite humorously, we happened to be at Lapa Rios during the World Cup and ended up hovering around the main office computer watching the England – Colombia shootout.
Lapa Rios welcomes children from 6 years old. The most popular tours for kids include the Waterfall Walk (sloshing through the river in rubber boots), the Matapalo beach tour and the Pigs and Twigs tour.
Learn More
Without hesitation, I can say that I think Lapa Rios provides one of the best rainforest lodge experiences in Central America and I recommend it wholeheartedly.
Learn more about everything this beautiful Costa Rica lodge has to offer at LapaRios.com or read recent Lapa Rios reviews on TripAdvisor.
Disclosure: We were welcomed at Lapa Rios with a reduced media rate. All other costs for the trip including flights were incurred by us. All opinions in this post are entirely my own. This post may contain affiliate links. As an Amazon Associate I earn from qualifying purchases.
Further Reading